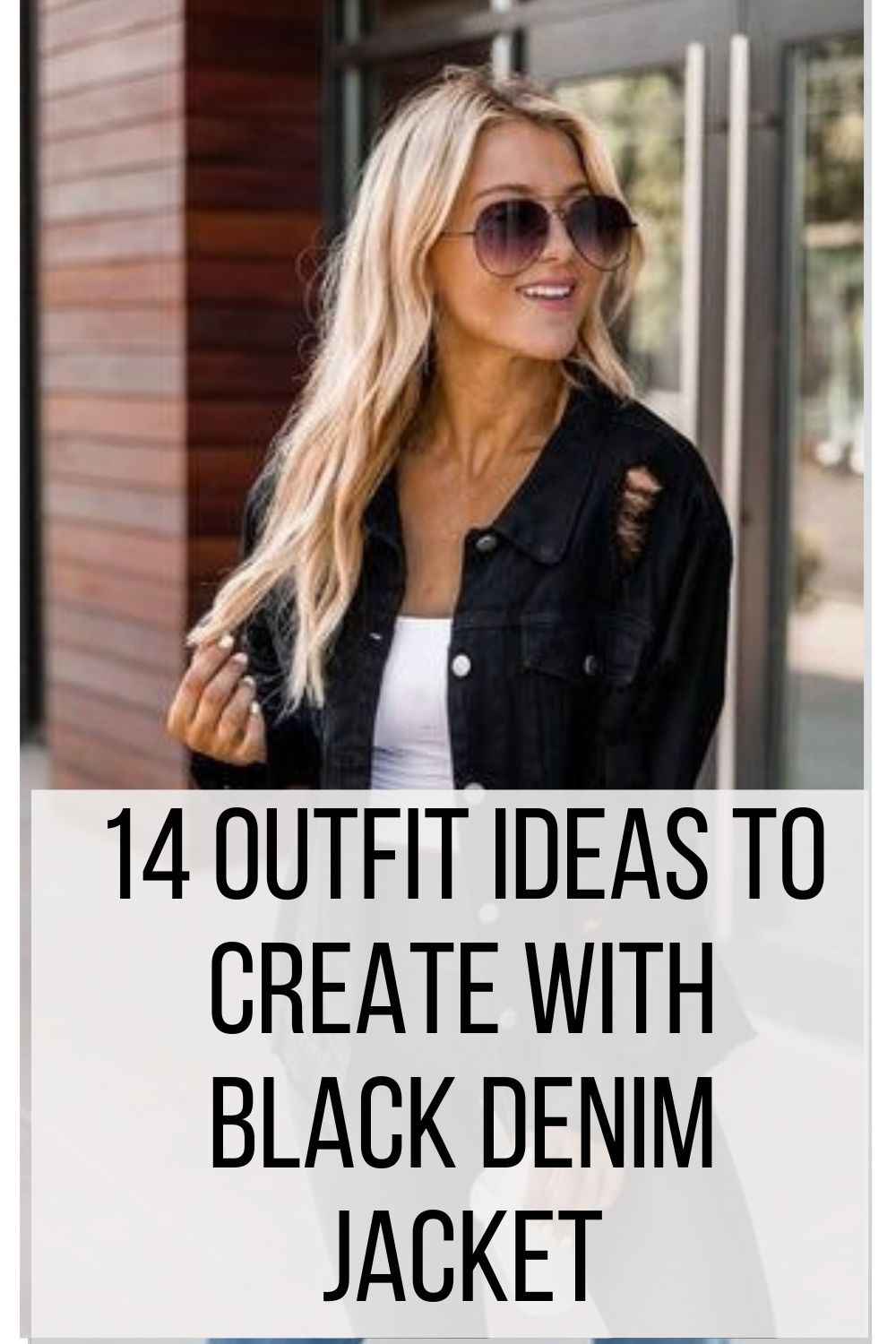 Are you looking for a timeless wardrobe staple and need help figuring out where to start? Look no further than the classic black denim jacket!
Nothing is as classic and timelessly stylish as a black denim jacket. From Alexa Chung to Gigi Hadid, it's an iconic wardrobe piece that adds flair to any outfit!
Whether you're dressing up for a night out with friends or piling on extra layers of warmth when the weather gets colder, we have all the secret tips and tricks you need to help ensure your style game is always on point while wearing a black denim jacket.
So if you want to know how best to wear this effortlessly cool trend-proof item, read on for our styling guide and outfit ideas and learn how to create an effortless look with one simple piece!
Outfit 1: Black Denim Jacket With White T-Shirt
A white t-shirt and black denim jacket are a classic combination that will pair well together. The neutral colors of both pieces are the perfect palette upon which you can build your look, whether adding stylish accessories or selecting bold pieces to make this classic combo pop.
Generally tailored with a boxy silhouette, a black denim jacket looks as good over cropped trousers as it does layer over an LBD paired with chunky boots. And when it comes to t-shirts, the simple white tee should be an integral part of your wardrobe.
Whether tucked into jeans or left loose over a skirt, these two bright garments combine for effortless everyday style.
Outfit 2: Wear A Black Denim Jacket With Shorts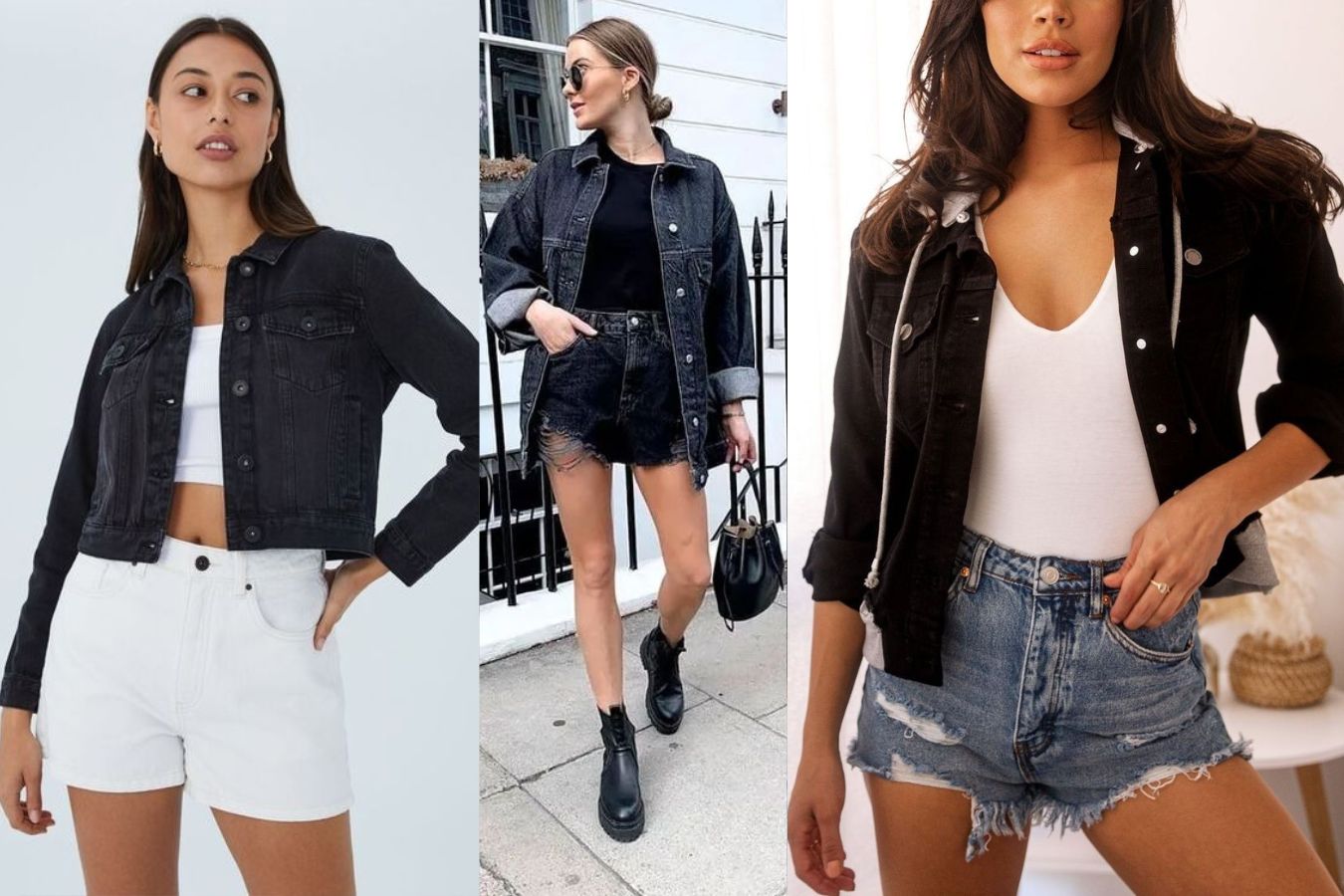 Black denim jackets are an unbeatable fashion classic that looks great with shorts. Not only does this outfit combination instantly add an element of style and sophistication, but it also stands the test of time due to its versatility.
Try pairing a black denim jacket with casual shorts for a relaxed yet confident look. Alternatively, wear a more sophisticated set of tailored shorts to give your look a more polished feel.
Either way, the key to making this timeless combination work is to balance the colors correctly—pairing monochrome colors like black and white will create an effortlessly pulled-together vibe.
Whether you keep it minimalist or go all out with colors, materials, and textures, wearing black denim jackets with shorts is sure to have heads turning!
Outfit 3: Wear Black Denim Jacket With Grey Jeans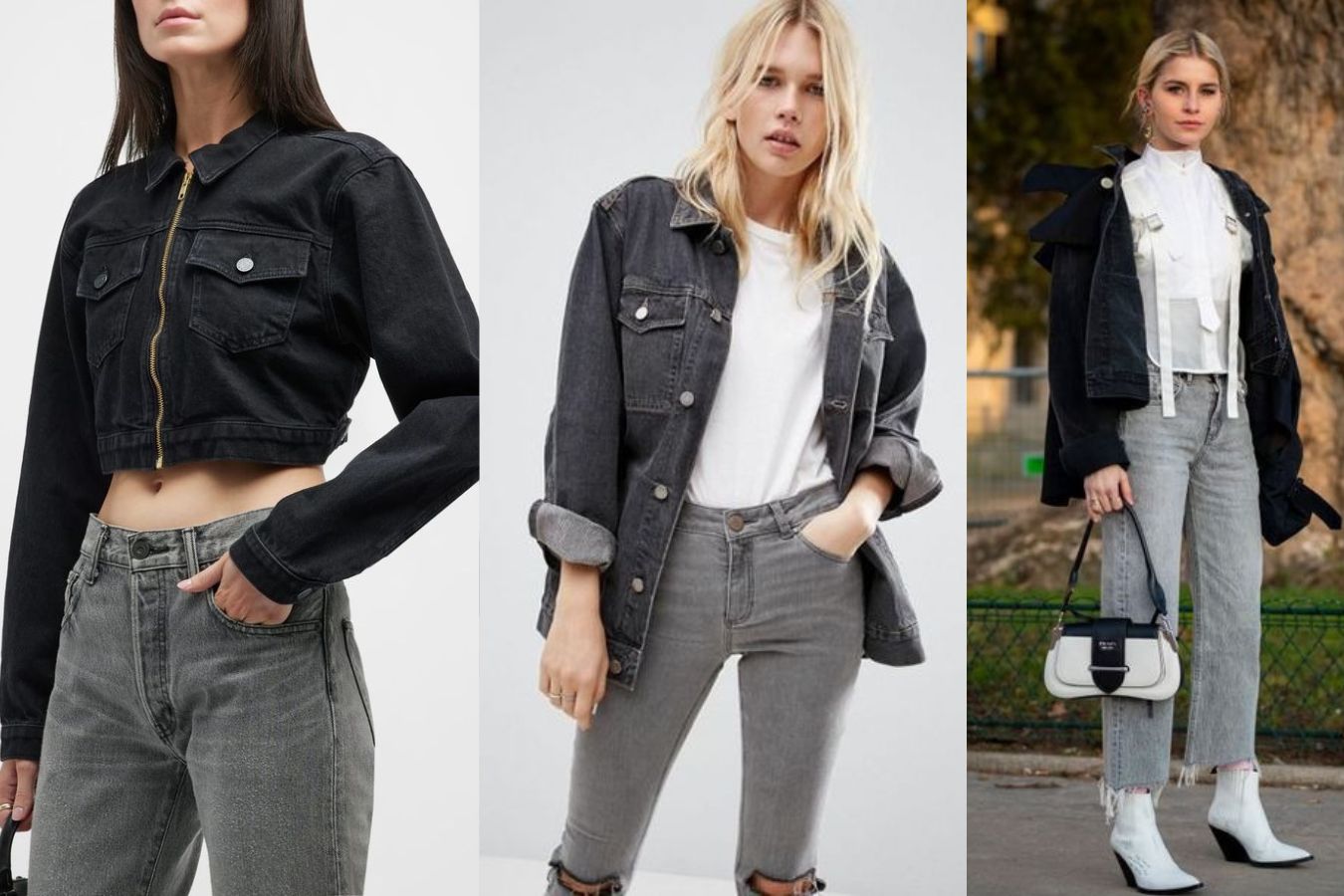 Dressing in a black denim jacket and grey jeans makes for a classic, timeless style suitable for any occasion. The mix of dark and light hues creates a simple and stylish look.
You can keep warm on colder days with the jacket but still get some air circulation due to its breathable fabric. Additionally, denim holds its shape excellently compared to other materials, ensuring you maintain your sharp, pulled-together appearance all day.
With just these two pieces of clothing, you can create an outfit that will have you looking effortlessly chic, whether it's nighttime or daytime.
Outfit 4: Wear Black Denim Jacket With Trousers
Irrespective of a casual dinner or formal gathering, black denim jackets are the perfect item of clothing to finish any look. Depending on different occasions, they can provide an air of sophistication, even if it's just teamed with your favorite pair of trousers.
Not only are these jackets stylish, but they offer warmth and comfort, too, making them essential for any wardrobe. Black denim jackets are fashionable in all seasons thanks to their timelessness, so there's no need to worry about looking out of date for any special occasion.
With a good quality jacket and a sharp sense of style, you'll feel confident wearing this timeless addition to your wardrobe everywhere.
Outfit 5: Wear a Black Denim Jacket With Blue Jeans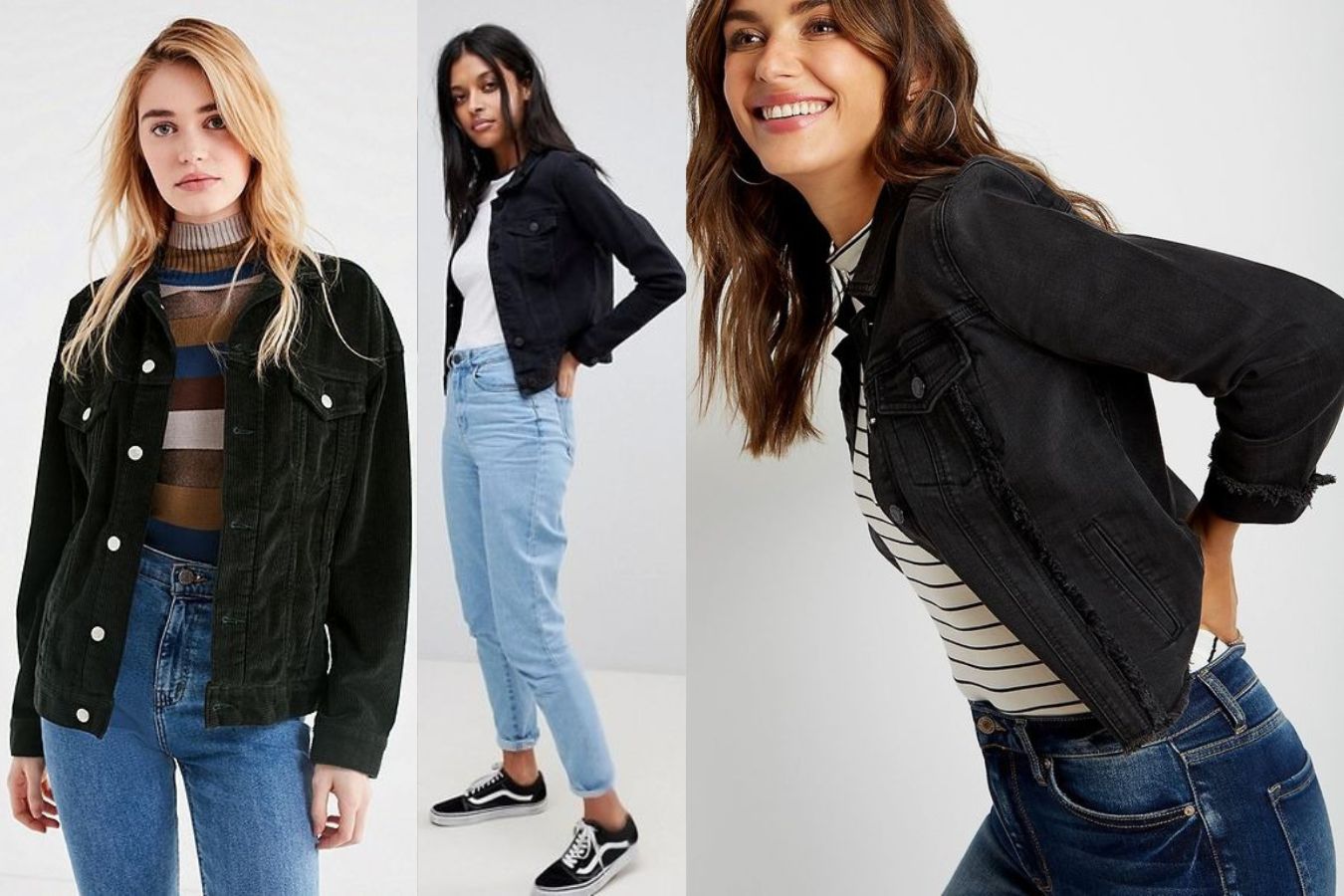 When creating an effortless yet stylish outfit, wearing a black denim jacket with blue jeans is an unbeatable combination. This classic ensemble has been a fashion favorite for decades, and its popularity shows no signs of waning.
If you're looking for an easy yet refined look, this combo will cast you in a flattering light every time. Denim jackets also offer plenty of versatility in styling – you can wear them in various ways, and they'll take you day to night effortlessly.
With all these benefits, it's no wonder why this pairing has remained a classic go-to for so many people.
Outfit 6: Wear Black Denim Jacket With Flannel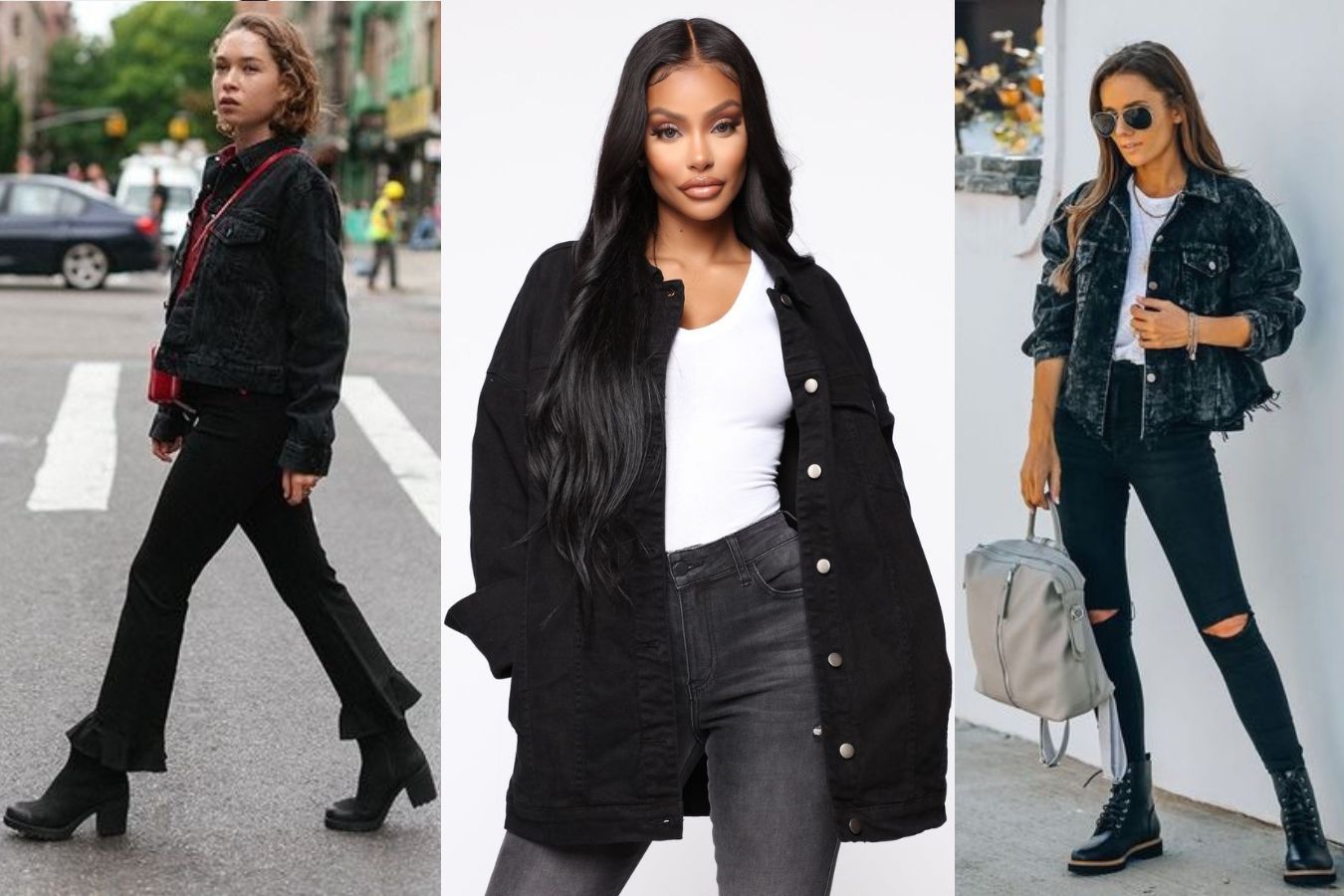 If you're looking for a look that is both classic and modern, pairing a black denim jacket with a flannel shirt is the perfect solution. This combination is comfortable and stylish, making it easy to style, depending on your mood.
The flannel's light, airy fabric complements the denim jacket's heaviness, creating a well-balanced outfit. Throw on some loafers or sneakers to add a layer of flavor to complete this timeless style.
Outfit 7: Wear Black Denim Jacket With Black Denim Jeans
Regarding fashion, the black denim jacket and jeans look like a classic and versatile choice for any occasion. If you're going for a sharp and stylish business casual look or something more laidback and relaxed, a black denim jacket paired with black denim jeans will have you looking great from head to toe.
The combination instantly gives off a trendy vibe that will turn heads while also being comfortable enough to wear all day long. Not only can you dress it up or down by switching out the accessories, but wearing black on black shows your confidence in choosing a go-to look that fits your style.
So give this timeless monochromatic combo a try – you'll be glad you did!
Outfit 8: Wear Black Denim Jacket With Khaki Pants
Are you looking for an easy, adaptive outfit for a day out? Put on a black denim jacket with khaki pants, and you'll look dapper. The colors will contrast, giving you a balanced yet effortless appearance.
Complement the look with sneakers and a white T-shirt, and accessorize with your favorite cap or watch. This look's versatility makes it so simple to pull off—it can be sported in the summer or for semi-formal occasions.
So if you're stuck for style ideas next time you hit the streets, wear a black denim jacket with khaki pants for maximum impact.
Outfit 9: Wear Black Denim Jacket With White Sneakers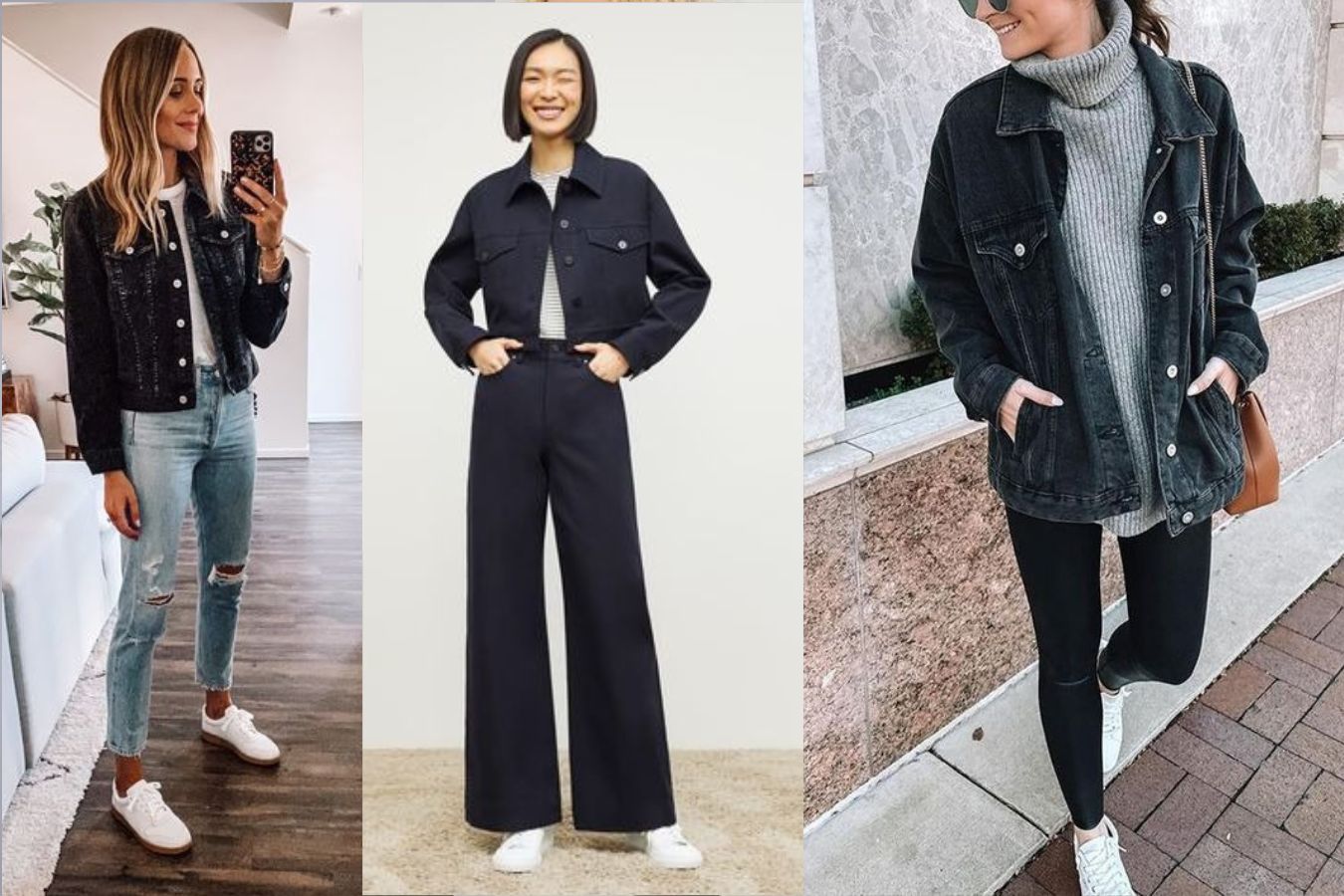 Sporting a classic black denim jacket is easy to make an impactful statement. Paired with tasteful white sneakers, you'll find that this beloved combination makes the perfect sleek and stylish ensemble for any occasion.
As a timeless wardrobe staple, it has remained popular through the years and works just as well in casual settings as on more dressy occasions. With its neutral tones and endlessly versatile looks, this classic apparel never fails to offer a coordinate that can easily transition from day to night!
Outfit 10: Wear Black Denim Jacket With Turtleneck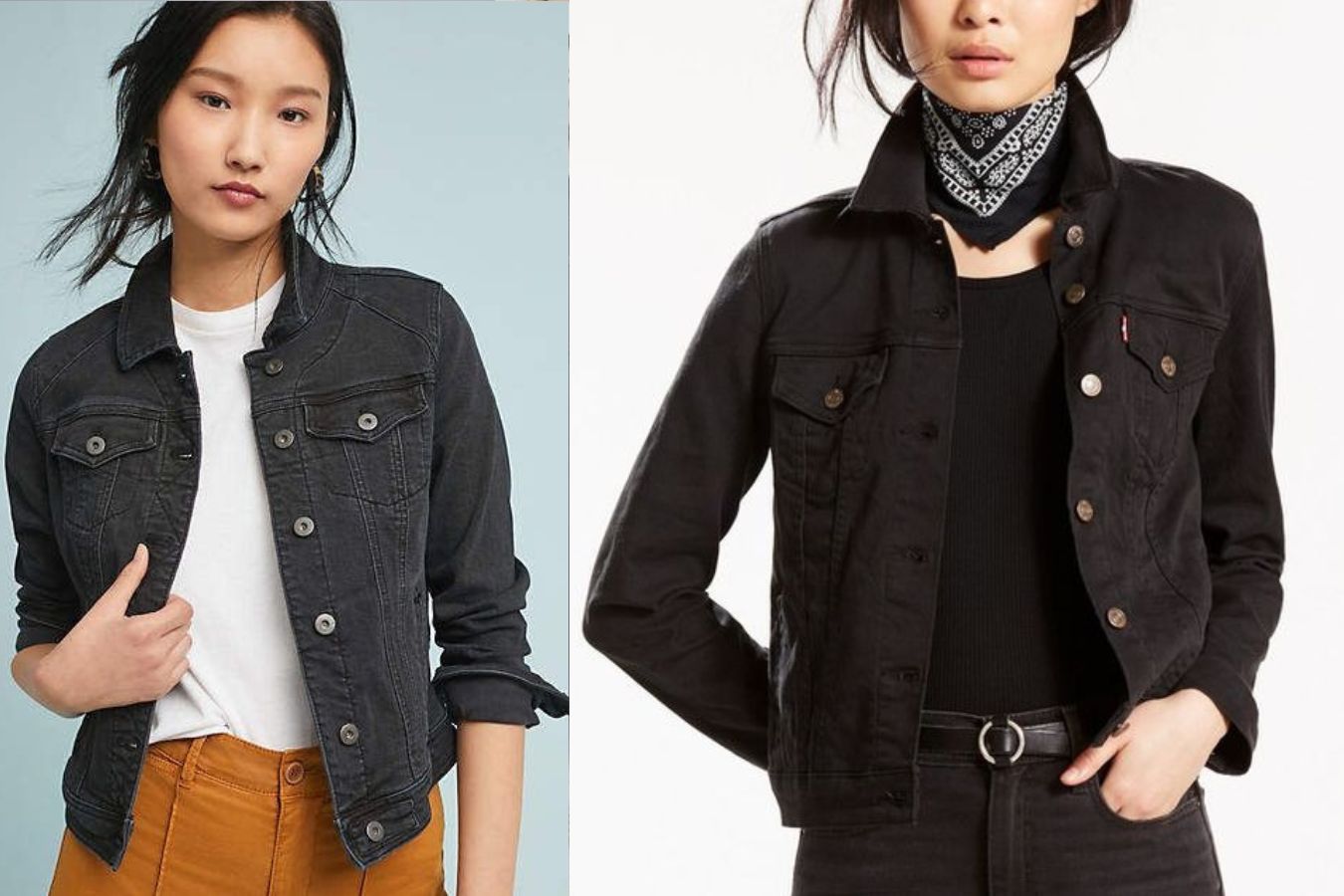 A black denim jacket is one of the most versatile items in any wardrobe. Wearing it over a turtleneck gives you an instant classic look that you can enhance with your accessories.
On days when casual is the order of the day, pair it up with dark-colored jeans and boots for a look that is still timelessly stylish and oh-so-comfortable. Overall, this simple outfit will never go out of style!
Outfit 11: Wear Black Denim Jacket with Smart Pants
Wearing a black denim jacket with some well-fitting, smart trousers can create a trendier look than the traditional formal dress code. The combination is comfortable and stylish and gives you an air of authority when worn to work or events.
The denim jacket's versatility doesn't end there; you can try out different styles for weekend outings by matching them with casual pants or even shorts and still be on-trend. Whether it's a corporate event, family gathering, or inviting friends, this classic style always has your back!
Outfit 12: Wear Black Denim Jacket With Hoodie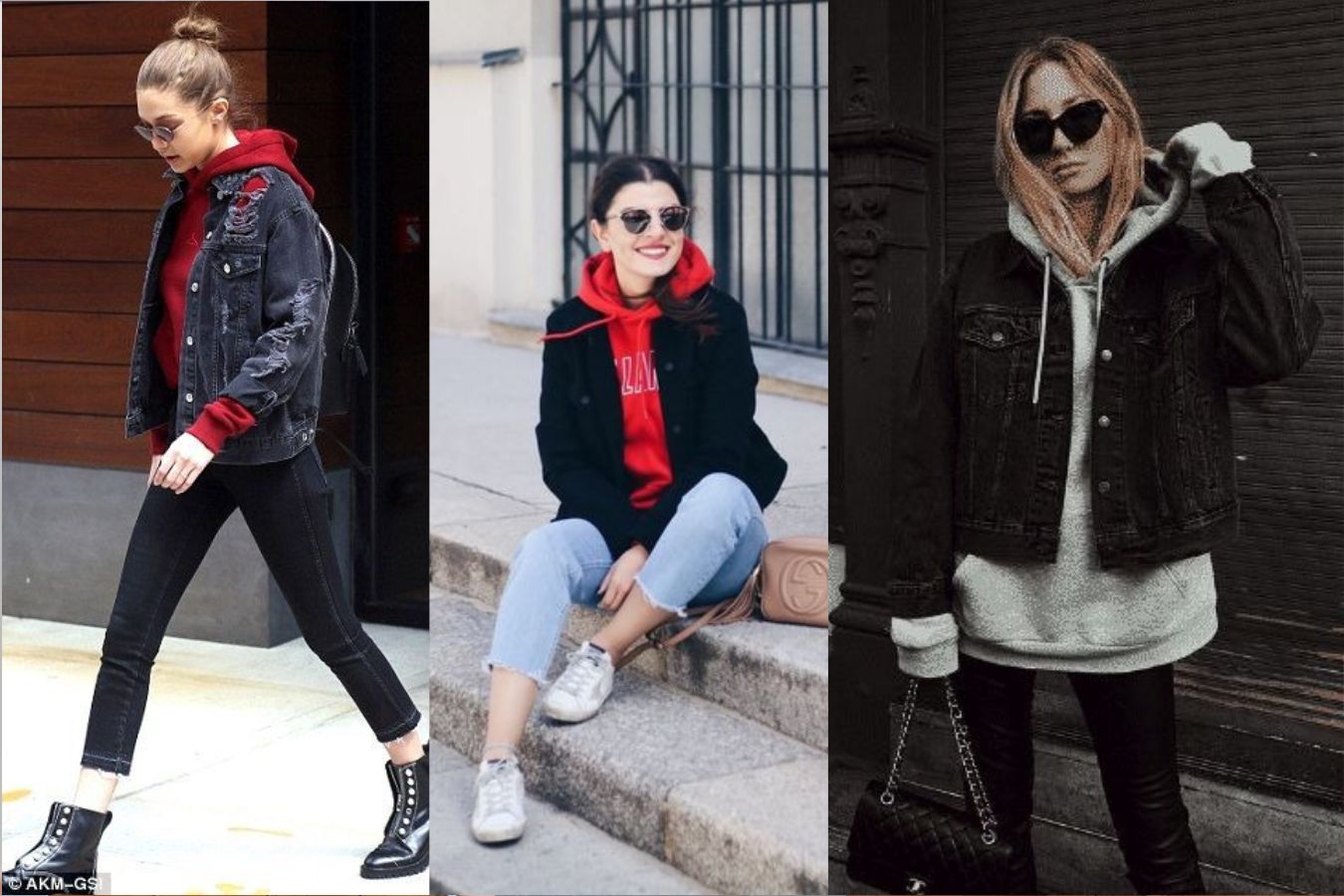 A black denim jacket with a hoodie combines fashion and function to complete any look. The hoodie provides a casual comfort that helps soften the look, while the denim offers an edgy vibe. Plus, this apparel is highly versatile, enabling you to stay warm during winter months or create a unique style statement during any season.
Not only can you find it in various cuts and washes, but you can also pair it up with literally anything – from joggers to shorts or even some printed tees. So if you're ever looking to express your style, the black denim jacket with hoodie is undoubtedly your go-to choice.
Outfit 13: Wear Black Denim Jacket With Button-Down Shirt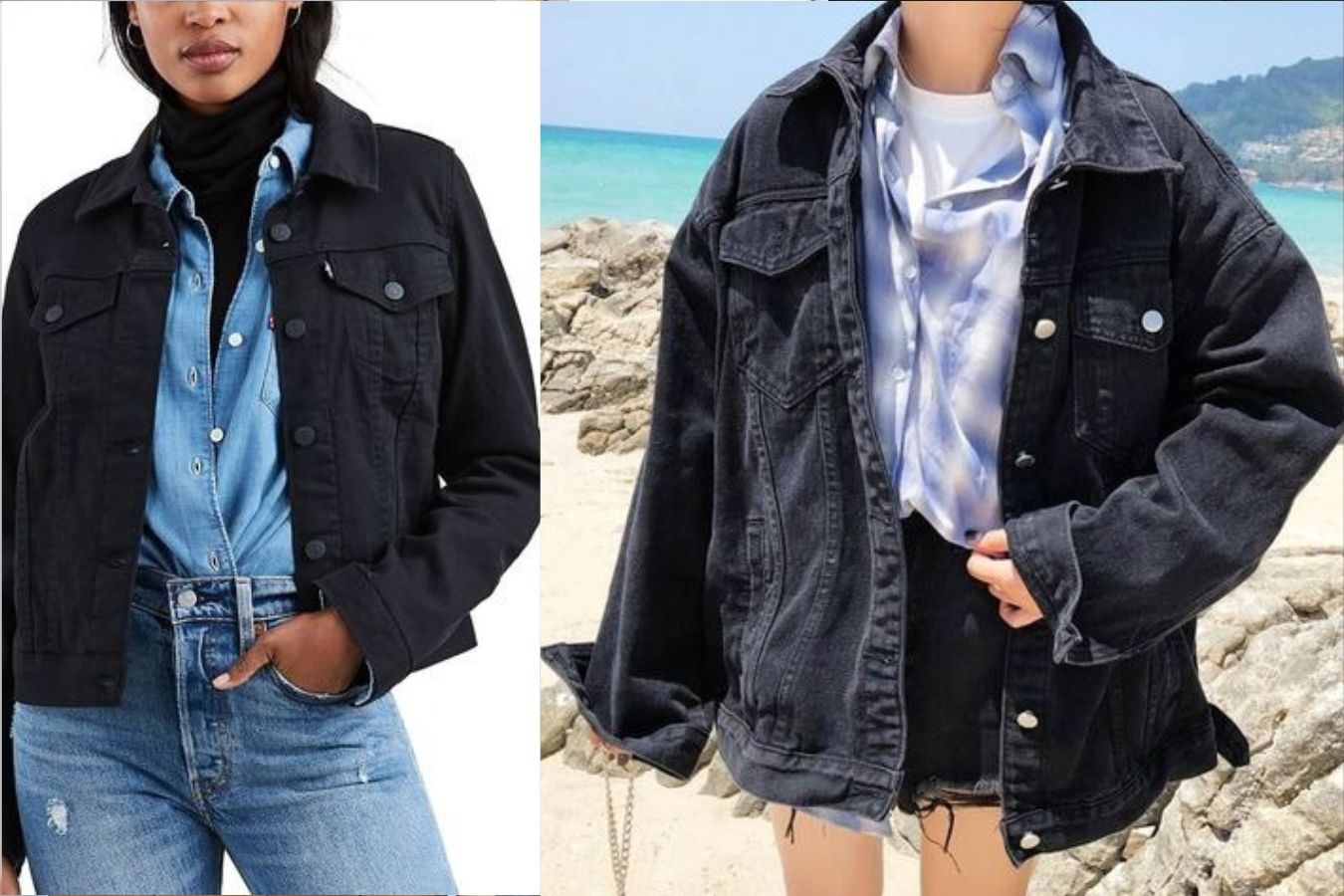 Pair a black denim jacket with a button-down shirt to make an effortless fashion statement. This combination of casual and dressy elements creates a stylish outfit that works perfectly for an evening out or day-to-day activities.
Additionally, the different textures of the materials provide visual interest, which gives the outfit more dimension. Not to mention, depending on what style of button-down and scarf you pair with it, the look can have many unique interpretations that allow you to show off your style.
Outfit 14: Wear Black Denim Jacket With Plaids
Wearing a black denim jacket with plaids can be an instant style upgrade. It is an excellent combination for all seasons, as the neutral color palette of both items creates a classic yet fashionably on-trend look.
Plaids bring vibrancy and personality to the look while adding visual interest to break up the monotony of any outfit. They are also versatile enough to match almost any bottoms in your wardrobe, making them ideal for days when you want to create an effortless yet impactful statement.
So take your outfit up a notch by pairing black denim jackets with plaids!
What Color Jeans Go Well With a Black Denim Jacket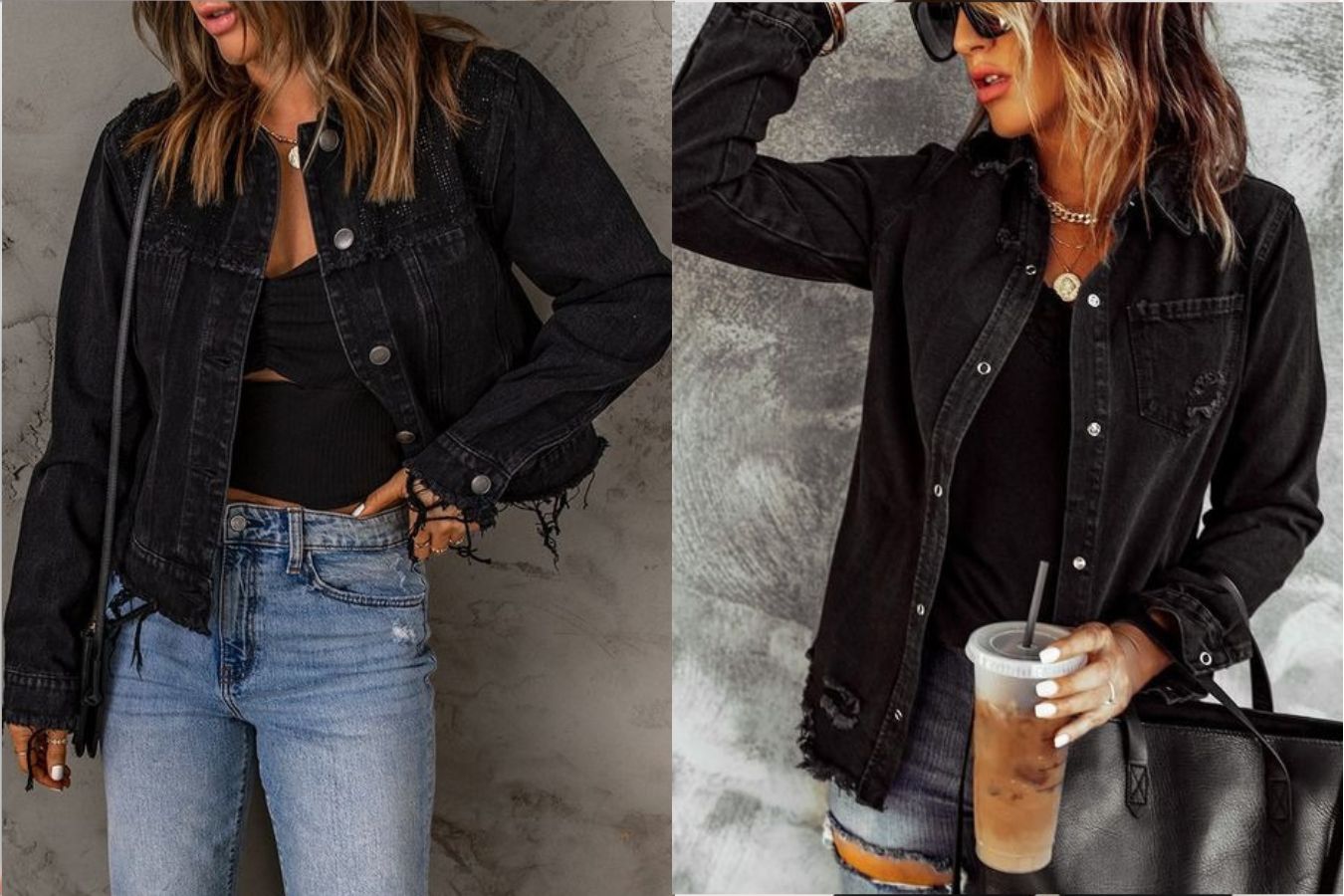 The classic denim-on-denim look is easy to achieve when pairing a black denim jacket with your favorite jeans.
To create a neutral but bold statement, go for light wash or dark blue jeans to provide contrast while complimenting the black denim. Try light gray or white jeans underneath the black denim jacket for those seeking something with a hint of elegance and trendiness.
To add a touch of modern flair, you may also consider pairing different shades of blue together – like sky-blue jeans with a black denim jacket.
If you're bold, choose light orange or pink colors to stand out. Finish off your outfit with black or white slip-on sneakers for an effortless and chic attire.
Ultimately, whatever color you choose for your bottom half will complement your stylish black denim jacket, granting you unstoppable and ageless vibes!
Tips On Wearing Black Denim Jackets
Wearing black denim jackets can be an easy way to make a bold fashion statement. To get the most out of them, look for details like distressed material and stylish buttons that make the jacket stand out.
Consider pairing your black denim jacket with slim-fitting jeans. The slim fit will create a sleek silhouette that looks great and is easy to accessorize, like with a chambray shirt underneath or cropped trousers on the bottom.
If you're looking for an edgier look, try pairing your black denim jacket with leather or mesh items. You can also brighten up your outfit by adding pops of color with accessories like hats, scarves, and jewelry.
Playing around with different textures and colors allows you to make a unique style statement every time you wear a black denim jacket.
What Shoes Go Best With A Black Denim Jacket?
The black denim jacket is a must-have in your wardrobe because of its versatility and everlasting style. Choose shoes that easily pull the outfit together to complete the classic look.
Whether a night out or a casual day, choosing clean white sneakers brings an effortless look to your style. Dress up the black denim jacket with neutral-heeled boots to give a chic appearance. Complete the outfit with bright red pumps or cheetah print flats for a bolder look.
Regardless of your style, you can pair any shoes with a black denim jacket for an unforgettable look!
Final Takeaway
The best thing about a black denim jacket is that you can wear it with just about anything and style it in many different ways, depending on your taste.
Above, we have shared a styling guide for inspiration, so check out the outfit ideas to create with a black denim jacket. Hopefully, these outfit ideas have inspired you to create new looks of your own.
The important thing is to experiment and have fun with it! Be creative and try new things. With creativity, you can create a great look that will turn heads and make you feel confident.
So what are you waiting for? Get yourself a black denim jacket and start experimenting with your style!