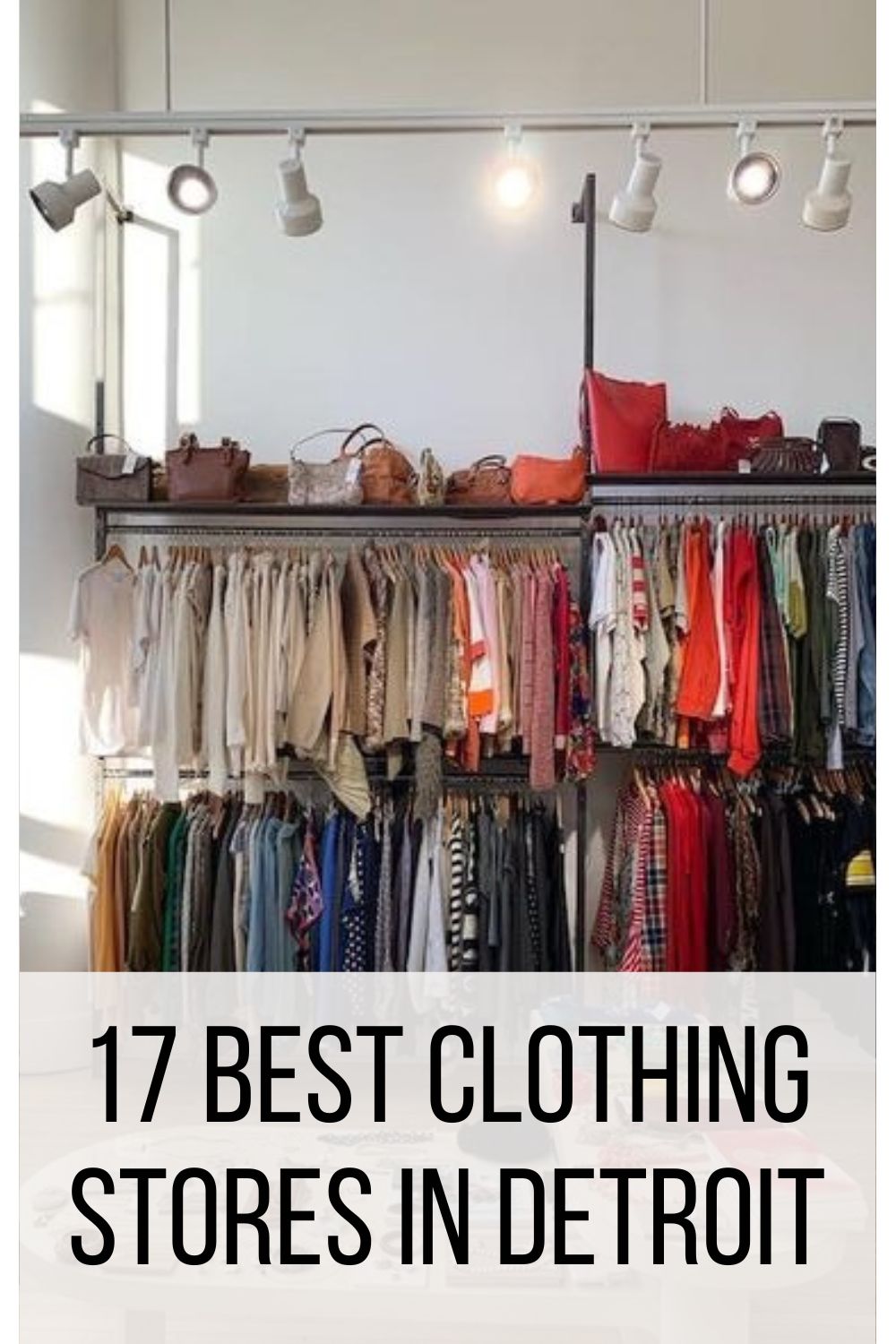 Detroit is a bustling city, full of flair and known for its pop culture and music. Livernois' Avenue of Fashion has long been a crowded shopping district for locals and tourists. Many of us might be unaware of this fact, but Detroit has left its mark on the fashion industry worldwide by contributing to it immensely.
If you are new to the city or a resident who wants to explore some of the best fashion scenes in Detroit, this article is your go-to guide. Take a look at the top 17 clothing stores in Detroit in the year 2022.
Alter Ego Boutique
Location: 1716, 19100 Livernois, Detroit, MI 48221, United States
Contact: +1 313-955-9335
Located on Livernois Ave, Alter Ego Boutique offers a number of unique clothing options that everyone can shop from. The store opens its doors to customers who love a traditional in-store shopping experience. The experienced tailors at the boutique make sure that whatever you get is perfectly fitted to your body size, and they don't leave any stone unturned.
Alter Ego offers a variety of apparel, such as jumpsuits, dresses, pants, skirts, shirts, and so on.
Nordstrom Rack
Location: 822 E Big Beaver Rd, Troy, MI 48083, United States
Contact: +1 248-764-2121
Nordstrom, Inc. offers products in several categories, including but not limited to clothes, shoes, and jewelry. A unique thing pertaining to this one is that it offers significant discounts, especially for consumers tha hail from the United States or Canada. Talk about being lucky!
Luxury apparel is one of the selling points of Nordstorm. Nordstrom Racks – a branch of the brand also offers alterations in the attire you buy to fit your size. This is especially useful in case you need to have a product slightly changed according to your fit. Overall, a strong option for buying clothes in Detroit.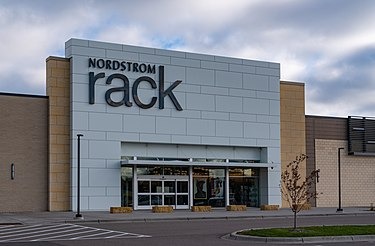 Foreman Mills
Location: 15400 Grand River Ave; Detroit, MI 48227
Contact: 313-880-1003
Foreman Mills offers a complete shopping experience by being a pit stop for everything you could want on a shopping trip, including household cleaning supplies, a wide range of toys, and other lifestyle products.
The store stands out for selling apparel and other items at a very affordable price that you would otherwise spend thousands of dollars on. You can even find some brands at the same inexpensive prices.
Zara
Location: W Big Beaver Rd #2800, Troy, MI 48084, United States
Contact: +1 833-247-2473
Being a successful fashion retail brand, Zara is the pioneer of fast fashion in the modern world. The brand was founded in 1975 in Spain with the idea of inclusivity and creativity for all. Zara aims to create an atmosphere of unity and promote affordability while keeping up with the trends.
One of their most prominent objectives is to target a large number of consumers irrespective of their age, culture, background, and class. What makes Zara exceedingly timeless is its tendency to follow the trends and bring in unique outfits that no other brand thought of making.
Zara is in the business of setting new trends and ensuring that their customers are walking, talking brand ambassadors. The brand is known for the durability of its products; Zara believes that if you invest money in something, be it an article or something more significant, it should last a lifetime or at least a huge chunk of it.
CDK Kreative Kreations
CDK Kreative Kreations sells clothes that are as funky s the name of the store sounds. Many women who were looking for formals at this store have returned with gorgeous dresses and were immensely satisfied with their shopping experience.
It's popularly known for making the most exquisite prom dresses that teenage girls drool over. They also put together beautiful gift baskets in case you are looking for a package deal to make someone's day. All orders from Detroit can be delivered at your footstep, so you are set on all occasions if you are buying from CDk Kreative Kreations.
H&M
Location: 1505 Woodward Ave, Detroit, MI 48226, United States
Contact: +1 855-466-7467
H&M is better than Zara in some regard in that they are more size-inclusive than the latter. H&M offers clothes that fit people who don't have a streamlined European body.
H&M is the oldest store and has the highest number of brick-and-mortar stores. You can find plus-size clothes, maternity clothes, and premium clothes here. H&M also specializes in basic tees and everyday casual clothes.
Teasers Boutique
Location: 19355 Livernois, Detroit, MI 48221, United States
Contact: +1 313-341-3131
Teasers Boutique is truly a tease when it comes to gorgeous party dresses for any occasion ranging from a prom to a wedding party. Their high-quality designer clothes are a treat to the eyes, and you are guaranteed to find something perfect for the occasion at Teasers Boutique.
However, the boutique is not limited to selling party dresses but also offers casual clothing and business attire. Their associates and even the owner are extremely helpful in making you decide what you should buy and what looks better on you. Isn't that a win-win?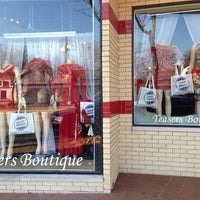 Uniqlo
The brand sells contemporary wardrobes with basics that everybody needs. If you are looking for a unique element in Uniqlo by going through its clothing collections, you are looking in the wrong place.
Uniqlo expresses its quirk through the prices at which they offer its clothes. The brand is ridiculously cheap, which is part of the reason why everybody is obsessed with it.
The brand focuses on providing the masses with what they need, even if it is basic. Their strategy revolves around the fact that they sell products that nobody runs out of buying. There will always be customers who need basic stuff such as jeans, tees, and hoodies.
Savvy Chic
Location: 2712 Riopelle St, Detroit, MI 48207, United States
Contact: +1 313-833-8769
Savvy Chic is an eclectic boutique that sells stylish, casual apparel, home goods, apothecary products, Trippen shoes, gourmet food, and French linens. Like many of the new stores opening in Detroit, Savvy Chic has a number of experienced tailors who can make sure your dress is customized according to your physique.
The history of Savvy Chic goes as far back as 2000, and only a few people know this initially; the store was intended as an antique store but was later transformed into a lifestyle-centered business and had been running wonderfully since.
PacSun
Location: 2800 W Big Beaver Rd, Troy, MI 48084, United States
Contact: +1 248-643-4538
Founded in 1980, PacSun is a Californian brand and a well-established clothing company. The company's name is short for Pacific Sunwear, which is appropriate for the kind of clothes they sell. Their merchandise includes footwear, lifestyle apparel, and accessories designed for young teens and adults.
The famous brand continued to grow, even during the pandemic in 2020, due to its immense popularity among the younger population. The brand's core values involve diversity and inclusion, which appeal to teens and young adults alike.
What makes PacSun an even better company is its upholding of environmental and societal responsibilities by addressing the current issues faced by Gen Z. PacSun doesn't shy away from connecting with its young community by bringing their concerns to light. They act on their values, for example, by including people of color in their staff.
George Gregory
Location: 1422 Michigan Ave. Detroit, MI 48216
Contact: (313) 285-8345
While women's clothing is more fun to shop for, and the number of women's stores far exceeds those for men, men undoubtedly need to have a good collection of tuxedos and formals. George Gregory comes to the rescue of thousands of men in Detroit. Their expertise includes men's clothing and accessories in every category, be it casual or fancy.
George Gregory offers an extensive range of brands, such as Bridge & Burn, Publish Brand, Yellow 108, Civil Society, Rollas, and so on.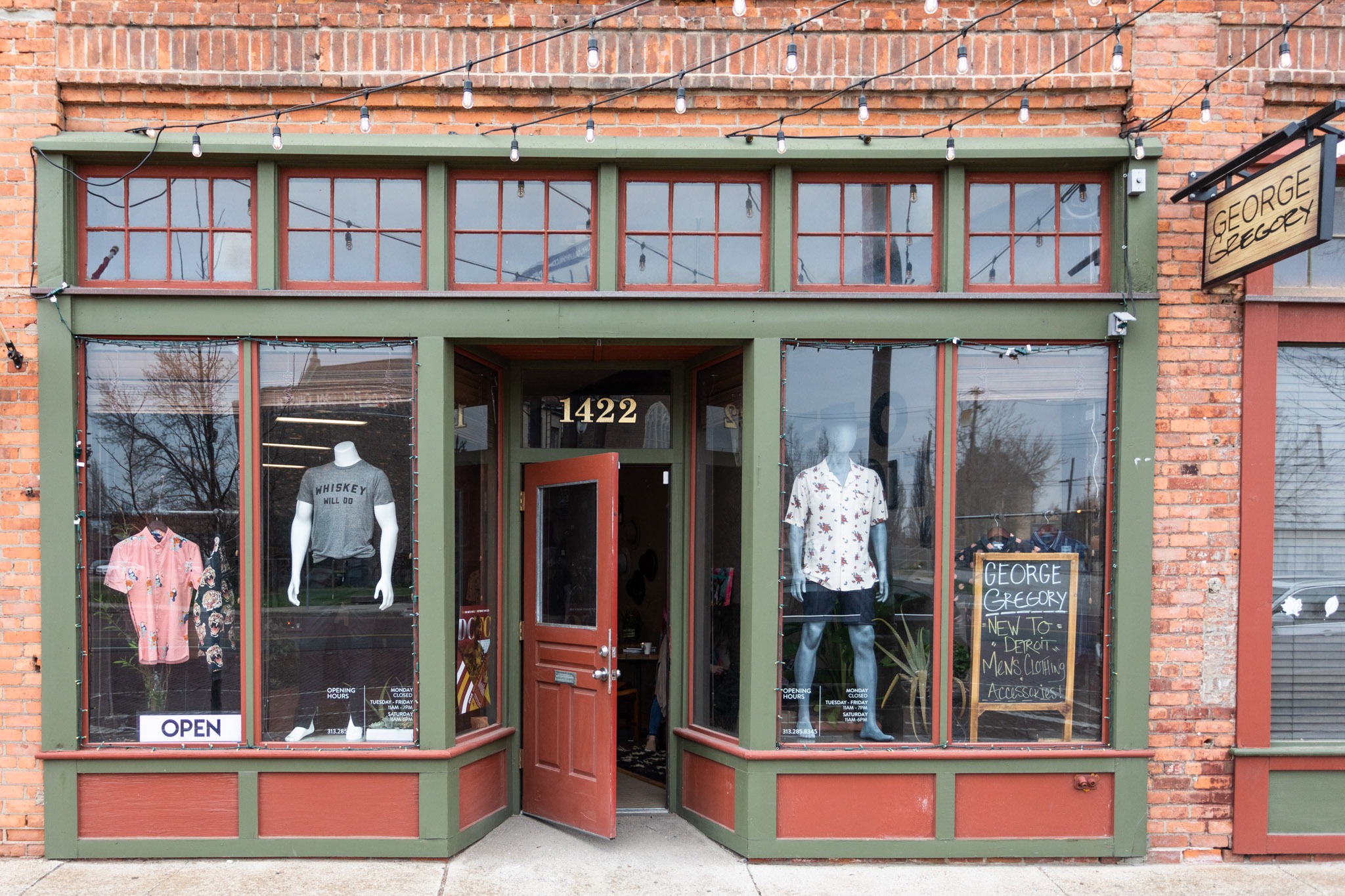 Hot Sam's Detroit
Location: 127 Monroe Ave. Detroit, MI 48226
Contact: (313) 967-6779
Hot Sam's has been the longest-standing men's clothier in Downtown Detroit since 1921. Customers love how affordable these clothes are and the sheer number of styles of suits, hats, and accessories.
The customer service at this store is phenomenal and unlike any, you have experienced. You can purchase casual clothes for an errand run or formal attire for a meeting or a dinner party; Hot Sam has got it all. They also provide access to concierge services, offer alterations, and customize clothing according to individual sizes.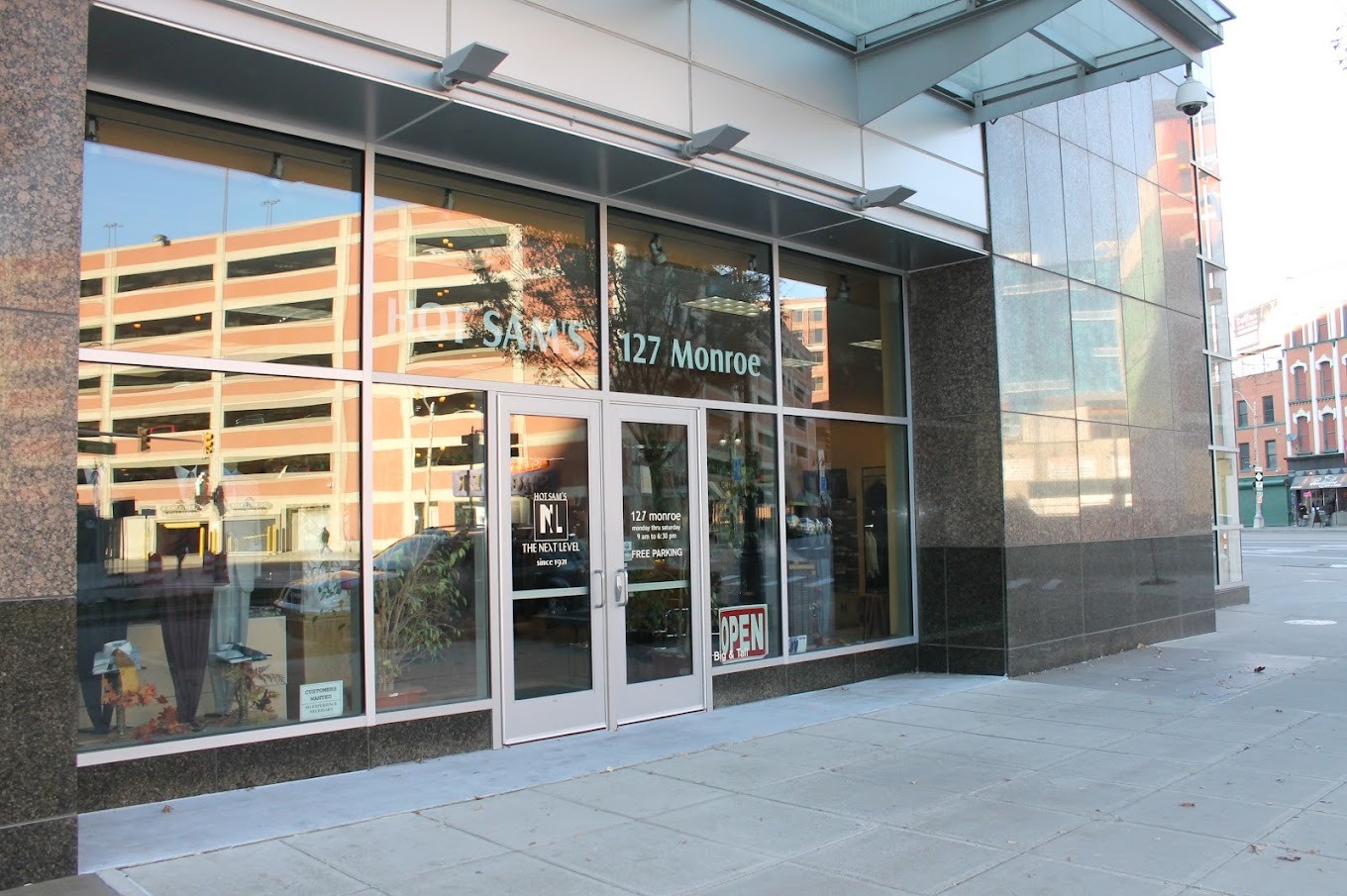 Good Neighbour
Location: 1435 Farmer St. Suite 115 Detoit, MI 48226
Contact: (313) 788-7800
Situated in Downtown Detroit, Good Neighbour is an entire day's plan as it is surrounded by picturesque architecture and monuments. Their inventory is full of attractive clothes for women and includes super-cute pairs of shoes that will melt your heart and empty your wallet.
Along with casual clothes, Good Neighbour offers cool fanny packs and small backpacks that accessorize your get-up well. The store truly lives up to its motto, which is "good clothes make good neighbors."
Madewell
Location: 1426 Woodward Ave. Detroit, MI 48226
Contact: (313) 465-4465
Ever heard of designer clothes without designer prices? It seems unreal, doesn't it? Well, not at Madewell. Madewell is a specialty shop situated at Woodward Ave that offers high-quality, durable clothing for women at reasonable prices.
Their specialty revolves around denim, more specifically, denim jeans. All you have to do at Madewell is to pair up denim jeans with shirts, tees, and sweatshirts. You also get to pick jewelry, handbags, and footwear with your favorite denim jeans and a top of your choice.
The Peacock Room
Location: 15 E. Kirby St., Detroit, MI 48202
Contact: (313) 559-5900
The Peacock Room is as cute from the inside as it sounds by the name. At this cozy little boutique, you will find the most adorable gifts for your friends and family. The miniatures and other lifestyle products that you didn't know you needed would make anyone's day better.
The space is also incredibly beautiful and has been renovated recently to celebrate the jaw-dropping Fisher Building art and architecture. The clothes, jewelry, and other baubles and bits are tremendous, but the biggest plus is the customer service. You get the royal treatment here and great advice.
The effort to restore the beauty that was underneath decades of cover on the ceiling and walls is something to appreciate. This blend of vintage and contemporary is the perfect shopping experience.
Bonobos
Location: 1417 Woodward Ave. Detroit, MI 48226
Contact: (313) 938-0130
At Bonobos, it's impossible not to find something you like that fits you perfectly. While they are known for their pants/chinos, we love their button-downs and outerwear equally, if not more. The staff at the store is always pleasant and cooperative, even if you bug them a hundred times. They genuinely make you feel right at home.
Men who love to come out looking handsome and posh are welcomed at Bonobos with open arms. If you have a big corporate meeting coming up or want to dress up for an office party, pay a visit to Bonobos once to prepare as well as you can.
Ferne Boutique
Location: 6529 Woodward Ave Suite B, Detroit, MI 48202, United States
Contact: +1 313-285-8427
Ferne Boutique is a contemporary women's clothing boutique offering sizes XS-3X in women's clothing. It's the ideal store to shop at for women of all ages. The organized shelves filled with lifestyle products and women's apparel will make you want to shop everything at Ferne Boutique. Luckily, the prices are pretty reasonable, unlike most of the high-end stores in Detroit.
Due to being a fashion hub, the list of clothing stores in Detroit is a long one. In this article, we have summed up some of the best and most diverse clothing stores that we have loved this year. The coming year will begin a new era of fashion, and Detroit will, as usual, stay relevant while maintaining its individuality.