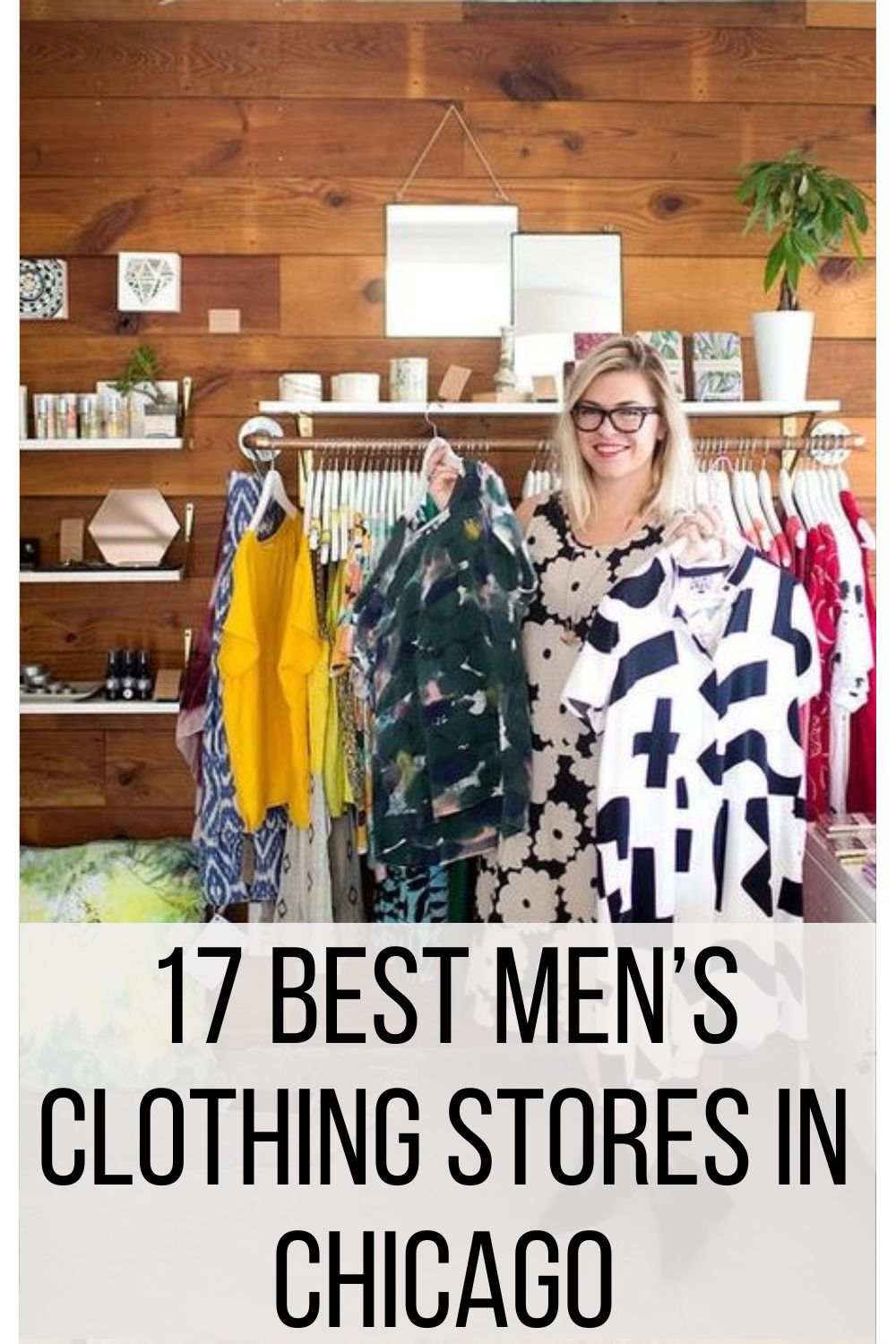 Shopping for men can be a great ordeal and more so when you don't know where to look. If you are in Chicago, you might have an idea of a few good stores, but a comprehensive list from a reliable source always comes in handy.
We have come up with a list of stores that offer an extensive range of quality clothing for men. Dressing fine can boost your confidence, make you look presentable, and prepare you to take the world head-on.
If you want to look and feel bolder, consider paying a visit to any of the following stores to stock up on the best menswear in Chicago.
Mildblend Supply Co.
Location: 1342 N Milwaukee Ave, Chicago, IL 60622, United States
Contact: (773) 772-9711
Located amidst the hustle and bustle of Milwaukee Ave, Mildblend Supply Co. designs and manufactures high-quality men's clothing. What makes them unique in Chicago and one of the best brands to shop at is that they are the premier retailer of Dockers pants and Levi's jeans. Moreover, they are also the retailers for Brooks Brothers and Cutter & Buck sportswear.
Mildblend Supply Co. specializes in men's clothing, accessories, and gifts. What makes them stand out among a plethora of brands is their persistent efforts to improve the lives of their customers, suppliers, and community by offering moderately-priced, good-quality products. They use materials that will not only give your belongings the classy touch that they need but also maintain their functionality over time.
Among their achievements, one of the most prominent participants is being an avid supporter of the Made in USA movement. In-person, this store is a country store with racks and stacks of denim and leather. They enjoy a curated selection of clothes from creatives all around the country and the globe.
Phayes
Location: 2501-N Milwaukee Ave, Chicago, IL 60647, United States
Contact: (773) 687-8549
Phayes is a unisex fashion boutique that offers a personalized styling experience and encourages its customers to indulge in sustainable behavior. They practice eco-friendly practices themselves by using natural fibers, offering reuse and on-site recycling programs, and partnering with sustainable mills all over the globe.
All these practices not only contribute to the betterment of the community and reduce pollution but also attracts customers who value the origin of their clothing. Phayes is the ideal place to shop for men who love a combination of quality and conscience.
Cowboys and Astronauts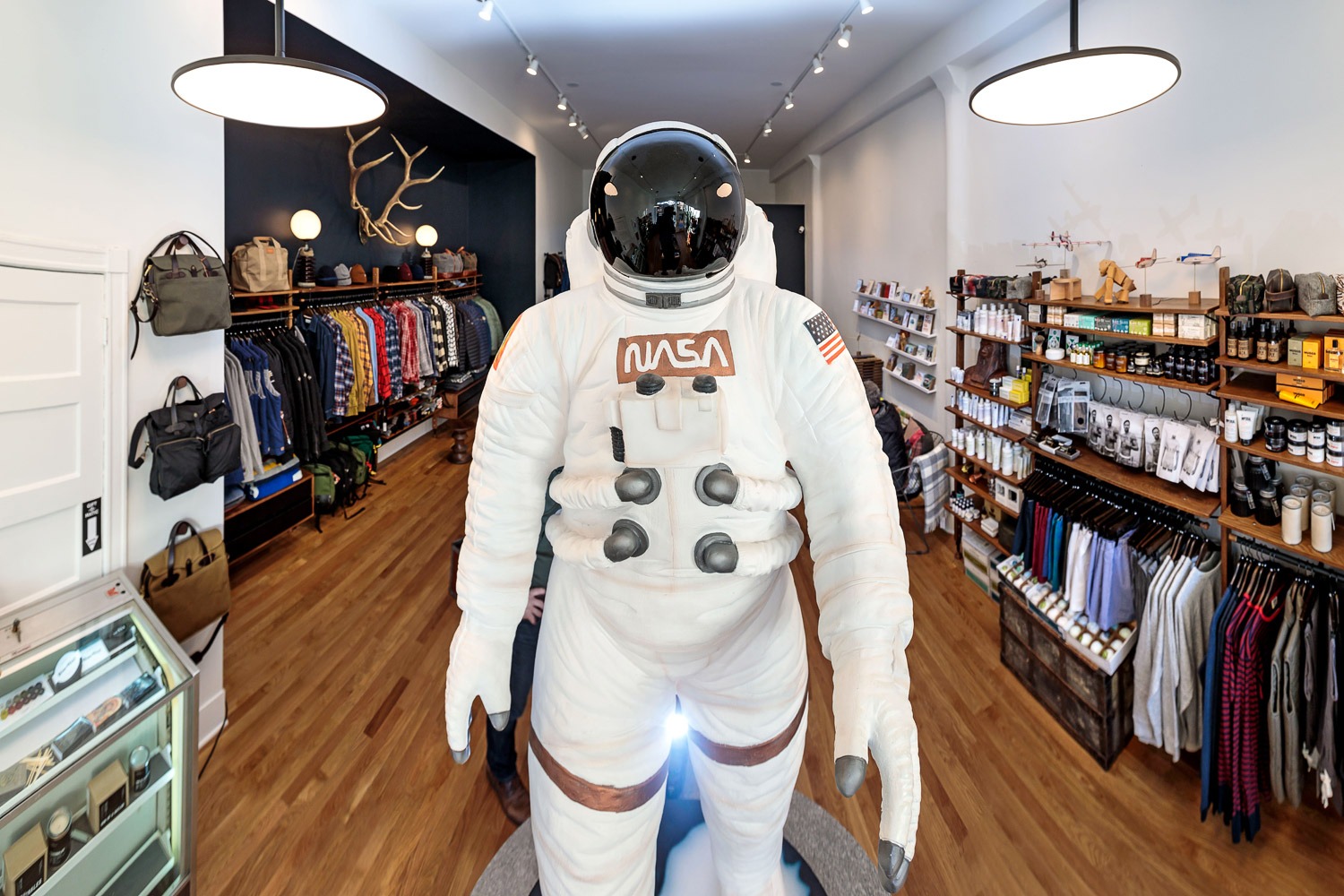 Location: 1478 W Summerdale Ave, Chicago, IL 60640, United States
Contact: (773) 944-4400
Situated in Chicago's Gold Coast neighborhood, Cowboys and Astronauts is a trendy men's lifestyle and supplies store. What strikes you as soon as you enter this store is the huge Smoky The Bear piece right in front and the huge astronaut statue in the middle. It truly goes well with the vibe of the store.
Along with men's clothing, they also have a great supply of candles, grooming kits, and barware. You will find great items for gifting purposes as well. The store features quality brands of men's clothing, beautiful watches and accessories, and grooming products. This is truly a one-stop shop for the modern man. The astronaut-themed attire is a refreshing change from traditional styles.
George Greene
Location: 49 E Oak St, Chicago, IL 60611, United States
Contact: (312) 654-2490
Being one of Chicago's most renowned clothing stores, George Greene takes its title very seriously. This luxury store for menswear hoards some of the top brands in the country, such as Eton, Joseph Abboud, Patrick Cox, Perry Ellis, John Varvatos, and many more.
The store is devoted to the high-end retail experience, and the quality of service matches the caliber of the brands they carry. You can ask for guidance regarding anything in the store, and you won't be disappointed.
Men's Room Chicago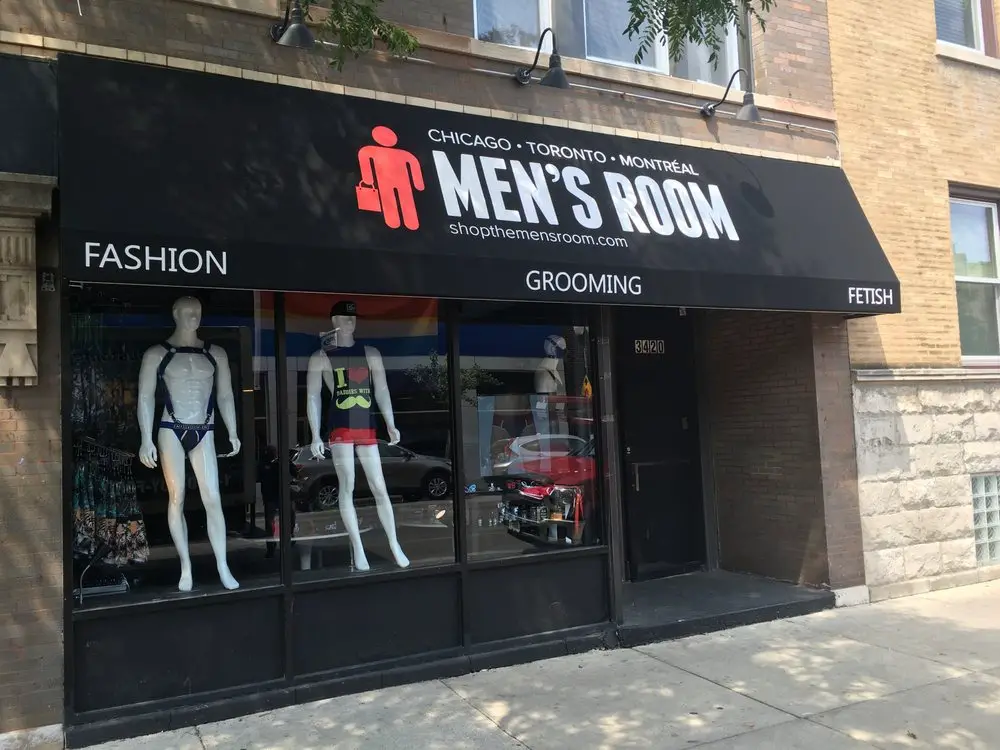 Location: 3343 N Halsted St, Chicago, IL 60657, United States
Contact: (773) 857-0907
Judging by its name, Men's Room Chicago is the perfect place to shop if you are a man or want to shop for one. Located in Boystown, this high-end destination enjoys a wide range of designer men's clothing and accessories.
Here you can build an entire wardrobe full of different attires, including formals, sportswear, t-shirts, shoes, outerwear, and other accessories for men. Pop into the Men's Room for gear, lube, style, and grooming.
Along with an extensive collection of men-centered products, Men's Room Chicago also offers a barbershop with a bunch of relaxing services that you absolutely need to avail yourself of.
So get your hands on the classiest fabrics and the bluest denim you can find in this store dedicated solely to men.
Una Mae's
Location: 1528 N Milwaukee Ave # 1, Chicago, IL 60622, United States
Contact: +1 773-276-7002
Do you love a vintage store that houses all of your favorite contemporary pieces plus offers a deal for two – shopping with your partner? Because Una Mae's is not only for men but also for the opposite gender.
This unique little vintage shop offers a range of clothing brands, accessories, gifts, and home and apothecary goods. Their original styles stand out amidst the common designs everyone is wearing these days. The eccentric ambiance is another plus point that makes shopping at Una Mae's a magnificent experience.
The prices are persistent with what you would expect to pay for vintage items of higher quality and are not generally something you would find in a thrift store.
Scotch and Soda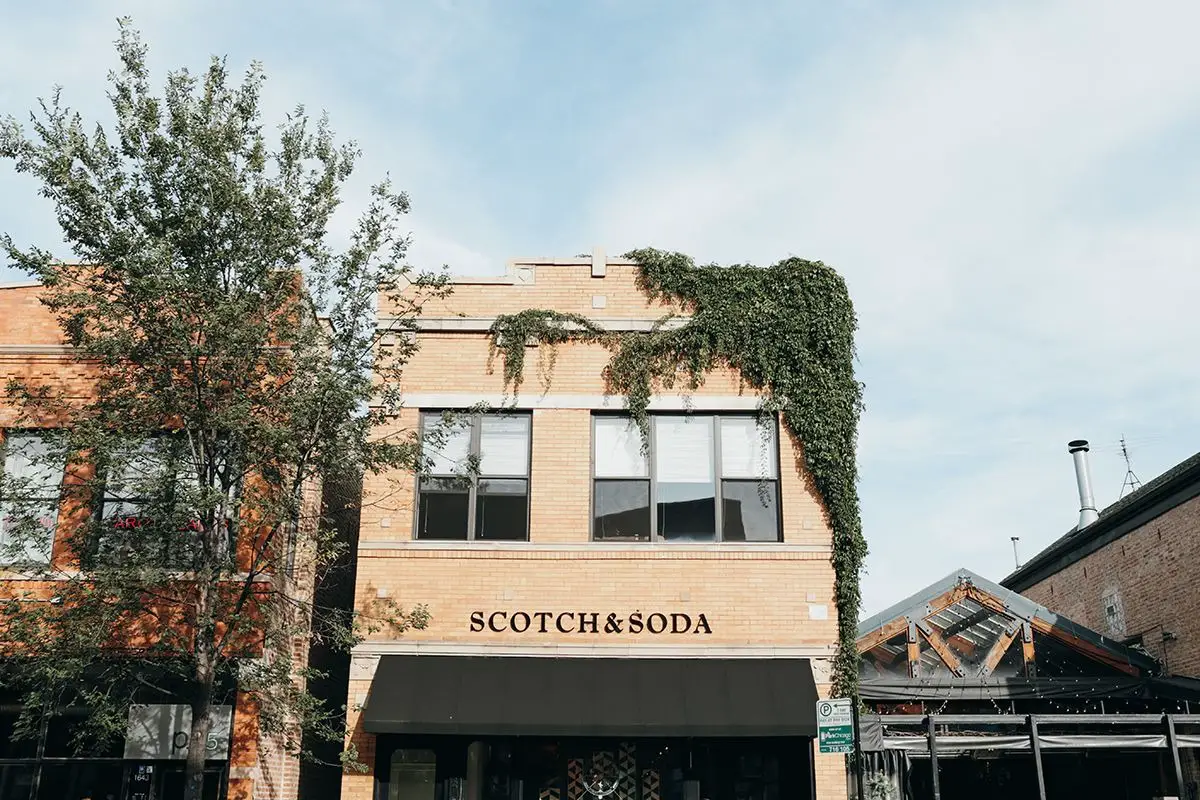 Location: 1639 N Damen Ave, Chicago, IL 60647, United States
Contact: (773) 687-8980
Scotch and Soda is a lifestyle clothing brand for men known for its unique architecture and a combination of urban and vintage chic. According to the brand itself, its motto is to celebrate and propagate the free spirit of Amsterdam and bring its culture to the west.
What strikes us most about Scotch and Soda is how each piece screams individuality and encourages all the customers coming to shop here to break free of monotonous clothing and dare to stand out.
The clothes you will find here are dignified yet relaxed. There is a huge category of clothing that you can choose from, including sportswear, blazers, suits, ties, casual wear, formal wear, accessories, and so on.
Jugrnaut
Location: 427 S Dearborn St, Chicago, IL 60605, United States
Contact: (312) 435-4635
While all the rest of the stores mentioned are somewhat sophisticated or vintage, Jugrnaut brings a new flavor to the cocktail. Here you will find all your hip-hop dreams coming true. Their sense of style is highly innovative and offers a jolly touch to menswear that we rarely see nowadays.
Another distinguishing factor of this boutique is how skater-friendly it is! Jugrnaut features Chicago labels like Enstrumental and standards like Reason, Hellz Bellz, and Kilo Goods, which are hits amongst their customers.
Independence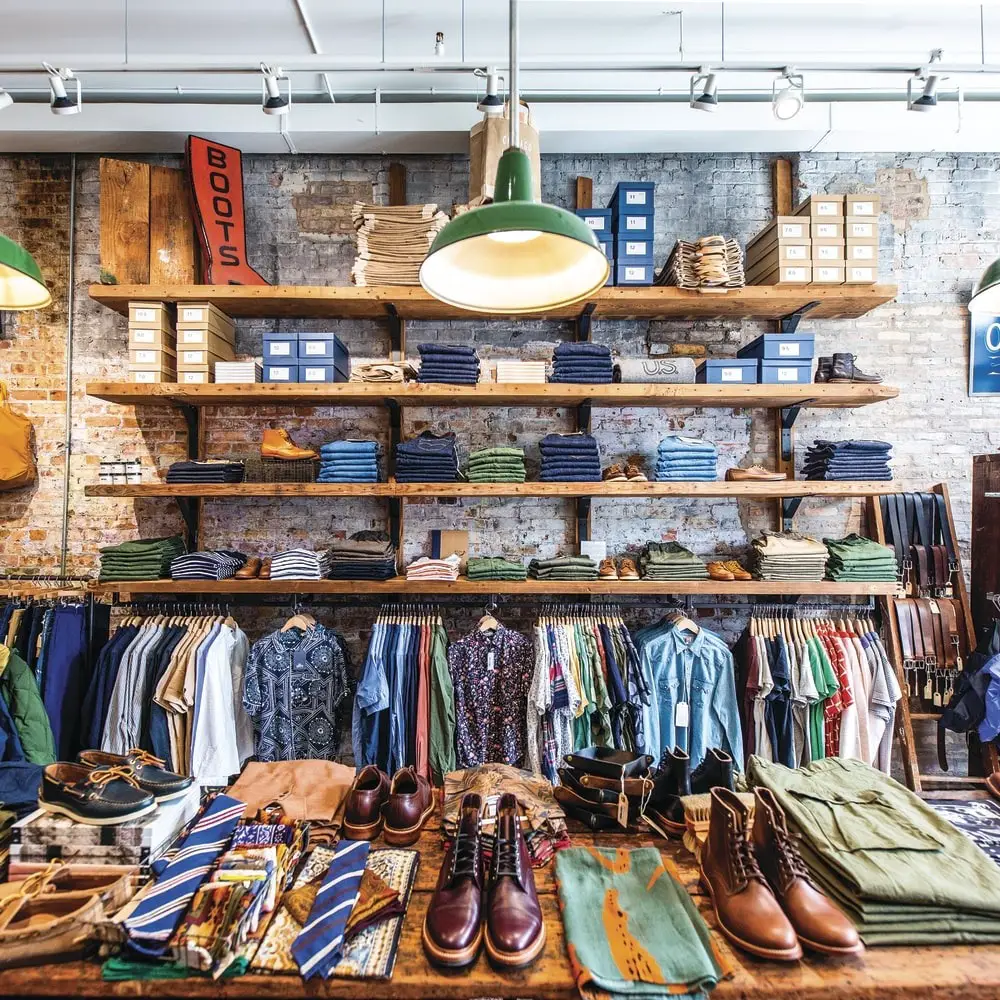 Location: 171 N Sangamon St, Chicago, IL 60607, United States
Contact: (312) 675-2105
Independence is an up-scale menswear store that features some of the best USA-based designer brands such as Engineered Garments, OrSlow, Kapital, Gitman Brothers Vintage, Oak Street Bootmakers, and many more.
You will find the best in every category you look for, be it quality clothing, designer sunglasses, footwear, belts, watches, accessories, or even contact lenses. What makes it even better is that all these items are priced very generously, so you can add the maximum number of items to your cart!
Saint Alfred
Location: 1531 N Milwaukee Ave, Chicago, IL 60622, United States
Contact: +1 773-486-7159
St. Alfred is a Streetwear shop in Chicago and is run by the same people who administer Kick/HI. The upscale store sells the best streetwear, outerwear, sneakers, and hats that you will find in Chicago, making it a customer favorite.
They keep collections other than their own and represent brands from both USA and Japan so you will find many limited editions and trendy pieces that they will soon run out of. Their service is also top-notch and the staff will enhance your experience ten times.
Nakamol Chicago
Location: 55 W Monroe St Ste 110, Chicago, IL 60603, United States
Contact: (312) 263-9003
If there is one thing men truly love to invest in, it's corporate wear. For men who take their work attire very seriously, Nakamol Chicago brings an extensive range of designer labels and custom-made suits.
Nakamol Chicago hoards several quality brands, such as Kenneth Cole, Gary Allan, Pierre Cardin, and so on, to give hundreds of options to people looking to impress corporations.
Balani Custom Clothiers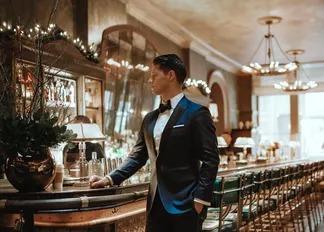 Location: 55 W Monroe St Ste 110, Chicago, IL 60603, United States
Contact: (312) 263-9003
Balani Custom Clothiers bring you the best-fitted clothes in town. No matter how stylish and trendy your clothes are, if they are not made to fit you, you will never be able to pull them off as well as you wish to.
They offer clothes in all categories such as wedding tuxedos, casual wear, formal wear, and tailored clothing. Moreover, the staff will be two steps ahead of you in every shopping decision and will make the experience a lot easier.
ESQ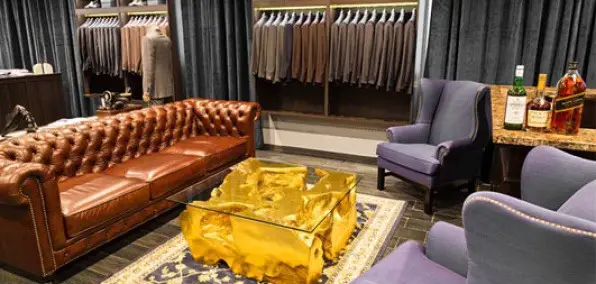 Location: 180 N LaSalle St, Chicago, IL 60601, United States
Contact: (312) 757-8500
ESQ is hands down the most popular clothing store for men in Chicago. You will understand the reason for its immense popularity when you see the range of high-end brands they represent such as Armani, Burberry, Ralph Lauren, and Hugo Boss.
Many of the Chicago locals have hailed ESQ as the best place to get statement suits from. Their love for handcrafted bespoke suits, tuxedos, sports coats, and shirts brings them to ESQ time and time again. If there is anything that can make ESQ better, it is their four distinct house styles – British, Roman, Milanese, and Neapolitan – suits for every occasion and country.
Enzo Custom
Location: 67 E Oak St Suite 3E, Chicago, IL 60611, United States
Contact: (630) 580-8750
Enzo Custom is another exceptional store in Chicago that creates customized garments for Chicago men with immaculate sophistication and expertise. Their production times are impressive, especially if you are ordering a personalized suit at the 11th hour.
This store deals in the basics, and its goal is to provide garments that are customized to your preference, offer tuxedo rentals for upcoming events, and provide vest services and pant alterations all in one place.
Bonobos
Location: 3434 N Southport Ave, Chicago, IL 60657, United States
Contact: (773) 55-83118
Bonobos is an innovative way to shop for men's clothes and you should give it a try at least once. If you step into the store, you will not have to deal with the typical retail chaos. Instead, there are stylists to assist you regarding what fits you best, what looks good on you, and how you should pair your accessories with the clothes you are purchasing.
However, what makes it a truly creative experience is that Bonobos allows you to try multiple clothes in the comfort of your home and return what you don't like. Doesn't that make shopping so much easier?
Psycho Bunny
Location: 900 Michigan Ave Unit L2-10, Chicago, IL 60611, United States
Contact: (872) 345-1775
Psycho Bunny is mostly a casualwear store for men that offers a great collection of shirts, t-shirts, denim, suits, and much more at reasonable prices. Also, the clothing collection is confined to men and offers the same products for women.
The quality of the clothes is exquisite, made of soft, durable, breathable Pima cotton jersey that fits well and is available in a variety of sizes.
Kim's Menswear
Location: 326 E 47th St, Chicago, IL 60653, United States
Contact: +1 773-373-2237
Established in 1976, Kim's Menswear has been around for a long time. While the younger generation may not be fond of the store or the traditional style, older folks still vouch for this place.
Here you are guaranteed to find shirts or shoes that will remind your dad of the "better times". Their basics have stood the test of time and continue to impress people of their generation. Give it a go if you don't want to take risks and stick to the basics!