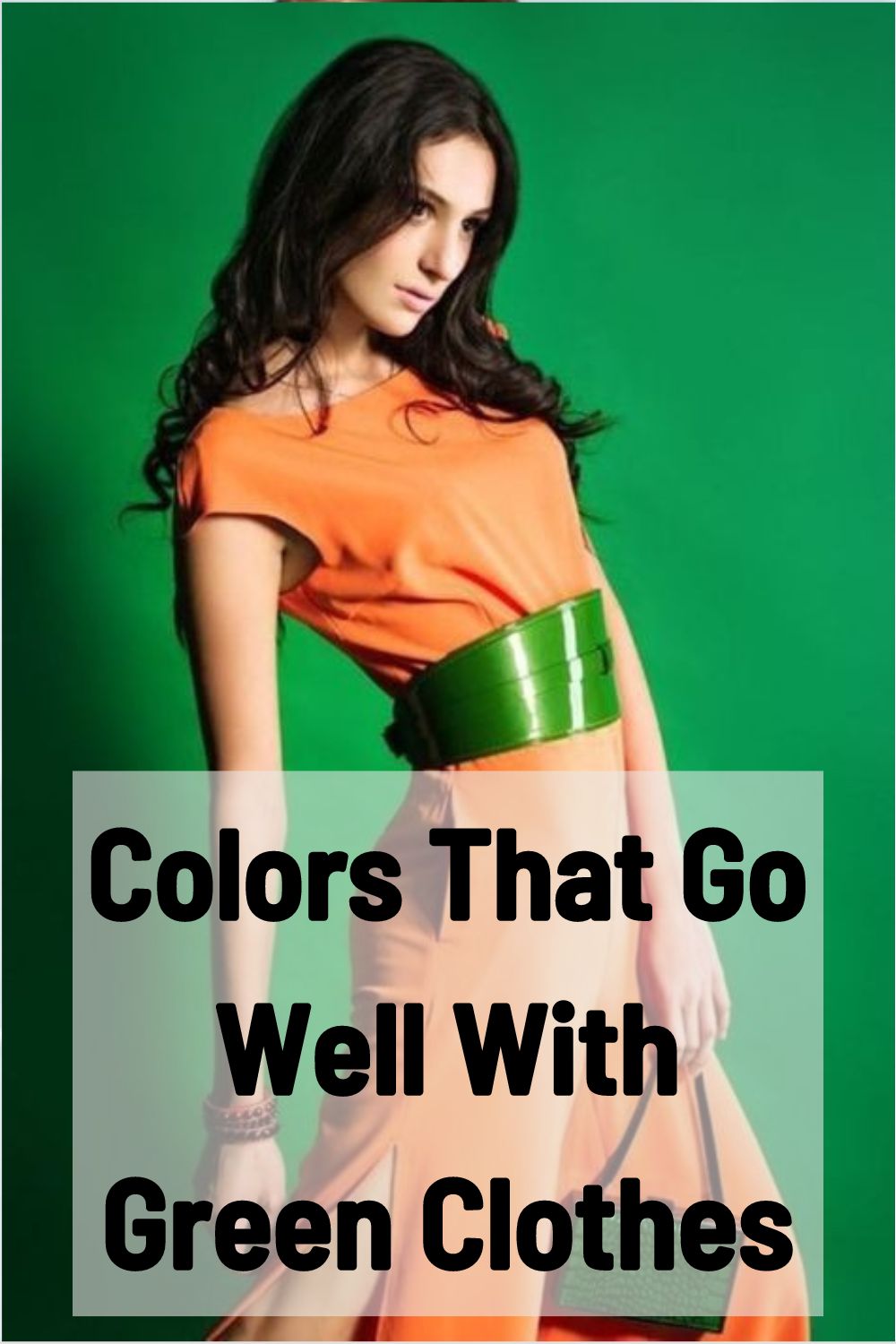 Green is a universal signal for go or readiness. It is the color of life/nature and prosperity. It also happens to be one of the most challenging colors for humans to see. That's why you'll rarely see green clothing in nature. Unlike other primary colors, green can appear very different depending on the light and viewing angle. The same shade of green can look blue, yellow, or even brown depending on lighting and its surrounding hues. You might think that makes it the hardest color to match your outfit. But with the right tricks, you can make any outfit pop with green without anyone noticing it's such a challenging color to work with. In this blog post, we will explore 13 colors that go well with green clothes. We will also touch on color theory and how you can use it to create your own stunning color combinations.
What Makes Green a Special Color?
As we all know, green is the color of life. It's associated with nature, growth, and abundance. But did you know that green is also a very special color? Here are some things about green that make it a special color:
Green is the most restful color for the human eye. This means that it can help reduce stress and promote relaxation.
Green is also a very calming color, making it great for use in bedrooms or other relaxing spaces.
Green has been shown to boost productivity and focus. So if you're looking to get ahead at work or school, try adding some green to your environment!
Green is also thought to be good for your health, as it can help improve circulation and promote detoxification.
And lastly, green is simply beautiful! Whether you prefer a bright shade like lime green or a more subdued shade like olive green, there's no doubt that green is one of the loveliest colors around.
Things to Consider When Styling Green Clothes
There are basically two things you should do when pairing a piece of green cloth with other colors in order to create a very nice outfit. They are:
1. Determine The Shade of Green You Want to Wear:
First, you have to decide the kind of green you want to wear: Bright or Dark green? Cool or warm? If you're creating a green-themed outfit, it's best to choose a single shade of green and stick with it. A monochromatic color scheme is a tried-and-true method for dressing in green with confidence and ease. It's also a great way to add a pop of color to an otherwise neutral outfit.
2. Always Match Your Green with Your Skin Tone
Green is a tricky color to wear. It can make you look sick, young, or just plain unattractive. The best way to avoid any of those unfortunate outcomes is to match your green to your skin tone. If you have fair skin and blue eyes, you'll want to stick with warmer, yellow-green shades. They'll complement your cool skin tone and bring out the blue in your eyes. If you have dark skin and brown eyes, you'll want to stay away from cool greens. They'll make you look sickly and washed out. Instead, warm greens will complement your deep skin tone and bring out the brown in your eyes.
Best Colors to Pair with Your Green Clothes
Below is a list of some of the perfect colors you can combine with your green clothes to create a very beautiful outfit:
Yellow with Green
Green is a great color to work with because it goes well with so many other colors. One color that always looks good with green is yellow. Yellow is a cheerful color that can really brighten up an outfit. If you want to wear green clothes but don't want them to look too dull, pairing them with yellow is a great way to go.
You must take into account the colors you are blending if you want yellow and green to complement one another rather than clash. Combine subtle shades of green with subtle shades of yellow or pair bold shades of the two colors. For instance, lemon yellow will complement lime green beautifully. Or you may combine a seaweed green with a mustard yellow hue.
Blue with Green
It is a no-brainer that blue goes great with green clothes! It is a very complementary color and can really make your outfit pop. Blue and green complement each other well and make for a refreshing outfit because they are close relatives on the color wheel. The darker shades of blue pair beautifully with rich green hues. Darker blues and muted greens, on the other hand, make a sophisticated pairing.
For example, if you have a light green shirt, pair it with a baby blue sweater or scarf. Or if you have a dark green dress, try pairing it with a navy blazer or shoes. Whatever style you choose, just make sure the colors are evenly matched in terms of saturation so that your outfit looks intentional and put together.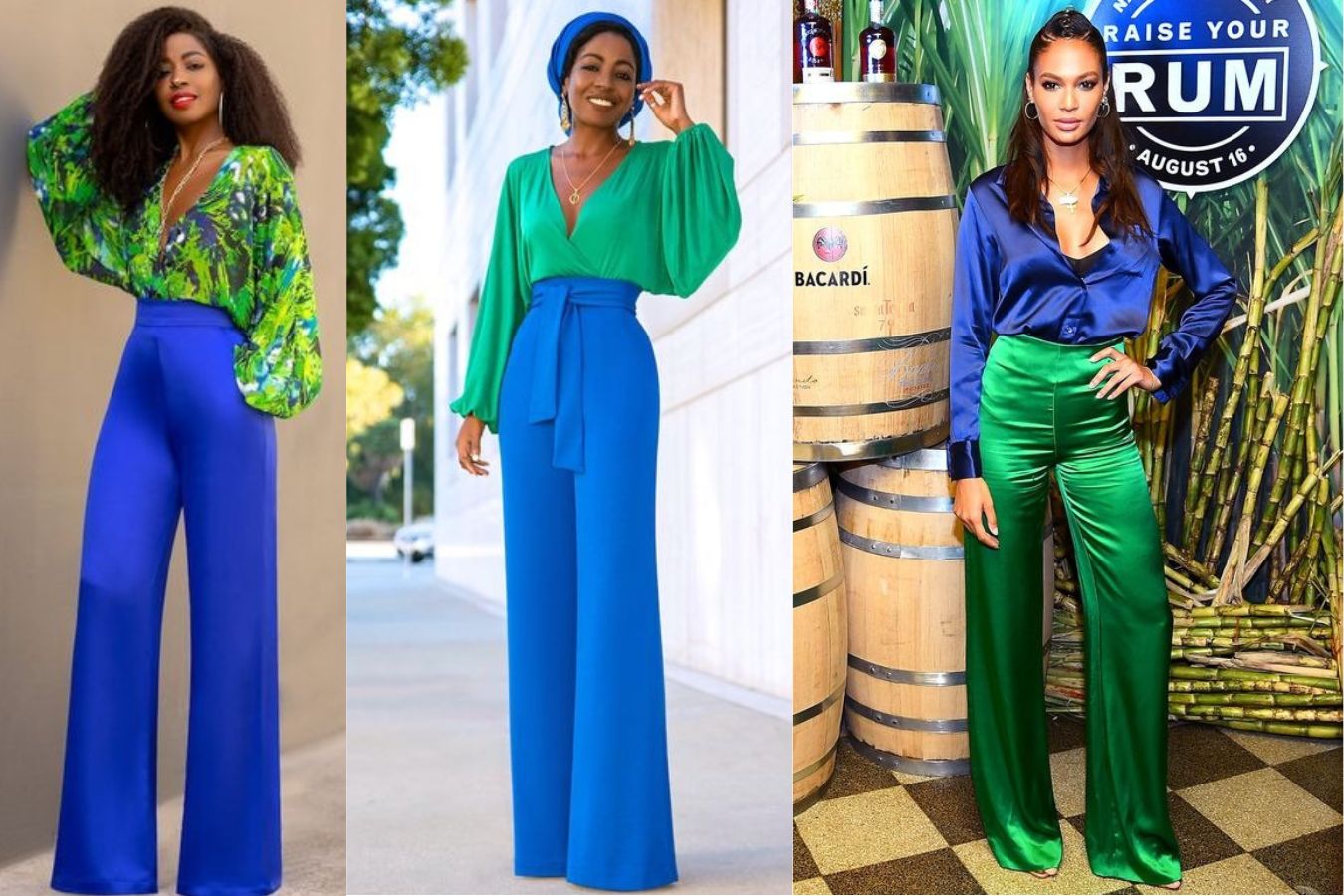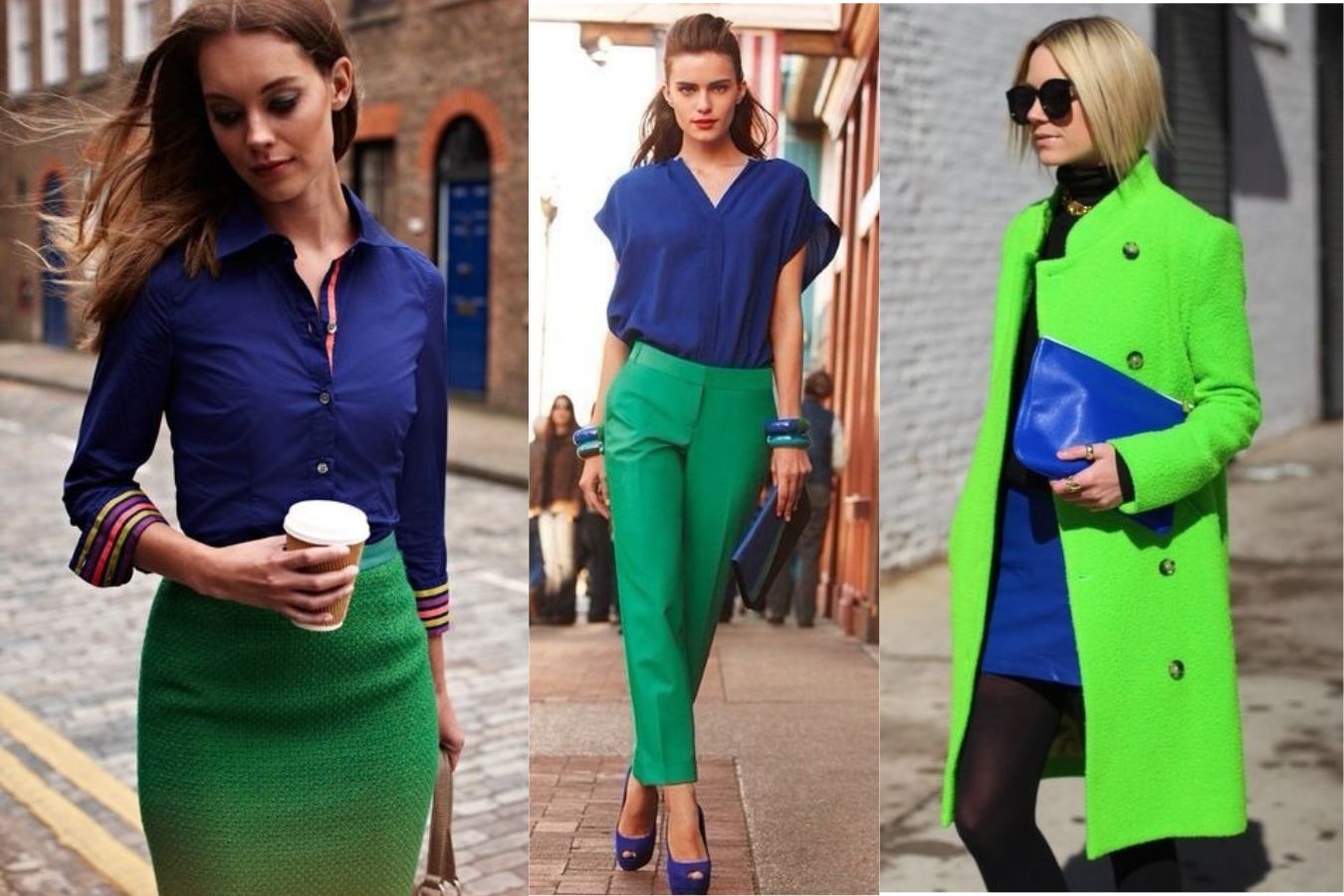 Orange with Green
According to the color wheel, orange is a complementary color of green. This means that these two colors are opposite each other on the wheel and create a high-contrast look. When pairing orange and green together, it is best to use light and dark shades of each color to create a more balanced outfit.
Burnt orange, rust orange, or coral orange are the ideal orange hues for this mix. The cold undertones of the color green are heated up by the warm orange undertones. Pairing different shades of the two colors are essential when you are combining orange and green to get a balanced appearance. For example, you could pair a light green top with a dark orange bottom or vice versa. You can also add some neutral colors to help tone down the overall look.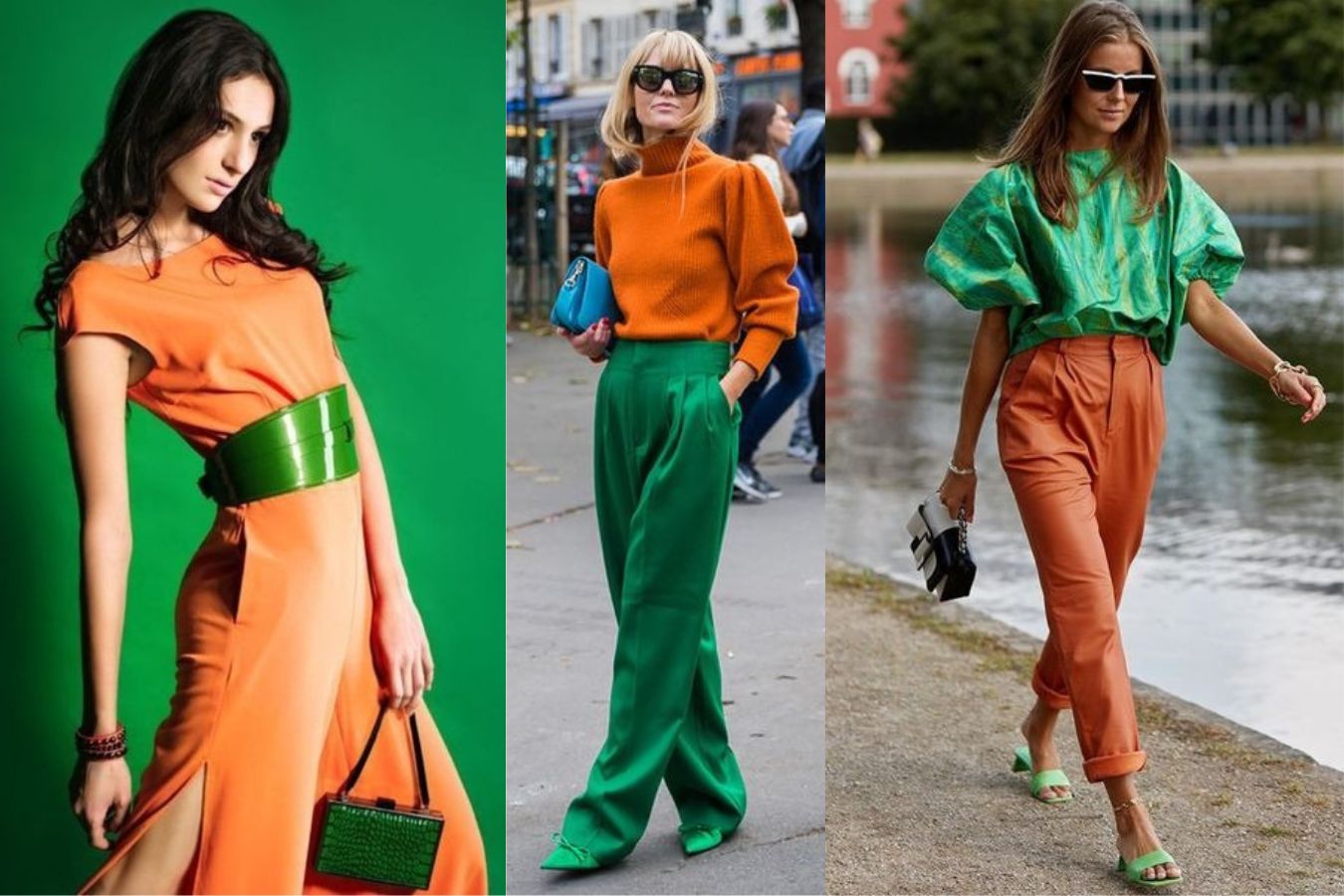 Gray with Green
When it comes to choosing colors that go well with green clothes, gray is another great option. Gray is a neutral color that can help to tone down the brightness of green, making it more wearable for everyday looks. Pairing gray and green together can create a chic and sophisticated look, perfect for work or weekend wear.
Unlike the color pop created by other colors like white, gray creates subtlety when combined with green. It will complement your green attire. In this pairing, there is no focal point and the two colors will work together harmoniously. This will give an overall natural, classy and relaxed look. To add a bit of pizzazz to the look, try mixing different shades of gray and green, or experiment with different textures and patterns of fabrics of the two colors.
Pink with Green
If you're looking to add a pop of color to your green outfit, pink is the perfect option. Pink is a feminine color that can range from pale and delicate to vibrant and bold. Hence, pairing pink with your green clothes will add a feminine feel to your overall outlook. Although the two colors seem to generally work well together, it is still important to put the intensity of each color into consideration when pairing them.
When pairing pink and green, it's important to consider the tones of each color. For a softer look, pair pale pink with olive green or mint green. If you want a more vibrant look, try pairing fuchsia with lime green or hot pink with forest green.
Beige with Green
Beige is a great color to pair with green clothes. It is a neutral color that can help to tone down the brightness of green. The natural-inspired colors of beige and green work well together in apparel. In general, neutrals are always a good choice when experimenting with strong hues like green. If you are looking for a more subtle way to wear green, then beige is a great option.
Beige can also be used to create a contrast against green, which can make your outfit more interesting and appealing. For instance, if you are dressing up in the fall, finish off your green shirt with a beige trench coat or combine it with beige pants. The rich colors of your green pieces spike the beige color, providing you with a casual but stylish appearance.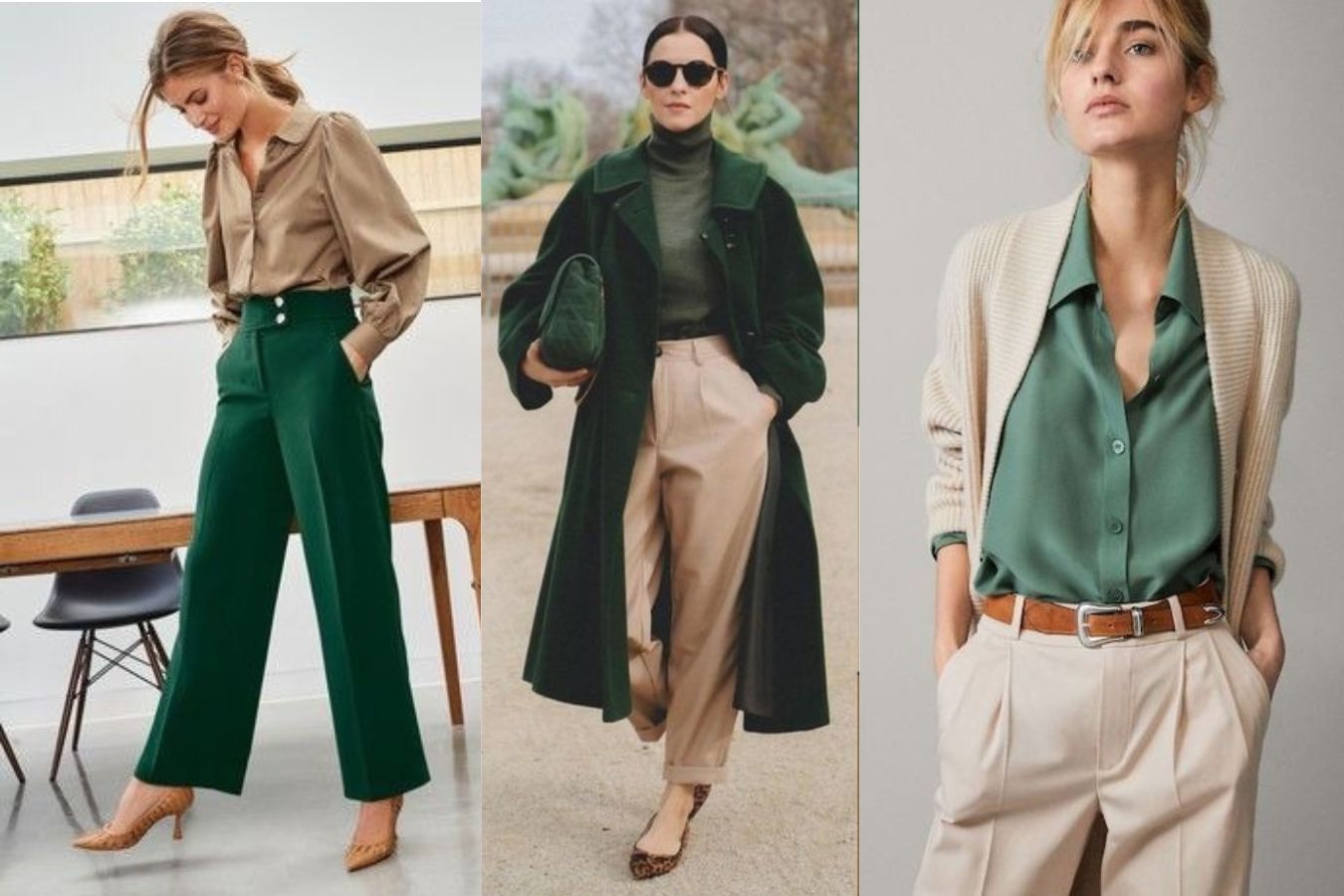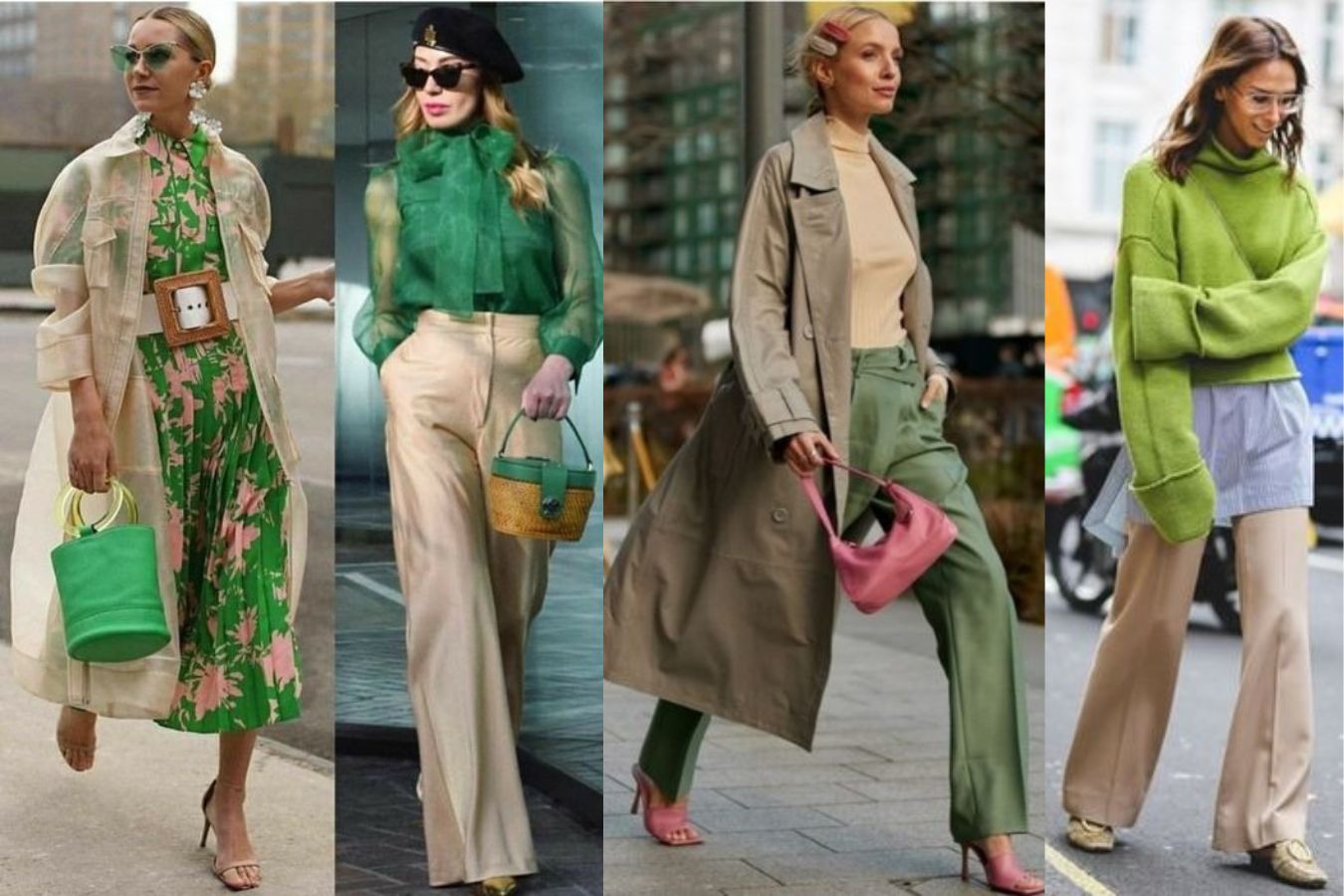 Purple with Green
Purple is the visual opposite of green, making them a harmonic and lovely color combination. When you combine purple with darker shades of green such as emerald green, purple pieces warm up your look by creating a lively outfit that will attract attention.
The color purple is a regal color that can go well with green clothing. It is important to note that different shades of purple can have different effects. For example, a light purple may be more flattering with green than a deep purple. When choosing a purple to wear with green, it is important to consider the shade of both colors and how they will work together.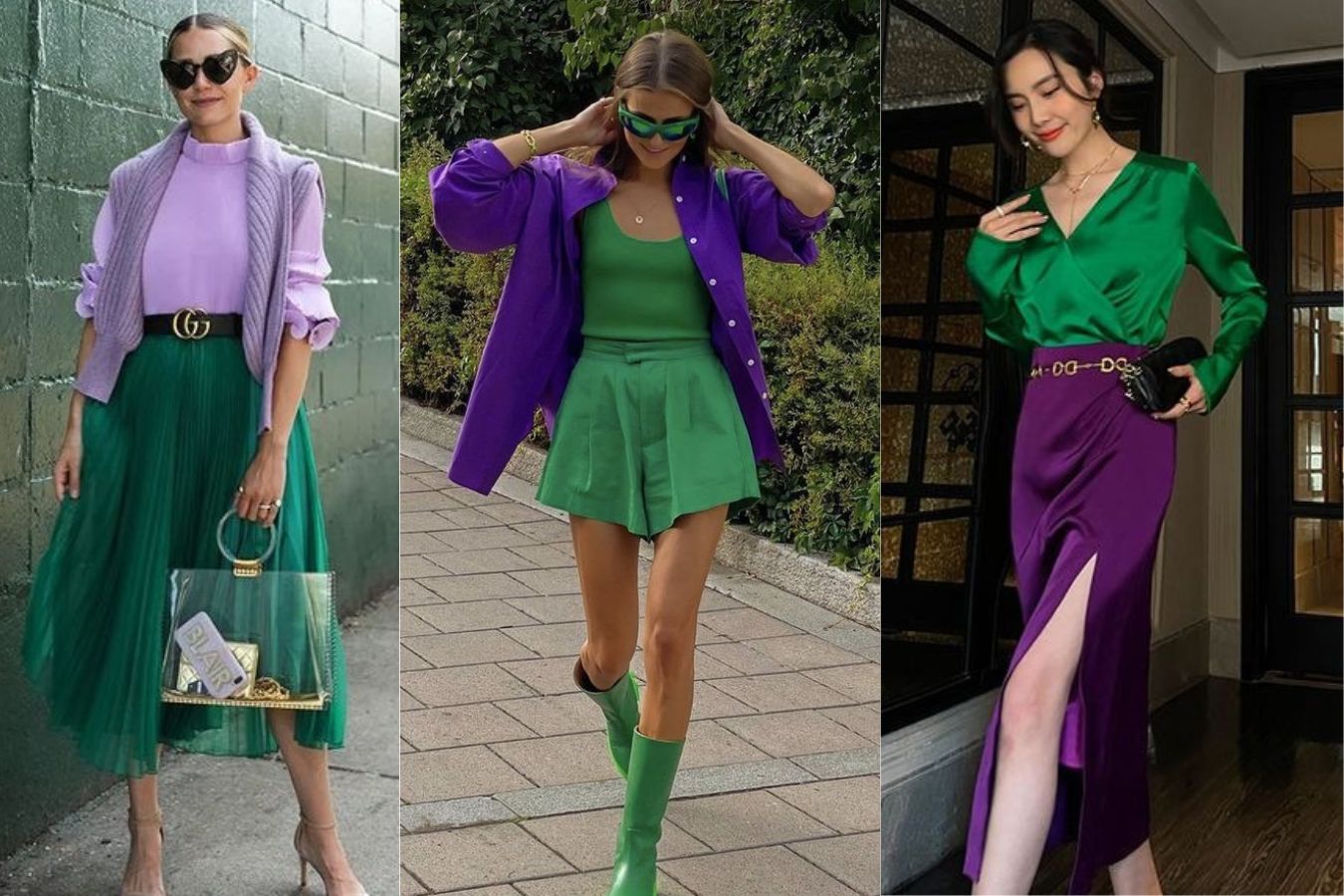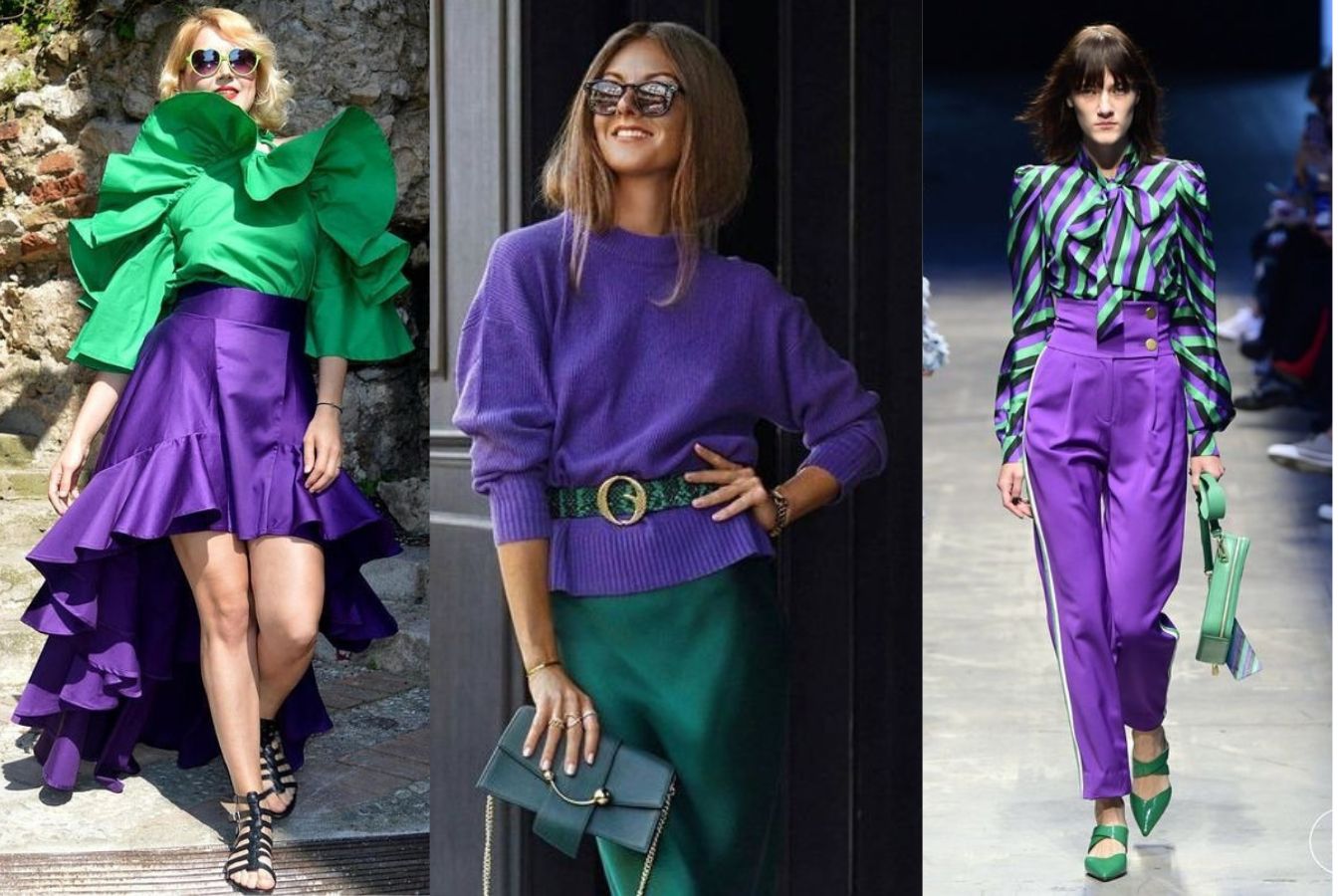 White with Green
When it comes to pairing green with other colors, white is always a good bet. The clarity and crispness of white are some of its best qualities. It has a natural pop that can make any outfit the center of attention. If you're planning on wearing more than one green, this is good news. The two distinct tones of green will be harmonized by the addition of a white t-shirt.
The two colors create a clean and fresh look that is perfect for spring and summer. Whether you're wearing a green dress or a green top, pairing it with white pants or a white skirt will give you a classic look that is sure to turn heads.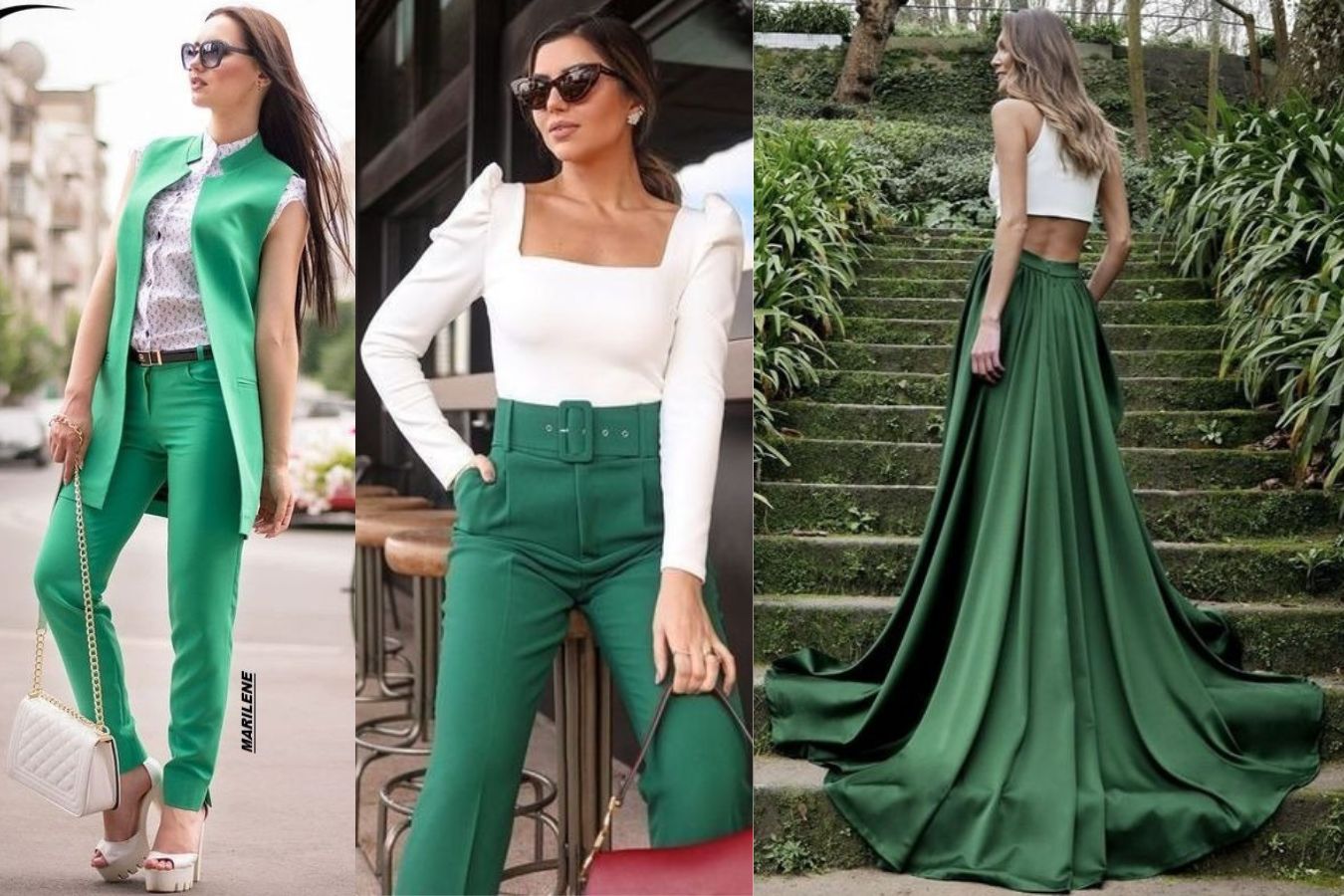 Red with Green
Green and red are both primary colors, so they naturally go well together. Red is also a warm color, so it can help to offset the coolness of green. Due to how well the two colors complement each other, green and red will have the most contrast and can help you stand out from the crowd, particularly in a more vibrantly saturated style.
Do not make the mistake of combining these two for a formal event, the pair is just not suited for that. Green and red don't have a formal or serious feel to them. By donning this combination, you'll unleash your inner party animal and help you become the life of the party. Try pairing a green shirt with a red skirt or pants. You could also go for a green dress with red accents, like a red belt or shoes.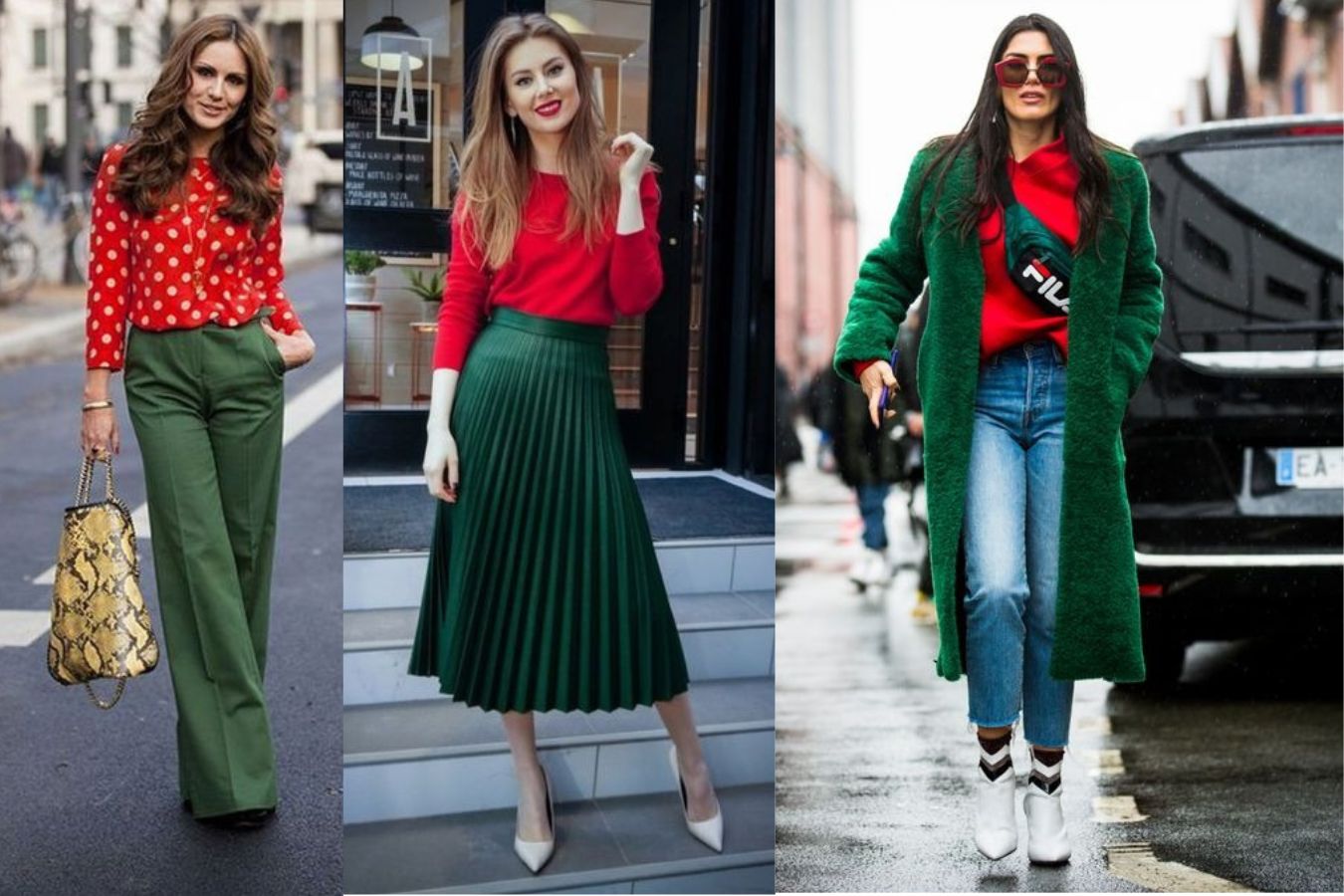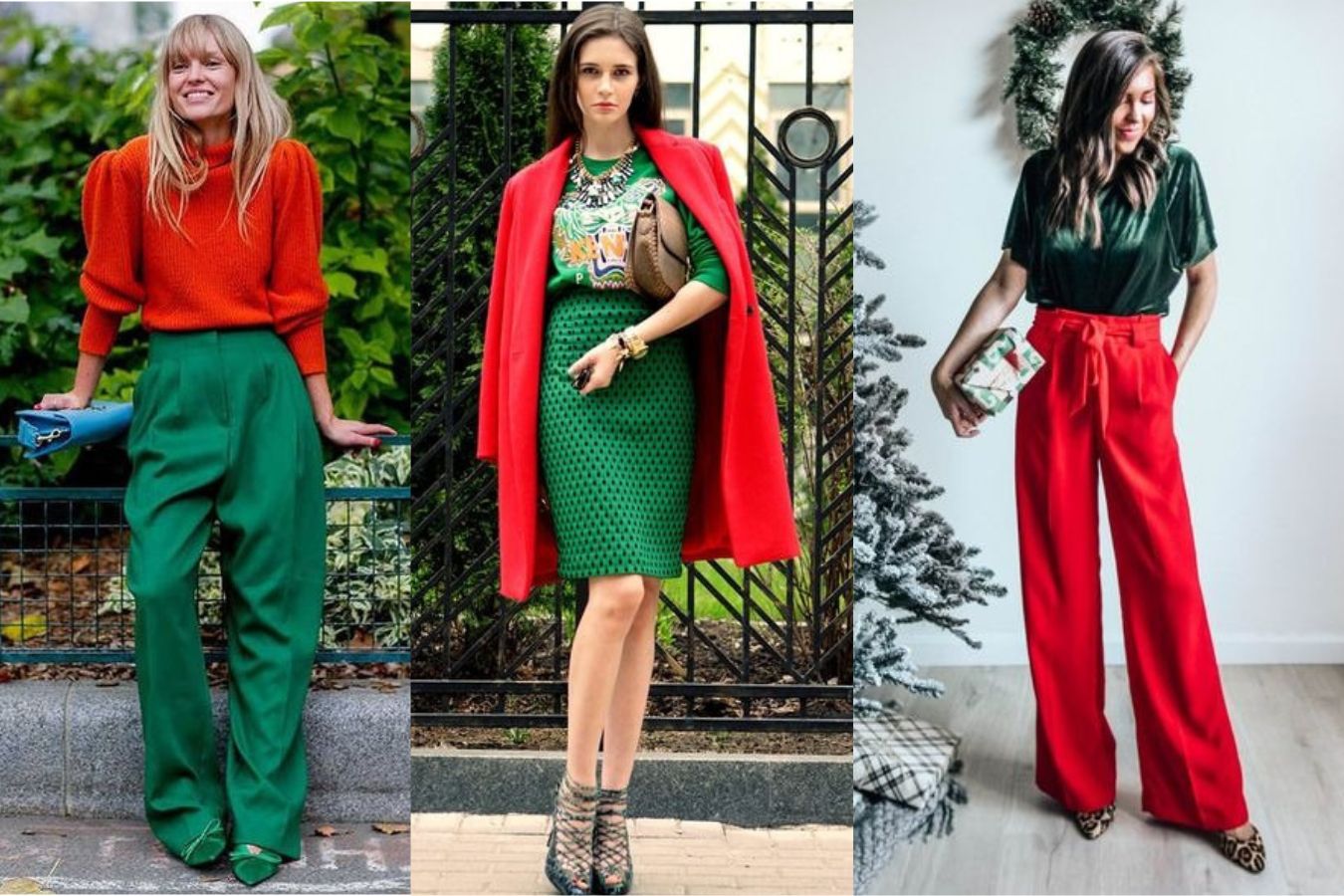 Black with Green
If you're looking to make a bold statement, black is the way to go. Black goes well with green clothes because it provides a stark contrast that really makes the green stand out. If you want to create a refined yet striking image, green and black are the ideal combination. Black and green are appropriate corporate colors for the majority of office outfit standards. When it comes to dressing to impress, it's a successful collaboration.
It makes no difference whether you wear black over green or the other way around. Any outfit that combines the two hues will give you a polished, in-charge appearance. If you want to go for a more classic look, pair your green clothes with black accessories like a belt or handbag.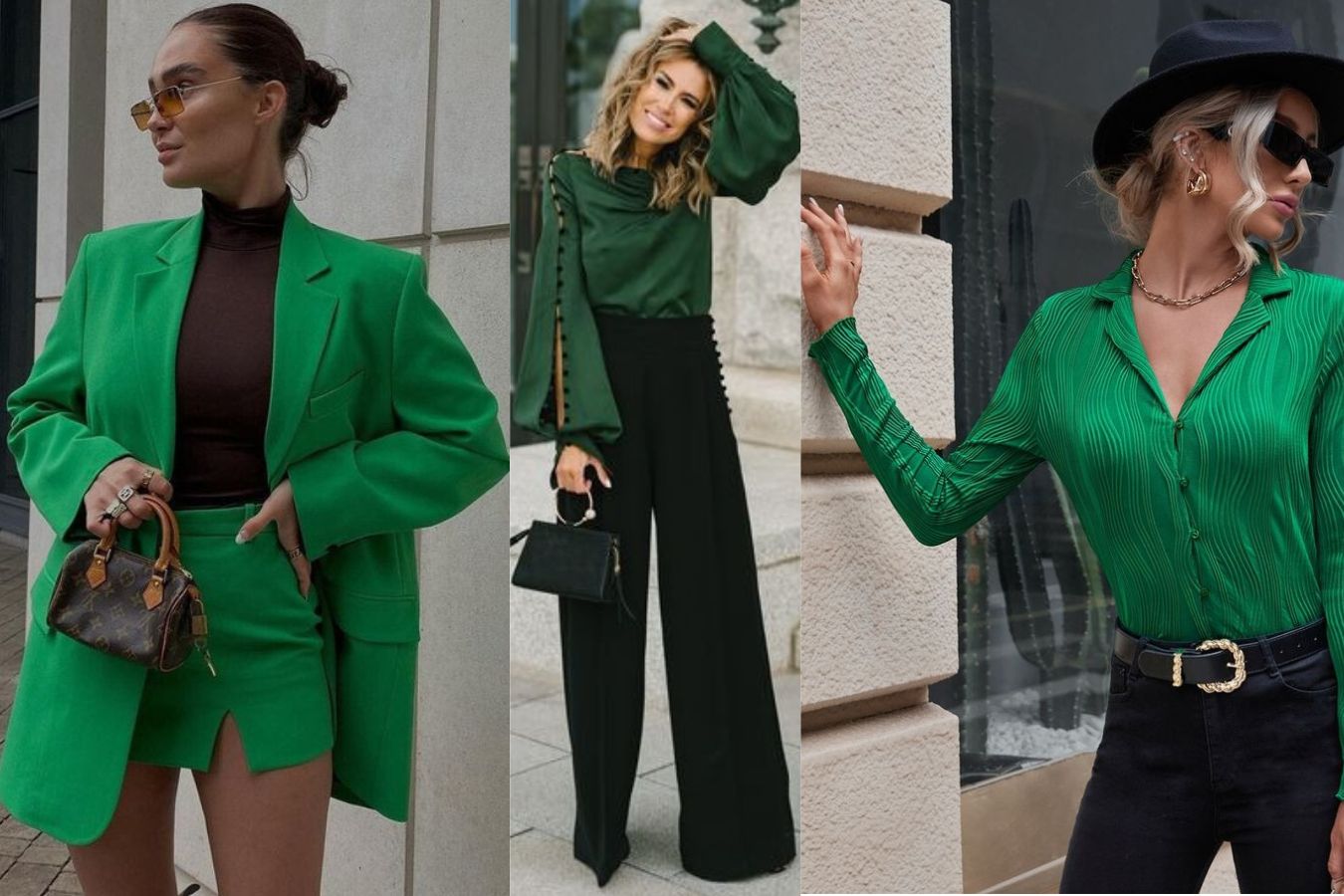 What Colors Go with Yellow Clothes?
Being the closest color to green on the color spectrum, it is only fair to talk briefly about the colors that can combine nicely with yellow. Yellow is a bright and sunny color, which makes it perfect for spring and summer. It's also a neutral color that goes with just about anything, so it's easy to pair with your favorite clothes.
If you're looking for something that will bring out the best in your yellow clothes, here is a list of the best colors to try:
Green: Green helps bring out the brightness of yellow without being overpowering or too intense. It's a great color choice if you want something more subtle than red or orange, but still want to make sure people notice how bright your outfit is!
Red: Red stands out against yellow, making it an excellent choice for an outfit with lots of yellow. It also pairs well with other bright colors like orange and green.
Orange: Orange is a great complement to yellow because it adds depth and contrast to your ensemble. It's also nice for pairing with black and white for a sophisticated look.
Conclusion
As you can see, there are a variety of colors that go well with green clothes. You can use these colors to create different looks, depending on the occasion. If you're ever unsure about what to wear with your green clothes, refer back to this list and you'll be sure to find the perfect match.