Sorting and organizing baby clothes could "spark joy" for you if you are a natural neat freak.
Looking at the disorganized stacks of baby clothes might be downright overwhelming for the rest of us.
But don't worry, mama, we've got your back. Through trial and error (as well as the trials and errors of many other parents), we have learned a lot about organizing baby clothes. We have also discovered some nice tips that have helped us regain our sanity. We anticipate that you will enjoy them as well.
Check out these 10 smart ways to organize all your baby's clothes with minimal time and less effort.
How to Organize Baby Clothes?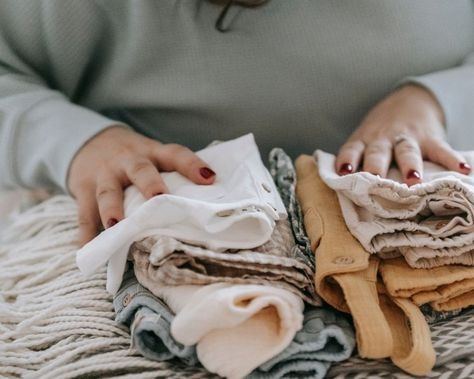 There are numerous considerations to be made while designing the ideal nursery, including what furniture to purchase and what decorations to hang. You might ponder how to organize baby clothes as the room takes shape. Make sure the necessities are simple to access and that the small pajamas don't wander off. These smart ways will help you live more easily as a new parent.
10 Smart Ways to organize baby clothes
Baby clothes are adorable, but they can be hard to keep organized, especially when newborns grow out of them so rapidly. Don't worry if you're not sure where to begin when it comes to keeping track of it all. There are several storage options and organizers available that will make your baby's room look organized and peaceful.
Check out a few of our organizing tips and smarter ways to keep all of your baby's clothes organized so you can stay on top of things before they get too out of hand!
1. Organize by Size Before Storing to organize baby clothes
Sorting your baby clothes by size will make it easier for you to remove items as your child develops, whether you had clothing from a previous child or received gifts at your baby shower. When your baby outgrows the garments, you can donate them or put them back in labelled boxes to keep them for a future child.
2. Ornament Boxes to organize baby clothes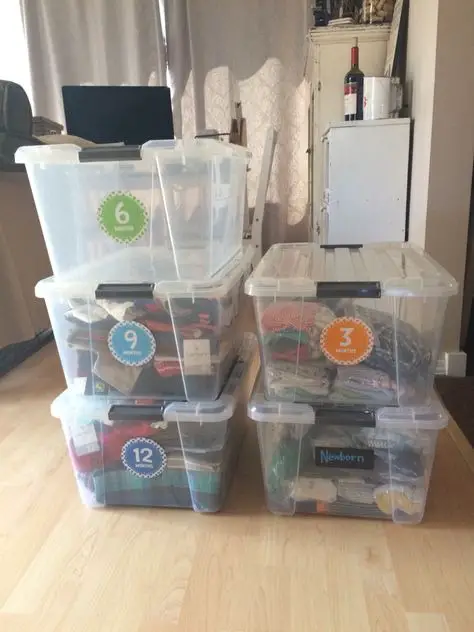 Baby clothes frequently come in sets, such as sets with matching tops and trousers. However, putting an outfit together when everything is thrown into a big dresser drawer might be challenging.
Using ornament boxes will help you cease your never-ending search for a matching set! Little squared-off pieces are already present in these enclosures. What precisely fits in those boxes, do you know? It's what you anticipated! a set of baby clothes that match.
Designate Drawers for Each Type of Clothing
One of the nicest purchases you can make for the nursery is a dresser, which doubles as a diaper changing station and a place to keep clothes organized.
Baby clothes should be kept in the other drawers of the dresser, and the top drawer should be reserved for diaper supplies. For one or two types of clothing, try to assign one drawer per category. Onesies and slacks might be kept in one drawer, and jumpsuits and pajamas might be kept in the other.
3. Baskets to organize baby clothes
To get through the day, babies need a lot of different outfits. Along with the numerous blankets and towels, they also provide bibs, socks, hats, and even mittens.
All those little things fit in a large drawer. Put them in baskets to maintain their separation. It is simple to locate the ideal storage for every type of clothes item because baskets are available in a variety of styles and dimensions.
4. Closet Dividers to organize baby clothes
Throughout your pregnancy and following the birth of your baby, you'll surely receive a lot of small clothes. To keep your baby looking adorable at any age, savvy parents will purchase a variety of sizes.
The issue arises when you stuff every outfit into the closet without first sorting it.
The size-based organization of the hanging garments will be aided by these closet dividers. This makes it simple to hang clothes once they've been washed and helps you stay organized as your kid grows into a new size.
5. Cube or door shelves to organize baby clothes
You don't want to waste any of the available storage space whether you live in a small house or have a little space. Consider using the closet to organize your clothes if you don't have a dresser. Set up a few cube shelves to make enough room for all of your baby's clothes and accessories. Also, the track-mounted storage basket system is a fantastic way to make use of the otherwise vacant closet door.
Here, you can keep all of your child's little shoes and bibs as well as out-of-season clothing for the baby. Extra diapers can be stored in them with ease as well. To store baby linens like receiving blankets and burp rags, you may install shower curtain hooks beneath the baskets.
6. Wall Storage to organize baby clothes
You don't just have to keep your baby's clothes in closets and dressers. These creative organizational ways go beyond the norm!
An attractive shelf or two can be used to add a little extra hanging space. Anywhere you have room, you may make a little closet by installing a wall shelf with a bar for hanging clothes.
The shelf can be easily painted to complement the nursery's decor.
Despite being on the door rather than the wall, we believe this one still qualifies. A hanging shoe organizer is a great way to store clothing while taking up the least amount of room.
These costumes are simple to match with the days of the week or the month. Have fun with it and come up with a color scheme so that your clothing storage may double as decor as well!
Check out this easy storage solution if your baby girl's headbands are tied up in a bathroom bin.
With the addition of additional clothespins, you might hang this in your bathroom or nursery. By painting the clothespins, a vibrant color or embellishing them with washi tape, you can make it even more entertaining.
Although using baskets as organizational tools is obvious, installing them on the wall is a novel idea. The nursery becomes more antique and whimsical thanks to these wire baskets.
You can keep diapers or pajamas in these baskets. The extra splash of color from the garment can also be used as decoration.
7. Floor Storage to organize baby clothes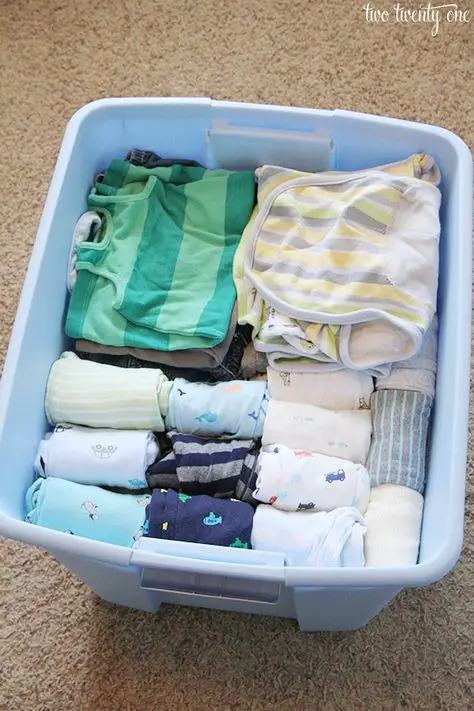 It's a good thing that cribs don't take up a lot of floor space. For clothes storage units, it frees up more space.
Metal rolling carts are useful for numerous things. One can serve as a bar cart or be used to hold your craft supplies. You can store all of your child's shoes, baby blankets, and onesies if you keep one in the nursery.
This cart is convenient because you can either locate a permanent spot to store it in your baby's nursery or move it from room to room. However, after your child begins toddling, you'll undoubtedly want to keep an eye on it. Because children enjoy pushing these carts around, any anything with wheels can tip over.
If you don't already have a closet for baby clothes, you can build one. It's a brilliant idea to convert a bookshelf into a closet.
Finding a suitable bookshelf ought to be simple. Visit a nearby used furniture shop, order one online, or go shopping at a few yard sales this weekend. Additionally, they are simple to paint in the colors of your nursery.
Baby clothes can be neatly arranged in the plastic toy bins. They carry a lot of goods and are simple to label. You can swap out the clothing for toys once your youngster is a little older.
There is enough of room for diapers, accessories, and other items on the shelves, which include 12 containers in two sizes.
Any crib has enough room underneath it to include a drawer or other under-the-bed storage units. These flat bins are perfect for storing out-of-season or still-too-big clothing and can contain a whole stock of baby clothes.
Look for a bed that the bins will still fit under when your child moves up to a big-kid bed as they get a little older. Alternately, get a bed with drawers for integrated clothing storage.
8. Label Everything to organize baby clothes
You can count on there always being a lot of helping hands available when you're a parent, especially a new parent. Even while we enjoy assistance, it's easy for items to be lost when people are constantly going in and out of your baby's closet and drawers.
The nursery will be really simple to keep clean if everything is labeled. Additionally, this will aid your partner, spouse, close family members, or nannies in maintaining baby's room in a tidy state.
9. Use Vacuum Seal Bags or Bins for Baby Clothes to organize baby clothes
Use Vacuum seal bags or bins to contain clothes that the Baby cannot use right away. Keep in mind that we advised you to arrange the baby garments by size. To store baby's garments that aren't ready to be worn right away, use vacuum seal bags or clear containers. You could store them under the crib or in the closet while still keeping them in the nursery, saving critical storage space in the drawers and on the closet rods.
10. Bring in a Clothes Hamper near your baby's utility cart to organize baby clothes
Consider adding a multipurpose cart like this one to the nursery if you need more space to store baby garments as well as daily-used items. Additionally, have a laundry hamper close to the changing area to gather dirty garments.
Your baby's go-to clothing can be stored in the utility cart. (Stash some extra onesies there, please!) The beautiful part about this concept is that you can move around with your child's necessities on your person.
For a quick and simple change, especially in the early morning or late at night, keep sleepers, diapers, and wipes on the rolling or utility cart.
Keep Baby Safety in Mind When Organizing
When organizing your own space, this might not be something that immediately springs to mind, but when it comes to a baby's room, everything is much more exacting. For while the baby is being dressed, just make sure that anything that is close at hand or stored low is safe.
Donate or store your unwanted baby clothes
It's time to decide what you're going to do with your baby's clothes once you've gone through them and have piles of what they wear, don't wear, and what fits and doesn't.
When it comes to the clothes items, you have a few possibilities. Here are some suggestions:
Send these to your family or friends.
Give them to a local nonprofit.
You should keep them for future babies.
Do not hesitate to throw away anything that is beyond repair if it is ripped or discolored.
Purge Your Baby's Clothes Every 3 Months
Manufacturers of baby garments scale their products in three-month increments, so you have:
Newborn
0 to 3 months
3 to 6 months
6 to 9 months
9 to 12 months
12 to 18 months, etc.
The organization of your baby's clothing sizes changes a little after their first birthday.
It's a good idea to purge or clean out your baby's clothing every three months. Gather every piece of clothing your child currently wears in that size to complete this. Following that, divide those garments into three piles:
Clothes that fits your baby
Clothes that are not your baby's size
Clothes that your child just does not wear or are dirty
There is no certainty that your baby will wear something just because it is in his or her closet or drawer. Most likely, you have both clothing you wear frequently and less frequently for them.
You'll be astonished at the things your kid doesn't wear when you purge the wardrobe by size every three months!
Wrapping Up!
Staying Organized and Sleep Well!
You should now be familiar with storing, purging, and donation strategies for baby clothing.
You are skilled at arranging all of your baby's priceless garments in a way that works for your needs and available space. They're ready for a good night's sleep now that their space is clean and organized, and so are you!