Bucket hats have made a significant comeback in the last few years, and now they're everywhere. Men wear them to protect themselves from the sun or as accessories to their outfits.
Whether you're looking to stay stylish while keeping cool in the summer heat or making a bold fashion statement, here's how to wear and style bucket hats for men.
What Are Bucket Hats?
Bucket hats are an essential summer must-have. This classic style of hat was commonly used in fishing and outdoor activities but has now become a stylistic commodity for its flattering curved brim, unique shape, and feel of comfortability.
Bucket hats, named after their traditional design, allow air to circulate your head while keeping the sun off your face. They are traditionally made from rough tweed material, but they can come in almost any fabric today.
They often feature a wide brim, provide excellent sun protection, and can complete almost any look or outfit. Now worn worldwide, they have become popular with many celebrities and streetwear labels alike.
Bucket hats have been a wardrobe staple for decades, coming in different sizes and colors to suit anyone's style. Despite their practical features, they remain an iconic fashion item that will never go out of style.
It's the ideal choice for anyone looking to express themselves through accessorizing their wardrobe while protecting them from rain and sunshine. A variety of fabric options ensures a fit that will flatter any individual's style – making it no wonder this piece of headwear has remained a timeless staple.
Men's Bucket Hat Trends
The timeless bucket hat is resuming in the fashion world, and all new trends are popping up around this classic piece. Tie-dye bucket hats have been trendy this summer, with their bold and expressive designs being perfect for standing out at any beach or backyard BBQ.
Nature prints, with bright floral and jungle foliage designs, are also on trend, taking wearers from the city streets to a tropical vacation.
And lastly, logo hats have been a fan favorite amongst influencers and street style stars alike — allowing men to rep their favorite brands everywhere they go. Whatever your style is, there's sure to be a bucket hat that fits it perfectly!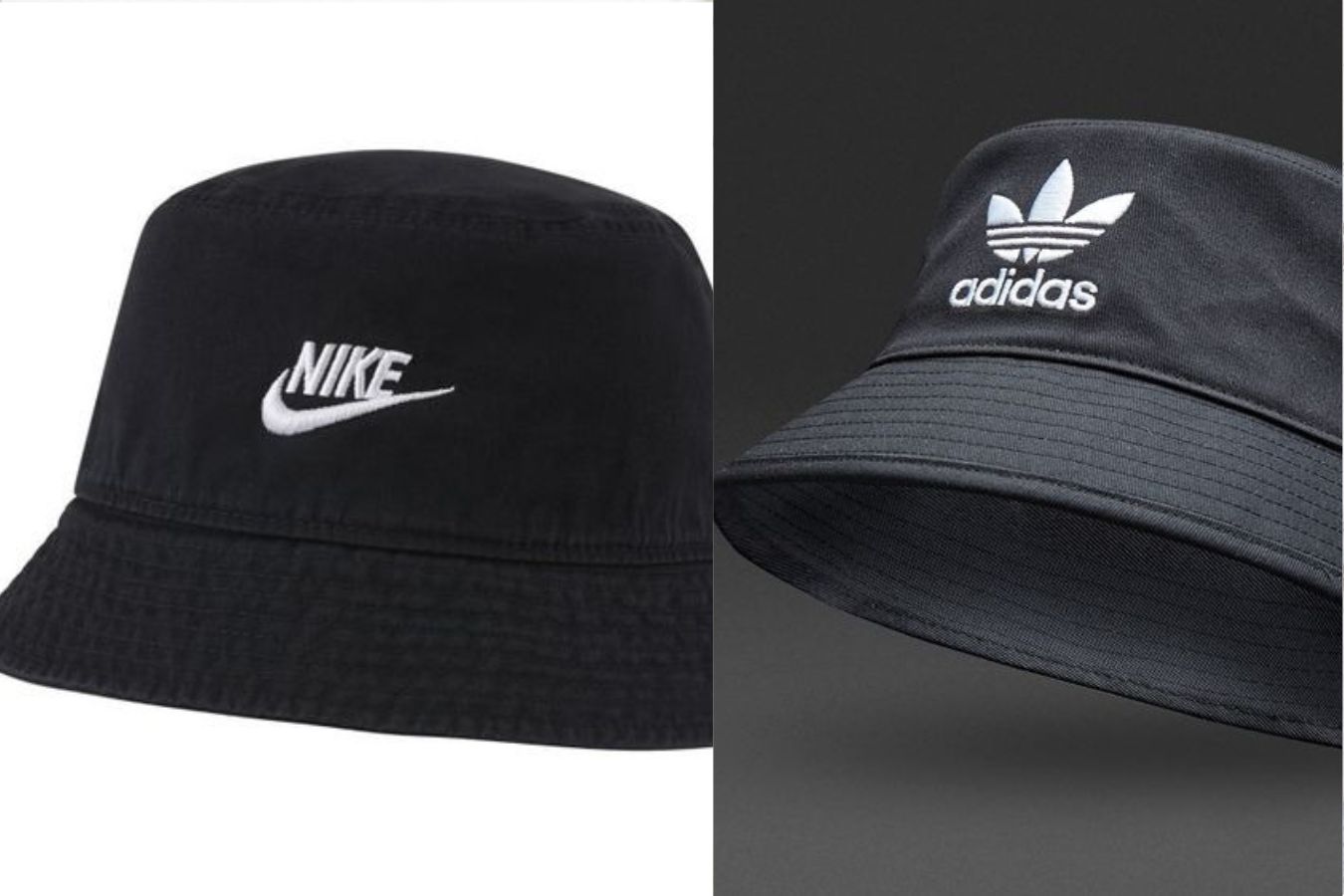 Different Types of Bucket Hats
Bucket hats are classic accessories with many styles and designs.
Fisherman's Hats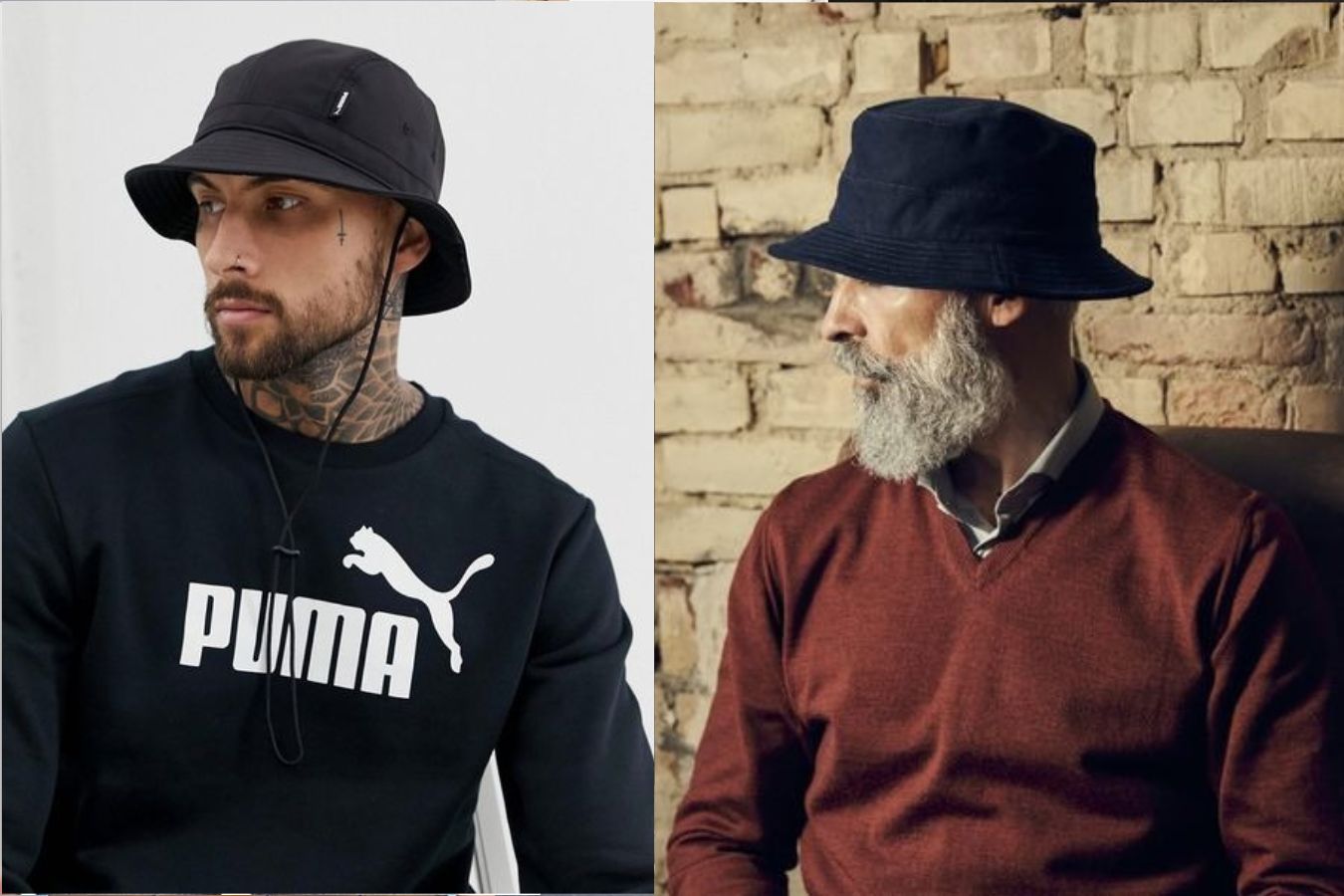 They have an old-fashioned look and hang down to the ears, which makes them great for keeping the sun off. They are made of waterproof material.
Fisherman's hats traditionally feature cotton twill with round, dome-like crown shapes and wide brims designed to protect the head and eyes from the sunshine.
Kangol Hat
The Kangol hat is a type of bucket hat popularized by the British company Kangol.
The Kangol version of the bucket hat is made of wool and is structured with a short brim for a more modern, fashion-oriented look.
Short Brim Hat
One bucket hat is known as the "short brim hat," so named because its brim is shorter than those of other bucket hats. The accessory, usually crafted from cotton or straw, serves primarily as a fashion statement.
Military Hat
Military versions of the hat tend to be made from sturdy fabrics such as canvas, wool, or nylon and often feature wider brims for extra protection against the weather.
Structured Hat
Lastly, structured bucket hats provide an ultra-clean look that stays close to the head for protection from the elements without smothering you in fabric.
Choose one depending on your needs and preferred look–bucket hats have something for everyone!
How To Wear A Bucket Hat: Outfits Ideas For Men
Are you prepared to make the bucket hat a staple of your everyday attire? Depending on the desired look, you can style a bucket hat in various ways that render it informal, professional, attractive, or functional.
Keep reading to learn how to wear a bucket hat in multiple ways, and soon you'll be able to incorporate one into your outfits like a pro.
Wear A Bucket Hat With A Summer Shirt
Wearing a bucket hat with a summer shirt can be a great way to look fresh and stylish. This classic combination has been in fashion for years, making for an effortless, timeless style that anyone can pull off.
To get the most out of your look, choose a simple, casual shirt like a cotton t-shirt or polo shirt and pair it with any color of bucket hat that matches. Complete the outfit with fashionable accessories such as sunglasses and bracelets to give your overall look an extra flair.
With this combination, you'll be guaranteed to turn heads on your next summer outing!
Wear a Bucket Hat With Loose-Fitting Clothes
If you're ready to add a style to your wardrobe, try pairing a bucket hat with some loose-fitting clothes. The classic yet trendy combination offers an excellent look for the summer months and won't go out of fashion soon.
Bucket hats provide excellent sun protection, so adding one to any outfit is an easy way to stay safe in the sun while maintaining a stylish look. Loose-fitting clothing keeps you comfortable by allowing air to circulate and helps create a relaxed vibe that complements the cool vibes of a bucket hat.
Wear a Bucket Hat With Classic T-shirt And Jeans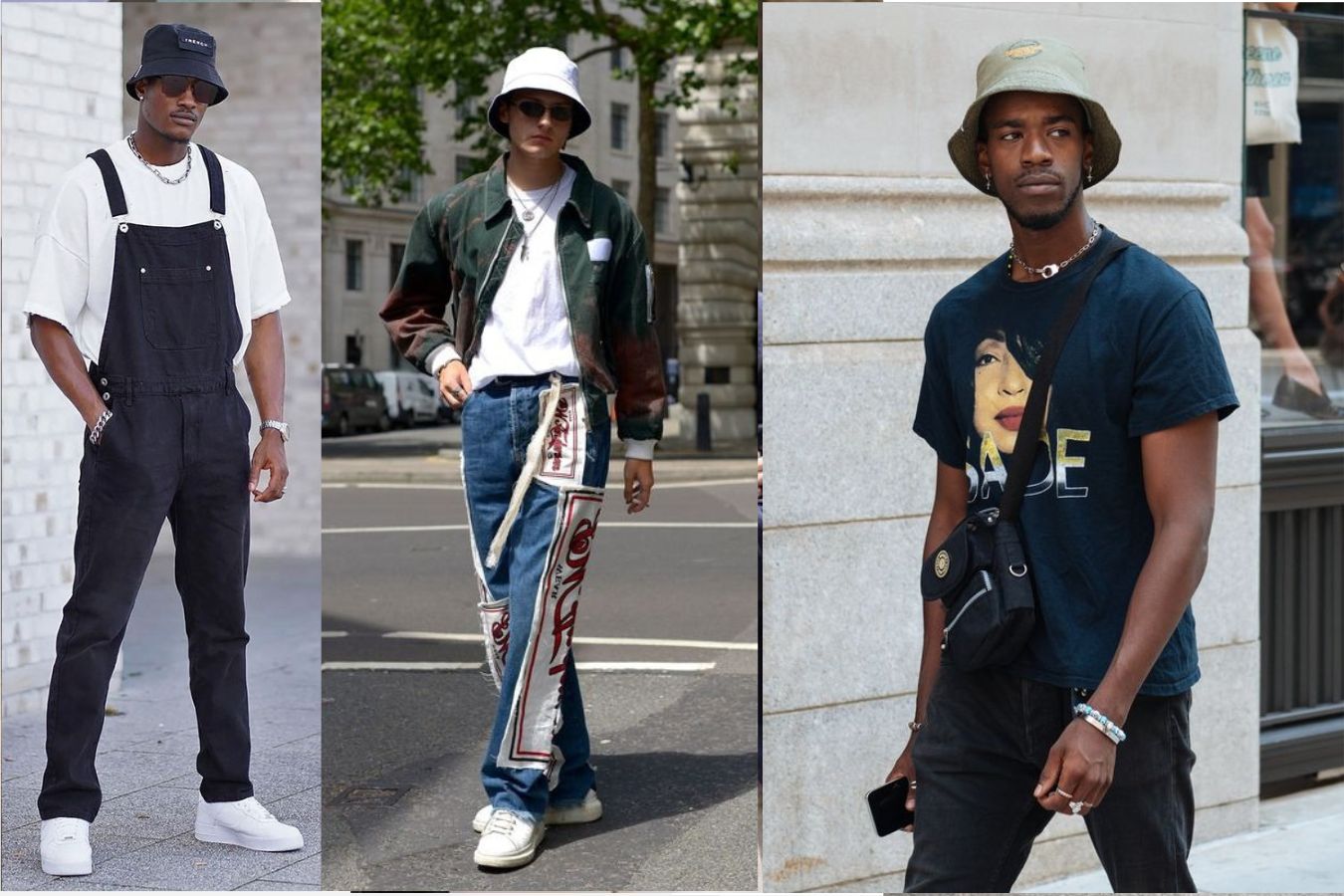 Nothing quite screams classic style like the simple combo of a t-shirt, jeans, and a bucket hat. The bucket hat has been famous for decades and offers an easy way to add a touch of flair to any look. You can make it unique with different colors and patterns!
The great thing about pairing your favorite t-shirt, jeans, and bucket hat together is that it allows for some natural creativity. You can experiment with cuts, sizes, panels, logos, and more to find the perfect look uniquely YOU.
Whether you opt for essential pieces or something bold, this classic combination will grab attention with envy and admiration.
Match Your Bucket Hat With The Rest Of Your Outfit
Bucket hats come in all colors, patterns, and styles, so it can take time to decide what outfits to pair them with. A great way to look put together is by going for a monochromatic look.
Monochromatic simply means color coordinating your outfit's different pieces—such as your top and bottoms, shoes, and accessories—with shades from one specific color palette. This helps keep everything unified and create a statement that stands out.
Bucket hats are perfect for this, as they often have plenty of room and provide a unique shape that perfectly complements the rest of your ensemble. So next time you're putting together your look, try a monochromatic look with the same color bucket hat.
Wear A Bucket Hat With A Button-Down Top Or Tee And A Nice Pair Of Shorts
Sporting a crisp and classic look doesn't have to be complicated. Wearing a bucket hat with a button-down top or tee and a nice pair of shorts is an effortless way to achieve a stylish ensemble. The combination of the hat, shirt, and shorts can help give you the confidence to take on whatever comes your way.
Choose from various colors and prints of button-downs and tees and find different fabrics for shorts to fit any season. If you want to make the look more presentable, even minor accessories such as watches can complete the perfect outfit that will make you stand out from the crowd in style.
Wear A Bucket Hat With A Tank Top And Shorts
Summer is the perfect time to sport fun fashion choices like a bucket hat, tank top, and shorts. The classic combination of these three pieces will keep you looking stylish and cool during even the warmest summer days.
Whether you're headed to the beach or catching some rays at the park, this combination gives off relaxed and casual vibes. The fun shape of a bucket hat pairs perfectly with the airy style of a tank top, while tucking in some shorts adds some contrast.
With so much versatility and comfort in one outfit, it only makes sense to break out your favorite bucket hat, tank, and pair of shorts this summer.
Pair A Bucket Hat With An Oversized Cardigan In The Fall
When the days get cooler during fall, one of the best ways to keep warm and stylish is by pairing a bucket hat with an oversized cardigan. Pulling on various colors and textures can help define your dream autumnal look.
You could try a classic black leather bucket hat topped with an eye-catching bright green knitted cardigan for added vibrancy. This trendy combo will quickly become your go-to dress for any event this season.
Wear A Bucket Hat With A Sweater Dress
Combining a cozy sweater dress with a striking bucket hat is the perfect way to look effortlessly stylish during the cooler months. This trend has become prominent among influencers and fashionistas, and it's popping up all over social media.
Thankfully, you can achieve this ever-so-stylish outfit without spending too much money — simply search your local thrift stores for both items, and you're sure to strike gold!
Wearing a bucket hat on top adds an interesting visual flair, texture, and depth to any outfit. It creates the illusion of being better put-together than you are. Try pairing it with laced combat boots for an ultra-modern look or rusty brown ankle booties for a classic yet edgy vibe!
Wear A Kangol Bucket Hat With Joggers And Sneakers.
A Kangol bucket hat is the perfect accessory to a calm and casual outfit. Worn with a pair of joggers or a matching pair of sneakers, it creates an effortlessly stylish look that is both comfortable and chic.
There are many different styles and colors available, so you can find something that suits your look. Whether you're headed outdoors or hitting the town, wearing a Kangol bucket hat with joggers or sneakers will add a sporty attitude to your ensemble.
Wear A Bucket Hat With An Oversized Blazer And Jeans.
Wearing a bucket hat with an oversized blazer and jeans is a fantastic way to look put-together while still keeping it casual. Add a pair of clean white sneakers, and you will have the perfect weekend look.
Finding the right balance between the three items is the key to pulling off this style.
Find an oversized blazer that hits at least mid-thigh so that it doesn't look too overwhelming with your jeans, and if possible, opt for designs featuring shoulder padding and minimal detailing for a more modern look.
Also, ensure your bucket hat fits comfortably on your head without being too tight or loose. Once you have all these elements, you can easily create multiple stylish combos.
Wear A Tie-Dye Bucket Hat With A Trench Coat.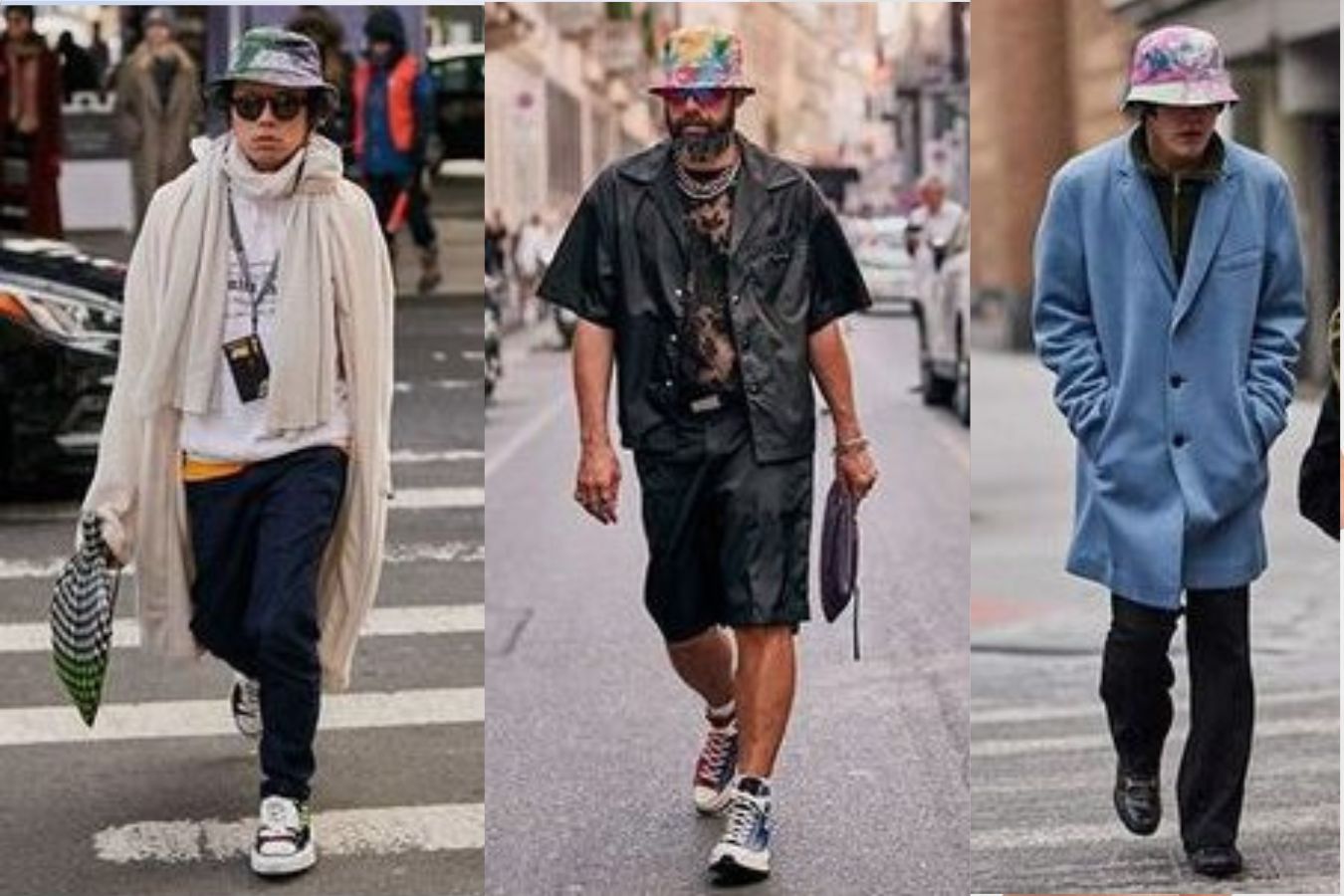 An eye-catching combination for a day out this season is a tie-dye bucket hat and a trench coat combo. This is ideal for staying stylish and comfortable during the cooler months.
The classic design of the trench coat can remain timeless, but adding a colorful tie-dye bucket hat ensures you make a statement wherever you go. The best way to complete this bold look is by pairing it with jeans or shorts and your favorite shoes.
Not only are you making a fashion statement by rocking this ensemble, but it's also convenient because you will remain warm while still looking stylish. So if you're looking for something extraordinary yet functional, then be sure to try this look!
Wear A Printed Bucket Hat With A Swimsuit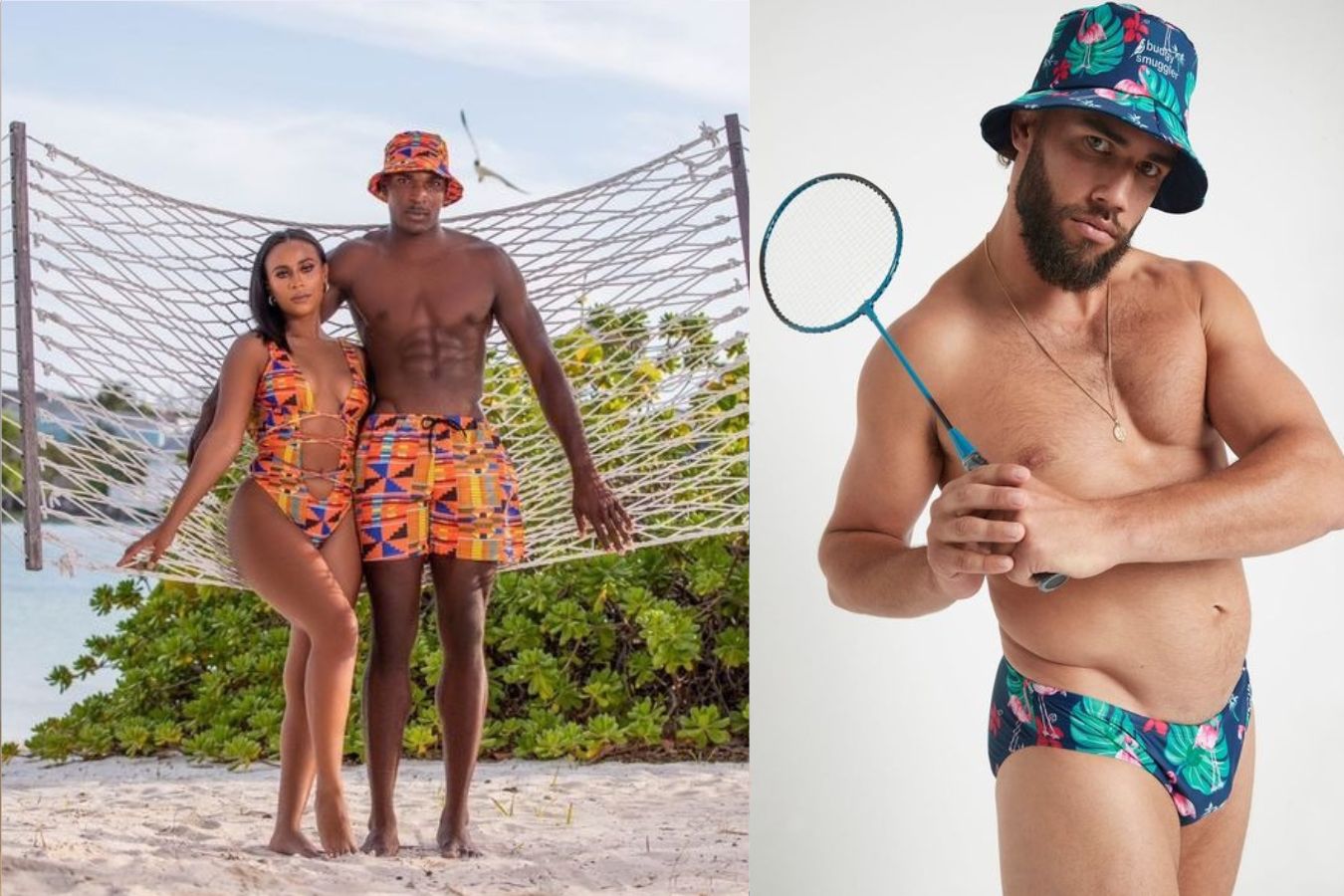 A boldly printed bucket hat is the perfect accessory to liven up your swim look this summer. Not only is a bucket hat a functional tool to keep you safe from too much sun exposure, but it can also add a fun edge to an otherwise traditional style.
With tons of colors and prints available at both luxury and affordable prices, you can easily find a style of bucket hat that expresses your individuality and personality. Pair it with your favorite swimsuit to complete the look for an effortlessly cool beach-ready vibe.
Styling Tips For Wearing A Bucket Hat
Here are some tips to keep in mind while you all set up to enhance your outfit game by wearing a bucket hat.
Choose A Color & Pattern That Suits Your Style
The great thing about bucket hats is that they come in various colors and patterns. It doesn't matter if you prefer something simple like black or navy blue or if you want something more eye-catching, like a hoodie with a graphic print. Based on your style preference, there are plenty of options for you.
Pair With Casual Clothing
Bucket hats look best when paired with casual clothing like jeans, t-shirts, shorts, and sneakers.
For example, pair a classic black bucket hat with light-wash jeans and white sneakers for a perfect summer look. Or, if you want something more daring, pair an acid-wash bucket hat with ripped jeans and combat boots for an edgy look. The possibilities are endless!
Mix And Match Accessories
Accessories are essential when completing any outfit. Mix and match accessories with bucket hats to create your unique style.
For example, add aviator sunglasses and a watch to your look for an effortlessly cool vibe.
Final Takeaway
Bucket hats have become one of the hottest trends in men's fashion over the past few years, and it's easy to see why!
They help protect you from harmful UV rays and add instant style points to any outfit without putting too much effort into it.
So whether you're going for a laid-back summer vibe or making a bold fashion statement—bucket hats are worth trying out this season!