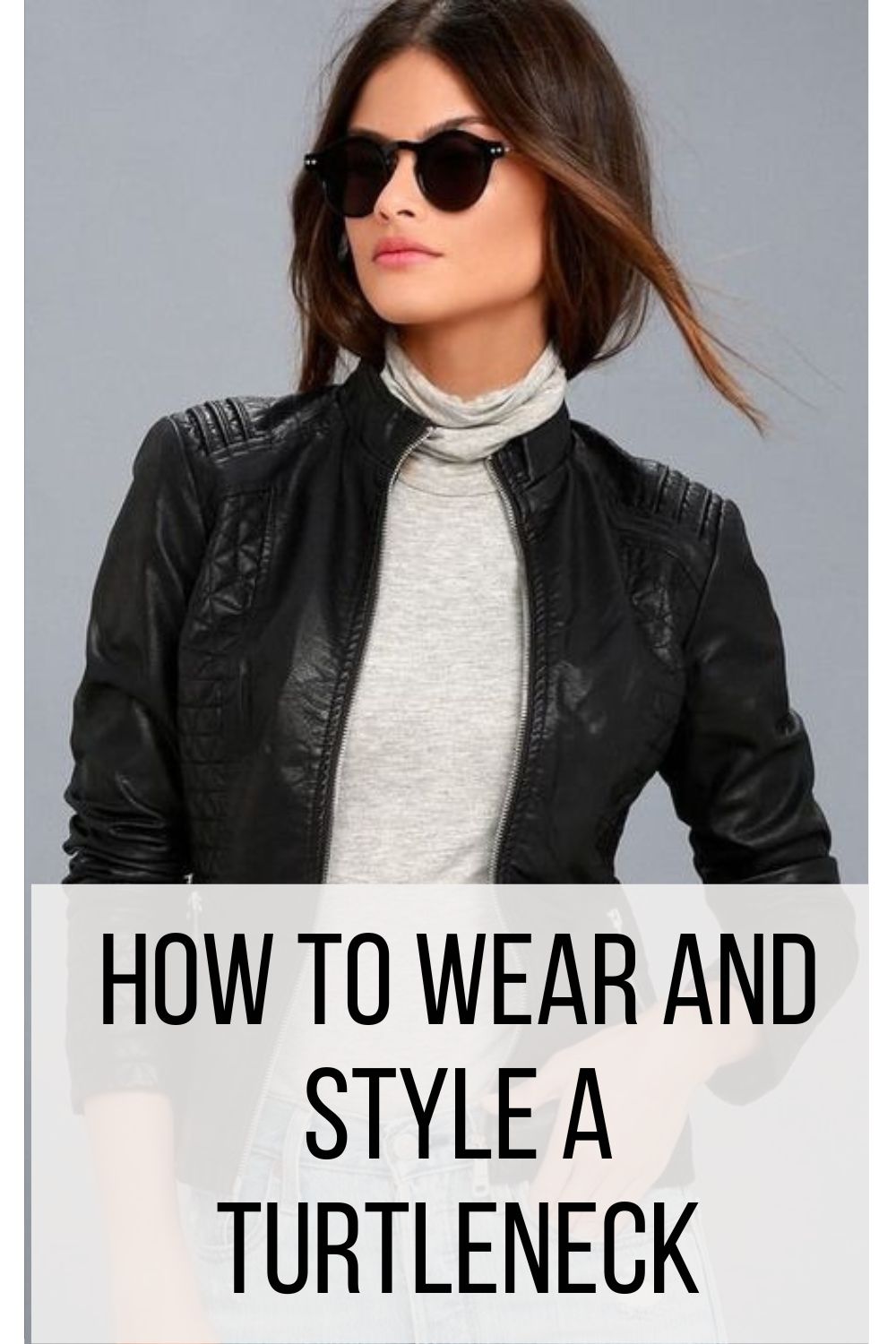 Are you looking for stylish ways to wear a turtleneck? If so, you're in the right place!
Turtlenecks are a classic and timeless wardrobe staple you can style in countless ways.
They have become a must-have piece of clothing this season and can transform your look with a straightforward addition. You may be unaware of how versatile these necklines are—their classic intricacy makes them perfect for formal and casual occasions.
No matter the season, turtlenecks are sure to keep you warm and looking fashionable!
This blog post will uncover tips on how to wear and style a turtleneck and outfit ideas for turtlenecks so that you're ready to recreate chic outfits come wintertime.
Wear Navy Turtleneck With Gray Suit
Navy turtlenecks are classic menswear staples. They look stunning against the backdrop of a sharp gray suit. This look is perfect for various occasions, from weddings to professional events and even casual dinners.
To pull off this timeless look, make sure the fit of your gray suit is precise, and the fabric feels elevated. This combination tailored to your body shape immediately helps you get that dapper "gentleman" vibe. Add simple accessories such as pocket squares or cufflinks for extra flair.
Don't forget to choose shoes in black or brown that won't take away from the overall uniformity but still stand out as fashionable pieces.
Wear Turtleneck Under Your Shirt
Wearing a turtleneck under your shirt can provide multiple benefits. The extra layer underneath your shirt can help to keep you warm during the winter months, making it an ideal choice if you tend to feel cold quickly.
Turtlenecks also give an exciting dynamic to your look, bringing additional visual definition when layered underneath other garments. In recent years, turtlenecks have become trendy, making them suitable for any occasion.
Since they come in various colors and styles, there is plenty of room to experiment with different outfits. Wearing a turtleneck beneath your shirt is a great way to stay cozy while making a fashionable statement.
Wear a Black Turtleneck With Gray Trousers
Pairing a black turtleneck with gray trousers is the perfect way to make your outfit look tailored and sophisticated. The two colors make for a classic, chic combination that you can style in various ways depending on where you're headed.
For work, add some patterned or vibrant accessories such as a boldly colored scarf or statement earrings to add interest to your look. For an evening out, opt for black shoes and jewelry that match your outfit.
Wear Turtleneck Under a Mini Dress
Wearing a turtleneck underneath a mini dress is a stylish way of making a fashion statement. It adds an extra layer that bends the rules and allows for additional creativity in styling. Turtlenecks are particularly suited for colder climates when you want to add a chic touch without sacrificing warmth.
When pairing the turtleneck with the mini dress, the key is to keep everything else simple so as not to clash with your outfit.
Keep accessories minimal to avoid too much going on at once. A turtleneck under a mini dress can add enlightenment without looking bulky – perfect for those nights out in cold weather!
Wear a Cream Turtleneck With Navy Sport Jacket
If you're looking for a classic, elegant look with a bit of edge, then a cream turtleneck and navy sports jacket ensemble should fit the bill. This masculine style combination creates an eye-catching contrast that will be noticed whenever you make your grand entrance.
It's the perfect option for formal events such as weddings or making a big impression at work. To top off the look, pair it with navy trousers and brown leather dress shoes – the perfect finishing touches for this sophisticated yet relaxed style!
Wear Turtleneck With A Blazer
Wearing a turtleneck with a blazer is a timeless yet modern style choice. It's incredibly versatile and looks professional and elegant.
When opting for this ensemble, nix the tie and focus on layering for an effortless, classic appearance. Keep your accessories to a minimum, and stick to one statement piece, like a watch or bracelet.
Additionally, avoid bright colors. Go for navy blue, brown, or black to maintain the look's subtlety, and let the texture of the turtleneck do the talking. Finally, make sure the fit is tailored, and you'll be ready to take on any business meeting with style and confidence!
Wear a Black Turtleneck With Denim Jacket
A black turtleneck and denim jacket is one of the most stylish combinations. This look can be dressed up or down, depending on your accessories. With a black turtleneck, you can choose a dark-wash or light-wash denim jacket with minimal distressing.
To dress it up, accessorize with a statement belt, heeled ankle boots, and a patterned scarf or hat. If casual is your style, stick with sneakers and a plain-colored beanie to complete the look.
Either way, you'll be sure to turn heads when out and about in this classic ensemble!
Pair Turtleneck With A Flannel Button-down
The turtleneck and flannel button-down combo is a timeless staple for those who love to stay cozy while looking classic. You can style these two pieces depending on the flannel type and how you accessorize.
The turtleneck+flannel look will always give you an effortless finish, no matter what types of shapes, textures, and materials you work with. On cooler nights, layer a coat over the look for extra warmth. Whatever your style preferences, a combination of a turtleneck and flannel button-down is sure to make the perfect addition to your wardrobe.
Wear An Oversized Turtleneck With A Slinky Skirt
Wearing an oversized turtleneck with a slinky skirt is a great way to make a fashion statement this season. The look is classic yet edgy, and it's perfect for cool days spent shopping or meeting up with friends.
To pull off this look, choose an oversized turtleneck in a neutral color, such as black or white, then balance it with a skintight skirt that adds the perfect flare. Keep accessories to an absolute minimum by wearing only a pair of minimal earrings.
Finish the outfit with a couple of stylish knee-high boots against the turtleneck and skirt. If you want your outfit to turn heads, find an oversized turtleneck in an eye-catching hue – bright colors always add an extra dimension to any ensemble!
Wear Turtlenecks With Athleisure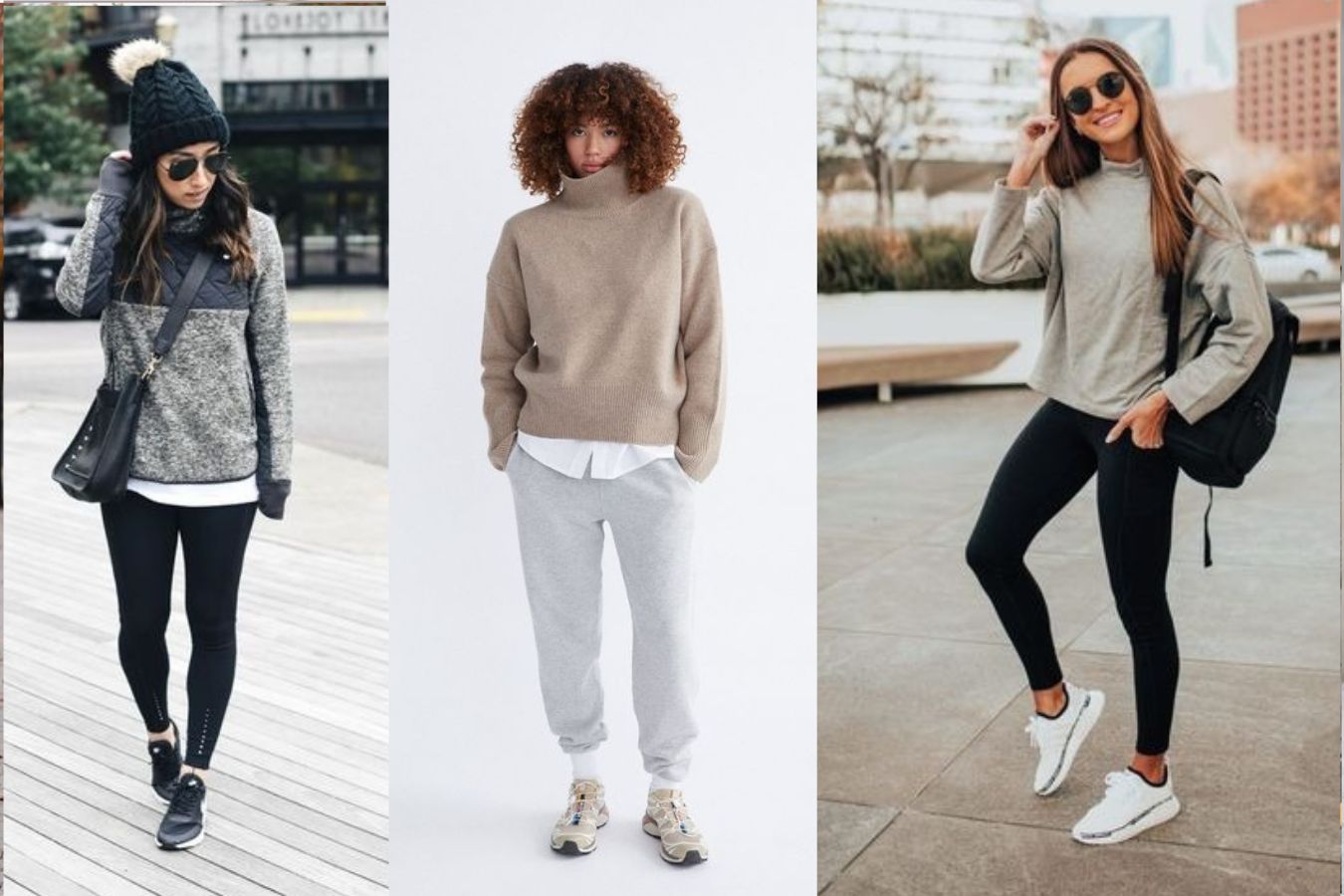 Adding a turtleneck to an athleisure look is an easy way to make an everyday outfit more interesting. Turtlenecks have a timeless quality that can soften up a laid-back look or add structure to an otherwise loose and relaxed style.
Whether you choose a bright, coordinating color or the classic black turtleneck, the neckline's formality contrasts with the casual fit of items like joggers and oversized hoodies.
When worn together in an ensemble, turtlenecks, and athleisure create an elegant yet laid-back style perfect for commuting, running errands, catching up with friends, or getting some work done at home.
Wear A Turtleneck Under A Leather Jacket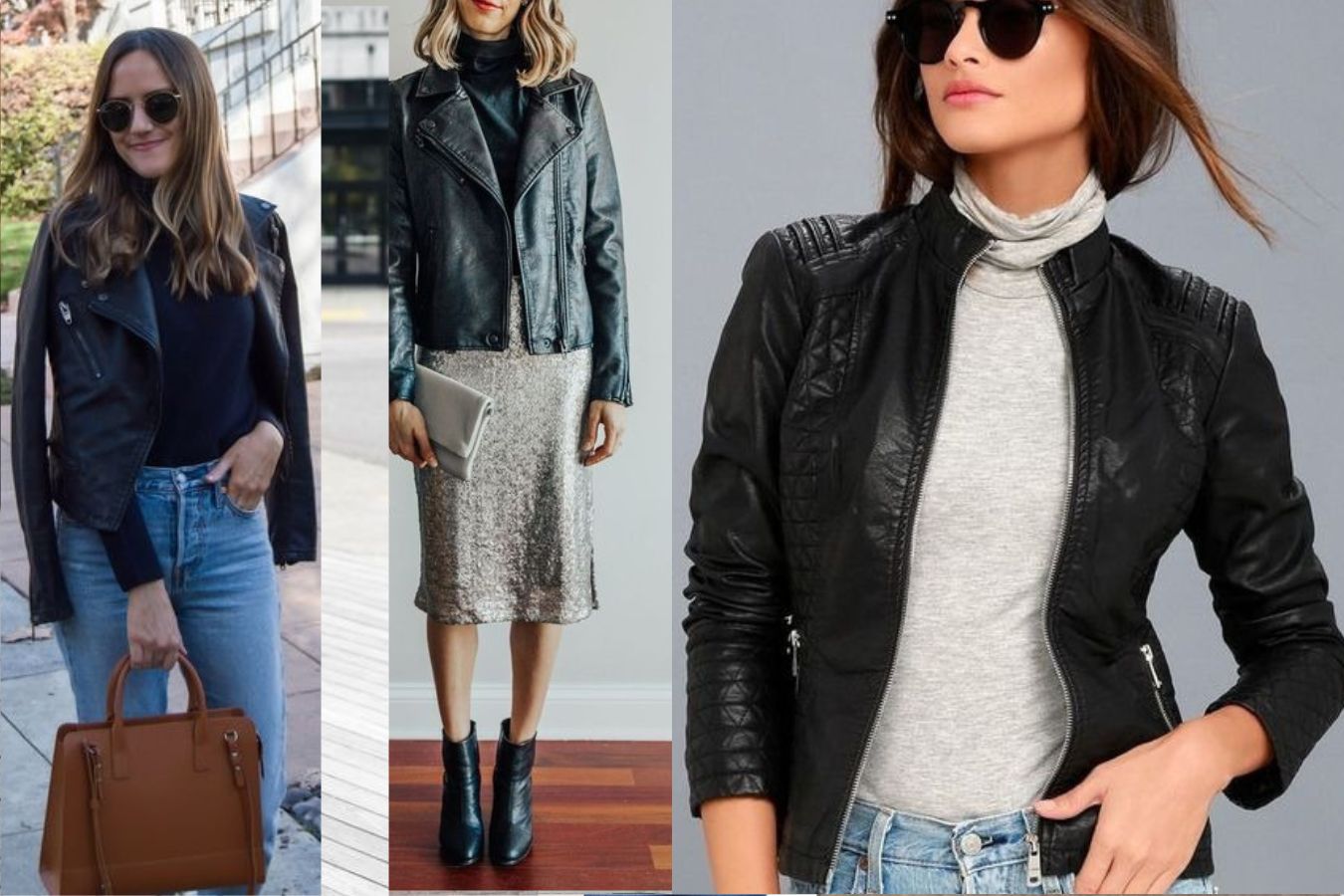 Pairing a turtleneck with a leather jacket provides an edgy look that is perfect for any occasion. This combination of clothing pieces provides both warmth and style.
By choosing muted or neutral colors, such as black or navy, you can create timelessly chic outfits that are easy to transition from day to night. Balance the look with fitted trousers, crisp flats, and a structured bag for extra sophistication. To add more personality to the look, experiment with bolder colors by opting for a red turtleneck underneath the leather jacket for an unexpected combination.
Whatever you choose, one thing is sure—the timeless beauty of this combination will never go out of style.
Wear Turtleneck With Casual Jeans
Wearing a turtleneck with a casual pair of jeans is an easy-to-achieve fashion look that can suit any occasion. The combination is perfect for giving off a cool and stylish look while being comfortable at the same time. So it's great for casual days out and more formal occasions.
A simple white turtleneck and dark blue jeans are always fashionable and classic, but don't be afraid to add color with either the turtleneck or the jeans – this look works equally well with bold colors!
Whatever your style, wearing a turtleneck with jeans has never looked better.
Business Casual Turtleneck Outfit
With the changing weather, consider a chic business casual turtleneck outfit to transition between seasons! You can style this classic attire quickly, depending on your preferences.
For winter and fall, pair a sleek black turtleneck with dark jeans and dress shoes. Opt for lighter colors like tan and grey-tone turtlenecks for warmer days. Lighter-colored chinos, khakis, and flats finish the look. This combination prepares you to walk into any meeting feeling confident and professional.
Keeping the fabric simple helps maintain a classic look you can rely on for years.
Monochromatic Turtleneck Outfit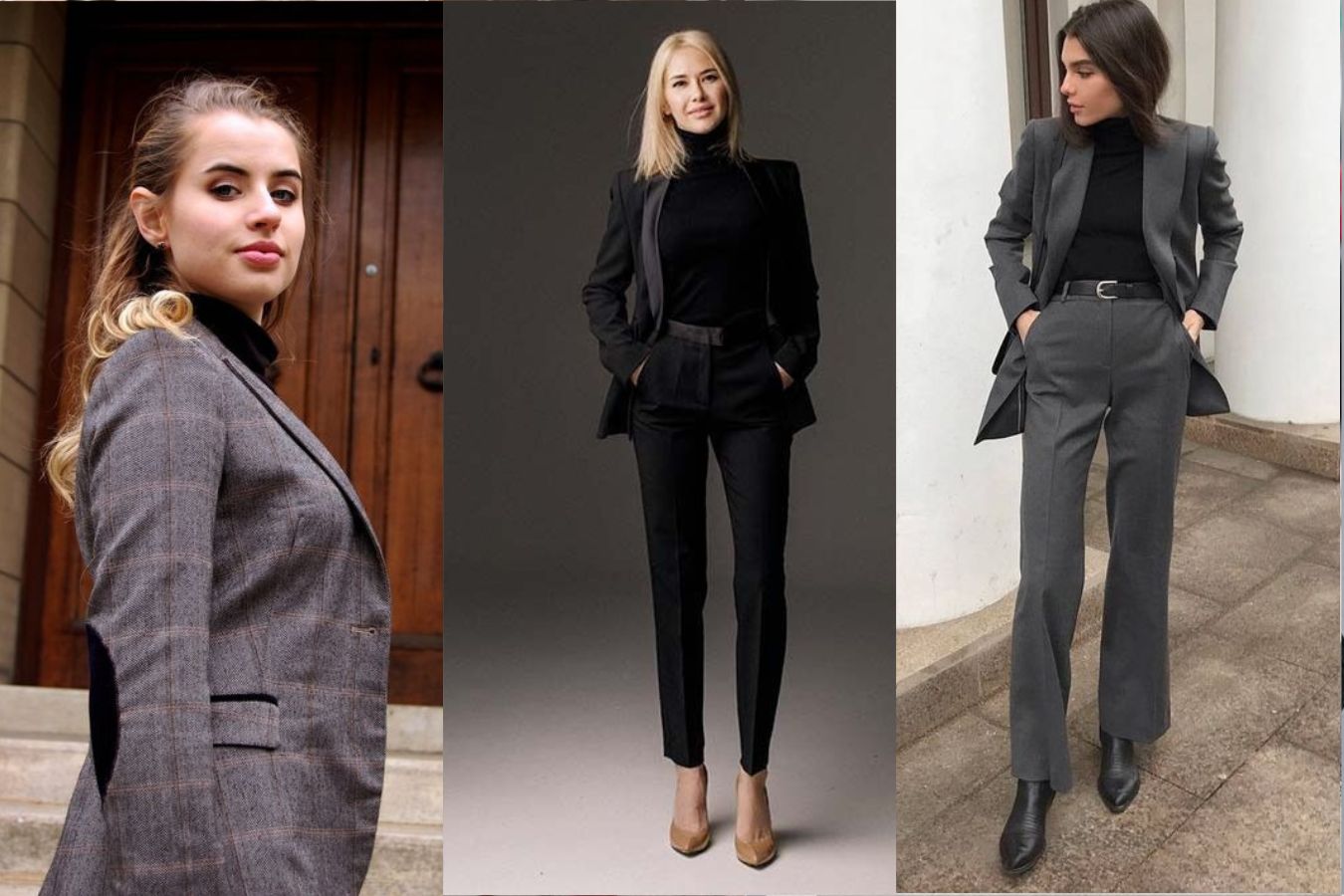 The perfect timeless look for any wardrobe is the classic monochromatic turtleneck outfit. Whether you're looking for a casual weekend style or an office-appropriate look, this simple combination makes getting dressed a breeze.
Choose one color in various shades and textures and pair it with your favorite lightweight turtleneck, and you're ready to take on anything that comes your way. Leopard print accessories or statement jewelry can add a touch of quick sophistication and make the outfit pop.
Experimentation with different materials, prints, or accents can create new looks that fit every occasion. When you want to look effortlessly chic, reach for a monochromatic turtleneck outfit!
Tips On How To Style A Turtleneck Easily
Styling a turtleneck can be a breeze if you know what to do.
One easy and fashionable way to wear your turtleneck is to layer it with a blazer or jacket over the top. It can add a more elegant look to your outfit, great for work attire or smart-casual occasions.
Another way to easily style your look is by layering. Turtlenecks are great pieces of clothing that make layering fashionable. For an effortlessly chic look, pair your turtleneck with a denim jacket or chunky cardigan, as this outfit combo will make you stand out yet still stay warm. A scarf will also help accessorize and complete the look while having an added layer of warmth.
Alternatively, try wearing just the turtleneck with high-waisted tailored pants and boots for an edgy appearance.
For a more casual approach, teaming your turtleneck jumper with ripped jeans gives a relaxed but stylish vibe while keeping you cozy on chilly days. Finish off the look by accessorizing with some statement jewelry and trendy shades for a chic outfit that won't go unnoticed.
Other accessories such as hats, boots, and bags are also easy ways to give personality and uniqueness to style with a turtleneck. Experimentation and confidence will go a long way in ensuring the desired look when wearing a turtleneck – never be afraid to play around with color and fabrics for various occasions!
Are Turtlenecks Still In Style?
The turtleneck is making a huge comeback this season, with fashionistas worldwide embracing its cozy silhouette and classic style. The classic staple is adaptable, with the versatility to be dressed in various ways depending on the occasion and individual's sense of style.
Whether you opt for chunky knit versions, sleek silhouettes, or colorful iterations, turtlenecks are sure to spruce up any wardrobe. They pair perfectly with casual jeans and flats for a relaxed look or dress slacks and heels for more formal events.
With endless styling possibilities, it's no wonder why turtlenecks are such a popular trend this season.
Final Takeaway
A turtleneck is a great way to add style and sophistication to any outfit. With so many different colors and styles available, there is sure to be a turtleneck that is perfect for you.
When choosing how to wear a turtleneck, consider what the rest of your outfit looks like. A turtleneck can be dressed up or down, depending on the occasion. Choose bolder colors and patterns for a more statement-making look, or stick with classic black or white for a timeless feel. No matter how you style it, a turtleneck will surely add interest and texture to your look.
This styling guide will help in styling your favorite turtleneck. And we are sure that with some practice, you'll be wearing turtlenecks like a fashion pro in no time!