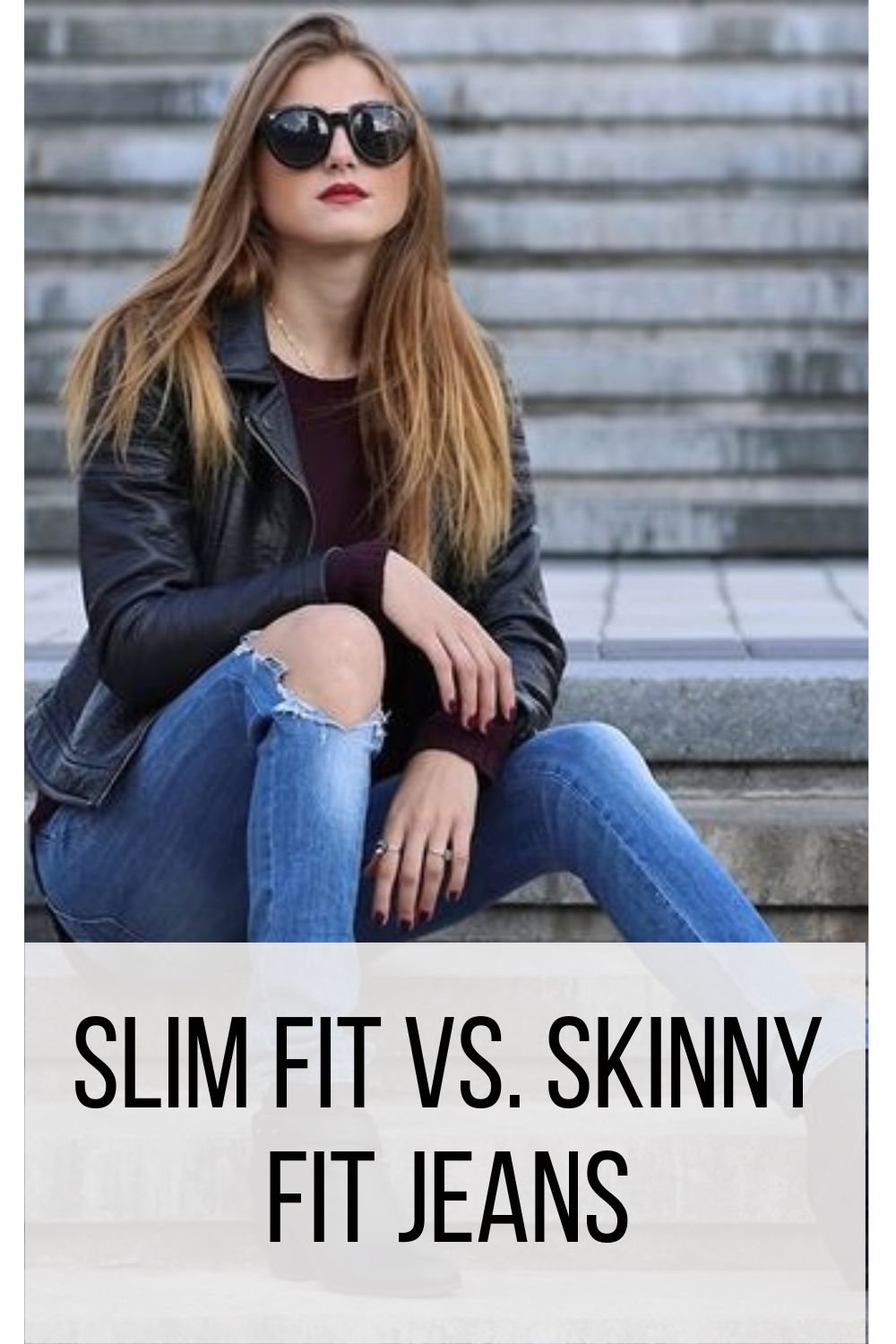 Jeans were first worn in the early 1800s. Initially, it was a client request for a better or tough clothing option that has now evolved into the world's most demanded fashion product. Since then, the product has become popular.
Some designs have left such an indelible mark on the world that it can no longer operate without them. Slim and skinny-fit jeans are among today's most demanded products!
If you've been looking to spice up your jean collection, this guide will help you figure out which fit—skinny or slim—is best for you.
What are Skinny Fit Jeans?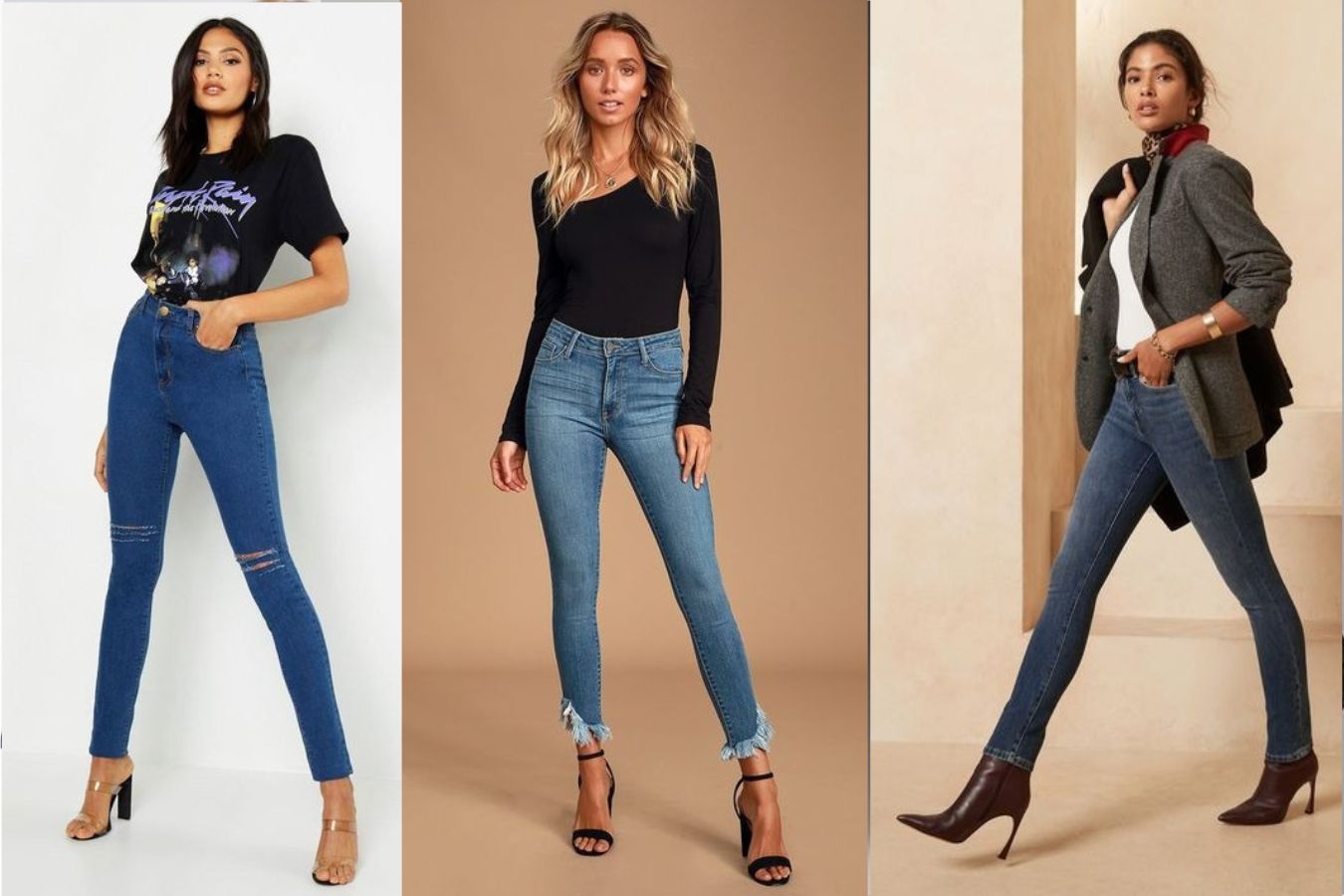 If a stylist decides to arrange all sorts of jeans on a scale of tightest to loosest, the skinny fit category will be on the extreme left of the skinny fit vs. slim fit jeans.
Skinny jeans typically feature a snug fit between the legs and a smaller leg opening ranging in size from 9 to 20 inches. There is a significant difference between skinny and slim-fit jeans.
What Should You Wear With Skinny Fit Jeans?
Layers on top are essential while wearing narrow jeans, as previously said. Layering a shirt over a T-shirt is an excellent technique to do.
Why not try a knitted sweater or cardigan for added warmth? This will balance out your look and keep you comfy throughout the day.
Whatever else you wear with skinny jeans, make sure it's not too baggy. You just need enough to cover yourself, so keep your upper half sleek and tight.
Skinny jeans may also be dressed up far more than slim-shaped jeans. They're quite fashionable, and you can roll the hems up to show off your sneakers or ankle boots.
They may also be worn with Chelsea boots for a smart-casual vibe. Remember that a narrow fit requires a little more work when putting together an outfit. They may, however, look amazing with the proper shoes, shirt, and accessories.
What are Slim Fit Jeans?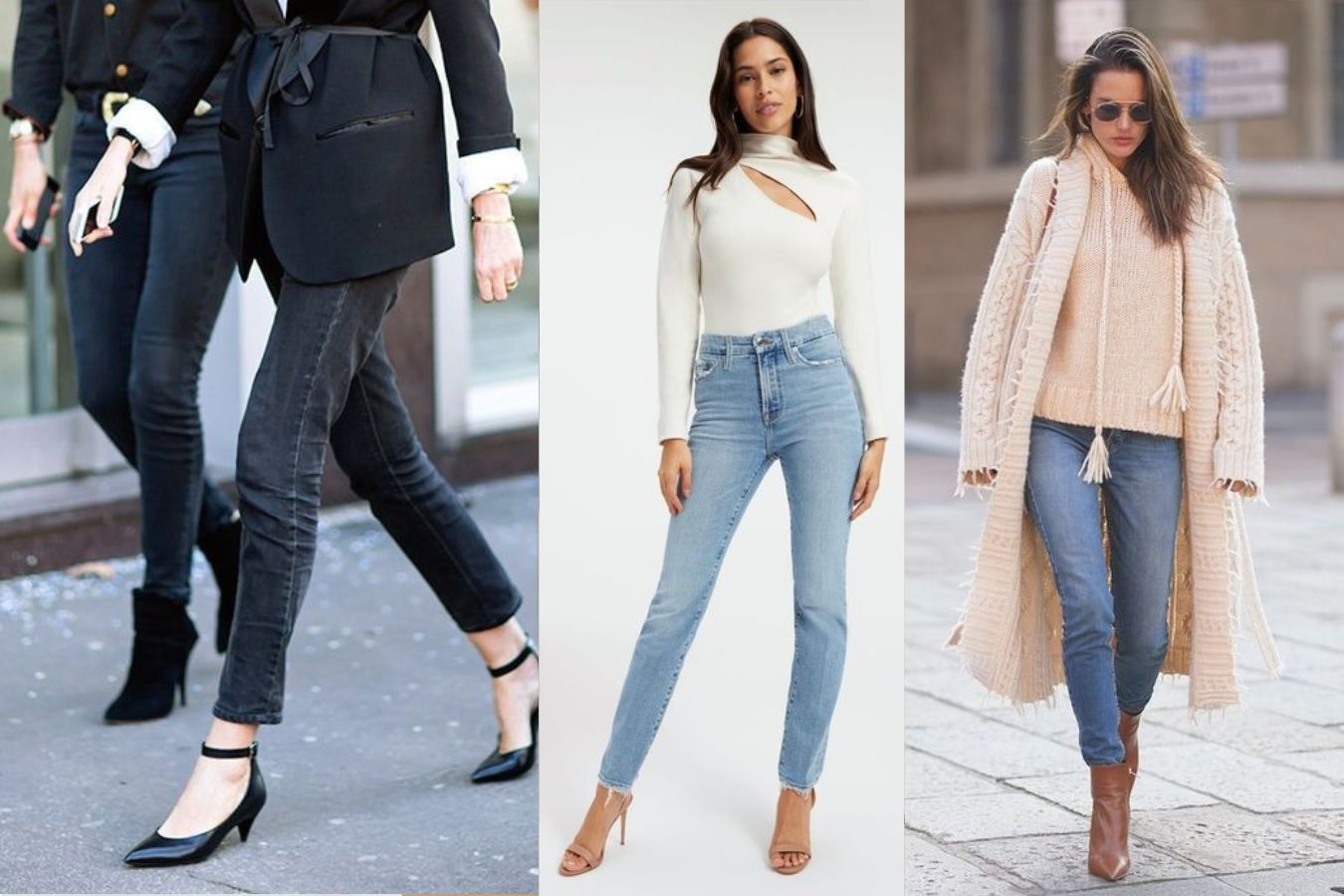 Slim-fit jeans are not as tight as skinny jeans. They feature bigger leg holes and never cling to the ankle.
The fundamental distinction between thin and slim jeans is that certain slim-fit jeans feature tapered leg designs, whilst skinny jeans are straight.
What Should You Wear With Slim Fit Jeans?
Combining your slim-cut jeans with a jacket and dress shirt is a wonderful look. This outfit has a professional and put-together air. Wearing a T-shirt or a checkered shirt for a more casual appearance is also an option.
Just make sure your clothing fits snugly. If the fit is loose, add a blazer over top to balance out the appearance.
Slim-fit jeans are fantastic since they are adaptable enough to be worn every day. You may wear these to work or play!
Feel free to wear them as frequently as you like as long as you discover a pair that works for you.
Which is Tighter, Slim, or Skinny Fit?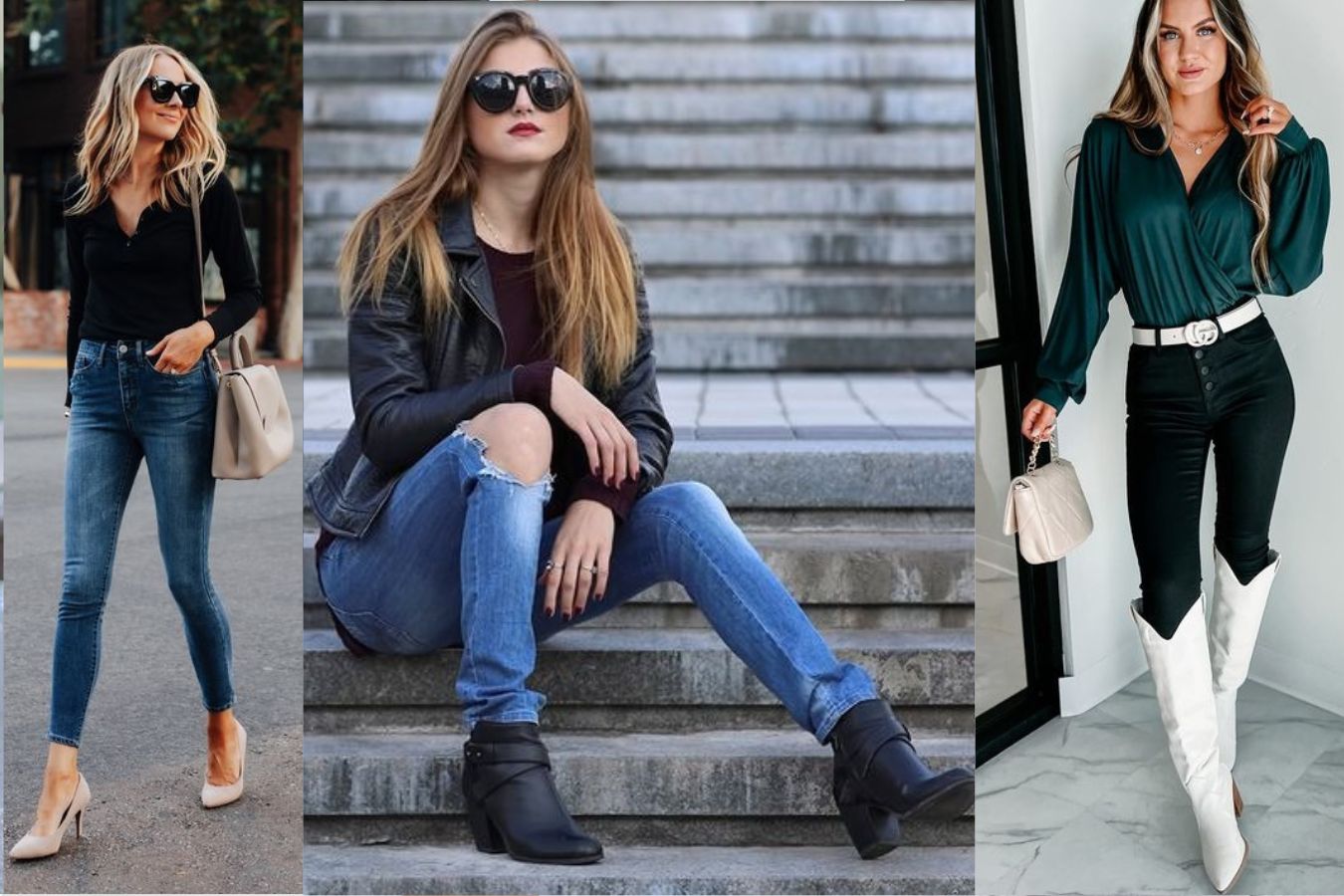 Skinny fit is often the tightest form of clothing available, while slim-fit garments will also define the shape of your body without a lot of superfluous fabric falling off of you.
Skinny fit fashions often include less fabric than slim fit styles, while slim fit still offers a close-fitting shape.
Expect thin-fit garments to feel snug. When you wear skinny-fit garments, the leg and armholes may feel constricting, and your arms, chest, waist, and thighs should feel like a rubber band has wrapped around them.
Slim-fit clothing, on the other hand, will hug your body without pinching it. Legholes and armholes will allow for additional mobility. Sleeves and pant legs will taper at the bottom but will not wrap tightly around your arms and legs.
Having said that, there may not be a significant variation in measurement between the two types. Some jeans designs, for example, have only a 5% difference in leg size between skinny and slim cuts.
The important thing to remember is that a modest 5% of fabric makes a tremendous difference in how tightly the cloth clings to your skin!
Slim Fit Vs Skinny Fit Jeans
Slim-fit jeans are the finest choice for you if you want to be mobile and active. This is because the tapered leg shape offers a broader fit, allowing you to move freely. Slim-fit jeans are also considered more informal than thin jeans.
However, this is not a stated regulation; you are free to wear narrow or slim-fit jeans. The only distinction between the two is how tightly they fit.
Skinny jeans are ideal for achieving a tight, sensual image. Slim-fit jeans, on the other hand, are your best choice for a looser but still stylish style. Whatever type you pick, make sure they fit properly.
Remember that skinny jeans crush your crotch area more than slim-fit jeans. They may seem snug at first, but they hug all the right areas and will soon feel like a second skin.
The Differences Between Skinny And Slim Fit Jeans Are:
Skinny jeans are snug and conform to the curves of the wearer's body. Slim-fit jeans feature small leg openings that do not flap or flare out. This is the primary distinction between thin and slim-fit jeans.
Another significant difference between slim and thin jeans is that, while narrow pants are trendy, they limit leg movement. Slim-fit jeans allow for unfettered movement and are even appropriate for leg stretches.
The main distinction between slim and skinny-fit jeans is that while skinny jeans are in style and are appropriate for a formal occasion, most females choose slim-fit jeans over skinny jeans.
If you want to stay active, slim-fit jeans are a good choice. When wearing high-heeled shoes, slim jeans are the better option. Another big difference between slim-fit and skinny-fit jeans is.
Is It True That Skinny Jeans Are Slimmer Than Slim Fit?
Yes, skinny jeans are more tailored than slim jeans. This is because they are designed to embrace all of your curves and showcase your body shape.
If you like a more relaxed fit, go for a pair of slim-fit jeans. However, be aware that the tighter your skinny jeans are on you, the more visible your lumps and bumps will be.
So, before you settle on one or two shoes that you like, try on several fits.
What Should You Wear With Skinny Jeans?
Skinny jeans may be dressed up or down depending on the occasion. If you want to opt for a more casual style, sneakers or ankle boots are ideal.
Pair skinny jeans with Chelsea boots or dress shoes for a more sophisticated, dressed-up look. Just make sure the shoe type isn't too massive or it will overshadow your outfit.
As always, experiment with several shoe styles with your jeans to see what looks best.
Can You Wear Skinny Jeans If You're Not Thin?
Yes, even if you're not slim, you can wear skinny pants. However, finding the proper style and fit for your body type is critical. Mainline Menswear has a wide selection of thin jeans, so you should be able to find the appropriate fit.
Skinny jeans are available in a variety of leg lengths and waist sizes, so take your measurements and consult the website.
Skinny jeans flatter all body types while emphasizing curves and making legs appear longer.
Which Style Should You Choose?
The choice between the two comes down to personal preference and the look you wish to create. Slim-fit jeans are great if you like more relaxed and less snug trousers.
Choose a slim fit if you want your jeans to show off every curve and angle of your body. Simply put more layers on top to balance out the look.
Whatever you choose, be sure it fits properly and isn't too huge. Skinny jeans require a bit more work to put together an outfit, but with the right shirt, shoes, and accessories, they may look fantastic.
What Specific Brand Is The Best?
Denim companies differ somewhat in how their jeans fit. You'll know when you locate a pair that fits your form and size. Many individuals like to use the same brand. Mainline Menswear has a wide selection of slim and skinny jeans from some of the world's most recognized denim brands.
Levi's jeans are quite popular and come in a number of sizes, but if you want to branch out, we carry jeans from a variety of names.
Emporio Armani creates a variety of form-fitting skinny and slim-fit men's jeans, as well as straight-legged and normal-fit men's jeans.
Ralph Lauren has a renowned collection of jeans that are flattering on all body types. You're likely to find something you like among the stretch denim, slim and skinny fit numbers, and loose-fitting bootcut designs.
True Religion jeans are well known for their slim and skinny fits, as well as their eye-catching stitching and hardware.
In the end, the brand you pick is a matter of personal choice. The primary difference is generally the price, so it's vital to choose a brand that you like and stay with it.
How To Style Skinny Fit Jeans?
Skinny-fit jeans will highlight your contours. Slim-fitting skinny jeans are surprisingly adaptable. Because of their capacity to perform as the ideal shapewear, they are flattering for all body types.
To keep things fashionable, wear high-waisted jeans and match them with a shorter top or jumper.
If you're small in stature, slim jeans tucked into heeled boots might help you appear taller.
For a glam appearance, pair your slim jeans with a silky top or your best jacket, as well as fancy shoes or heels.
To avoid them from seeming too antiquated, experiment with proportions. With a voluminous top, perform a 'French tuck'. It emphasizes your waist, making you appear thinner and more trendy.
How Do You Style Slim Fit Jeans?
Slim-fit jeans are a fashion essential that can be found in any woman's collection. They are both attractive and comfy to wear, letting you move around freely. This pair of jeans will look great with any outfit.
Pair your slim-fit jeans with a loose t-shirt and white sneakers for an athletic look.
Combine high waist slim fit jeans with a contemporary shirt and any kind of shoes for a beautiful look.
Conclusion
Finally, both skinny fit and slim fit pants have advantages and downsides. In other words, you must determine which one you favor and feel most at ease in. So go ahead and wear them to work, college, or just for a relaxed look.
The fundamental distinction between the two is the tightness with which they fit. Skinny jeans are ideal for achieving a tight and sensual image. Slim-fit jeans, on the other hand, are your best choice for a looser but still stylish style. Whatever style you pick, be sure they fit properly.
When it comes to these types of jeans, the choices are limitless. You may experiment with different styles to determine what works best for you!
Feel free to wear them as frequently as you like as long as you discover a pair that works for you.