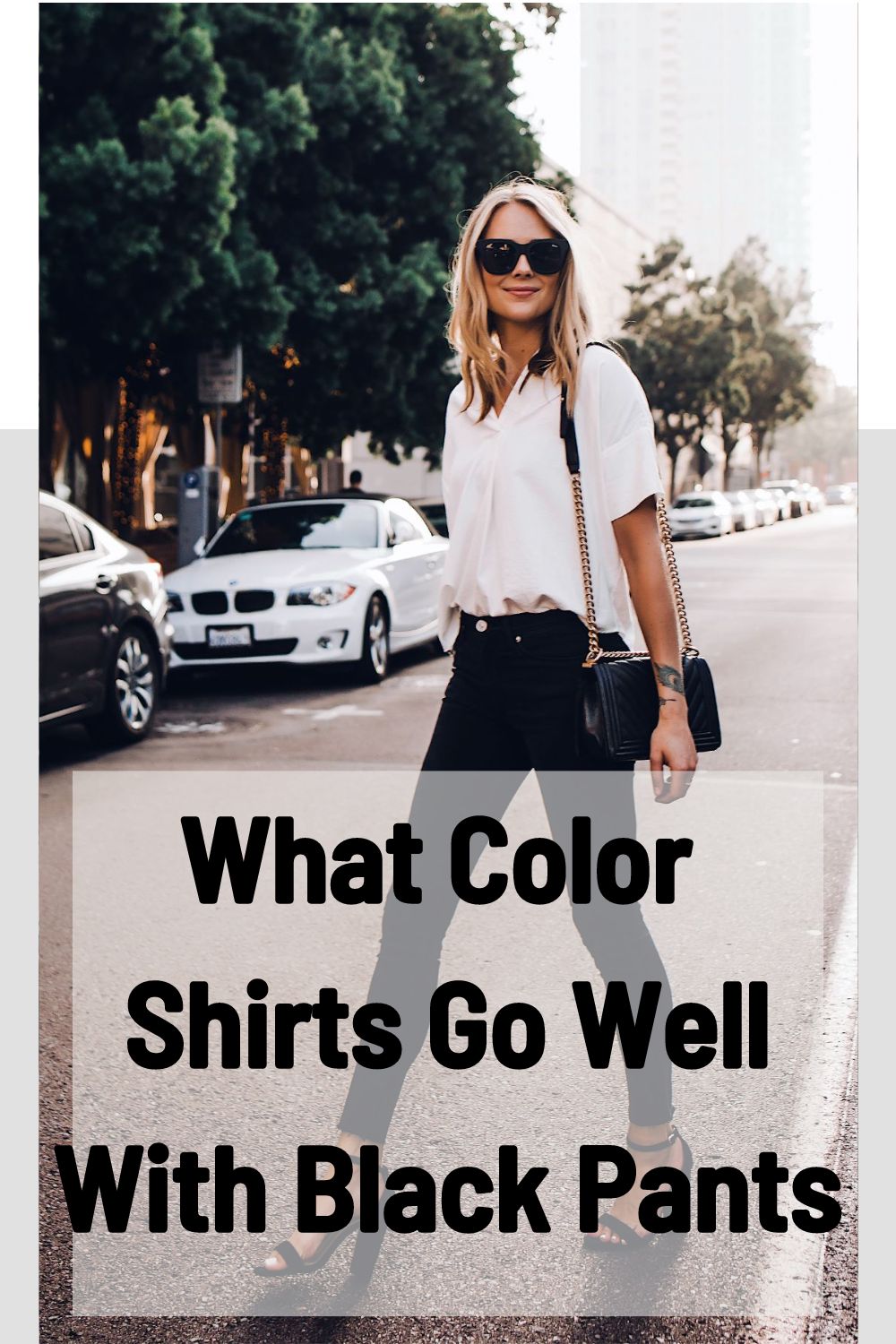 Although black pairs well with almost any shade, finding the right combination of black garments can be challenging. Black complements any color scheme. The availability of so many choices might overwhelm us at times.
You can wear black pants with various shirts, but the question of what color shirt works best often arises when trying to put together an outfit.
Since black is a colorless neutral, you can pair it with any other tint. Black works well with neutral and bright colors alike. The key to making a black dress work is to accessorize it with complementary colors and styles appropriate for the time of year and the event you will be attending.
This article will cover specific colors that go well with black pants for any occasion. We'll also discuss what color pants to wear with black shirts. So, stick around, and you'll leave with the best matching options for your black pants and shirts.
What Color Shirts Go With Black Pants
Black is a versatile hue that complements any other color. Although this may be true, just because a color pairs well with black doesn't mean it's appropriate for every event.
Black clothing can either serve as a neutral backdrop for more colorful pieces or take center stage‌. It's really up to the individual author's preference.
The good news is that you have almost infinite possibilities to explore. Making a final decision about the course of action is the most challenging step. In the following, we'll discuss a few colors that work well with black pants to make stylish outfits.
Keep in mind that varying the shade of a single color might yield new results, allowing you to dress for even more situations.
White Go With Black Pants
Black and white is a timeless color scheme in clothing. The contrast is a crucial element in making this work. You can't go wrong with contrast if you're trying to create a unified, attractive appearance.
Color contrasts are aesthetically pleasing because they draw the eye while promoting a sense of equilibrium.
If you want to look more put together, try matching your white shirt with black pants. Whether you're dressing for an interview, a business casual event, a formal ball, or just want to make a good impression, this is a winning outfit combination.
It's one of the safest options out there. A white shirt and black pants are a safe go-to outfit.
Depending on your shirt and pant designs and the accessories you pair them with, you can wear this combination in a more formal or casual setting. A white t-shirt may not be as polished as a button-down blouse, but it can still make a good impression.
You can also have fun with a bright accessory or a splash of color by wearing it with a black-and-white ensemble. Depending on the event, this could be the perfect moment to break out your favorite brightly colored pair of shoes or a statement shirt.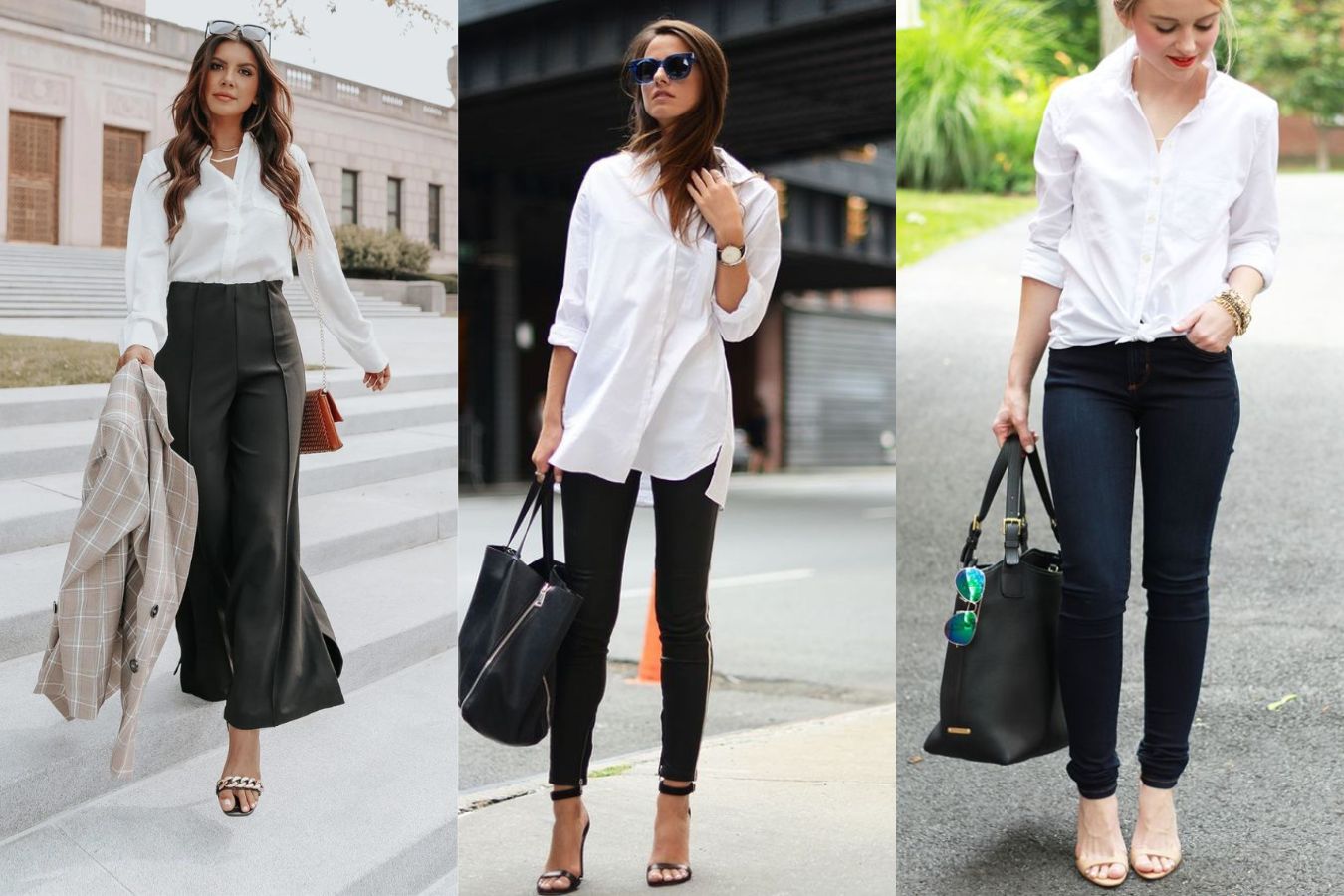 Blue Go With Black Pants
You can't go wrong with a classic combination of a black pair of slacks and a stylish blue shirt. Select a contrasting shade; anything from light to medium works well for a laid-back vibe.
Even though it will still look professional, you'll project an air of confidence and coolness. One of the best color combinations for winter is a pair of black slacks with a cool-toned blue shirt.
Since there are many tones of blue, the cut of the shirt will be crucial in putting together a stylish look. It would be professional and friendly, wearing a light blue button-up or attractive flowy top to the office.
Another excellent option for the colder months is a medium blue sweater, which can be worn with either black pants or a skirt to achieve various looks.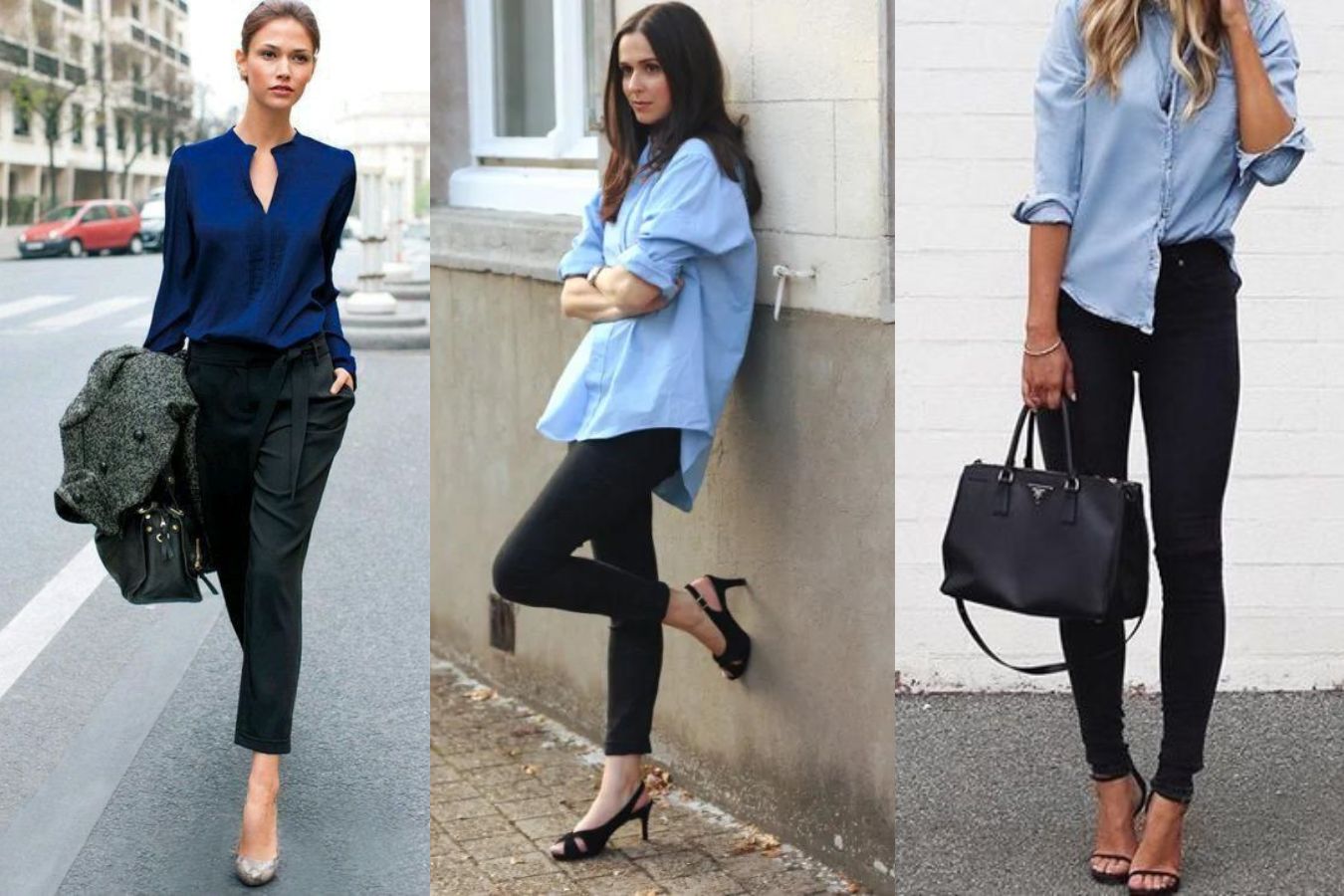 Grey Go With Black Pants
If you're looking for something more subtle than white, go for grey. It's available in multiple colors, which will help you get the balanced look you want. Try matching a charcoal or charcoal grey shirt with black slacks to achieve a chic monochrome look.
In theory, you can use any tint of grey. Charcoal grey is close enough in tone to merge with the black pants, creating a dark combo ideal for the colder months. A monochromatic ensemble in a light to a medium shade of grey would give lovely contrast.
The color grey is another versatile neutral that can be dressed up or down with the addition of accessories and the addition of other exciting shades or patterns. Add some modest flair to your outfit with this pairing.
This simple outfit is the perfect canvas for a statement pair of shoes or a chunk of gold jewelry. One might also spice up an all-black or all-grey attire by adding a pop of color, such as pink or yellow.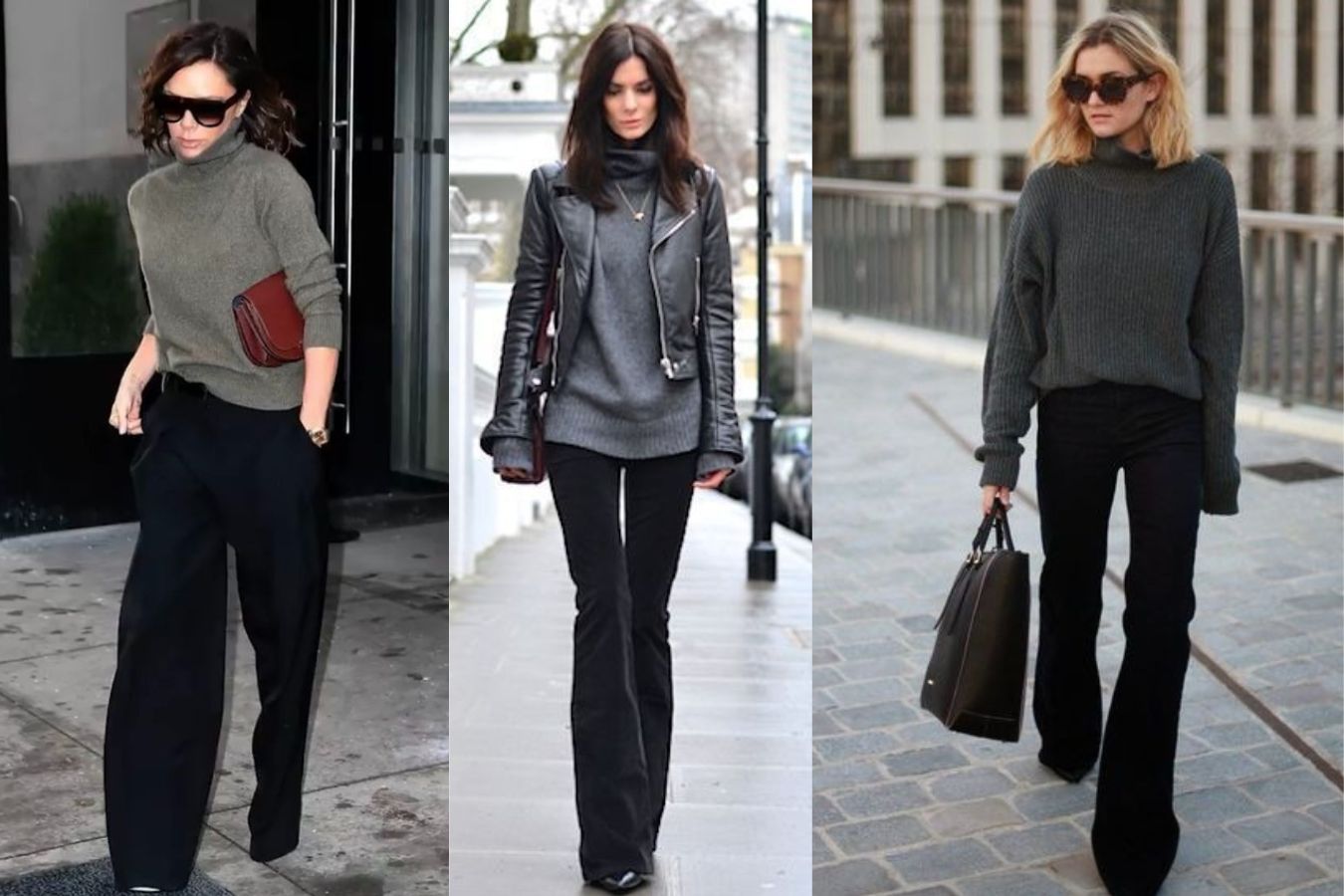 Pink Go With Black Pants
Basically, any tone of pink goes wonderfully with black. Pink, with its cheerful, seductive, and often vivid aesthetic, is wonderfully balanced when matched with black slacks. You may create infinite outfits, from casual workday wear to a more sophisticated evening look.
Light pink is a terrific color to wear in the spring because it provides a nice contrast to darker colors, and there are different ways to style it.
An eye-catching shade of dark pink, which may be close to black in tone but still vivid enough to provide contrast, can make quite a statement. This color scheme has the potential to be a bold yet fashionable choice for the cold season.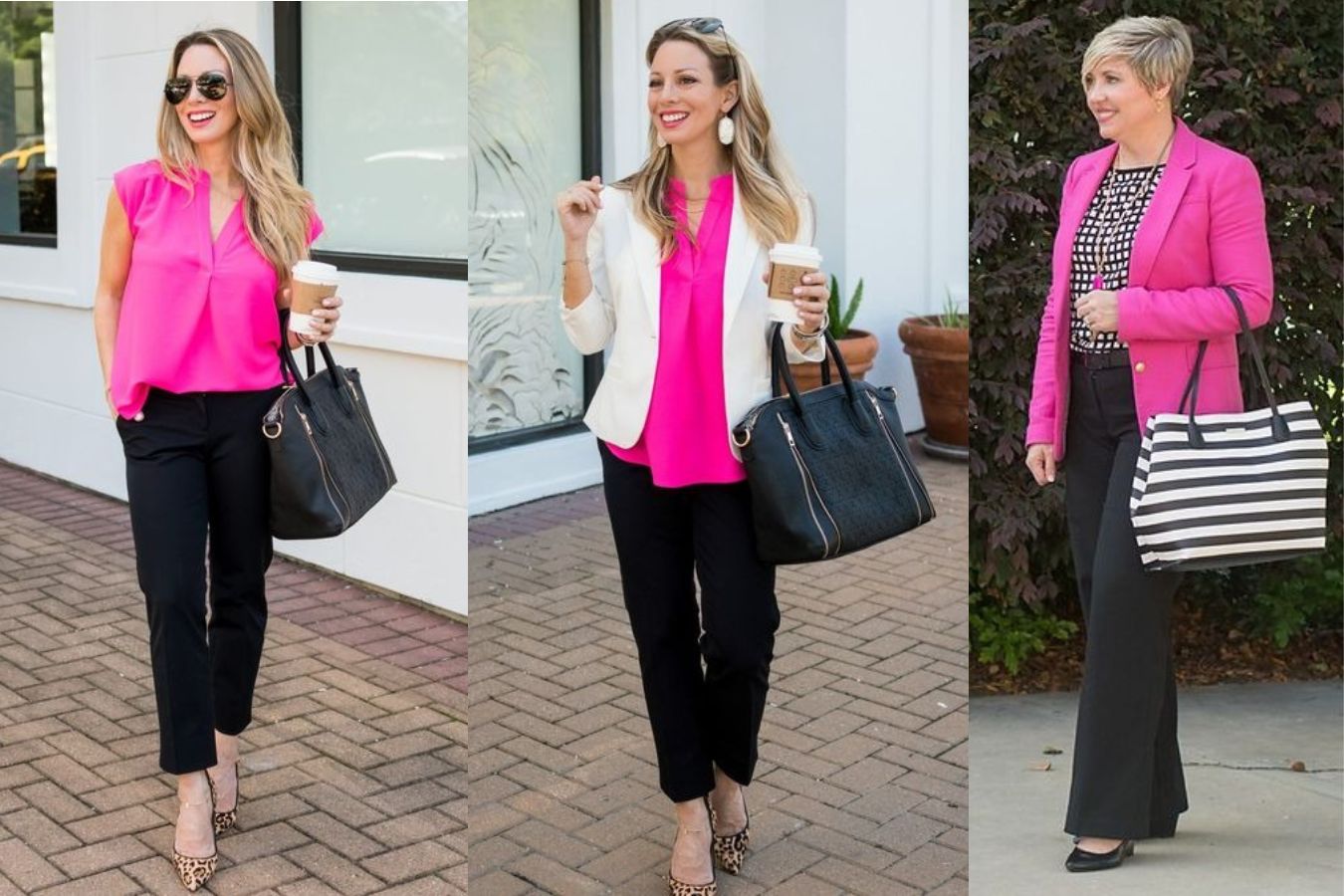 Red Go With Black Pants
The color red is a symbol of vigor and energy. It's undoubtedly one of the most noticeable colors out there. Even the brightest colors can be made more subdued when paired with black. Pairing red with a neutral color will help keep you from being too flashy.
Black is bold enough to wear with candy apple red, though it's recommended that you pair it with a lighter neutral. A darker red color will look fantastic with black pants as well.
A red shirt, whether solid or patterned, with a pair of black pants, may make for an impressive combo for any occasion.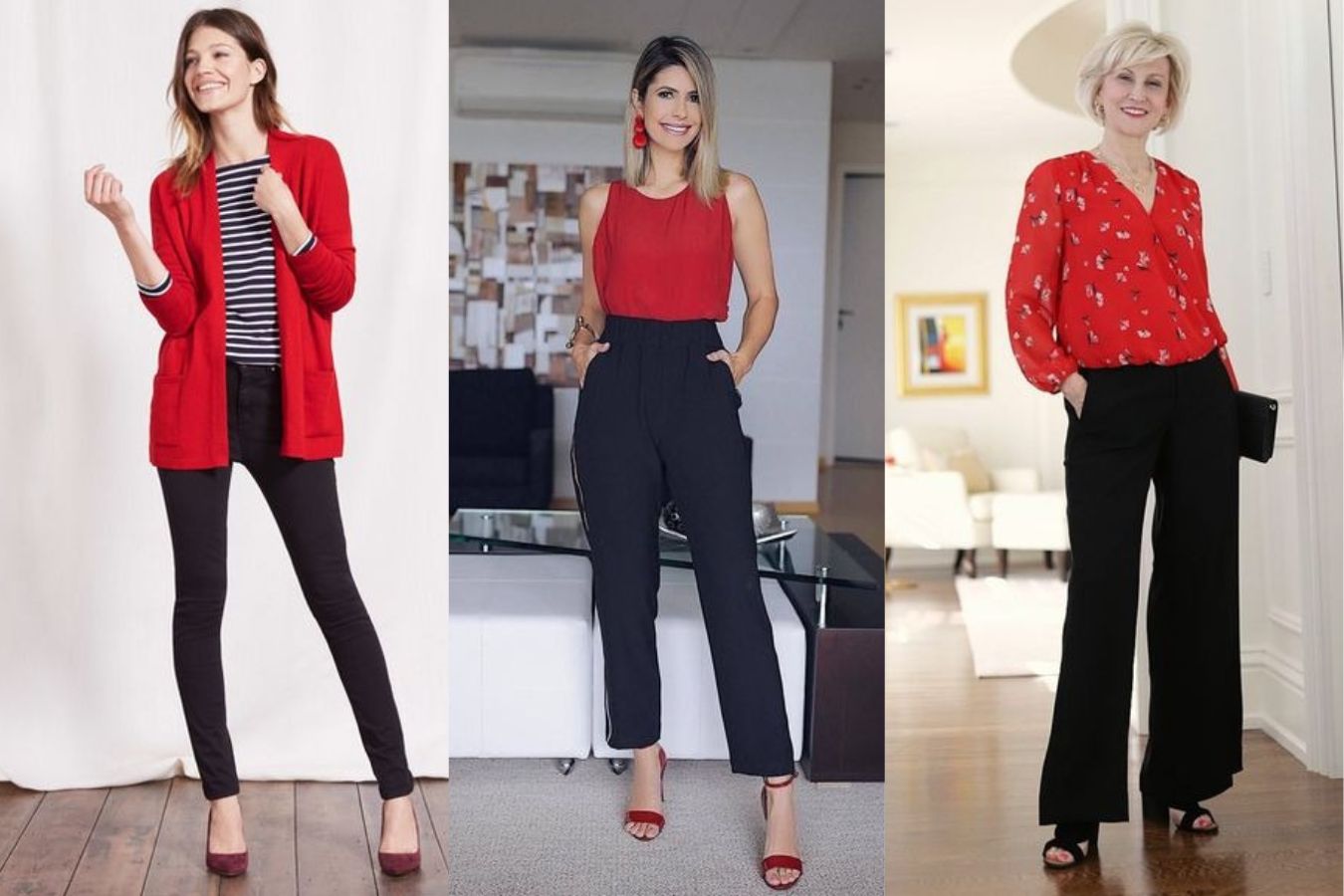 Yellow Go With Black Pants
Pairing sunny yellow with sophisticated black creates a striking contrast. This combination can be found frequently in nature as a testament to its beauty. An appropriate color scheme for springtime might be a soft yellow top with black pants.
Try a darker, more vibrant hue like sunflower this summer. On the other hand, the yellow and black color scheme stands out once autumn arrives.
Colors like gold, ochre, and mustard, which may make you feel toasty even when it's cold outside, stand out well with black.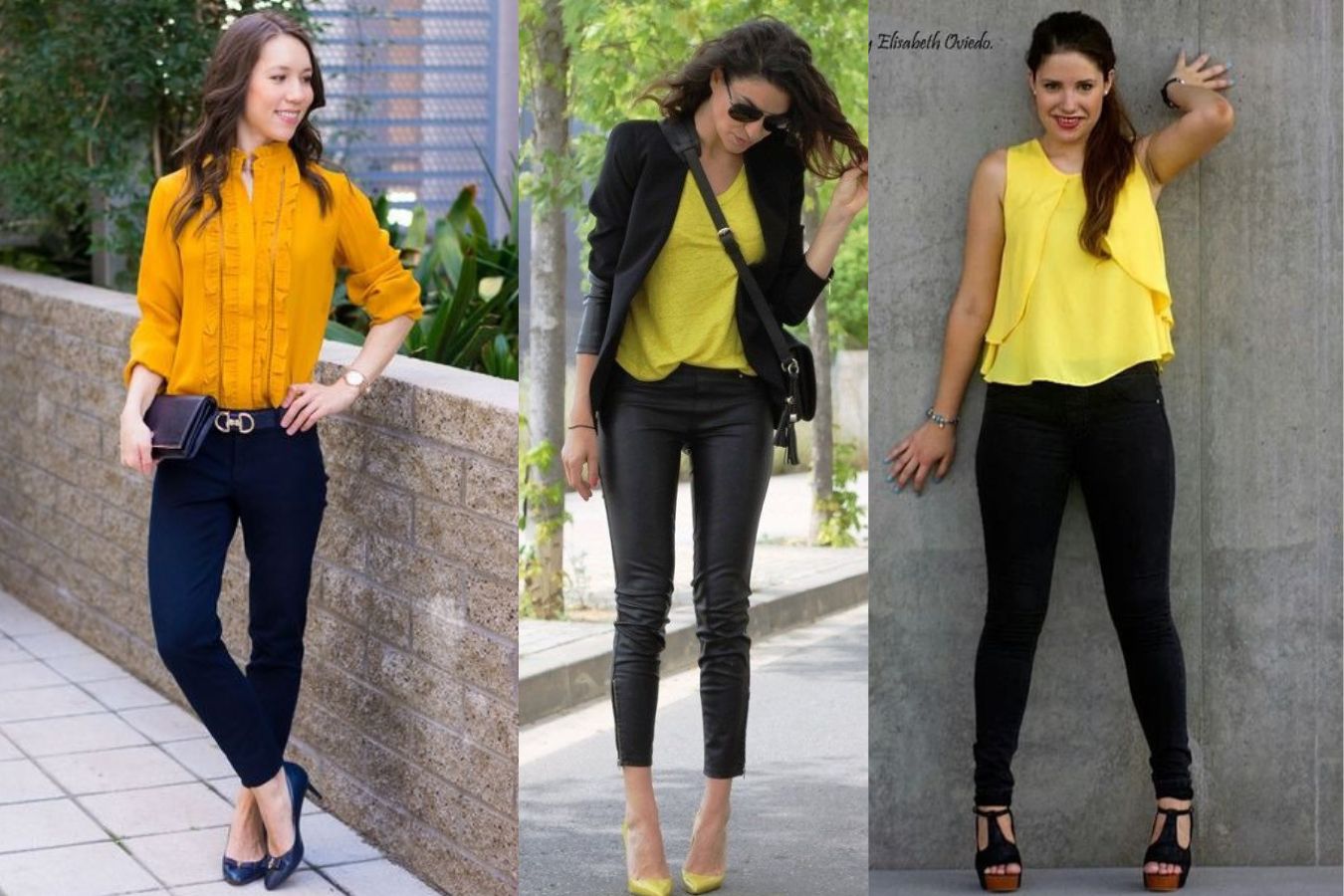 Green Go With Black Pants
The color green comes in a wide range of tones, some of which are rather vibrant while others are more muted. Depending on the intensity, this extraordinary shade is appropriate for use throughout the year.
Soft sea green is a lovely spring hue, and it would look excellent with black pants. Brighter colors, like lime or chartreuse, are a bit more daring yet complement black.
Greens with some depth, like Kelly or emerald, are great for the summer since they are bright and still have enough contrast to stand out.
Winter and fall are the best times to wear the darkest and most subdued green tones; hunter, army, and olive green all fit into this category.
What Color Pants To Wear With Black Shirt?
When creating unique looks, black is one of the most versatile colors. Black shirts, grey pants, black shirts with blue jeans, or anything as bright as white are all great options for pairing with black pants.
One of the most classic outfit combos is black slacks and a black shirt. The possibilities for black shirts with designs or bright colors are extensive. It's simple to pair your favorite dress pants with a shirt.
Black Pants With Black Shirts
Do you need help deciding which pair of pants will look best with your black shirt?
Well, there is one such pairing that you never need again to give a second thought to. We're referring to the all-black outfit, including the shirts and pants.
Oh yes! You can't go wrong with this pairing; it's the best way to ensure you always seem put together. This classic outfit of black pants and a white shirt will take you from the office to any formal event.
Make sure you're always well-dressed by matching your shoes to the event. If you need to be comfortable, opt for sneakers, and if you need to make an impression, lace on a sturdy pair of boots. That all-black ensemble will turn heads.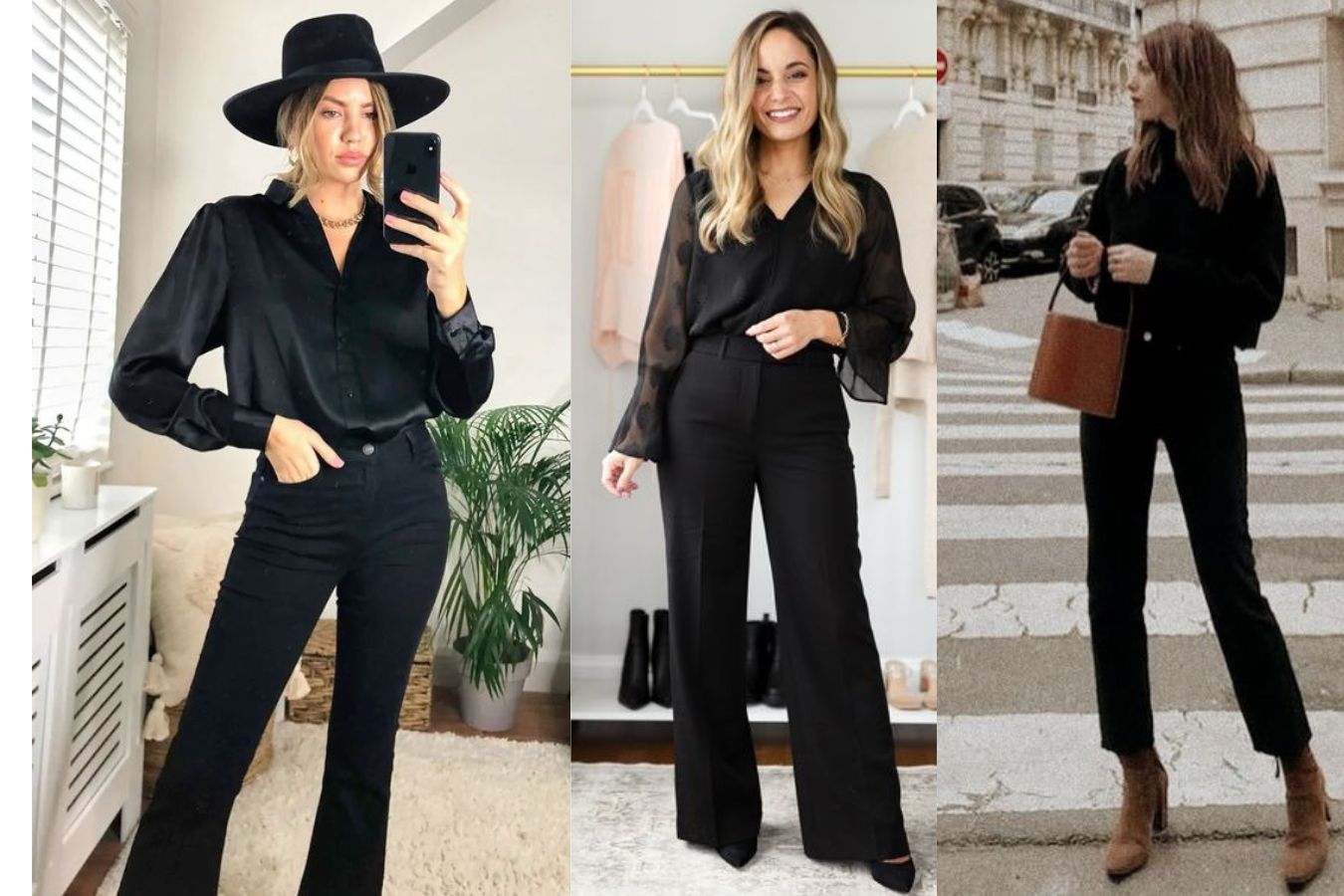 Blue Jeans And Black Shirt
You can always find a middle ground with the combination of blue and black, even if you can't agree on blue or black separately. Consequently, if you want to appear your best when you go out, a black shirt and blue jeans are the way to go.
It's never a good idea to accessorize if it helps you be the man of the hour. Your formal attire will be complete with dark sunglasses and a wristwatch displayed on the folded sleeves of your dress shirt.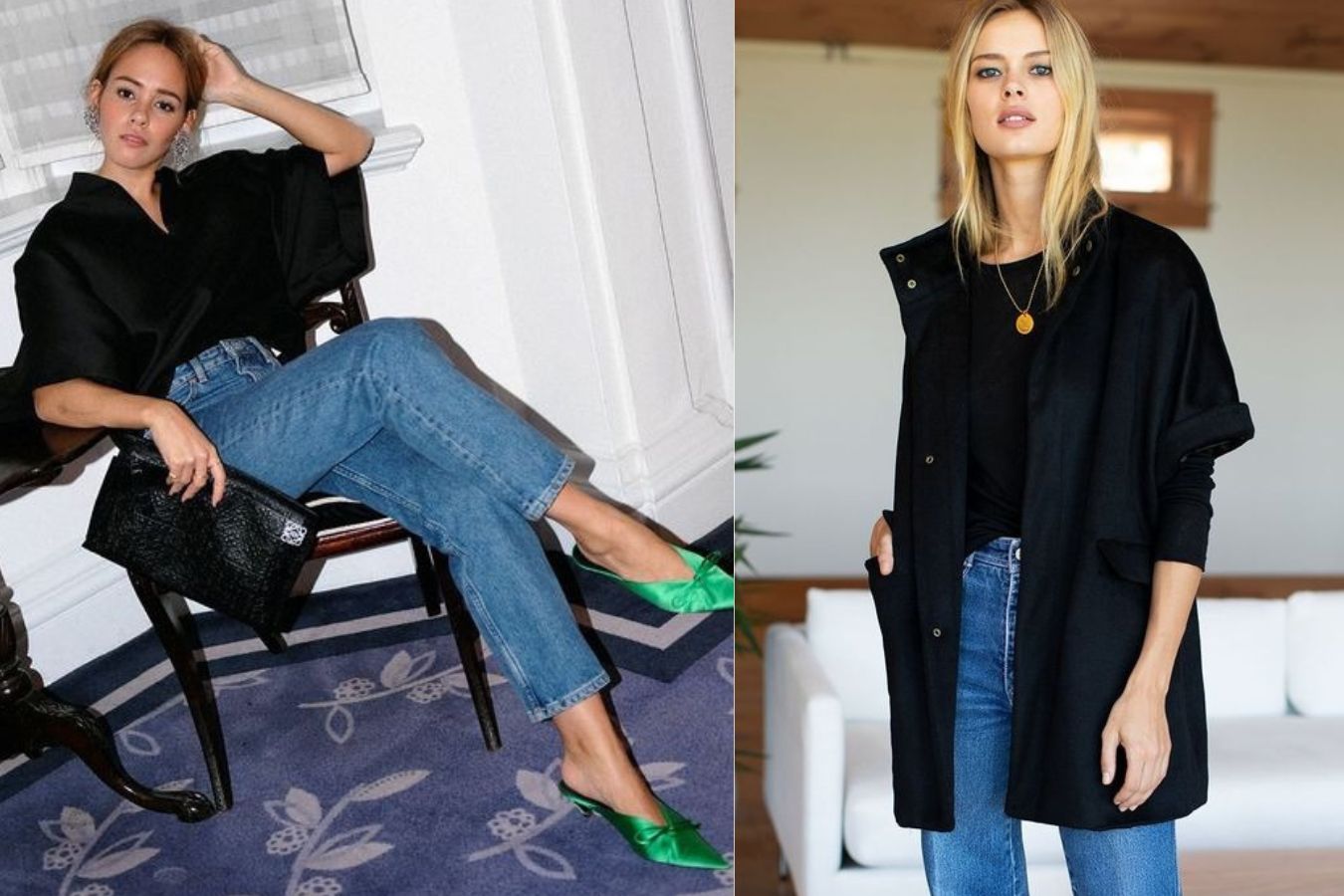 Black Shirts And Patterned Trousers
The classic black shirt and dark pants combination has been spoken about for years. How about this time you play outside of your regular league?
People have traditionally paired patterned tops with more simple bottoms. This standard is easy to whirl. Combine a plain black shirt with a pair of checkered jeans or pants.
It is a renowned combo that has been making waves on the runways of today's fashion industry. When you need all eyes on you, choose to follow this new trend.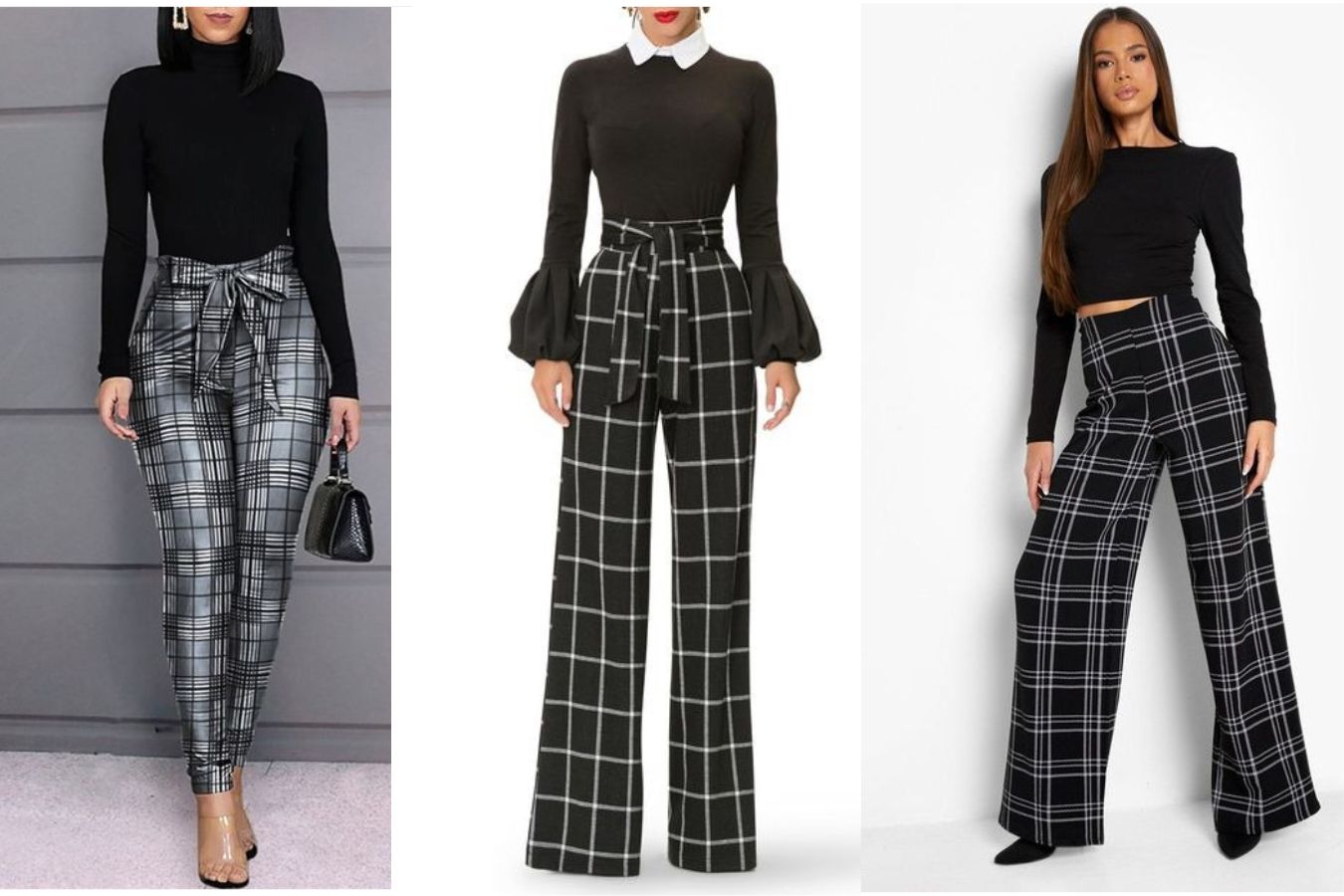 Black Shirt With Grey Pant
It's been said that contrasts of light and dark can bring out the best in each other. So it's hard to imagine a color scheme more perfect than black and its derivative pastels. You may easily pull off the dress code by donning a black top with some grey pants.
Plain black shirts look great with every shade of grey pants, from dark to light. You'll look dashing in this ensemble, and the extra flair provided by the folded sleeves is just the cherry on top.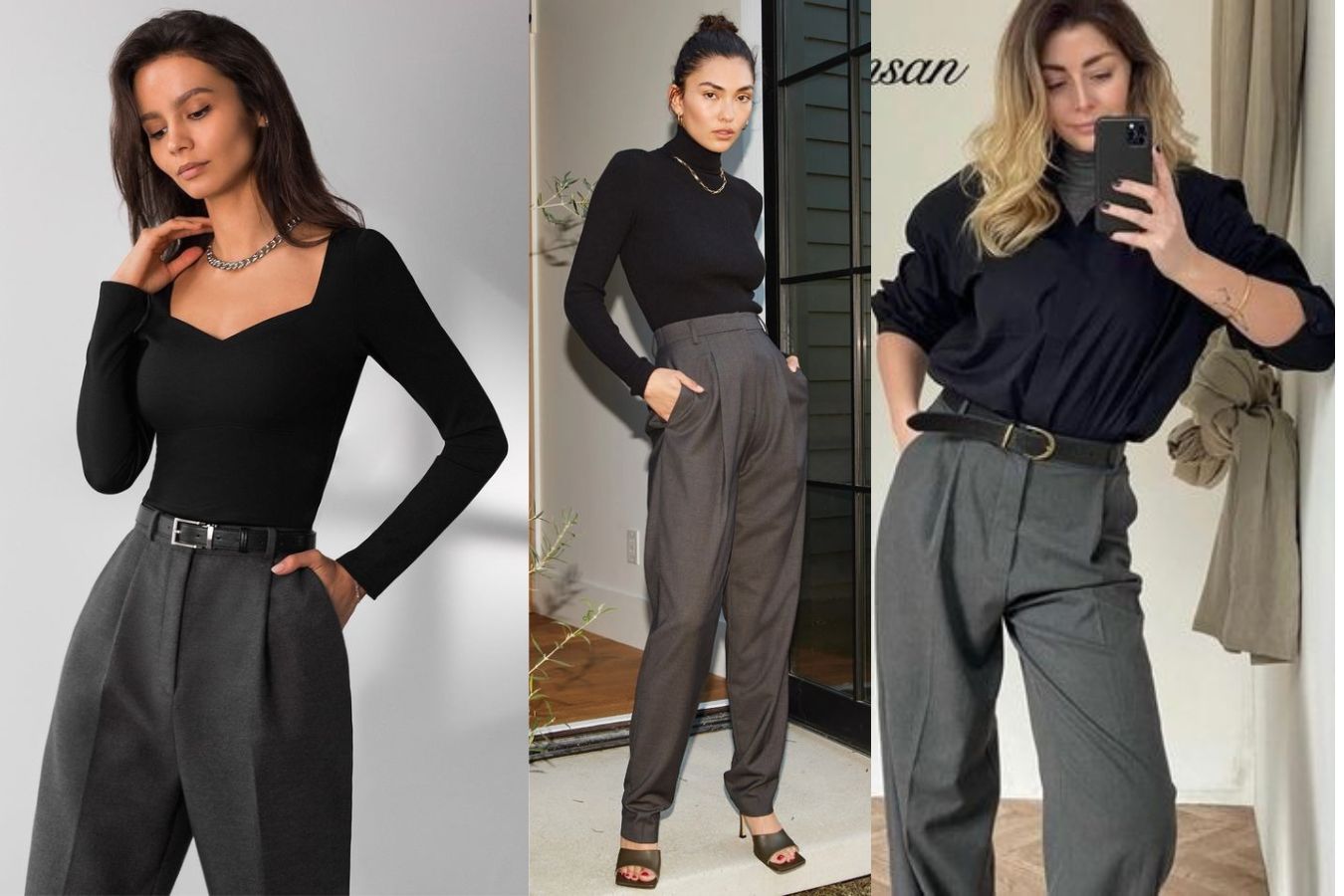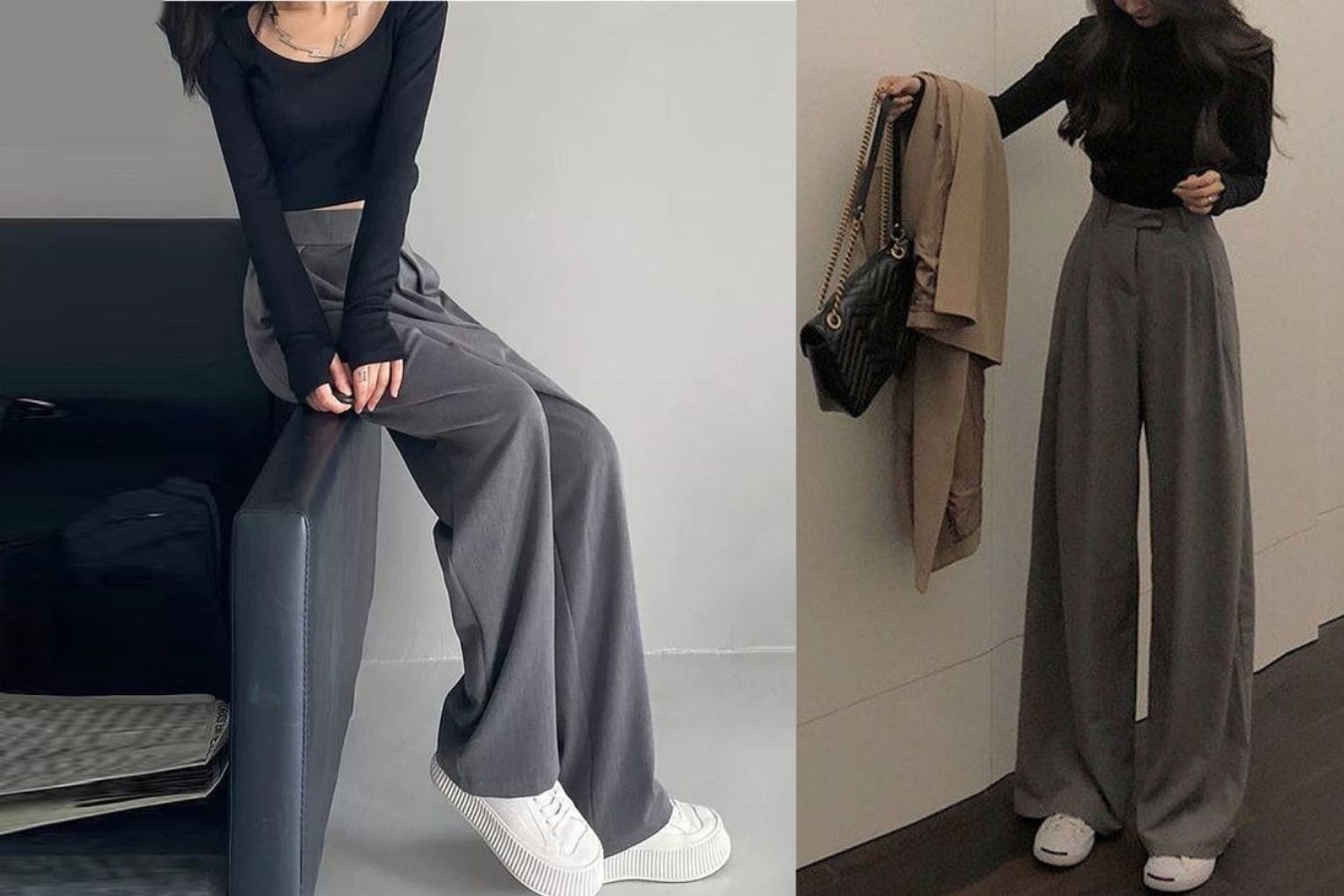 Rugged Jeans With Black Shirts
Try something unusual and exciting with this pairing. It's as simple as experimenting with several black slacks and shirt styles.
Choose a black button-down shirt with a pattern or one with excellent details like a pocket square or a chest pocket. Rough-and-tumble denim is currently setting the trend.
You may achieve a similar effect by utilizing a good color scheme. You can wear either white or light gray denim for this. Pairing such rough-and-tumble denim with a classic black T-shirt is a timeless look. It's the best for guys.
These are some tried-and-true ways to pair black pants with a shirt that will always look great. Give it a go!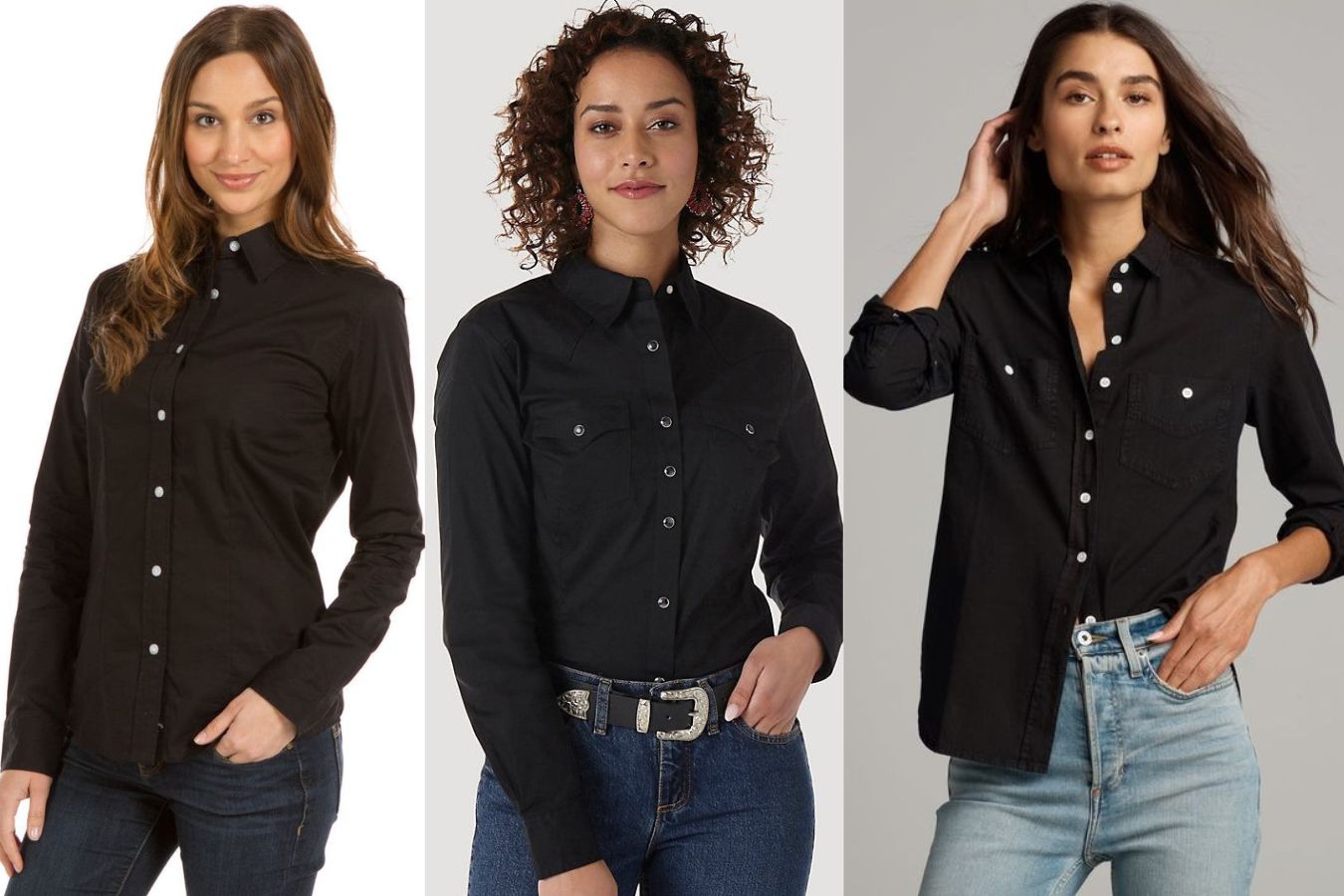 Style Tips For Black Pants
Even though black pants are one of the most closet-friendly pieces, matching shirts can be challenging.
Here are a few simple guidelines to help you find your ideal style, no matter the event.
You can't go wrong with a monochromatic color scheme, which will give you a polished, official appearance. Monochromatic attire is always a reliable option for any business casual or upscale event.
When thinking about what to wear, it's crucial to keep in mind the importance of contrast. The contrast will add visual interest and balance, which are necessary for a well-designed ensemble. Whenever you wear black pants, you can seem fashionable by pairing a lighter-toned top with them.
Be sure to dress for the weather and the season. It can be a fantastic starting point if you're having trouble picking what shirt to wear with black jeans.
In the spring and summer, warmer tones are more appropriate. You can also safely wear cold tones in lighter shades. Think about the colors associated with Easter; they are likely to be suitable for spring.
Fashion in the summer is more exciting because of the use of vivid colors. Put on something daring; you won't have another chance like this. Let the black pants bring some much-needed balance and tone to the outfit.
Final Takeaway
So, there you go, methods for quickly and easily matching black pants and shirts in terms of color. Because black is such a light hue, this is a simple matter. Though, the formality of the occasion and the time of year should factor into your choice.
Putting together an outfit should be a relaxing and enjoyable activity. Having so many possibilities available can make this process difficult. The good news is that black pants are adjustable.
Black trousers are versatile, and you can wear them with almost any shirt; with the advice mentioned above in mind, you'll be able to look your best no matter the occasion.
With so many options and a little planning, you'll eagerly anticipate ‌each new season to show off your impeccable sense of style.