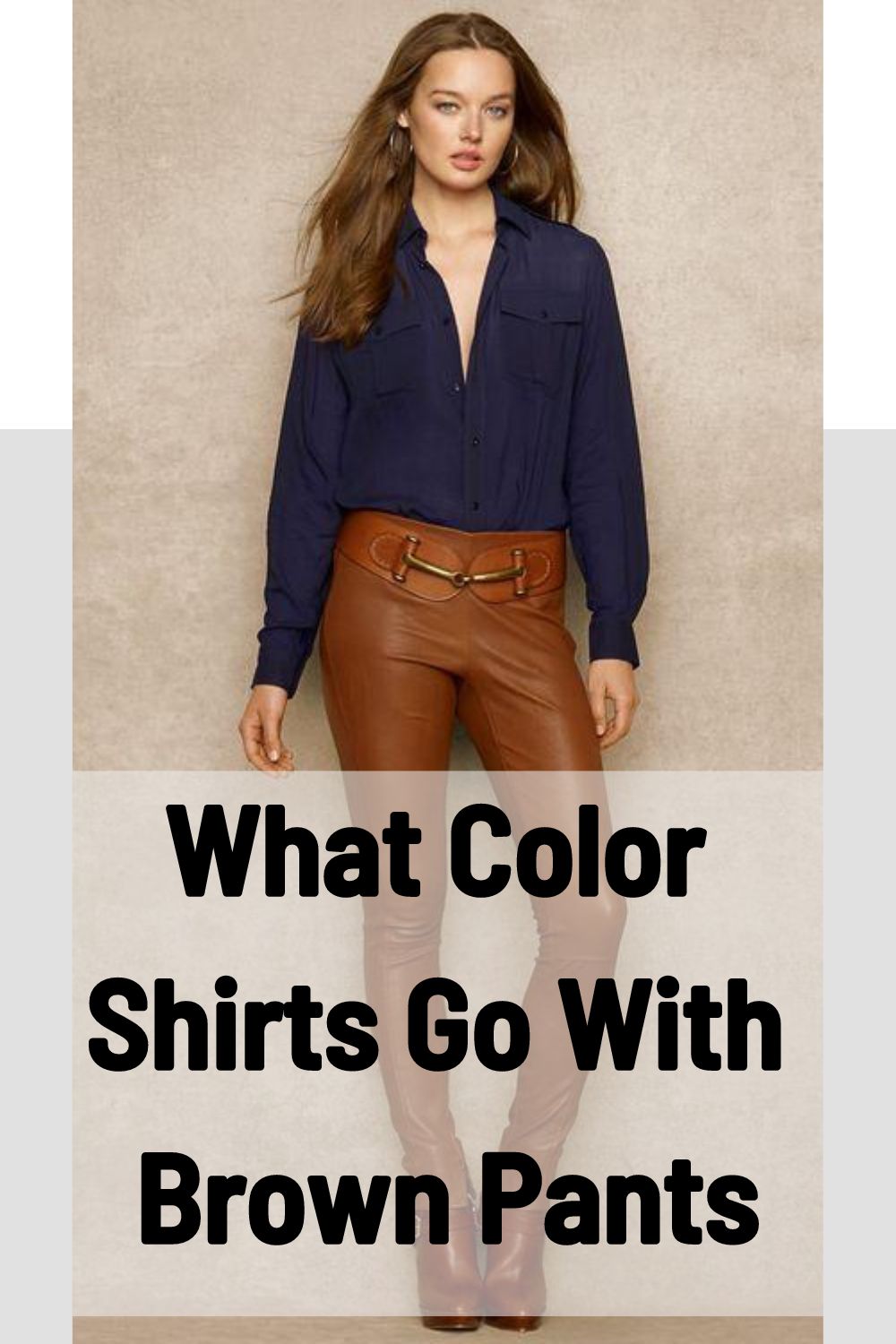 Knowing what color shirt goes with brown pants is helpful whether you are getting dressed for a job interview, a night on the town, or just because you feel like it.
Brown is a versatile color that goes well with many different shades of the shirt, but there are some general guidelines to ensure you look your best.
There are countless options for shirts that will complement dark brown pants, so you'll never have to stress about matching your outfit.
When going for a monochromatic look, some prefer to wear a single shade of brown throughout their upper bodies while keeping their lower halves in a different tone. When you want to have some fun, try contrasting colors and styles, like a denim shirt with a pair of brown pants.
Keep reading for tips on how to mix and match colors when it comes to shirts and brown pants!
White Shirts and Brown Pants
White is one of the most versatile colors to match. Because of how well it pairs with other colors, you can wear this combo for business and social events.
This also makes it great for wearing dark brown pants. White shirts look great when paired with dark brown slacks because of the natural tonal harmony between the two colors.
If the shirt and jeans don't go together, you can switch to white dress pants for a more businesslike look or even khaki shorts for a day at the beach.
The trick is to remember that when you're wearing white, match colors rather than patterns, so look for clothes in muted tones like light gray or light brown.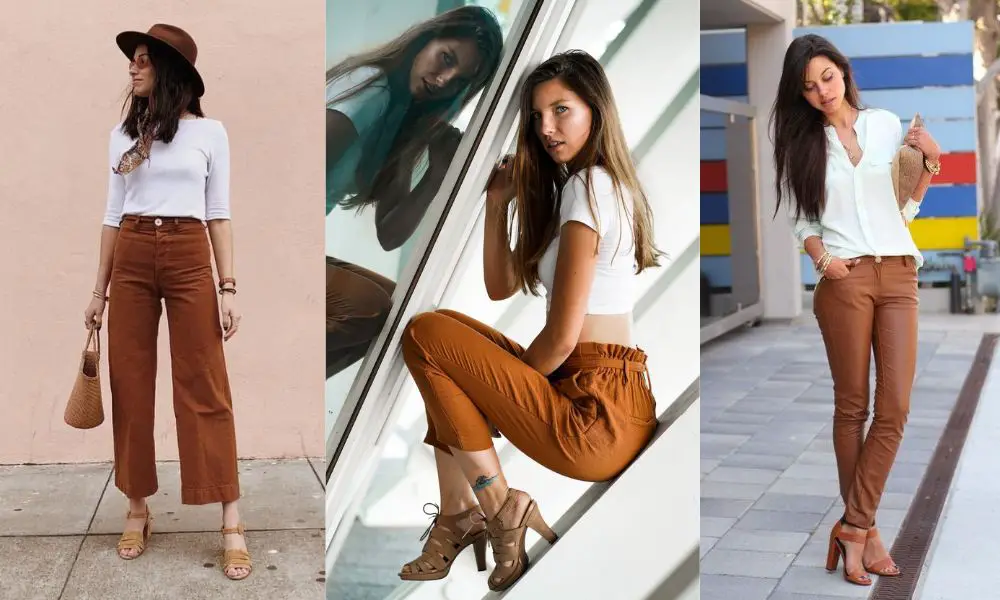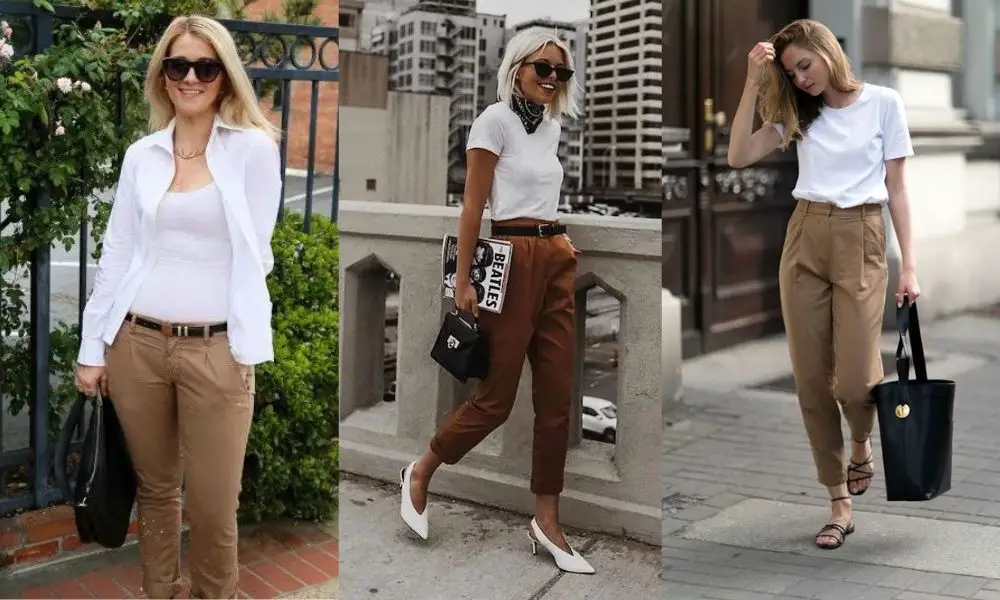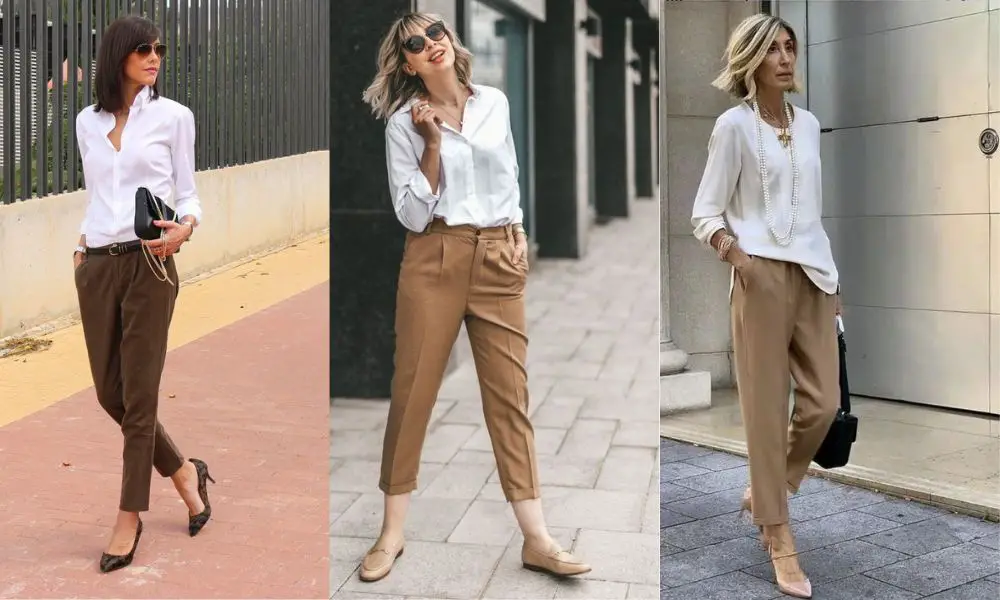 Green Shirts and Brown Pants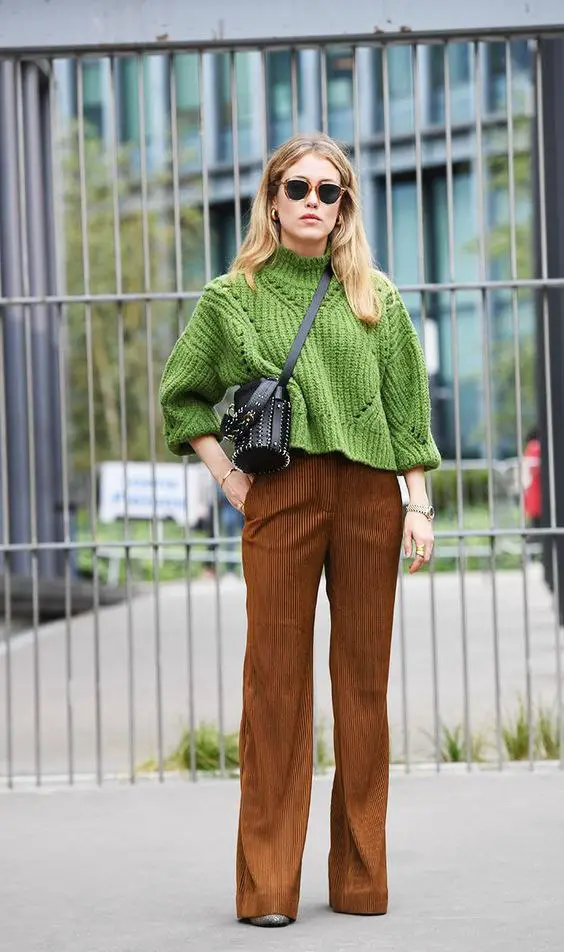 Green shirts with brown pants are a color combination that will create a look that is eye-catching and stylish. While it may not be the first choice for everyone, when done right, it can make a statement. The key to pulling off this look is to choose the right shades of green and brown.
For example, an olive green shirt would pair well with chocolate brown pants. Alternatively, a kelly green shirt would look great with brown camel pants.
Make sure they complement each other well, regardless of your preferred shades. With the right colors, you can create a unique and dashing look.
Navy blue Shirts and Brown Pants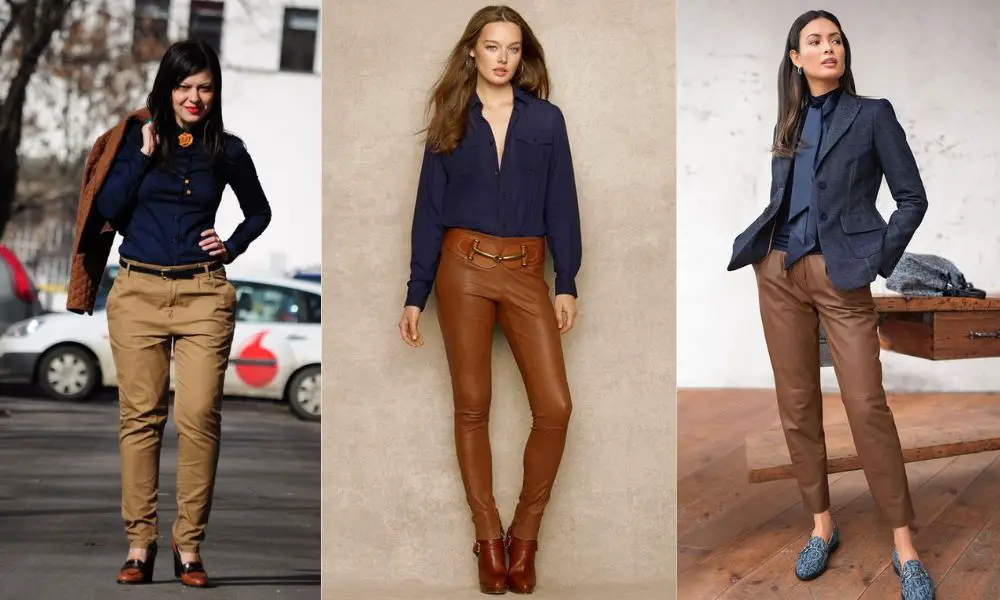 The combination of dark brown pants and navy blue is classic. While the two hues couldn't be more dissimilar, they complement each other beautifully and make for a lovely combination. The versatility of navy blue makes it an excellent choice for everyday and formal wear.
Pairing it with the right accessories can elevate your look to a more formal level. Navy shirts and brown slacks are a classic combination for a casual look, and a navy jacket over the shirt takes it to the next level for a more formal occasion.
Yellow Shirts and Brown Pants
Yellow shirts and brown pants are great for those who want to stand out in a crowd. Yellow is a very attention-grabbing color, so pairing it with a neutral brown can help create an eye-catching and trendy look.
This color palette is noticeable and unique, and it can help you make a bold fashion statement. While this look may not be for everyone, it is worth considering if you want to add a bit of personality to your wardrobe.
Yellow shirts with brown pants can be dressed up or down, depending on the occasion. Pair your shirt with a blazer and dress pants for a more formal look. Try pairing your shirt with jeans or chinos for a more casual look.
Yellow shirts with brown pants are a great way to add a pop of color to your wardrobe without going overboard.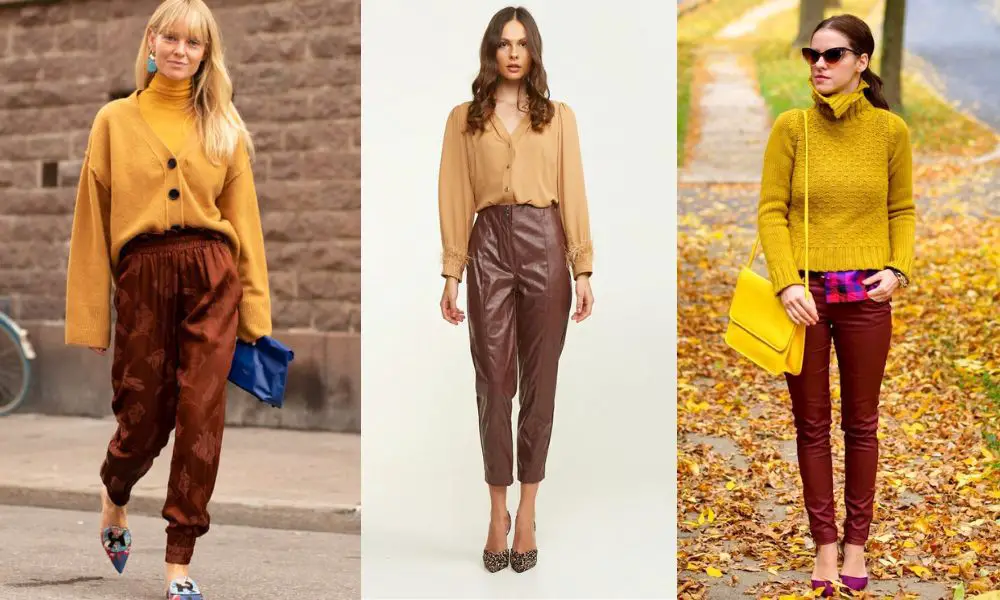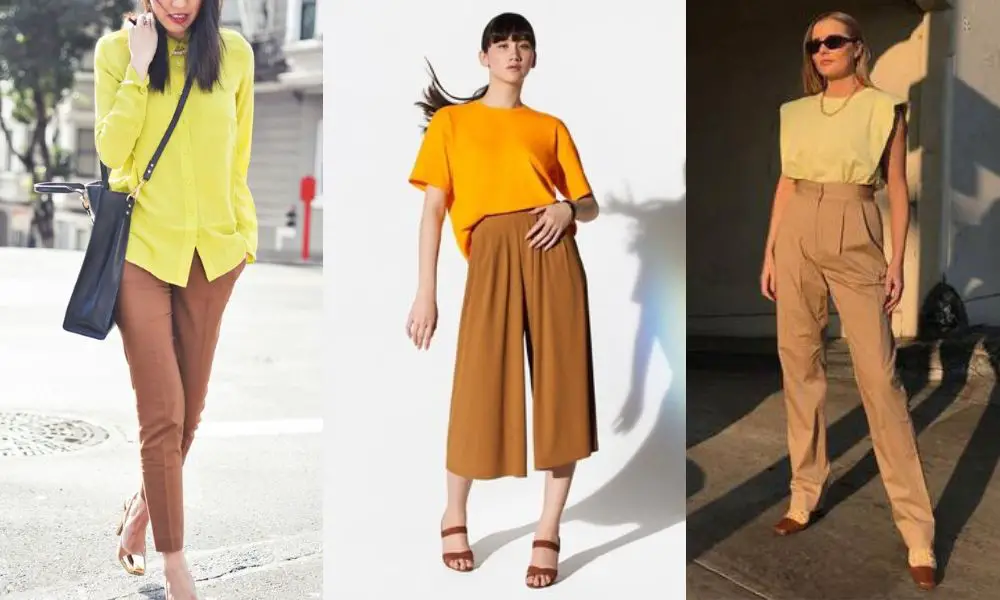 Red Shirts and Brown Pants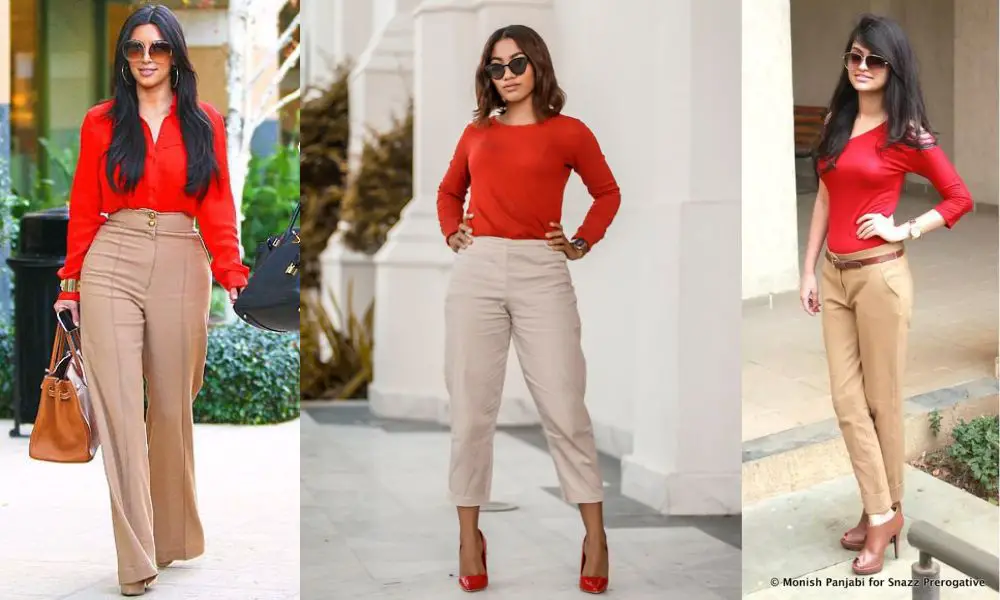 Matching a red shirt with dark brown slacks is a common fashion choice. It is because, when used together, these hues enhance each other's best attributes.
Wearing a red shirt, for instance, can make your face look bright and youthful while donning a brown one will compliment the lighter tones of your complexion.
If, on the other hand, your skin tone is olive or darker, a bright red will help you look warmer and leaner thanks to its reflective qualities and will highlight any underlying green tones in your skin.
Finally, a burgundy or crimson shirt paired with dark brown slacks is a great way to make a statement while still looking put together for work. Many people associate the more conservative associations with the maroon color, while burgundy's slightly more modern vibe comes from its brighter hue.
Black Shirts and Brown Pants
Black shirts with brown pants are a stylish and sophisticated look that you can style for casual and formal occasions. The key to making this outfit work is to choose the fitting shirt and pants. Opt for a black button-down dress shirt made of 100% cotton for the shirt.
It will give you a sharp, clean look that is perfect for casual and formal occasions. Choosing a pair of dark brown tailored trousers for the pants will complete the look.
Be sure to get them hemmed, so they sit just above the ankle – this will ensure that your outfit looks put together and polished. Black shoes or boots complete the look but ensure they are well-polished and clean.
With the right Black Button Down Dress Shirt and dark brown trousers, you can quickly achieve a smart and stylish look that is perfect for both day and night.
Also, by throwing on a well-tailored black blazer, you may instantly elevate an otherwise boring office ensemble to something more presentable and sophisticated.
Black and brown work together better than any other color scheme because they complement each other well and appear stunning.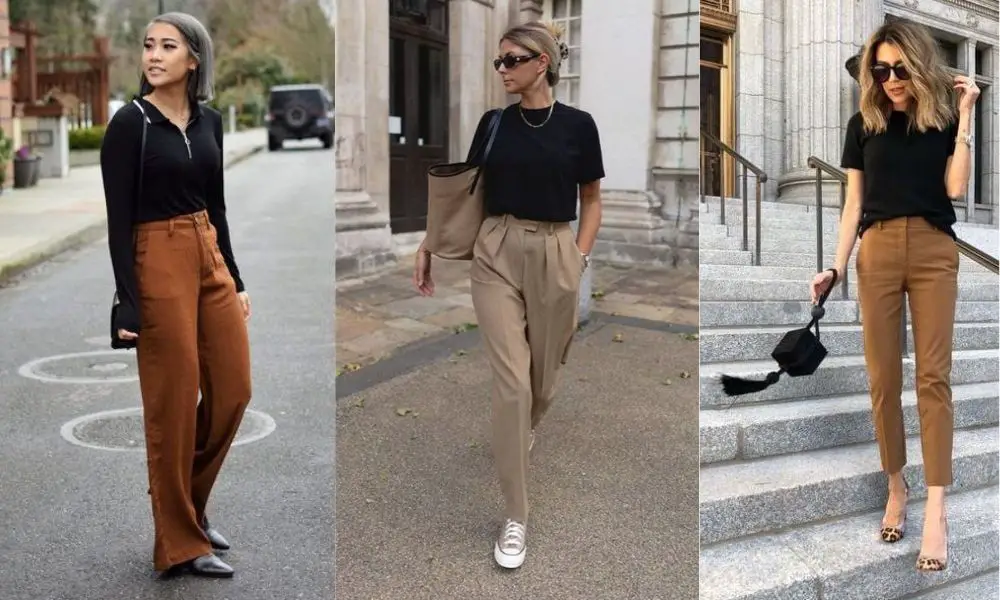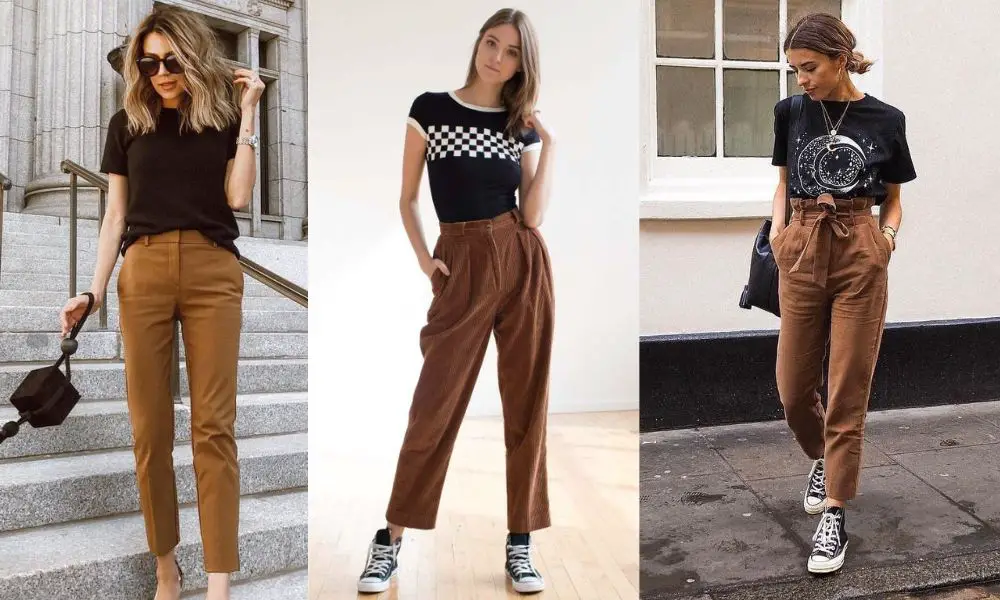 Shoe Colors to Wear With Brown Pants
Brown is a versatile color; you can pair it with many different shades of shoes.
Here are a few things to remember while finding the right shoes to pair with brown pants.
First, consider the shade of your pants. If they are dark brown, you will want to choose shoes that are also dark in color, such as black or dark brown. If your pants are a lighter brown, then you can choose shoes that are either light or dark in color.
Second, think about the style of the pants. Chinos and khakis create a more relaxed look, while dressier trousers require more polished shoes.
And finally, don't be afraid to experiment with different colors and textures. A pop of color or a unique detail can add interest to an otherwise simple outfit. With these factors in mind, here are a few shoe colors that go well with brown pants:
Black:Black shoes are a classic choice that you can pair with your brown pants to create a more sophisticated look.
Navy:Navy shoes offer a polished alternative to black, making them ideal for teaming with dressier trousers.
Gray:Gray shoes provide a polished neutral option with all shades of brown.
Tan:Tan shoes are the perfect way to add a touch of color to your outfit without being too overwhelming.
Burgundy: Burgundy shoes add a touch of luxury to an outfit and pair beautifully with dark brown pants.
Olive: Olive green shoes are perfect for creating a stylish and on-trend look.
Cream:Cream shoes are another great option for adding interest to an outfit while keeping things looking refined.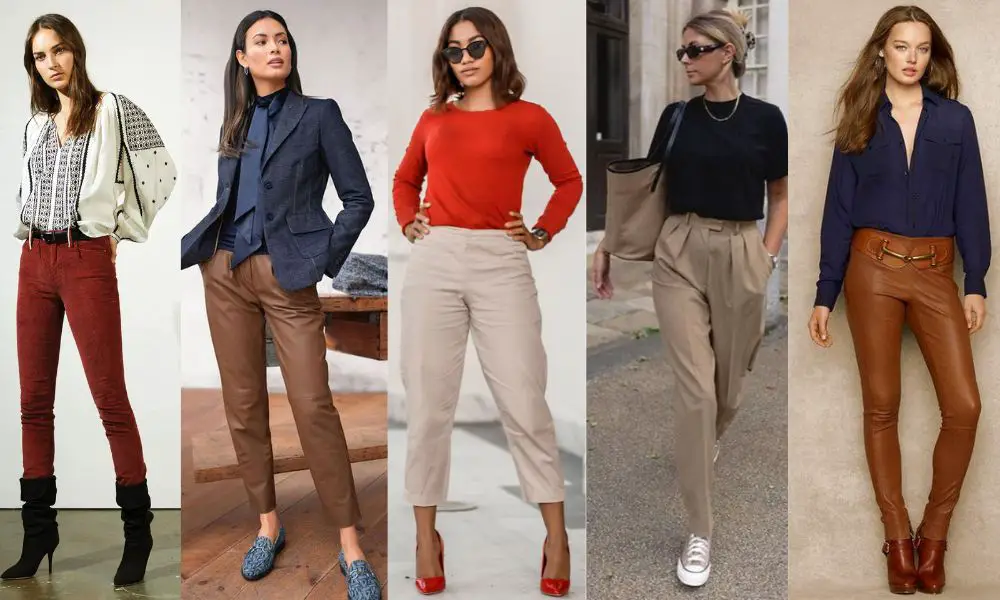 Try pairing brown pants with sneakers or loafers in a similar shade for a casual look. You can wear darker brown pants with a boot or pump in a rich burgundy or chocolate brown to dress up your look.
To add a pop of color, try teaming brown pants with brightly colored shoes, like a Kelly green pump or an electric blue loafer. Whatever shoe you choose, make sure it complements the shade of brown in your pants.
Fashion Tips to Avoid With Brown Pants
Brown is often misunderstood as a neutral shade, leading some to believe you can style it with any shade of clothing or shirt. It's not like that at all. Some common fashion mistakes should be avoided when putting together a shirt and dark brown pants to create a trendy and appealing outfit.
Never Match a Brown Top With a Brown Bottom.
This point may sound obvious, but you'd be astonished at how often people overlook this and create a fashion blunder. It's not a good idea to wear two items of clothing of the same hue, as this might make your appearance washed out and uninteresting.
Avoid Dark Hues.
A brown shirt and brown pants are a terrible combination, but so are a brilliantly colored shirt and dark brown pants. Doing so would result in an ugly and unappealing color combination.
Always Use Muted Hues.
When deciding what color shirt to wear with dark brown pants, it's safest to stay with more muted tones. You should pick a shirt in a conservative hue, such as white, black, dark gray, or navy. All of these hues go well with brown jeans without competing for attention.
How to Choose the Best Brown Pants?
When it comes to choosing the best brown pants, there are a few things you should keep in mind.
First, decide the shade of brown you want to go for. Do you want light, medium, or dark brown?
Second, consider the material. Brown pants can be made from various fabrics, including denim, chino, and corduroy. Each has unique benefits and drawbacks, so choosing a suitable material for your needs is essential.
For example, denim is durable but can be heavy and stiff, while chino is lighter and more comfortable but may not be as durable. Once you've decided on the suitable material, it's time to choose the right fit. Brown pants come in both slim and relaxed fits, so it's important to choose the right fit for your body type. Slim-fit pants will hug your curves and show off your figure, while relaxed-fit pants will provide a more comfortable and relaxed look.
Finally, remember to consider the details. Brown pants can come with various features, such as pleats, cuffs, and pockets. Again, it's important to choose the ones that best suit your needs. With these tips in mind, you can find the perfect pair of brown pants.
Once you have considered all of these factors, you will be well on your way to finding the perfect pair of brown pants!
Style Tips For Brown Pants
Brown pants are a versatile wardrobe staple you can style for any occasion. However, it can be tricky to style them in a chic and put-together way.
Here are some style tips to help you get the most out of your brown pants.
Pair brown pants with a white t-shirt or blouse and sneakers for a casual look. It is an ideal outfit for running errands or meeting friends for coffee.
For a more dressed-up look, pair brown pants with a button-down shirt or blouse and heels. It is a great outfit for work or an evening out.
For a formal look, pair brown pants with a dress shirt and tie or jacket and heels. This attire is perfect for a wedding or job interview.
With these style tips, you can quickly take your brown pants from the office to the dance floor!
Brown pants are versatile and easy to wear, so experiment with different styles until you find something that works for you. With these tips in mind, you'll make heads turn wherever you go.
Final Takeaway
When it comes to what color shirts go with brown pants, the options are somewhat limited. Generally, earth tones or shades of black are the best matches. However, there are a few other color combinations that can work as well.
Knowing whether the dark brown pants are dressy slacks or more casual will help you choose the right color shirt to wear with them. You can't go wrong with a crisp white button-down shirt, a navy blazer, and a polished pair of shoes when you need to dress up a pair of slacks.
Swap out the button-down for a t-shirt, and ditch the dress shoes for sneakers if you're going for a more laid-back vibe. The important thing is to incorporate color and shine through your chosen style.
With a little bit of experimentation, you should be able to find a shirt and pant pairing that looks great together.
And if you are ever in doubt about what color shirt goes with brown pants, remember the golden rule: stick to lighter colors when wearing brown pants.
Thanks for reading!