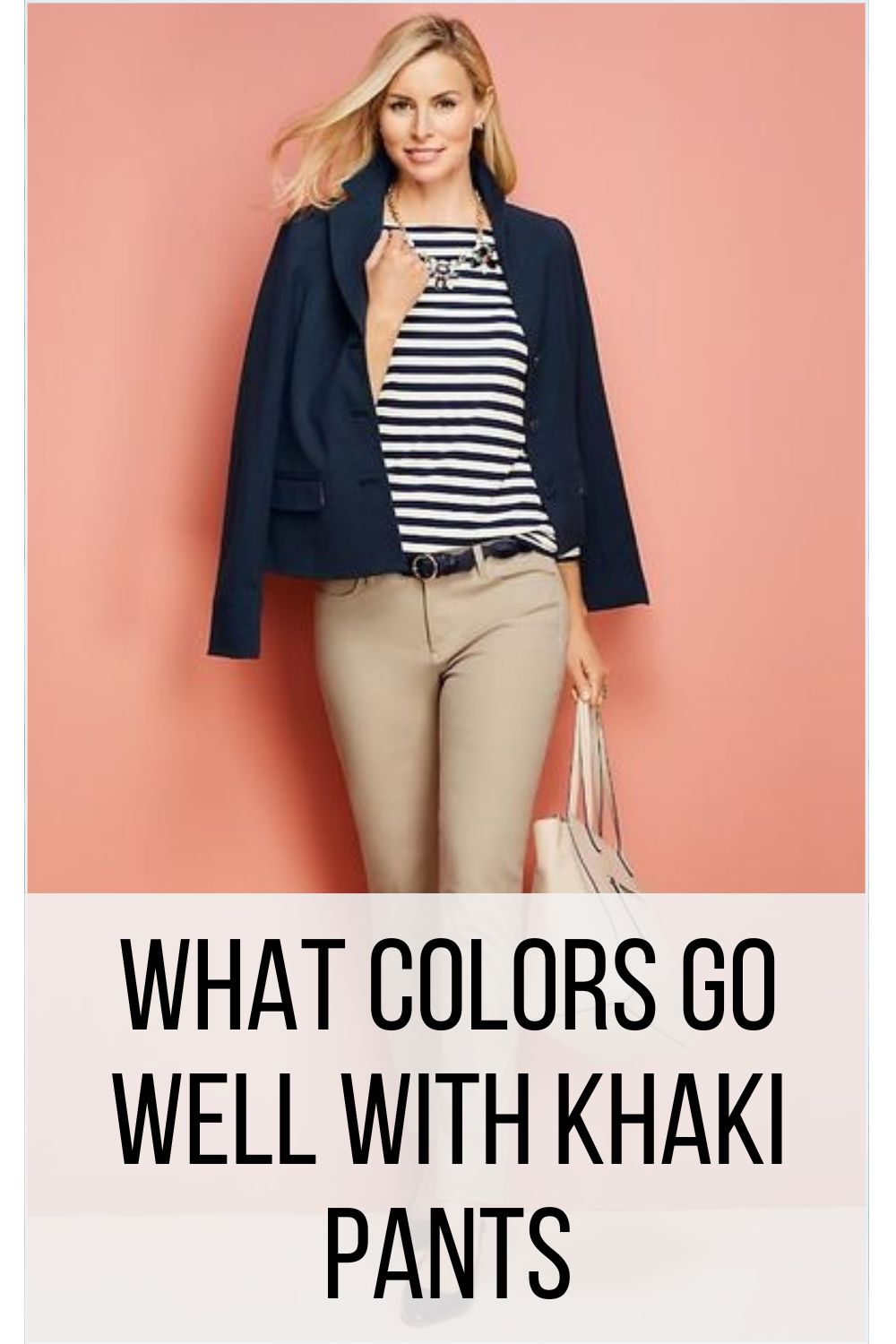 Regarding looking great, comfort matters just as much as style. Khaki pants are a classic fashion staple that offers comfort and sophistication when dressing for any occasion.
Whether you're going for casual chic or something more preppy and put together, pairing your tan trousers with complementary colors can create fashionable looks that will turn heads.
But knowing what colors to pair with khaki pants can be tricky if you're unsure which hues best match this neutral shade. So, let's dive into figuring out what colors go well with khaki pants and shoe color, giving you the information, so you never have to worry about wrong color combinations again!
Grey And Khaki Pants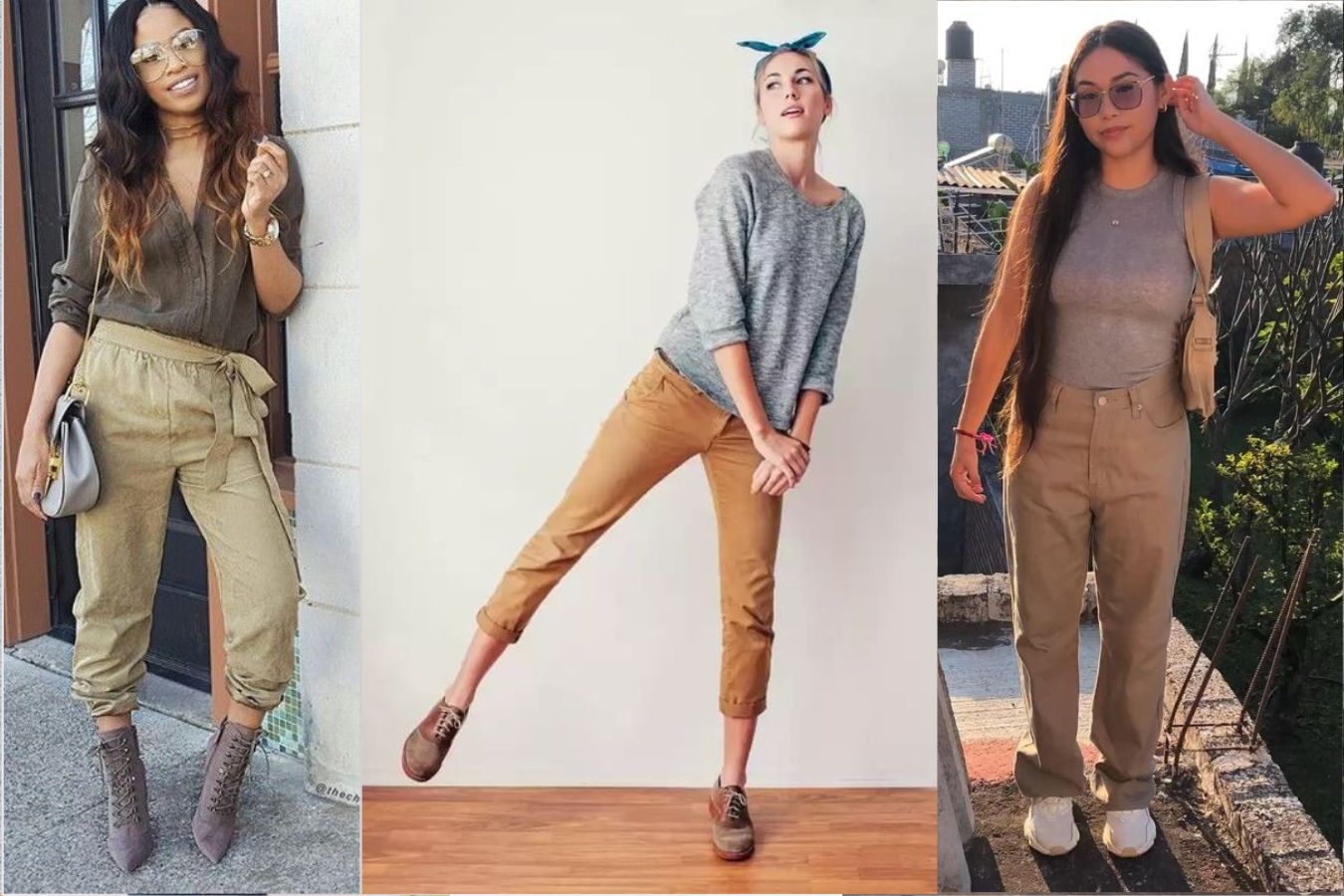 Grey is a color that can not be overlooked. But wearing grey with khaki pants can be an excellent choice if you want to create a contemporary look. Not only does the monochromatic color palette offer a modern aesthetic, but it's also incredibly versatile.
Whether you go for a sleek t-shirt and blazer or try a sweater and sneaker combo, this combination of colors is sure to make a statement. Additionally, given that both hues come in different shades and tones, there are infinite variations to explore.
So if you're searching for a unique yet timeless look, consider wearing grey with khaki pants!
Blue And Khaki Pants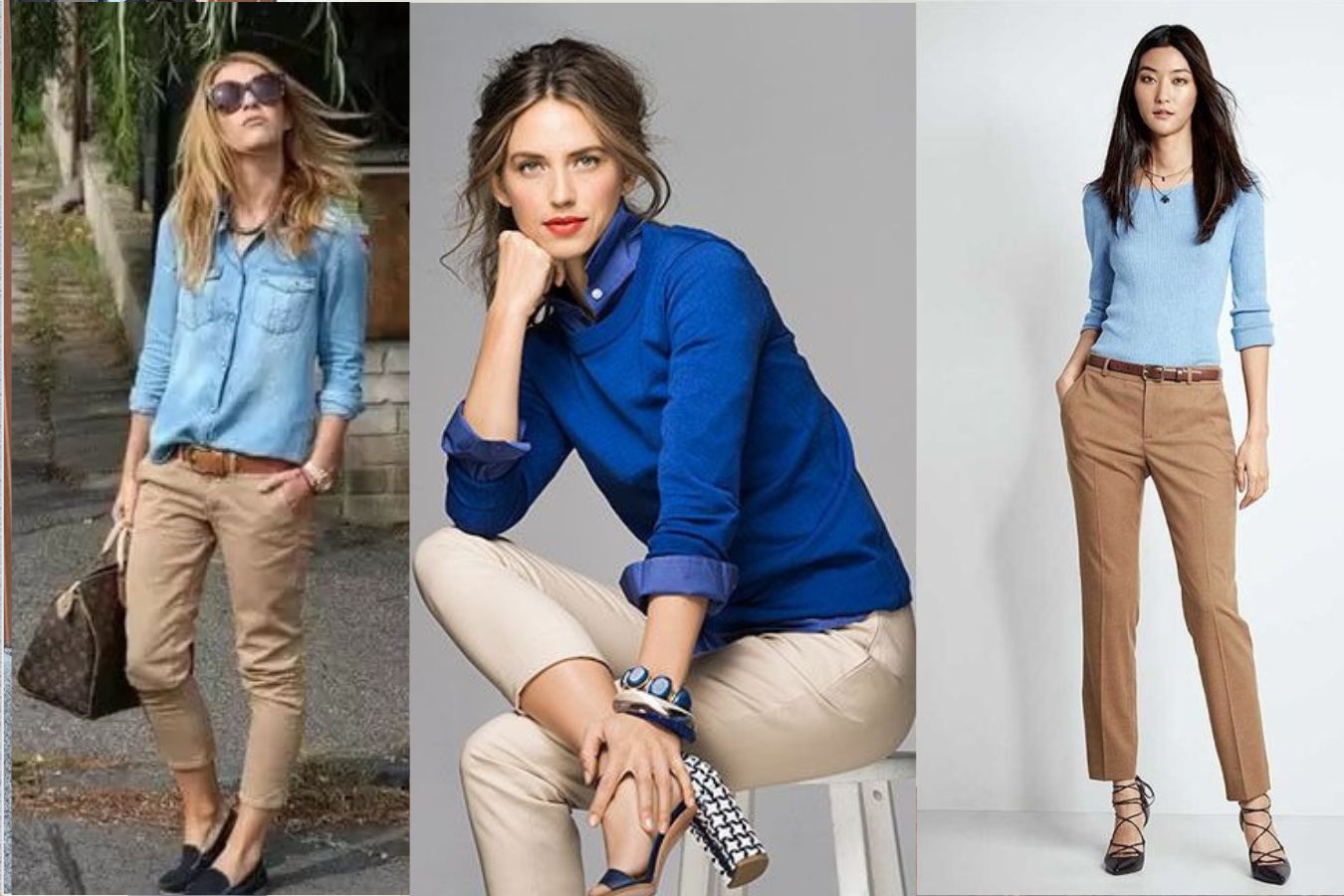 Blue and khaki are a classic combination, with the subtle contrast of color creating an elegant look.
Khaki has a timeless look that pairs nicely with any color, especially navy blue. Navy blue provides a crisp contrast to the warm tones of khaki and makes your outfit look complete.
To create an ensemble, pair your khaki pants with a navy blue top, khaki pants are perfect for professional settings, while teaming them with a light blue shirt can bring an air of relaxed sophistication to weekend looks.
To add personality to your getup, choose accessories in colors such as light pink, yellow, or turquoise to match the hues of the navy blue-and-khaki combination. The final step is mixing trendy pieces like slides, strappy heels, or statement jewelry. By pairing classic and modern elements together in one look, you'll be sure to grab attention!
Black And Khaki Pants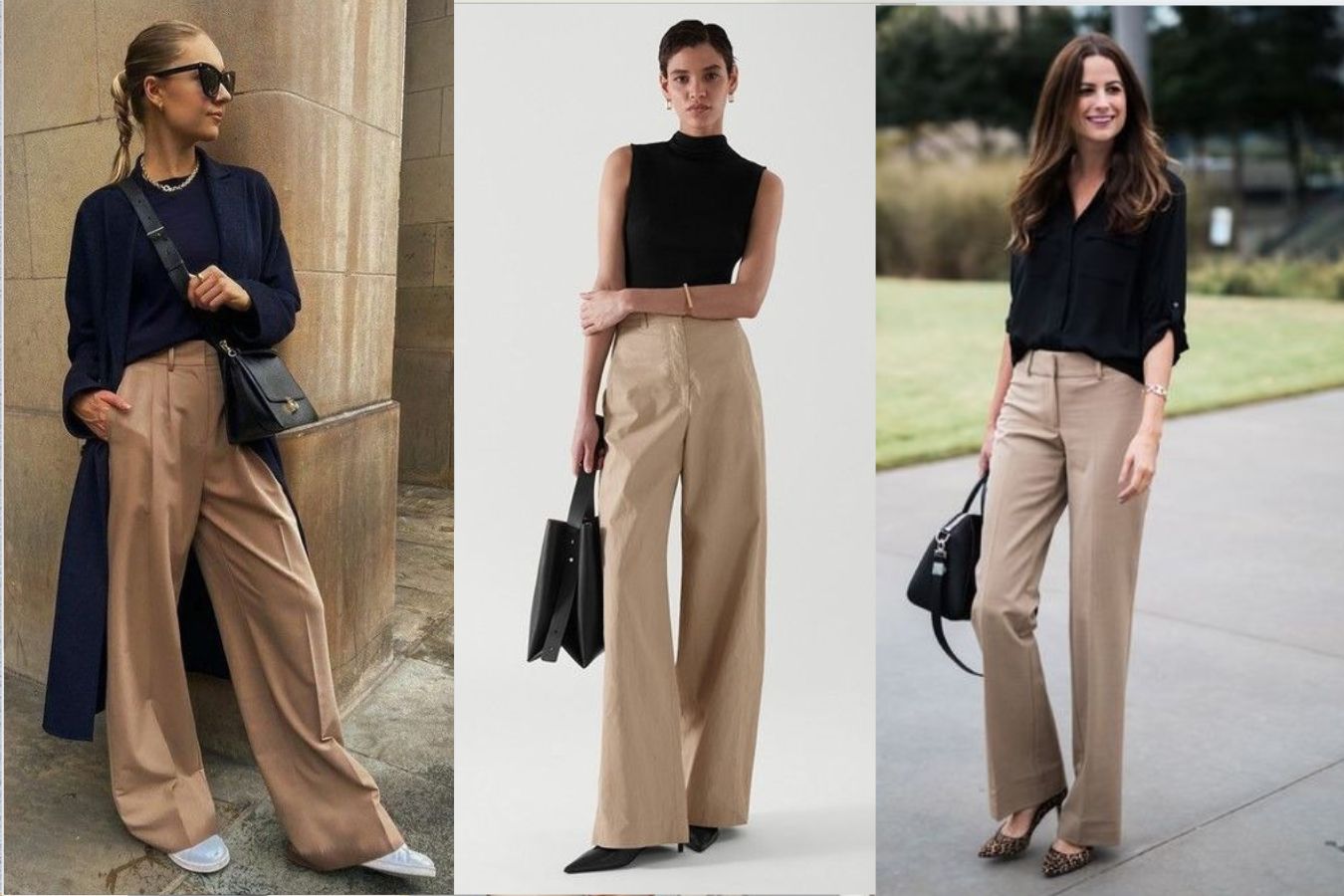 Wearing black with khaki pants can create great attire for any occasion, as the two colors are neutral enough to blend in and make a simple but stylish statement. The beauty of working with these two colors is their endless possibilities when creating an outfit.
For a more formal look, add black shoes, and pair them with a tailored blazer or cardigan. If casual is your goal, consider pairing the khakis with your favorite black top and layer on your favorite denim jacket.
Whether you're looking for something more polished or prefer an outfit that's cool and effortless, wearing black and khaki together is an option worth considering!
Red And Khaki Pants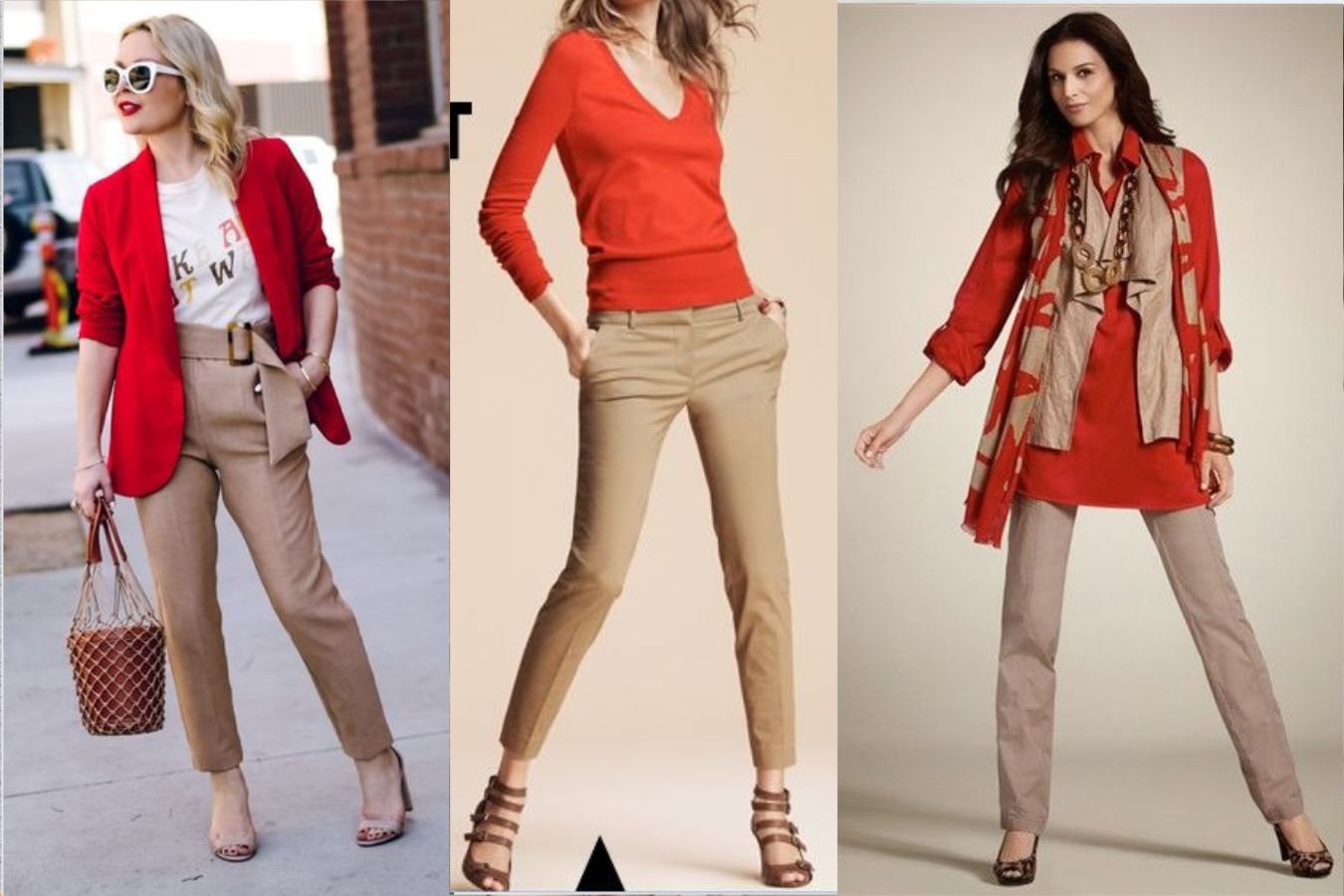 Adding a splash of color to the timeless style of khaki pants is easy with red. Red is a warm, vibrant hue that can create various looks. This pairing of colors adds a subtle but eye-catching look to any outfit.
The bright hue of the red draws attention without being too overbearing, and the khaki's neutral tan helps keep the entire ensemble looking polished.
White And Khaki Pants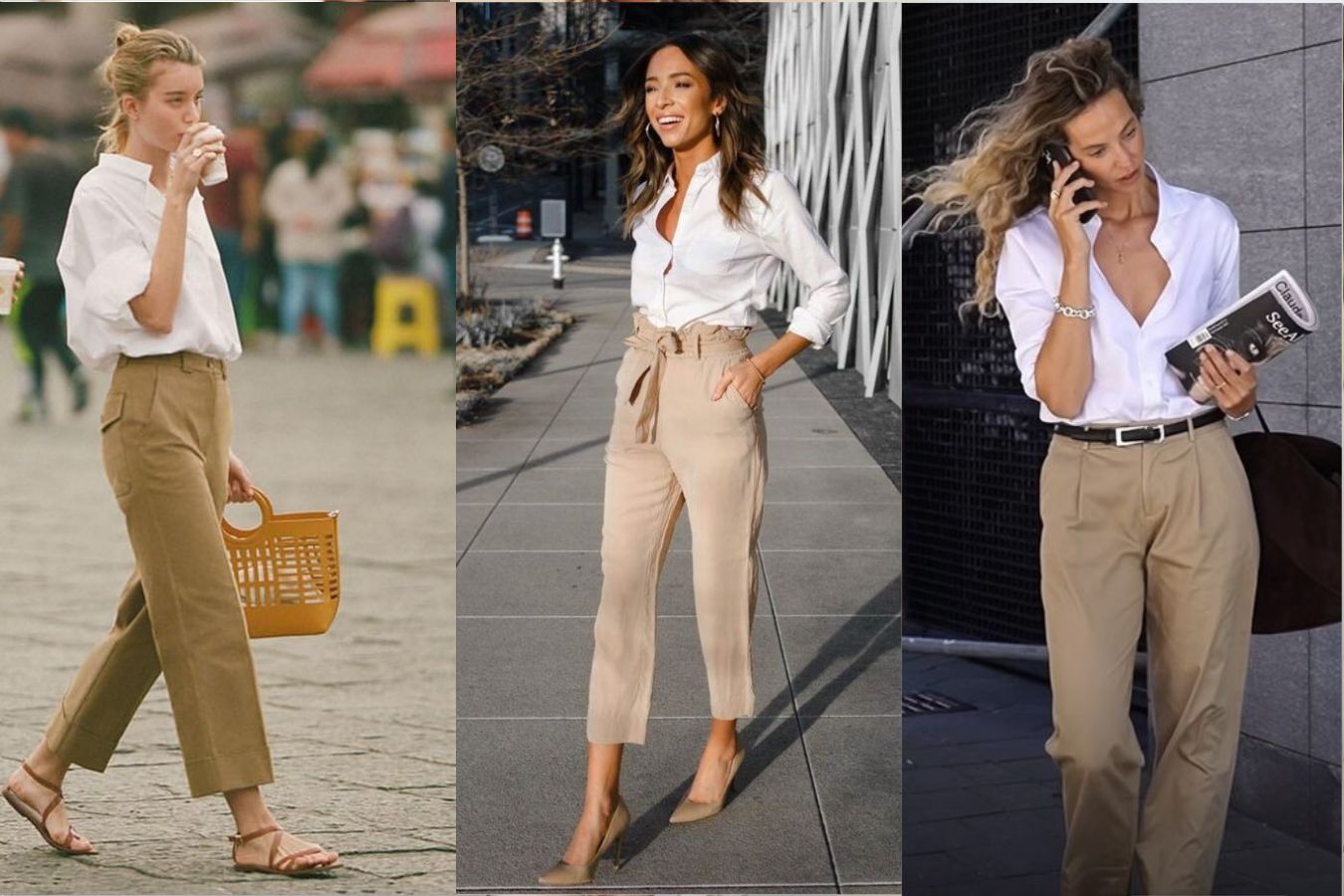 White is a classic color that looks good on almost everyone. Wearing white with khaki pants is a stylish look that can be dressed up or down depending on the event. Mixing different textures and fabrics is key to making the palette attractive.
For example, consider pairing it with slightly textured khaki chinos if you're wearing a plain white top. To add extra visual interest, add a leather belt or statement accessories. Or, if you want a more relaxed look, choose distressed khaki jeans and pair them with your favorite white tee for an effortlessly cool outfit that's perfect for any day of the week.
Lilac And Khaki Pants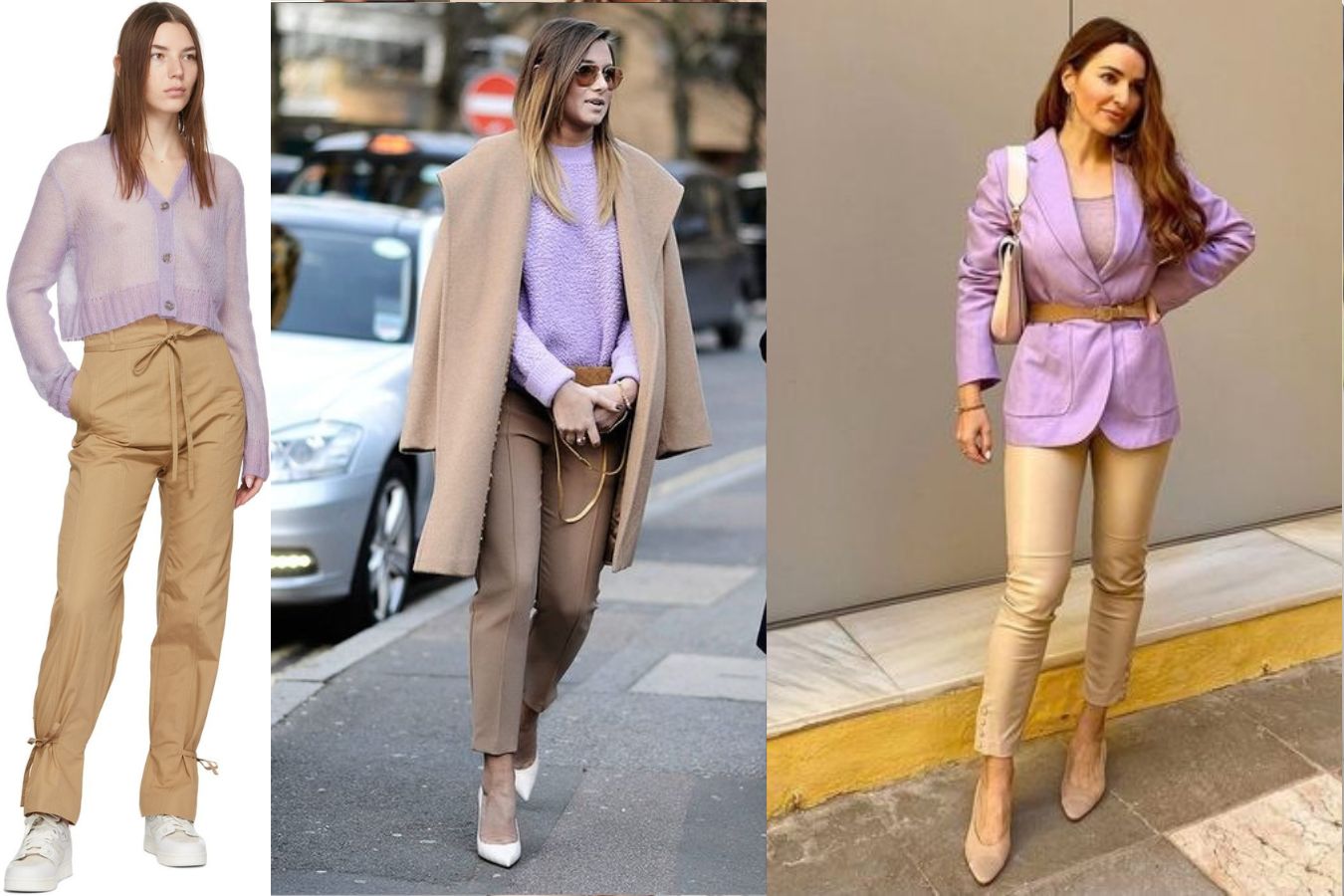 Lilac and khaki are a striking combination that can liven up any outfit. Whether looking for a casual day look or planning a formal evening event, this pairing never fails to impress.
Pairing lilac with khaki pants is a great way to make a fashion statement while being comfortable. Lilac colors can be paired with light or dark khakis and always have a polished and elegant look.
Wear your lilac top tucked into belted khakis for the perfect smart-casual aesthetic. Alternatively, pair your lilac blazer with khaki trousers for a head-to-toe professional ensemble.
For best results, keep your accessories neutral to balance out the boldness of the combo. Subtle gold or silver jewelry and neutral-toned shoes or sandals will round off the outfit perfectly. A great thing about this combo is that the lilac color gives it a feminine touch, while the khaki pants provide an element of simplicity that never falters.
With this color combo, you will undoubtedly stand out from the crowd!
Green And Khaki Pants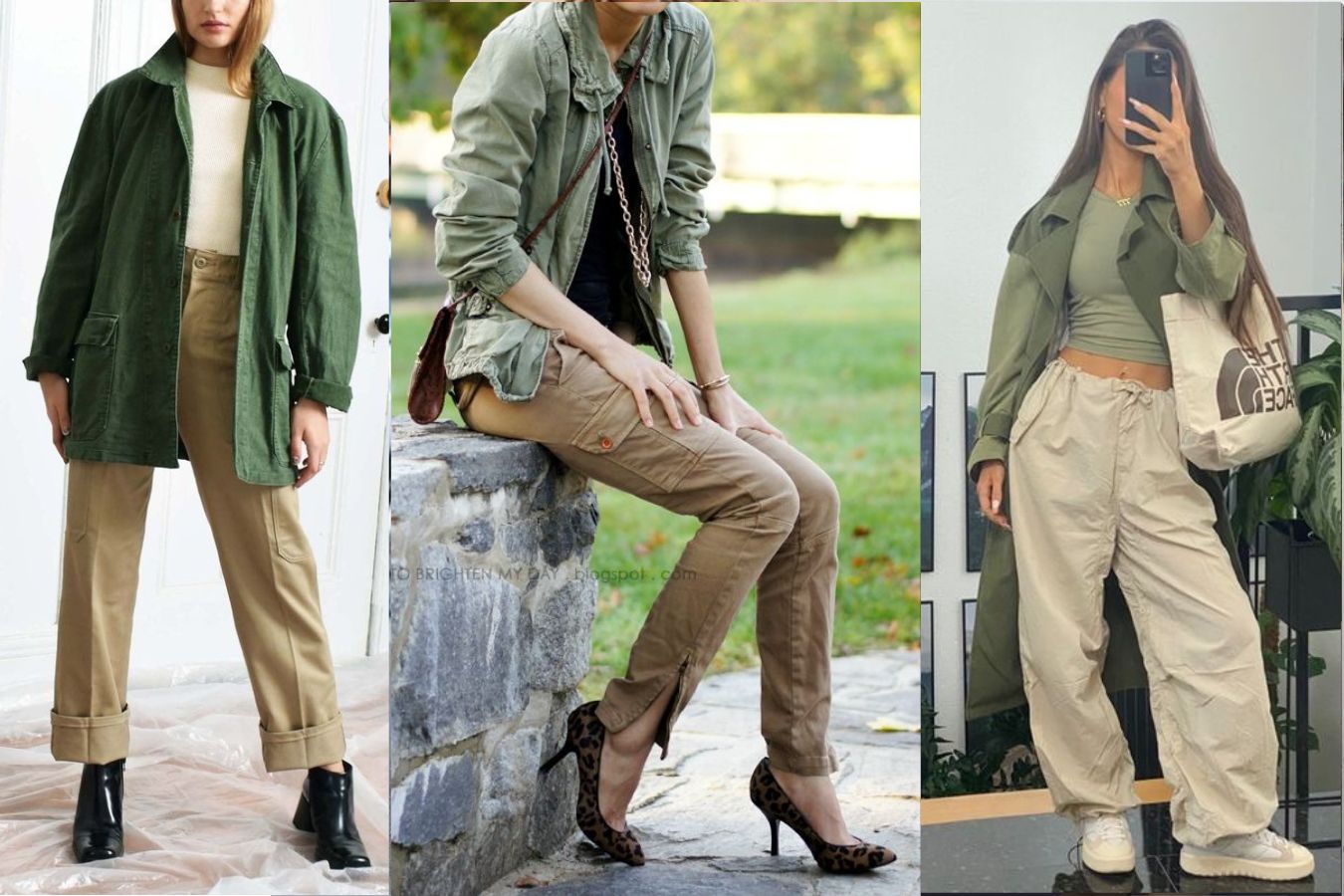 Wearing green with khaki pants is a classic look that will never go out of style. This pairing is perfect for both casual and dressy settings, allowing you to accessorize to your heart's content.
For a look that will stand the test of time, reach for a solid green button-down blouse or top to pair with your khaki pants.
Accessorizing this timeless look can be done easily; by adding a brown belt and coordinating shoes, you'll have an ideal outfit that looks sophisticated in any environment. If looking for something slightly more adventurous, opt for an eye-catching patterned shirt such as plaid or stripes but keep the accessories muted to maintain balance in your overall aesthetic.
Navy And Khaki Pants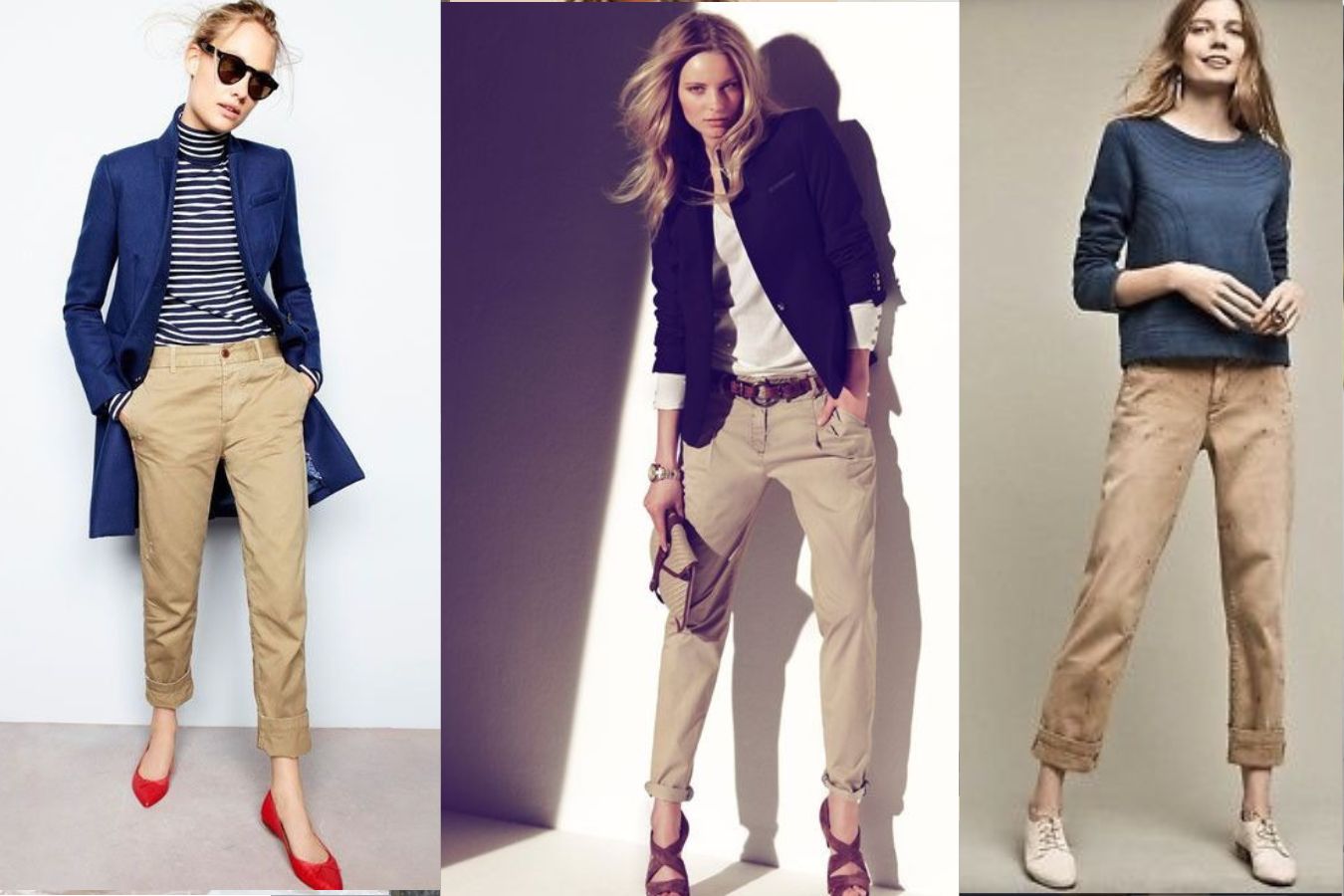 Navy is a classic color that pairs well with khaki pants. This clean yet bold combo is perfect for achieving a bright casual look. Experiment with different shades of navy to create an exciting and unique appearance.
Dark navy jumper styles can be layered over lighter companion khakis, introducing depth and contrast to your outfit. Khaki pants are the perfect foils for dark blue, adding a touch of sophistication and effortlessness.
Pull on a slick navy blazer to go from desk to an event, pull on a slick navy blazer and switch out trainers for loafers. This timeless color combination will never let you down!
Brown And Khaki Pants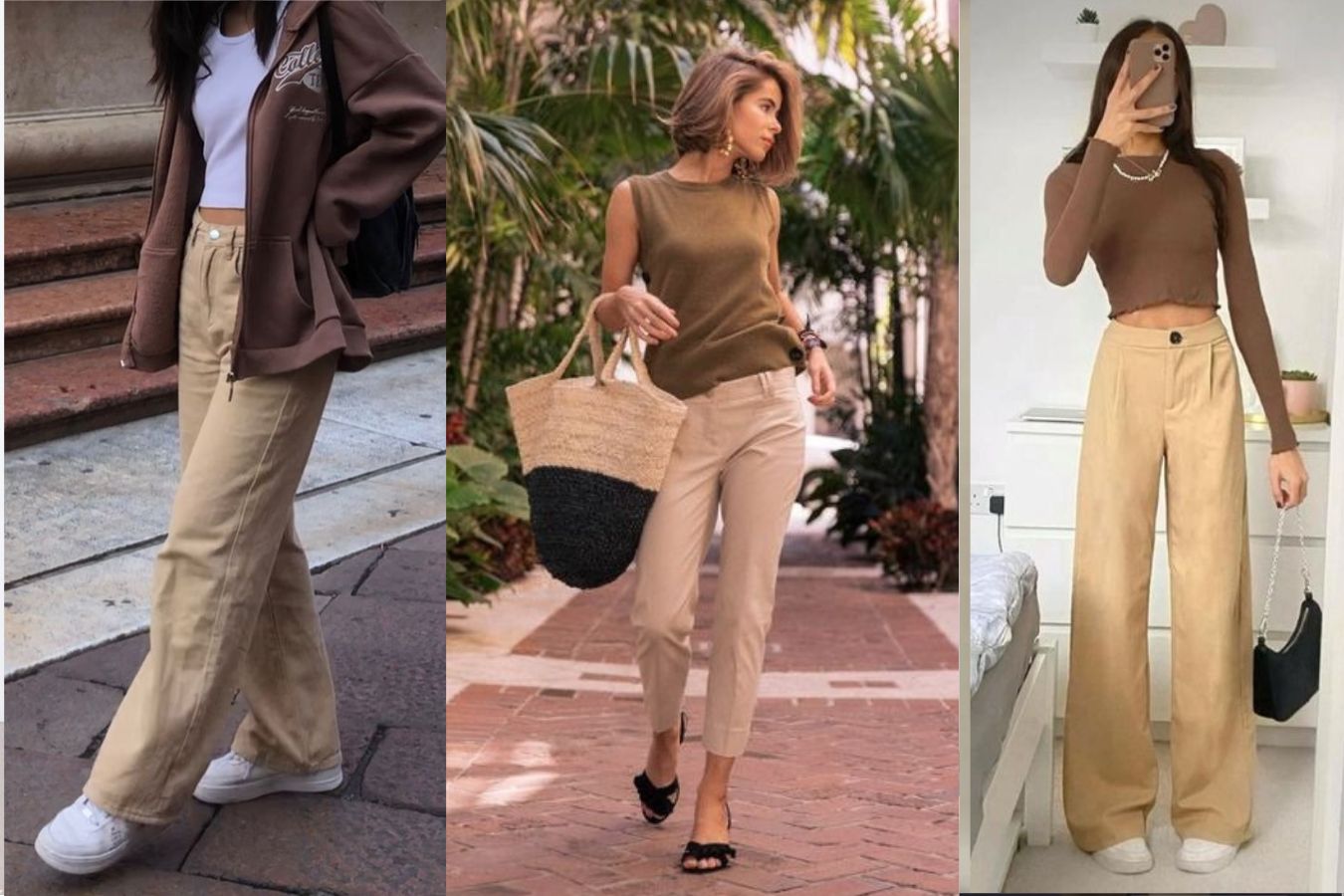 Wearing brown with khaki pants is a modern yet imperishable style you can wear for many occasions. The understated color pairing offers an updated look while still being comfortable and versatile.
The key is to opt for muted earthy tones like chocolate brown and rich tan to master this classic trend. Be sure to focus on fit as well; slimmer styles tend to be most flattering.
Accessories such as belts and shoes in taupe can elevate the look for more formal settings. With the right pieces, you'll create a polished combination of style and functionality that will make a statement!
Orange And Khaki Pants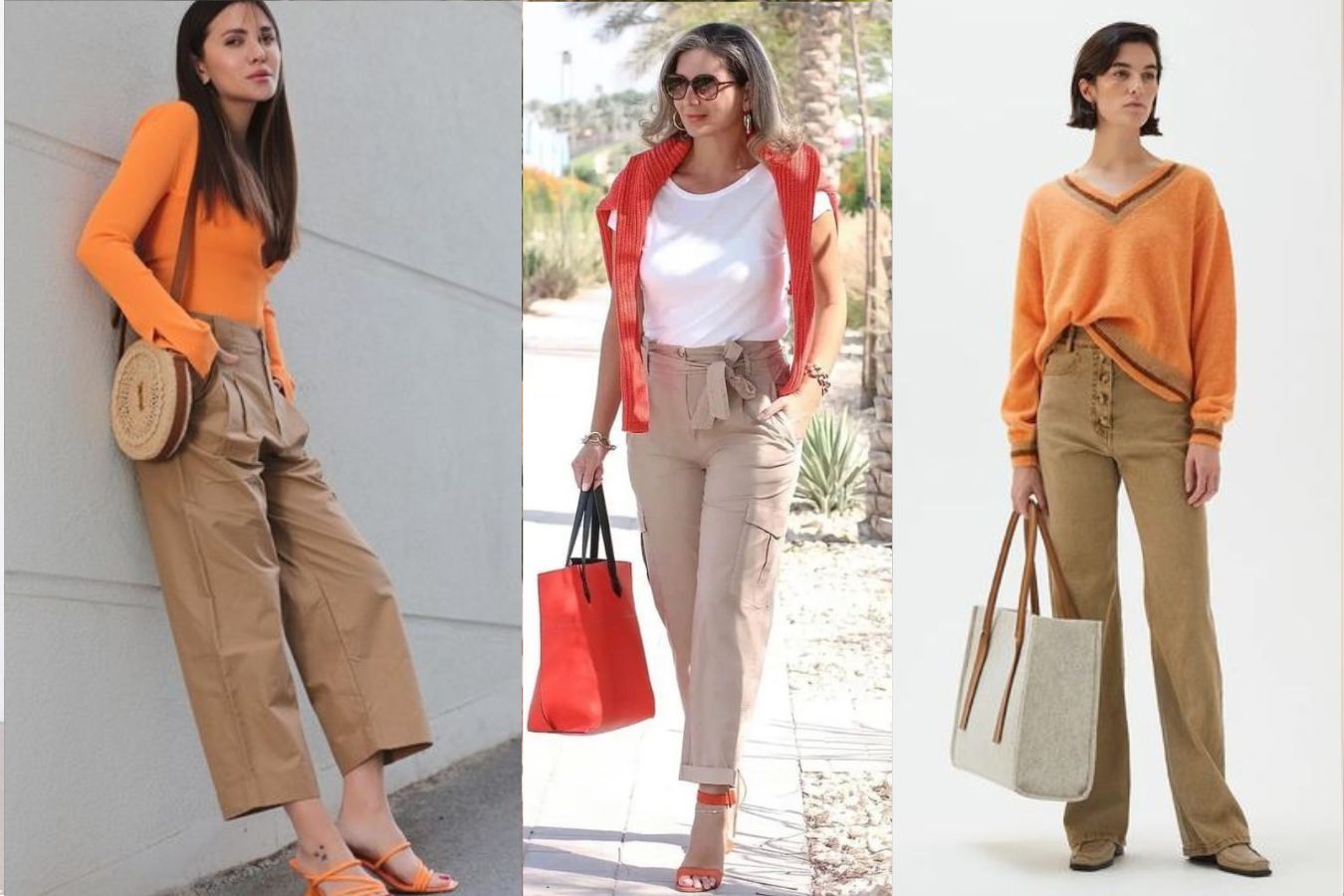 Khaki pants are a must-have for any man's wardrobe, and pairing them with the perfect orange hue can be the key to mastering a timelessly stylish outfit. Orange is one of those colors that can boost your look subtly, and when paired with a pair of well-fitted khakis, it creates an irresistible combination.
The warm shade of orange is well offset by the tone of khaki, creating a crisp yet relaxed aesthetic. Whether it's a linen shirt or an adjustable one-shoulder top, wearing it with these pants provides a stylish outfit that can work for casual and more sophisticated occasions.
To keep things balanced, try pairing this look with neutral accessories like gold jewelry, essential black loafers, or a subtly patterned scarf for extra flair. With this simple and stylish combination, you can make any summer day just a little brighter!
What Colors Don't Go Well With Khaki Pants
Khaki pants are an iconic wardrobe staple and can be worn almost anywhere, but a few colors and prints should generally be avoided when wearing this piece.
Opting for muted or softer hues is usually the way to go, but there are a few exceptions to consider when pairing colors with khaki pants. Although they seemingly go with everything, neon and ultra-bright colors are not recommended.
Bright shades of pink, yellow, and red clash drastically with the earth tones in khaki pants, giving off a clashing, uncoordinated look.
Also, dark blues and deep purples don't always pair well either, as they are often too intense and make it hard to discern the clothing style worn.
Additionally, the boldness of animal prints such as zebra or leopard creates a distracting outfit that can even detract from its otherwise classic appeal.
Finally, black should also be avoided; while it may seem an obvious match for neutral-colored bottoms, the pairing only works if other components like a tank top or blazer break up the one-dimensional palette.
For those looking for a more traditional color palette, browns, tans, and whites work best with khaki, giving you plenty of options for creating elegant and chic looks.
How To Wear Khaki Pants?
Wearing khaki pants can be a great way to bring an innovative, professional element to any wardrobe for a classic business look that never goes out of style, team khakis with a crisp white shirt and neutral-colored blazer.
Accessorize with minimal jewelry and a pair of polished loafers to complete the ensemble. Alternatively, wear skinny-fit khakis and pair them with an oversized graphic tee, statement sneakers, and dangly earrings for an edgier style.
Whether in casual settings or at the office, you can easily create an outfit that looks cool and up-to-date with khaki pants.
Add a denim or leather biker jacket to take your outfit from day to night. So whatever your style preference, there are plenty of ways to make khaki pants an absolute staple in your wardrobe.
How To Choose A Good Khaki Pant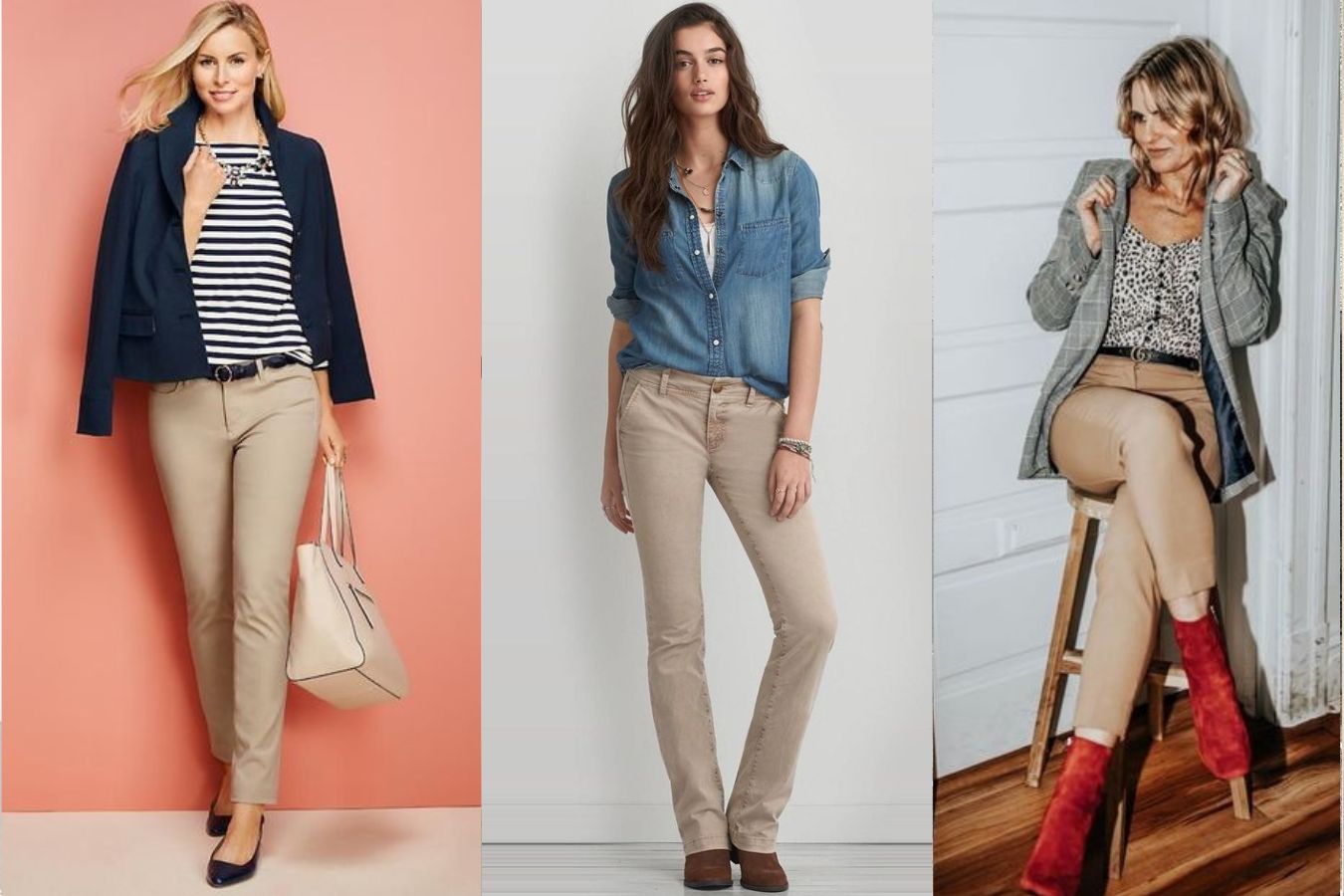 When selecting a good pair of khaki pants, there are a few key features that you should look for.
Firstly, consider material quality. Make sure the fabric is comfortable and breathable, with excellent quality stitching. You'll also want to make sure the pants fit correctly. They should be loose enough so that you can move freely without feeling restricted.
Opt for a waist size that hugs your stomach comfortably if your pants are constantly slipping down or too tight. You won't be feeling your best throughout the day.
Lastly, pick a style and color that works with your wardrobe rotation! Khaki pants come in all shapes and sizes, so you can shop around until you find one perfect.
What Color Shoes To Wear With Khaki Pants
Khaki pants go well with various colors of shoes. Generally, if you're shooting for a classic look, dark brown or black leather will be your best bet. Tan and darker shades of brown are great options to spice things up.
If you're feeling daring, brightly colored shoes such as red, pink, or yellow can make an eye-catching statement. No matter which hue you choose, the key to finding the best combination of khaki pants and shoes is to select ones that complement each other without conflicting tones or textures.
Final Takeaway
Now that you know what colors go well with khaki pants, experiment with different combinations to find the right look. With a little effort, you can put together a stylish and professional outfit—or fun and casual.
By choosing the right colors, you'll be sure to make a positive impression no matter where you go.