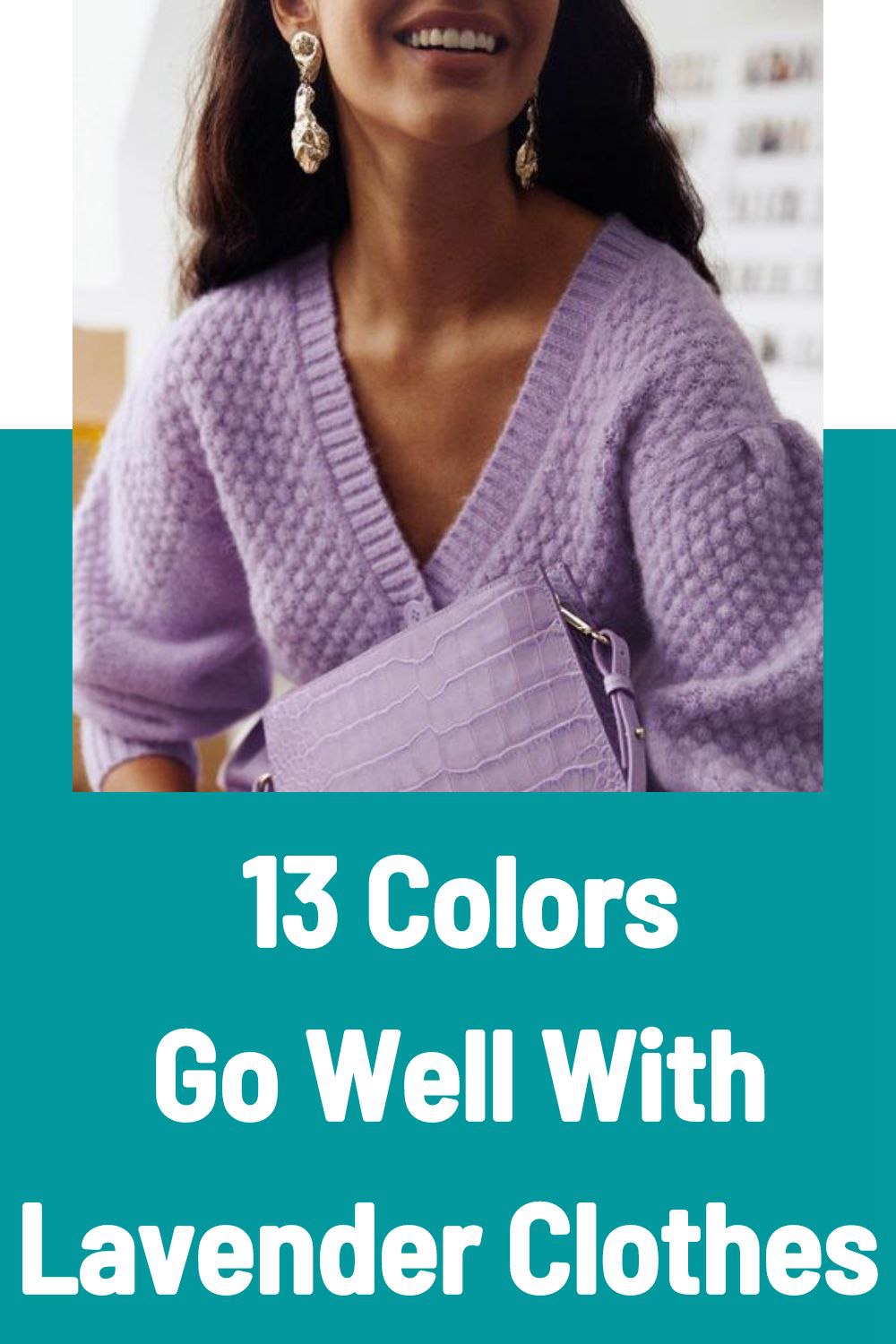 Lavender is a lovely, soft, and feminine color. It has been around since the beginning of time, but it still holds its place as one of the most popular colors in fashion today. Lavenders come in all kinds of shades, from pale pastels to rich jewel tones to bright pops of color, so there's sure to be something for everyone. But what about when you want to wear lavender clothes? What can you wear with lavender clothes? How can you style lavender clothes?
In this article, we'll go through everything you need to know about wearing lavender clothes and accessories—from the history of lavender and how to style it yourself, to tips on what colors go best with your lavender clothes and how to make sure those colors complement each other perfectly.
What Makes Lavender Such An Enchanting Color?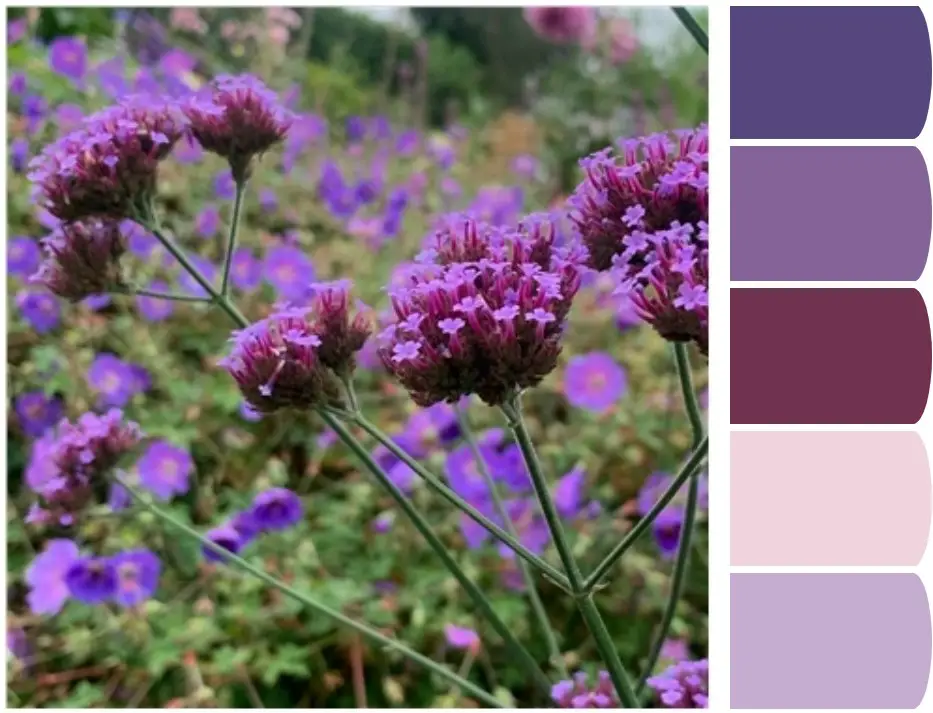 The answer is simple: it's the result of combining blue and purple colors. The two colors have different meanings: blue represents calmness and serenity while purple represents passion, royalty, wealth, and power. These two colors create a beautiful mix that will make you feel beautiful no matter what you wear it with.
Lavender is a color that has been used in many different ways throughout history. It has been used as a symbol of peace and love. It is also a color of healing and has been shown to actually have a calming and soothing effect on the mind and body.
Lavender is a soft, light purple color that you can wear alone or pair with other colors to make your outfit look more exciting and creative. It's versatile enough to fit into almost any wardrobe. Thus, you'll never get bored wearing it!
Best Colors to Combine With Lavender Clothes
Matching lavender clothes with other colors can be really tricky. This is because the lavender color always appears to go with almost all colors and this can trick you into pairing your lavender clothes with awkward and wrong colors. To avoid such awkward combinations, we have helped you compile a list of colors that make the best combinations with your lavender clothes:
Blue and Lavender
Blue is your best friend when it comes to mixing with lavender. Blue dresses, blue jeans, and even blue shirts work well with lavender—especially if they're made of cotton or linen. If you want something more formal, consider wearing a blue suit with a lavender tie (a great way to get attention at the office!).
One very nice shade of blue to combine with your lavender cloth is pastel blue. A combination of pastel blue and lavender makes it look like you're wearing a cloud or a part of the sky (a nice touch of whimsy). Another shade of blue that makes a brilliant combination with lavender is navy blue. It is so neutral that it will never class with any style of lavender cloth you choose to pair it with (including jeans and cotton clothes).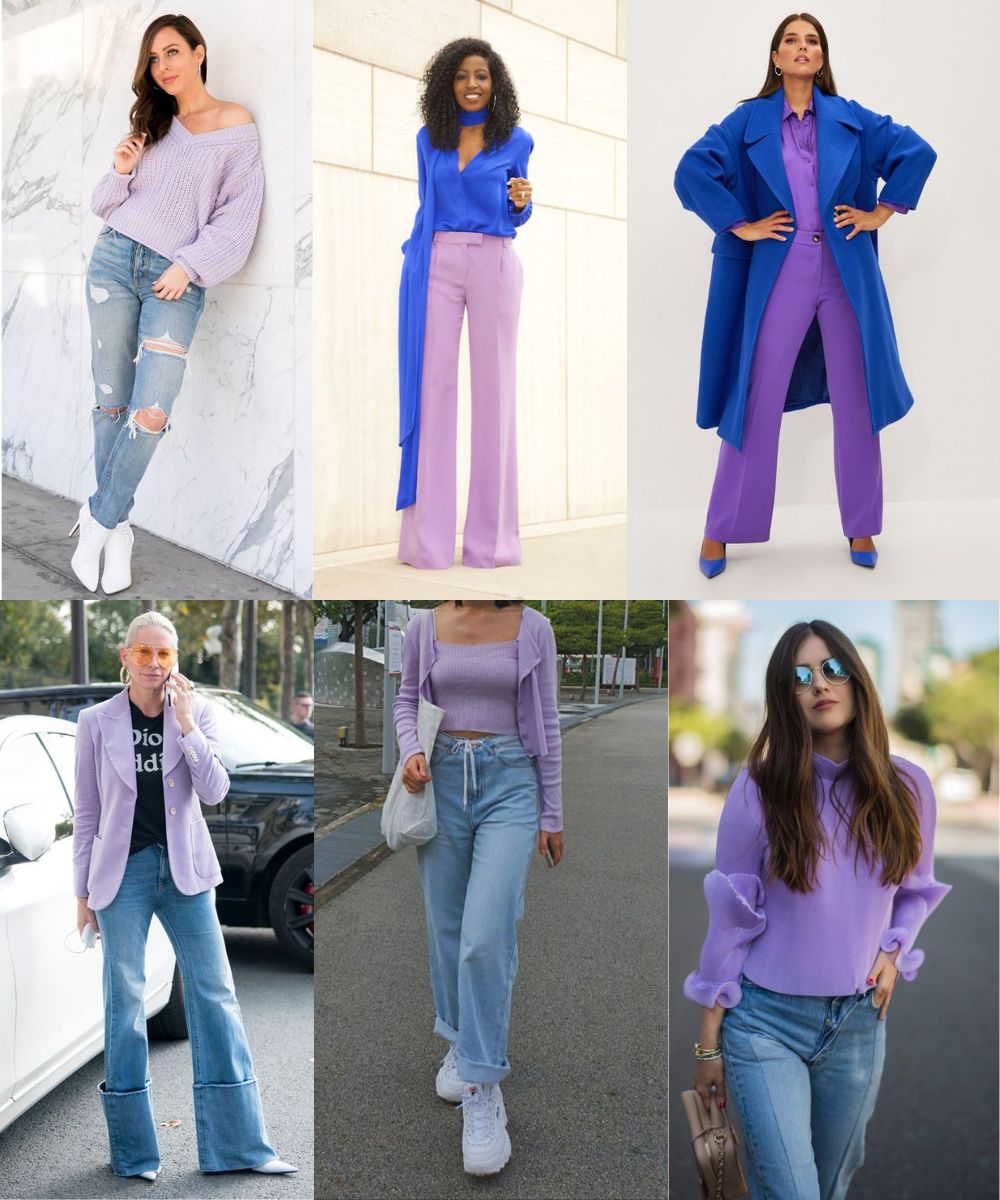 Purple and Lavender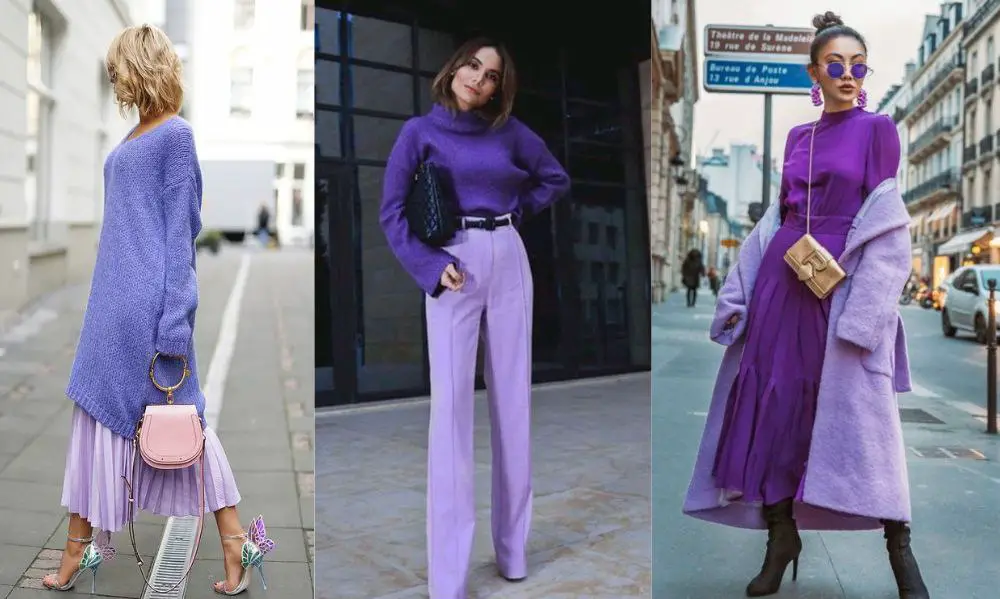 What color would complement lavender better than purple? None! Purple and lavender can complement each other wonderfully and create a look that is both playful and sophisticated.
When choosing purple as a complementary color to lavender, there are a few things you have to keep in mind. First, consider the shade of purple you want to use. Lighter purples will tend to be more delicate and can work well with softer lavenders. Deeper purples, on the other hand, can add some drama and pair nicely with bolder lavenders.
Another thing to think about is the overall tone you want to create with your outfit. Purple and lavender can lean either towards the warmer or cooler side, so pick hues that will help you achieve the desired effect. Warmer tones are perfect for creating an elegant and romantic look, while cooler tones can be nice for something a little more fun and playful.
Green and Lavender
Green is another great color to pair with lavender clothes because it is naturally complementary to lavender on the color wheel. Lavender and green also look great together because they are both associated with nature. A combination of these two colors will look very perfect, especially in the spring and summer months.
Although lavender clothes combine well with almost all shades of green, a combination of any of your lavender clothes with olive green is undefeatable. This shade of green perfectly complements the purple tone of lavender. The two colors together create a beautiful, natural look that is perfect for any season. Whenever you are choosing olive green clothing to wear with your lavender clothes, be sure to pick items that are made of high-quality fabric and construction.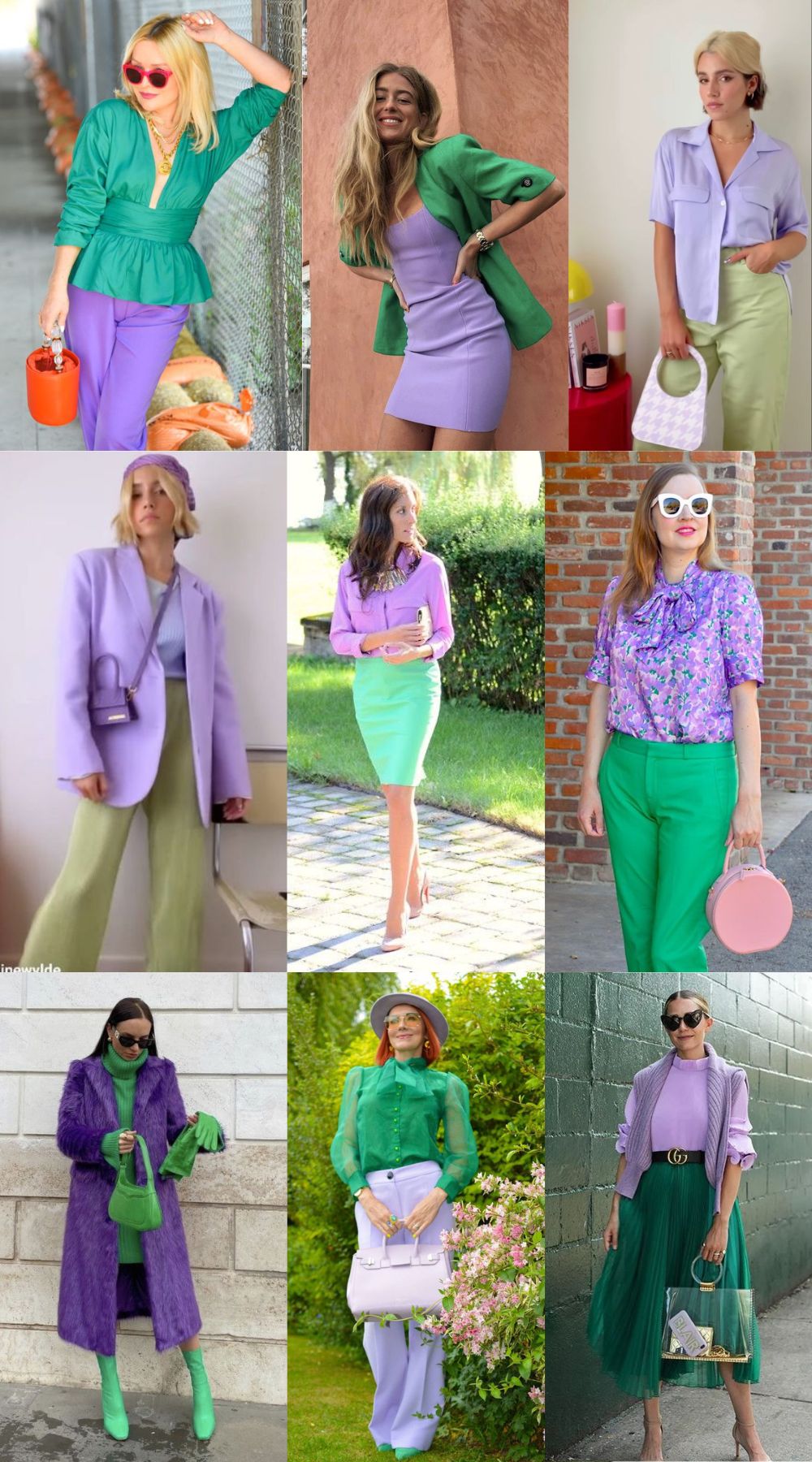 Black and Lavender
As odd as this might sound, black is another excellent color that you can combine with lavender. The severity and monotony of the black color will create a sense of mystery when you combine it with any of your lavender clothes. The stark contrast that black creates is another reason that makes a perfect combination with your lavender clothes.
Pink shoes, handbags, or any other accessories will add more vivacity and immediateness to the combination (especially for young girls). Just be careful not to pair lavender with black if you're trying to achieve a softer look.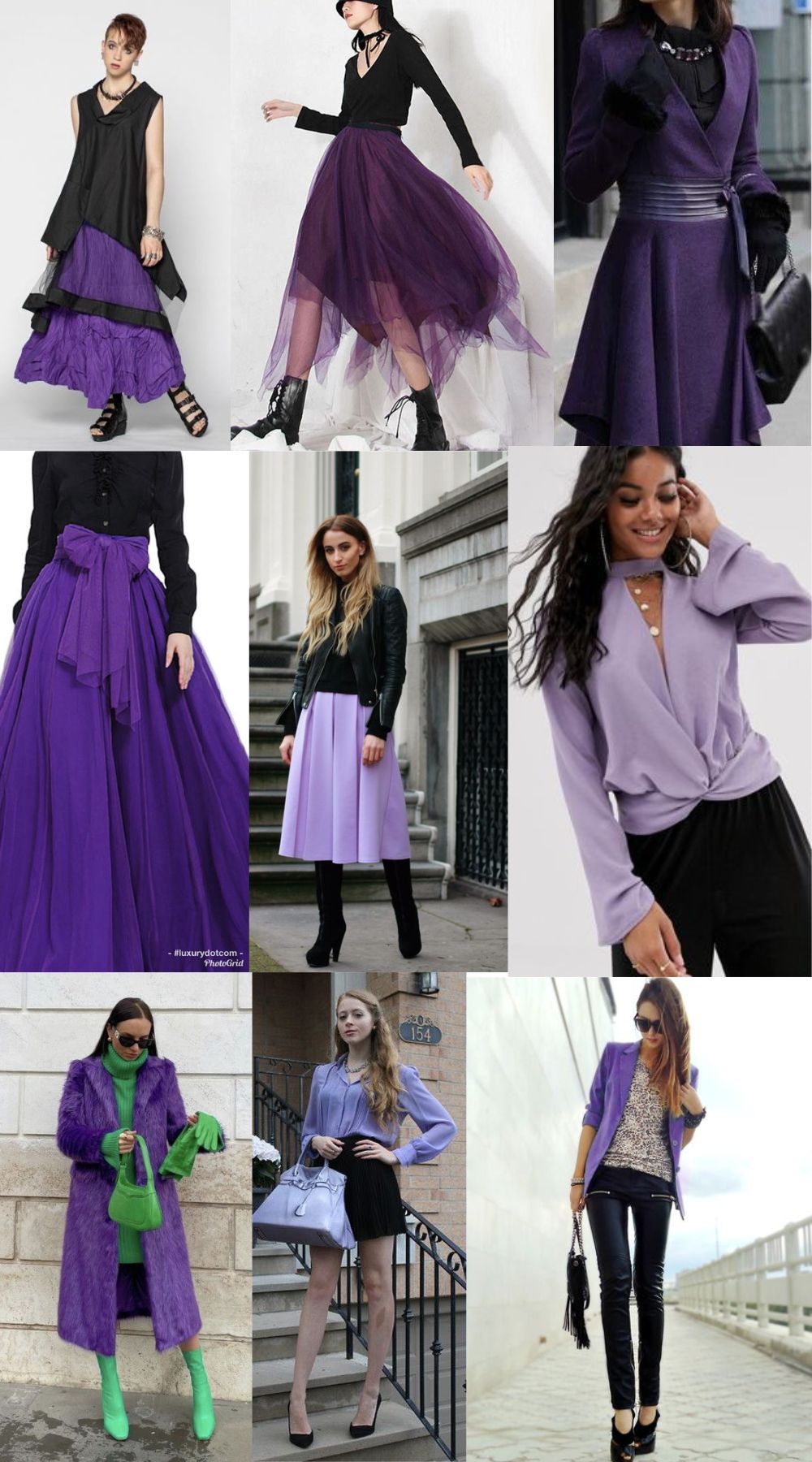 Turquoise and Lavender
Turquoise is one of the most popular colors to pair with lavender. It is a beautiful blue-green color that can range from light to dark in hue. Turquoise is a very versatile color and can be worn with many different colors and styles of clothing.
When pairing turquoise with lavender, it is essential to consider the shades of each color (both lavender and turquoise). A lighter shade of turquoise will look best with a darker shade of lavender, while a darker shade of turquoise will look best with a lighter shade of lavender.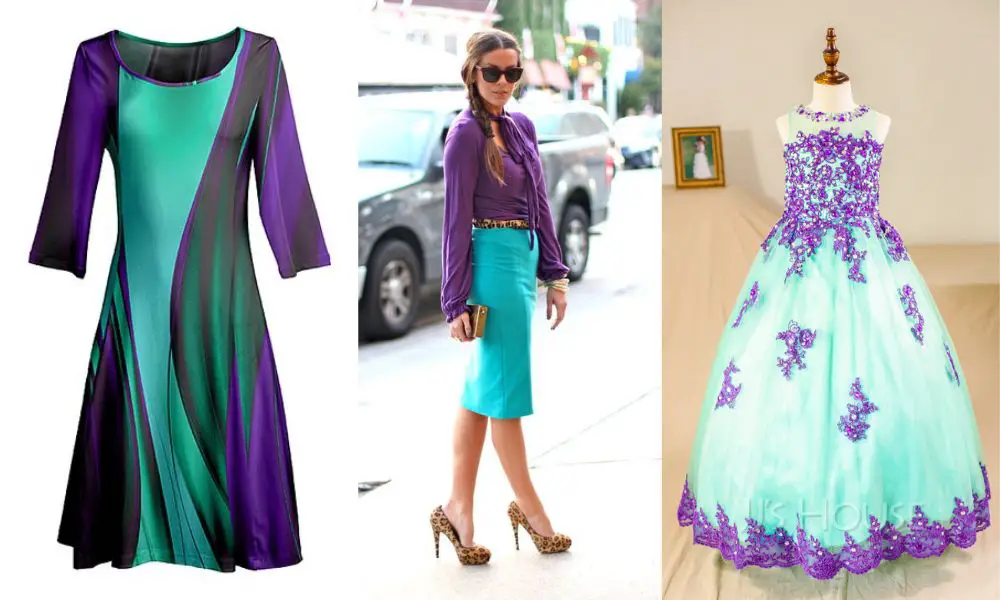 White and Lavender
Anytime you're in a dilemma of choosing what color to pair with your lavender clothes, white is always a good choice. White goes well with all colors, but it is especially nice with lavender because it creates a calming and serene appearance.
White is a perfect color to pair with lavender, as it creates a lovely contrast. Plus, it helps to keep your outfit looking clean and polished. It is also the perfect combination in the summertime as it will help keep you cool when the temperature starts to rise.
When choosing an outfit, try pairing a lavender top or dress with white pants or a skirt. You can also add a white cardigan or jacket to create a layered look. For shoes, keep it simple with white sandals or flats. If you want to add a pop of color, go for a pastel shade like pink or blue.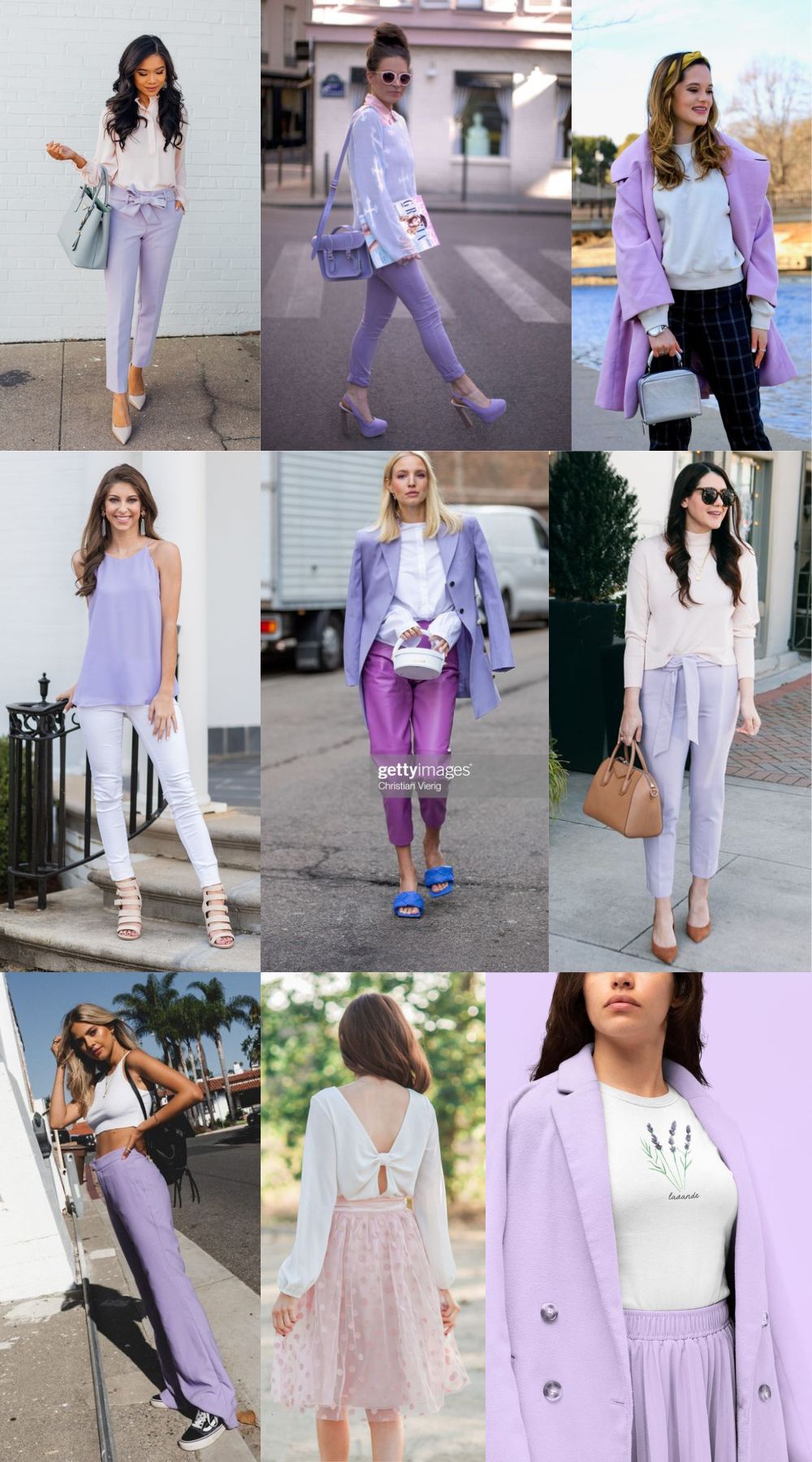 Grey and Lavender
Grey is another beautiful color that you can use to accentuate your lavender clothes. This shade of gray is perfect for adding a touch of sophistication to an outfit and can be used to create a variety of looks.
For a sleek and stylish look, you can add a touch of black or white to the combination. This color palette is perfect for creating a chic and elegant look that is sure to turn heads. To add a bit of edge to your look, try complementing the combination with dark-wash jeans or a leather jacket.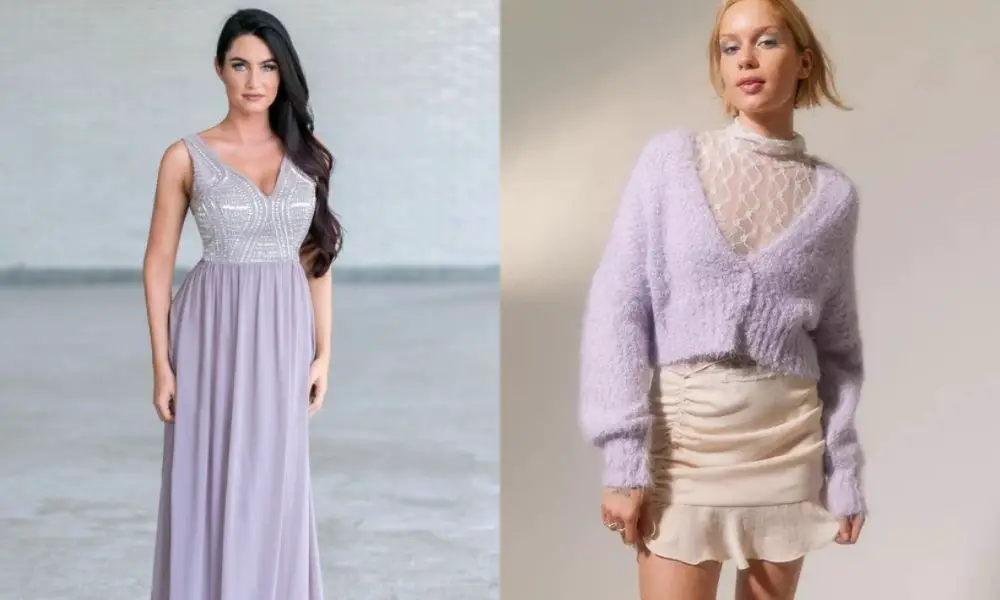 For a more feminine look, pair lavender gray with pastel pink or baby blue. This color combination is perfect for spring and summertime looks. To add a bit of whimsy to your outfit, try pairing lavender gray with floral print accessories or shoes.
Denim Blue and Lavender
A combination of lavender and denim blue is another classic one that looks great on everyone. The key to making this combo work is to find the right shade of denim blue that compliments your lavender clothes. For a more relaxed look, you can go for lighter-wash denim blue jeans or a skirt. If you want to dress up your look, opt for a dark-wash denim blue jacket or pants. Either way, you can't go wrong with pairing lavender and denim blue together.
Denim blue is an exceptional shade you can pair with your lavender clothes because it is such a calming and serene color. The two colors together give you a very calming and peaceful appearance.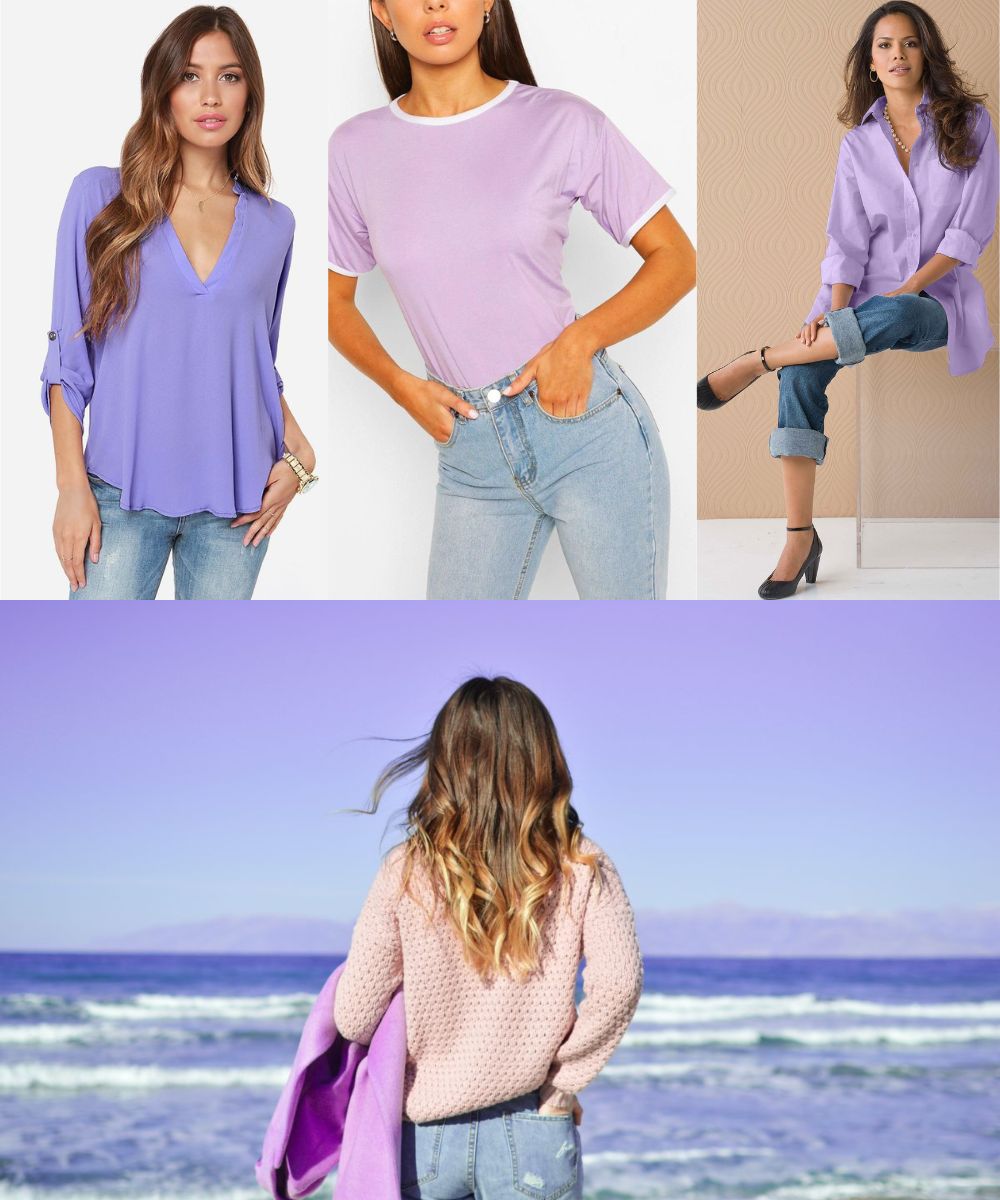 Red and Lavender
If you are looking to rock a bold and daring look, pair lavender with any shade of red. This eye-catching combo is sure to turn heads. The best shade of red to combine with lavender is coral red.
Coral red is a really beautiful shade of red that you can pair with your lavender clothes. It is a warm color that can make your outfit look more inviting and fun. You can pair the color with any shade of lavender, from light to dark.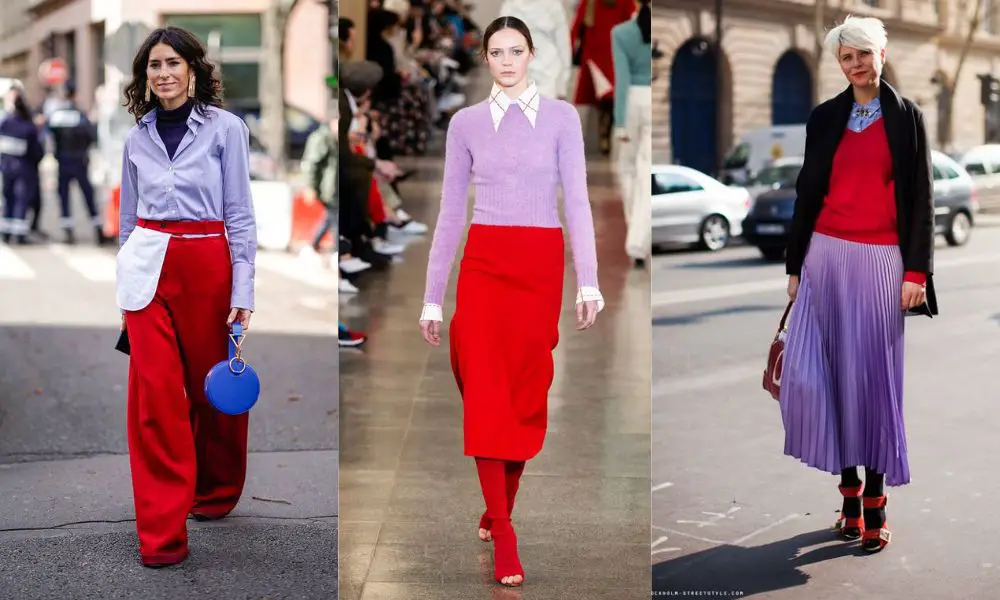 Teal and Lavender
Teal is another color that goes perfectly with lavender clothes. It is a great color to add a pop of color to your outfit. It goes great with all skin tones and hair colors. Teal is really a beautiful color you can combine with any type of lavender clothes, especially in the summertime. This is because both colors appeal nicely to nature.
Also, a combination of teal with your lavender outfits makes you look rich and luxurious (but not in an intimidating way).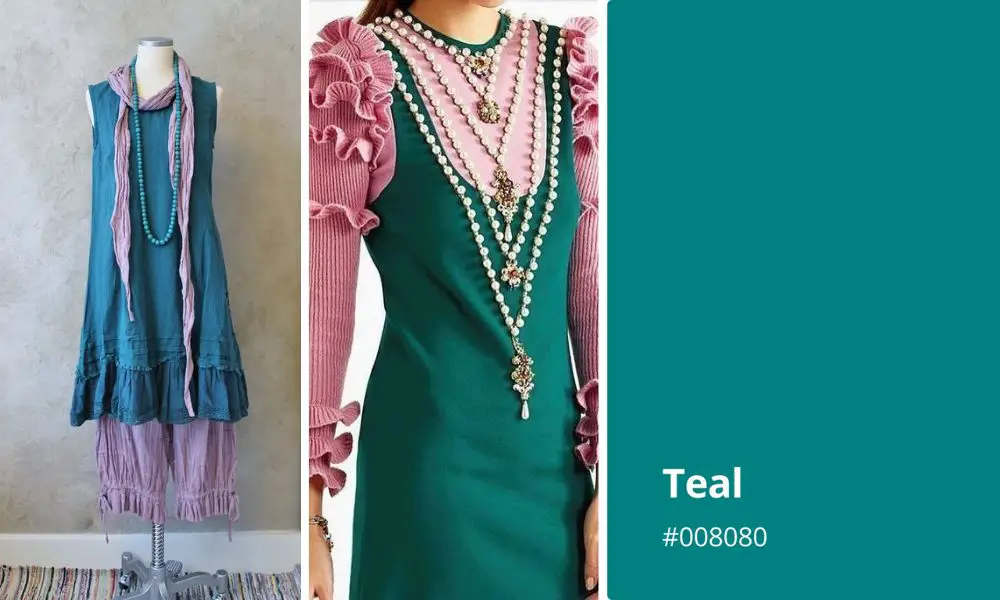 Pink and Lavender
Pink is another color that goes great with lavender clothes. It is a very pretty and feminine color, and it can really make your lavender clothes stand out. A touch of pink in your lavender clothes can also give you a lively and playful look.
If you want to go for a more subtle and romantic look, you can pair your lavender clothes with a light pink shade. But if you want to make a statement or appear bolder with your outfit, go for a brighter pink shade such as hot pink.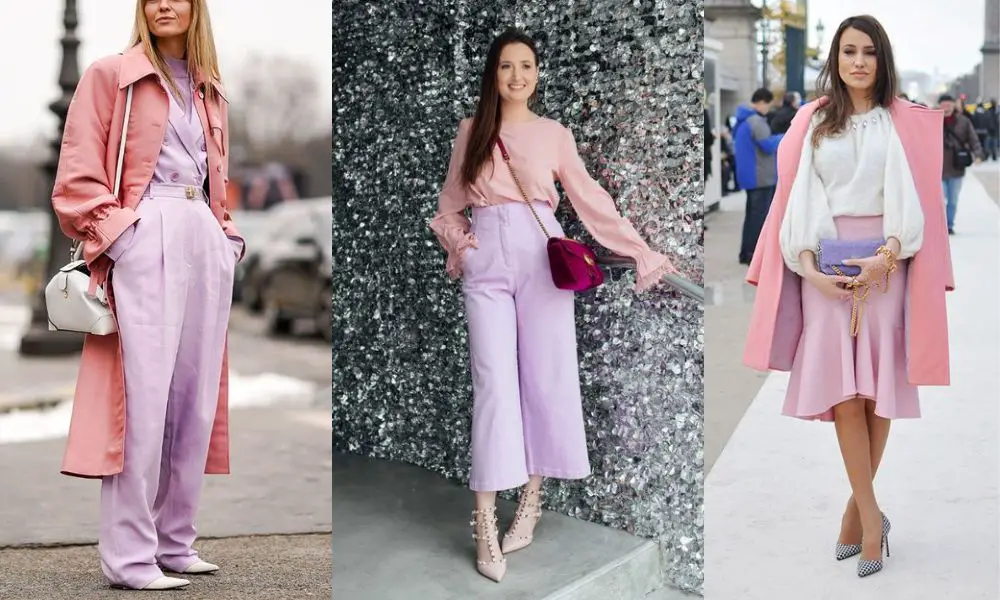 Orange and Lavender
If you are looking to give some retro vibes of the '70s and a pop of brightness to your outfit, then combining your lavender clothes with orange is just perfect for that. Orange is a vibrant color and its brilliance gives a very nice contrast when you combine it with the calmness of your lavender clothes.
Also, a combination of a brighter shade of orange and lavender makes a really nice summer pair that makes you look bright and fresh. The combination is quite vivid and undoubtedly expressive.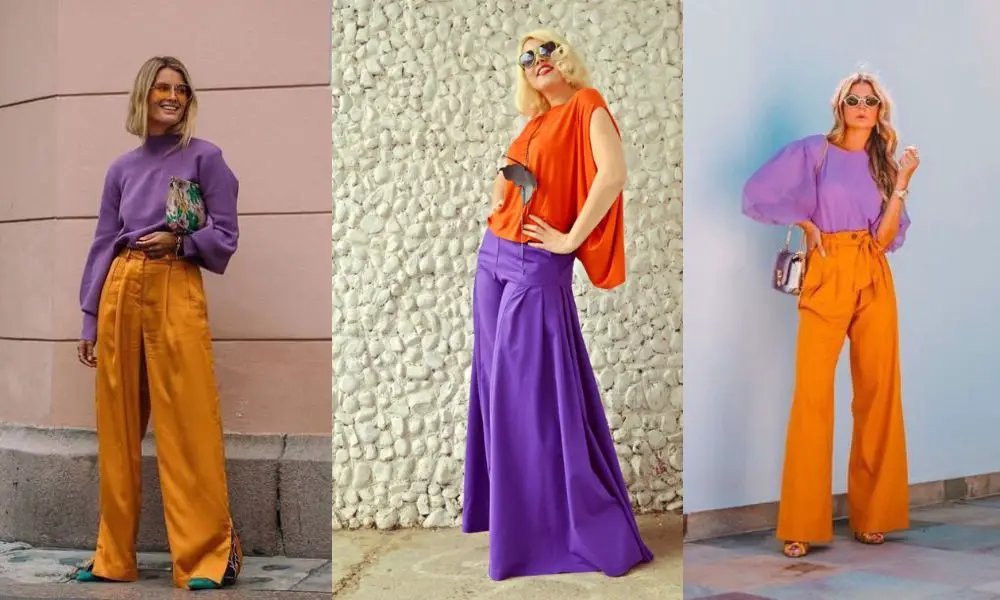 Yellow and Lavender
Yellow is a happy color that goes great with lavender. The pastel tenderness of your lavender clothes combined with the vivacious solar energy of yellow makes the combination a very perfect one for you if you are an energetic type. It is a cheerful combination that is perfect for spring and summer. This is the combination in which spring and summer are embodied. Lavender and yellow are one of the best color combinations available if you're seeking a more exciting color block.
If you enjoy pairing pastel colors, a perfect combination for you is lavender paired with a soft shade of yellow. Combining delicate lavender hues with pastel yellow clothing will give you a stunningly youthful appearance. But if you are a fan of color pop, an overall lavender outfit complemented with bright yellow accessories (shoes, bags, scarves, pocket squares, etc.) is the perfect combination for you.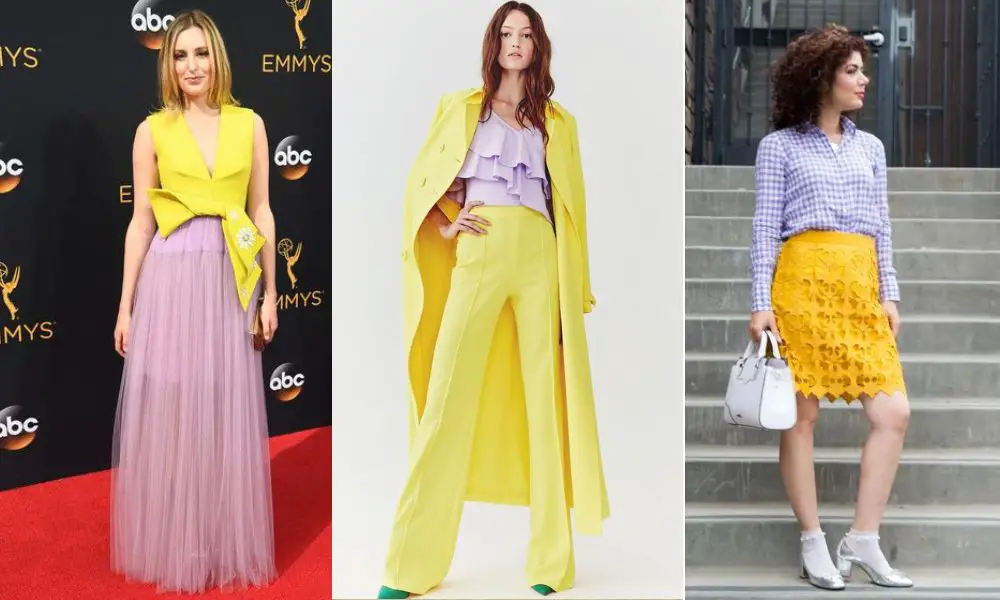 Conclusion
If you enjoy dressing up but struggle to match colors you may find it extremely beneficial to know what colors pair perfectly with your lavender clothes. And when it comes to pairing your lavender clothes with different colors to look astonishing, the colors mentioned in this article are some of the best options to consider. You can even go ahead to match your lavender clothes simultaneously with two or more of the colors in this article and you will still look gorgeous.
Fashion is incredibly individualized, and color combinations depend on the stylists and wearers. It would be advantageous to be aware of the more technical aspect of color pairing and how to combine these colors based on your personal preferences and style in order to give you the best look you deserve.