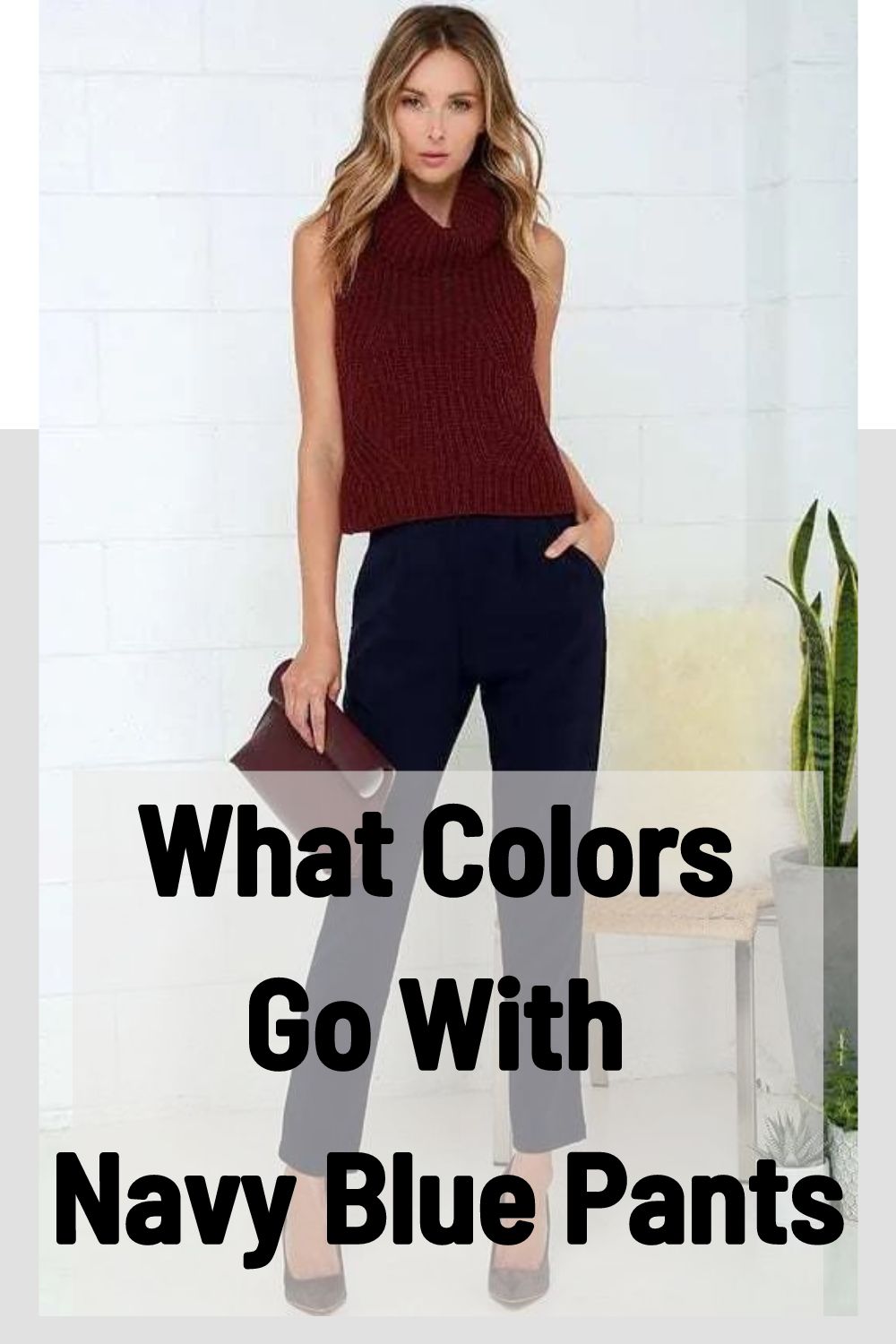 Navy blue is a popular color for pants because it's versatile and flattering on many skin tones. It's also an excellent color for businesses because it conveys professionalism. It's challenging to find complementary colors for navy blue jeans.
If you're looking for something as adaptable as jeans, navy blue pants are a great choice. They may be worn casually or dressed for a night event or business meeting. Keep reading to learn some excellent complementary hues for navy blue pants.
Every closet needs a wide variety of multipurpose components. Having versatile pieces in your closet will allow you to get the most wear out of your wardrobe staples.
As a non-monochromatic color, you might be surprised to learn that navy blue is considered neutral. However, navy blue, like black, white, and grey, can be paired with various other colors to create a stylish combo.
This blog post will outline some colors that go well with navy blue pants. We'll also provide styling tips for blue pants and what shoes to wear with them.
So, here are some colors that will help you create outfits with navy blue pants that look stylish and pulled together.
White and Navy Blue Pants
When it comes to matching colors, white is the most adaptable, and it pairs particularly well with navy blue. You may achieve a wide variety of appearances by matching a white shirt with navy blue pants. You can't go wrong with a traditional white button-up for the office or a job interview because it's versatile.
Wearing a crisp white shirt is a surefire way to look put together, neat, and professional. Simple white tank tops or t-shirts look great with blue jeans for a more laid-back vibe. White with other hue stripes is another terrific casual style if you're looking for something more eye-catching than plain white.
White is the best place to start if you're searching for a safe color that always looks fantastic, with navy blue.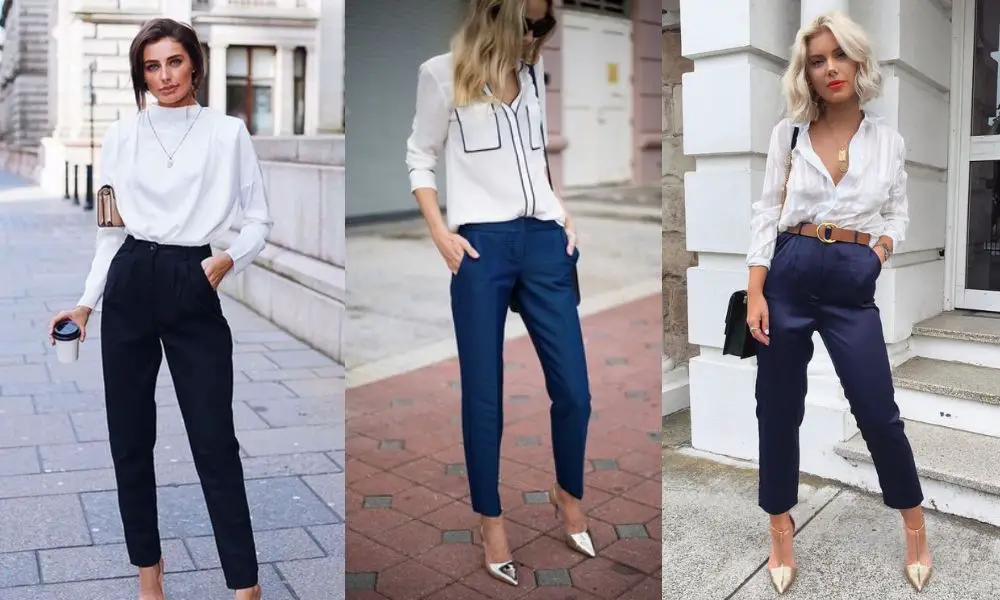 Lavender and Navy Blue Pants
In addition to looking well with navy, the color lavender also has a great undertone that works well with it. Lavender, a sophisticated color, is chic, classy, and upscale.
You may easily put together a sophisticated ensemble for various situations by matching a lavender top or sweater with dark blue pants.
Opt for a string of basic pearls or a more modern and exciting style with a pendant necklace to complete a formal outfit. Since lavender works well with many different tones, it should be simple to match it with navy pants.
Gray and Navy Blue Pants
Gray is another obvious choice as a complementary shade to navy blue. Indeed, many tones of gray look well with navy, but a shirt in a lighter shade of gray will stand out the most against the navy's dark color. As there are a variety of gray shirts to pick from, this is another versatile outfit option.
Put on a timeless gray t-shirt for an effortlessly casual yet neat look. A pair of navy blue jeans and a light beige sweater make a terrific go-to ensemble for dressier occasions or slightly cooler weather.
Another option for a sophisticated yet business-casual outfit is a gray blazer worn over a white button-down shirt.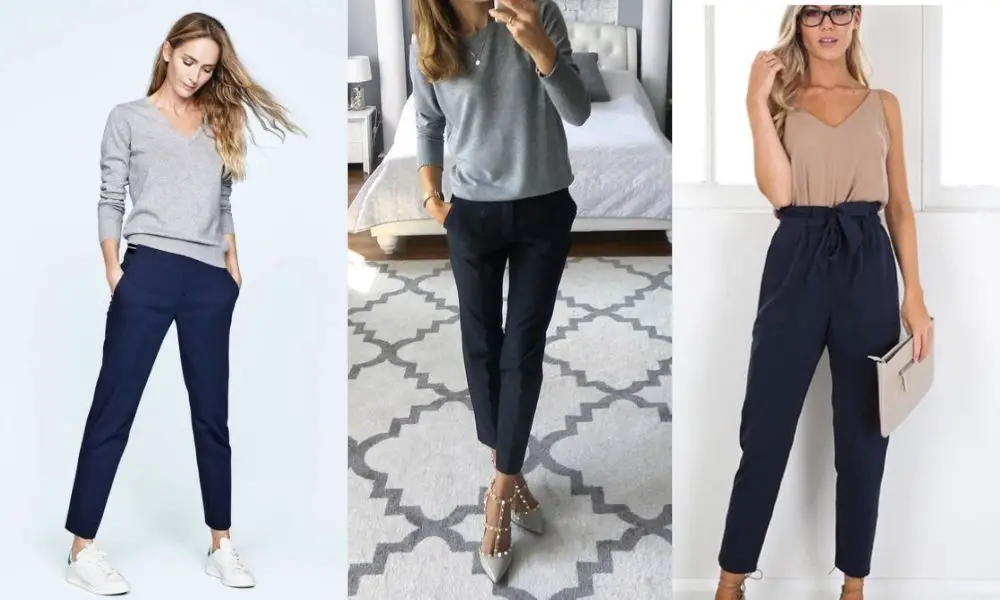 Green and Navy Blue Pants
If you need help deciding what to wear, try putting together an ensemble with hues close to one another on the color wheel; if you're only going to add one hue to your outfit, green and blue work well together. Shades of green, like olive, are sophisticated and subdued.
Olive green tailored tops are the perfect example of professionalism and elegance. In contrast, if you pair your jeans with an olive green t-shirt, you'll have a casual but put-together style.
If you're looking for something with more sparkle, emerald green is a fantastic choice because it pairs well with navy blue. This vivid color pops against most backgrounds, and it's fun to match with other hues, especially in the spring and early summer.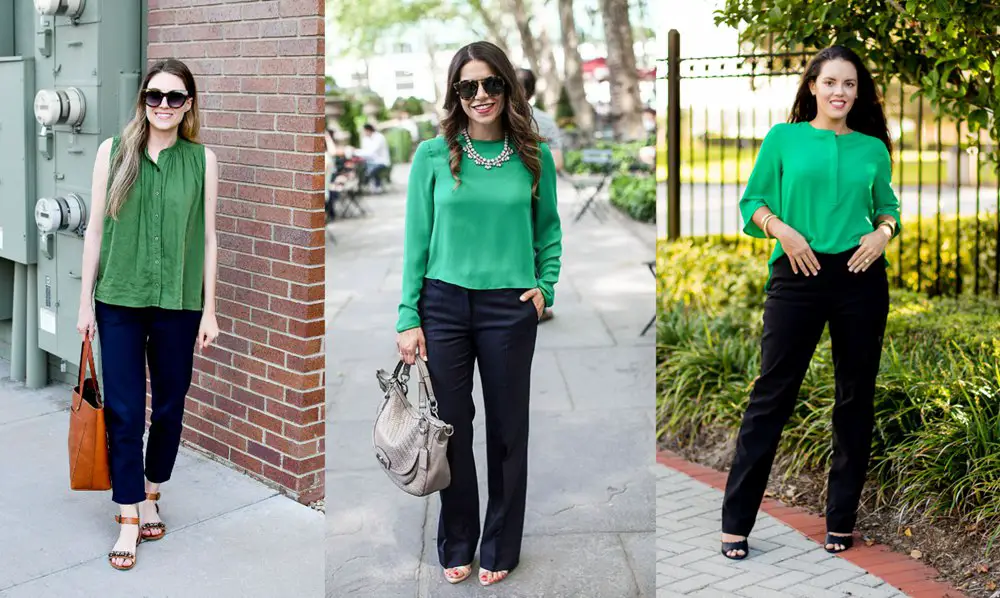 Another Shade of Blue
You can't go wrong with a monochromatic style, so feel free to combine various shades of the same hue. Choose a lighter or deeper blue to complement the navy blue, like baby blue or cobalt. It will offer your outfit the contrasting visual interest it needs without the risk of a clash.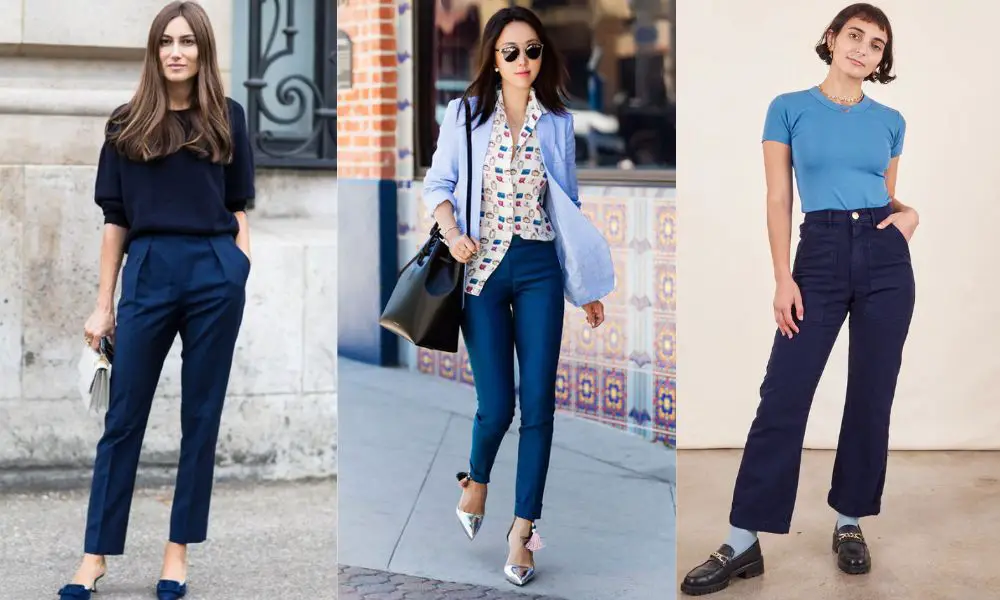 Although it is not as readily apparent, denim also goes well with navy. Since there are so many colors of denim, choosing one with a little different texture from the rest of the ensemble is a great way to spice things up. Denim is a casual choice that works well for weekend and laid-back evening outfits.
Black and Navy blue Pants
A black shirt and navy blue pants are a popular color combination for both men and women. The colors are complementary and can be worn in a variety of styles.
Black is an intense color that conveys confidence and power, while navy blue is more professional and refined. Together, these two colors create a look that is both stylish and easy to wear.
For example, wear a black shirt and navy blue pants with a blazer for a professional look or jeans or chinos for a casual outfit.
You can also accessorize black shirts and navy blue pants with jewelry, scarves, and other accessories to create a unique look. Whether you're dressing for an important meeting or just running errands, a black shirt and navy blue pants are great choices.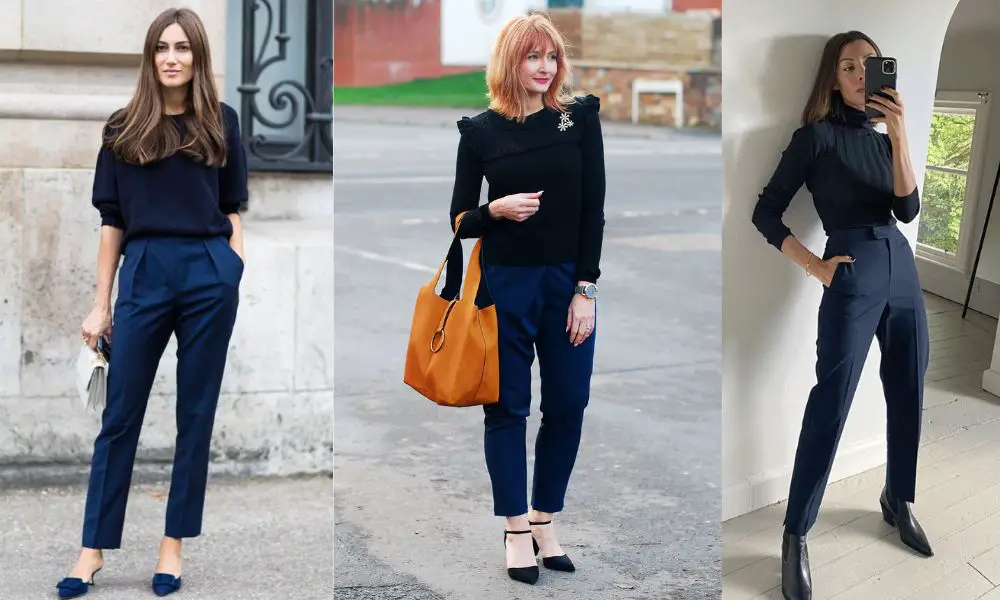 Burgundy and navy Blue Pants
Burgundy and navy blue are rich, dark colors that can make a striking impression when worn together. Burgundy is a deep red, while navy blue is a dark blue. The two colors can look very elegant when paired together, making them an excellent choice for a dressy outfit.
You can find burgundy shirts in many styles, from button-down shirts to dress shirts. Navy blue pants are also widely available and can be found in both casual and dressy styles.
When choosing an outfit, it is essential to consider the occasion. A Burgundy shirt with navy blue pants can be worn to many events, from a casual dinner party to a formal wedding.
You can create an effortless and elegant look by selecting a crimson turtleneck or sweater and some essential classic jewelry. This color combination will make you stand out from the crowd regardless of the occasion.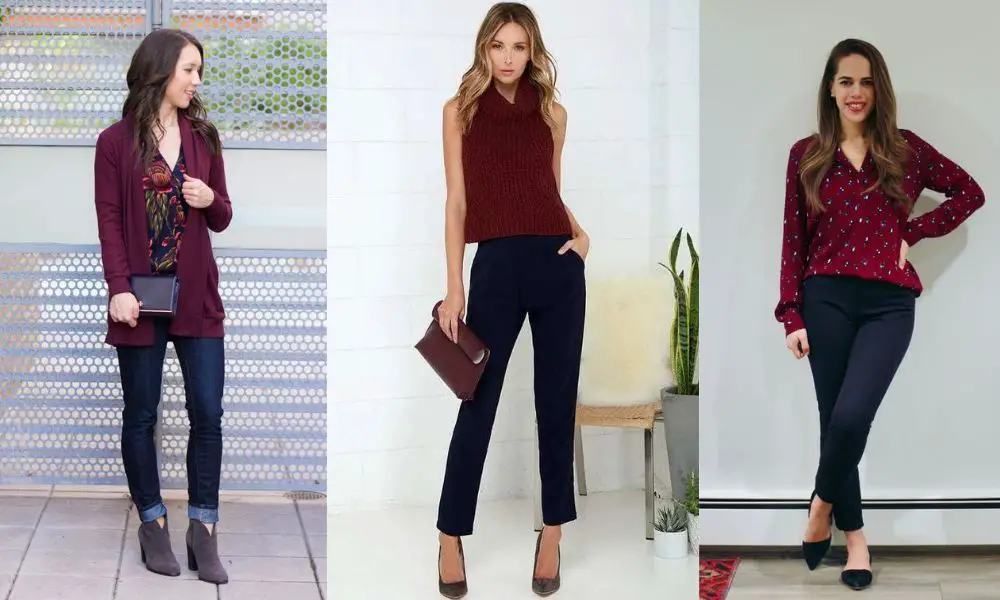 Mustard and Navy Blue Pants
A mustard shirt with navy blue pants can create a great look for anyone. Mustard is a color that can stand out, and when you add in the navy blue pants, it makes for a great contrast.
It can be an excellent look for both men and women and is perfect for any occasion. You can wear this outfit to work, a formal event, or even just lunch with friends. No matter where you wear it, you are sure to turn heads and get compliments.
So if you are looking for a new stylish, unique outfit, consider wearing a mustard shirt with navy blue pants.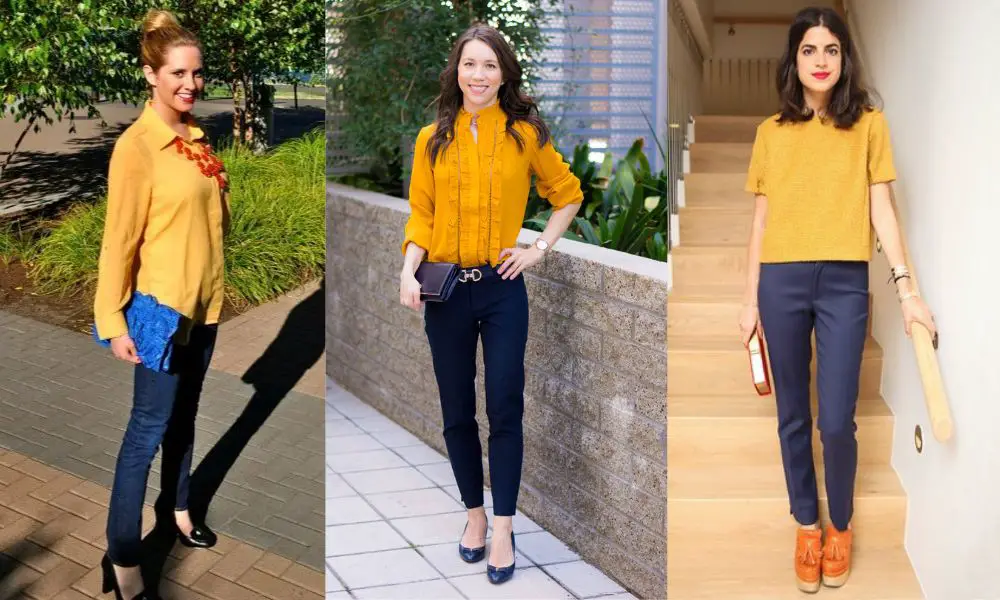 Yellow and Navy Blue Pants
Although yellow is notoriously tricky to match, the lighter hue may make navy blue stand out. If you're up for a bit of adventure and want an outfit that has the potential to pay off, try pairing a yellow top with your navy blue jeans.
Pairing mustard yellow with navy is a terrific choice because it's muted yet vibrant. On mild autumn days, a sweater with short sleeves is ideal.
Yellow and navy look great together, and you can make it work for you by wearing a shade of yellow that complements your skin tone.
Yellow clothing has a well-known tendency to wash out certain complexion tones. Choose a shade that brings out your natural beauty; it will look excellent with a pair of navy jeans.
When wearing yellow, it's best to complement it with neutral accessories. Since yellow is already quite striking, you should avoid accessorizing it with anything too eccentric, as it will make your look go from chic to tacky.
Style Tips for Navy Blue Pants
Navy blue pants can be an adaptable and stylish addition to any wardrobe. However, it can be tricky to know how to style them in a way that looks chic and put together.
Here are some tips to help you make the most of your navy blue pants:
Pair them with a white or light-colored top or button-down shirt. This attire will create a clean and classic look that is perfect for both day and night.
Try a bold patterned top like stripes or polka dots. This combo will add a touch of fun and personality to your outfit.
Wear them with a pop of color. A bright cardigan or scarf will add an unexpected touch to your navy blue pants.
Try mixing different shades of navy for a more exciting and modern look.
Layer them over leggings or tights. It is a great way to stay warm in the colder months while still looking chic.
If you keep these tips in mind, you can wear your navy blue jeans confidently and grab everyone's attention wherever you go!
What To Wear With Navy Blue Pants
Navy blue pants are a versatile and popular clothing item you can style for various settings. Whether you're dressing for a casual day at the office or a formal night out, there are vital things to remember when choosing what to wear with your navy blue pants.
For a more relaxed look, pair your navy blue pants with a white shirt or blouse and a cardigan or blazer in a complementary color. If you're looking to dress up your outfit, consider pairing your pants with a black shirt or top and adding some jewelry or accessories.
This attire is a good choice for a more dramatic or edgy look. If you want something more fun and festive, try pairing navy blue pants with a brightly colored top. It is a great way to add color to your outfit and make a statement.
Make sure your outfit is comfortable and stylish, no matter what you choose to wear with your navy blue pants.
Shoes to Wear with Navy Blue Pants
The right shoes for every occasion are essential to any outfit, and they can make or break your look.
The best shoes to wear with navy blue pants are generally black, brown, or gray. Avoid shoes that are too brightly colored or patterned, as they will compete with the pants for attention.
Regarding material, leather or suede shoes are a good choice, but canvas or fabric shoes can also work well. Try teaming navy blue pants with sneakers or boat shoes for a more casual look.
Dressier occasions call for more formal shoes such as loafers, oxfords, or pumps. And remember the socks!
Dark-colored socks will complement the pants nicely, but you can also get away with wearing patterned or brightly colored socks if you want to add a bit of personality to your outfit.
Final Takeaway
In conclusion, you can pair navy blue pans with a variety of colors. When pairing navy blue pants with other colors, it is essential to consider the color wheel and to make sure that the colors complement each other.
Some great color combinations for navy blue pants include green, white, and lavender. However, to create a cohesive outfit, it is best to pair them with neutrals or other shades of blue.
If you are still deciding what color to pair with your navy blue pants, experiment with different colors until you find a combination you like. But at the end of the day, the most important thing is that you feel confident and comfortable in your outfit.
With so many different color options available, there is no reason not to try some new combinations!