If you love pink or just want to experiment, why not wear pink clothing? But then again, how do you know which other colors go with pink? If we're talking about the color spectrum – red, orange, and yellow are obvious choices. But if we're breaking it down into individual colors — things get a bit trickier. The good news is that there are so many options and combinations you can pull off when it comes to colors that go with pink. Pink and purple are cousins in the same family of cool colors — that means they complement one another well. In this article, we will take a look at some of the best colors that you can combine with your pink clothes to create just the perfect outfit for you.
What Makes the Color Pink Special?
The color pink is a calming color that is associated with love, kindness, and compassion. It is a soft color with a red undertone. It is frequently linked to romance and love. The color pink is regarded to be very relaxing and it has been used over the years to psychologically induce calmness in agitated individuals. For instance, some prisons occasionally utilize a shade of pink known as "drunk-tank pink" to keep the inmates calm.
In order to keep the rival team's players unmotivated and passive, some sports teams may occasionally paint their locker room pink. Coach Hayden Fry of the Iowa Hawkeyes, who studied psychology at Baylor University, came up with the idea for the pink visiting team locker room at Kinnick Stadium. He thought the all-pink room would excessively calm rival teams and reduce their overall performance on the field.
The color pink also has an important societal significance. It is the official color of Breast Cancer Awareness month — a time during which people put on pink ribbons to celebrate survivors and those who have lost their lives to the disease.
Best Colors to Pair with Pink Clothes
Here is a list of the best colors that you can match with your pink clothes without committing any fashion blunder:
Red with Pink
If you're looking for a color to pair with pink clothes, red is always a good choice. Pink and red go together like peanut butter and jelly – they just work. Whether you're wearing a pink dress or a pink shirt, adding a pop of red will give your outfit some power and extra flair.
Not sure how to incorporate red into your pink outfit? Here are some ideas:
Wear a red scarf with a pink sweater
Pair pink pants with a red top
Wear a red belt with a pink dress
Add a red jacket to your outfit for an extra pop of color
One magic touch that gets the job done when pairing red with pink is classic red lipstick. If you ever dare to rock an outfit of red and pink, be sure to give the combination a finishing touch with your favorite red lipstick.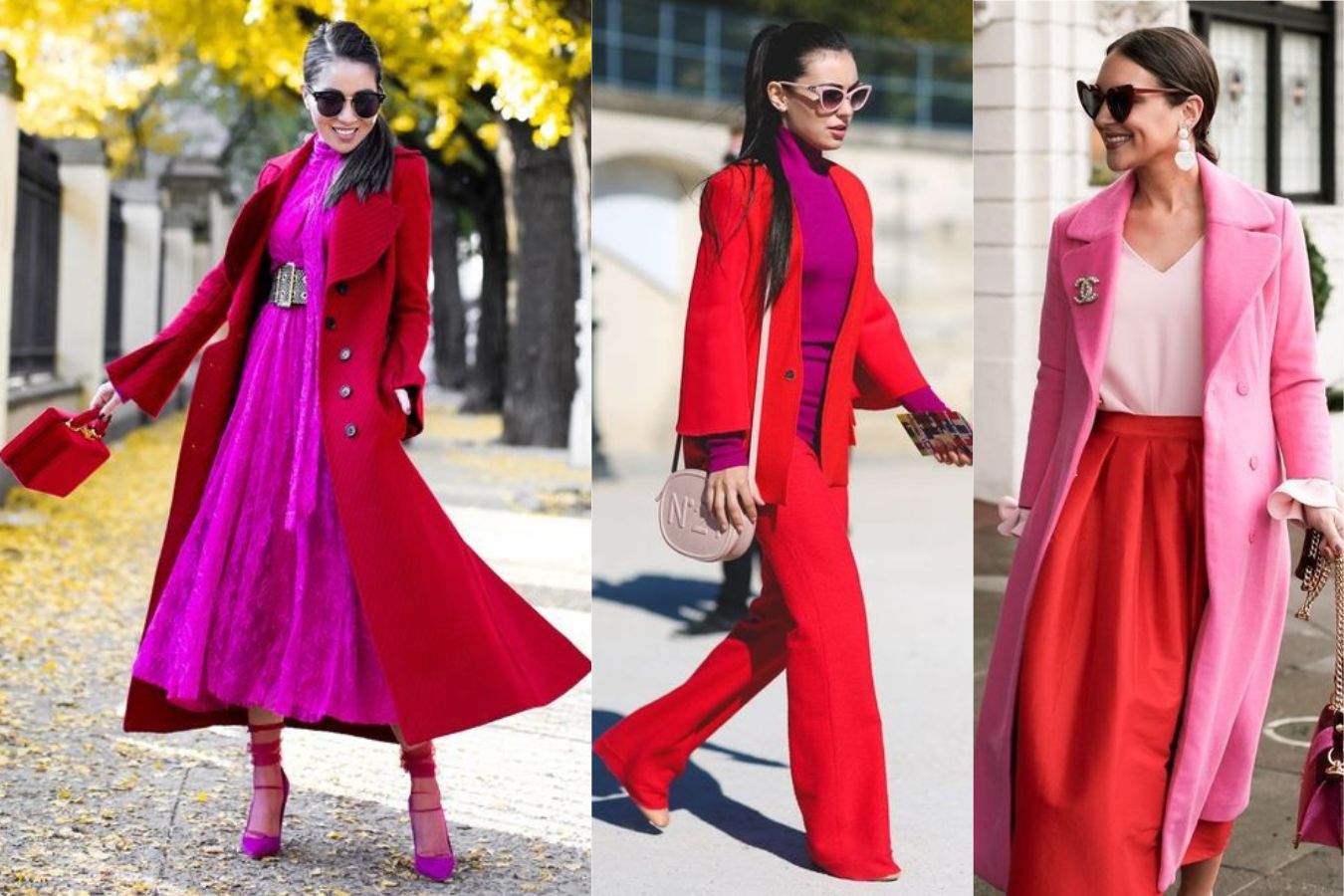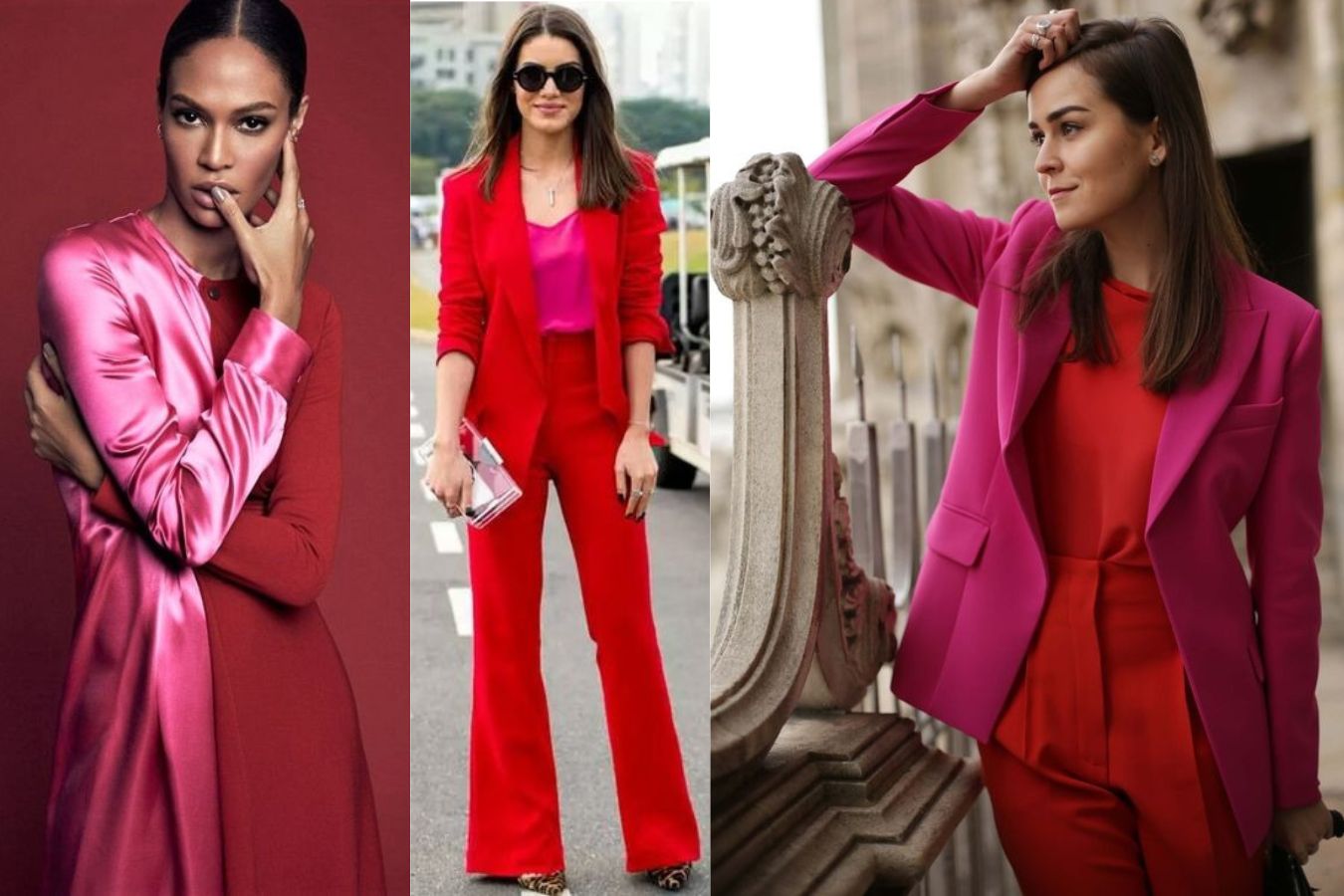 Green with Pink
Green is a great color to pair with pink clothes. It is a refreshing and natural color that can really make your outfit pop. When choosing green clothing to go with your pink clothes, it is important to consider the shade of green that you are choosing. Lighter greens can be more delicate and feminine, while darker greens can be bolder and more dramatic. Either way, green is a great way to add some pizzazz to your outfit.
While many people may prefer the pink and green combination, not everyone does. There's no reason to push yourself if you're not feeling it. There are still many other options to combine to create the perfect outfit for you.
Yellow with Pink
When it comes to choosing the perfect colors to complement your pink clothes, yellow is a great option that can never go wrong. Yellow is a cheerful and warm color that can really brighten up any outfit. Pairing yellow with pink is a classic combo that always looks chic.
If you're looking to add a pop of color to your outfit, try pairing your pink clothes with yellow accessories. A sunny yellow scarf or handbag would be a great way to accessorize a Pink dress. If you want something a little more subtle, try choosing shoes or jewelry in softer or pastel shades of yellow.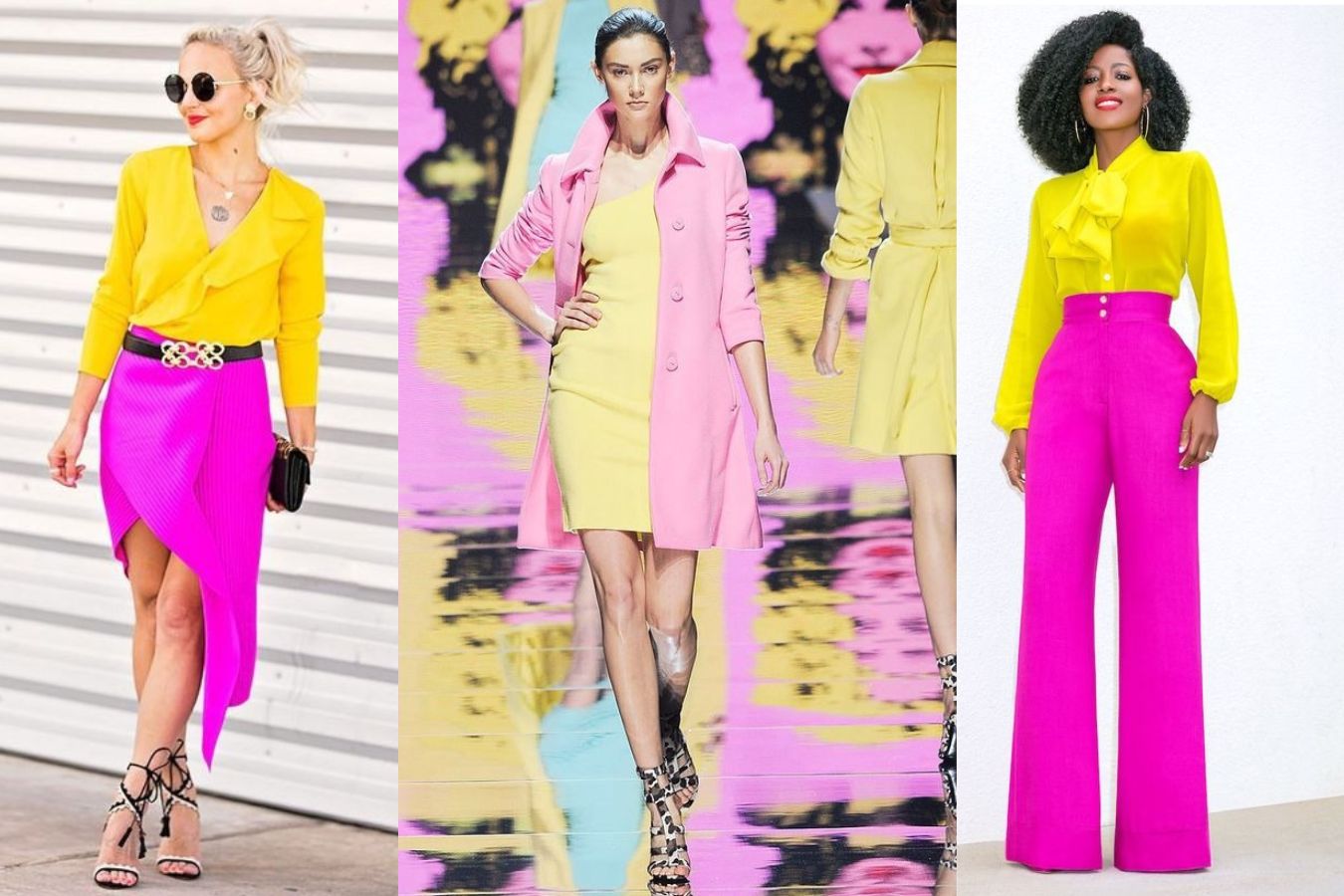 Purple with Pink
The color purple is a great choice for pairing with pink clothes. It is a rich, regal color that can add a touch of luxury to any outfit. Purple also goes well with other colors in the pink family, such as fuchsia and magenta.
When choosing purple accessories or clothing items to pair with your pink clothes, be sure to consider the shade of purple you are selecting. Lighter shades of purple will pair well with lighter shades of pink, while darker shades of purple can be used to complement deeper shades of pink.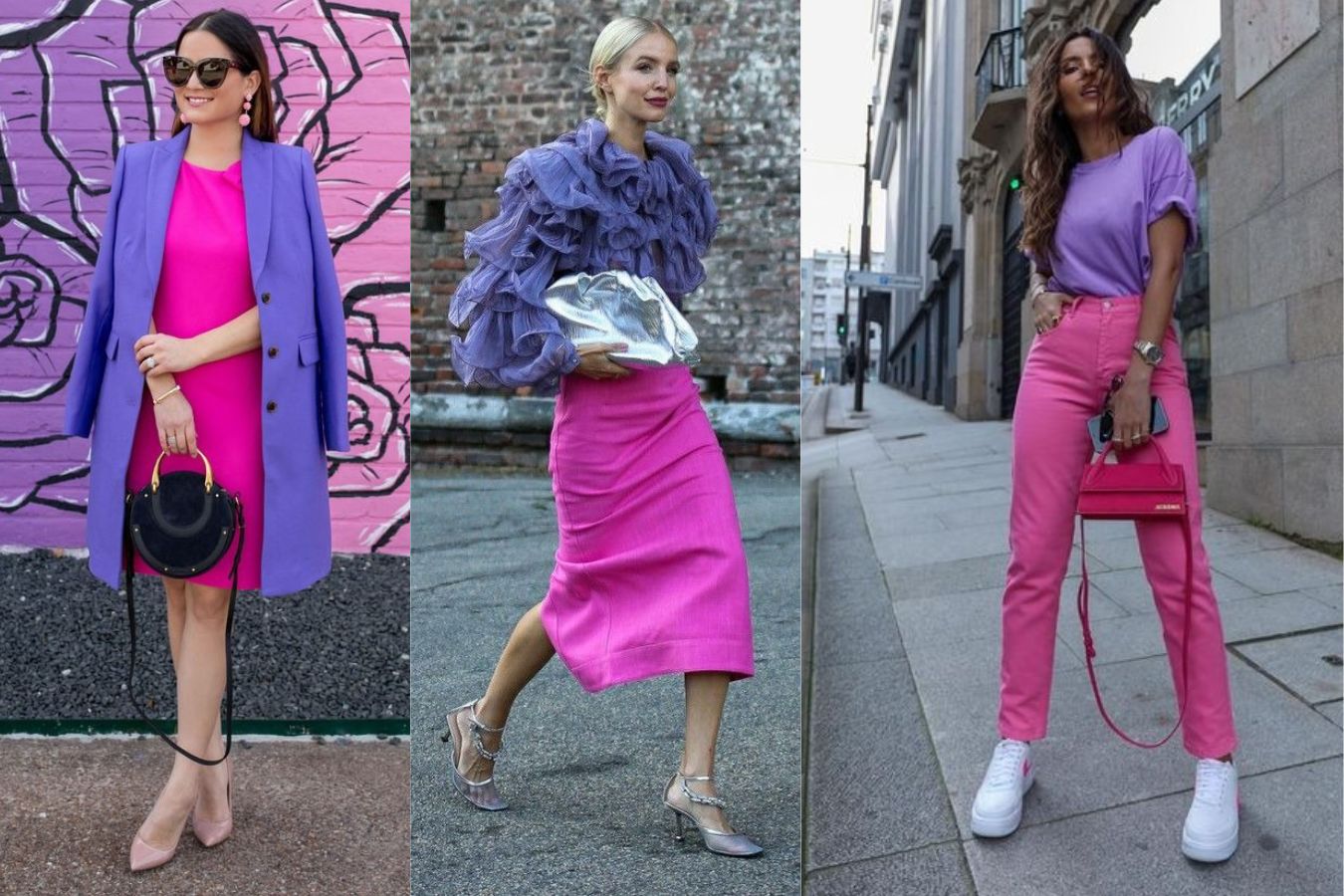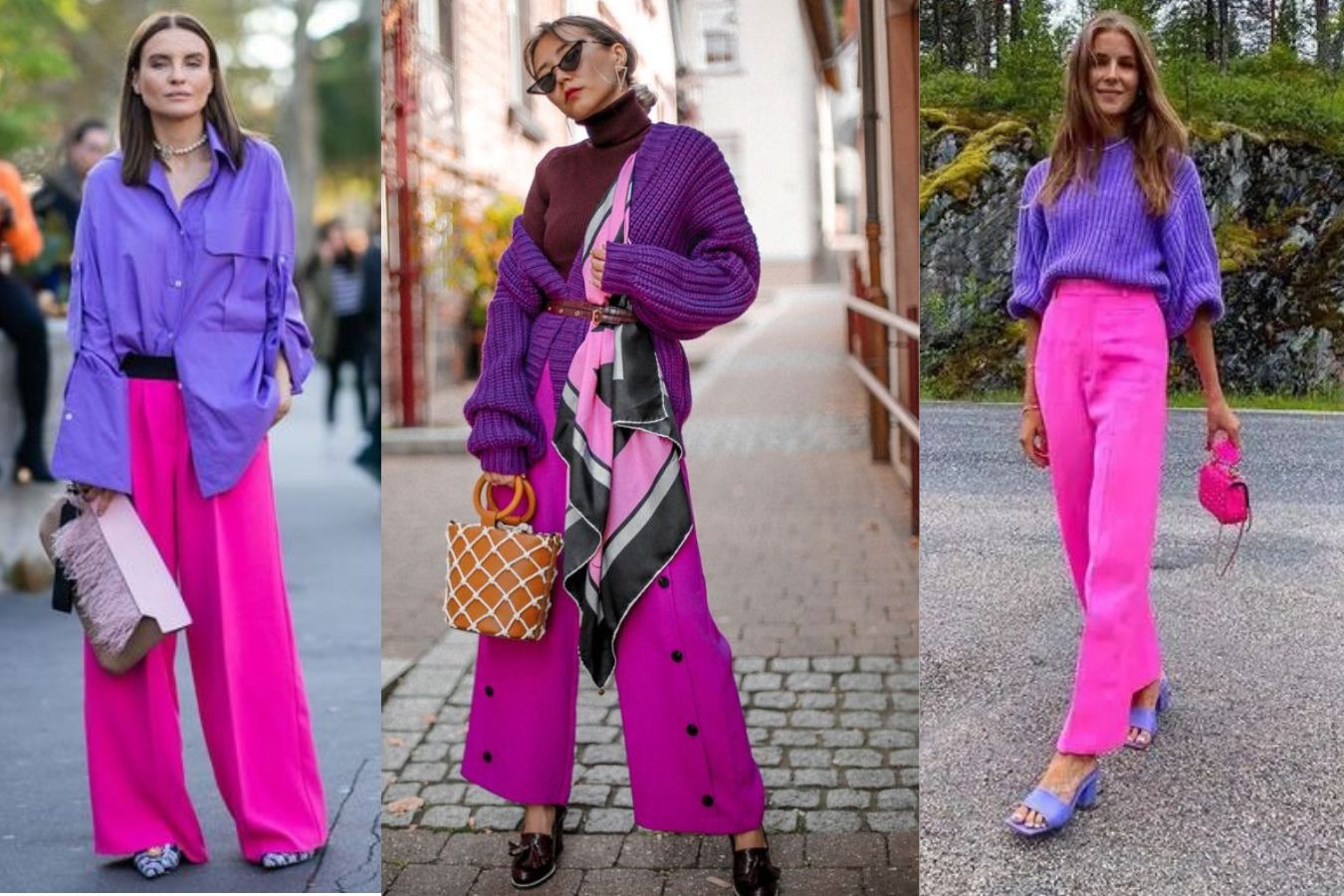 White with Pink
If you're looking to add a little bit of edge to your wardrobe, consider pairing pink clothes with white. White is a bold color that can also make your outfit pop. Plus, it's a great way to add a touch of sophistication to your look.
Here are some tips for how to wear white with pink:
Pair a white top with a pink skirt or pants. This is a classic look that is perfect for work or play.
Wear a white dress with pink accessories. This is a fun and flirty way to wear pink and will definitely turn heads.
Try a monochromatic look by wearing all white with touches of pale pink. This is chic and elegant, and perfect for special occasions.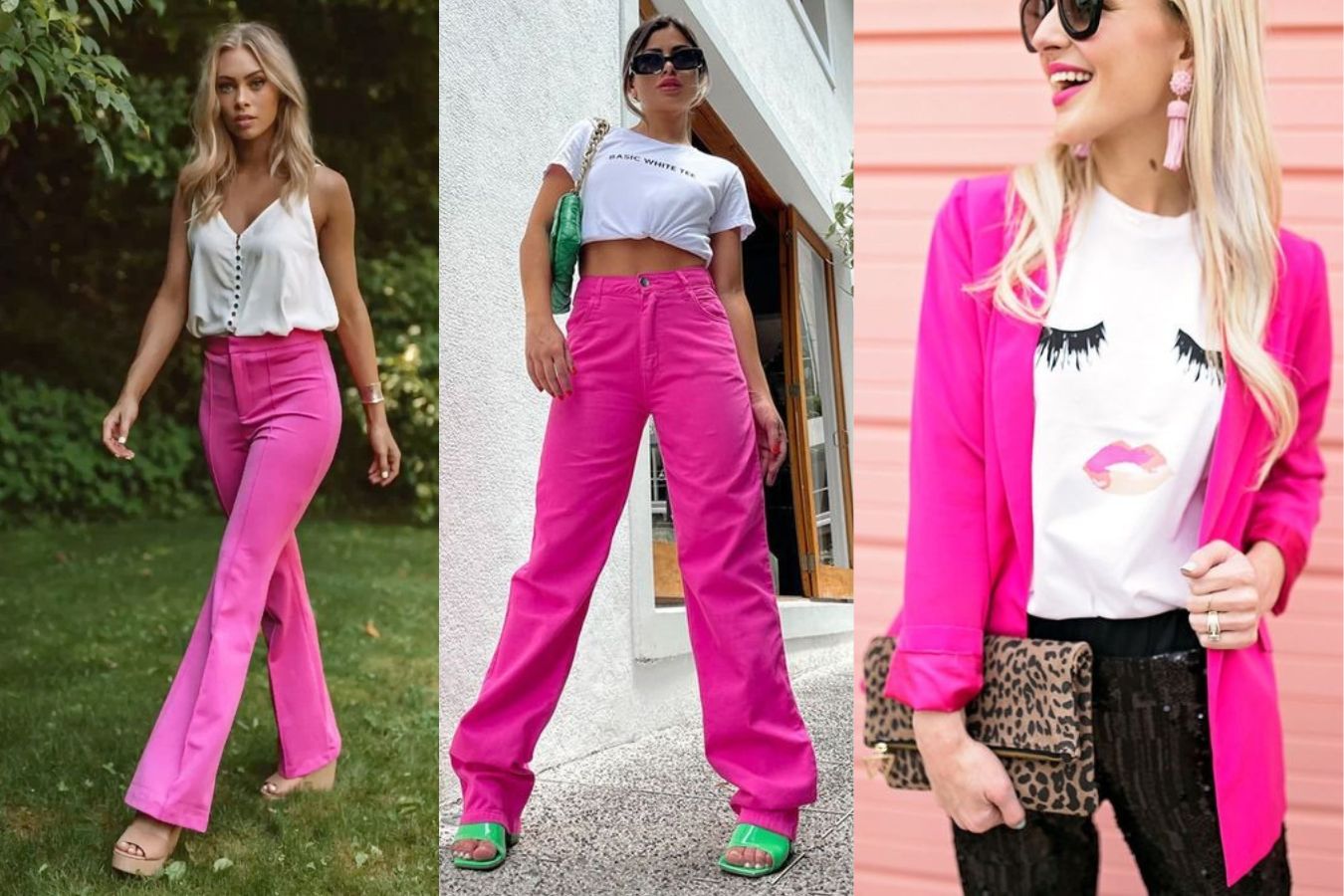 Gray with Pink
If you're looking for a versatile color to pair with pink clothing, gray is a great option. It can create a sophisticated look when worn with darker shades of pink, or a more playful vibe when paired with lighter hues.
Gray works well to balance your style. It is the perfect pair when you are trying to make your pink outfit not too pink. It will enable you to pair it with both your muted and brighter pinks. Not sure what shade of gray to go with? A good rule of thumb is to choose a shade that's close to your skin tone for a flattering effect.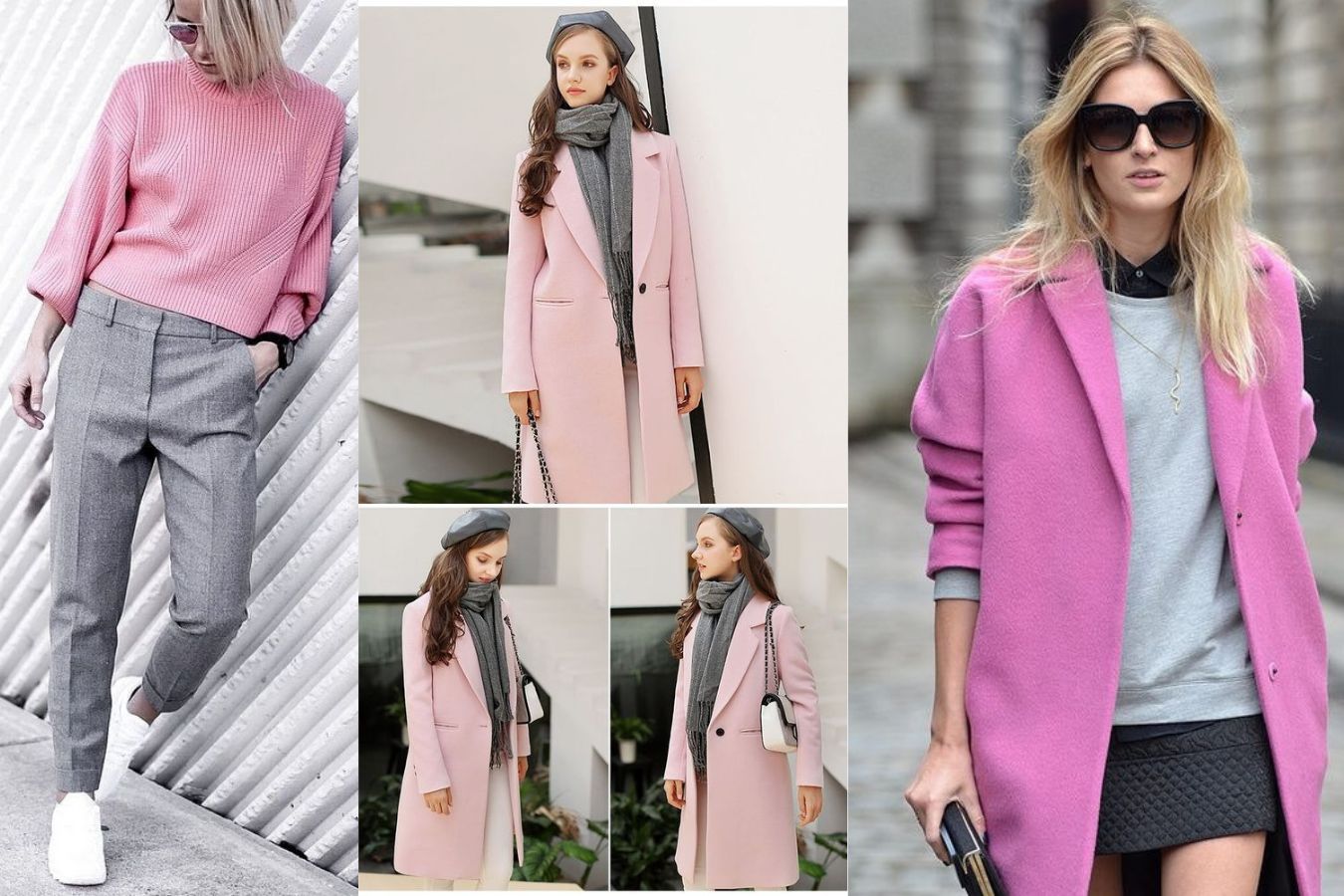 Orange with Pink
Orange is one of the greatest options if you want to add some vibrant colors and it may be the boldest option on the list of colors to pair with your pink clothing. Pink and orange are a fun and flirty color combination that also exudes confidence. They emit a cozy, earthy vibe when placed side by side.
You can go for a more subtle look by pairing a pale pink with an orange that has a bit more yellow in it, or go for a brighter, more eye-catching look by pairing hot pink with a tangerine orange. Either way, this color combo is sure to turn heads!
Gold with Pink
While pink is often associated with femininity, it can be surprisingly versatile when it comes to matching other colors. One great pairing option is gold, which can add a touch of luxury and glamor to any of your pink outfits.
Your pieces will look somewhat more refined or stylish if you add a touch of gold to them. If you want to combine pink with multiple colors, it's also a nice color to add to the mix. It doesn't really matter how you style these two colors, the pair will surely turn heads.
Black with Pink
Pink and black is a classic color combination that always looks chic. Almost all shades of pink go with black, making it one of the safest options to try when selecting colors to pair your pink clothes with. Wear black fabrics with pink clothing to achieve a classy, smart, or elegant look. Depending on the pieces you intend to use, black can assist you in neutralizing the softness of pink.
Whether you're wearing a little black dress with pink heels or a pink blouse with black pants, this combo is sure to turn heads. If you want to add a third color into the mix, try throwing in some white for a fresh and summery look.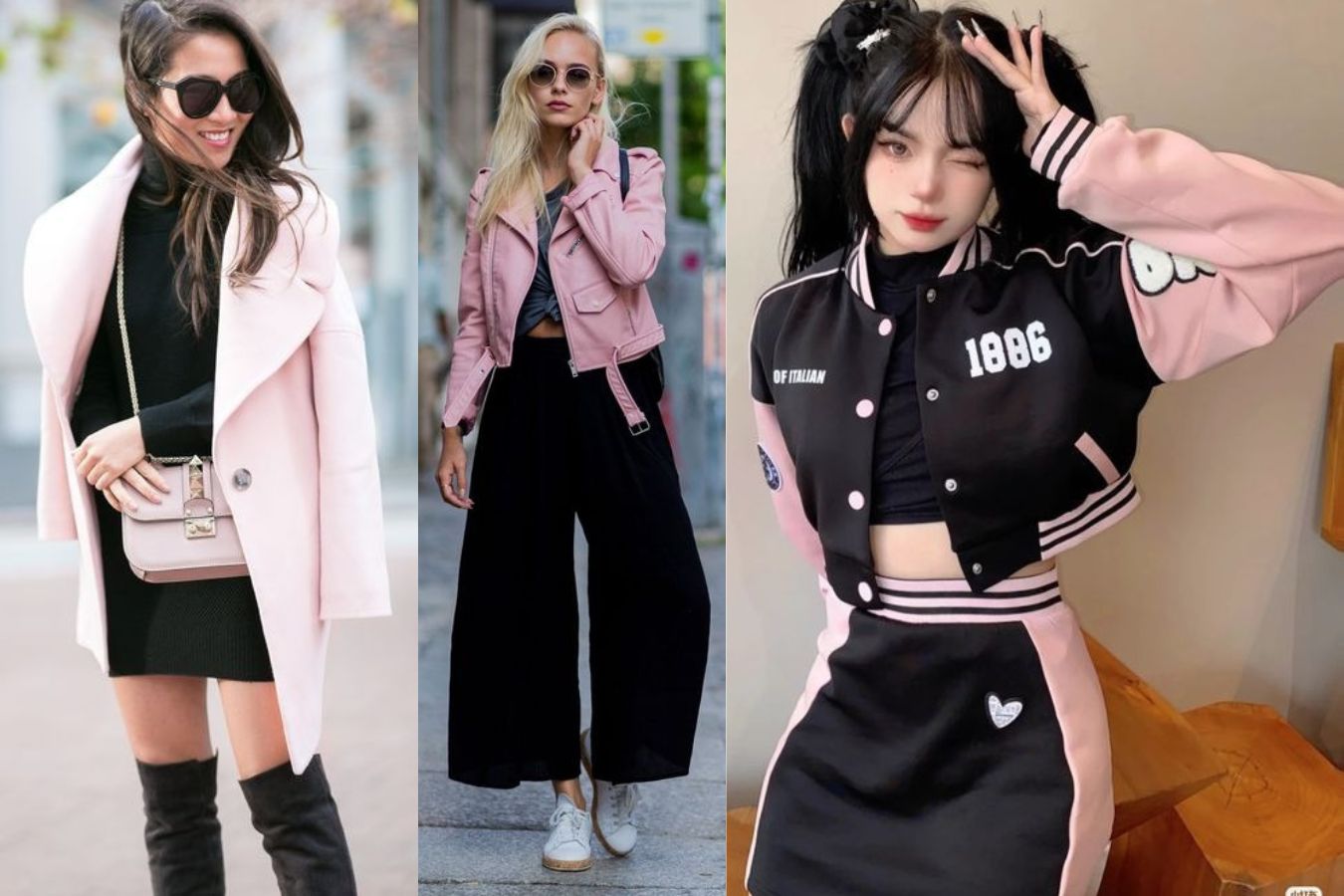 Brown with Pink
As odd as this might sound, brown is one of the colors that almost can never go wrong with pink. Brown is a staple color of several shades and these shades can be paired nicely with almost all shades of pink. It exudes a rustic look that complements your pink clothes perfectly.
The color brown symbolizes the earth, warmth, recovery, and stability. Pink complements the color scheme, giving off a cozy, welcoming vibe. If you like brown and want to pair it with your pink clothing, the best shades to consider are beige and tans. Without overpowering the pink hue, these softer tones go well with blush pink.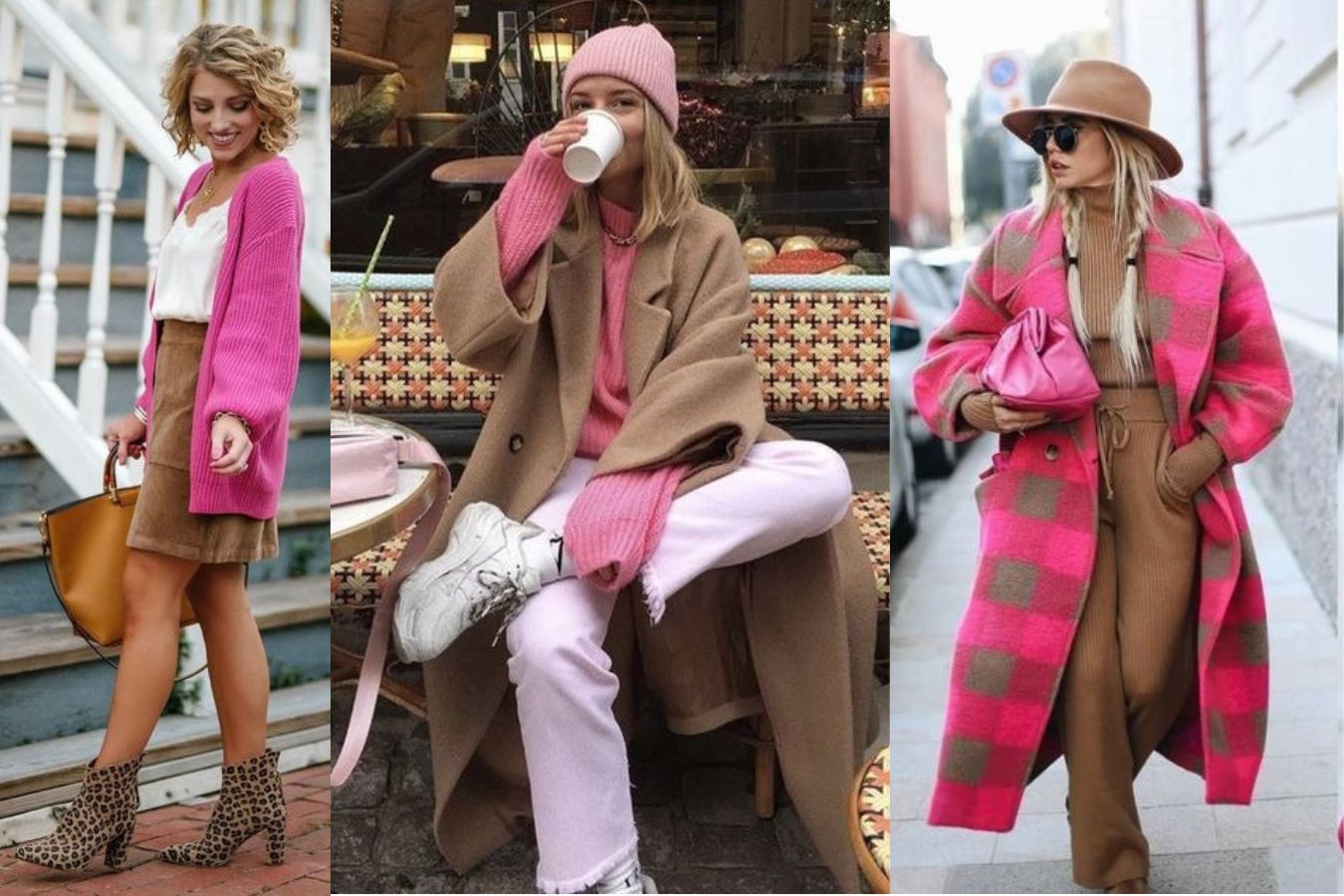 Blue with Pink
If you're looking for a color that goes well with pink clothes, blue is a great option. Pink and blue are complementary colors, so they work well together. Blue also adds a bit of contrast to pink, making it stand out more.
Pink and blue combine to make stunning outfits that scream sophistication and fashion awareness. For a fashionable look, pair a blue fur jacket with a blush-pink turtleneck. Add some life to the ensemble with a wild makeup style. Adding an off-the-shoulder coral sweatshirt and a pair of blue torn jeans with blue embroidery will further enhance the glam and chic element.
What is the Best Color to Pair with Light Pink?
Although we have talked about colors that generally combine well with pink clothes, it is important to point out the ones that specifically go well with the lighter shades of pink. This is because most people generally prefer these hues basically because of the calmness they bring. Thus, it is important to provide some insights on how to pair them with the right color to create the perfect look.
Of all the colors mentioned in this article, only some of them can match well with the lighter shades of pink. They include:
Blue
Beige (a lighter shade of brown)
Black
Grey
White
If you want to rock an outfit of a light pink hue and you can't decide what color to match them with, You can try matching the outfit with any of these colors. They can never go wrong with your light pink clothes!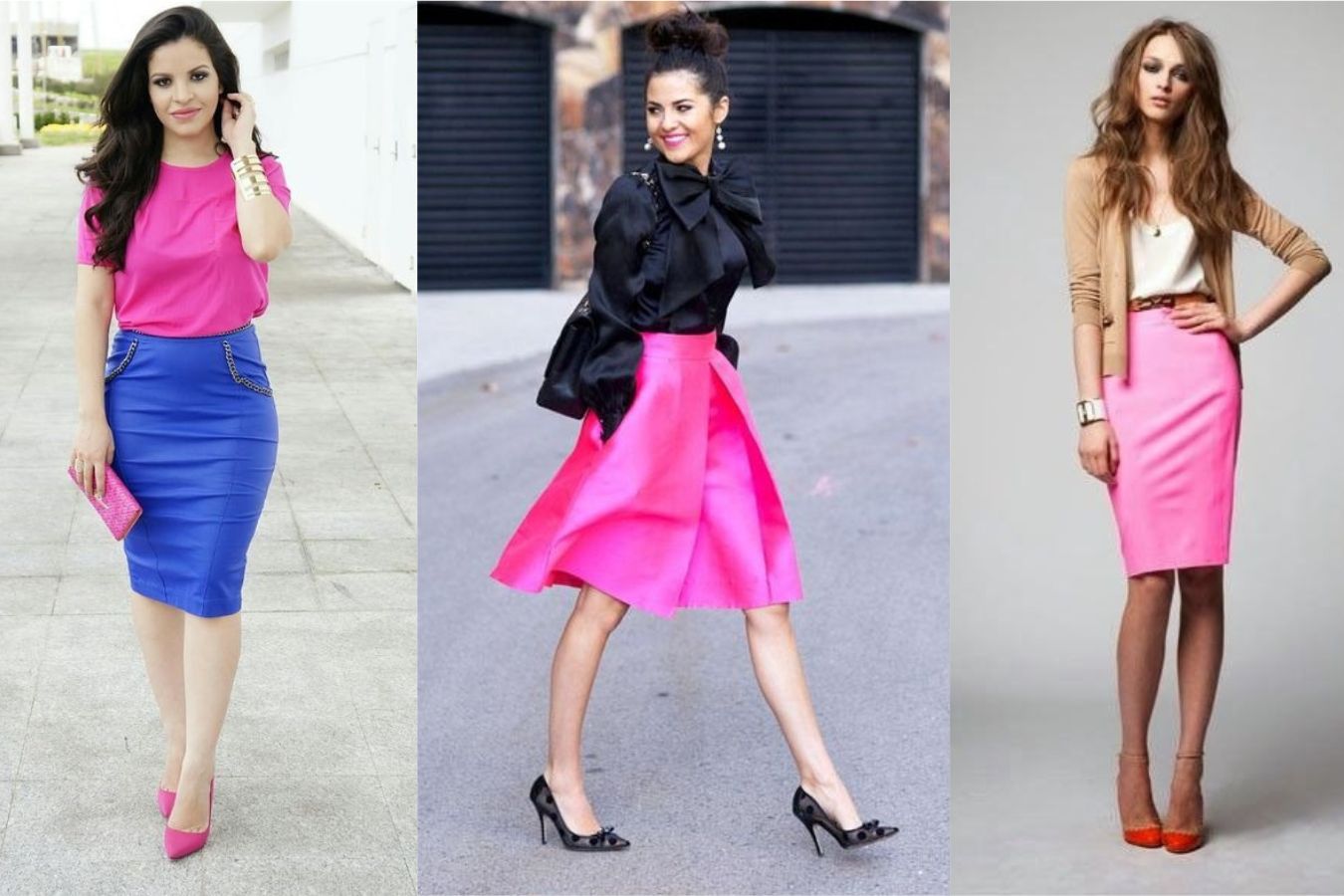 What is the Best Color of Shoes to Pair with a Pink Dress?
When it comes to what color shoes to wear with a pink dress, the best bet is usually a nude color shoe. This will help elongate your legs and avoid any clashing of colors. Also, the neutrality of the nude color will enhance the softness of your pink dress, thereby, giving you an overall classy and elegant look.
Apart from nude color shoes, shoes of colors that are complementary to pink such as green or purple are other options that you can pair with your pink dress. These shoes will add a pop of color to your outfit and create a chic look that is just perfect for you.
Also, neutral color shoes such as black, white, and gray will accessorize your pink dress just perfectly. These colors pair well with pink, especially when the goal is to rock a formal look that is both simple and fashionable.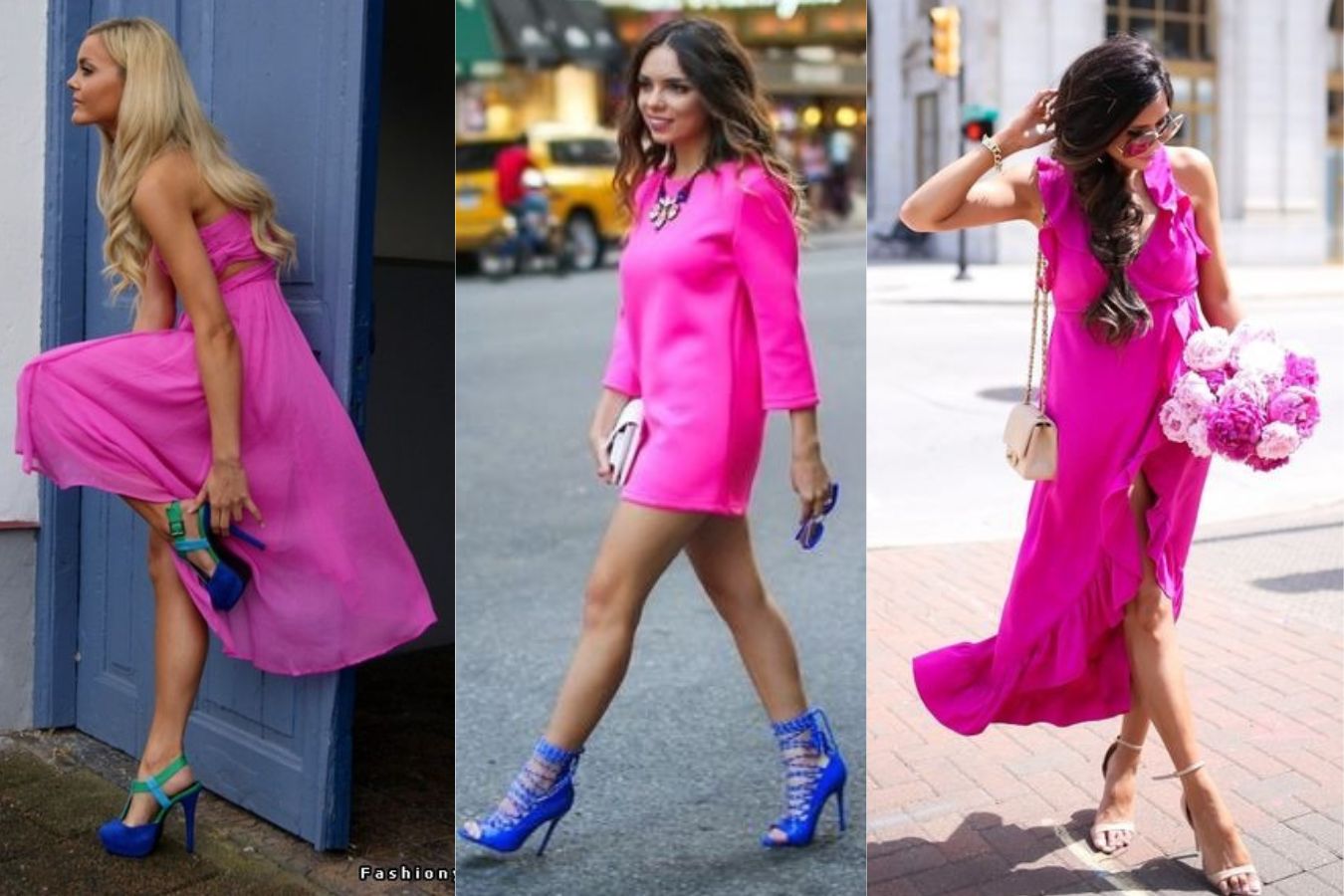 Conclusion
Pink is a versatile color that goes well with many other colors. In this article, we have shown you different colors that go great with pink clothes. You can create some alluring outfits by using our recommended color combinations all year long. There are so many options, and you can suit it up or down depending on your mood or occasion.
And with any of the combinations mentioned in this article, you are sure to dazzle spectators in casual, street, and semi-formal attire. We hope you found this helpful and that you'll be able to use these tips to create some amazing outfits for yourself or some of your friends.