Purple is a color of royalty, luxury, and ambition. It's a powerful color that makes your outfit stand out from the crowd. You give off premium vibes.
The presence of red and blue in purple's composition allows the color to be flexible. It comes in a variety of shades that look good on all skin tones in all seasons. But, when it comes to pairing purple with other colors, you need to be careful.
One wrong decision can kill the regal look and turn everything into clownery.
Typically, purple goes well with gray, black, white, brown, blue, beige, red, and golden. It can also look stunning when combined with certain hues of pink and green. A great example would be light purple with dusty pink or olive green.
There are several other combinations to explore. So, without further ado, let's unravel each of them below!
Why Choose the Right Colors in Clothes?
Having the right colors in your outfit is highly important. We say this because good color combinations enhance your appearance and look. And, when you know you're looking fabulous, you automatically feel better and confident.
The color combinations also reflect your personality and preferences. For example, a striking contrast of deep purple and bright yellow means that you're bold. It shows you're not afraid to stand out from the crowd to make a fashion statement.
Similarly, wearing a lilac and pink dress puts an emphasis on feminine energy. It makes you look soft and gentle. Hence, you'll find women choosing this color combo more than men.
The right colors in clothes help make a strong social impression on others too. A good appearance, coupled with confidence, has a powerful impact on other people. It conveys the message that you're well aware of your style choices and can make good decisions about them.
What Colors Look Good with Purple Clothes?
Colors are present for you to play with them and come up with amazing combinations. It's why the color wheel exists.
The color wheel is a visual representation of all the colors in the spectrum. They are arranged into a wheel such that you can determine the relation of one with the other. So, it's pretty easy to find colors that compliment purple using it.
As you can observe, the purple color has shades of blue and red adjacent to it. These two primary colors form purple and will serve as great accents. If you look across from purple, you will find yellow.
You can pair all tones of yellow easily with purple. From bright yellow to pale hues, this color can help form an amazing bold contrast as well as a soft, well-blended look.
However, one important thing to notice in the color wheel is that orange and green do not align with purple at all. This doesn't mean you cannot pair these colors together. Instead, it means the combinations can be risky.
Only specific shades of orange and green will look good with purple. To sum up, here are all the colors that go well with purple clothes.
White
Brown
Blue
Red
Beige
Gray
Yellow
Golden
Olive Green
Dusty Pink
Purple with Purple
Deep Orange with Light Purple
What to Wear With Purple Top?
1. Purple Dress Shirt with Black Pants
A deep purple dress shirt paired with black pants looks very regal. Both colors have a luxury and royal vibe. When combined, they make your clothes appear elegant.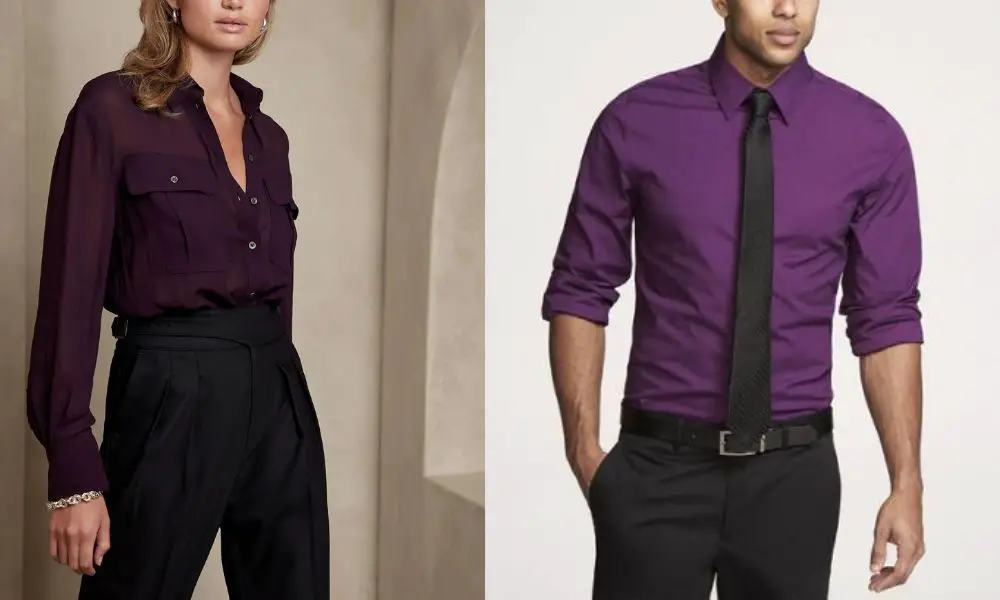 You can wear this outfit at formal events like business conferences or meet-and-greet. Also, this will look great on both men and women. If you want to go a little less formal, a great alternative would be to pair a light purple dress shirt with gray pants.
2. Purple Shirt with White Flared Jeans
White is a neutral color that serves the role of balancing different shades. When worn with one solid color, white also helps put an emphasis on the paired color. So, when you wear a purple shirt with white jeans, the royalty of purple is highlighted.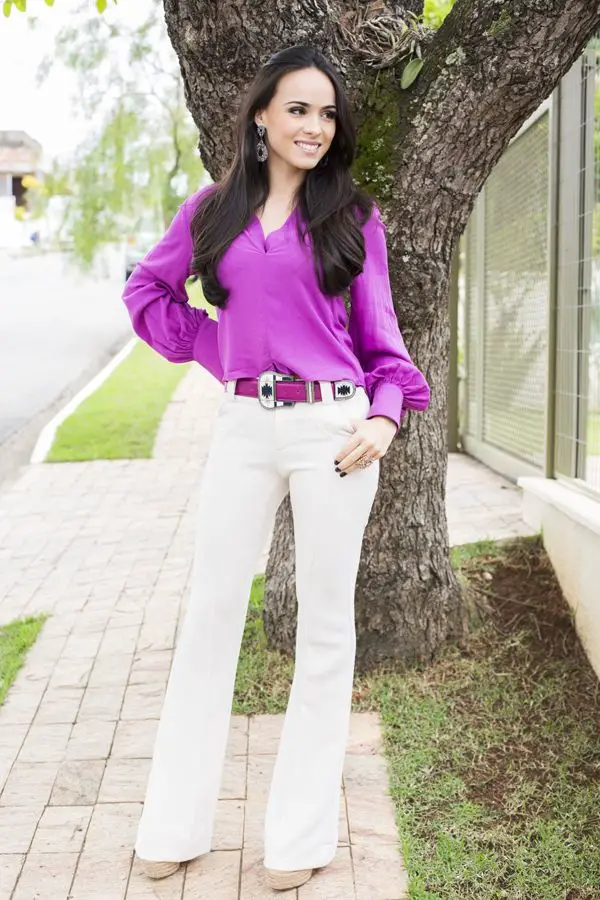 What's more, the flare of the jeans is the perfect addition to style. The flared jeans and purple shirt look quite trendy and stylish.
3. Purple Crop Top with Blue Jeans
Crop tops were initially designed for men. However, today, they are the most popular choice among women.
Wearing a purple crop top over blue jeans is an amazing casual outfit. You can use this idea for daily wear. However, if you add a few pieces of silver jewelry and accessories, you can also wear them to a friend's house or on an outing.
4. Purple Sweatshirt with Sweatpants
Monotonous looks are great as long as the top and bottom match each other in terms of style. If you wear a purple polo shirt with a purple skirt, you won't look aesthetic at all.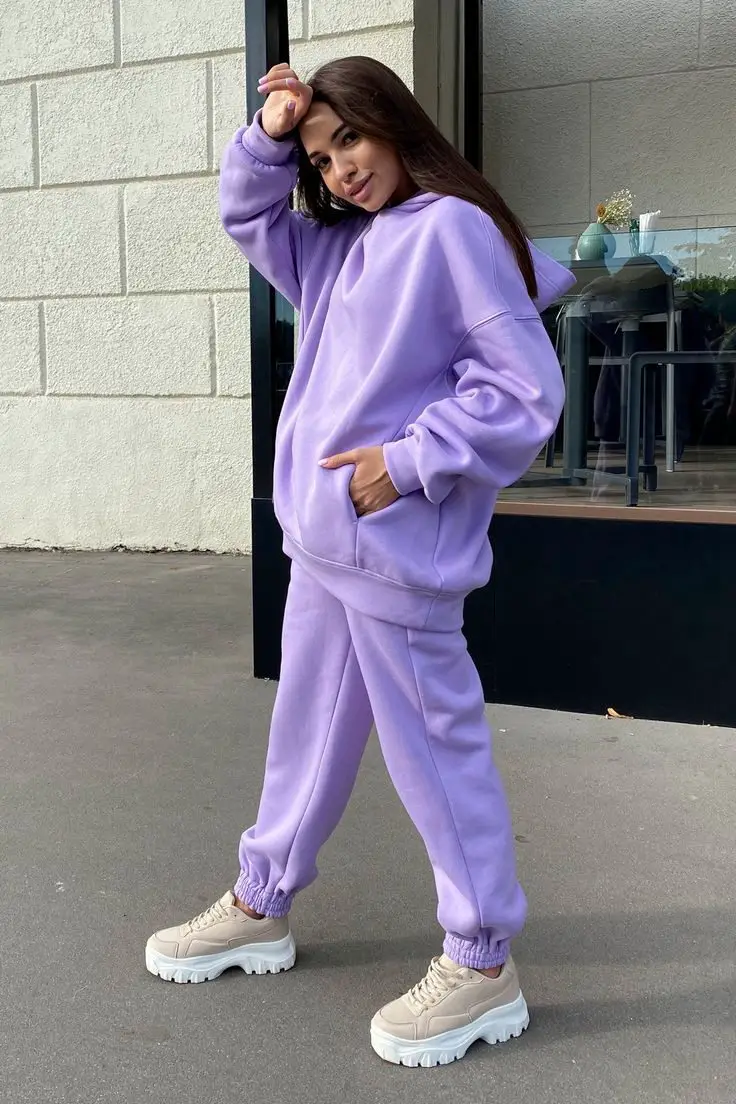 A brilliant way to appear pretty in a monotonous purple outfit is to wear a sweatshirt with sweatpants. The casual, relaxed feel of these clothes is suitable for both men and women. You can add a cap to complete the look.
5. Purple Top with Beige Cargo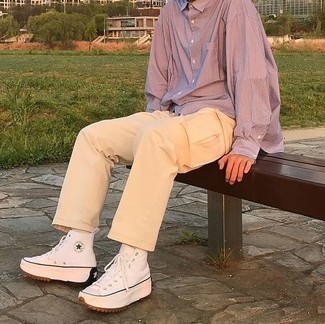 Beige is another neutral color that has a calming effect. It complements the richness and intensity of purple perfectly. You can also choose lighter shades of purple, but the dark ones look the best.
We suggest wearing a purple top with beige cargo pants. This gives you a stunning street-style look for informal wear. If cargo pants are not your type but you wish to stay in the street style look, use beige baggy jeans.
6. Purple Button-down Shirt with Brown Pants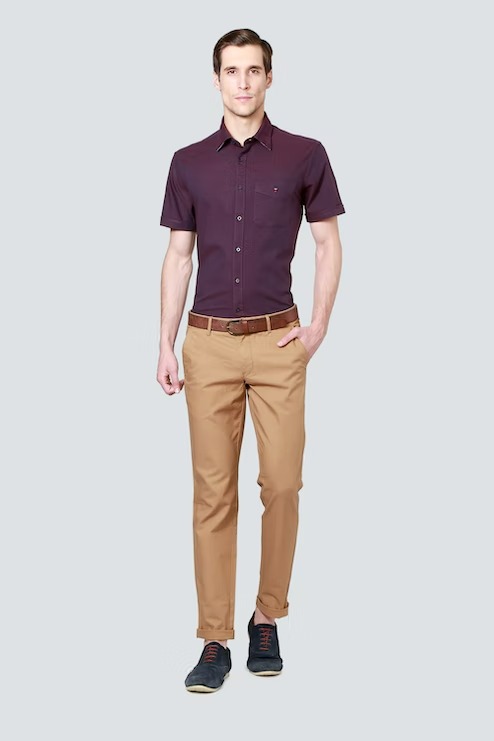 The button-down shirt is a type of dress shirt that has buttons on the collar too. These buttons are for keeping the collars buttoned down, hence the name.
You can also use a button-up shirt for this outfit idea. But a button-down will give you a more polished and sophisticated look. Pair it with brown (any shade) pants, and there you go – a fabulous outfit for all occasions.
Learn about the difference between button up and down shirts here!
7. Purple Tucked-In Shirt with Purple Skirt
Here's another monotonous combo that you can try out. Take out any purple shirt from your wardrobe and wear it with a pleated skirt. Remember to tuck it in nicely for a stylish overall look.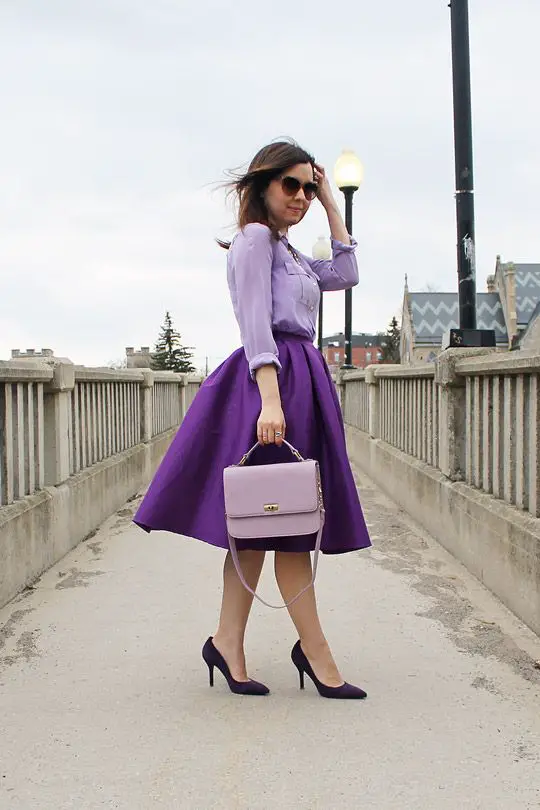 Some good top suggestions include a plain shirt, polo shirt, and crew-neck shirt.
What to Wear With Purple Bottom?
1. White Shirt with Dark Purple Jeans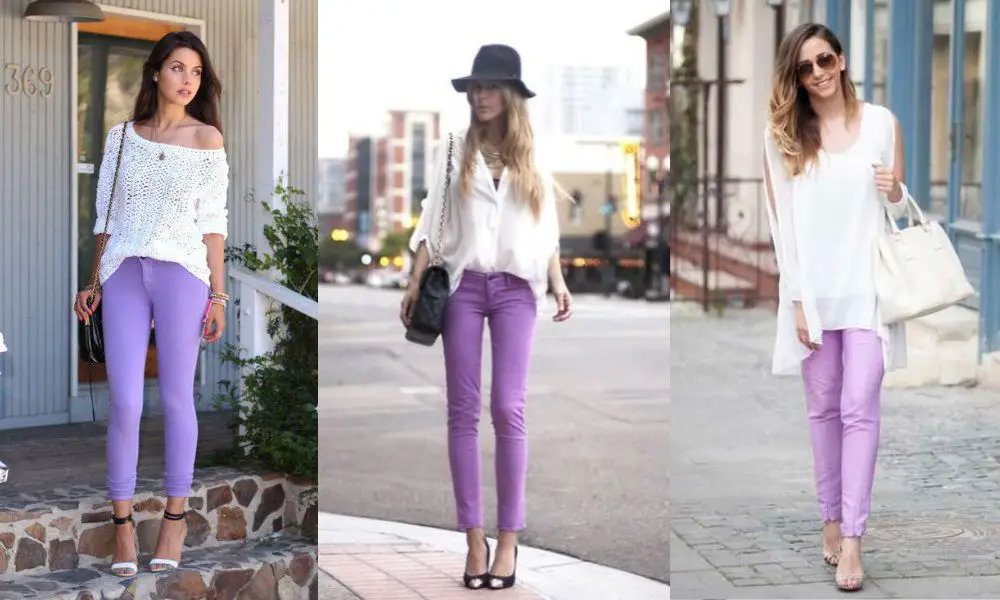 The white top with purple bottoms combo looks as cool as the purple shirt and flared white jeans. The colors balance each other well.
You can choose striking white and purple or softer hues. In any case, the color combination will make your outfit appear gorgeous.
2. Black Halter Neck Top with Lavender Pants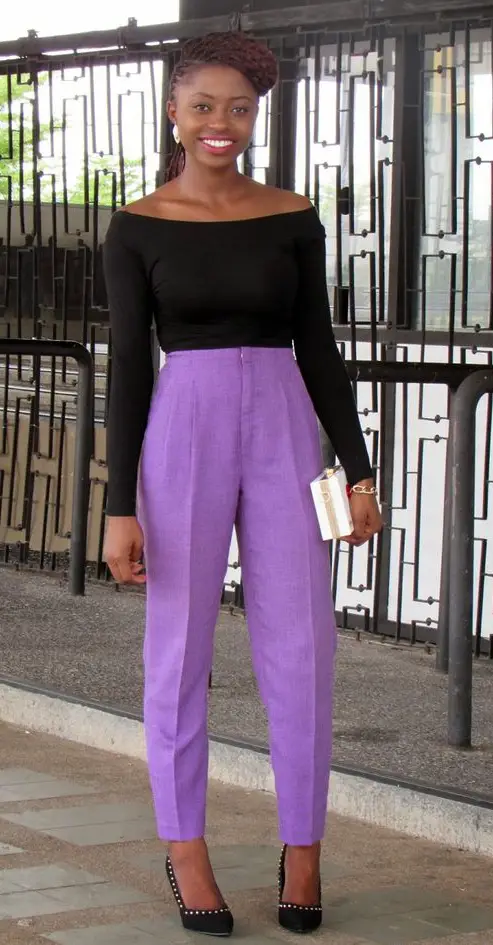 Halter neck tops are very popular these days. The design beautifies your look by revealing the collarbone (also called the beauty bone). Pair a black halter neck top with lavender-purple pants to become the highlight of the event!
But, if you feel uncomfortable baring your neck and collarbone in public, we suggest you wear a black high-neck top or simple shirt.
3. Turquoise Shirt Over Purple Jeans
Turquoise is a shade made from green and blue. It represents tranquility, peace, and optimism. However, since it has green in it, most people avoid pairing the color with purple.
But just look at this amazing summer fit. Wear a simple turquoise tee with dark purple jeans, and add the same colored accessories. That's it; you're ready to flaunt your looks!
4. Yellow Knitted Top with Deep Purple Pants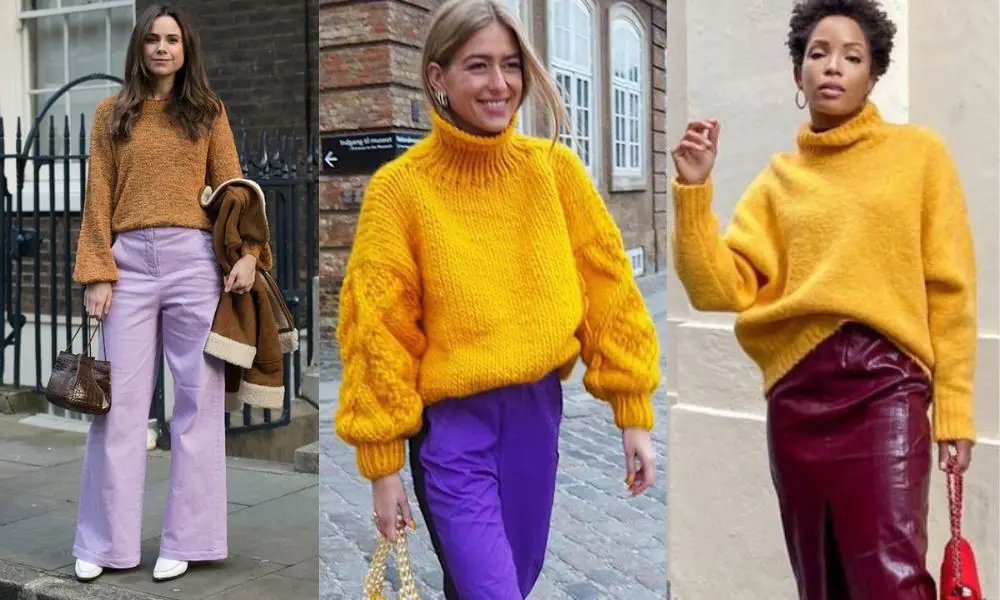 This outfit idea is specifically for winter. You can use any shade of yellow with deep purple pants, though bright yellow looks the best. It's the eye-catching contrast between the colors that appear classy.
Choose a bright yellow knitted shirt with heavy sleeves and a high neck to wear with deep purple pants. Also, since the knitted shirt will give you a baggy look, balance it with slim-fit or straight-cut jeans.
5. Layered Shirts with Purple Straight Cut Pants
People usually do layered dressing to seem bigger and bulkier. But that's not always the case. You can also layer clothes to balance the different color combinations.
One way of layering purple clothes is to wear layered shirts on top of the purple pant. You can play with different colors. For example, tuck in a white shirt and wear a black dress shirt or blazer on it.
As you must've noticed, we have specifically suggested straight-cut pants for this outfit idea. It's because this style doesn't make you appear baggy. Nor does it overly define your legs. It helps balance the overall look.
6. Cream Top with Purple Jeans
Cream or beige tops can never go wrong with purple jeans. This combination creates a subtle, soft, and elite look. You can add a touch of glamor using matching accessories.
For women, long purple pendants or ear hoops will look dazzling on the cream top. Men can wear a tie or cap to look trendy.
7. Graphic Tees with Purple Shorts
A graphic tee refers to a t-shirt with bold and bright-colored designs on the front. These printed images typically represent music bands, deep quotes, and sports.
You can experiment with wearing different graphic tees with purple shorts to create a casual chic look. An amazing example is a black and cream graphic tee with deep purple shorts. You can also replace the shorts with mini skirts.
8. Royal Blue Shirt with Purple Skirt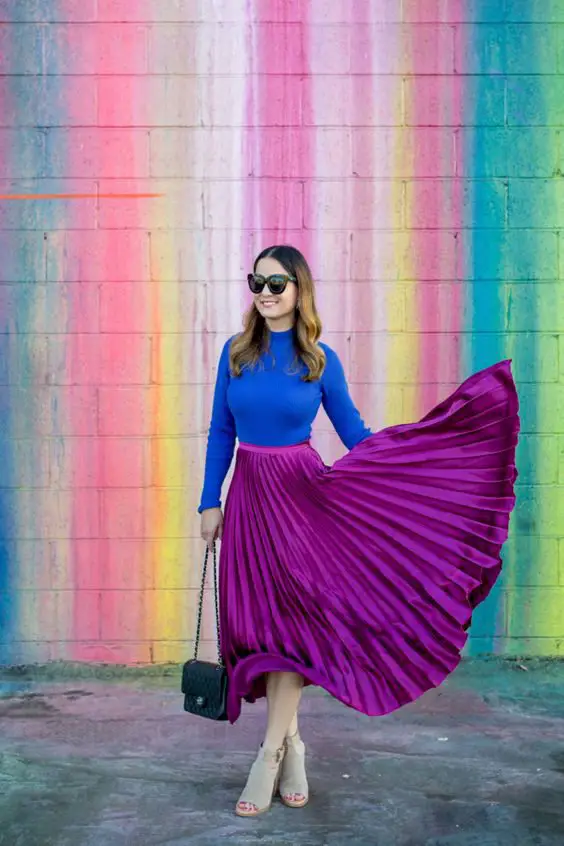 Do you want to make heads turn around to see at the event tonight? Do you want people to awe and ah at your stunning outfit? Well, then there could be no better option than a royal blue shirt with a deep purple skirt.
You can choose a high-neck fitted shirt or a loose top. In both cases, the outfit will look outstandingly bold and beautiful.
What to Wear With Purple Dress to a Wedding?
Since purple is considered to be a majestic color, most people wear it to weddings. However, while it's simple to pick out a purple dress, it's not easy to find things to wear with it. So, let us guide you a bit on this topic in regard to colors.
What Color Shoes are Best With a Purple Dress?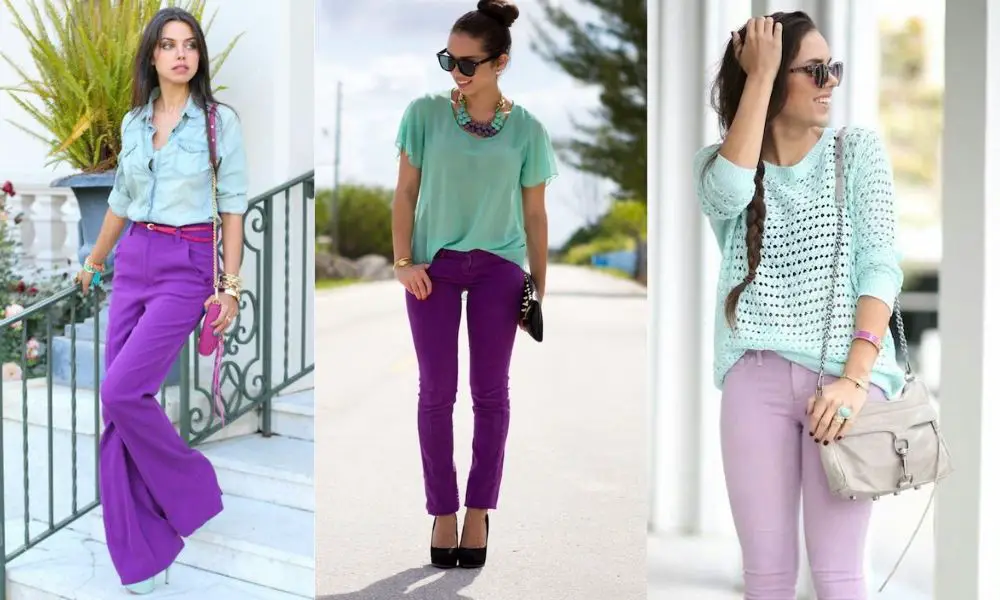 You can always choose neutral-colored shoes for a purple dress. These include white, black, gray, and beige. But, the best color shoes with a purple dress depend on the specific shade.
If you're wearing a deep and dark shade of purple, go with similar dark-colored shoes like black. And, if you're wearing a light or pastel purple dress, opt for soft colors.
Golden and silver are also great color choices for a purple dress.
What Color Jewelry Goes Best With Purple Dress?
Jewelry is supposed to complement the purple dress. So, your choices would be far more limited.
Typically, you can wear necklaces, pendants, earrings, and other accessories in the following colors:
Golden
Silver
Citrine (yellow, orange, and brown)
Emerald green
Purple with purple is also a great option. However, if you're going to purchase new jewelry for an outfit, our advice would be not to choose the exact shade of purple. It's because you won't be able to wear those accessories with other clothes and colors easily.
FAQs
Which color is a good contrast with purple?
Blue, red, and yellow are great contrast colors for purple clothes. You can also choose dark forest green to create a bold contrast.
What colors go with royal purple?
Royal purple is intense and rich. You'll find that black, lavender, white, navy blue, and gray compliments the color well.
Which nail color goes with purple?
Almost all nail colors go well with purple. But, if you're particularly choosy about nail colors, use blue and Fuschia pink to balance the purple clothes.
Last Words
To sum it up, the right color combination depends on the color wheel and your style preferences.
Purple clothes go well with shades of red, blue, yellow, white, gray, black, beige, brown, and golden. They can also go well with a few tones of pink, green, and orange.
But you can always explore new combinations by mixing and matching. What colors do you think go well with purple? Let us know in the comments below!