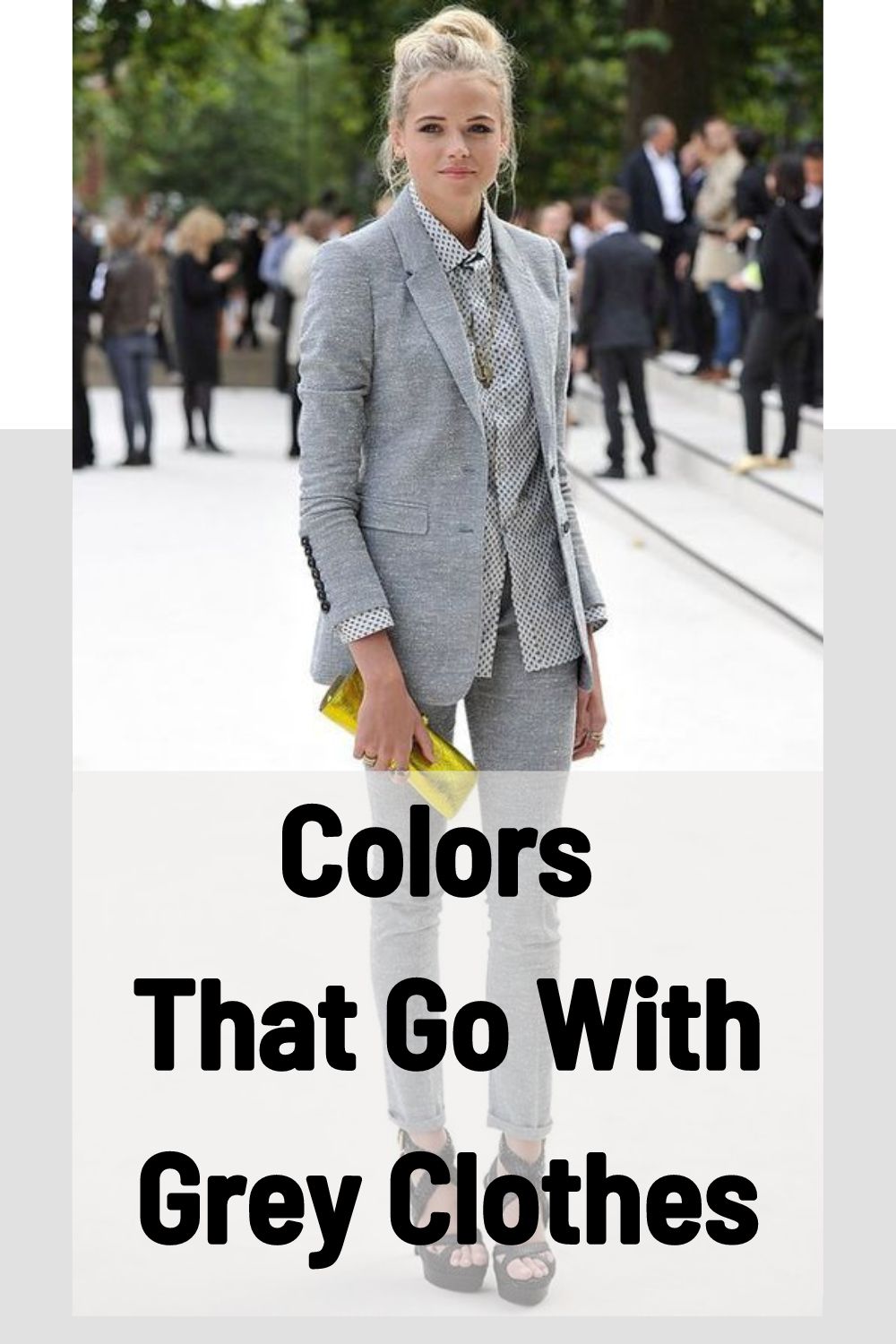 Grey is the king of neutral shades. Lying somewhere between black and white – this color allows you to be extremely versatile in your outfits.
It doesn't matter whether you are going to a business conference or a late-night party. The color lets you look chic and trendy at all events. You can wear it in suits, shirts, jeans, dresses, ponchos, and whatnot.
But this doesn't mean you can pair grey with any color. It is versatile and not flexible. So, you must be careful with the color combinations.
To make things easier, we've compiled a list of the 13-best colors that go with grey clothes. We have also discussed how to stylize them and enhance your looks. Let's dive in!
Is Grey Fashionable Color?
Grey is typically considered to be a color of wisdom, elegance, and grace. There's a vibe around the color that screams refined and sophisticated. It's probably why most adults and seniors incline more toward grey.
However, there are no age restrictions on who can wear grey clothes. Youth and children can look equally fashionable in this neutral tone. It all depends on how well you carry it.
If you pair grey with the right color combinations, the outfit is bound to look amazing and beautiful. But, if you don't, the same outfit can make you look depressing, unlively, and even timid.
What Colors Go With Grey Clothes?
Grey is a staple color in all of our wardrobes. But, we do not realize that this color can go with multiple other shades if one has a good fashion sense. Let's look at some popular grey color combinations to get a better idea!
1. Grey and Grey
Grey pairs extremely well with itself. Wear clothes of the exact shade, and just check out the look. The monotonous outfit amplifies the elegant and graceful feel of the color.
You can also mix and match one shade with another. But choosing the right greys can be a little difficult.
You'll come across some grey shades that are so pale; you'll mistake them for white. Alternatively, there are some grey shades that are so dark and intense; you'll mistake them for black.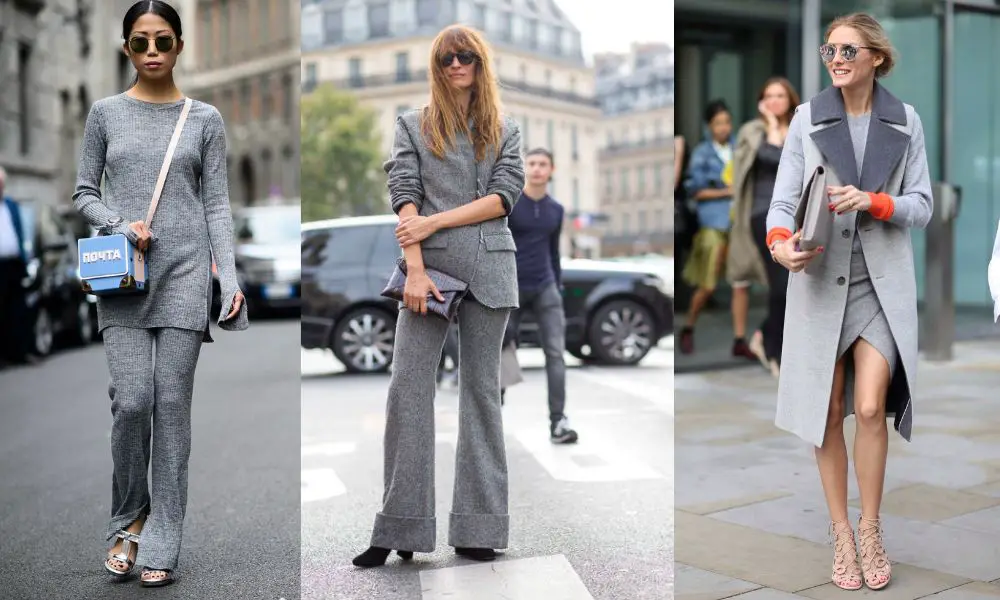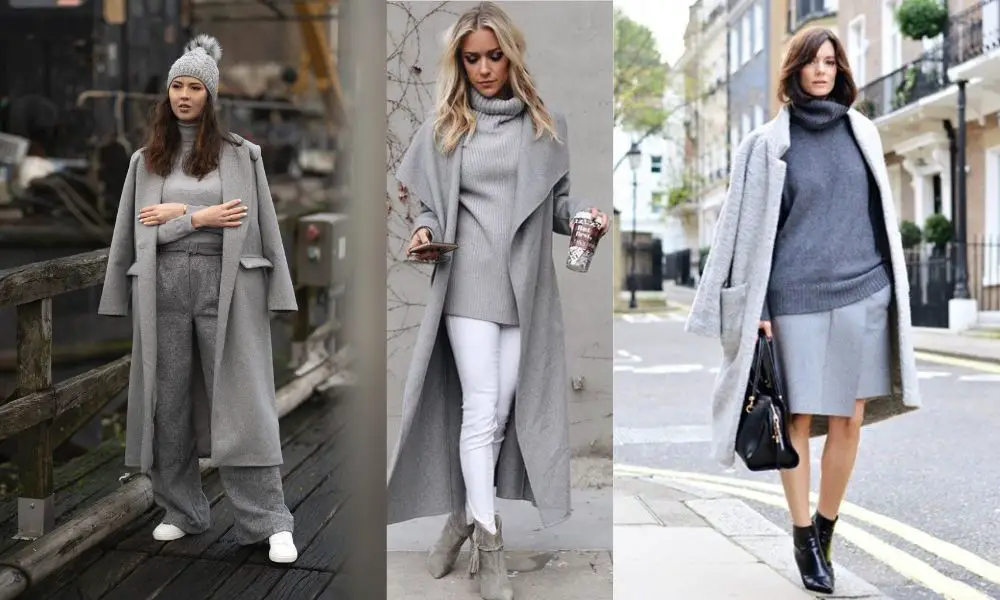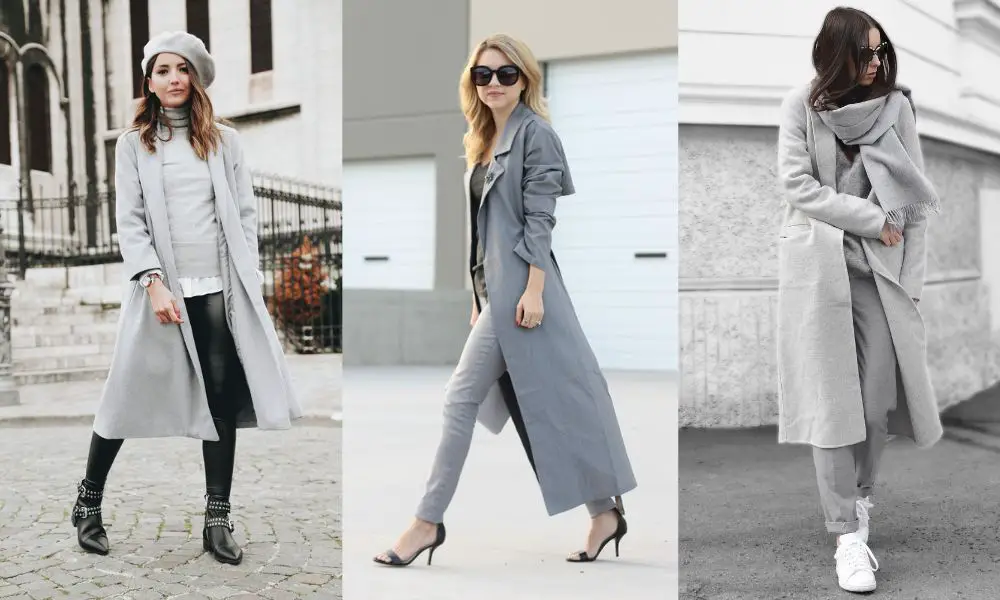 2. Blue and Gray
There are two ways to use blue with grey tops, and both are extremes. Either select intense navy blue pants or casual light blue jeans.
The intense navy blue pants with grey shirt combo are going to give you a formal look. You'll look bold and crisp since both colors have an elegant feel.
As for the light blue jeans with a grey top, you should expect to carry a casual and relaxed look. It's best to add a black belt or accessories for contrast.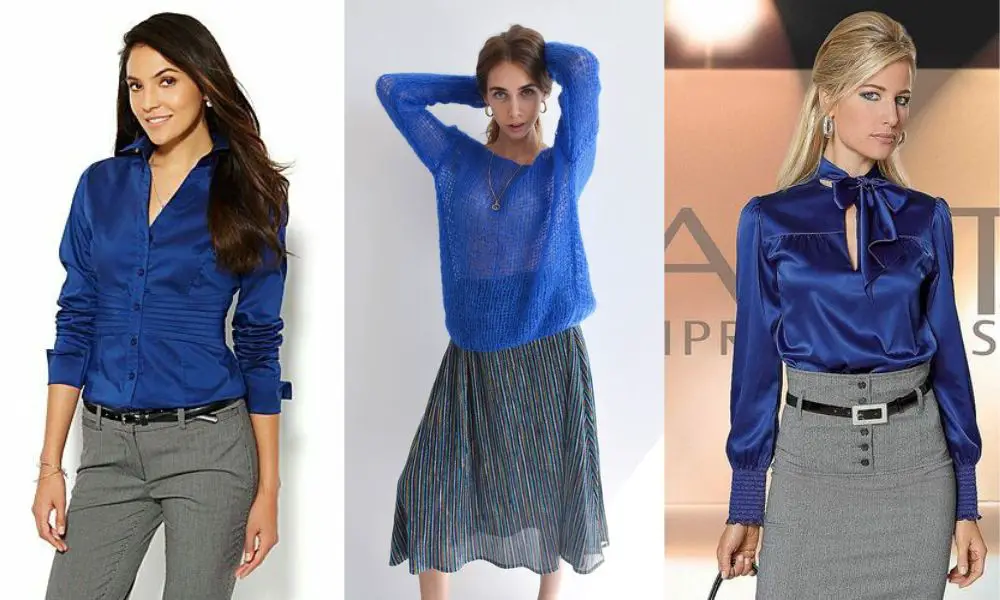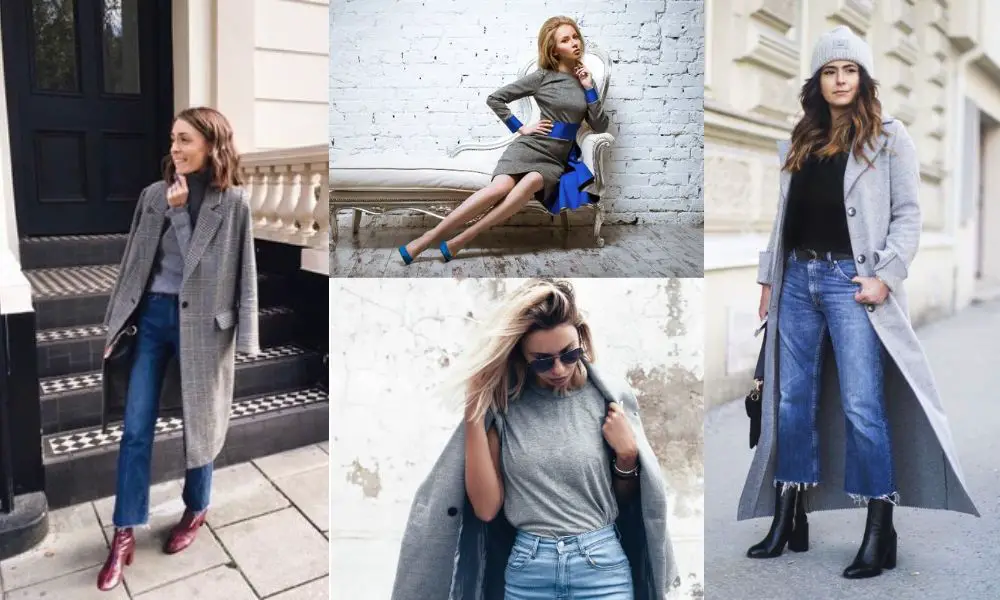 3. Black and Gray
Black and grey is a brilliant match. The neutral colors complement each other perfectly. So, it doesn't matter whether you wear a grey shirt with black pants or vice versa.
In this color combination, you're bound to look professional and reliable. It's why most people prefer to wear it for formal events and business parties.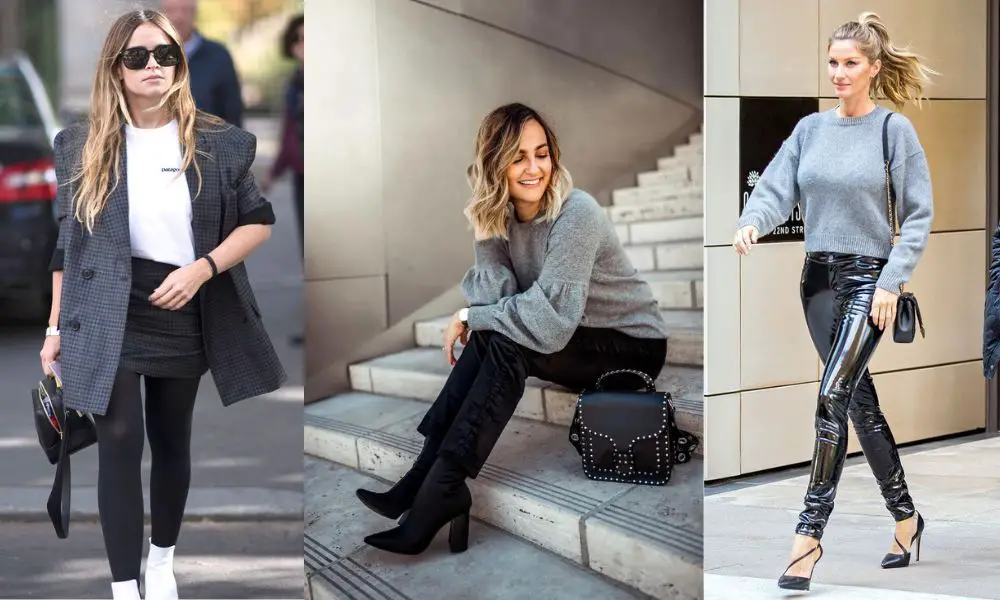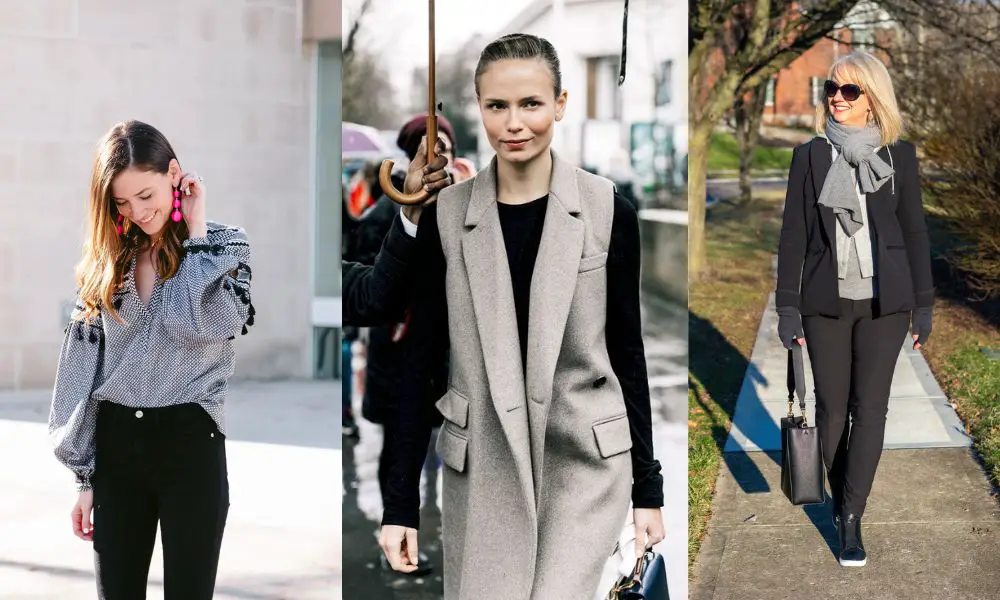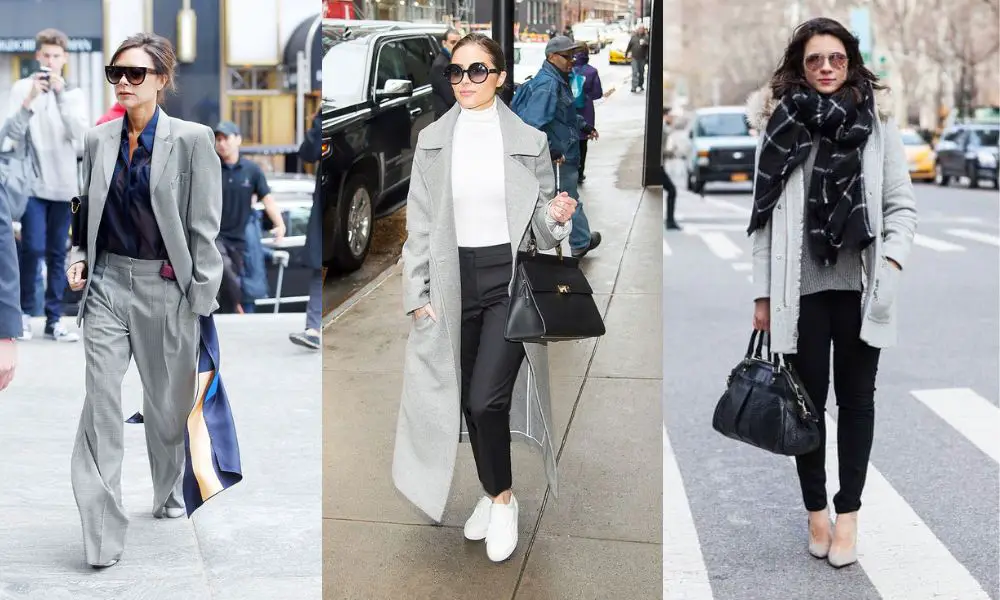 4. Bright Red and Gray
Red is a bright and eccentric color. It needs something soft and neutral to balance its boldness. Well, what could be better than grey?!
The color is a wonderful contrast to the bright red shades. You can pair a grey blazer with a red blouse or a grey top with a red skirt.
If you don't want to wear two entirely different colored clothes, just add a touch of red to your grey outfit. For example, wear a red tie on a grey suit. Or, pick a nice red lipstick color to go with your grey dress.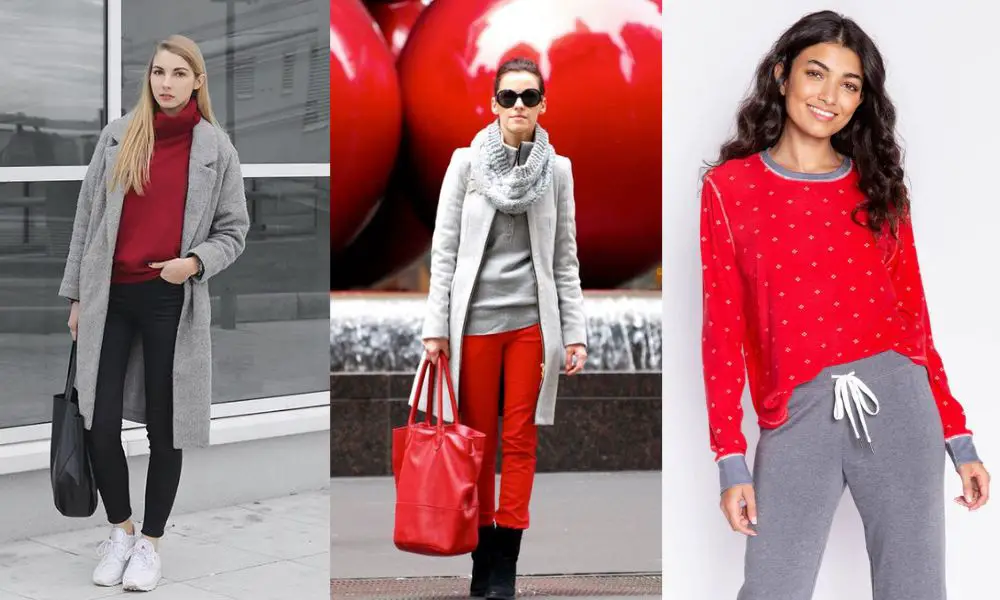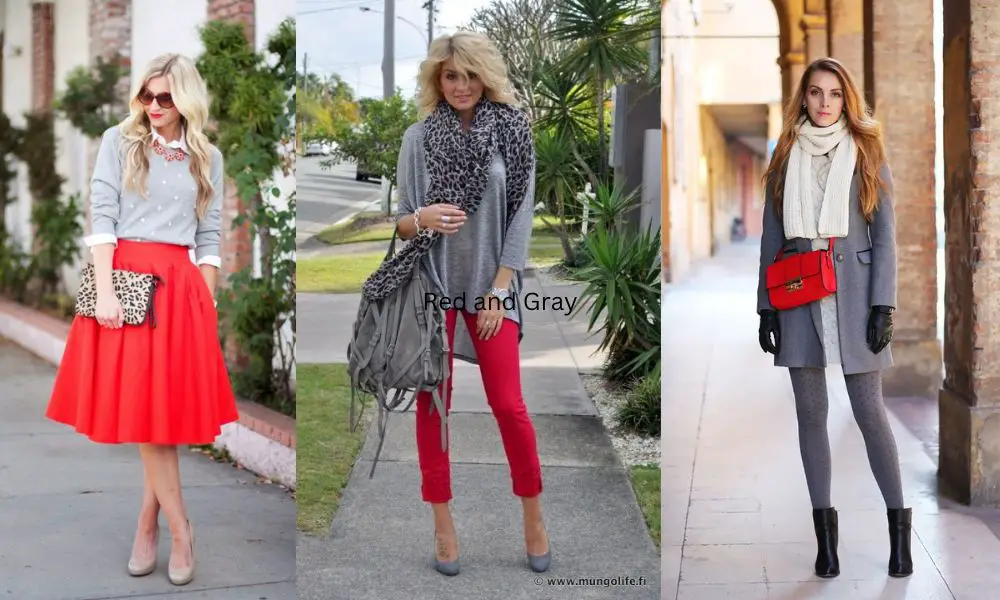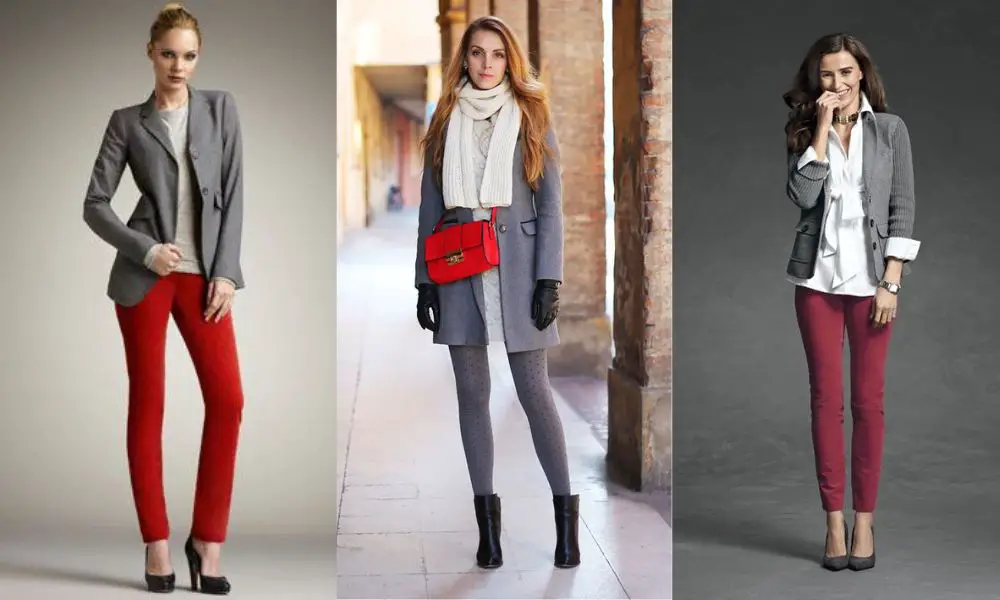 5. Green and Gray
One would think green and grey definitely don't look good together. But, hey, it's all about how you play with the shades!
We're not talking about the regular bright green that you see every day. We're talking about rich, intense emerald green.
This royal color looks striking with different shades of grey. Be it pastel or charcoal grey – an emerald green bottom will light up the outfit. However, you can't really wear this amazing color combination in casual clothes.
If you're looking for something relaxed, we suggest you choose sage green pants or trousers. This shade looks cool while letting you blend in with the surroundings.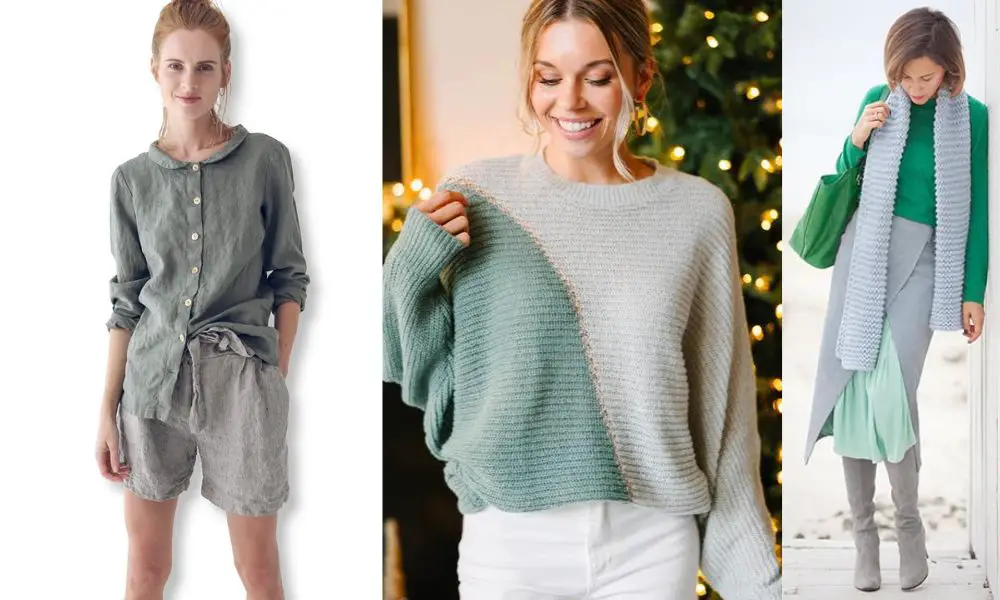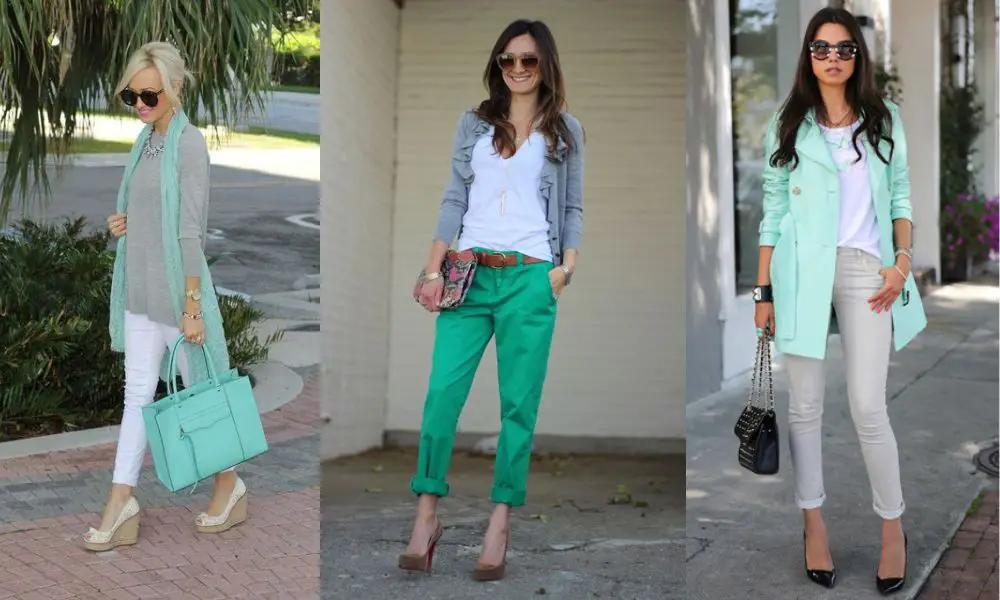 6. Pastel and Gray
Pastel pink with grey is a very soft color match. It looks classic, romantic, and outstandingly adorable.
A great outfit in this color combination would be a pink shirt and a grey suit. This sweet blend will look beautiful and create a calming vibe. Plus, both men and women can wear it easily.
Another amazing example would be a pastel pink knitted top with grey pants and skirts. This would produce a dreamy feel that is ideal for women.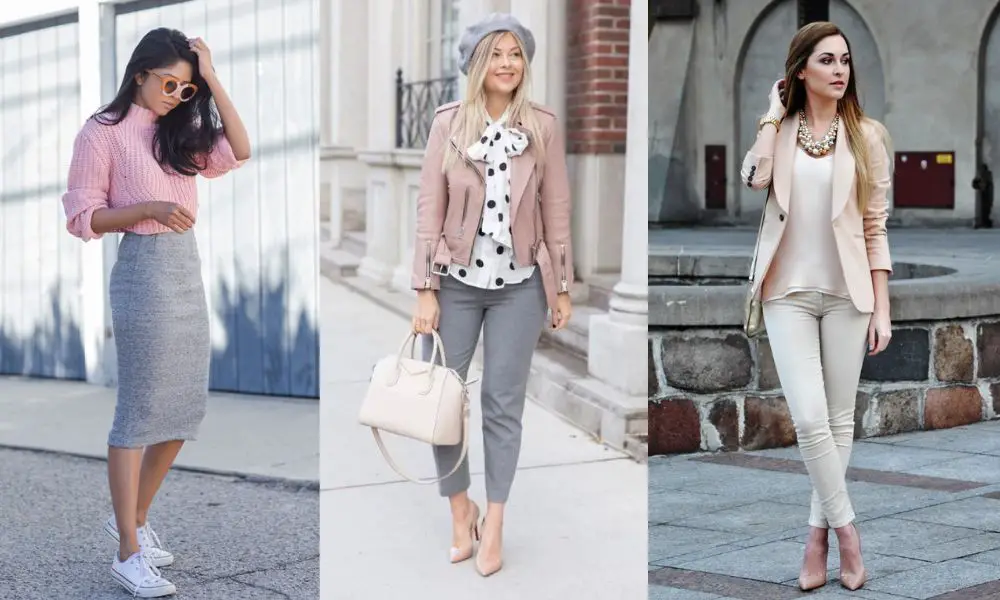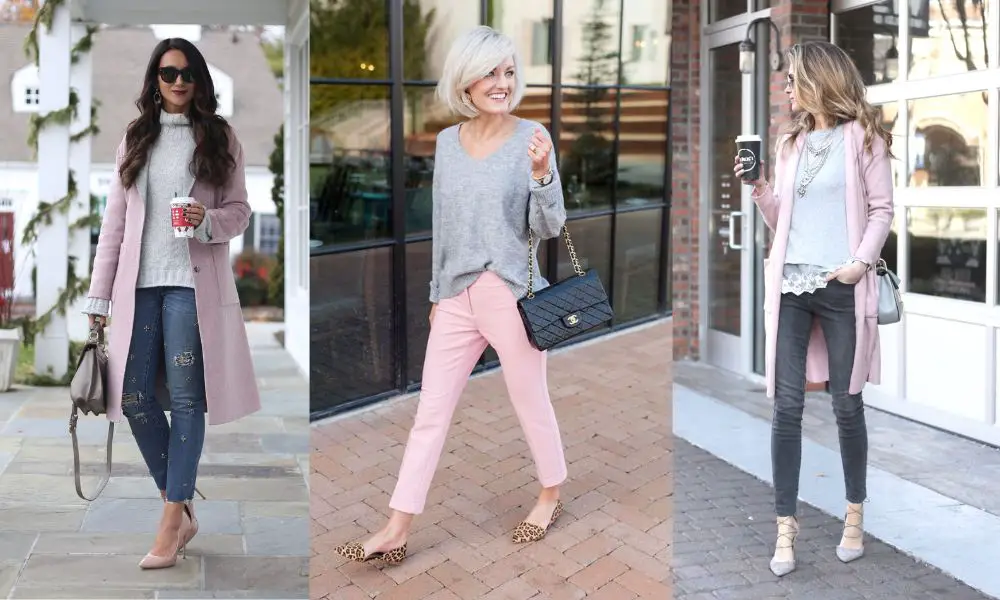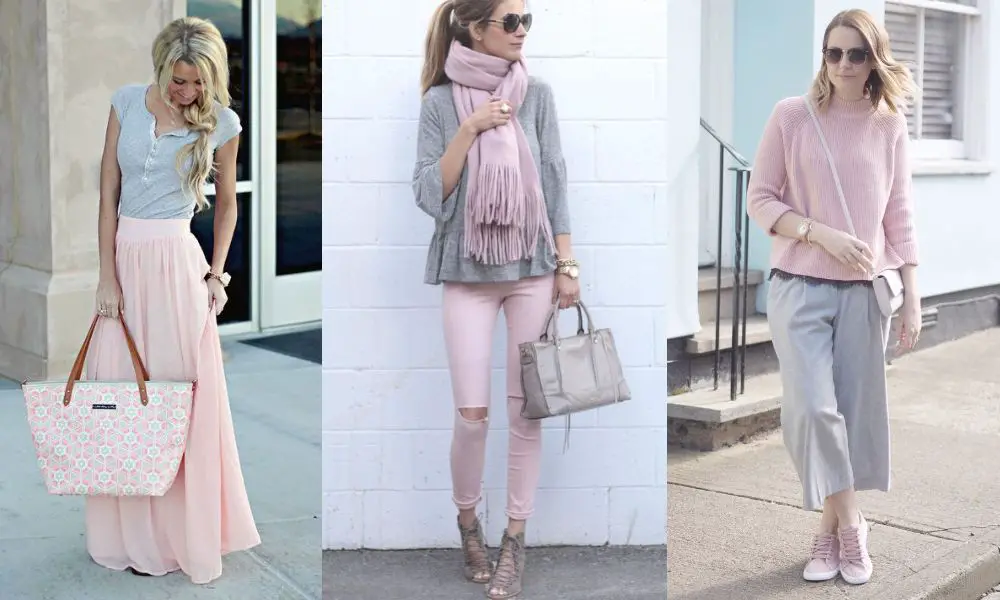 7. White and Gray
White and grey are downright plain. Both these neutral shades work in harmony as none overpowers the other. You can pick a white bottom under a grey top or vice versa.
But, if you wish to spice things up a bit, do not choose solid-colored clothes. Go for grey-white patterns and graphics. This particular blend of colors makes your attire fashionable and trendy.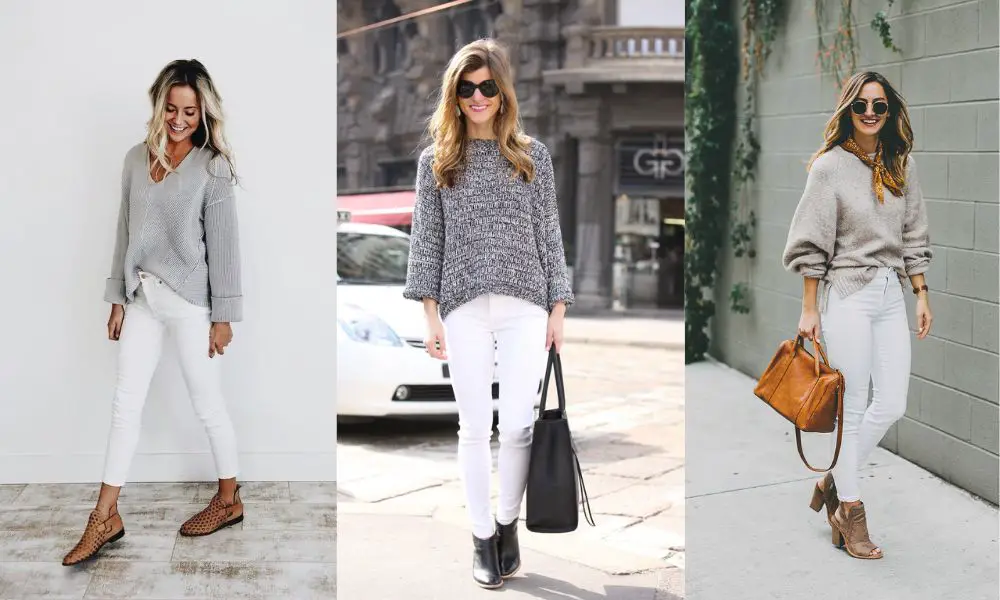 8. Beige and Gray
Beige is another classic neutral color. It's pale, sandy, and very light. You will typically come across men using this color in their office outfits.
The best part about beige is that it goes extremely well with grey tones. It's easy to pair a light grey t-shirt with beige cargo and jeans for a casual look. You can also add more colors like black and brown.
Nothing would look bad with grey and beige!
However, if you just plan to stick with solid beige and grey combos, it's best to choose a shade of beige that has bright yellow tinges. This rubs away too much dullness.
9. Brown and Gray
With a yellow-orange base, brown has a warm tone that adds stability and depth to the outfit. It doesn't really balance other colors like white and beige. But it cuts its boldness using its warm, natural shades.
That said, brown is not only meant to be paired with bright, contrasting colors. The color seems to go well with neutral shades like grey too.
An excellent example includes brown pants and dark grey dress shirts. You can also add accents of brown to your grey outfit in the form of shoes and accessories.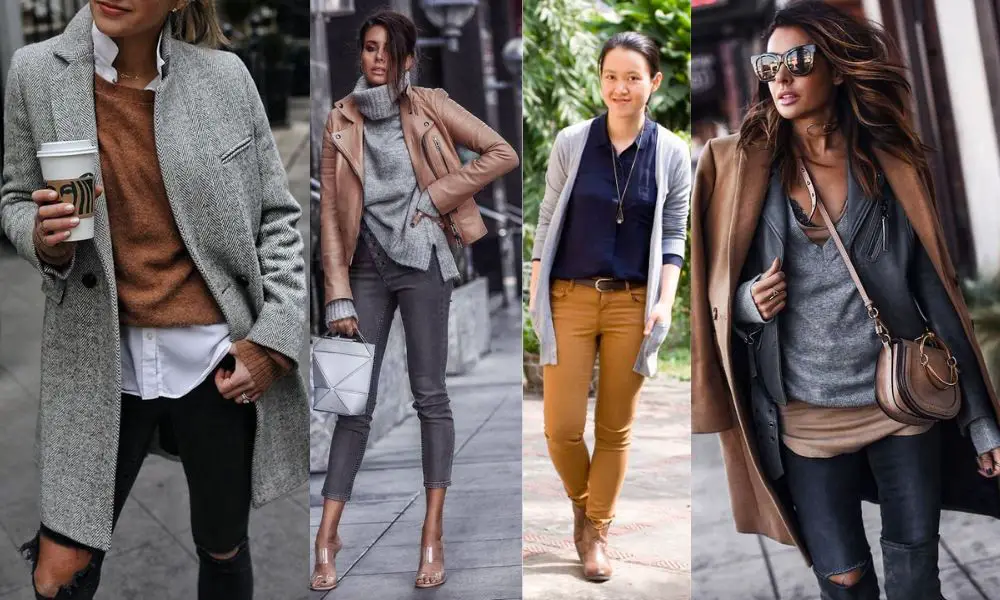 10. Purple and Gray
Different shades of purple look stunning with different shades of grey. You just need to be careful about the weather.
In the summer, mix and match bright purple shades with light grey tones. This gives the neutral color a nice, striking contrast. Meanwhile, deeper shades of purple and grey would look amazing during the dull days of autumn and winter.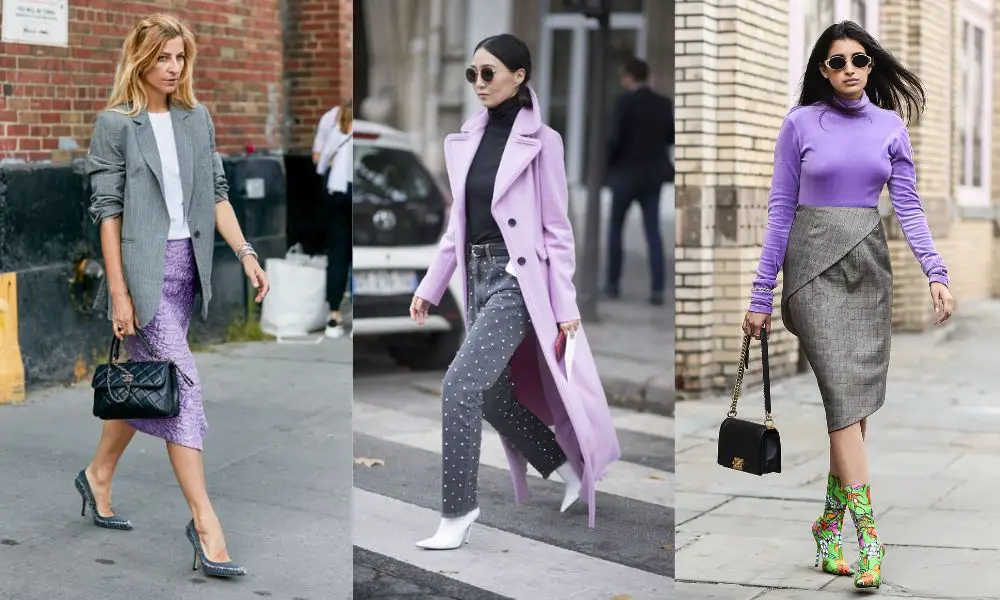 11. Yellow and Gray
Yellow is a color of positivity and happiness. It's the perfect choice to make your grey outfit a bit cheerful and bold.
Pair a bright yellow shirt with muted grey pants or a skirt. Or, add a yellow coat or scarf over your plain grey dress. These two colors would give off a soothing, optimistic vibe.
You can further unleash the potential of this color combination by choosing grey accessories for a yellow dress or jumpsuit. The dull grey accents on the bright yellow background would look absolutely gorgeous!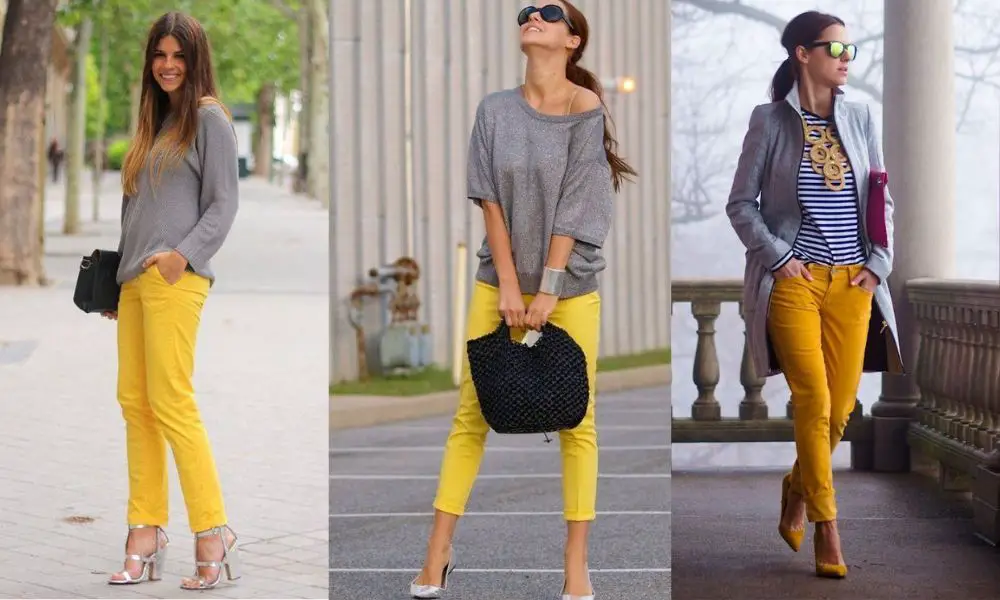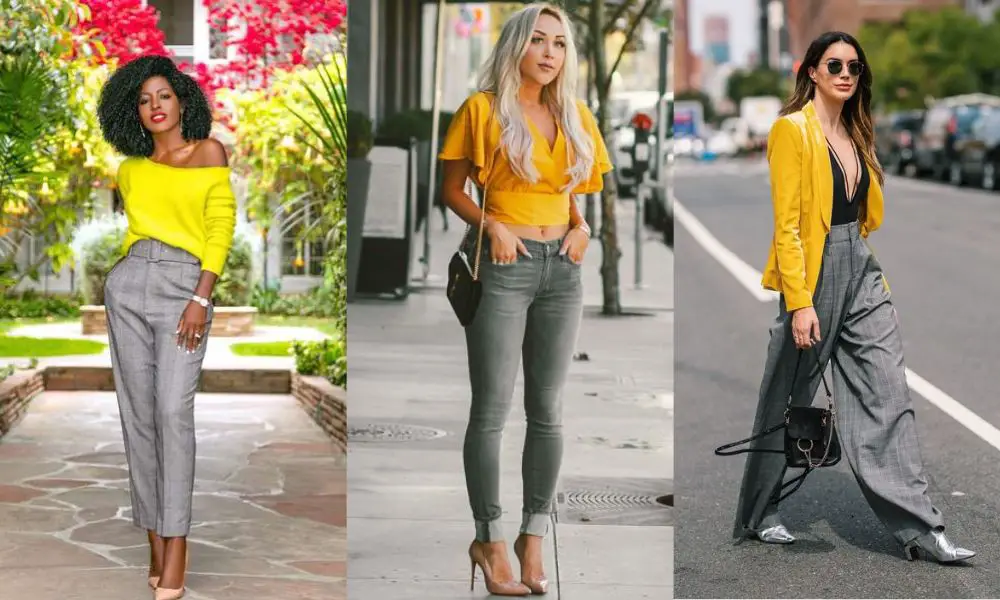 12. Burnt Orange and Gray
Another bold contrast for grey is burnt orange. In case you don't know, burnt orange is the medium darkish shade of orange. It reflects the color of burning flames, hence the name.
Burnt orange has a warm undertone. Also, it is considered to be the ideal color for the fall and winter seasons. So, when paired with grey, the color's subtle feel is further enhanced.
You can wear it in both formal and informal outfits. Just make sure not to select brighter shades of burnt orange.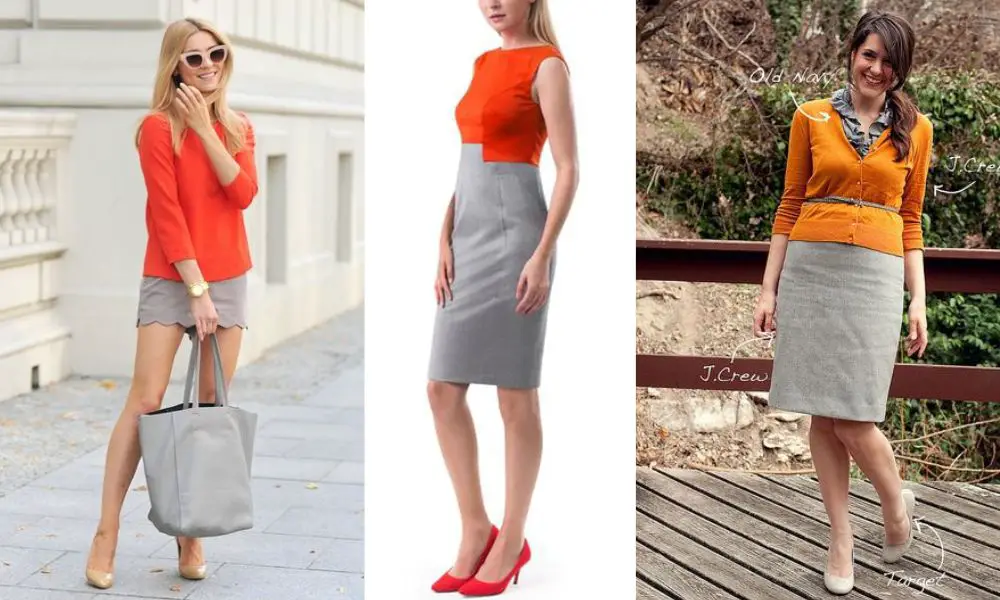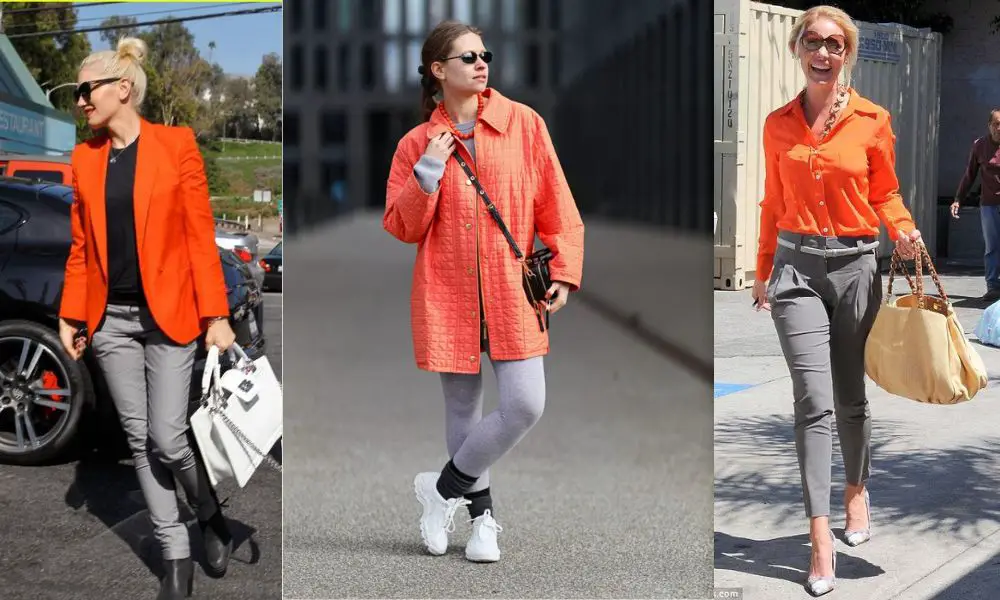 13. Bright Lime and Gray
Lime and grey isn't the usual color choice in casual and daily wear. But, when going to a fancy event, this color can make you the highlight!
It's because grey is a muted color, and the lime adds the perfect pop of brightness to uplift the outfit. That said, pairing solid lime and grey clothes can be a bold fashion statement. If you don't want to try that, go with adding small amounts of lime to your grey attire.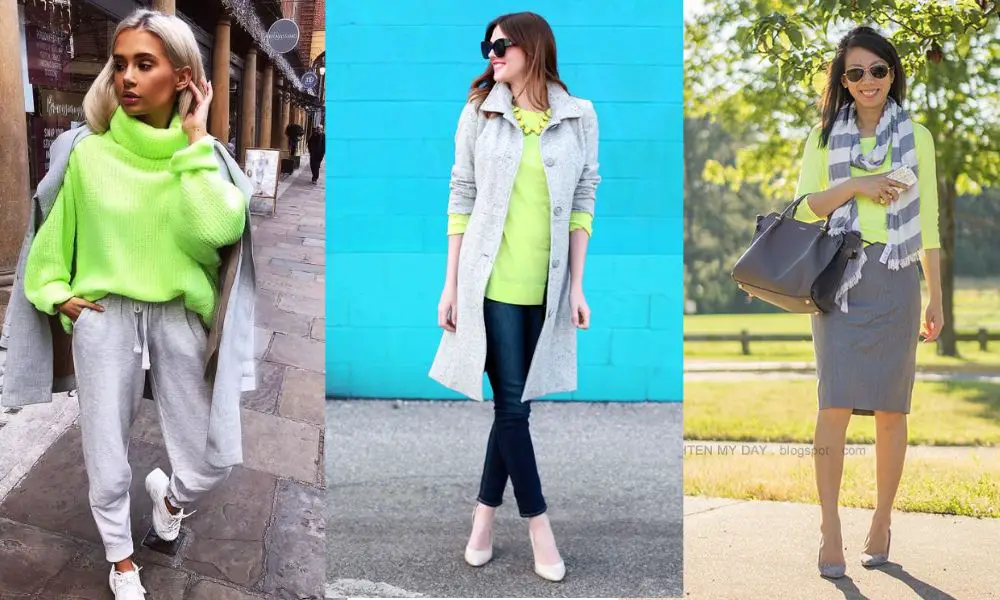 How Do You Style Grey Clothes?
Stylizing grey clothes isn't very difficult. Just keep the following tips in mind, and watch yourself turn into a fashion diva in no time!
Consider Your Skin Tone
Grey is a neutral color, but it doesn't look fabulous on all skin types. Only people with cool undertones can wear all-grey variants. Others with warm undertones can risk washing away the color of their face.
It can be prevented by wearing grey clothes on the bottom. This includes pants, jeans, skirts, cargo, and trousers. You can also cancel the wash-out effect by using grey accessories instead of clothes.
Select Textures & Prints
Solid grey clothes can look dull and boring. You can add excitement to your outfit by using grey clothes with bold prints. A great example is polka dots, stripes, and vibrant graphics.
It's also possible to uplift things via texture. Try to add dimension with fringes, lace, suede, leather, and similar materials.
Add Bright Accessories
The only thing grey needs to shine is a pop of color. You can do this by combining it with a good color or adding bright accessories to the attire. It can be anything from a purse to jewelry.
As long as it's bright and bold, you can expect it to be the highlight of the night. Some fabulous accessories for grey clothes ideas include a red purse, yellow scarf, brown hat, and blue shoes. Alternatively, you can imitate the same effects by doing bold makeup.
FAQs
What shirts go with grey pants?
T-shirts, dress shirts, crewnecks, sweatshirts, and a lot of different shirts go with grey pants. But, the key to a good grey outfit isn't present in the shirt type. It's in the color of the shirt.
Generally, crisp white and navy blue shirts look great with textured grey pants.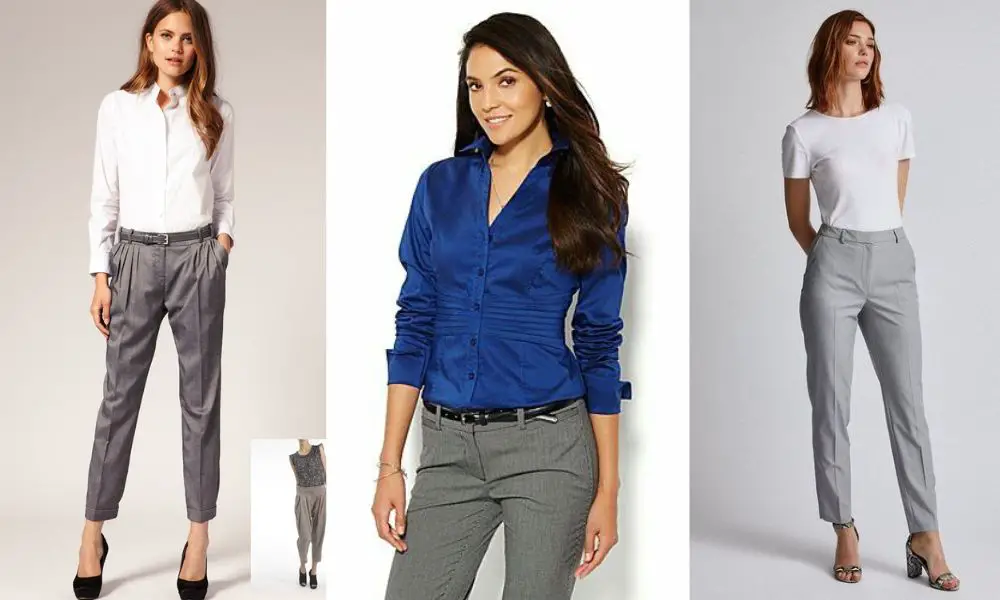 What to match with grey pants?
You can match a lot of different things with grey pants. In uppers, you can go with a tucked-in dress shirt. You can also layer clothes by adding a black blazer.
As for colors, the possibilities are endless because grey is a versatile and neutral color. You can pair white, black, blue, pink, brown, beige, and many more.
What color shoes go with grey pants?
Brown and black are considered to be the best shoe colors for grey pants. Both neutral colors do not steal the viewer's attention from the outfit.
However, if you wear contrasting bold colors like red, the case would be the opposite. People will end up seeing and noticing the shoes more than the clothes.
Who looks good in grey?
Anyone can look good in grey as long as they stylize it the right way. But, if you're very concerned with who can rock the grey color better, look at your skin tone. Generally, people with cool skin undertones look more wonderful in greys than ones with warm undertones.
Will grey ever go out of fashion?
Since grey is a highly versatile color, it's impossible for it to go out of fashion. It's an important color in almost every wardrobe. Plus, there are several great color combinations that include grey.
Last Words
All in all, grey is a subtle color choice for clothes. It can be cool, cute, and classy, depending on the color combinations. So, be wise about what colors you select to wear with grey clothes.
We discussed 13 – options in this article that we think look the best. If you think some other color should be included in the list, do let us know in the comments below!