As the weather starts to cool down, you're probably thinking about what you'll be wearing for the fall and winter. For us, brown dress shoes are an essential wardrobe staple, but choosing the right combinations can be tricky.
In this post, we'll show you what to wear with brown dress shoes and how to put together an outfit that will look great and make you feel confident. You'll be able to mix and match colors and patterns to create outfits that are perfect for any occasion. Keep reading to find out!
What to Wear With Brown Dress Shoes: The Best Outfit Combinations
When you have brown dress shoes, what should you wear with them to look your best? While there are many different options, we have narrowed it down to twelve of the best combinations.
Brown Dress Shoes & Black Pants
Do brown shoes go with black pants? Yes, they do! This classic look has been popular for decades and is a perfect outfit for all sorts of occasions. However, here are a few key things you should consider.
First of all, it is important to choose a complementary color combination. In general, darker shades of both brown and black will pair well together, while lighter colors may draw too much attention and create an odd look.
Pay close attention to the top of your shoe, since that part will be one of the main focal points of the outfit. Choosing a streamlined or minimalist design can help you avoid looking too formal or stuffy. Additionally, adding some small touches of texture or pattern can help add interest without detracting from the overall sleekness or professionalism.
For a polished look, opt for patterned button-down shirts in deeper shades like red or forest green, as well as lighter colors like blue or white. However, you can also go for more understated shirt styles, such as solid colors without any patterns or bold colors.
Brown Shoes & Jeans
There is no question that brown shoes and jeans are a classic pairing that never seems to lose its appeal. The understated earthy tones of both brown shoes and jeans complement each other perfectly.
Generally speaking, brown shoes go best with darker shades of denim. A deep chocolate brown or whiskey colored shoe will look great against dark gray or black jeans.
If you prefer a more casual look, try pairing light brown footwear with lighter colored denim in a distressed wash for an on-trend vibe that is perfect for weekend wear.
If you want to achieve a preppy look, pair your favorite pair of brown Oxford shoes with a pair of dark wash, straight leg jeans. You can also try cuffing your jeans for a more polished finish. Accessorize with items like patterned socks, t-shirts with logos, or structured outerwear pieces like blazers or bombers.
Brown Dress Shoes & Grey Pants
Do brown shoes go with grey pants? They certainly do! This combination is a classic for good reason. Grey pants provide a perfect backdrop for prominent brown shoes, allowing the footwear to really stand out.
To make this combination look its best, there are several tips worth keeping in mind. It is usually best to avoid looking too sleek or polished by opting for a pair of dress pants made from a more textured fabric like linen or cotton rather than suit material.
Another important element is choosing the right shade or hue of grey; cooler greys like slate and steel will pair especially well with darker shades of brown while warmer greys like beige or camel can complement lighter shades nicely.
Brown Shoes & Brown Pants
Many people are hesitant to pair brown shoes with brown pants. They worry that such a combo may be too boring or too bland, and that it might be considered unfashionable. However, it is possible to rock the brown shoe/brown pant look if you approach it the right way.
To pull this look off successfully, it's important to pair it with some colorful pieces on top, such as a smart blazer or a bold patterned shirt. You can also add visual interest with accessories like a tie or scarf, which will balance out the monochromatic tones of your outfit.
Brown Shoes & Suspenders
To wear brown dress shoes and suspenders, start off with the right pair of shoes. Choose a classic style in a medium shade of brown that goes well with your other clothing items. Avoid pairs that are too dark or too light, as these will not look as polished or put-together.
Once you've found the perfect pair of brown shoes, add some statement-making brown suspenders to complete your look. Whether you go with traditional leather braces or opt for one of the newer elastic options, don't be afraid to be bold with your choice of pattern or texture.
Brown Shoes & Red Pants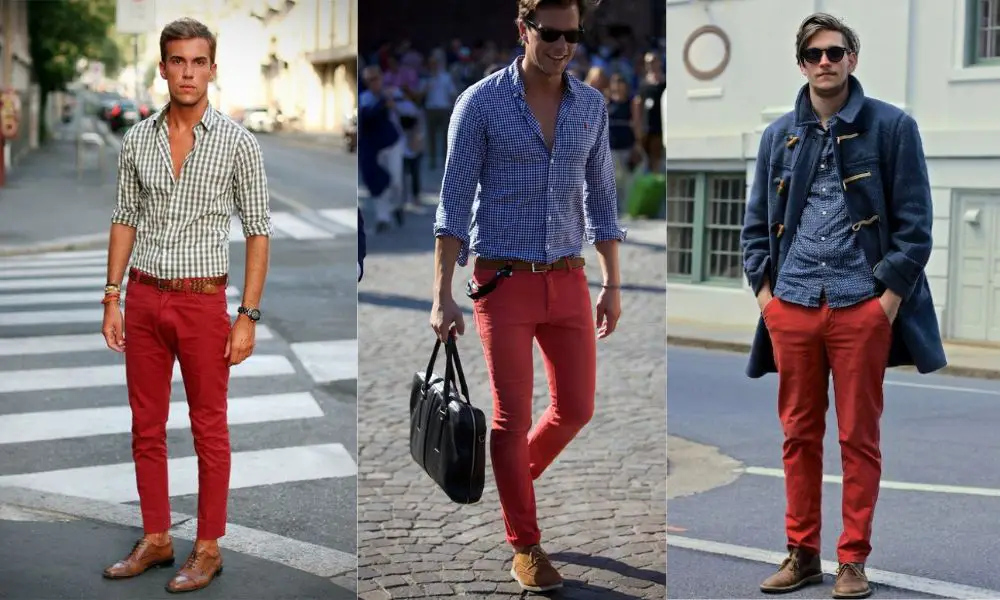 At first glance, brown dress shoes and red pants may not seem like the perfect combination – but that's not necessarily the case. The key to wearing brown dress shoes with red pants is to keep the look funky and modern.
Red can easily overpower a neutral shade like brown if you aren't careful, so you want to make sure that your pants are dark enough that they won't clash with your shoes. A slightly muted shade of red or a deep maroon color would work well in this scenario.
A darker shade of brown is typically best for this type of look – something along the lines of chocolate or espresso would be great options. Avoid lighter shades such as tan or beige, as they will simply get lost when paired with the vibrant hue of red.
With these two key elements in place, you can then start adding some classic touches like a white dress shirt or a fitted blazer to complete the ensemble.
Brown Shoes & Brown Leather Jacket
Brown shoes and brown leather jackets are often associated with bad boys. These rugged, masculine styles tend to exude a rebellious, bad boy vibe that is both alluring and intimidating.
For best results, choose a jacket in an earthy shade such as chestnut or dark chocolate to match your shoes. Another factor to keep in mind is texture. If you're pairing different textures together, then it's important to make sure that they complement each other rather than clash or compete for attention.
With brown shoes and brown leather jacket we love to pair darker pants, such as black or navy blue. Another good choice is earth tones like beige or olive green, which will help to ground the outfit and create a tasteful and cohesive look.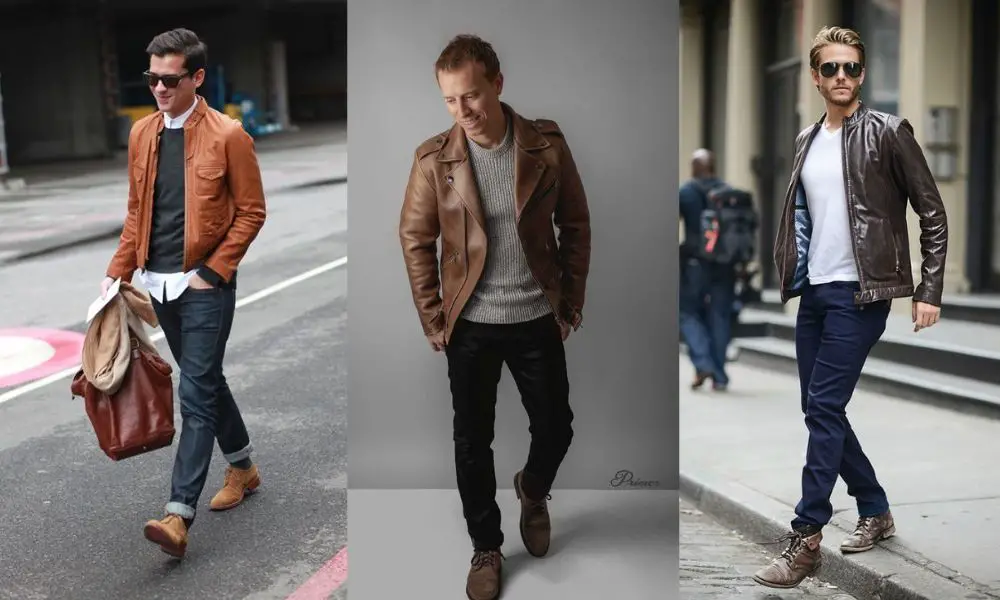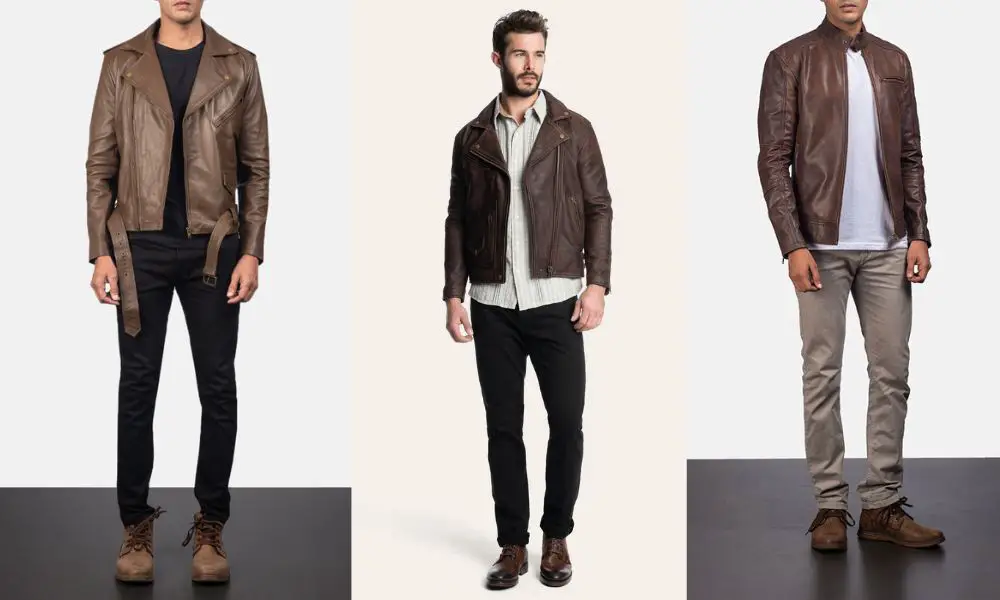 Brown Shoes & Black Leather Jacket
Many people assume that you can't wear black leather jackets with brown footwear, seeing as how the two items are seemingly polar opposites in terms of color. However, this common belief is actually not true.
In order to successfully pull off a black leather jacket with brown dress shoes, there are a few key elements that you need to keep in mind. First, your choice of clothing should be minimal and understated, allowing the pop of color from the jacket and shoes to really stand out.
This means keeping the rest of your outfit simple, with muted colors and simple shapes. Other key elements include choosing dark neutrals for your shirt and pants, as well as layering with accessories such as a brown belt or scarf.
Brown Shoes & Charcoal Suit
For many men, the go-to choice for a formal ensemble is a pair of classic brown dress shoes paired with a tailored charcoal suit. This combination is sleek, understated, and always appropriate for any type of event.
The shade of the shoes should be complementary but not matchy-matchy. Soft, neutral tones like medium brown or tan work well with a charcoal suit, while darker shades may overpower your outfit.
Additionally, it is important to consider the material and texture of both the shoes and the suit. Leather shoes will look more elegant and formal than suede or canvas, while silk ties can help to elevate an understated suit.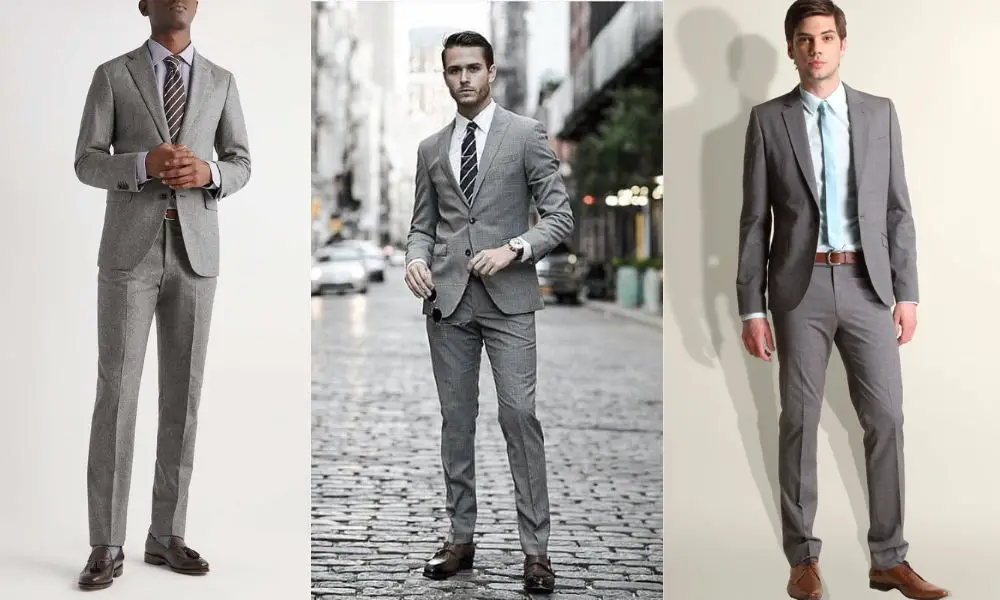 Brown Shoes & White Pants
When it comes to wearing white pants, many men may think that it's a style that is best left to women. But the truth is that with the right approach, white pants can look just as stylish on men as they do on women.
It's important to pair your pants with a shade of brown that complements the color of your skin. At the same time, you should avoid pairing light brown dress shoes with pale white pants, as this can create an unflattering contrast. When in doubt, opt for a darker shade of white or choose cream instead.
Next, it's essential to ensure that the pants fall smoothly over your shoes without bunching up or being too tight. And your pants should be neither too tight nor too loose around the waist and crotch areas.
Make sure that the proportions of your outfit look balanced. For example, you might choose a long-sleeved button-up shirt that falls just below the waistline of your pants, or you could opt for a more fitted short-sleeved tee.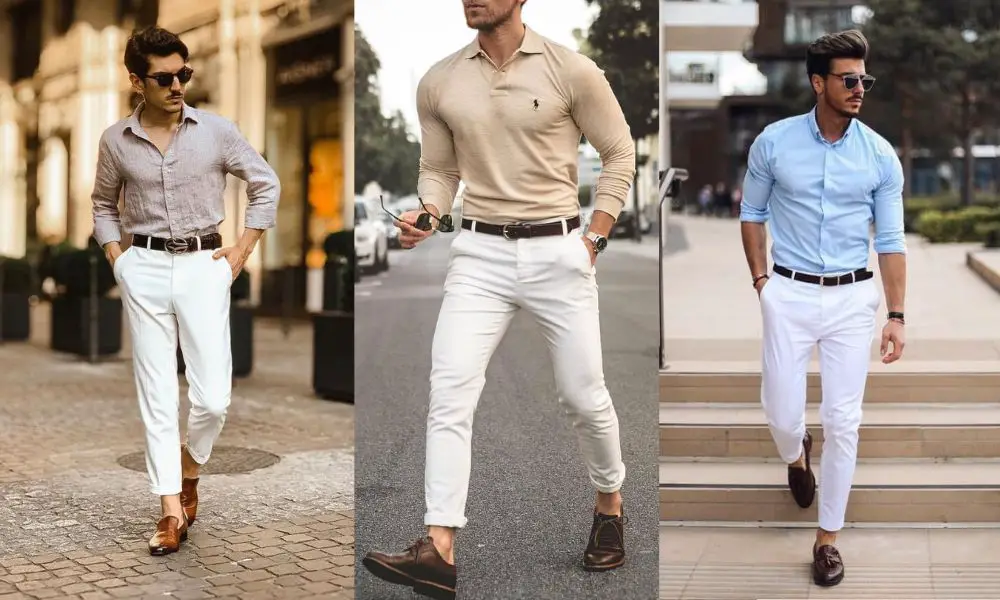 Brown Shoes & Blue Suit
One reason that brown dress shoes work well with a blue suit is that the two colors are complementary. This means that they each contain the opposite color on the color wheel from the other, creating a pleasing balance of tones when they are paired together.
Darker blues are generally more versatile and can be paired with both light and dark brown shoes. In contrast, lighter blues can be tricky to pair with brown shoes, as they may clash or look too casual.
The texture of your suit is also important in creating a polished look with your brown dress shoes. A fine wool or tweed suit will complement supple leather shoes perfectly, whereas suede should be matched with chunky wool suits for an understated, yet stylish look.
Brown Shoes & Olive Chinos
By choosing contrasting hues like brown and olive, you can achieve a stylish look that is polished yet still relaxed and comfortable enough for everyday wear.
It's important to think about the style and shape of the chinos you're wearing. Loose-fitting or skinny chinos work best with sleek and streamlined dress shoes, while bootcut or straight-leg models pair well with more formal styles that feature a slightly thicker profile.
For an easy day-to-night look, try pairing a pair of dark, classic oxfords with some smart chinos for work, and then switching over to some stylish loafers for your evening activities. A slightly darker shade of olive can provide a richer contrast against lighter brown shoes, whereas a brighter green will help to highlight darker shades of brown.
When it comes to texture, suede or matte leather creates visual interest and makes your look more interesting; while traditional smooth leather tends to be more classic and conservative in style.
Final Thoughts
With brown dress shoes you should always opt for classic, understated pieces that will allow the focus to remain on your shoes. Neutral tones such as grays and blacks tend to be the most complementary, although muted shades of blue can also be great options.
Also consider the occasion and formality level of your look; for professional settings, you will likely want to choose more subdued colors and understated details, while social gatherings may be the perfect opportunity to show off your personal style.
And if you have any questions or concerns about what to wear with brown dress shoes, just let us know in the comments!