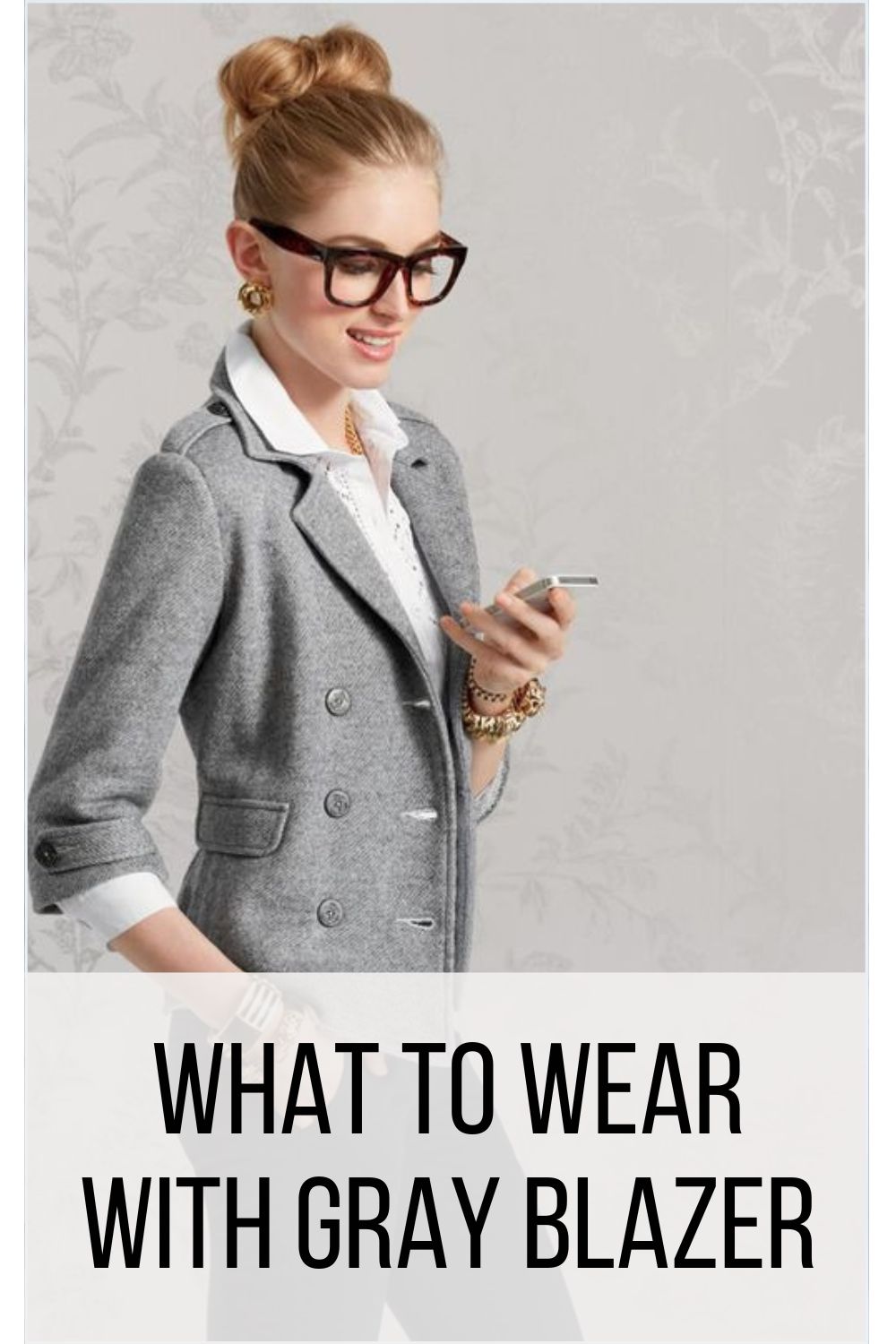 A gray blazer is a must-have for every gentleman! A gray blazer is a wonderful alternative for dressing for the office, a professional occasion, cocktail drinks, or even a casual supper.
Gray blazers are far more adaptable than standard black blazers and may be worn with a variety of outfits.
Although this means there are several outfit possibilities for this classy and attractive jacket, you'll still need to know what to wear with your gray blazer for the finest appearance.
Light Gray Blazer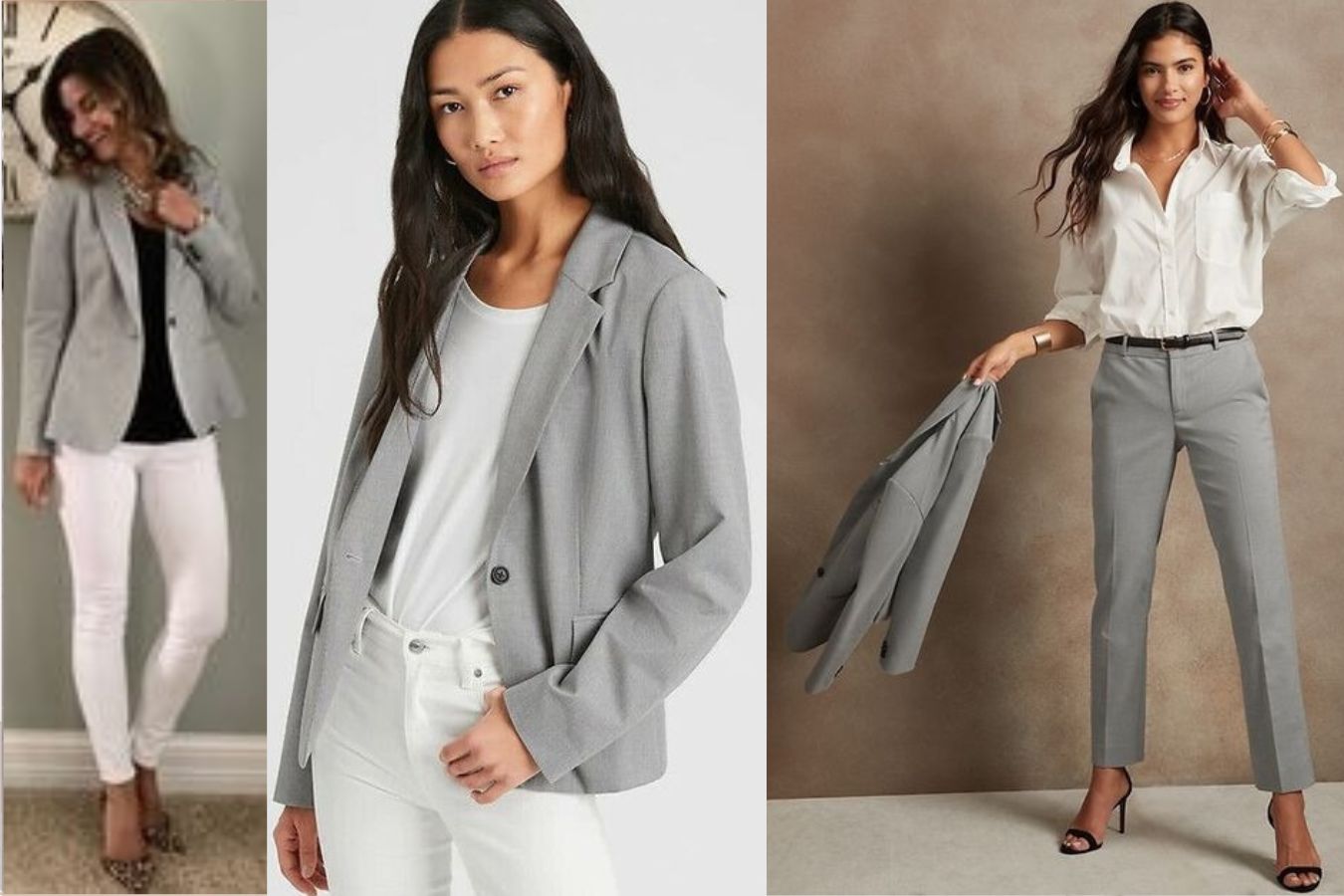 While many blazers might appear heavy in warm weather, soft gray designs appear light and airy. As a result, a light gray blazer is an excellent choice for summer and spring occasions.
To get the effect, keep the remainder of your clothing in comparable tones. Choose white pants with a light blue shirt for a clean style, or beige chinos with a white shirt for a somewhat warmer vibe.
Because black shoes might seem too dark when combined with light-colored clothing, choose brown or navy instead.
Mid-Gray Blazer
A mid-gray blazer is an extremely flexible item of apparel. Because of its neutral color, a mid-gray blazer may be worn with both light and dark outfits.
The style, for example, may look just as spiffy with plain white pants as it does with standard black trousers.
Similarly, the jacket may be worn with navy blue motifs and styles in gray tones. Whatever pants you pick, keep the rest of your look clean and traditional with a white shirt.
Dark Gray Blazer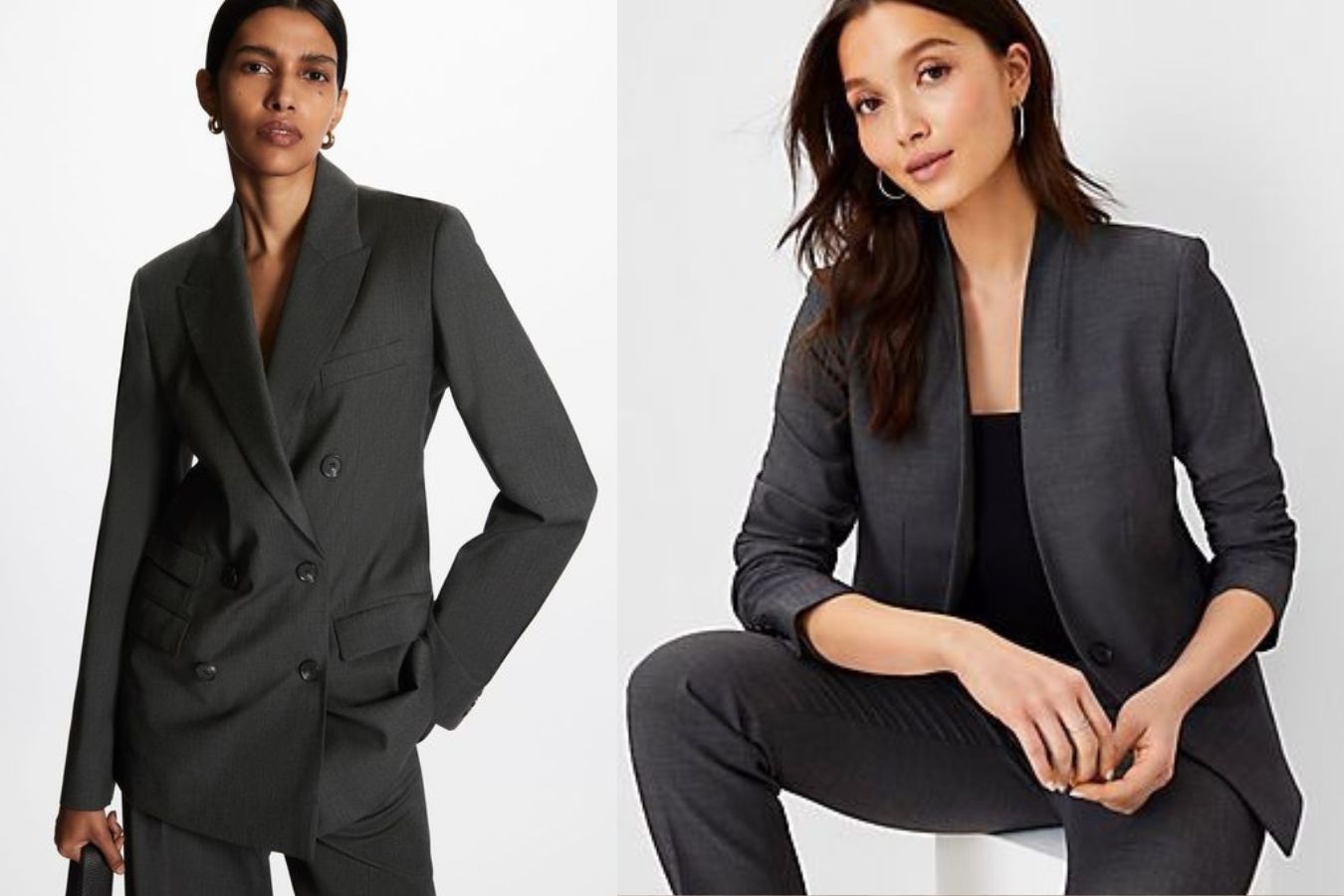 Although many gentlemen prefer lighter-colored blazers, the deep-hued style might be a great choice. Consider purchasing a high-quality dark gray blazer as a fashionable alternative to your standard black jacket.
While maintaining a traditional appearance, a dark gray blazer might look more modern and dynamic than a typical black design.
Just remember to wear it with darker jeans to avoid seeming too top-heavy.
Gray Tweed Blazer
Tweed is a versatile fabric that may be used in both formal and casual settings. A gray tweed blazer is no exception to this rule, as it looks great with everything from suit pants to jeans.
The thick, textured fabric is great for fall and winter. This winter, try a gray tweed blazer with stone chinos, a white oxford shirt, and black dress shoes for a great semi-formal look.
Gray Linen Blazer
A gray linen blazer is an excellent choice for a jacket that can be worn for both smart casual and semi-formal occasions.
Despite their polished look, linen blazers are lighter, thinner, and less structured than other designs, making them appropriate for less formal ensembles. A linen jacket in light gray is also a wonderful choice for summer due to its very breathable fabric.
For a trendy appearance, pair a light gray linen blazer with light chinos, a white T-shirt, and sneakers or loafers.
Gray Blazer with Gray Pants
When wearing a gray blazer with gray slacks, pick pieces with a comparable or matching tone, as hues of gray can differ greatly.
You may easily use this style for formal gatherings and occasions with a white button-up and brown oxford shoes after you've located a good pair or a suit.
If you want a more modern and fashionable style, consider adding a casual mood with an oxblood polo shirt and white shoes.
Gray Blazer with Black Pants
By wearing a gray blazer with black jeans, you may create an ensemble that is both classic and modern. Consider wearing a white oxford shirt, a black tie, and black loafers or oxford shoes to your next formal function. Just remember to keep the look balanced by wearing a light or mid-gray blazer.
Gray Blazer With Navy Pants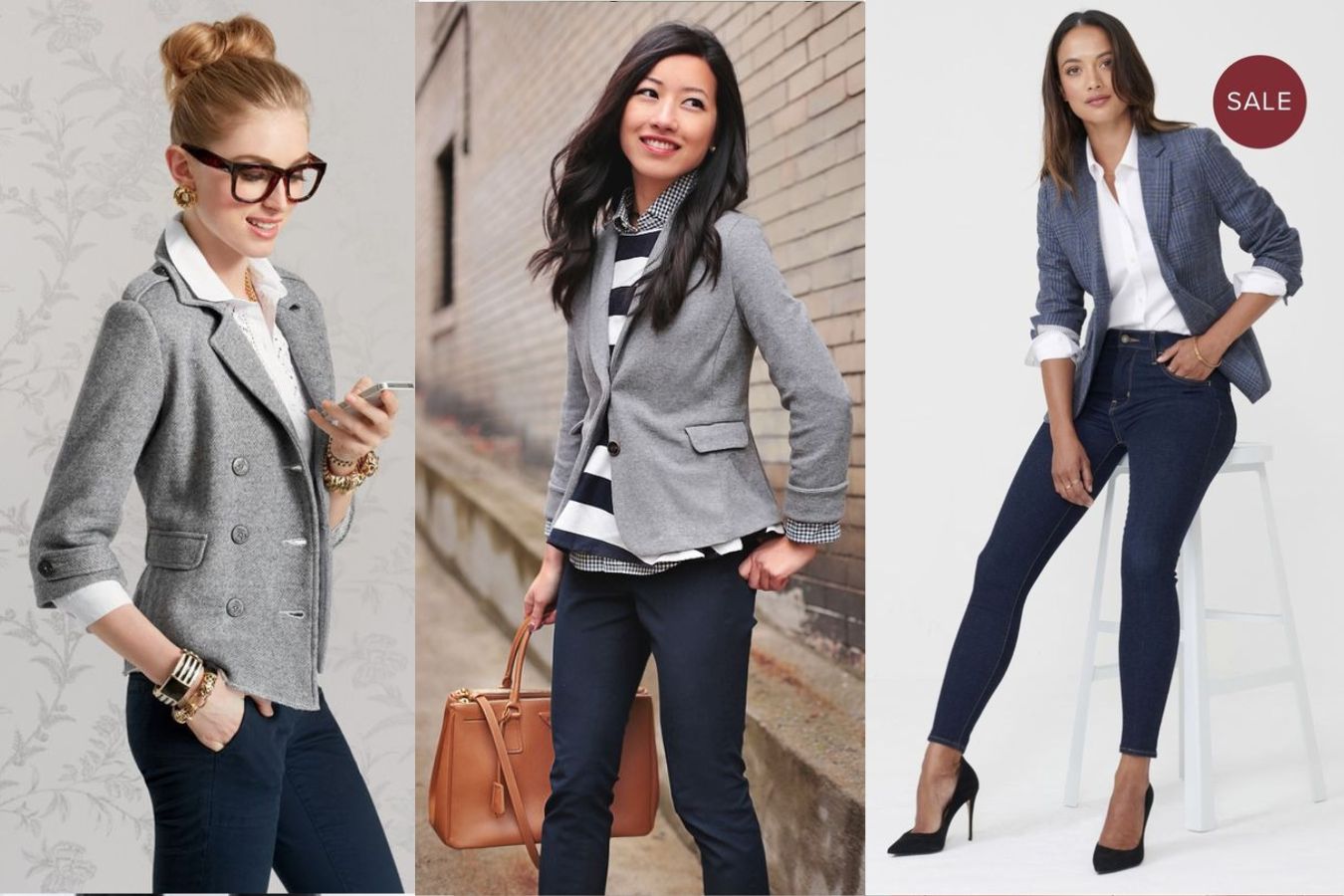 Navy trousers are a wonderful alternative for gentlemen who want to mix their gray blazer with something a bit more colorful than gray, white, or black pants.
The appearance is appropriate for both business and cocktail parties, and it is both sophisticated and stylish. Because navy pants are dark, a little lighter color on top with a mid-gray jacket might be a great alternative.
To complete the look, use a red tie, white oxford shirt, and black leather Chelsea boots.
Gray Blazer with White Pants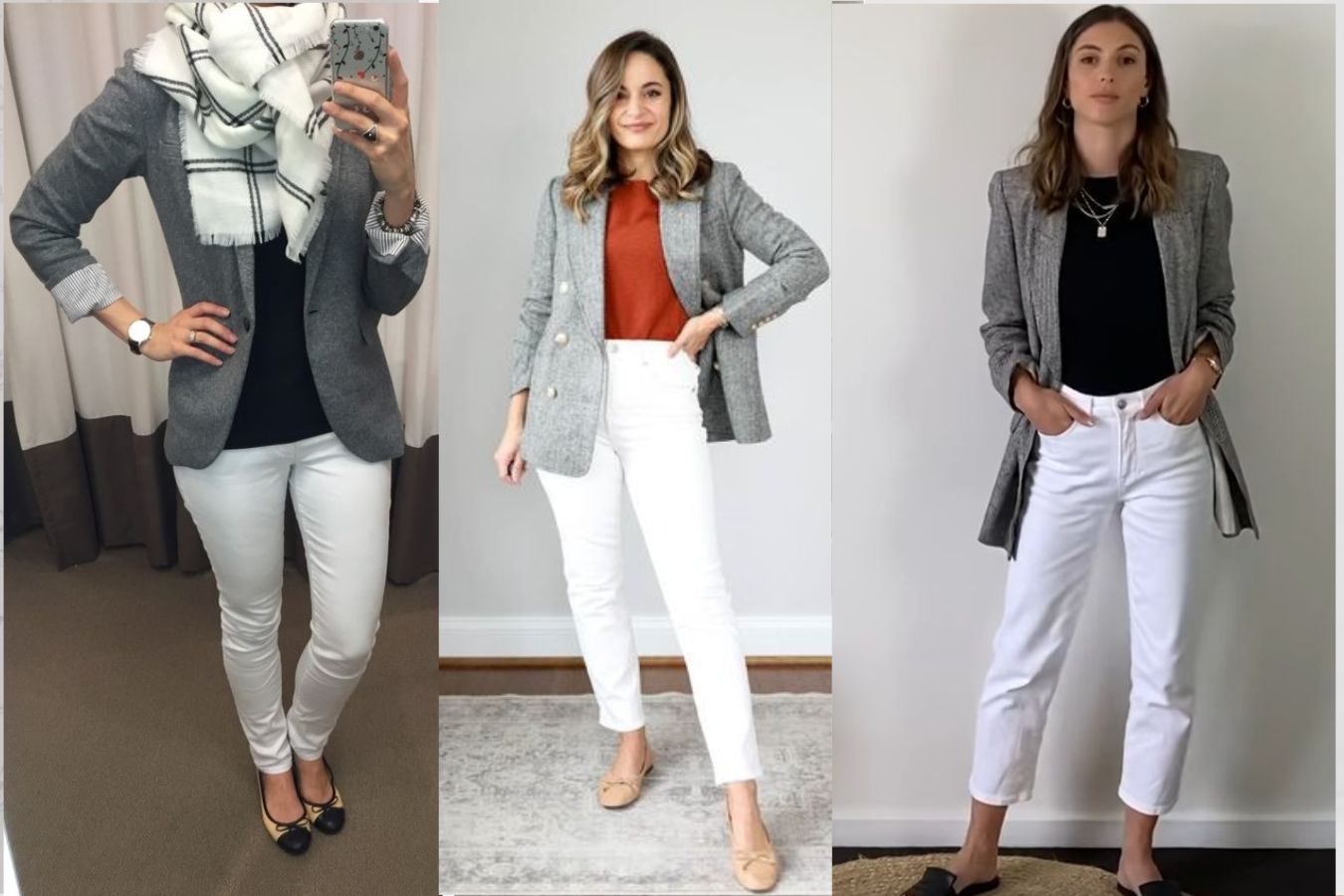 White pants are generally difficult to wear. While both white and black blazers might make an ensemble with white pants look imbalanced, a gray blazer can nicely compliment the trousers.
By pairing a light or mid-gray blazer with white slacks, you may create a trendy style that is ideal for summer.
Choose a blue waistcoat over a white shirt with a brown belt and shoes to maintain the look sharp while providing a burst of color.
Gray Blazer with Jeans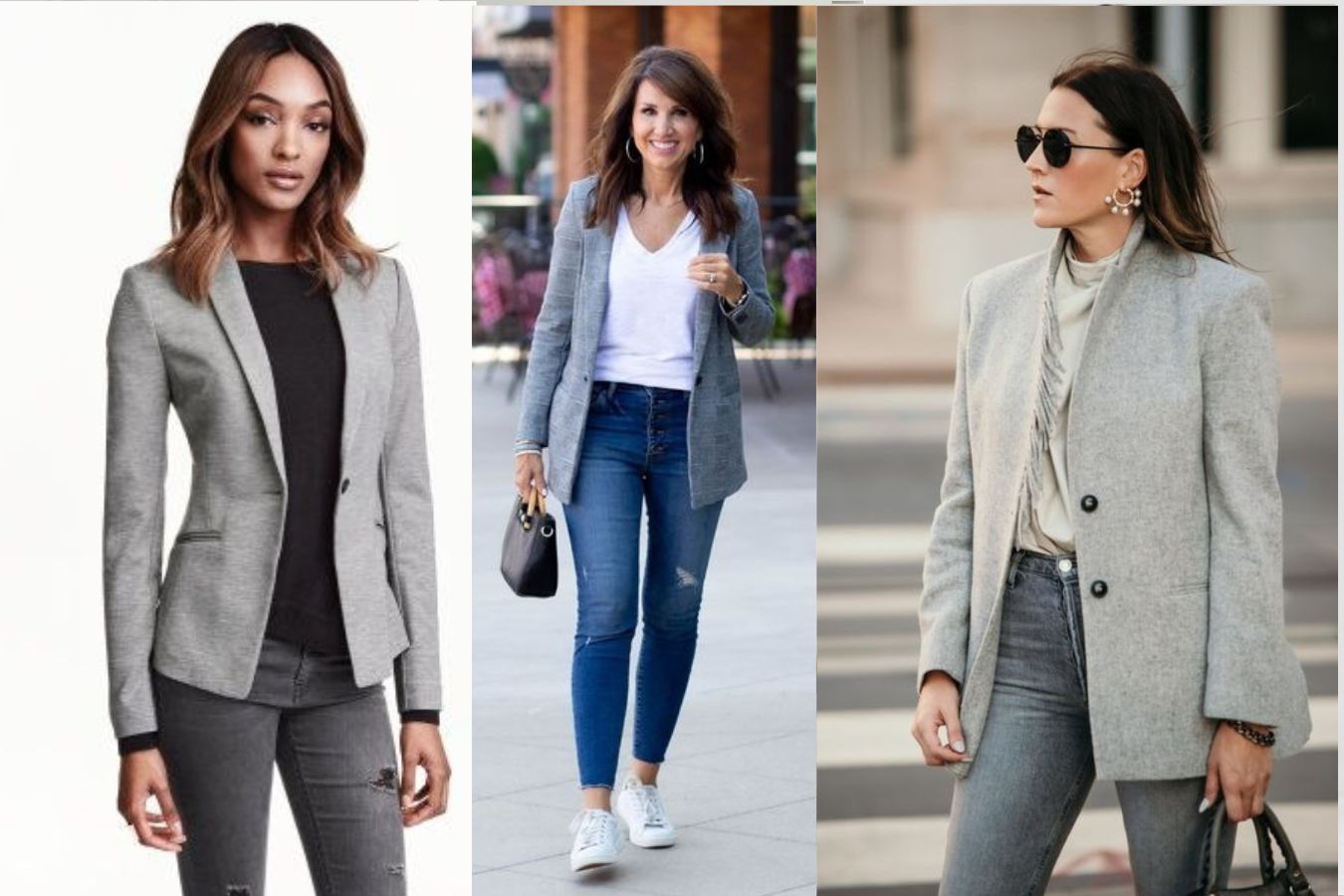 While a gray blazer may look elegant and dashing as part of a formal suit, it can also look cool and sharp whether worn casually or smart casual.
As a result, wearing your gray blazer with a pair of jeans is a great choice. Wearing a blazer with jeans is a terrific weekend choice for creating a sophisticated yet relaxed look.
For a cool twist on this look, wear a dark gray blazer with a pair of narrow blue jeans and either a sweater or a T-shirt.
Gray Blazer with Chinos
Wearing a blazer with chinos is a tried-and-true way to get a semi-formal appearance in style. You can't just put on any blazer and chinos.
Color is crucial, and a gray blazer is a fantastic choice. You may put together a pretty stylish ensemble by wearing a mid-gray jacket with light gray chinos.
Then, just add a white shirt and a pair of black loafers to complete the look. No ties are necessary.
Should You Wear Jeans With a Gray Blazer
It's always worth remembering that no matter how professional your grey blazer is, it should never be worn with jeans in a formal atmosphere.
Jeans will always appear unprofessional in formal and business-professional contexts.
The outfit is best reserved for casual and smart-casual occasions.
While the list of events and occasions when these dress rules might be used is extensive, examples include garden parties, dates, meals at mid-level restaurants, and so on.
It should not be worn to weddings, interviews, business functions, or other situations where underdressing is possible.
Slim-fit jeans are perfect with a gray blazer.
Wide-leg, straight-leg, bootcut, or thin jeans will always look better than baggier or more daring fits.
Tapered jeans are always more formal than more attention-grabbing versions.
This is important since you want the jeans to appear formal enough for the gray blazer. Failure to do so will result in a formality mismatch.
It's the same reason why faded jeans seem out of place with a grey blazer. Jeans with rips, frays, and fading appear too casual to pair with even the most casual-looking gray blazers.
How to Wear a gray Blazer
Choose from light, medium, and dark gray blazers to discover the ideal fit for you.
For a smart winter outfit, choose a dark gray tweed blazer.
For a stylish summer look, choose a lightweight linen jacket in a light gray tone.
Wear your gray blazer with pants in the same color, traditional white or black, or a trendy navy.
Wear your gray blazer with chinos for a semi-formal look or jeans for a smart casual appearance.
So, What Should You Wear With A Gray Blazer?
gray is a versatile shade that goes well with many other colors, especially white. A gray blazer can also be worn with a matched gray shirt, navy, or black.
The color combinations might also vary depending on the shade of gray you use. A light gray blazer, for example, might look great with a light blue or white shirt for a more summery look.
A mid-gray blazer is quite adaptable, as it can be worn with both light and dark hues, such as white pants and a white shirt for a more modern look or black pants for a more classic look.
A dark gray blazer complements modest designs such as lines or checks and is a great alternative to a black blazer. It appears more formal than the lighter colors.
What Colour Shirt Should You Wear With A Gray Blazer?
White shirts, navy, light blue, and even black look wonderful with a gray blazer. In general, neutral colors are best since they are easy to mix and match.
That is not to imply that you cannot embrace color. To establish which color shirt works with a gray blazer, consider the shade of gray you want: light, medium, or dark.
The lighter looks are ideal for summer and have a more casual vibe, but the deeper gray is more elegant and refined.
What shoes should You use with a Gray suit?
A gray suit has a lot more shoe possibilities than a standard black suit, making it a trendy alternative.
You can wear shoes in light or dark brown, as well as rich colors like burgundy and oxblood. For a more official impression, pair black shoes with a dark gray jacket.
Conclusion
The way you dress says a lot about who you are to those who don't know you. There are many different styles in today's culture. To name a few, there is grunge, preppy, and casual attire. Not every style is appropriate for everyone.
You're always trying to accomplish something that reflects your personality. It's not so much about how much attention you draw around you as it is about how you want others to identify you.
Wearing a blazer may appear easy, yet its importance is timeless.
We hope this article has helped you understand what looks good with a gray blazer!