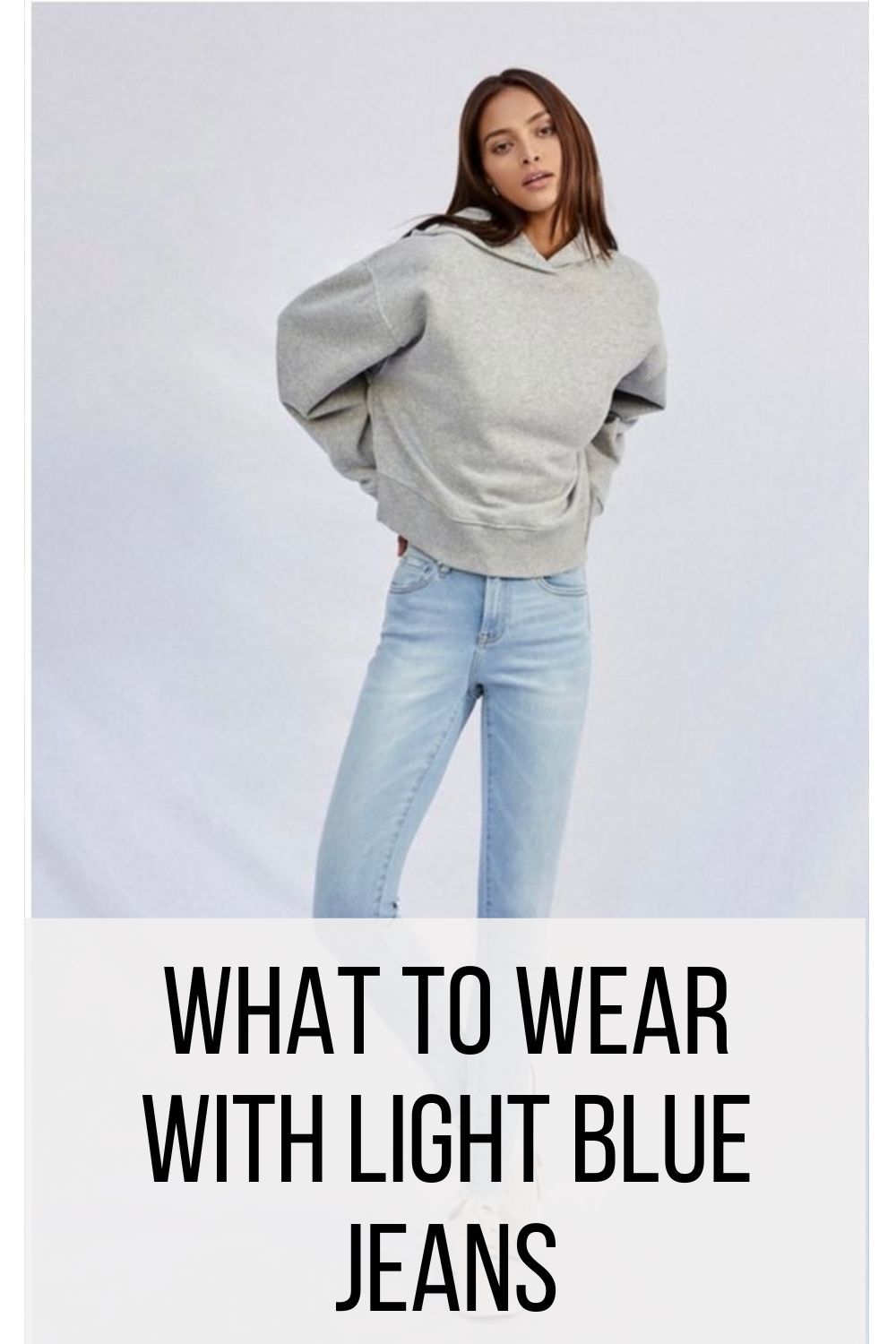 The possibilities are endless when looking for something to wear with those light blue jeans in your closet!
From edgy streetwear looks to polished ensembles, there's so much you can do and mix and match. This style guide has all the inspiration and advice you need for creating a fashionable look featuring your favorite light blue jeans.
You'll discover tips on choosing accessories that complement the denim hue and which colors pair best with it. Making stylish outfits is easy with just a few key pieces from your wardrobe. So gear up, and let's get started!
Light blue jeans are perfect for easy, casual ensembles that still look stylish and can even be dressed up for a more formal look. Whether wearing them on the streets or at special events, there are plenty of great ways to style light blue jeans.
Read on for a few suggestions on pairing top and shoe choices with light blue jeans that will keep you fashionable all season long!
What Colours Go With Light Blue Jeans?
Light blue jeans are an easy and versatile style staple. Depending on the effect you want, you can use several color combinations with it.
Try pairing them with neutral colors such as cream, tan, white or black for a more subtle look. For a casual day out, try navy tops such as a simple t-shirt or polo – this will help enhance the cool tones in the light blue denim. Soft grey pieces like cashmere sweaters and blouses also provide effortless elegance.
For a bolder palette, consider adding complementary colors like deep green or dusky pink to make the look pop.
Alternatively, shades of blue always coordinate well too! Try navy for a classic combination of pastels such as mauve or lilac to add visual interest when creating an outfit around light blue jeans.
Pair Light Blue Jeans With a White t-shirt And Sneakers
Light blue jeans can add a touch of color and flair to any outfit, and when paired with a plain white t-shirt and classic sneakers, the combination can be traditional and modern.
The relaxed fit of most jeans pairs well with the casual look of t-shirts, conveying a sense of effortless style.
Whether you're headed out for errands, running around town, or meeting friends for lunch, this basic denim and cotton ensemble is easy to pull off and always looks good. Add fun accessories like a scarf, hat, or sunglasses to customize your style further.
Style Light Blue Jeans With Grey Sweatshirt And High Tops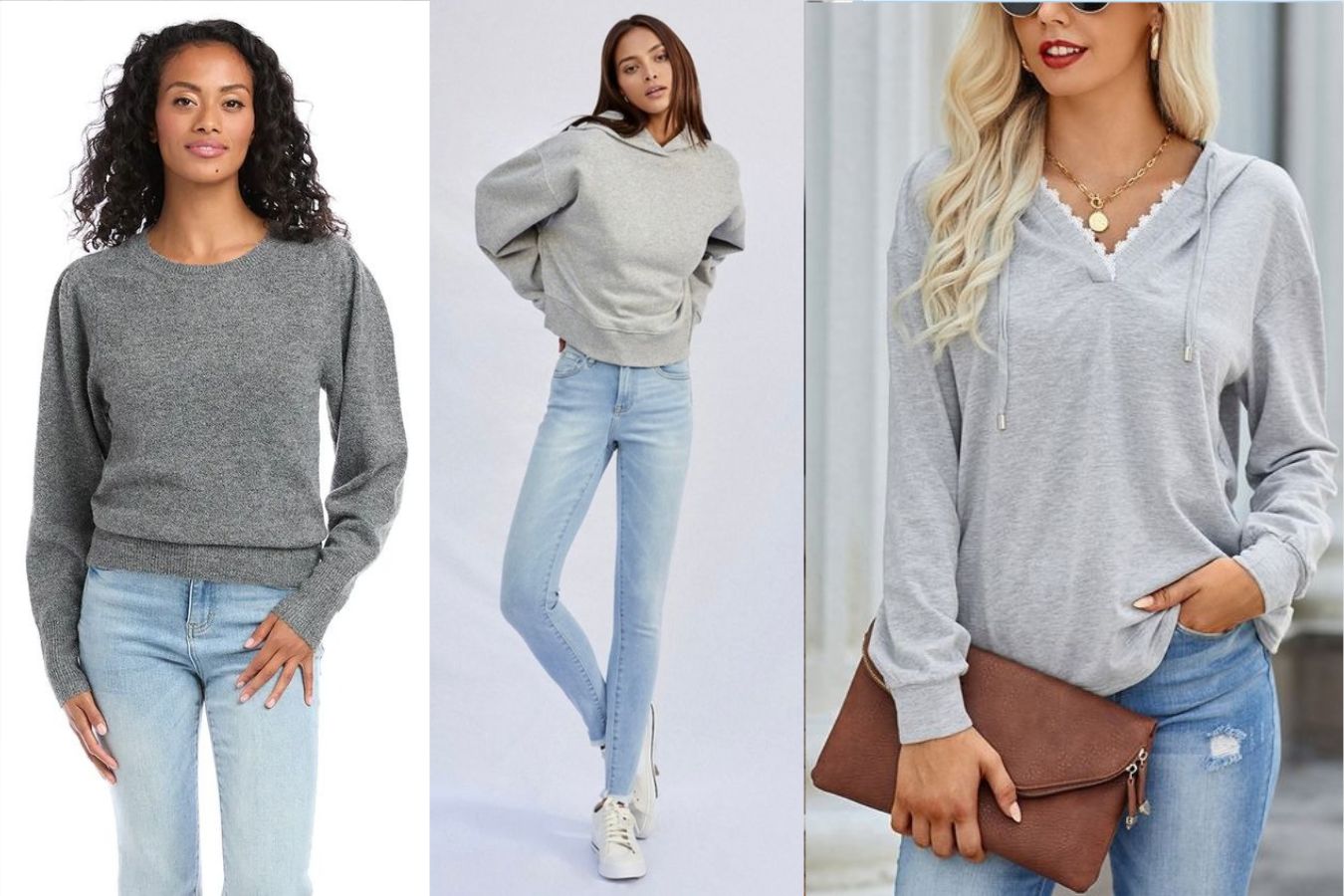 Light blue jeans and grey sweatshirts are classic wardrobe staples, but how do you style them to get maximum impact?
Start by tucking your jeans into a pair of high-top shoes. This juxtaposition adds a chic street vibe and bold color blocking that will elevate any look.
Finish the outfit with a single statement piece, such as a statement necklace or chunky belt, for extra vibrancy. When styling denim and sweatshirts, consider a classic combination with an edgy twist for an iconic modern look that makes a statement.
Pair Light Blue Jeans With Camel Coat And Boots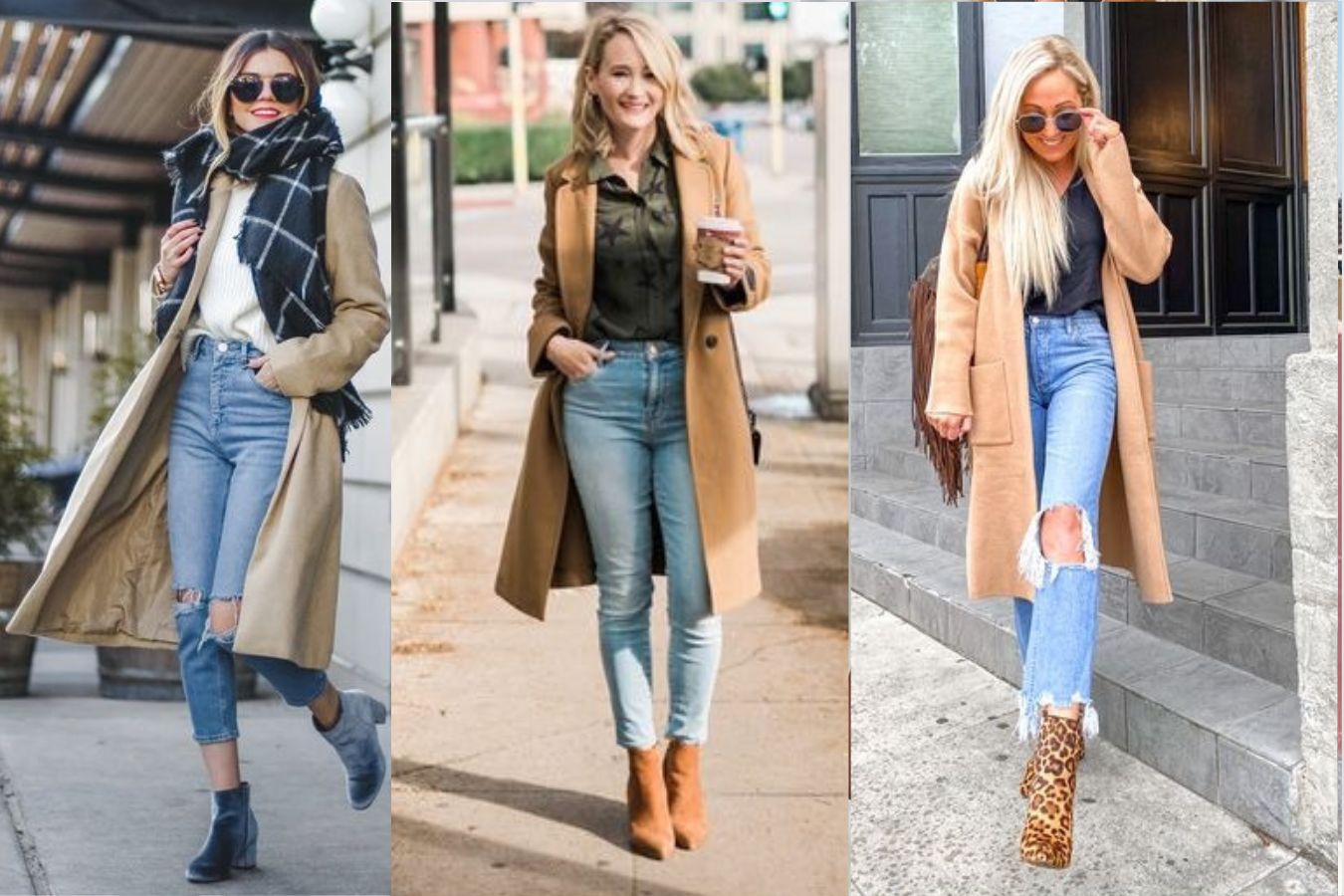 Light blue jeans are great for winter outfits, especially with camel coats and boots. The combination of these three garments is versatile, as you can dress them up or down.
Furthermore, the neutral tones make it easy to accessorize with any color while still keeping the outfit in sync. To make this classic look even better, consider pairing light blue jeans with a white T-shirt and lightweight scarf for extra warmth and texture.
To bring it home, an ankle boot in brown or black adds a chic finishing touch that lends balance and dimension to all the pieces. With this outfit, you will not only keep cozy on chilly days but look good while doing it.
Pair Light Blue Jeans With Black Sweater And Boots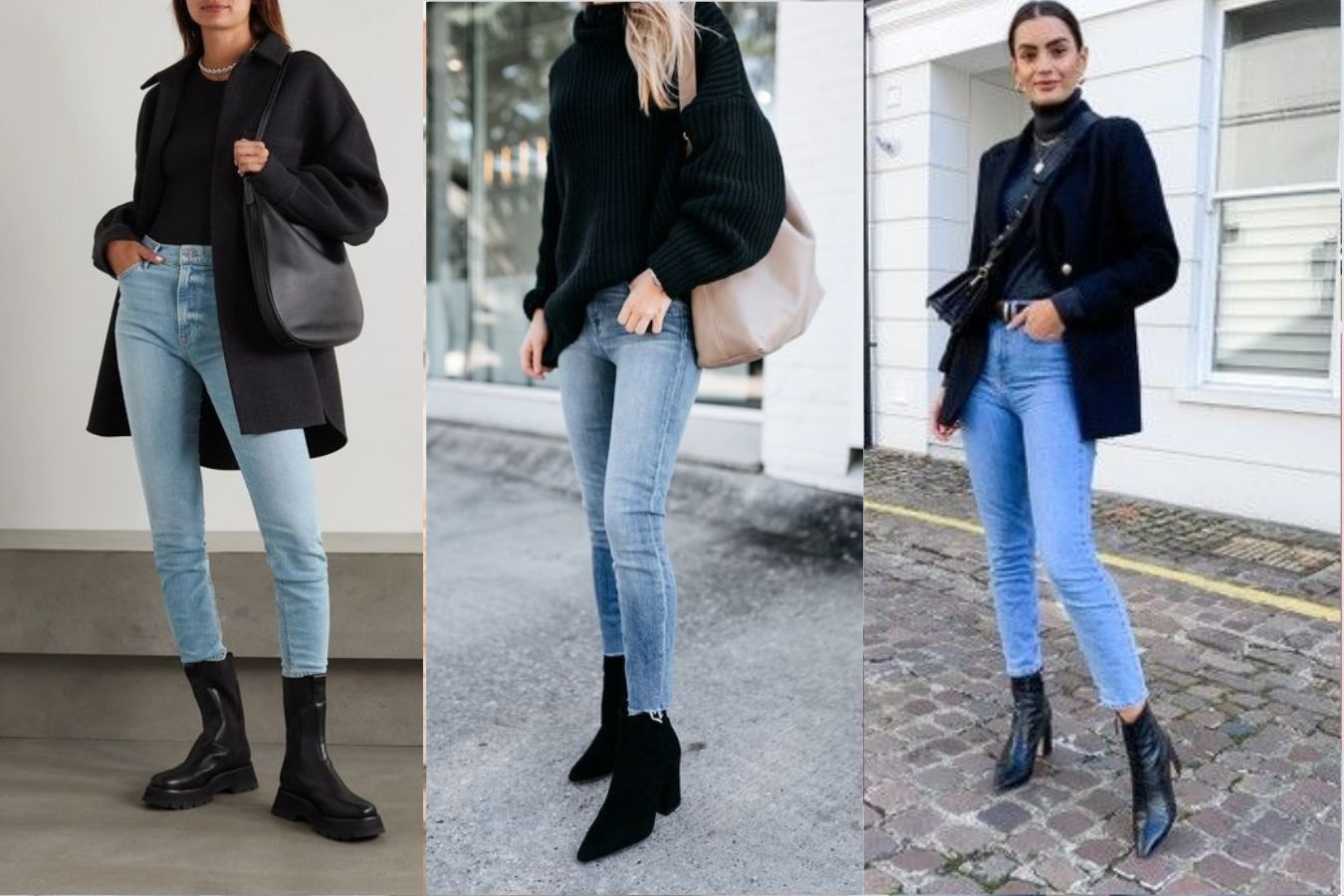 A timeless fashion combo, light blue jeans with a black sweater and boots is an easy-to-wear look that never goes out of style.
It's the perfect ensemble for a casual day out with friends or even a semi-formal occasion such as dinner with family or a company event.
Start by adding a basic light color shirt to the mix – you can go for classic stripes, a gingham checkered pattern, or anything that suits your style. Then, top it off with a plain black sweater. It should fit comfortably but not be too bulky – try sticking to thinner layers in this scenario.
Lastly, slip on some black leather ankle boots for added personality and polish – opt for sleek designs like pointed toes or buckles to take your outfit up a notch. With this simple yet put-together look, you're ready to make a statement no matter the occasion!
Pair Light Blue Jeans With Green Vest And Flannel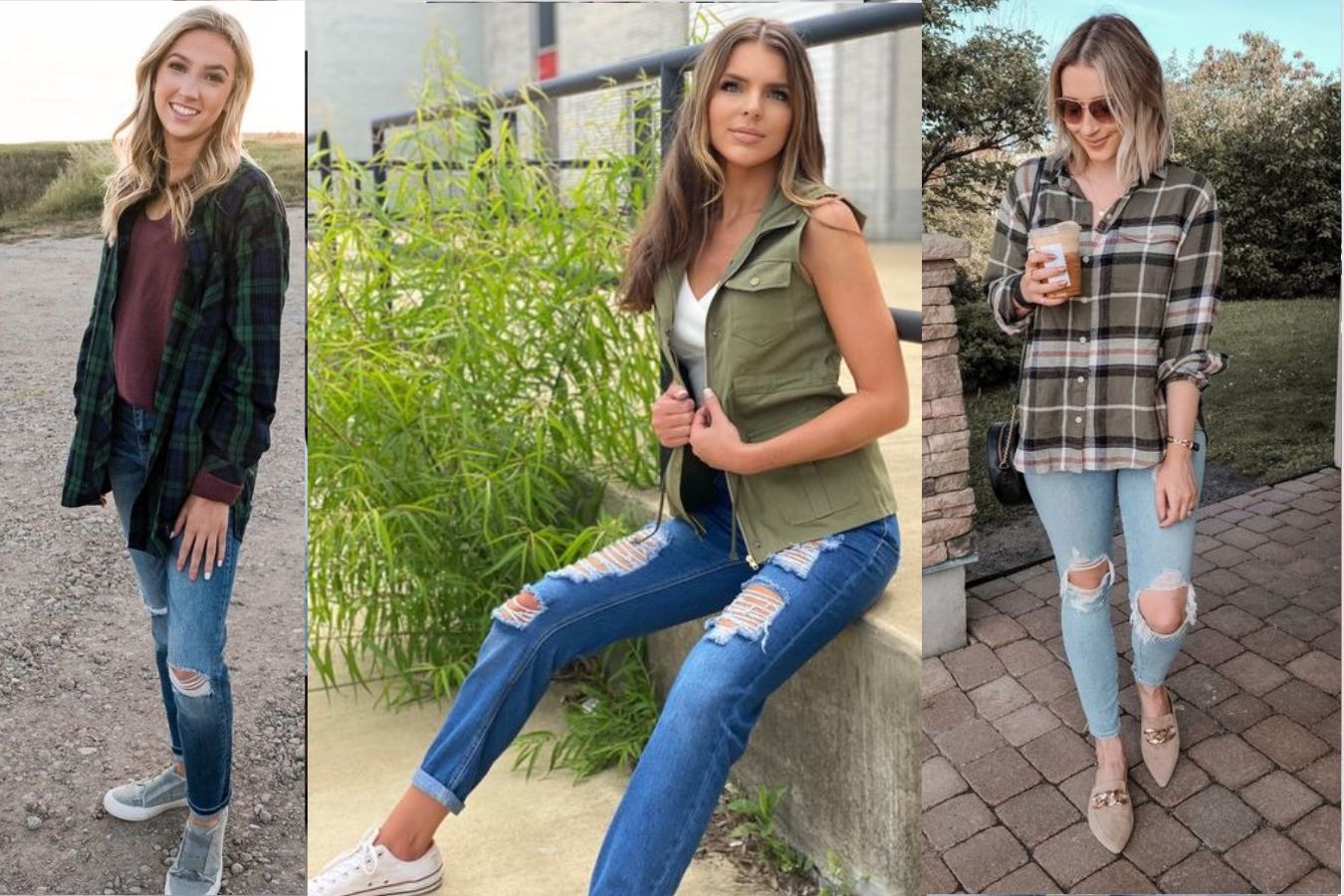 If you're looking for an ultra-chic ensemble, pair light blue jeans with a green vest and a light flannel for the perfect blend of laid-back style and effortless sophistication.
Start the look by layering an olive green vest over a pale blue collared shirt to build a tailored base for your outfit. Then slip into comfortable and classic mid-rise light blue jeans, adding a subtle flair that complements your color scheme.
To complete the look, throw on a plaid or striped flannel around your waist – the delicate earthy tones will bring warmth and texture that balances out the calm and confident vibes from the rest of your attire.
Pair Light Blue Jeans With Navy Blue Button-up Shirt And Sneakers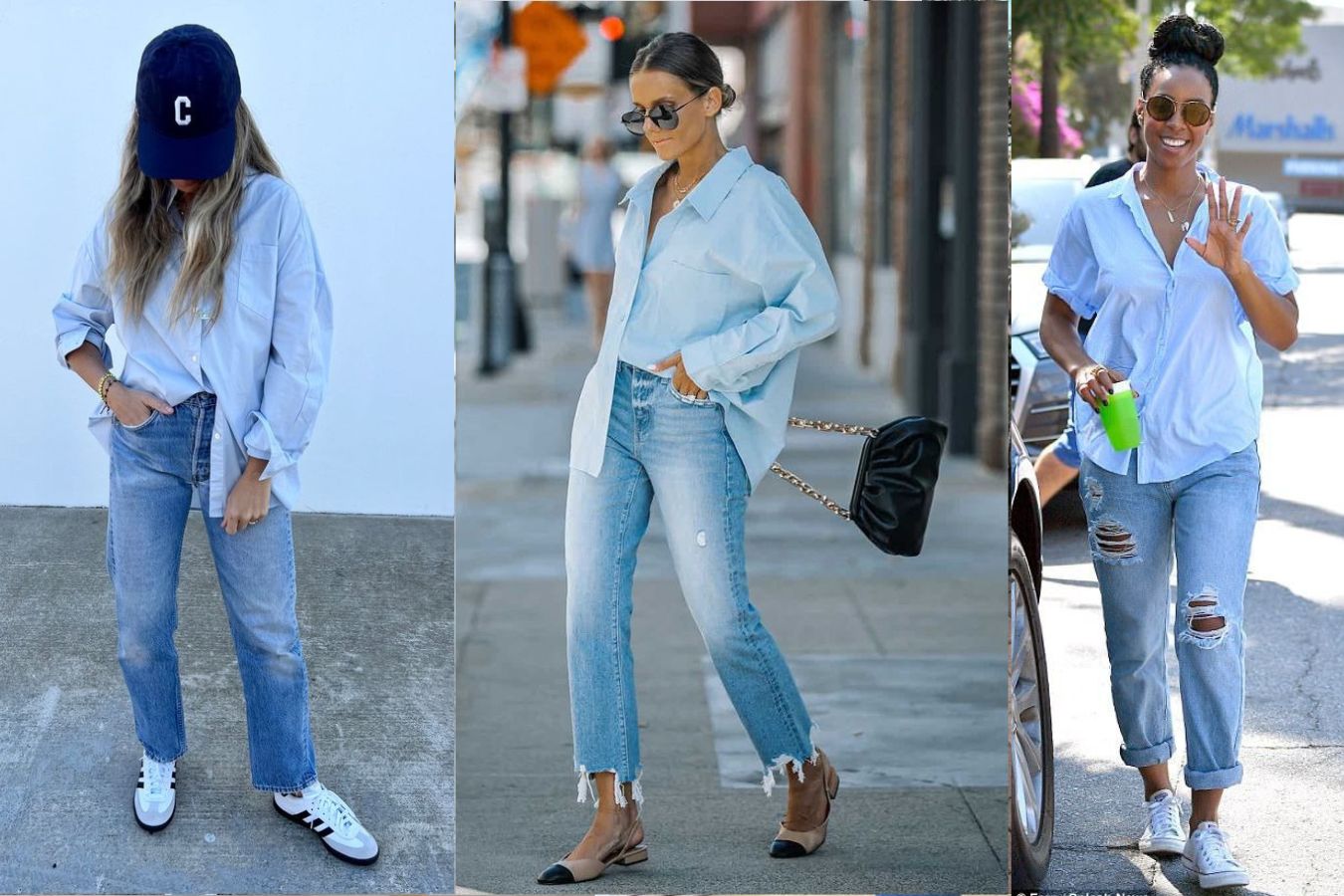 Making put-together looks doesn't have to be complicated. Pair your favorite light blue jeans with a classic navy blue button-up shirt for a versatile and timeless look. If you want to dress it up a bit more, opt for a collared shirt instead.
Add the ultimate finishing touch with comfortable and stylish sneakers that fit your style.
Whether catching up with friends or meeting family for lunch, this outfit will take you from day to night with ease and grace. Plus, the range of hues in the color palette simultaneously gives off casual and preppy vibes!
Pair Blue Jeans With Dress Shirt And Blazer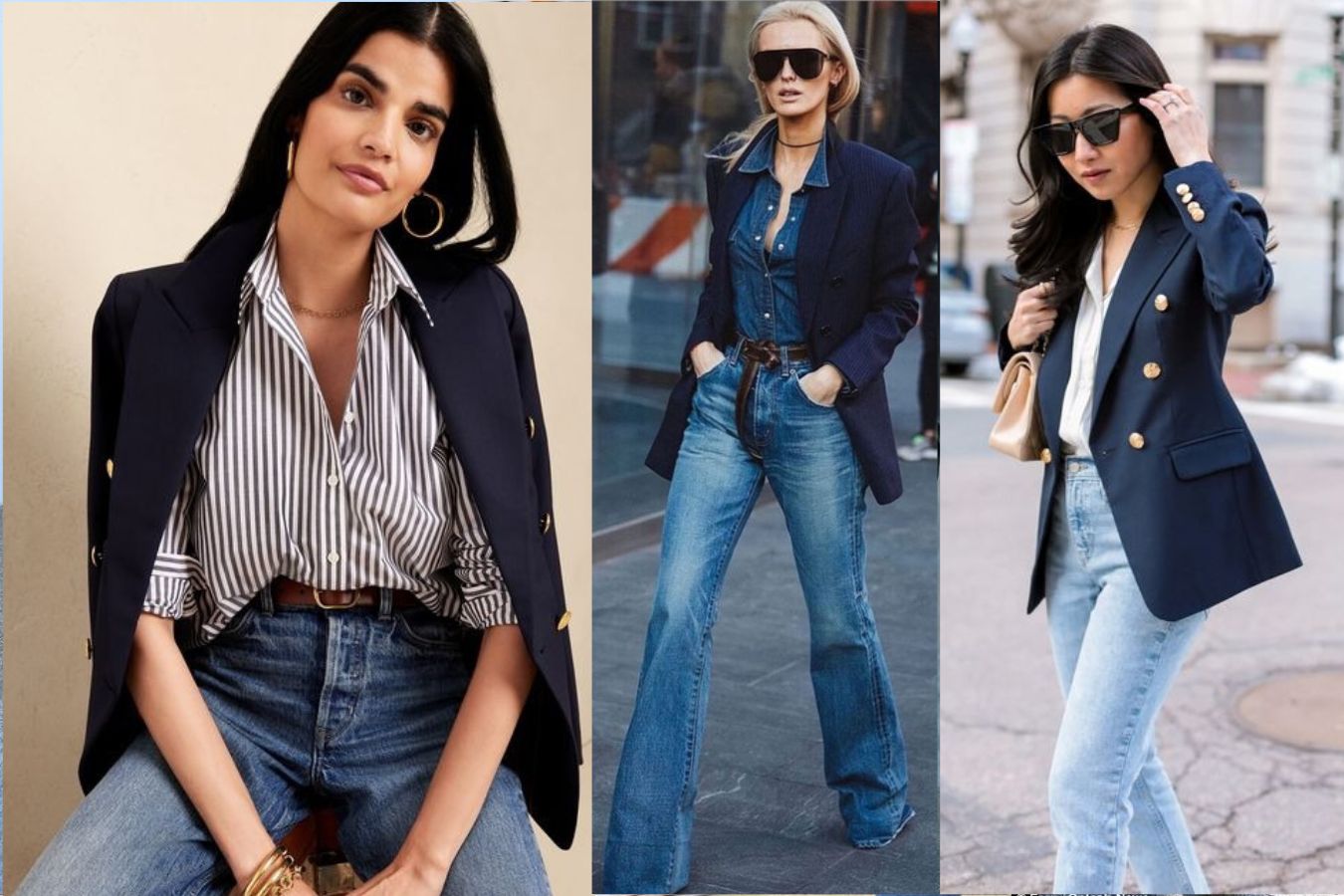 A great way to dress for a day out is by pairing light blue jeans with a dress shirt and blazer. Not only does this look professional, but it's also fashionable and easy to pull off!
Choose lightweight fabric for the shirt and blazer, like cotton or linen, to ensure breathability and comfort when it's warm outside.
When selecting a jean color, mid–blue is usually the safest option as darker blues can come off as too bold, while the lighter ones look washed out.
To finish the look, choose neutral-colored shoes like brown leather or beige suede to let the other outfit components take center stage.
Pair Light Blue Jeans With Brown Jacket And Brown Boots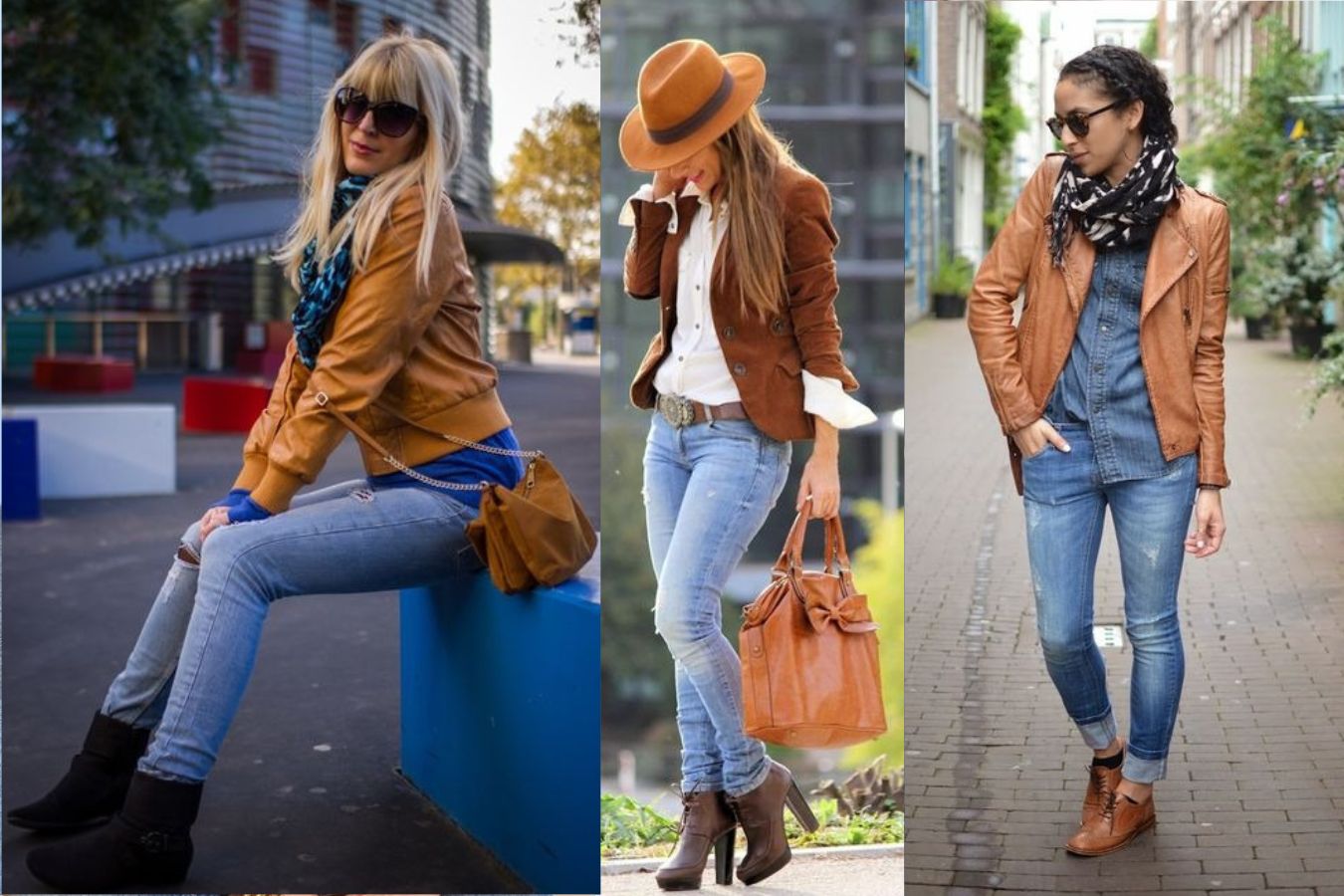 A deep brown leather jacket, a pair of light blue jeans, and some crisp brown boots are the perfect outfit combination for the man who is always looking to make a statement.
Not only does it make a great first impression, but the warm tones of brown and blue are complementary shades that bring out the best in any outfit. It's an ideal combination for professionals looking for something more stylish than the usual navy blue business suit and casual everyday looks.
Additionally, pairing brown boots with light jeans will help refine your silhouette and draw attention away from problem areas. This classic combo's simple but timeless look ensures you can wear it during any season to dress up or down on whatever occasion suits you best!
Pair Light Blue Jeans With Classic White Button-up Shirt And Brown Shoes
Light blue jeans are a must-have staple in every wardrobe, and pairing them with a classic white button-up shirt will always give you an effortless and polished look.
Brown shoes are an excellent choice to complete the look. Whether it's block heels, flats, or loafers, a pair of brown shoes will add a sophisticated contrast to the combination while keeping it sleek and stylish. It's easy to take your casual look up a notch for any occasion.
Pair Blue Jeans With Denim Jacket
Wearing blue jeans with a denim jacket is the perfect way to look stylish and put together, no matter the occasion. This classic pairing has been a fashion staple for decades and works incredibly well because shades of blue jeans can easily be matched with any denim jacket.
Furthermore, for a more mature vibe, you can tuck the jacket away by wearing it at the waist or even over your shoulders – just be sure to pick out matching shades of blue for complete harmony in your outfit.
Irrespective of where you decide to take this look, you can trust that pairing blue jeans with a denim jacket will give you a classic, timeless aesthetic while offering endless style possibilities.
Pair Light Blue Jeans With Blue Button-Up Shirts And Sneakers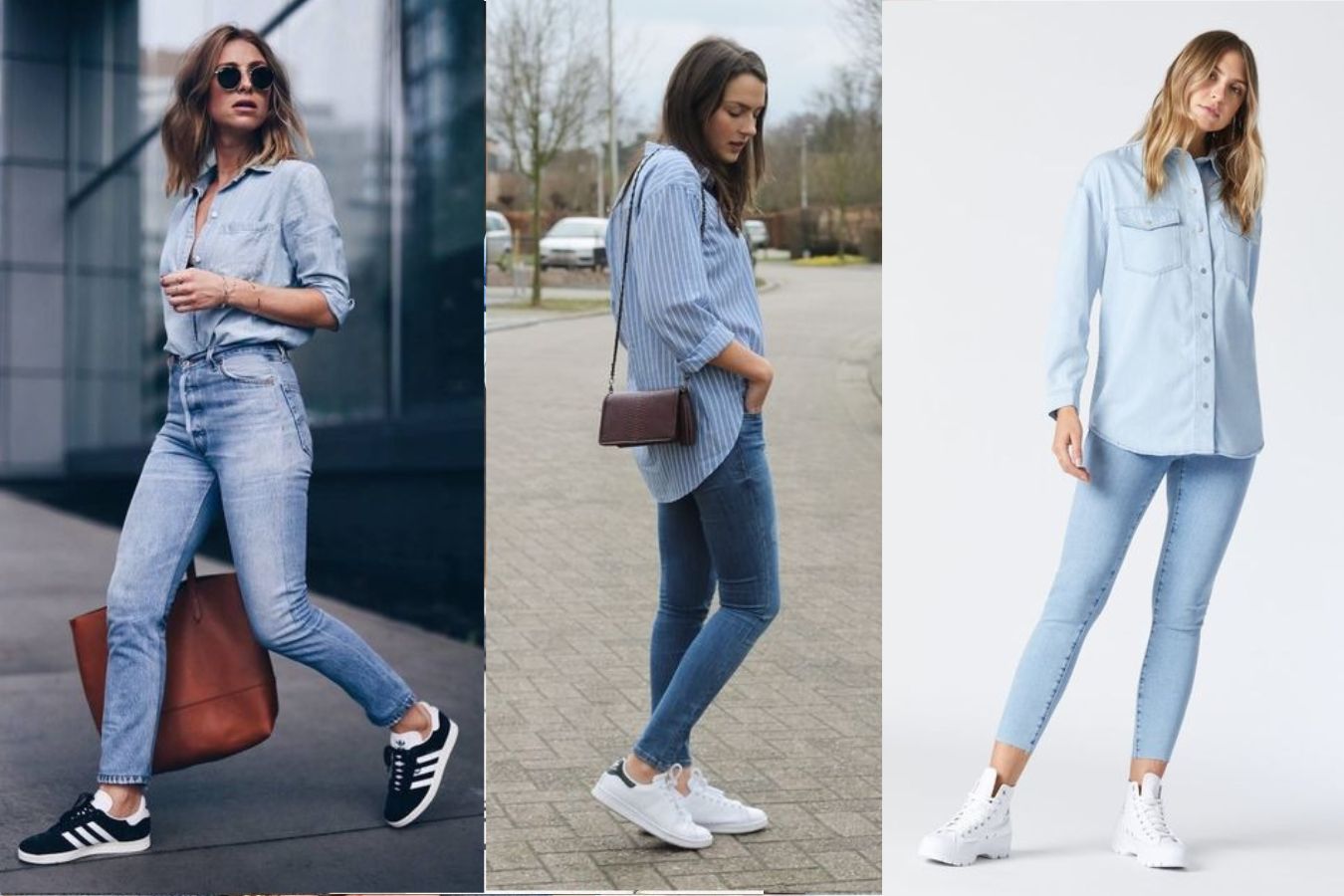 A classic look that never goes out of style, blue button-up shirts paired with light blue jeans and sneakers can be a fashionable and comfortable choice for any occasion.
Whether a casual day out or an evening of entertainment, this combination gives a timeless and sophisticated look that can be easily adapted to fit the occasion. For an extra feminine touch, pair the ensemble with simple accessories, such as dainty earrings or a statement necklace.
To create a more masculine look, opt for boat shoes or lace-up boots to complete the outfit. The possibilities are endless when pairing light blue jeans with navy blue button-ups and sneakers!
What To Look For When Buying Light Blue Jeans?
When shopping for the perfect light blue jeans, there are a few things to consider.
First and foremost, it is essential to find a pair of jeans that provide ample comfort; they should fit snugly yet still allow unrestricted movement.
Also, consider the quality of materials used – denim with a thick and durable weave will last many years, while cheaper fabrics may only last for a while.
Pay attention to the wash and color of the jeans: ensure that the wash appears smooth and smooth, which can lead to an undesirable look.
Lastly, consider your body type and size when selecting light blue jeans – stick to silhouettes that flatter your figure!
How To Style Light Blue Jeans
Light blue jeans are a fantastic and classic addition to any wardrobe. They are perfect for any occasion, depending on the look you are going for. Adding some texture with a light-knit sweater is a great way to style your light blue jeans.
Throw on some statement earrings and chic booties to complete your outfit! For those with boho-chic vibes, simply tuck in a billowy top and accessorize with a patterned scarf and dainty rings. All in all, light blue jeans are highly versatile and can allow for many stylish looks.
What Jacket To Wear With Light Blue Jeans?
There are many stylish options when selecting the perfect jacket with light blue jeans. Try pairing your jeans with a bright coral peplum blazer or a structured white coat with golden buttons for a fun and flirty look.
Alternatively, throw on an oversized beige checked blazer or denim trucker jacket for a more relaxed vibe. It all comes down to the occasion you're dressing for and your preferred style!
Whatever option you go for, it's sure to add some life and personality to your ensemble.
Final Takeaway
Light blue jeans are a versatile item you can style in many ways depending on the occasion. When choosing what to wear with light blue jeans, consider the colors and fabrics of your other items to create a balanced outfit.
Generally, it is best only to wear some denim when pairing light blue jeans with other pieces. Lighter colors and prints work well for spring and summer, while darker shades are ideal for fall and winter. With so many options available, it's easy to put together a stylish and practical outfit.
With these guidelines in mind, we are confident you'll be sure to look put-together no matter where you're headed!