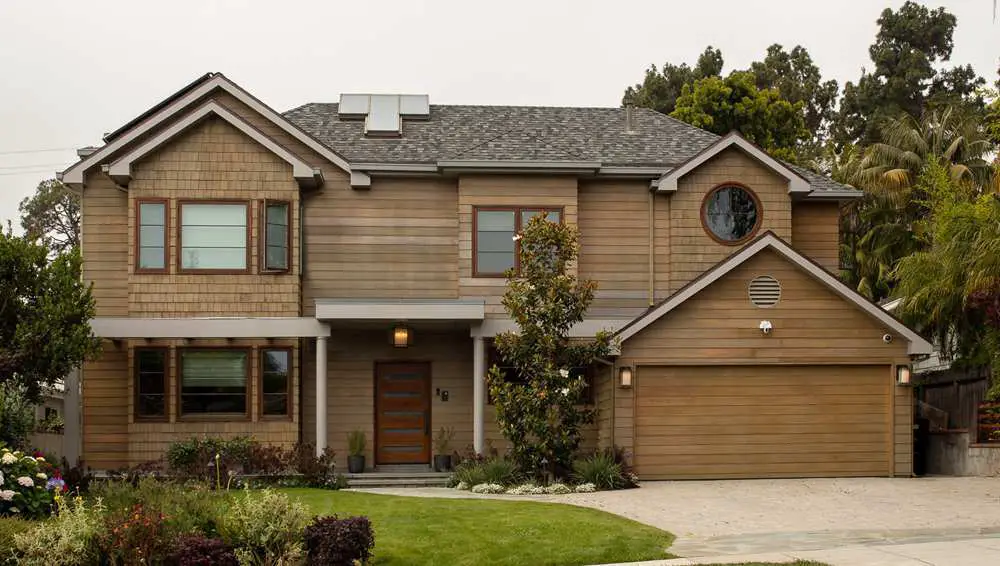 Brown is a natural, earthy color that can create many beautiful color combinations. From rich wood tones to muted clay hues, brown pairs nicely with a wide range of colors for home decor.
In this article, we'll explore over 45 colors that complement different shades of brown wonderfully. Discover stunning brown color schemes and palettes to use in your home.
What is Brown?
Brown is a secondary color made by mixing red, yellow, and black. It sits between red and green on the color wheel. In the RYB color model, brown contains orange and black. In the RGB model, you can make brown by combining red, green, and blue light.
The hex code for pure brown is #A52A2A. Brown is associated with earthiness, wholesomeness, and dependability. It's a grounded, stable color that creates a welcoming atmosphere.
The Meaning and Symbolism of Brown
Here are some of the common symbolic meanings and impressions associated with the color brown:
Nature – Brown represents earth, wood, stone, and other organic elements. It's the color of gardens, forests, and the natural landscape.
Ruggedness – Darker browns suggest sturdiness, strength, and durability due to their resemblance to timber, leather, and earth.
Calm – Brown has a soothing, grounding effect. The neutral color promotes feelings of peacefulness and relaxation.
Classic – Brown has a traditional, vintage feel. The timeless color suits classic, farmhouse, rustic, and craftsman style interiors.
Practicality – As a neutral shade, brown is a sensible, practical color choice for large spaces like living rooms and bedrooms.
Friendliness – Soft tans and beiges have an uplifting, welcoming effect. These brown shades make spaces feel warm and conversational.
Masculinity – Very dark browns like chocolate and espresso feel distinctly masculine and may suit spaces like home offices, libraries, and dens.
Shades of Brown
Brown spans a wide spectrum, ranging from pale tans to deep coffee hues. Here are some common shades of brown:
| Color Name | Hex Code | Sample |
| --- | --- | --- |
| Beige | #F5F5DC | |
| Khaki | #C3B091 | |
| Tan | #D2B48C | |
| Taupe | #483C32 | |
| Sand | #C2B280 | |
| Umber | #635147 | |
| Sepia | #704214 | |
| Sienna | #882D17 | |
| Chocolate | #7B3F00 | |
| Coffee | #6F4E37 | |
| Espresso | #4E342E | |
Complementary Colors of Brown
Complementary colors sit opposite each other on the color wheel, creating striking contrast. The complementary color for brown (#964B00) is blue (#0000FF).
Blue (#0000FF)
Vibrant blue accentuates and illuminates brown's earthy qualities. Royal blue (#4169E1), turquoise (#40E0D0), and teal blue (#008080) make rich brown tones pop. Baby blue (#89CFF0) and sky blue (#87CEEB) also complement lighter browns nicely.
Incorporate blue throughout brown interiors and outfits. Try brown walls with blue decor accents and textiles. Or pair brown pants with a bright blue top and accessories for eye-catching style. Mix and match shades of blue and brown.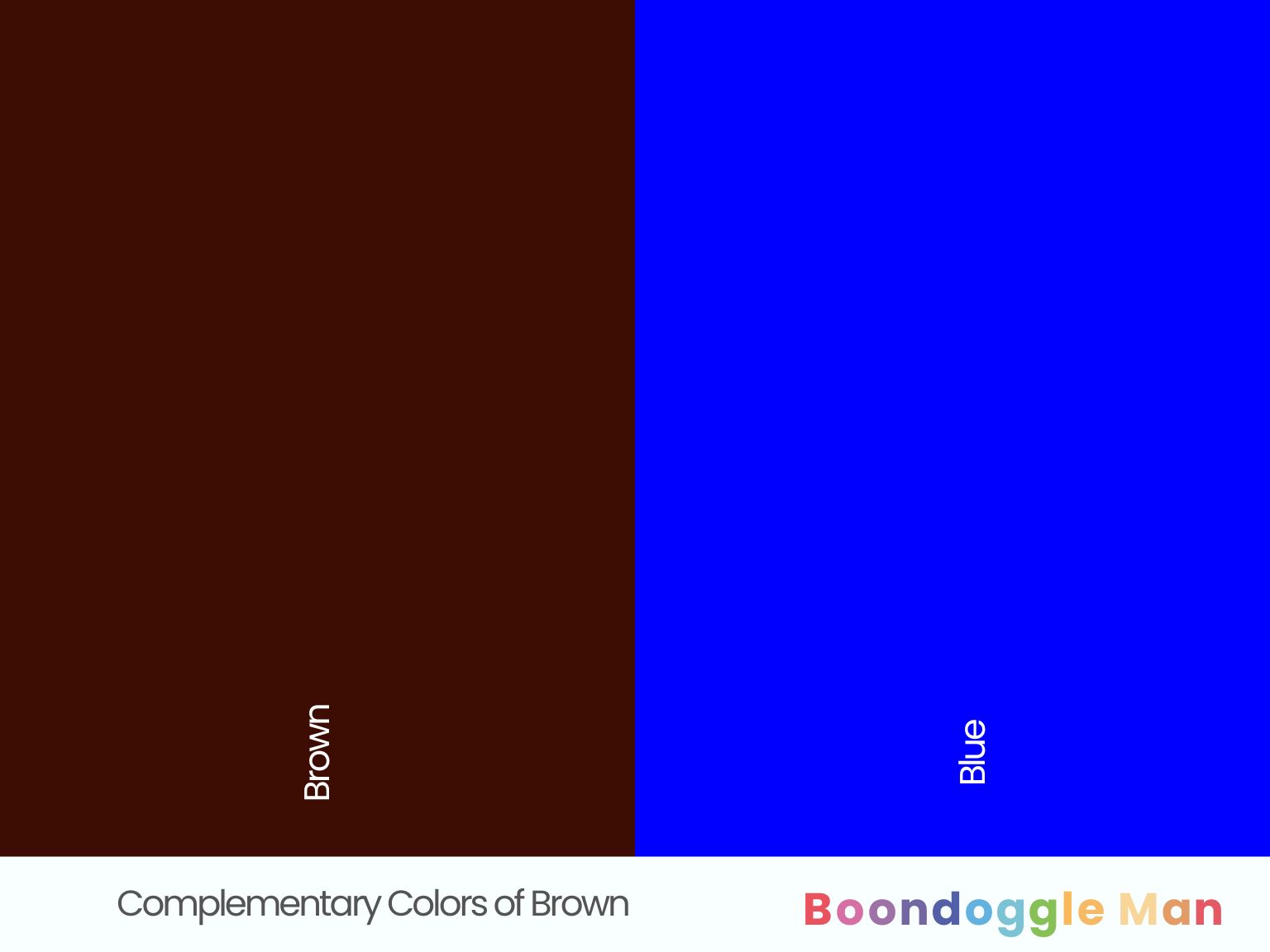 Analogous Colors of Brown
Analogous colors sit next to each other on the color wheel, creating harmonious combinations. Analogous colors for brown (#964B00) include:
Red (#FF0000)
Red brings out the warmth in brown, giving it vibrancy and richness. Brick red (#C62D42), burgundy (#800020), and terracotta (#C35A3C) work well with brown. Avoid bright primary reds, which may look garish.
Use red tones sparingly against brown backdrops for dramatic impact. Try a terracotta area rug in a rustic wood and brown room. Style chocolate brown pants with a maroon top and rich red shoes.
Orange (#FFA500)
Orange has an energizing effect that livens up brown's neutrality. Burnt orange (#CC5500), peach (#FFE5B4), and amber (#FFBF00) complement brown's earthiness. Neon orange (#FF5F1F) may overwhelm softer browns.
Incorporate orange accessories into brown interiors and outfits. Add burnt orange pillows to a tan couch. Or pair a coffee brown dress with peach colored jewelry and heels.
Yellow (#FFFF00)
Yellow brings out the cheerfulness and brightness of brown tones. Mustard (#FFDB58), ochre (#CC7722), and beige yellow (#F5F5DC) work well. Avoid neon yellows against deeper browns.
Use warm yellows to give light brown a sunny, welcoming look. Try mustard throw blankets on a beige sofa. Style caramel brown pants with a soft ochre colored top.
Triadic Colors of Brown
Triadic color schemes use three colors equally spaced on the color wheel for vibrant contrast. The triadic colors for brown (#964B00) are green (#008000) and purple (#800080).
Green (#008000)
Green has a balancing, harmonious effect on brown. Earthy olive (#808000), moss (#4C5D23), and sage greens (#808000) work best. Vibrant greens can overwhelm soft browns.
Incorporate natural green decor elements into wood and brown spaces. Add olive throw pillows to a brown leather sofa. Wear rich brown pants with a sage green top and olive shoes.
Purple (#800080)
Purple contrasts beautifully with brown's warmth and neutrality. Soft lavender (#B57EDC), lilac (#C8A2C8), and mauve (#E0B0FF) work well with lighter browns. Avoid deep, intense purples against richer browns.
Use pale purple accents throughout an earthy brown space or outfit. Try a lilac rug and mauve wall art in a rustic cabin. Style chocolate brown shorts with a powder purple top.
What Colors That Go With Brown?
Brown is a natural, earthy color that pairs well with a wide variety of hues. From rich jewel tones to airy pastels, brown creates effortlessly harmonious palettes for every space.
In this article, we'll explore 45 stylish color combinations featuring different shades of brown. Discover beautiful ways to use these brown color schemes throughout your home.
Vibrant Brown Color Palettes
Rich chocolate browns pop when accented with bold jewel tones and bright primary colors. These lively combos add energy to any room.
1. Chocolate Brown, Royal Blue, Sunshine Yellow
Hex Codes: #3D0C02, #4169E1, #FFFF00
Sophisticated chocolate brown complements regal royal blue and cheery sunshine yellow beautifully. Use this combo to create an elegant, engaging atmosphere.
2. Chestnut Brown, Emerald Green, Fire Engine Red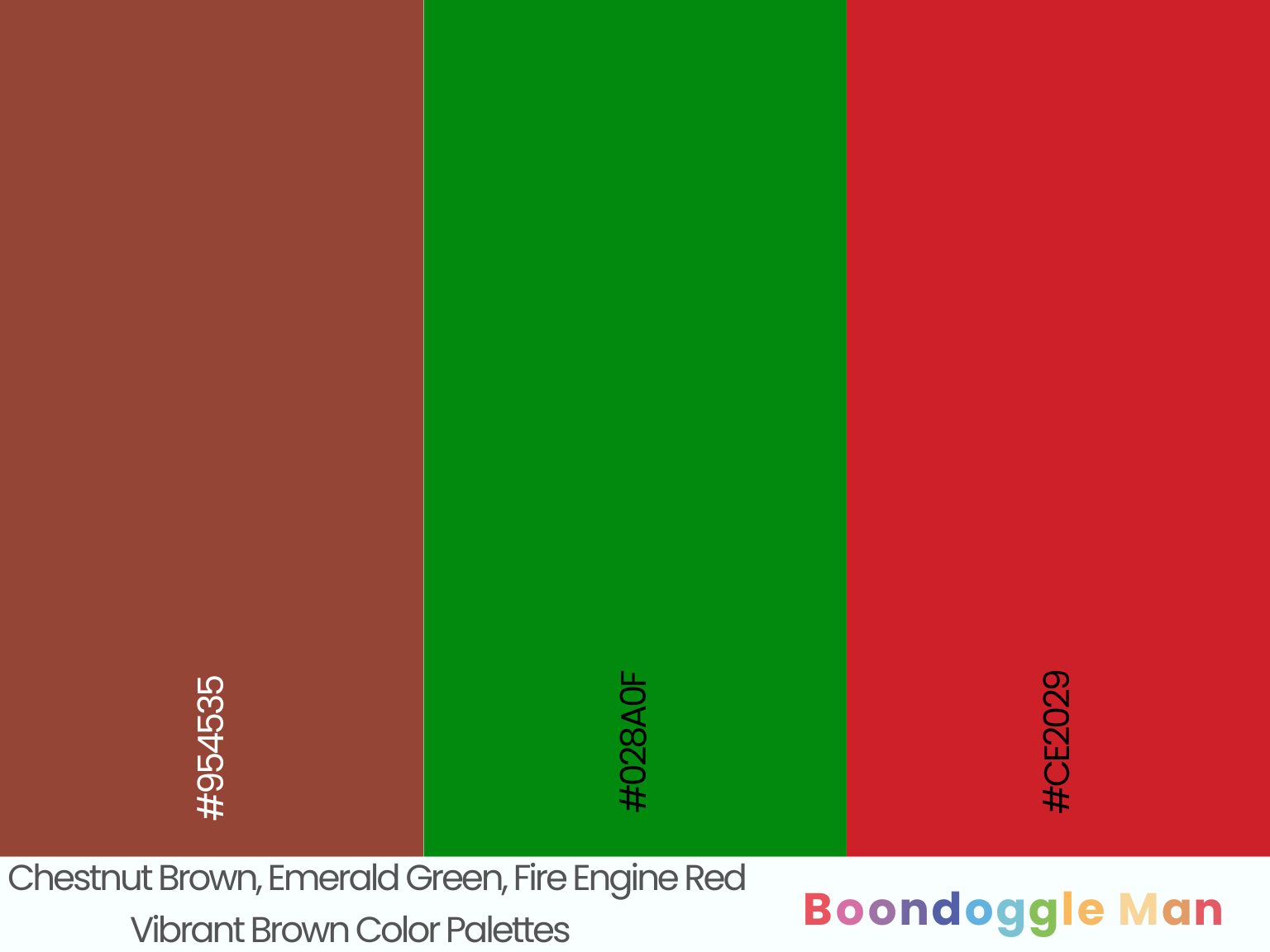 Hex Codes: #954535, #028A0F, #CE2029
Pair sumptuous chestnut brown with vivid emerald green and fiery engine red for an eclectic, artsy palette. Great for studios, offices and modern spaces.
3. Coffee Brown, Sapphire Blue, Tangerine Orange
Hex Codes: #6F4E37, #0F52BA, #FF9E6B
Match earthy coffee brown walls with bright sapphire blue and tangy tangerine orange accents for a bold, contemporary color combination.
4. Hazelnut Brown, Purple, Lime Green
Hex Codes: #9A6E46, #A569BD, #00FF00
Hazelnut brown furniture looks fabulously vibrant against purple walls and fun lime green decor. This youthful palette is perfect for kids' spaces.
5. Cocoa Brown, Fuchsia, Turquoise
Hex Codes: #875F3E, #FF00FF, #40E0D0
Pair rich cocoa brown with electric fuchsia and refreshing turquoise for a playful, avant-garde palette. Great for adding energy to a room.
6. Walnut Brown, Coral, Robin's Egg Blue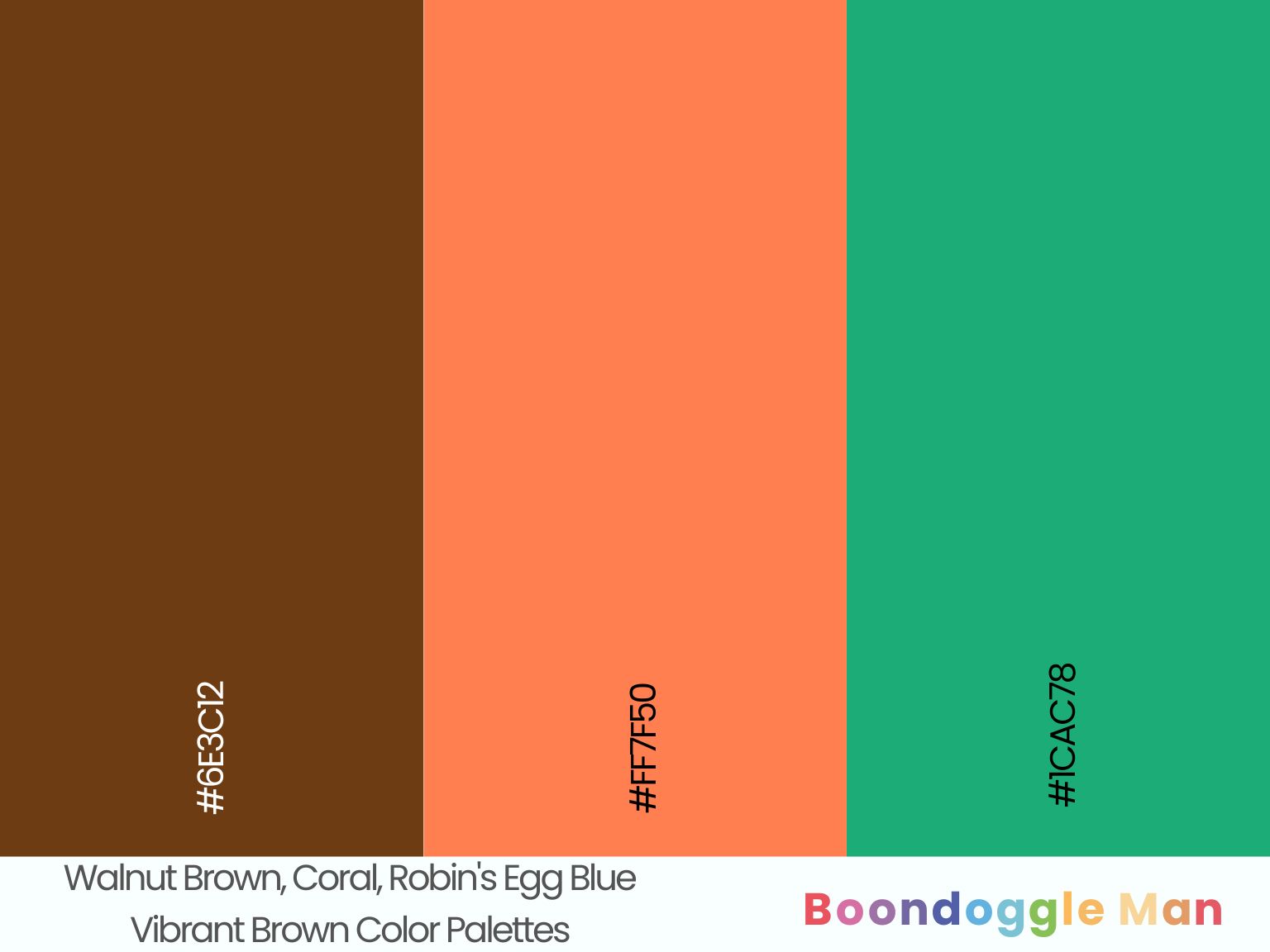 Hex Codes: #6E3C12, #FF7F50, #1CAC78
Rustic walnut brown mixed with pretty coral and soft robin's egg blue makes for a delightfully vibrant, beachy palette. Perfect for cottages and coastal homes.
Earthy Brown Color Combinations
Natural brown hues feel right at home blended with other earthy neutrals like tan, beige, taupe and greige. These laidback combos create a welcoming warmth.
7. Taupe, Khaki, Coffee Brown
Hex Codes: #757763, #C3B091, #6F4E37
Mix versatile taupe with organic khaki and rich coffee brown for an easygoing, earthy palette. Use this combo to create a cozy cabin interior.
8. Sand, Camel, Espresso Brown
Hex Codes: #C2B280, #C19A6B, #4E342E
Warm sand walls complemented by camel browns and dark espresso brown wood create natural harmony. Perfect for rustic living spaces.
9. Cream, Saddle Brown, Dark Chocolate
Hex Codes: #FFFFF0, #8B4513, #190A05
Pair airy cream with mid-tone saddle brown and deep dark chocolate accents for an organic, welcoming palette. Great for farmhouse style decor.
10. Beige, Pecan Brown, Coffee
Hex Codes: #F5F5DC, #A86F41, #4B3621
Match versatile beige with gourmet pecan brown and aromatic coffee brown for a deliciously earthy, contemporary combo. Use in kitchens and dining rooms.
11. Oatmeal, Mocha, Chestnut Brown
Hex Codes: #9A8B7A, #5F3D30, #7B3F00
Oatmeal walls complemented by rich mocha and chestnut brown leather furniture create cozy natural harmony. Use this relaxing combo in living areas.
12. Stone, Umber, Dark Chocolate Brown
Hex Codes: #A5A291, #635147, #1B1811
Blend hushed stone gray with earthy umber and decadent dark chocolate brown for an organic palette with sophistication. Perfect for studies and libraries.
Retro Brown Color Schemes
Nostalgic shades of brown look fabulous paired with vintage-inspired hues like brick red, olive green and mustard yellow. Use these timeless combos to create retro charm.
13. Camel Brown, Mustard Yellow, Cherry Red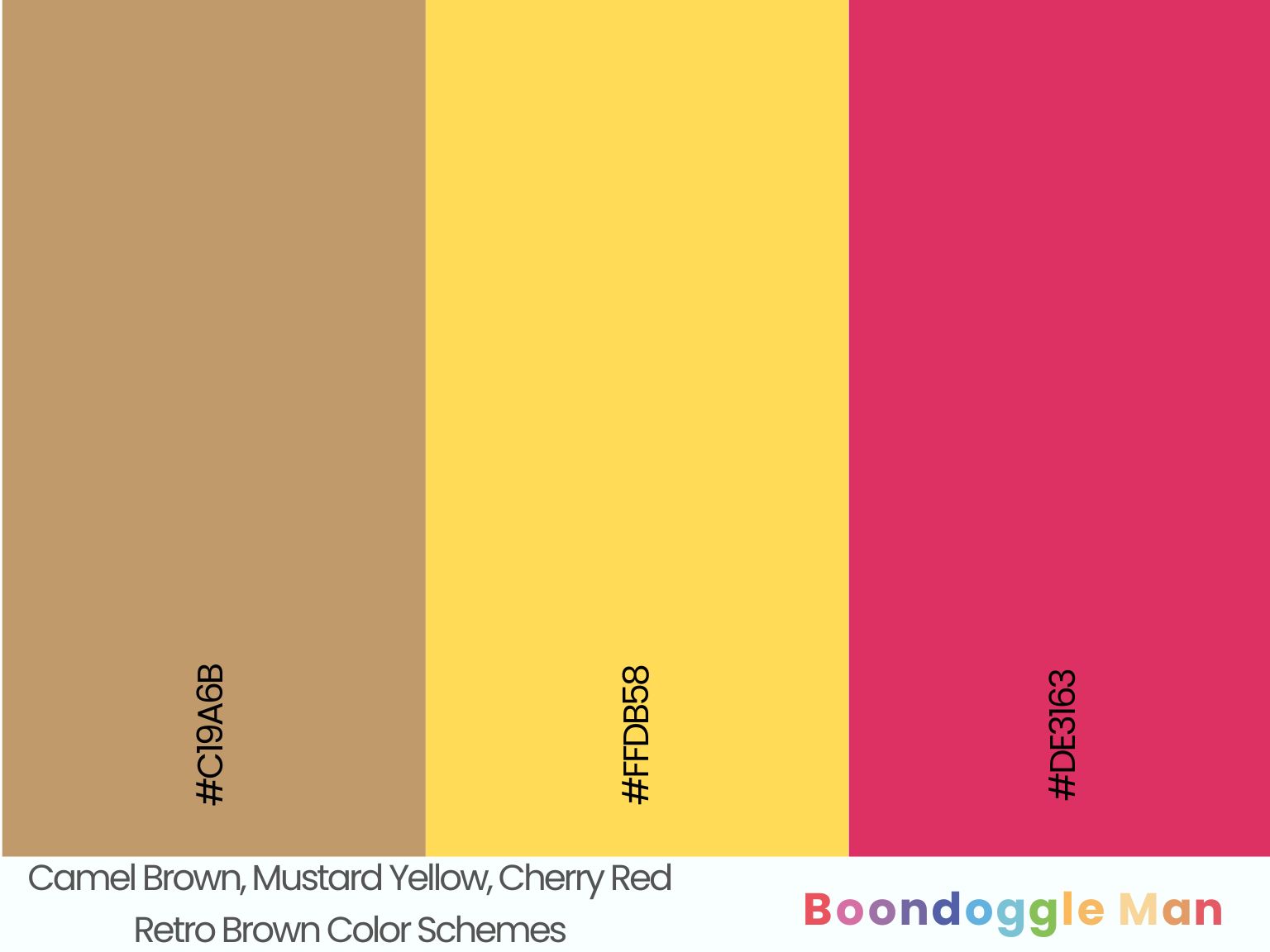 Hex Codes: #C19A6B, #FFDB58, #DE3163
Natural camel brown complements upbeat mustard yellow and playful cherry red perfectly for a cheerful retro palette. Great for creating vintage flair.
14. Hazelnut Brown, Avocado Green, Burnt Orange
Hex Codes: #9A6E46, #568203, #CC5500
Pair yummy hazelnut brown with retro avocado green and spicy burnt orange for a groovy, 70s-inspired color scheme. Use in boho living spaces.
15. Chestnut Brown, Olive Green, Terracotta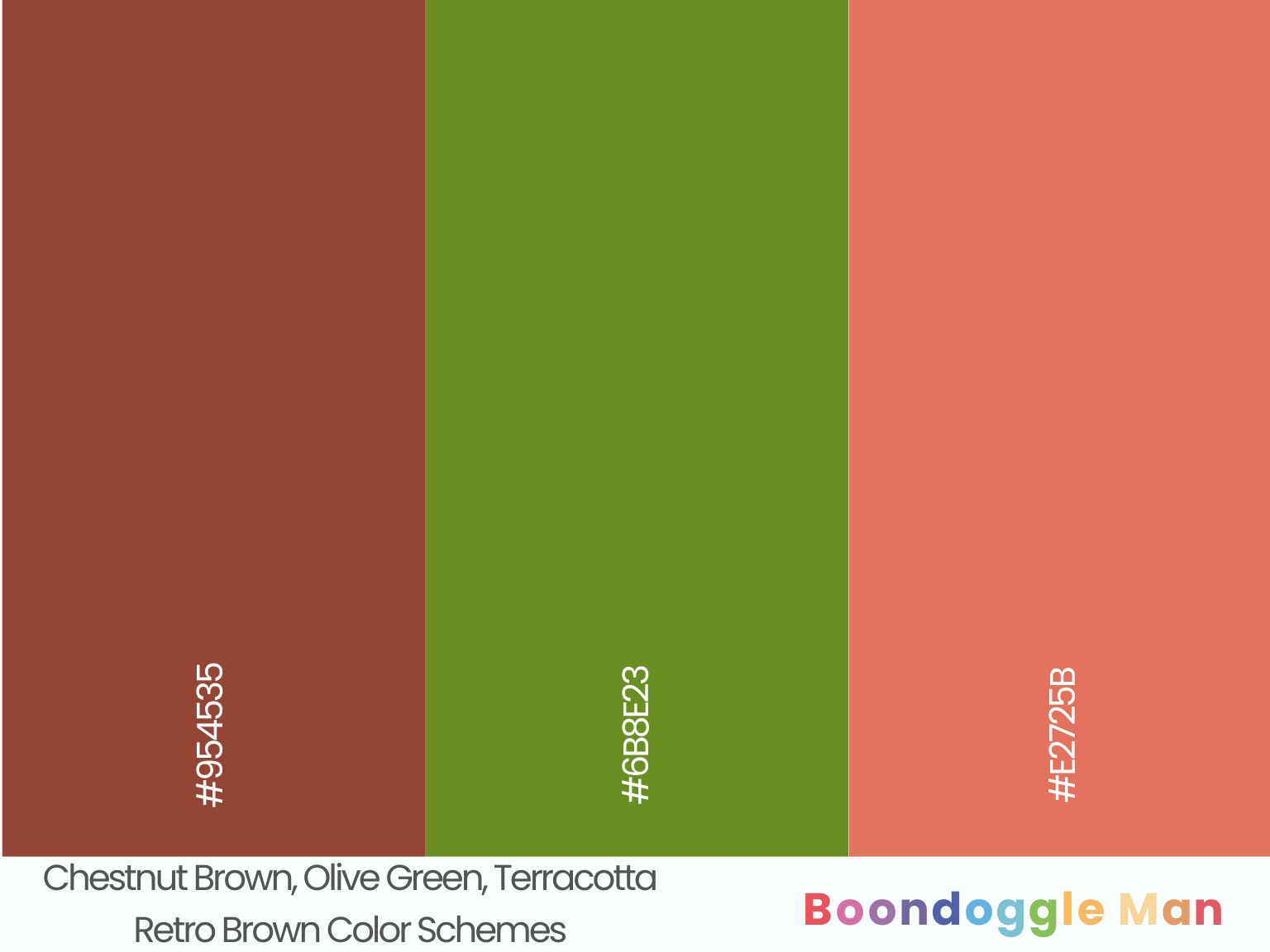 Hex Codes: #954535, #6B8E23, #E2725B
Rustic chestnut brown mixed with earthy olive green and organic terracotta creates an inviting, Tuscan-style palette. Great for kitchens and dining rooms.
16. Espresso Brown, Sage Green, Rust Red
Hex Codes: #4E342E, #a0be79, #c67162
Deep espresso brown complements nature-inspired sage green and sunset rust red beautifully for an earthy retro palette. Use in living rooms, bedrooms and offices.
Soft Brown Color Palettes
Light brown hues pair seamlessly with other soft neutrals like greige, oatmeal and buttercream. These soothing combos create laidback elegance.
17. Tan, Beige, Buttercream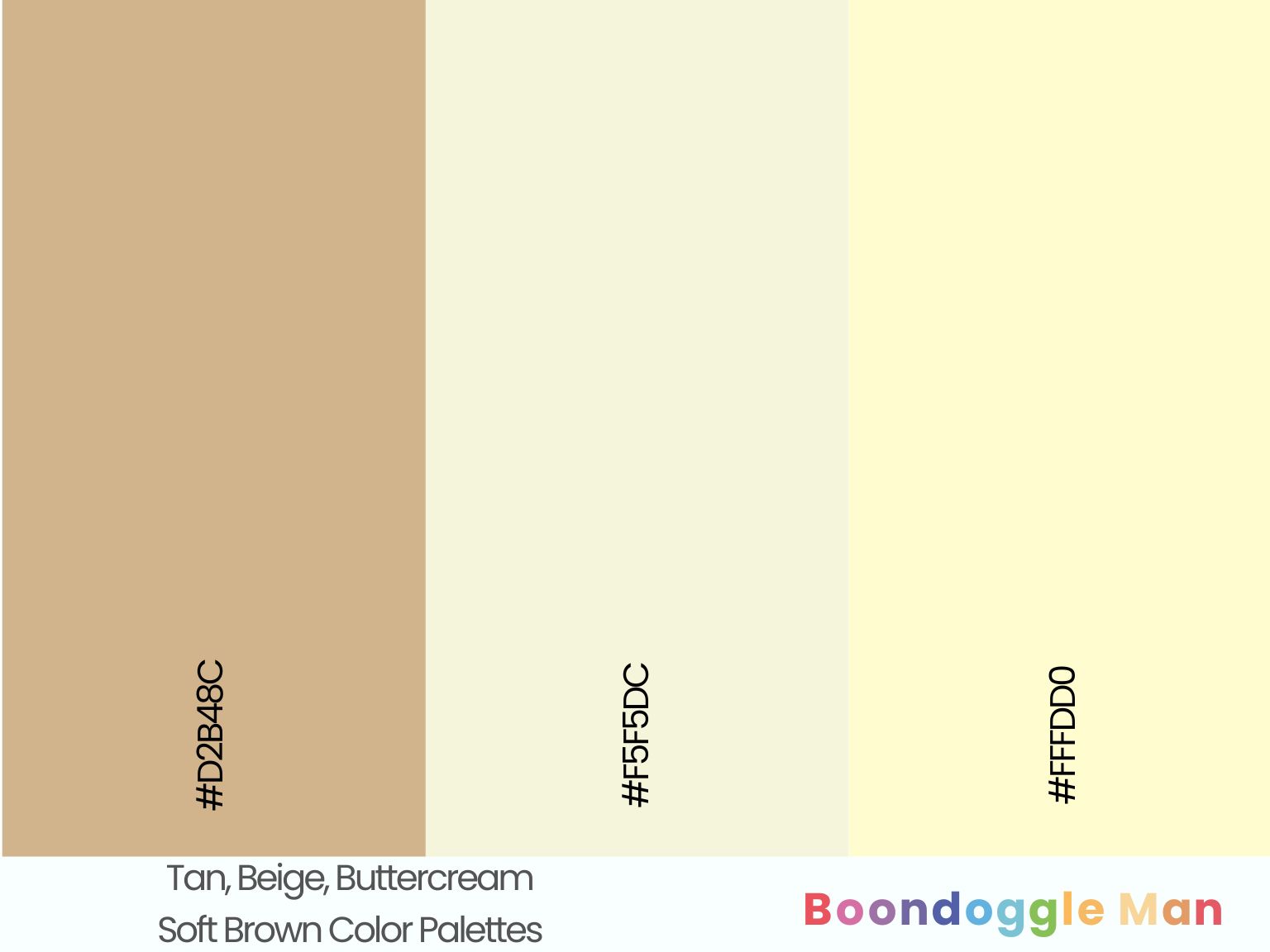 Hex Codes: #D2B48C, #F5F5DC, #FFFDD0
Creamy tan complements versatile beige and buttery buttercream nicely for an easygoing, feminine palette. Use this in bedrooms, bathrooms and nurseries.
18. Khaki Green, Blush, Mink Brown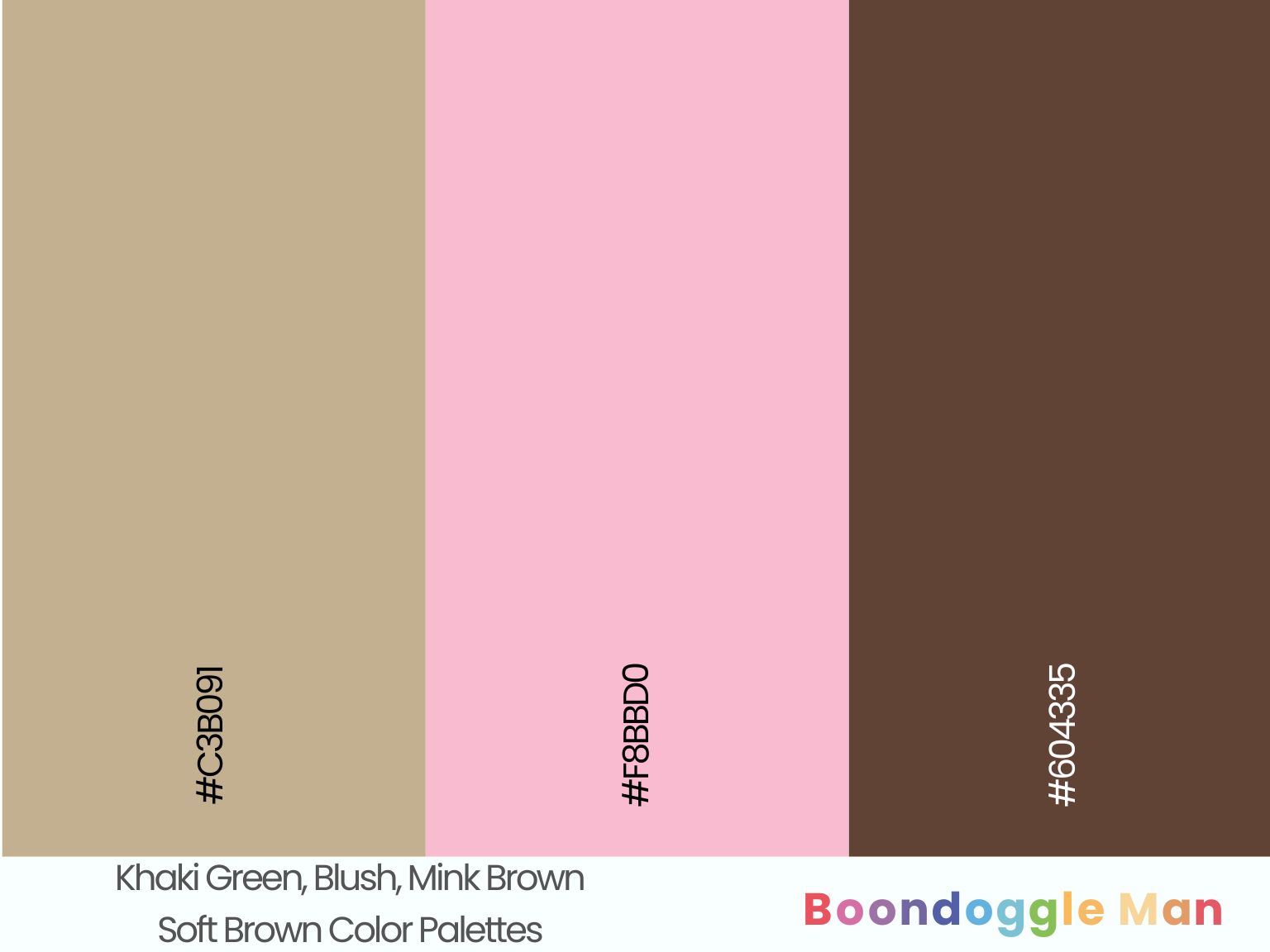 Hex Codes: #C3B091, #F8BBD0, #604335
Earthy khaki green walls look gorgeous with rosy blush and cuddly mink brown accents. A warm, romantic color combination for cottages.
19. Taupe, Lavender, Dusty Brown
Hex Codes: #C7C4BB, #B57EDC, #926960
Mix soothing taupe with airy lavender and weathered dusty brown for a relaxed yet elegant palette. Use in master bedrooms, bathrooms and living spaces.
20. Greige, Sky Blue, Café Au Lait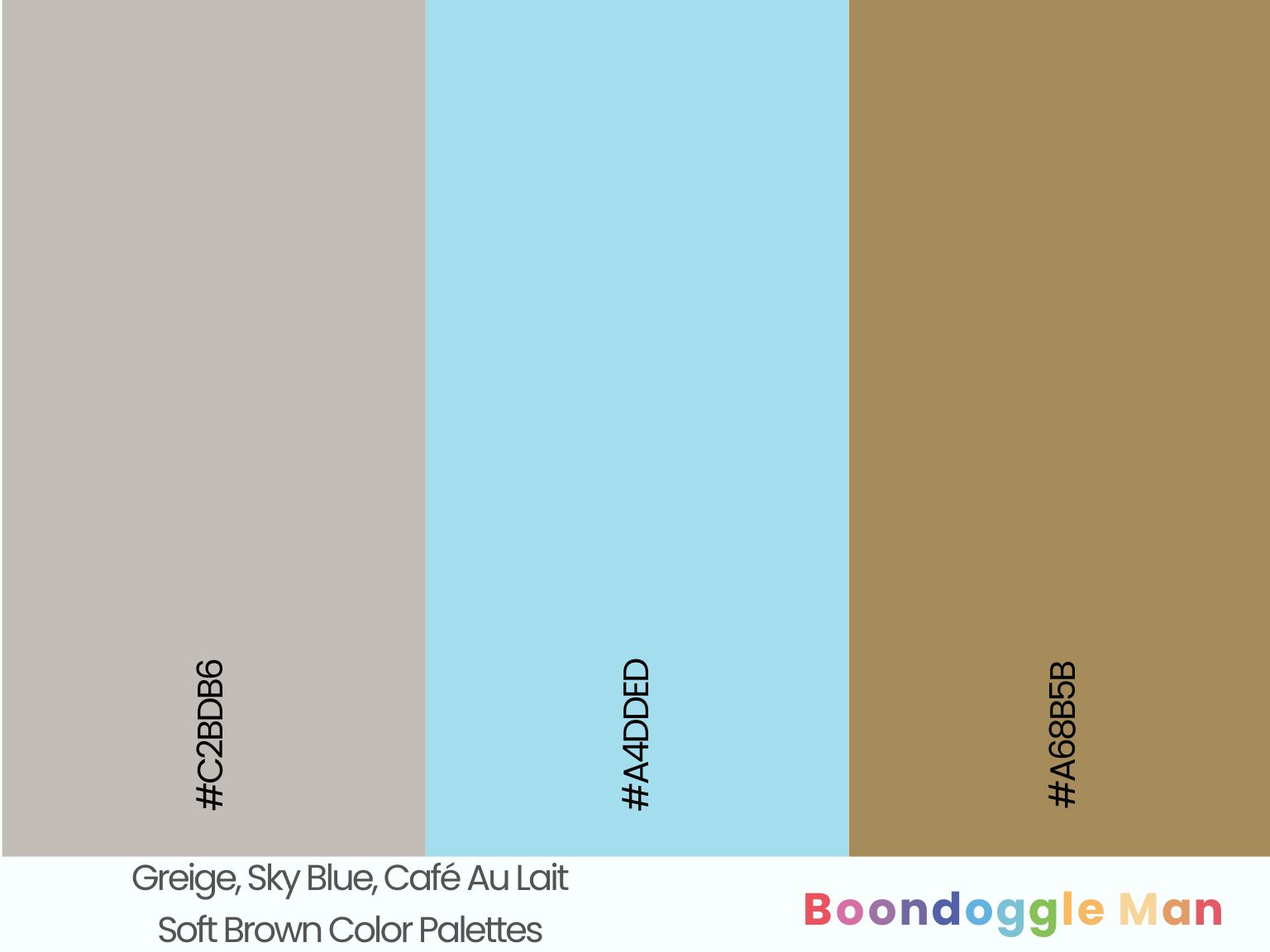 Hex Codes: #C2BDB6, #A4DDED, #A68B5B
Subdued greige complements bright sky blue and creamy café au lait beautifully in this laidback, ethereal palette. Perfect for bedrooms, offices and studios.
21. Stone, Powder Blue, Camel Brown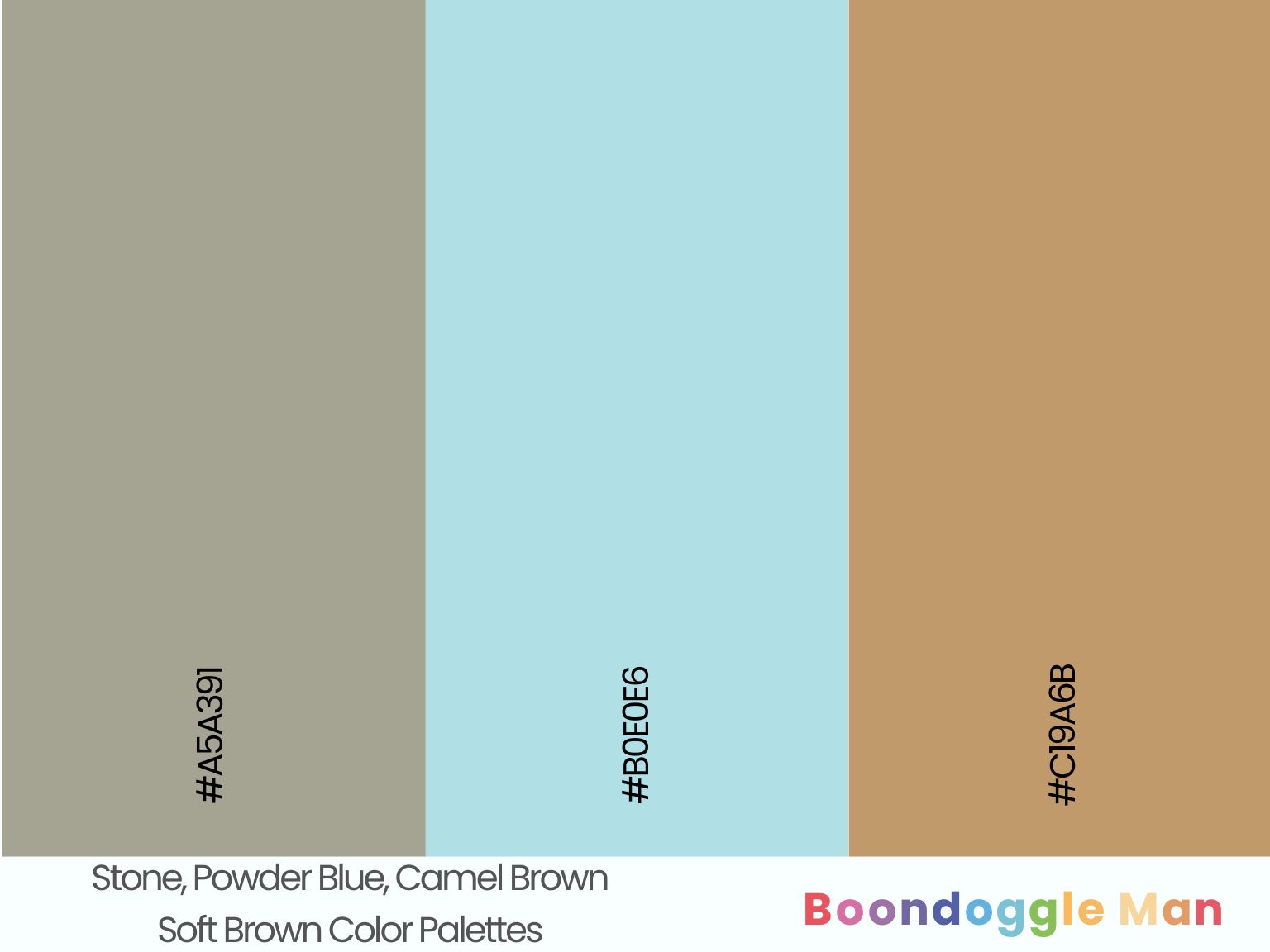 Hex Codes: #A5A391, #B0E0E6, #C19A6B
Match hushed stone walls with soft powder blue and natural camel brown accents for an easy, breezy combo. Use in bedrooms, bathrooms and entryways.
22. Cream, Lilac, Mocha Brown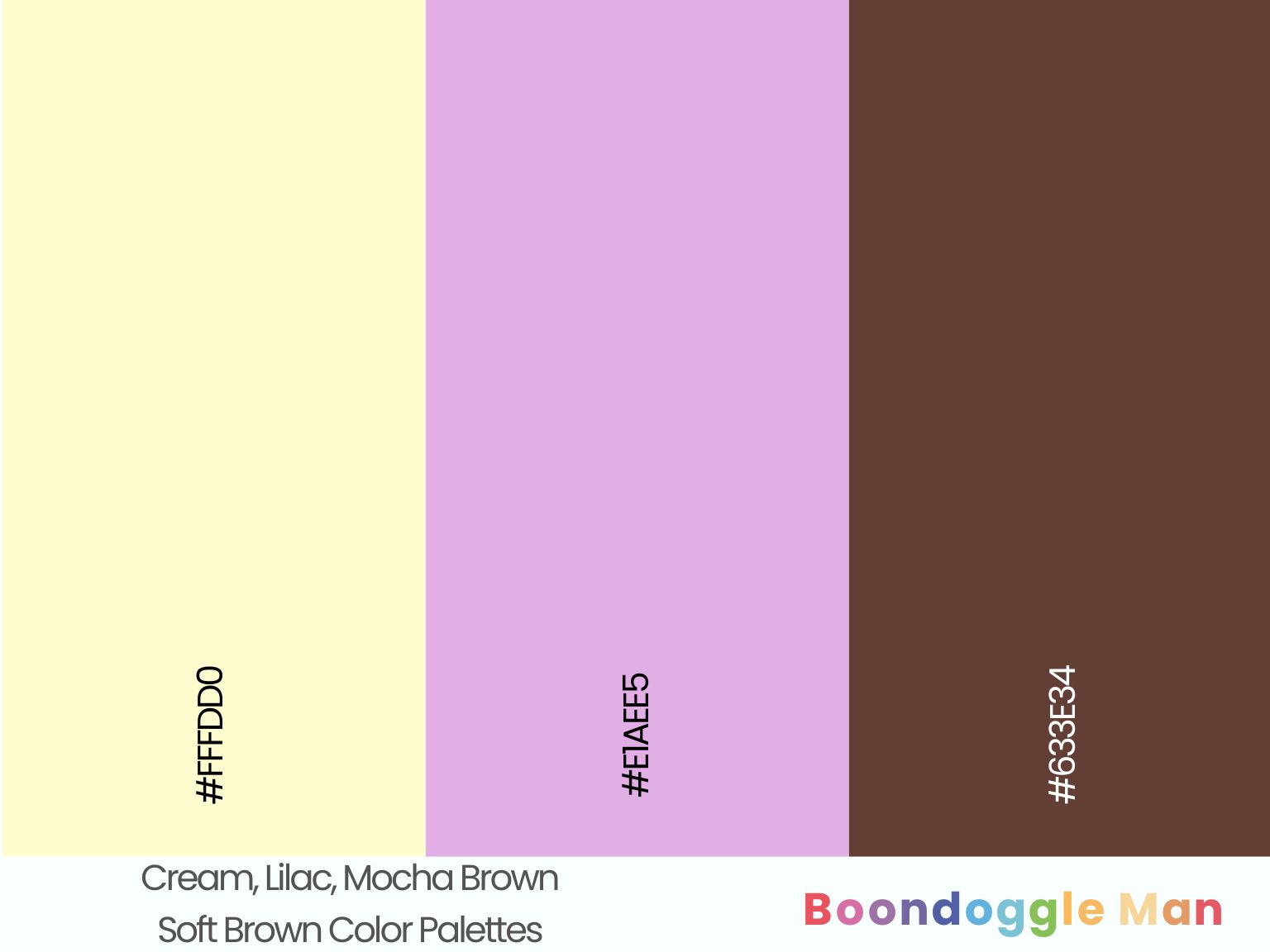 Hex Codes: #FFFDD0, #E1AEE5, #633E34
Cream walls complemented by delicate lilac and deep mocha brown creates a soothing, feminine color palette. Ideal for master suites and dressing rooms.
Gray Brown Color Combinations
Muted gray browns pair seamlessly with light blues and grays to create relaxed, neutral palettes. Use these harmonious combos to design cozy, minimalist interiors.
23. Charcoal Brown, Light Blue, White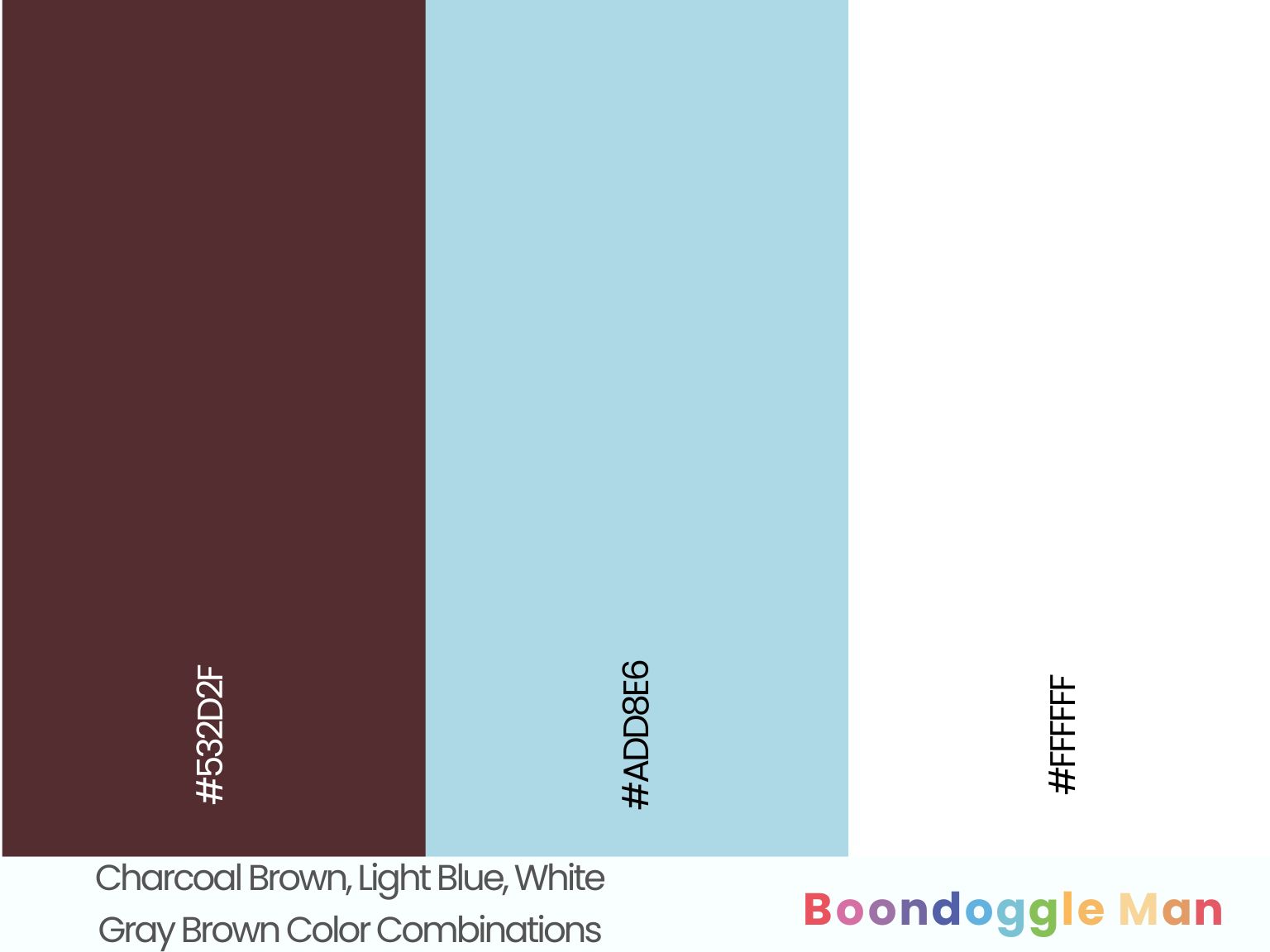 Hex Codes: #532D2F, #ADD8E6, #FFFFFF
Match weathered charcoal brown furniture with breezy light blue walls and bright white trim for an airy, pared-down combo. Use this in small spaces seeking serenity.
24. Dove Gray, Almond, Taupe Brown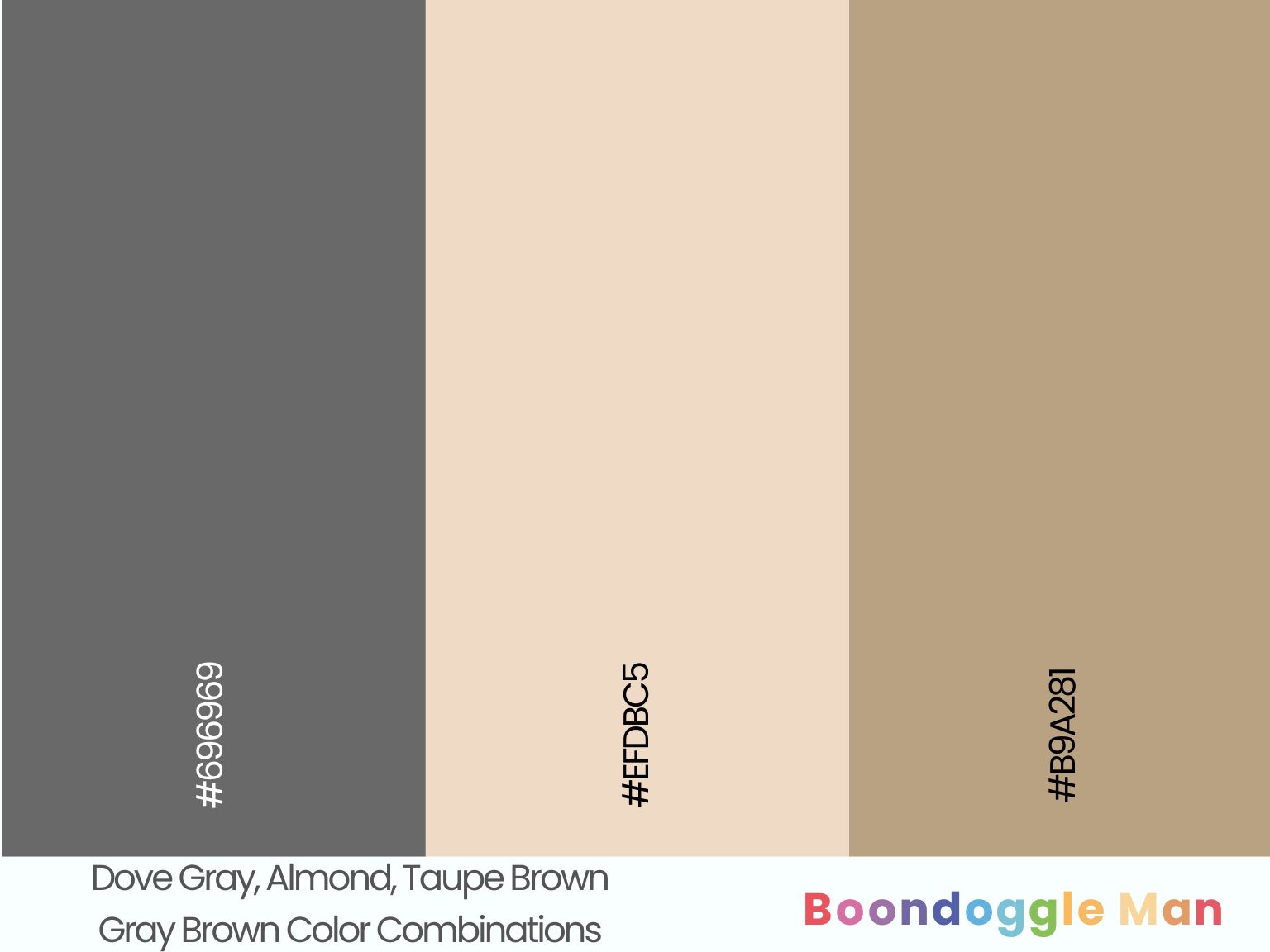 Hex Codes: #696969, #EFDBC5, #B9A281
Dove gray walls complemented by creamy almond white and natural taupe brown accents creates versatile, neutral harmony.
25. Heather Gray, Seafoam, Saddle Brown
Hex Codes: #B6B095, #B3ECEE, #8B4513
Mix soft heather gray with refreshing seafoam green and reliable saddle brown for a laidback yet sophisticated palette. Perfect for living rooms and bedrooms.
26. Pewter Gray, Ice Blue, Espresso Brown
Hex Codes: #333D49, #DBF0F7, #594F4F
Sleek pewter gray complements icy blue tones and deep espresso brown beautifully in this versatile, neutral color scheme. Use in any room needing a relaxed mood.
27. Silver Gray, Periwinkle, Hazel Brown
Hex Codes: #C0C0C0, #CCCCFF, #A57D52
Match refined silver gray with airy periwinkle and organic hazel brown for an elegant yet down-to-earth palette. Great for dining rooms and entryways.
Rich Brown Palettes
Deep chocolate brown tones look ultra-luxurious paired with jewel-inspired purples, blues and metallics. These bold combos create lavish elegance.
28. Espresso Brown, Amethyst, Gold
Hex Codes: #4E342E, #9966CC, #D4AF37
Sultry espresso brown complements jewel-toned amethyst and glimmering gold accents for an opulent, exotic palette. Perfect for living rooms and master bedrooms.
29. Coffee Brown, Sapphire Blue, Rose Gold
Hex Codes: #6F4E37, #0F52BA, #B76E79
Earthy coffee brown walls look striking against rich sapphire blue and romantic rose gold finishes. Use this regal combo in dining rooms, offices or libraries.
30. Dark Chocolate, Plum, Pewter Gray
Hex Codes: #1B1811, #580F41, #333D49
Pair sumptuous dark chocolate brown with decadent plum purple and sophisticated pewter gray for a palette with luxury appeal. Ideal for elegant spaces.
31. Milk Chocolate, Navy Blue, Bronze
Hex Codes: #7F462C, #000080, #CD7F32
Warm milk chocolate brown complements rich navy blue walls and glamorous bronze accents beautifully in this opulent color scheme. Use in formal living rooms and master suites.
Vintage Brown Color Combinations
Nostalgic brown tones look fabulous paired with heritage greens, blues, reds and yellows. These timeless palettes will bring old-world charm to any space.
32. Chestnut Brown, Emerald Green, Rustic Red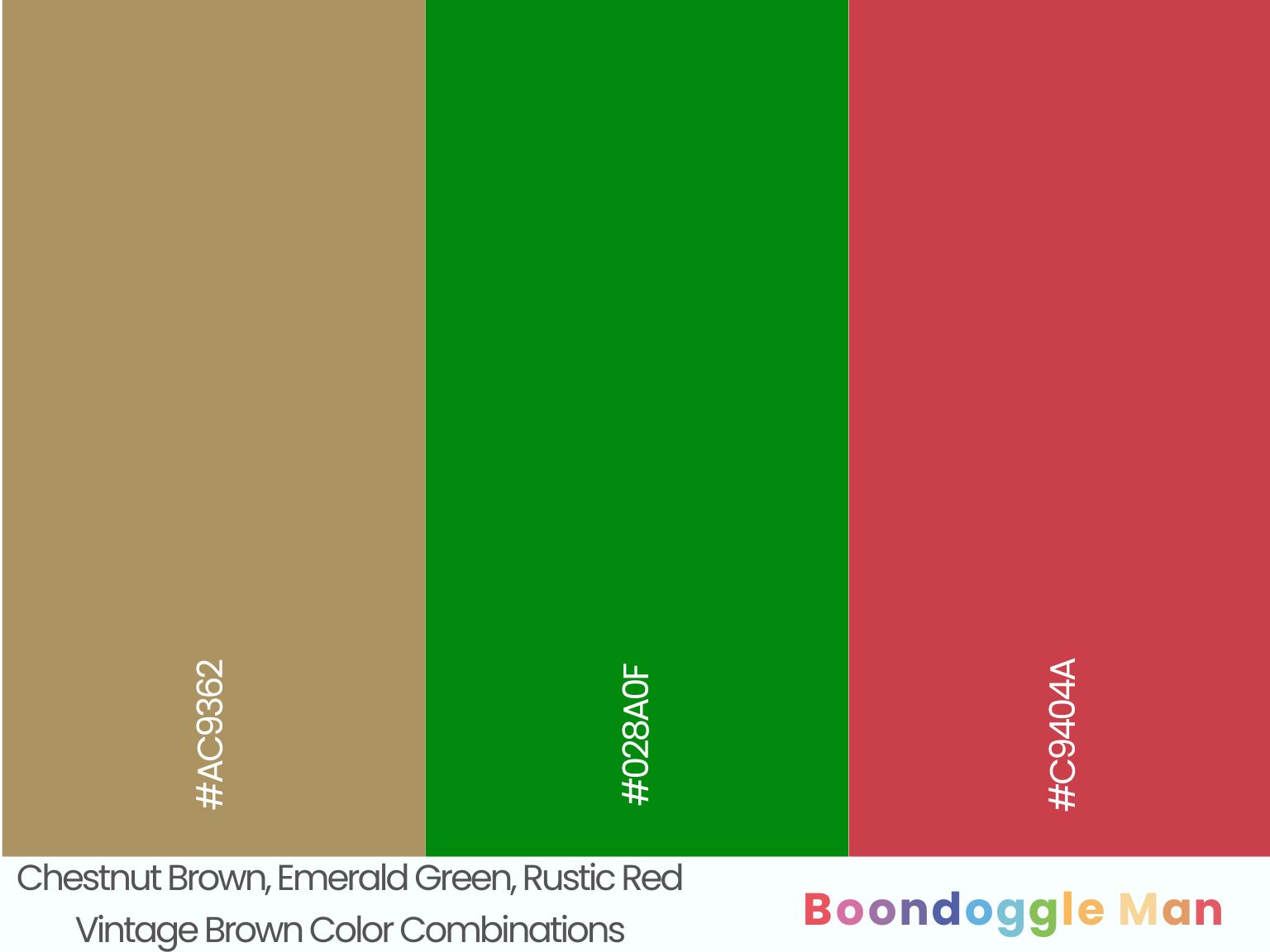 Hex Codes: #AC9362, #028A0F, #C9404A
Classic chestnut brown furniture pops against jewel-toned emerald green walls and traditional rustic red accents. Use this regal yet earthy palette in studies, libraries and dining rooms.
33. Hazelnut Brown, Robin's Egg Blue, Cherry Red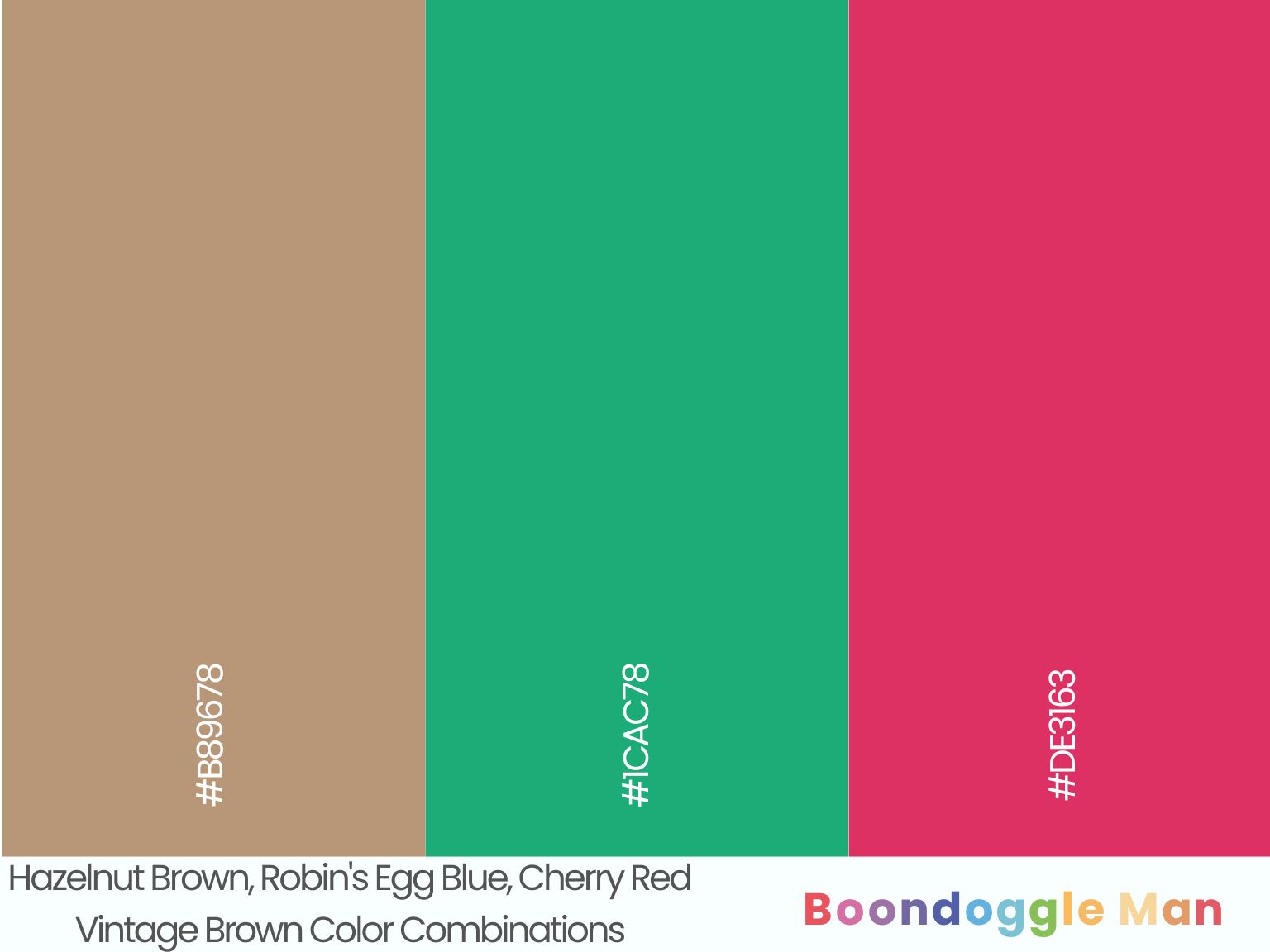 Hex Codes: #B89678, #1CAC78, #DE3163
Pair yummy hazelnut brown with playful robin's egg blue and nostalgic cherry red to create a cheerful vintage look perfect for a children's bedroom.
34. Cocoa Brown, Denim Blue, Sunshine Yellow
Hex Codes: #875F3E, #1560BD, #FFF21E
Rich cocoa brown walls look fabulous with faded denim blue jeans and bright sunshine yellow accents. A timeless combo for a cozy, all-American interior.
35. Mocha Brown, French Blue, Poppy Red
Hex Codes: #894A3D, #436CB9, #E6363F
Sophisticated mocha brown furniture complements classic French blue walls and bold poppy red accents for a striking, vintage palette. Perfect for traditional homes.
High Contrast Brown Color Schemes
Deep chocolate brown punctuates crisp white and pops against vivid primary colors to create bold, attention-grabbing palettes.
36. Dark Brown, Cardinal Red, White
Hex Codes: #4A1D15, #C41E3A, #FFFFFF
Sleek dark brown contrasts dramatically with bright cardinal red accents and clean white walls. Use this powerful combo to create impact in any space.
37. Espresso Brown, Sunshine Yellow, Navy Blue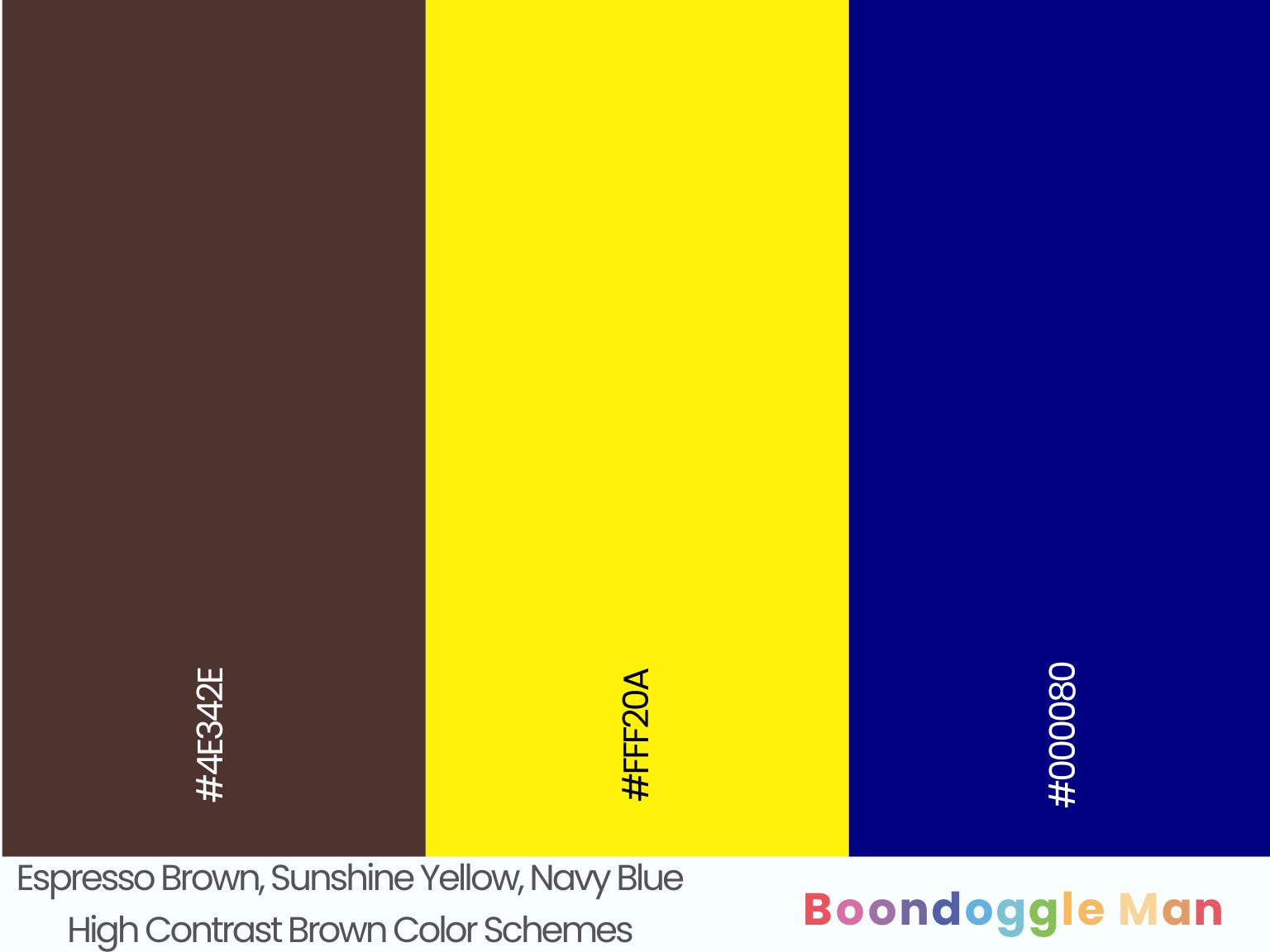 Hex Codes: #4E342E, #FFF20A, #000080
Strong espresso brown makes a bold statement against lively sunshine yellow and rich navy blue. Perfect for adding energy to a room.
38. Milk Chocolate, Tangerine Orange, True Blue
Hex Codes: #7F462C, #FF9E6B, #01028C
Warm milk chocolate brown pops against tangy tangerine orange and electric true blue in this vibrant, attention-grabbing palette. Great for entryways.
39. Dark Chocolate, Fuchsia, White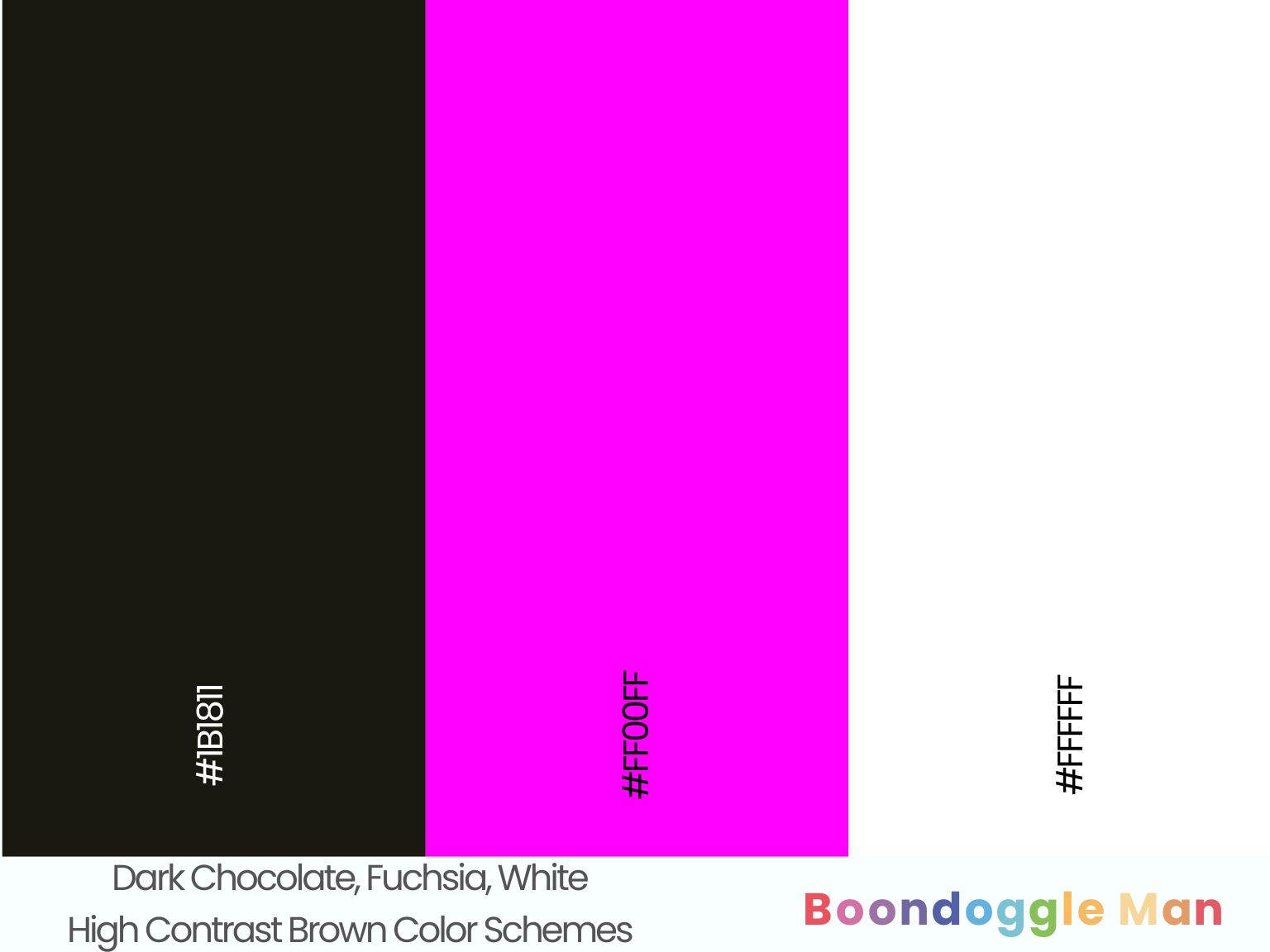 Hex Codes: #1B1811, #FF00FF, #FFFFFF
Decadent dark chocolate brown contrasts dramatically with shocking fuchsia pink and bright white. Use this combo sparingly to create impact.
40. Black Bean Brown, Turquoise, Cherry Red
Hex Codes: #040103, #40E0D0, #DE3163
Inky black bean brown makes vibrant turquoise and playful cherry red shine in this electrifying palette. Perfect for modern dining rooms.
Brown and Pastel Color Schemes
Creamy browns look effortlessly chic when paired with soft pastels like mint green, peach and lilac. These sweet combos evoke springtime style.
41. Taupe Brown, Lavender, Peach
Hex Codes: #8A7F70, #E6E6FA, #FFE5CC
Earthy taupe brown complements dreamy lavender walls and rosy peach accents nicely for a romantic palette. Great in bedrooms and living rooms.
42. Beige Brown, Seafoam Green, Melon
Hex Codes: #B1A28F, #B3ECEE, #FDBCB4
Warm beige brown furniture looks fabulous against refreshing seafoam green walls and juicy melon orange accents. Use this fruity combo in kitchens and cafes.
43. Café Au Lait, Mint Green, Buttercream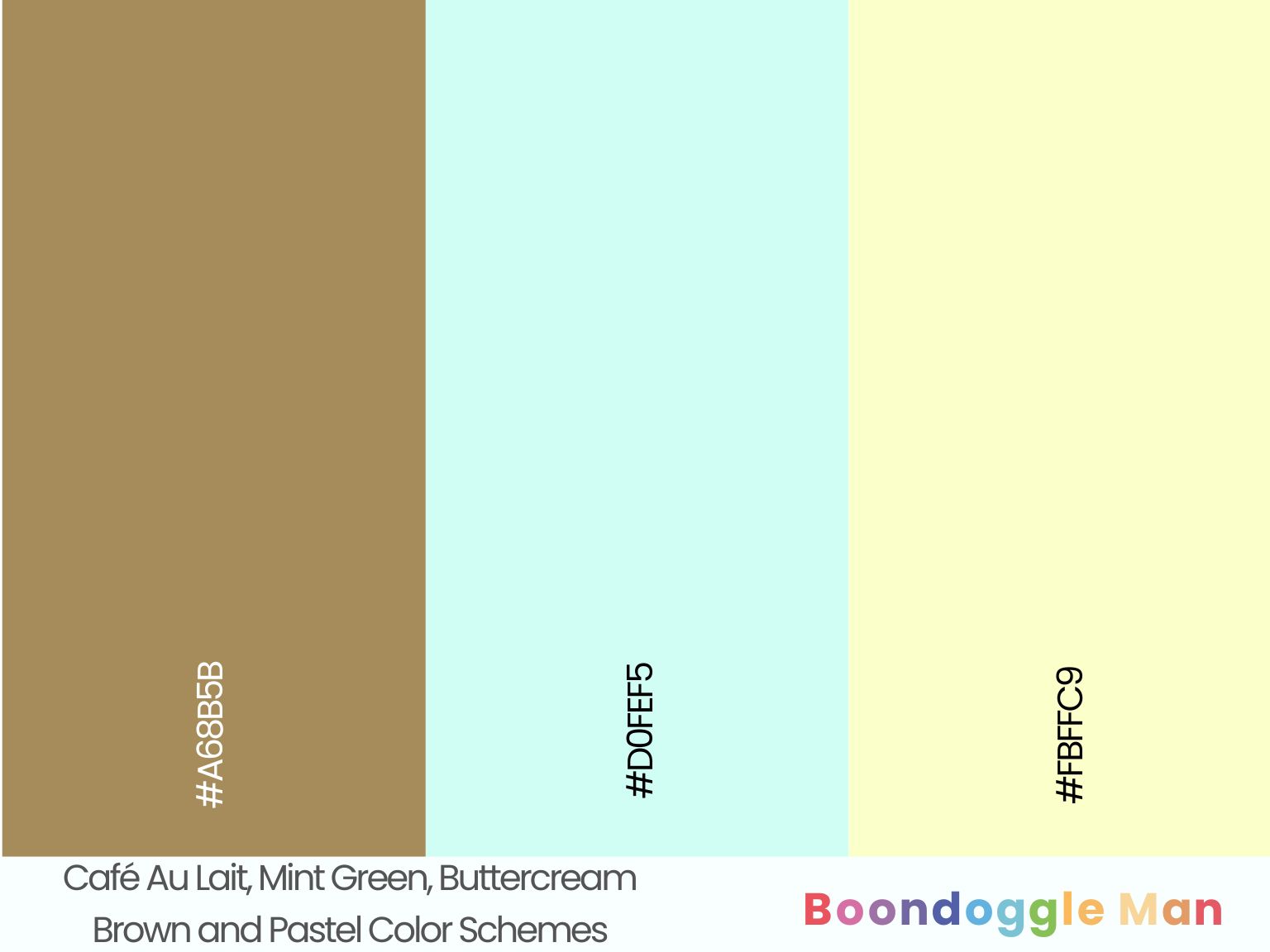 Hex Codes: #A68B5B, #D0FEF5, #FBFFC9
Creamy café au lait complements sweet mint green and buttery buttercream yellow beautifully. A lively yet soothing springtime palette.
44. Khaki Brown, Lilac, Baby Blue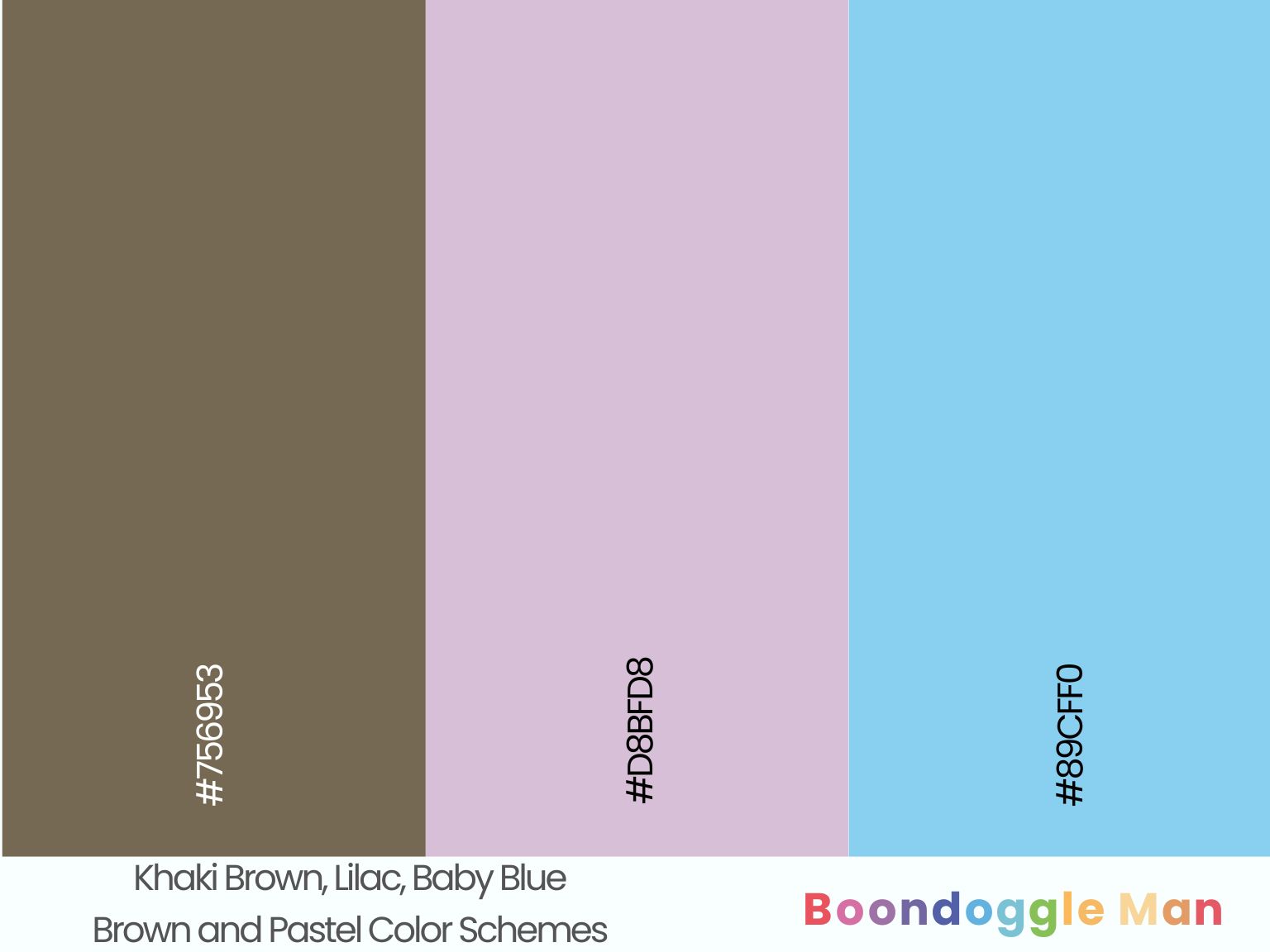 Hex Codes: #756953, #D8BFD8, #89CFF0
Mix earthy khaki brown walls with airy lilac purples and soft baby blue for a lighthearted, ombre-style palette. Use this in children's spaces.
45. Stone Brown, Lavender, Powder Pink
Hex Codes: #897D6D, #B57EDC, #FFB6C1
Muted stone brown creates harmony with ethereal lavender and delicate powder pink accents. A refined palette for bedrooms, sitting rooms and studios.
Frequently Asked Questions
What colors complement brown?
Green, blue, purple, red, orange, yellow, cream, gray, and metallic shades like gold, bronze, and copper all complement brown shades beautifully.
What colors should not be paired with brown?
Avoid combining brown with other dull, muddy colors like olive and khaki. Don't pair brown with bright neons or loud patterns, as these clash rather than complement.
What color furniture goes well with brown walls?
Light blue, dark purple, slate gray, beige, cream, white, and black furniture all look great against brown walls. Metallic gold and silver pieces also pair nicely.
What color carpet is best with brown?
Light taupe, beige, cream, gray, and blue-toned brown carpets coordinate well with brown walls and woodwork. Avoid red or orange carpets.
What color cabinets look good with brown countertops?
White, light gray, navy, black, and sage green cabinets complement brown countertops beautifully. Stainless steel appliances also pair nicely.
Final Takeaway
Brown is an extremely versatile neutral color that allows for many stunning color combinations. From pale sand to deep espresso, you can create sophisticated, welcoming palettes featuring your perfect shade of brown. Use these harmonious color schemes to design a relaxing, grounded environment.