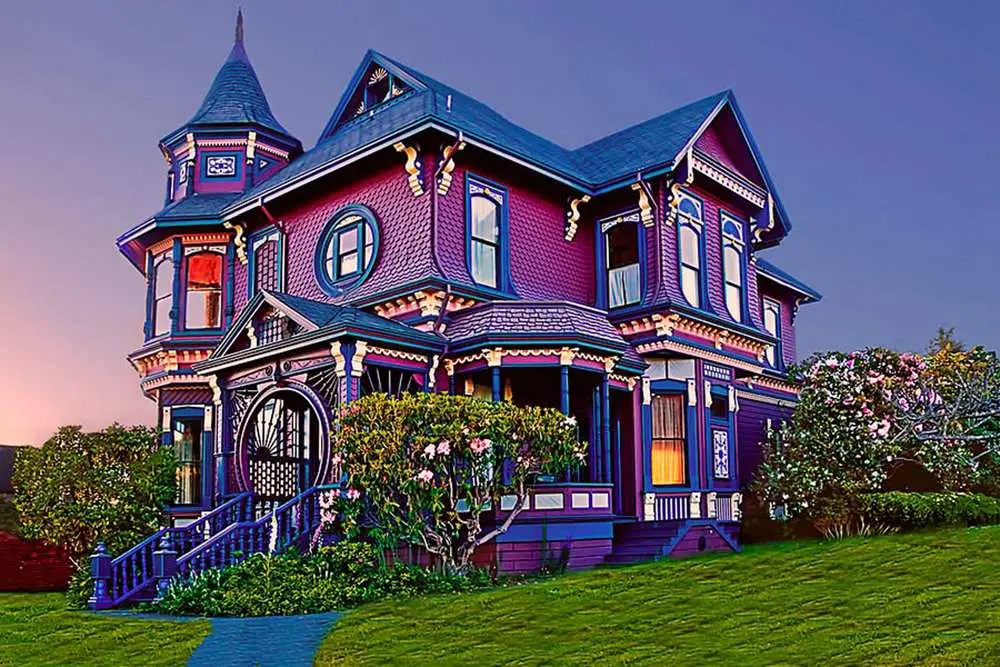 Purple is a rich, vibrant color that pairs beautifully with a wide range of hues. From light pastels to bold jewel tones, many color combinations complement purple tones wonderfully.
What is Purple?
Purple is a secondary color made by mixing red and blue. It sits at the end of the visible spectrum, next to violet. In the RYB color model, purple is made by mixing red and blue. In the RGB model, you can make purple by combining red and blue light.
The hex code for pure purple is #800080. Purple is often associated with royalty, luxury, mystery, and spirituality. It creates a rich, sophisticated mood.
Shades of Purple
There are many shades of purple ranging from light pastels to dark jeweled tones. Here are some common purple shades:
| Color | Hex Code |
| --- | --- |
| Lavender | #B57EDC |
| Lilac | #C8A2C8 |
| Wisteria | #C9A0DC |
| Orchid | #DA70D6 |
| Violet | #8F00FF |
| Grape | #6A0DAD |
| Byzantium | #702963 |
| Plum | #580F41 |
| Eggplant | #3F012C |
| Wine | #80013F |
Complementary Colors of Purple
Complementary colors sit opposite each other on the color wheel and create high contrast when paired. The complementary color for purple (#800080) is yellow (#FFFF00).
Yellow (#FFFF00)
Vibrant yellow enlivens and illuminates purple's jewel-tone richness. Bright goldenrod, marigold, and lemon yellow all make purple pop. Soft muted yellows like cream (#FFFFF0) also complement purple nicely.
Use yellow as accents throughout a primarily purple room. Try purple walls with a yellow area rug, throw pillows, and art pieces. For fashion, pair a purple dress with yellow heels or jewelry. Mix and match purple and yellow clothing and accessories to liven up an outfit.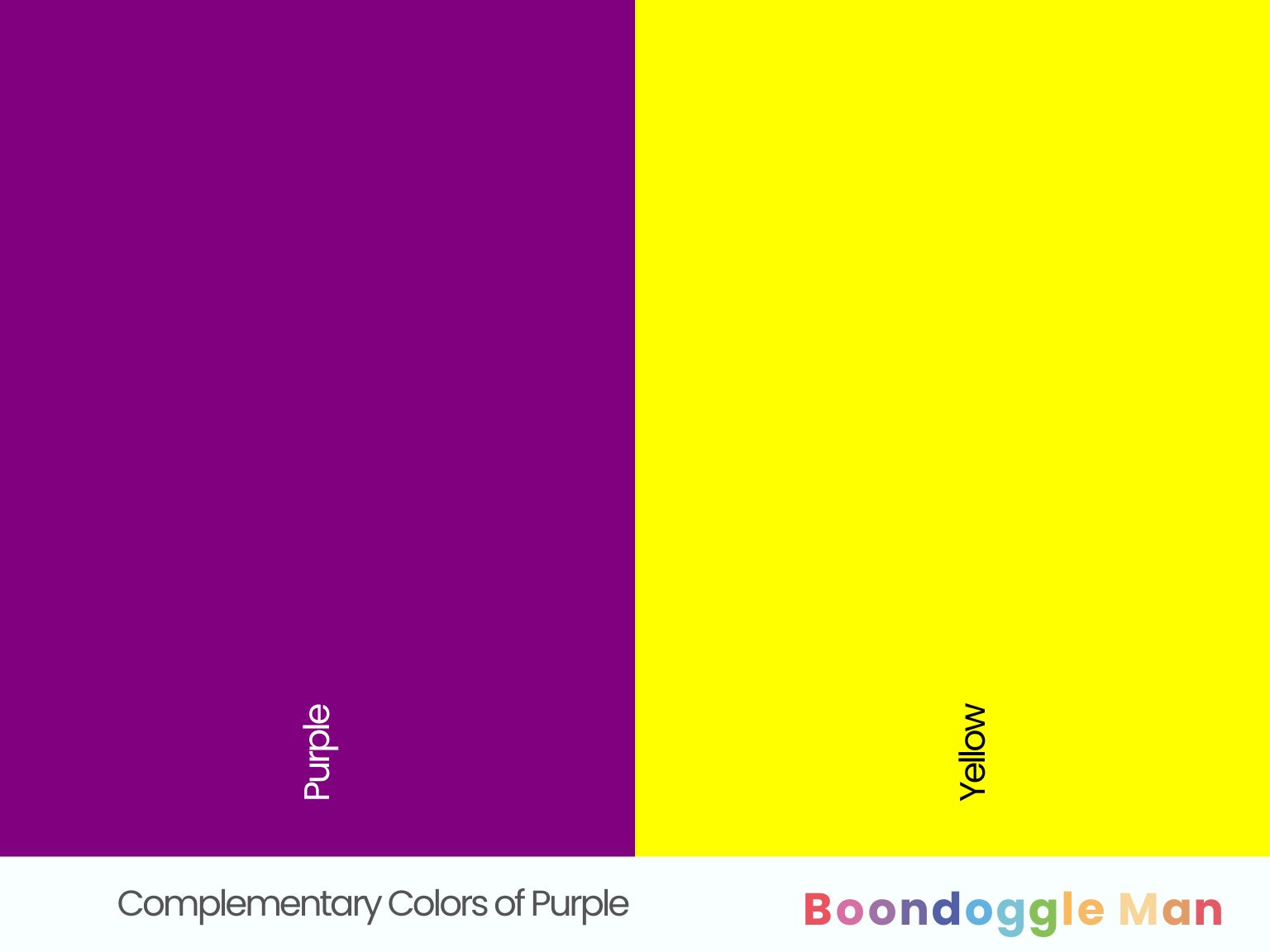 Analogous Colors of Purple
Analogous colors sit next to each other on the color wheel, creating harmonious combinations. Analogous colors for purple (#800080) include:
Red (#FF0000)
Red brings out the vibrancy in purple, making it feel lush and royal. Bright true reds work best like crimson, cherry, and apple red. Burgundy red (#800000) is almost interchangeable with purple.
Use red sparingly against purple backdrops for dramatic impact. Try bold red lamps or chairs in a purple living room. Wear purple tops with red pants or skirts for eye-catching style.
Blue (#0000FF)
Blue has a cooling effect that balances out purple's warm undertones. Light powder blues (#B0E0E6) or vivid royal blues (#4169E1) both complement purple beautifully. Avoid navy blue (#000080), which can look too harsh.
Incorporate blue accents throughout purple interiors and outfits. Try purple and blue throw pillows or mix a purple dress with blue heels and bag. Vary shades of blue and purple for extra depth.
Magenta (#FF00FF)
Magenta brings out purple's pink undertones for a feminine, pretty vibe. Use soft magenta tones to maintain the elegance of purple. Try light magenta furniture against dark purple walls or wear a jewel-toned purple top with a pale magenta skirt.
Triadic Colors of Purple
Triadic color schemes use three colors equally spaced around the color wheel for vibrancy. The triadic colors for purple (#800080) are green (#008000) and orange (#FFA500).
Green (#008000)
Green balances and contrasts the warmth of purple. Emerald, mint, and forest green work especially well. Olive (#808000) and sage greens (#808000) can look drab against purple.
Use green as accent colors in a primarily purple room. Add green throw pillows, wall art, or area rugs. Or style a purple outfit with green shoes, bag, or jewelry for contrast.
Orange (#FFA500)
Orange injects energy and brightness into purple's jewel-tone richness. Coral (#FF7F50), peach (#FFE5B4), and terra-cotta orange work best with purple. Avoid neon orange (#FF5F1F), which may look garish.
Use a pop of orange to instantly livens up a purple interior or outfit. Try burnt orange cushions against a purple sofa or pair a purple dress with peach heels. Use orange sparingly to avoid clashing.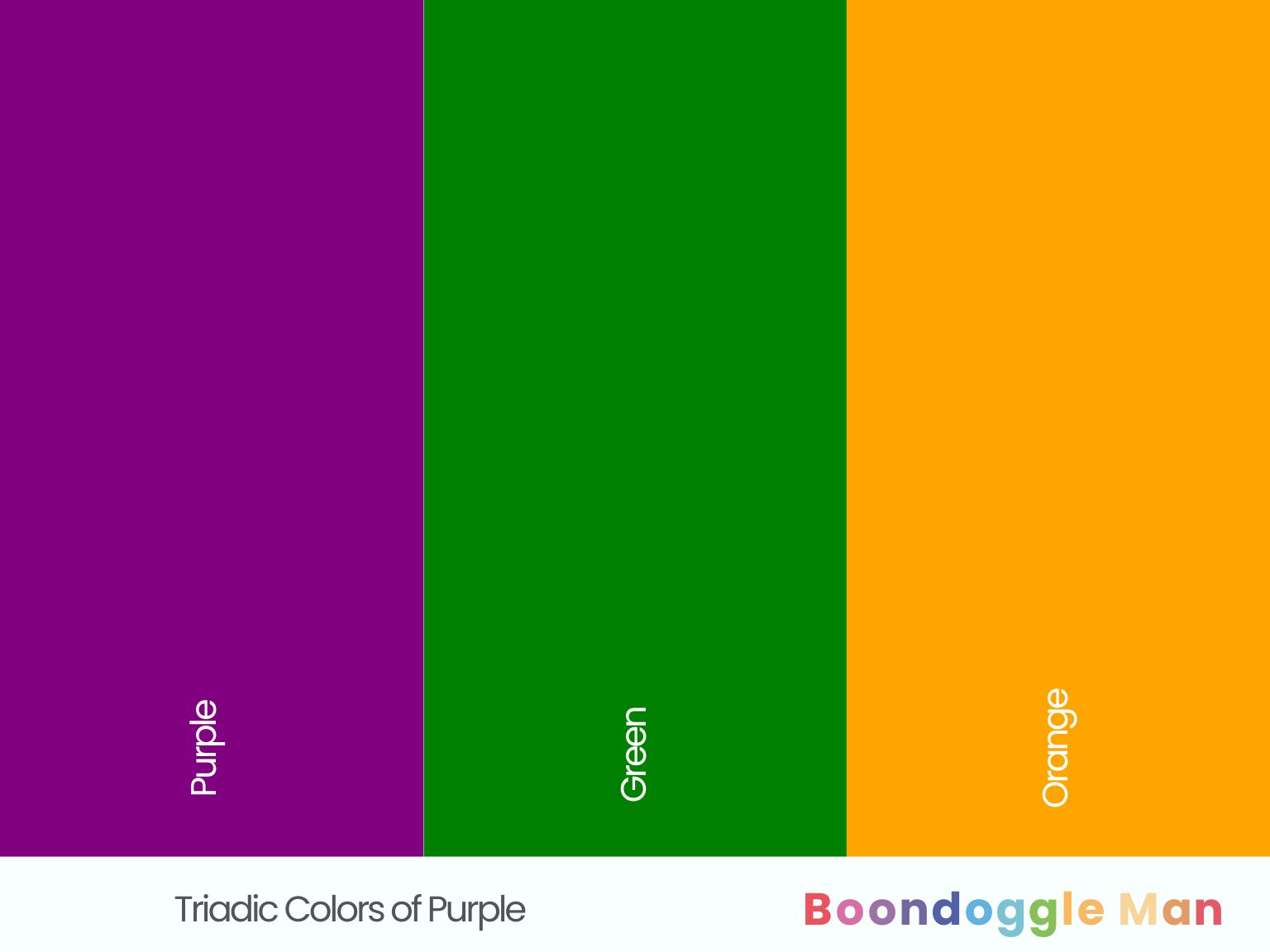 What Colors That Go With Purple
we'll look at 43 colors that create gorgeous palettes with different shades of purple. We've organized these colors into 10 color schemes that cover a spectrum of aesthetics. Discover stunning ways to use these purple color combos effectively in your home.
Vibrant Purple Color Palettes
Vivid purples packed with energy look best with equally bold accent colors. These fun, lively combos are great for adding spirited color to modern spaces.
1. Purple, Red, Turquoise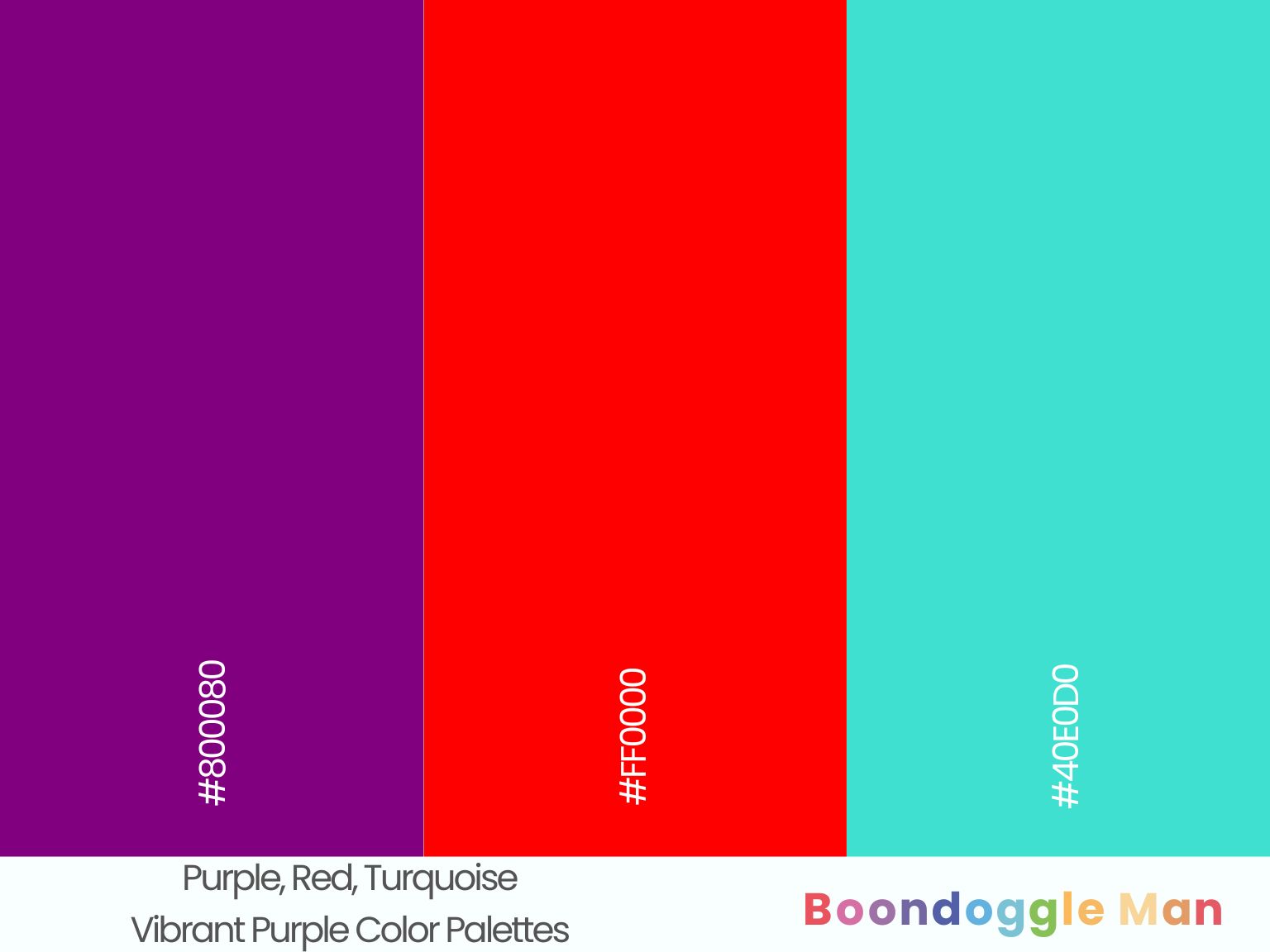 Hex Codes: #800080, #FF0000, #40E0D0
Pure purple mixed with true red and electric turquoise creates an ultra vibrant trio. The highly saturated hues have maximum impact when combined.
2. Orchid, Tangerine, Royal Blue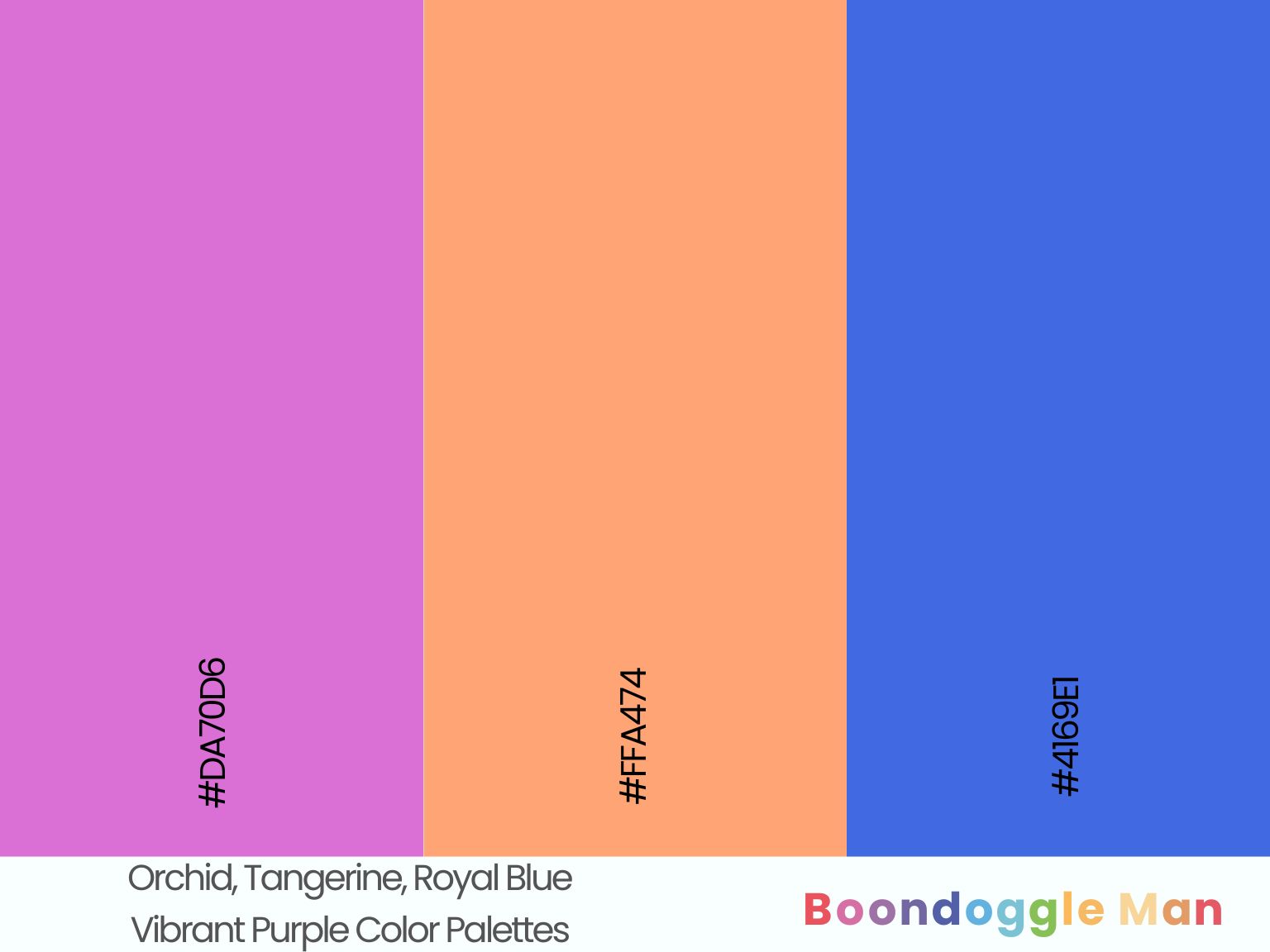 Hex Codes: #DA70D6, #FFA474, #4169E1
Pair bright orchid purple with vibrant tangerine orange and royal blue for a punchy, fruity palette. This combo reminds us of citrus flavors.
3. Lilac, Yellow, Lime Green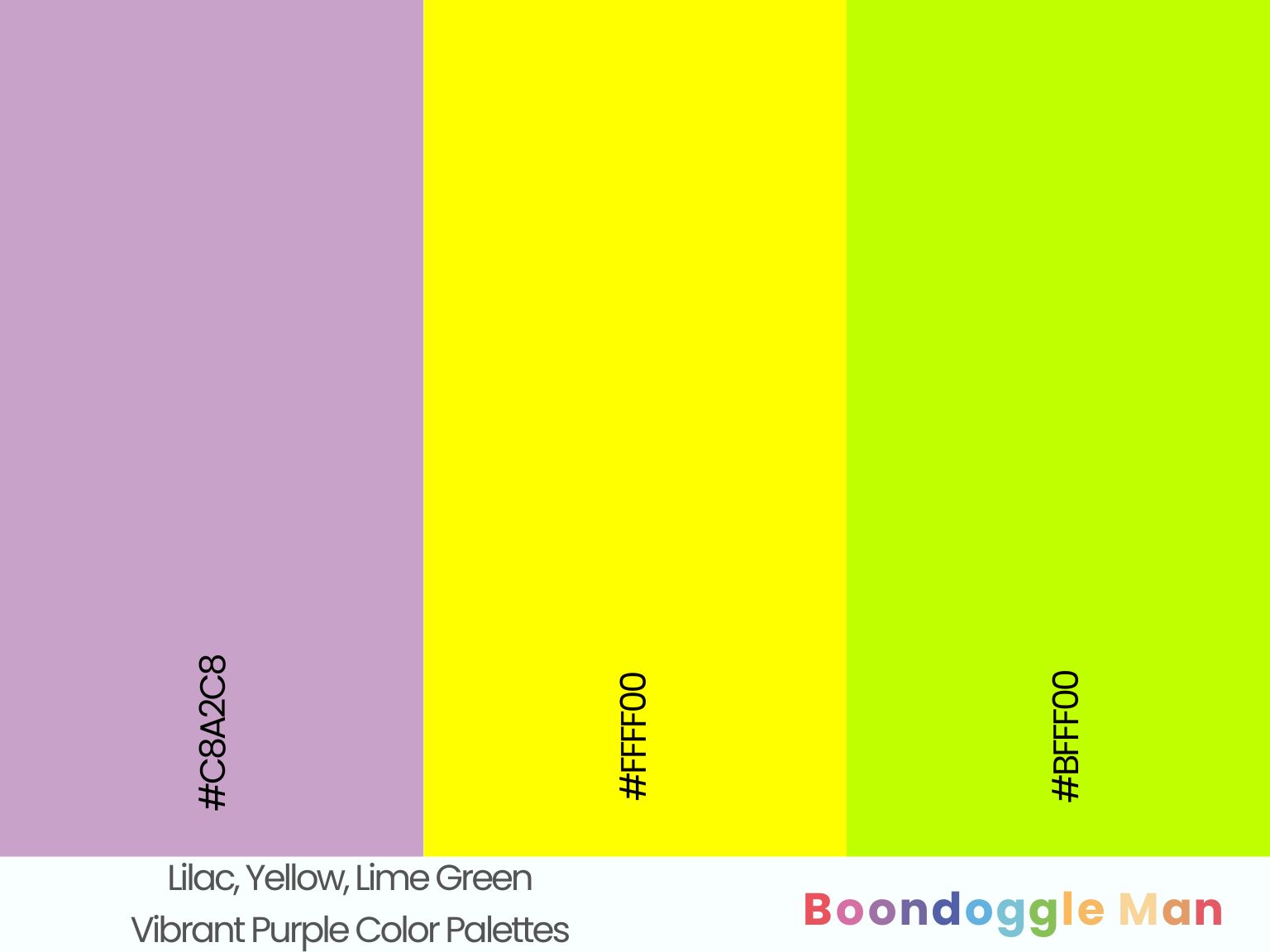 Hex Codes: #C8A2C8, #FFFF00, #BFFF00
Mix soft lilac purple with cheerful yellow and bold lime green for a lively, spring-inspired palette. The pastel purple prevents overwhelming vibrancy.
4. Grape, Pink, Teal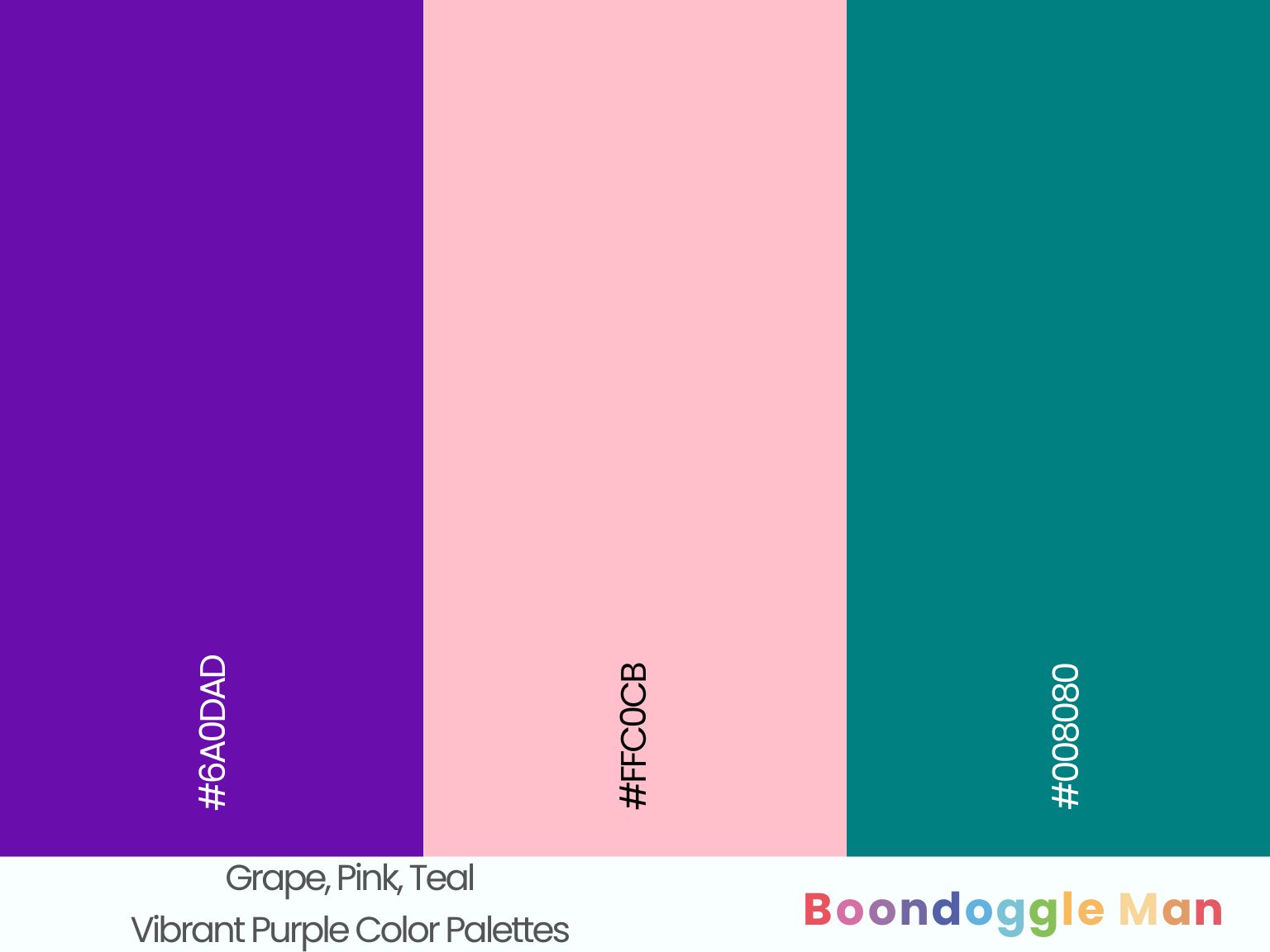 Hex Codes: #6A0DAD, #FFC0CB, #008080
Match youthful grape purple with fun pink and refreshing teal to create a playful palette perfect for kids' spaces. The colors have great energy.
5. Violet, Orange, Cerulean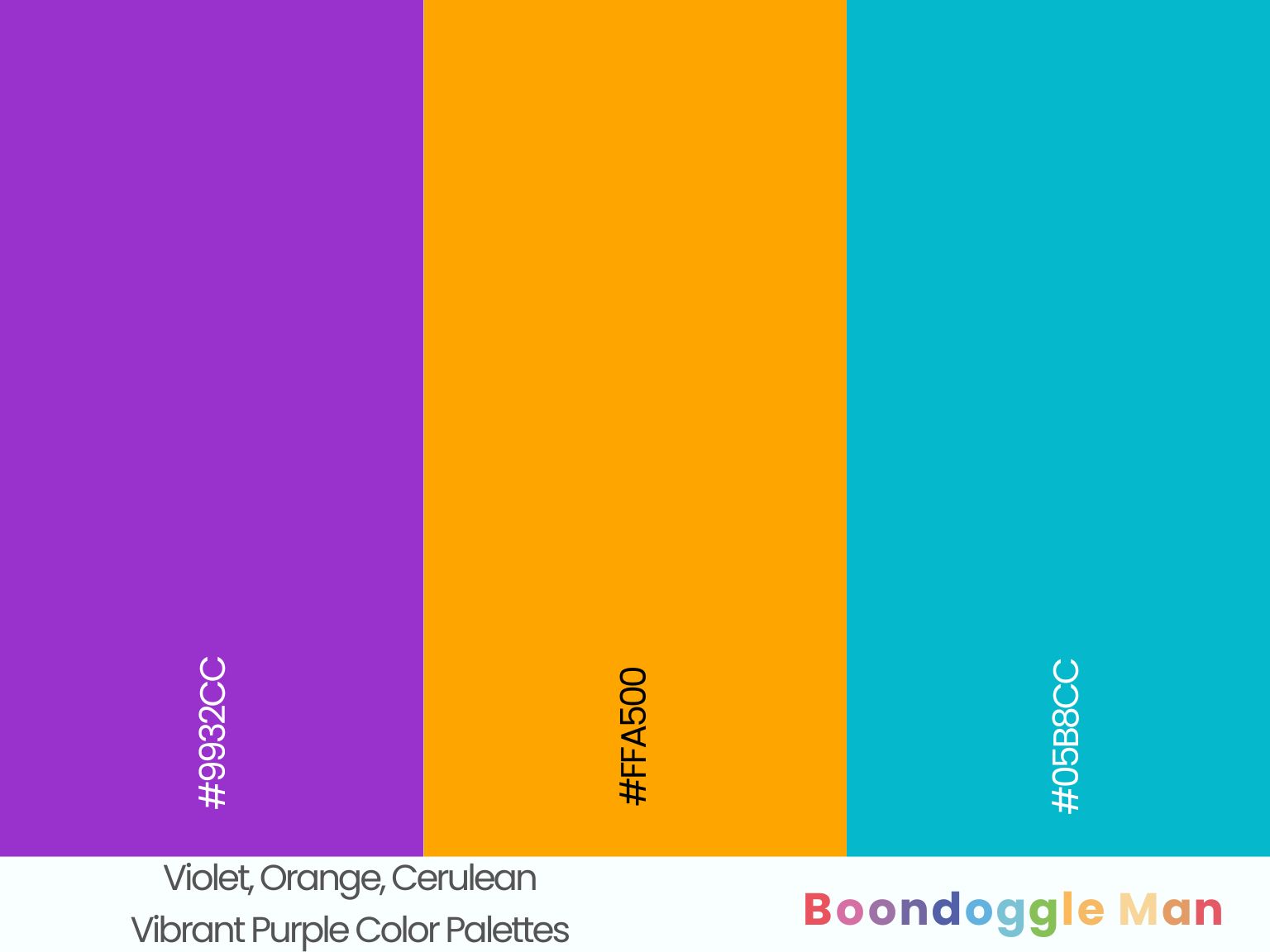 Hex Codes: #9932CC, #FFA500, #05B8CC
Combining bright violet with warm orange and cool cerulean blue creates strong color contrast and visual impact. Great for spaces needing energy and vibrancy.
6. Cherry Purple, Yellow, Teal
Hex Codes: #EB7AA0, #FFFF00, #13EAC9
Cherry purple combined with bold yellow and crisp teal makes for a playful, eye-catching palette. Perfect for kids' rooms or youthful styles.
Earthy Purple Color Combinations
Muted dusty purples work seamlessly with natural neutrals like tan, sand, gray, and brown. These harmonious palettes have an organic, cozy feel.
7. Mauve, Khaki, Walnut Brown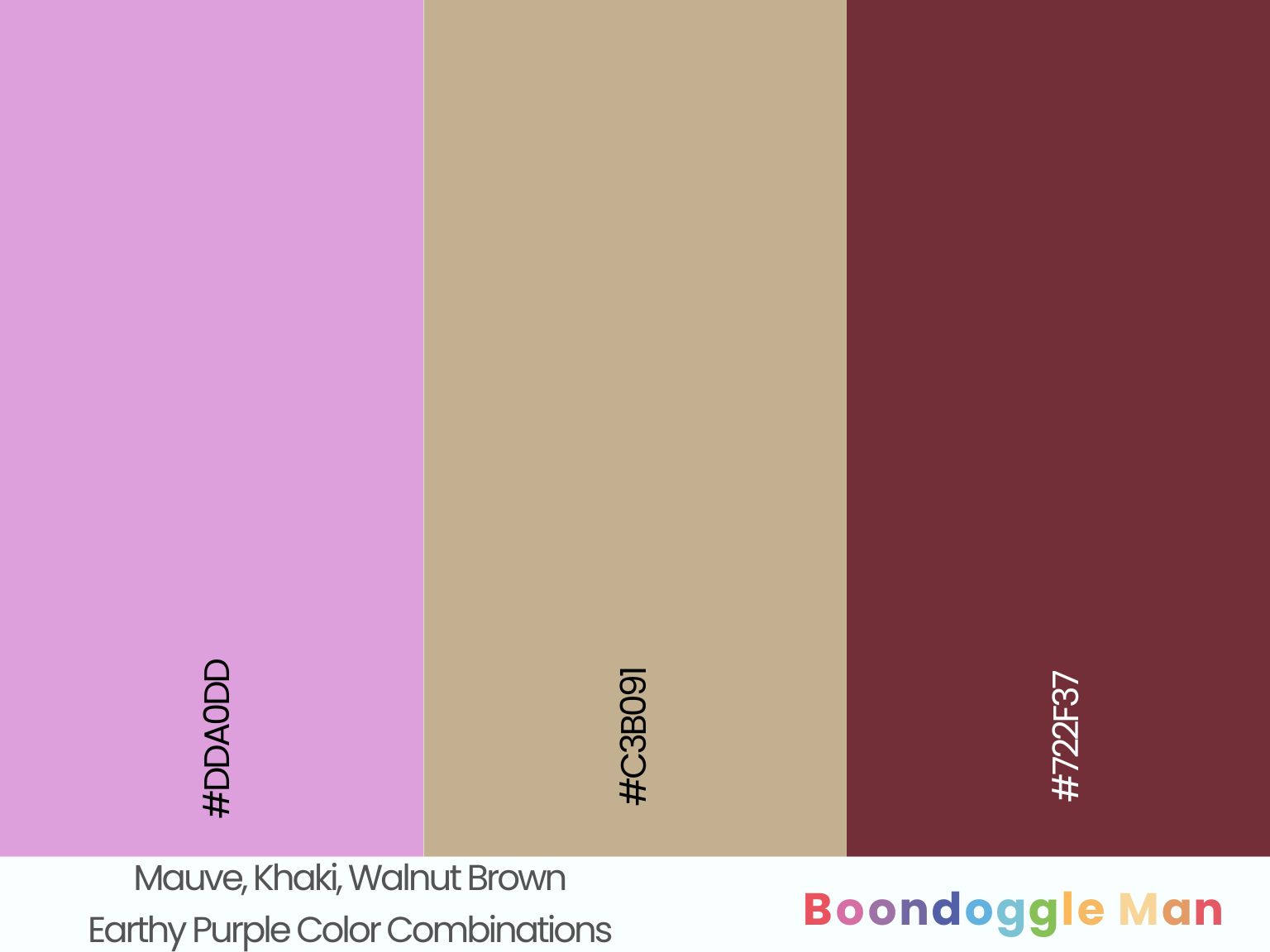 Hex Codes: #DDA0DD, #C3B091, #722F37
Mix airy mauve purple with versatile khaki and rich walnut brown for an earthy combo that's welcoming in living rooms. The brown warms up the cool purple.
8. Lilac, Greige, Mushroom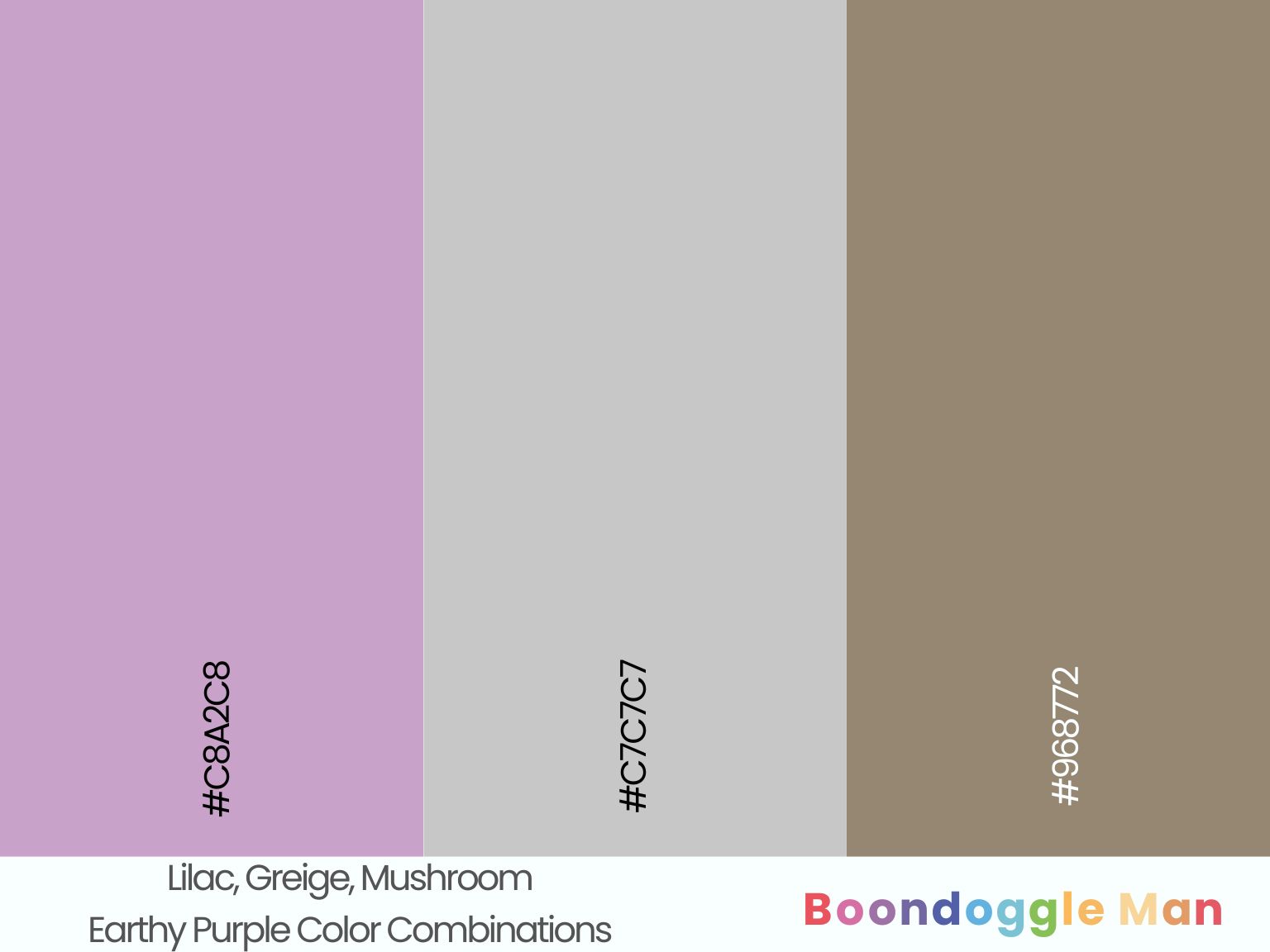 Hex Codes: #C8A2C8, #C7C7C7, #968772
Pretty lilac purple complements versatile greige and organic mushroom browns nicely. This is an easygoing palette for bedrooms and bathrooms.
9. Lavender, Taupe, Sand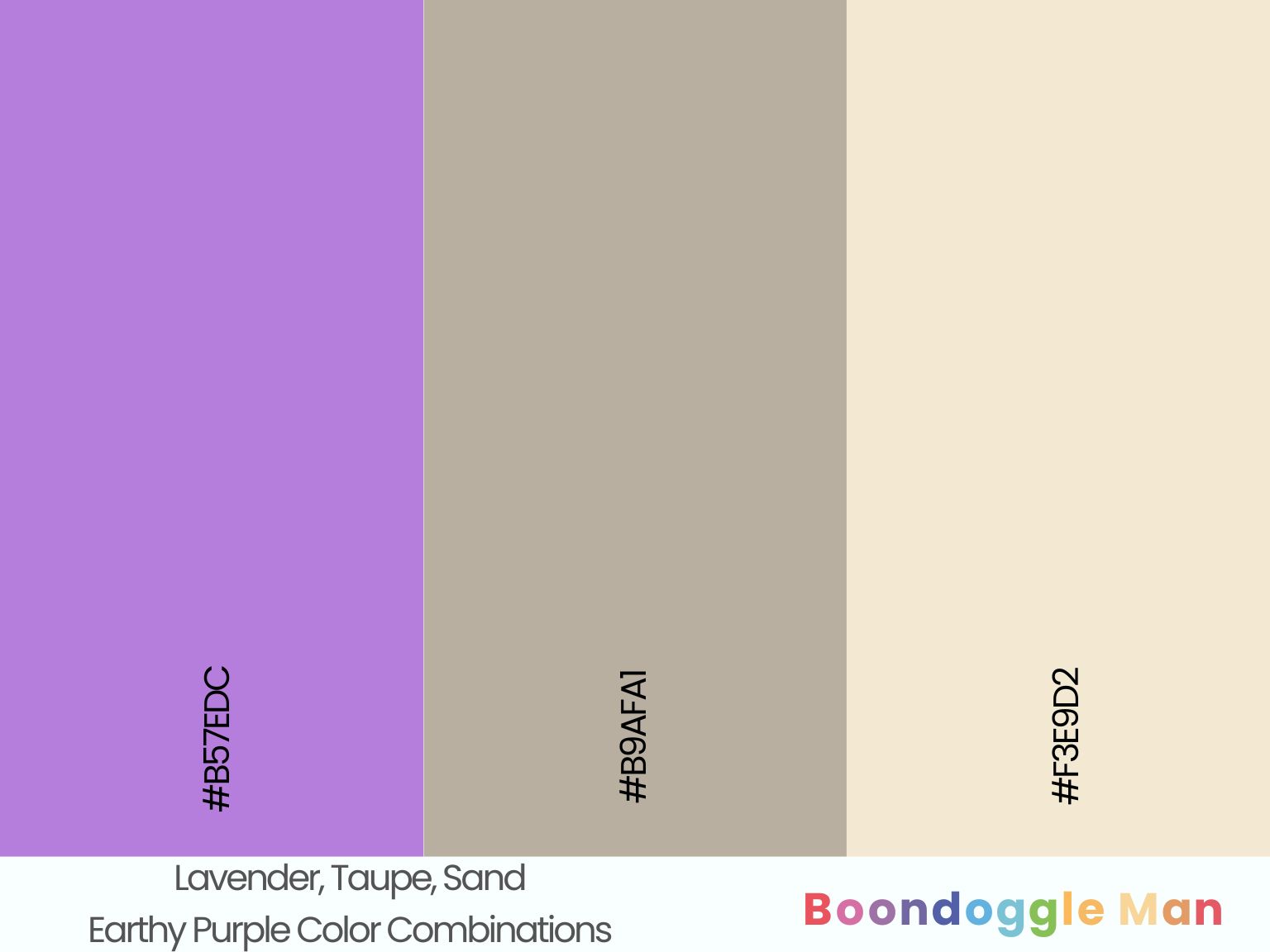 Hex Codes: #B57EDC, #B9AFA1, #F3E9D2
Subdued lavender purple walls look gorgeous with soothing taupe and warm sand accents. A refined palette for spa-like spaces.
10. Wisteria, Beige, Driftwood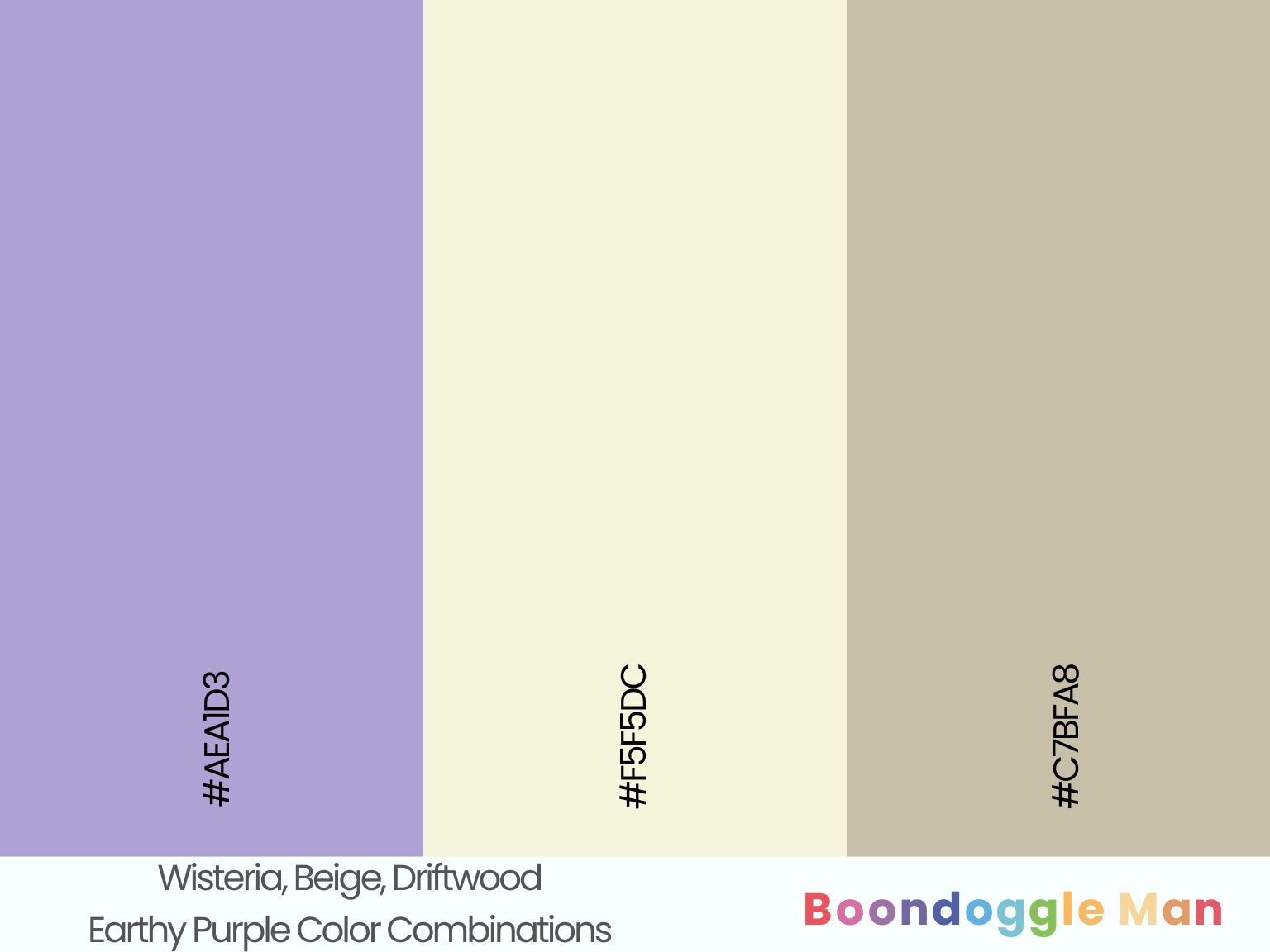 Hex Codes: #AEA1D3, #F5F5DC, #C7BFA8
Match airy wisteria purple with creamy beige and weathered driftwood brown for a romantic cottage style palette. Use in bedrooms and living rooms.
11. Grape Purple, Tan, Charcoal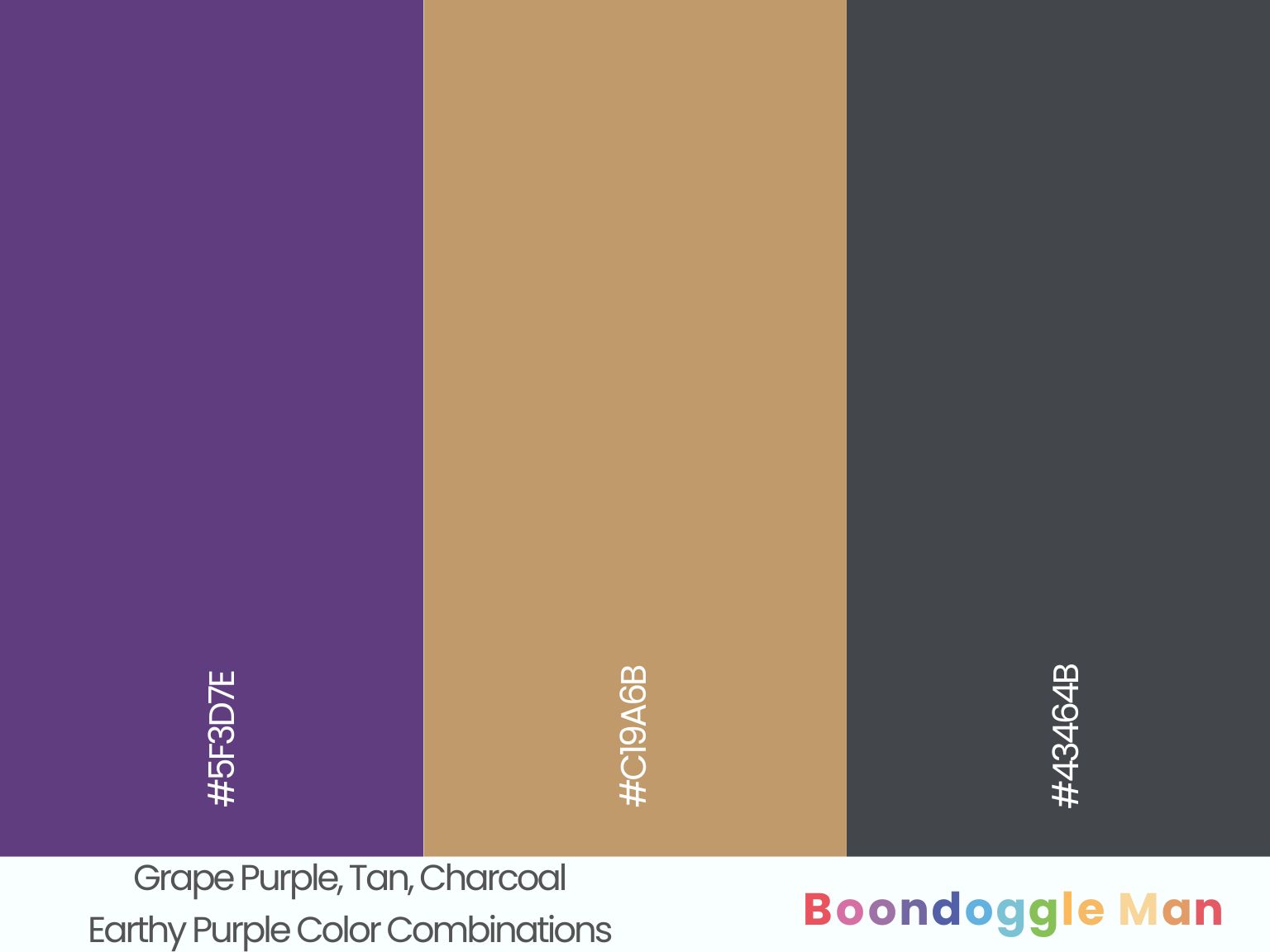 Hex Codes: #5F3D7E, #C19A6B, #43464B
Grape purple softened by elegant tan and understated charcoal gray creates a peaceful, introspective mood. Lovely for living rooms, bedrooms, etc.
12. Plum Purple, Beige, Slate Gray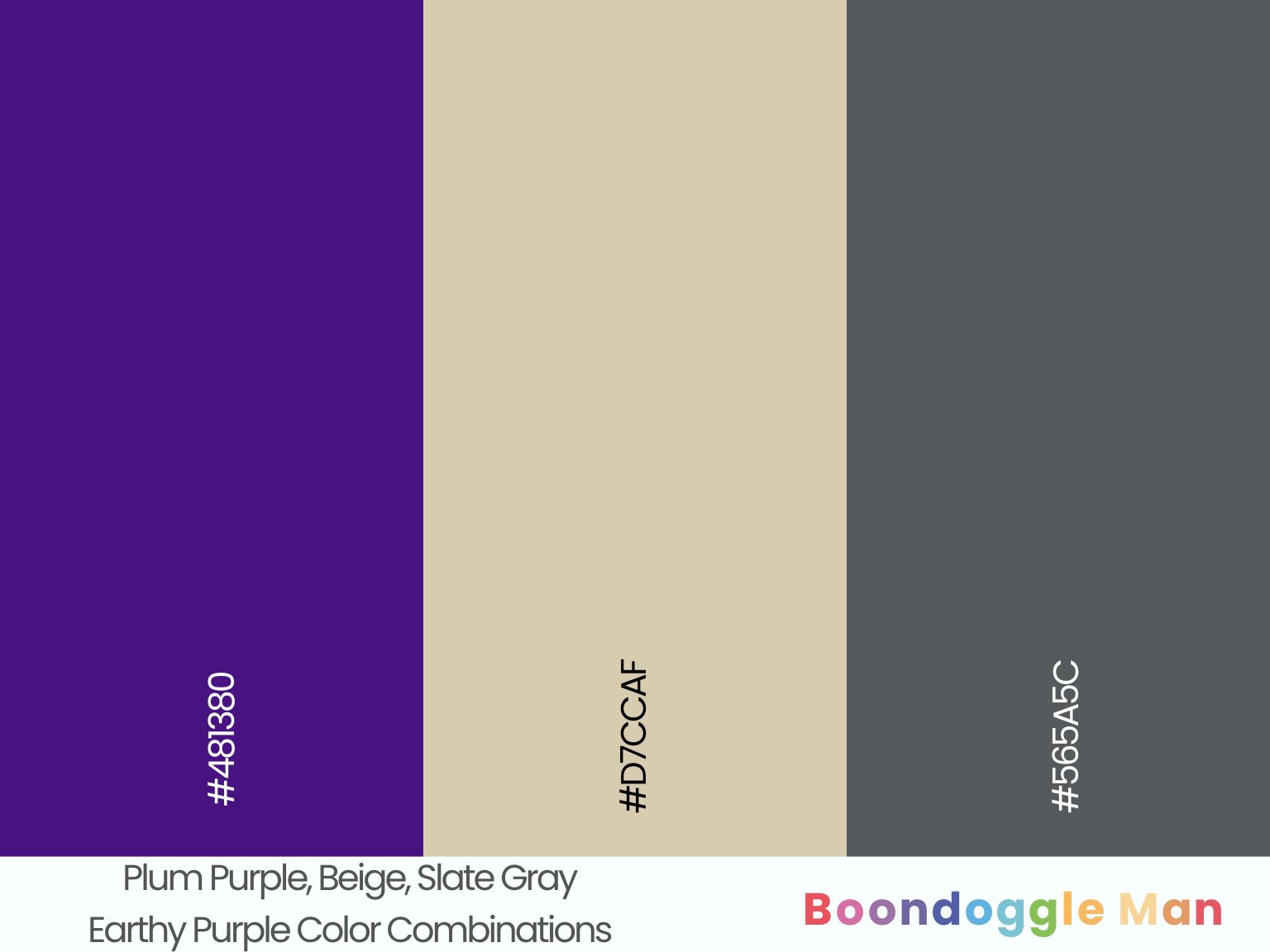 Hex Codes: #481380, #D7CCAF, #565A5C
Plum purple combined with natural beige and slate gray has a refined, subtle elegance. Ideal for studies, sitting rooms needing a calm atmosphere.
Sophisticated Purple Color Schemes
Deep sultry purples and eggplant purples look striking with rich blues, blacks, and metallics. These regal combos are perfect for elegant spaces.
13. Plum, Gold, Black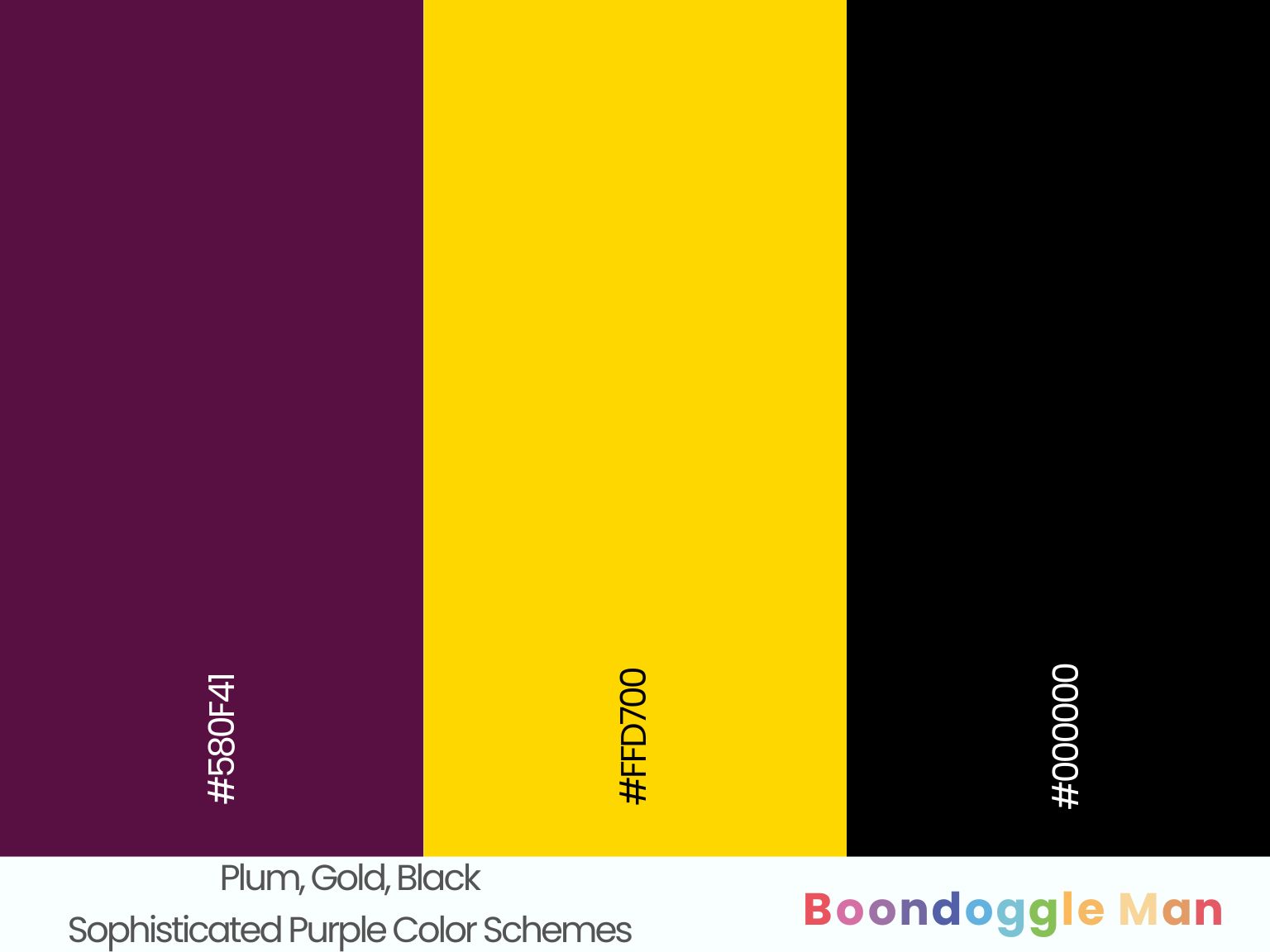 Hex Codes: #580F41, #FFD700, #000000
Pairing deep plum purple walls with glamorous gold accents and sharp black finishes creates dramatic contrast. Use in dining rooms and offices.
14. Eggplant, Silver, Charcoal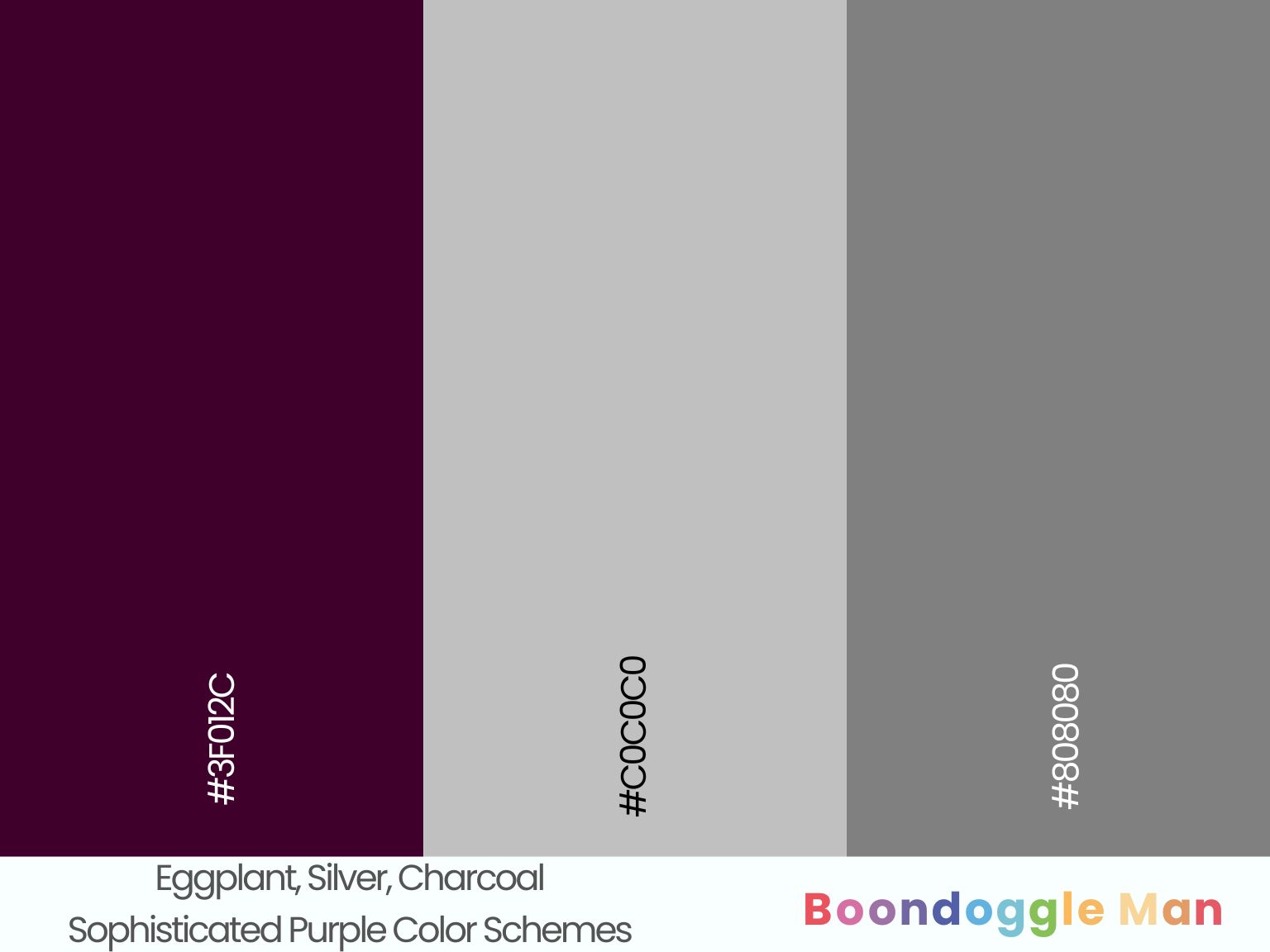 Hex Codes: #3F012C, #C0C0C0, #808080
Eggplant purple looks refined and elegant when mixed with metallic silver and heathered charcoal gray accents. Ideal for formal living rooms.
15. Burgundy, Cream, Black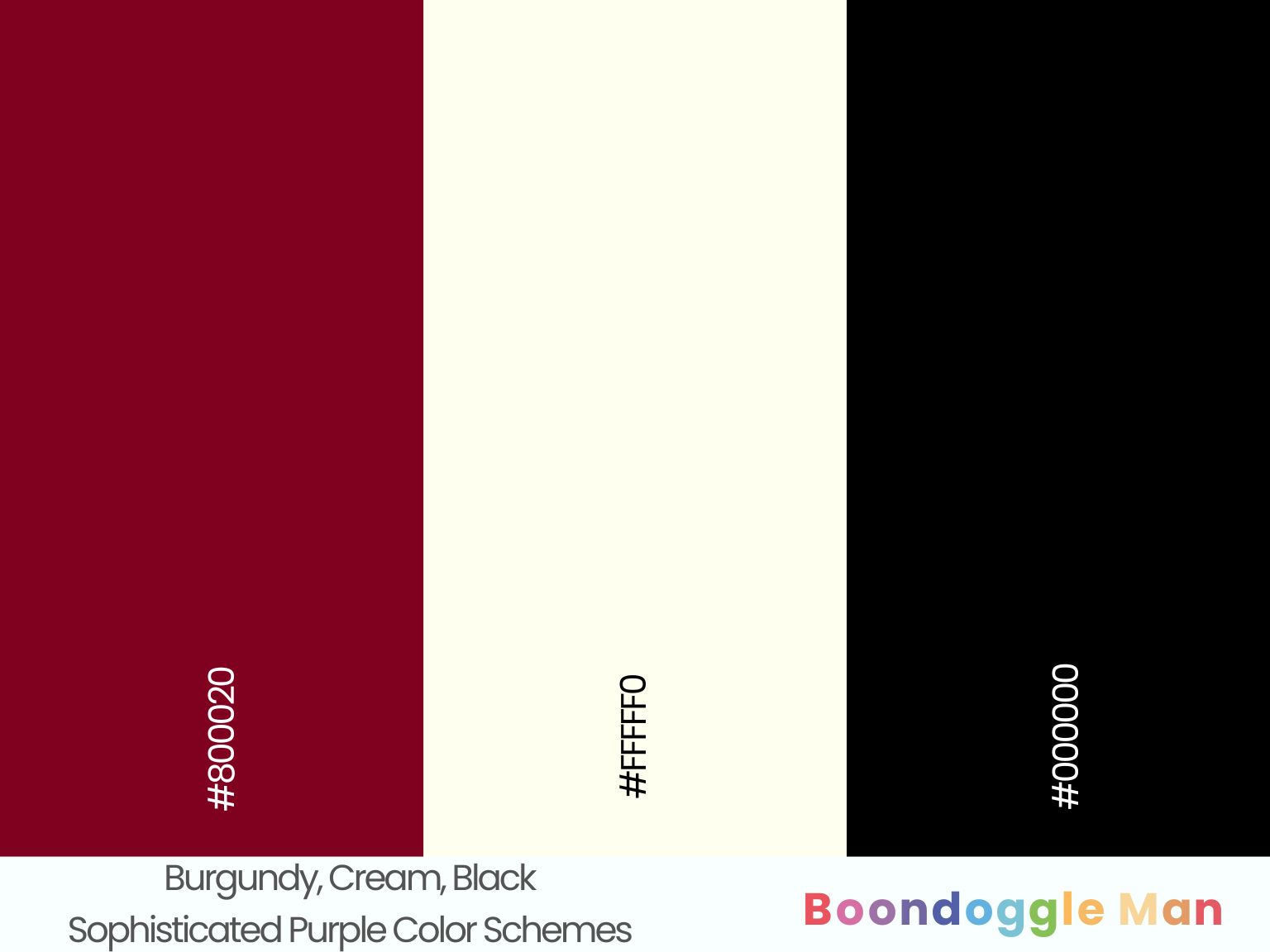 Hex Codes: #800020, #FFFFF0, #000000
Deep burgundy purple complements rich cream and classic black beautifully for an old world aristocratic palette. Use in studies and libraries.
16. Amethyst, Navy Blue, Bronze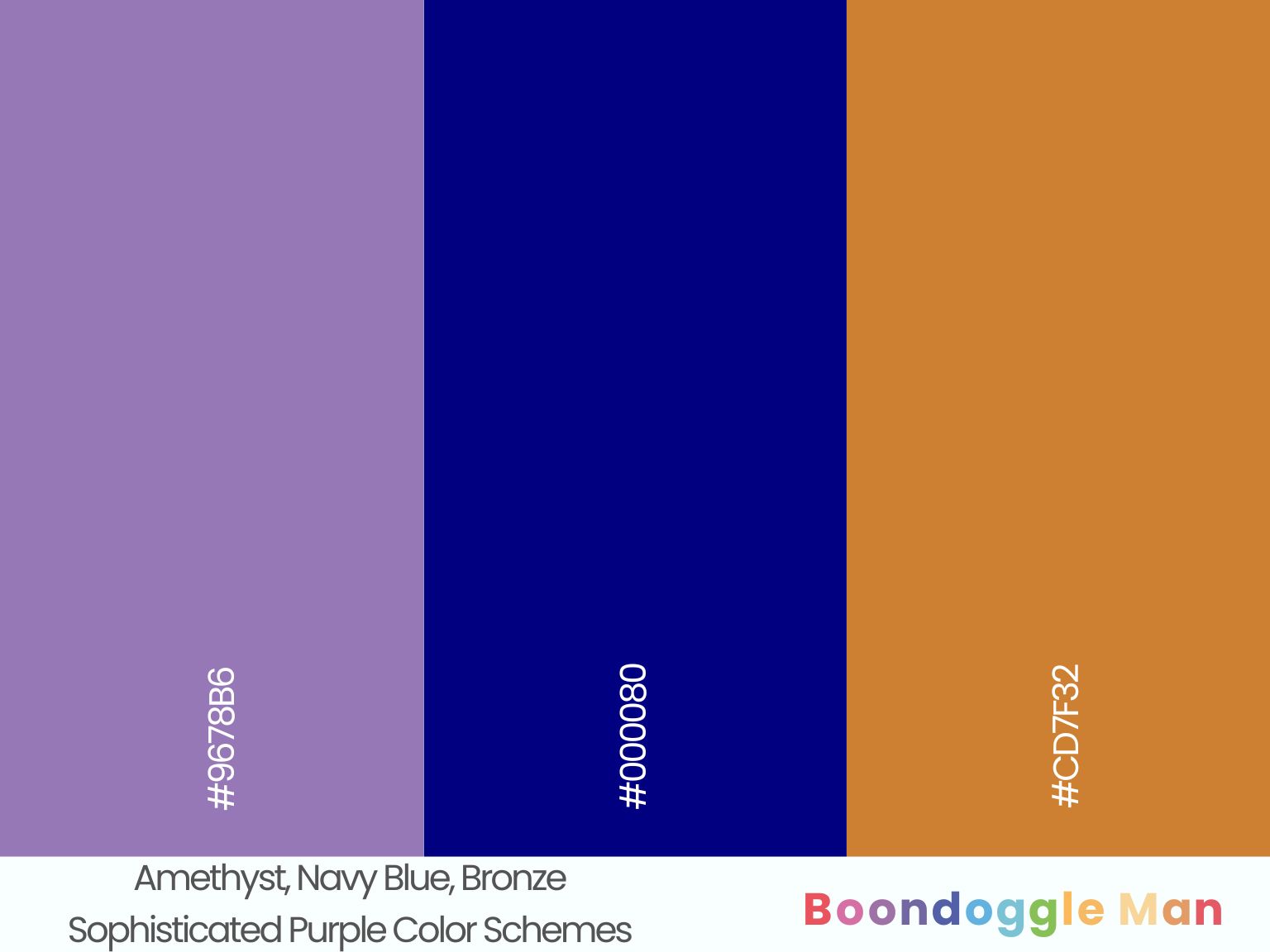 Hex Codes: #9678B6, #000080, #CD7F32
Jewel-toned amethyst purple pops against navy blue walls and glamorous bronze decor. Perfect for upscale dining rooms and entry halls.
Soft Pastel Purple Palettes
Light lilacs and lavenders work beautifully with other soft pastels like peach, robin's egg blue, and buttery yellow. These combos create an ethereal vibe.
17. Lilac, Seafoam, Buttercream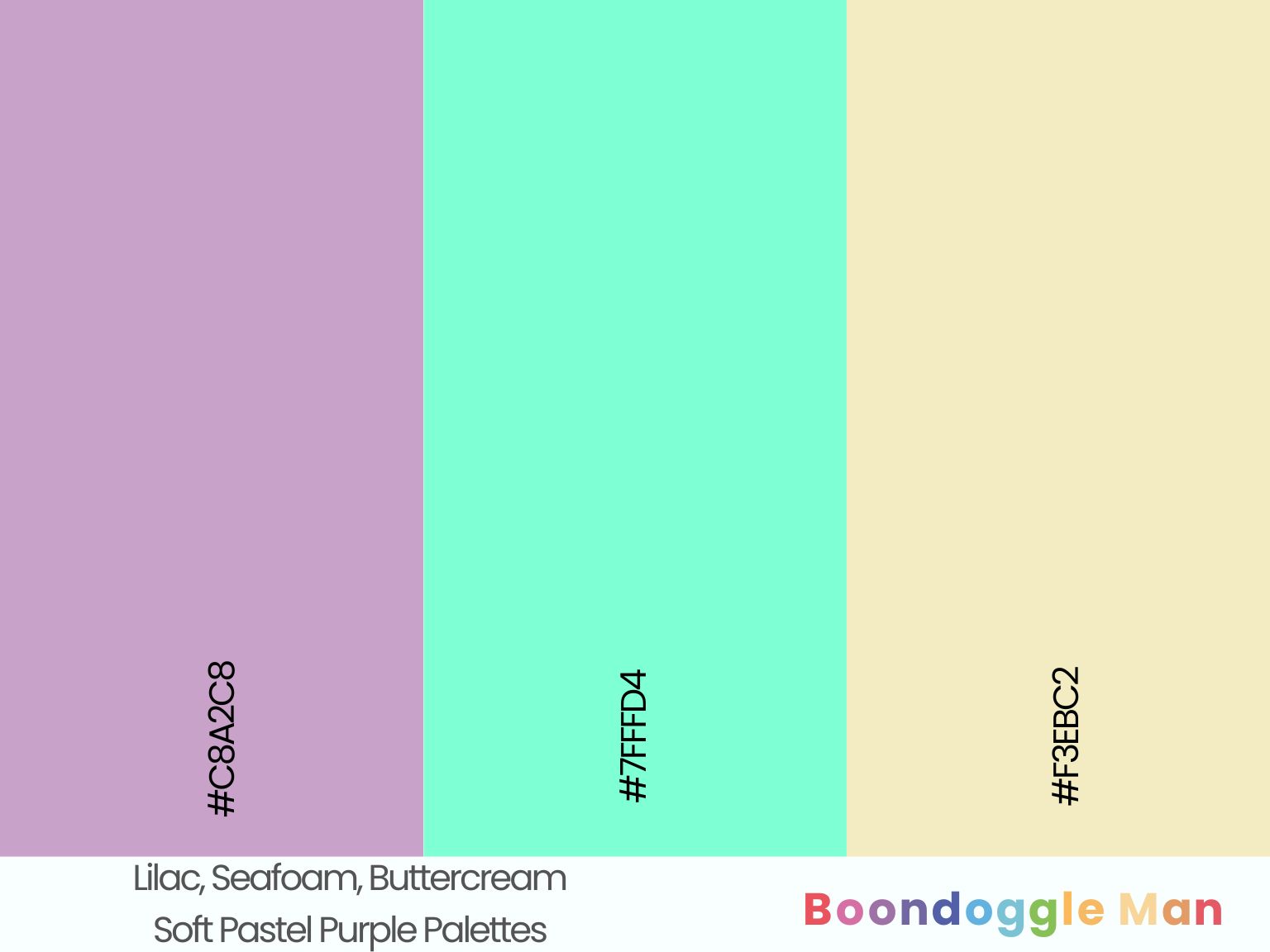 Hex Codes: #C8A2C8, #7FFFD4, #F3EBC2
Sweet lilac complements refreshing seafoam and warm buttercream nicely in bedrooms and bathrooms. The palette is soft and feminine.
18. Lavender, Robin's Egg Blue, Blush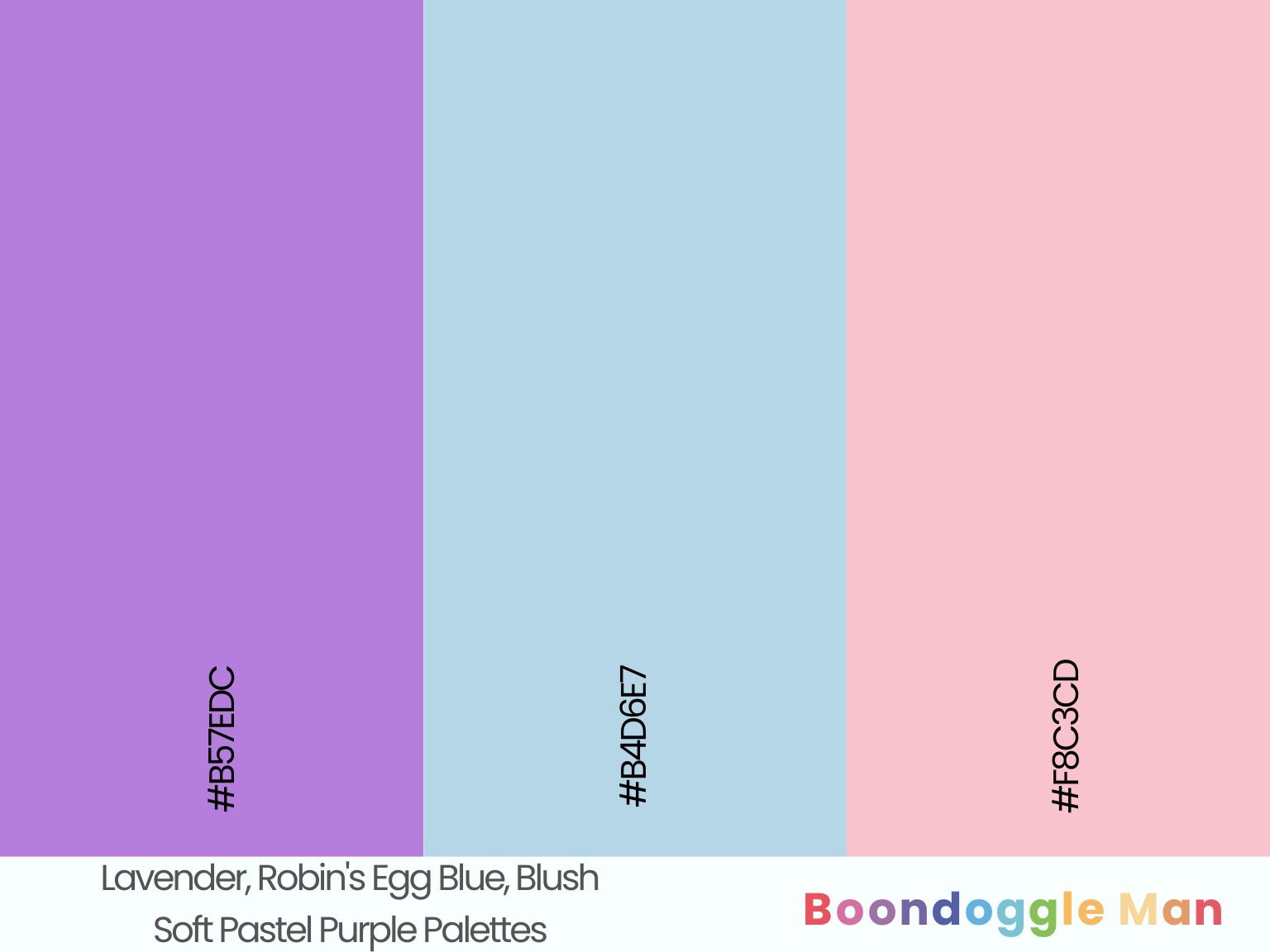 Hex Codes: #B57EDC, #B4D6E7, #F8C3CD
Pairing airy lavender with pretty robin's egg blue and rosy blush creates a dreamy, romantic color scheme. Perfect for shabby chic cottages.
19. Wisteria, Sky Blue, Coral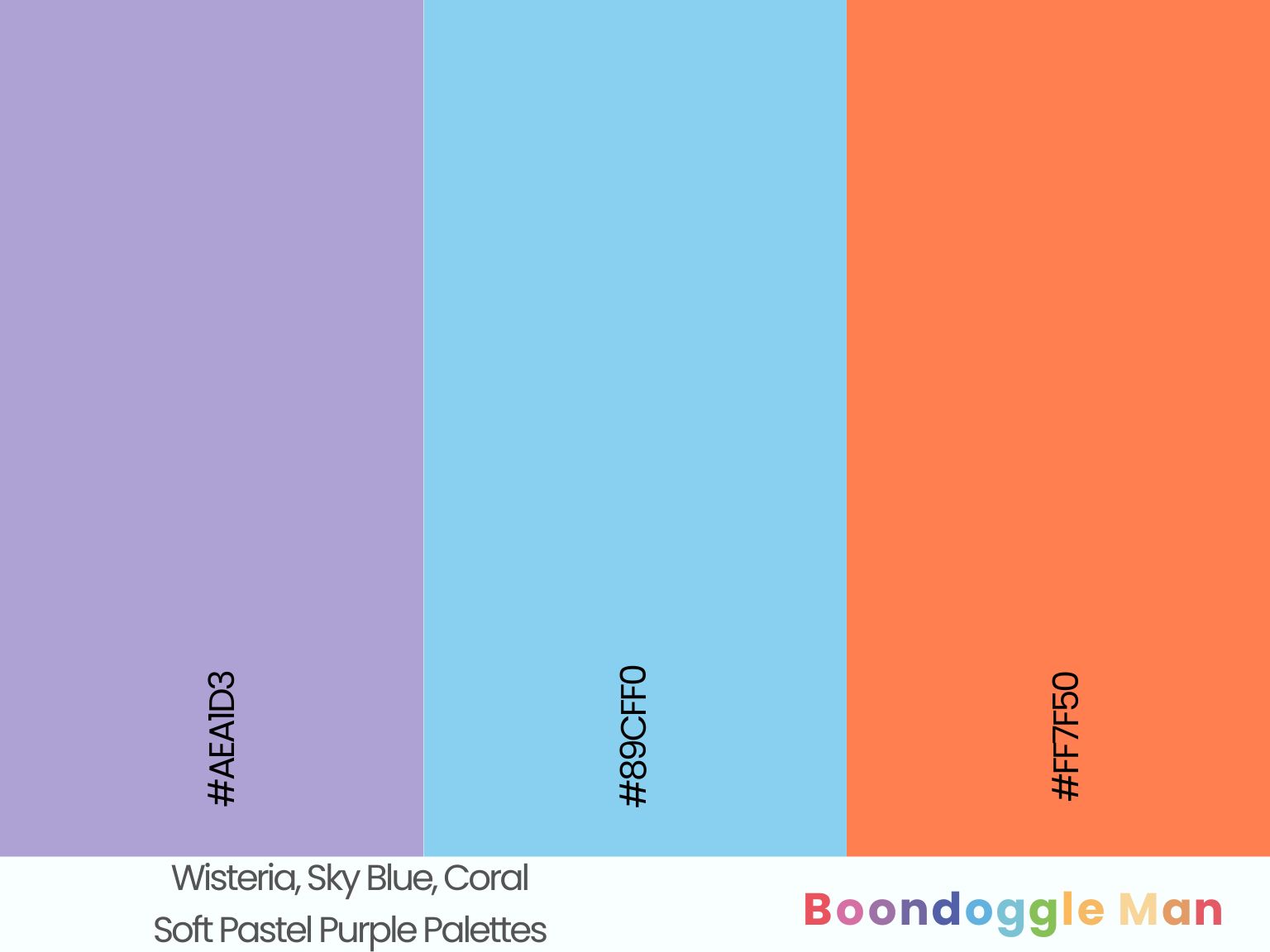 Hex Codes: #AEA1D3, #89CFF0, #FF7F50
Match soft wisteria purple with bright sky blue and cheerful coral for a warm, soothing palette. This works well in children's rooms.
20. Lilac, Sage Green, Butter Yellow
Hex Codes: #C8A2C8, #C8FAC8, #F3E783
Lilac walls complemented by earthy sage green and sunshine butter yellow accents create colorful harmony. Great for kitchens and entryways.
Gray Purple Color Combinations
Muted grayish purples work well with lighter grays, cream, and pale blue for tranquil, ethereal palettes perfect for minimalist spaces.
21. Lavender Gray, Light Gray, White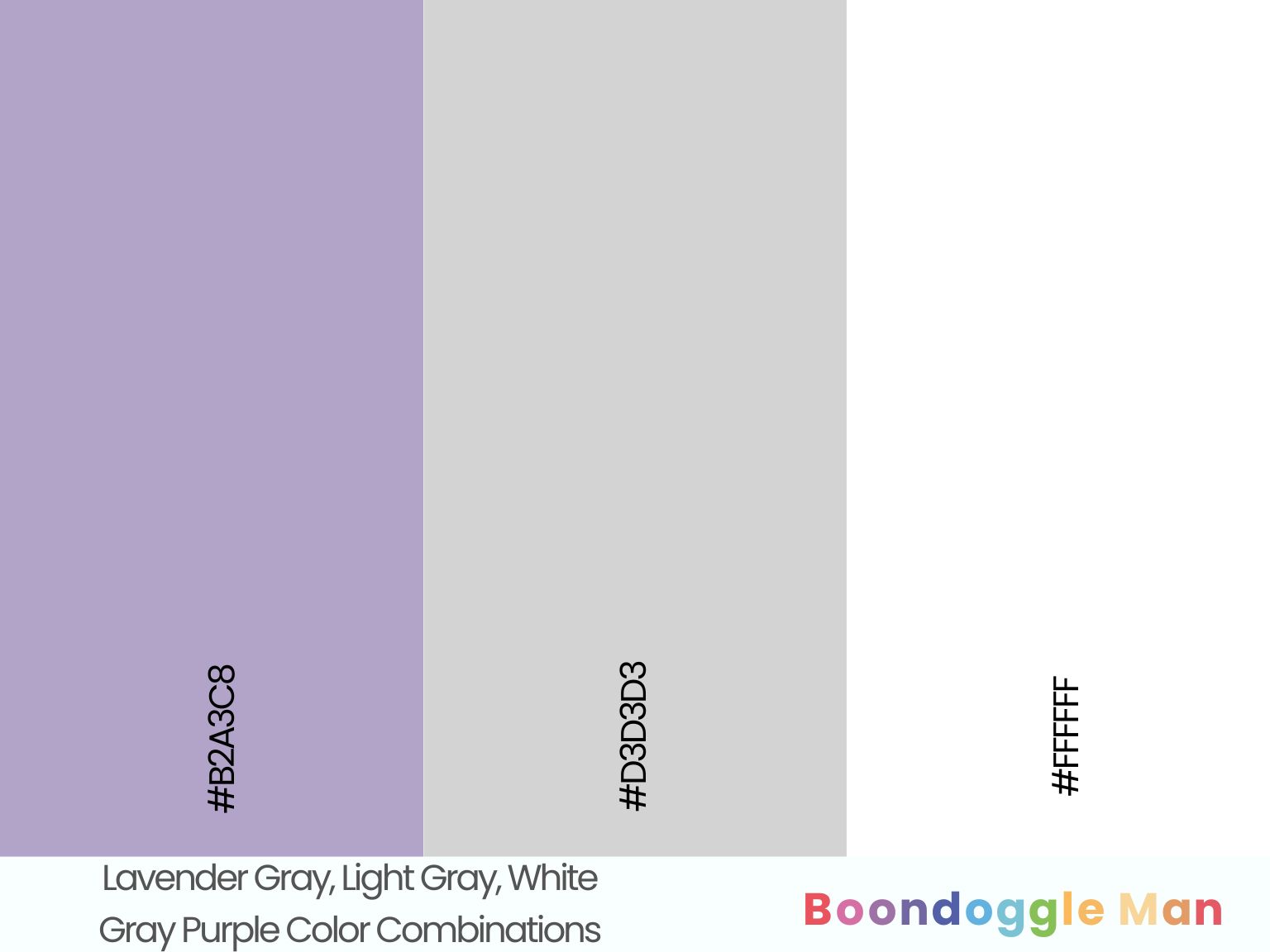 Hex Codes: #B2A3C8, #D3D3D3, #FFFFFF
Lavender gray walls with soft light gray accents and bright white trim makes for an airy, relaxed color combination. Use this in bedrooms, bathrooms, and living rooms.
22. Grape Gray, Pearl, Pale Blue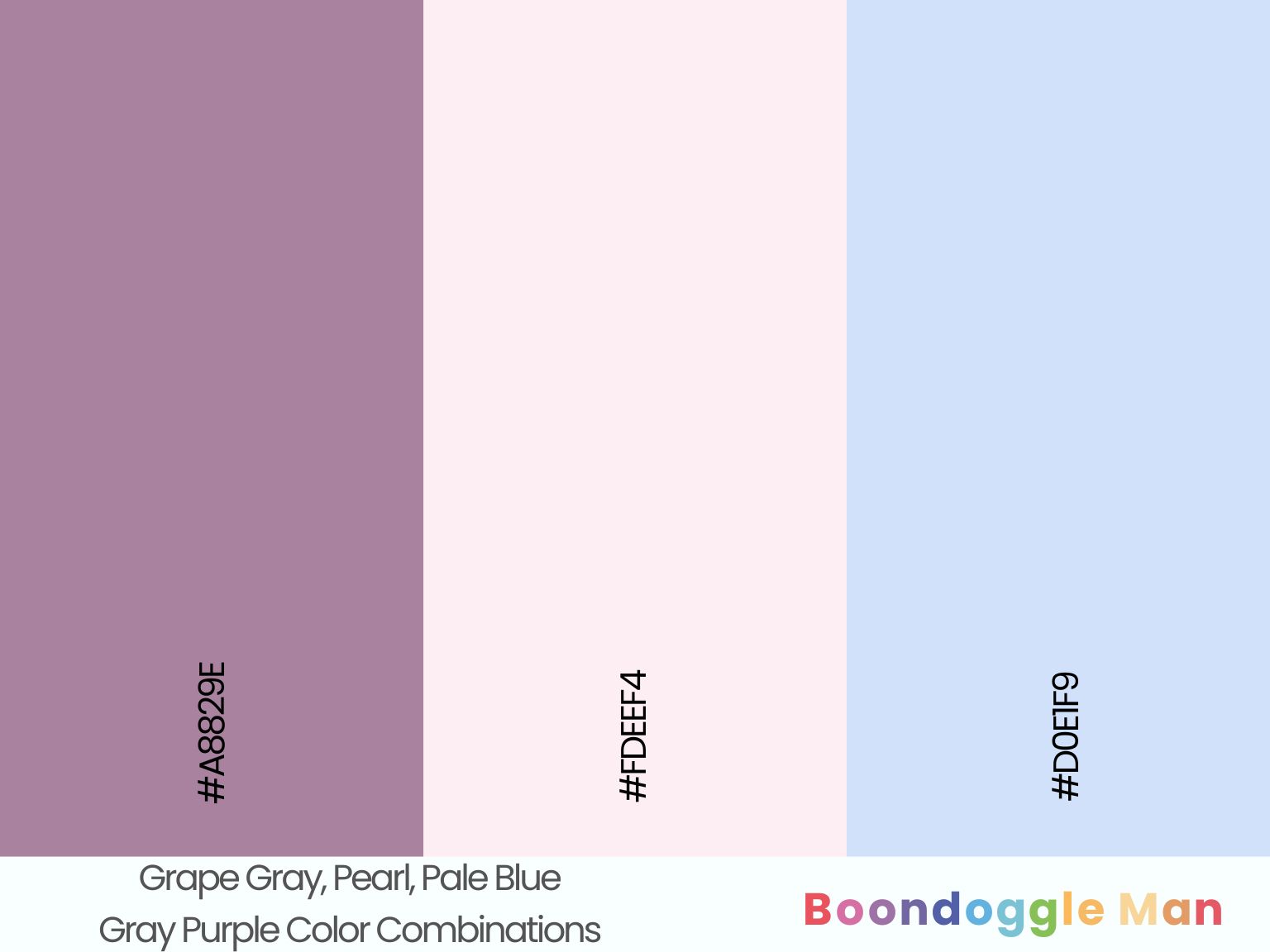 Hex Codes: #A8829E, #FDEEF4, #D0E1F9
Cool grape gray complements warm ivory pearl and breezy pale blue beautifully in this lightweight palette. Perfect for cottages and cabins.
23. Plum Gray, Vanilla, Powder Blue
Hex Codes: #C7B6D6, #F3E5AB, #B0E0E6
Match smokey plum gray walls with creamy vanilla whites and soft powder blue accents for a whimsical take on the popular gray-blue palette.
24. Mauve Gray, Almond, Ice Blue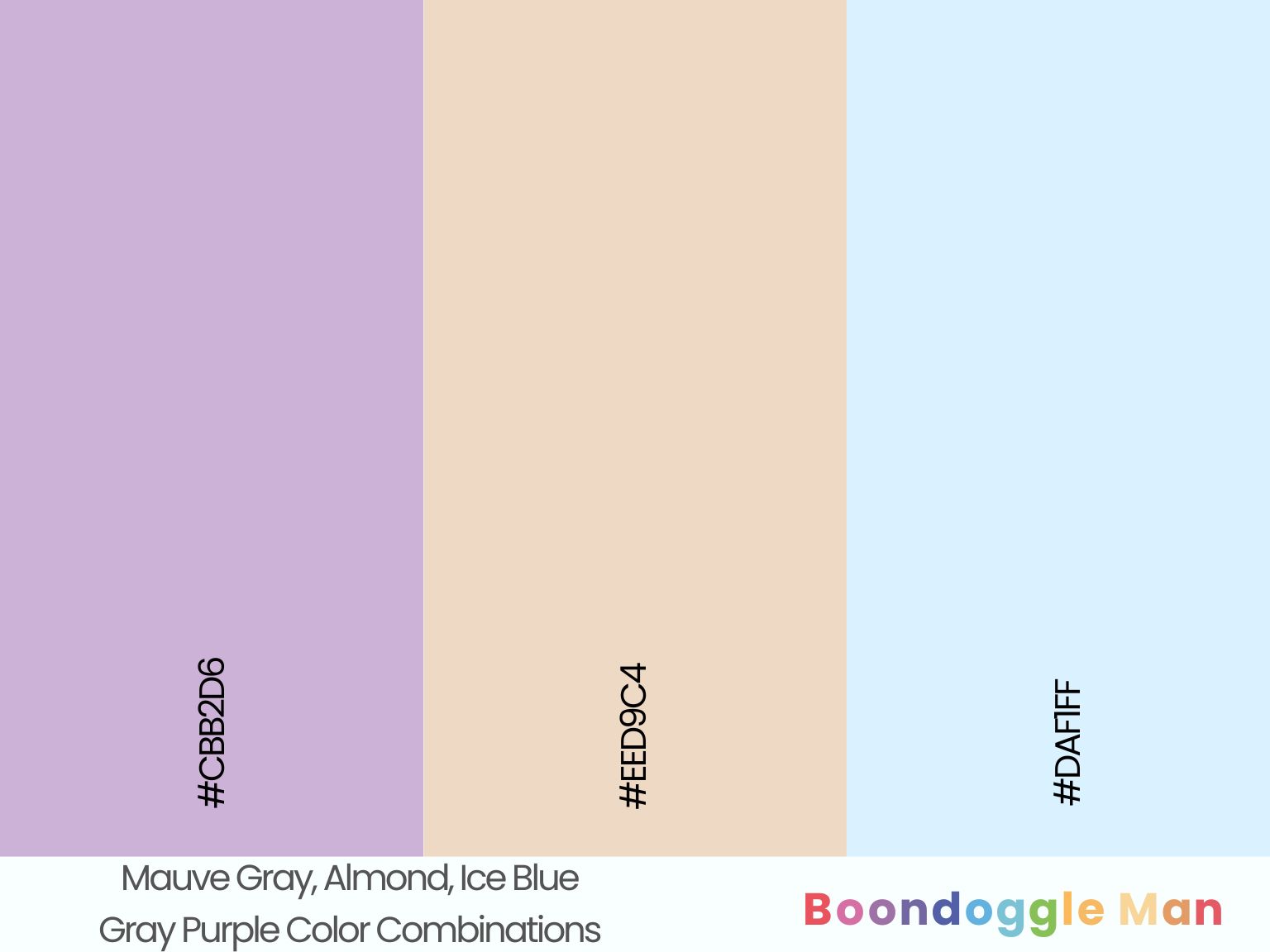 Hex Codes: #CBB2D6, #EED9C4, #DAF1FF
Mauve gray walls look gorgeous paired with natural almond cream tones and icy blue accent colors. This creates an invigorating yet soothing combination.
Vintage Purple Color Schemes
Muted dusty purple shades complement classic retro combo colors like mustard yellow, brick red and sage green beautifully. These timeless palettes work in traditional and boho spaces.
25. Wisteria, Mustard Yellow, Brick Red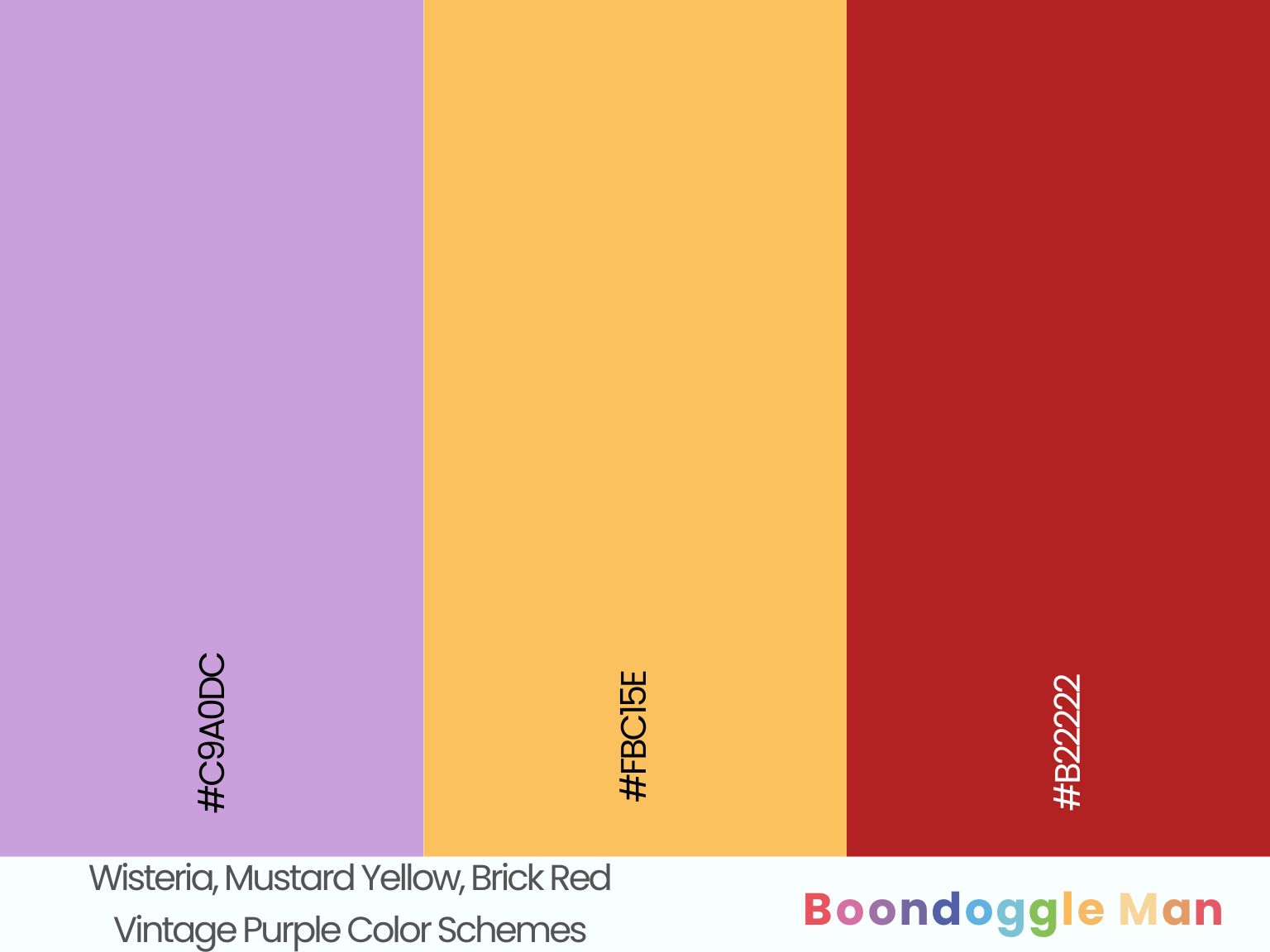 Hex Codes: #C9A0DC, #FBC15E, #B22222
Soft wisteria purple complements cheery mustard yellow and traditional brick red for a charming vintage look. Use this in cottages, cafes, and boho spaces.
26. Lilac, Terracotta, Sea Green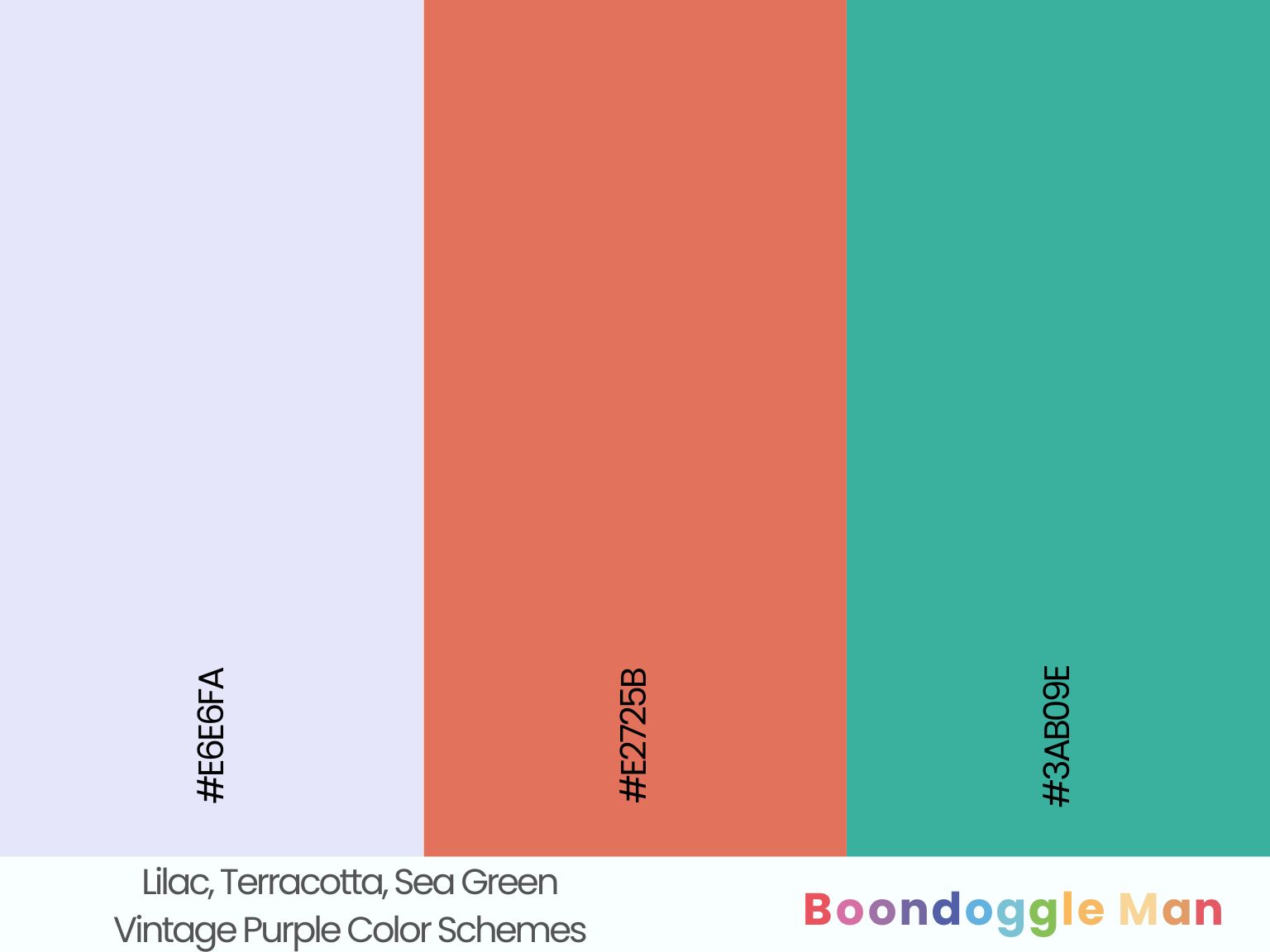 Hex Codes: #E6E6FA, #E2725B, #3AB09E
Pretty lilac walls look fabulous with rustic terracotta ceramics and soothing sea green textiles and accents for a mediterranean vibe.
27. Lavender, Olive Green, Rust Red
Hex Codes: #B57EDC, #6B8E23, #B7410E
Mix airy lavender walls with earthy olive green and orangey rust red accents for a nature-inspired retreat palette. Use in bedrooms and living areas.
28. Orchid, Avocado Green, Brick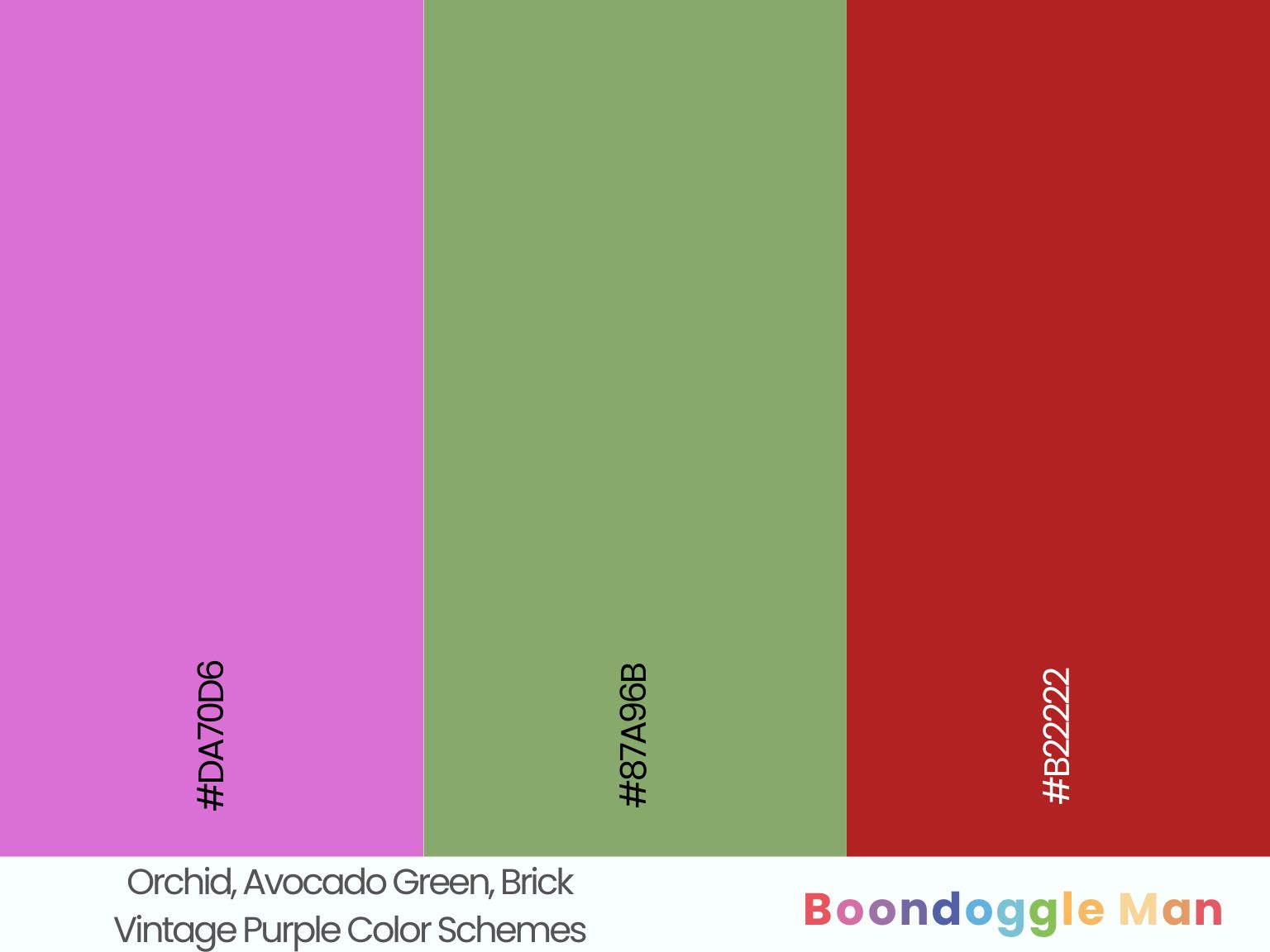 Hex Codes: #DA70D6, #87A96B, #B22222
Vibrant orchid complements retro avocado green and traditional brick red for a striking, eclectic boho palette. Great for artsy living rooms.
High Contrast Purple Color Palettes
Deep vivid purples pop when paired with equally rich, intense accent colors like ruby, azure, vermillion and pumpkin orange. These dramatic palettes make a bold statement.
29. Purple, Cardinal Red, Sunshine Yellow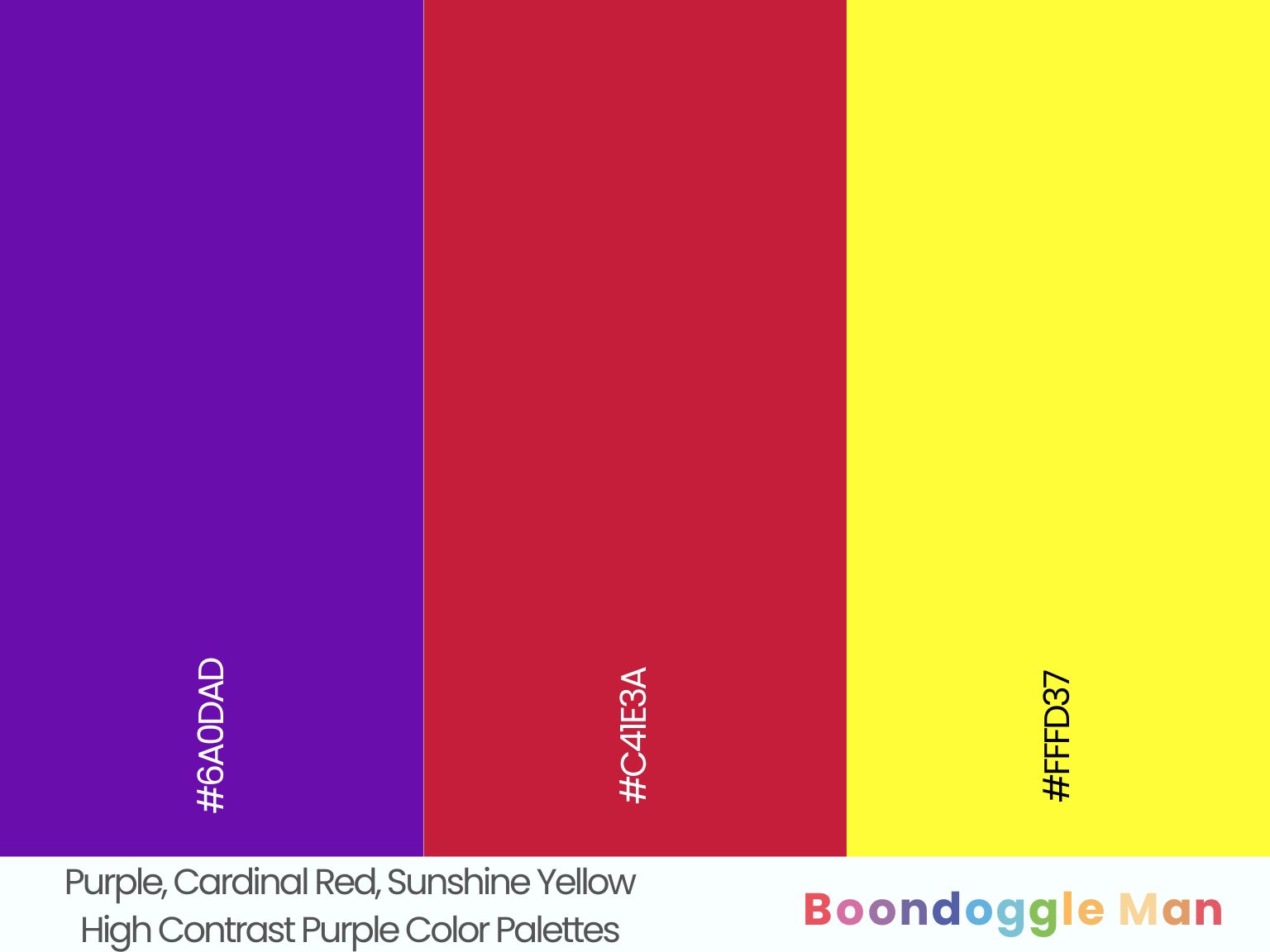 Hex Codes: #6A0DAD, #C41E3A, #FFFD37
Vibrant purple walls contrast beautifully with bold cardinal red accents and cheery sunshine yellow finishes. The mix of primary colors is energizing.
30. Eggplant, Sapphire Blue, Orange
Hex Codes: #3F012C, #0F4C92, #FF8000
Moody eggplant purple complements intense sapphire blue and citrusy orange for a striking palette. Great for dining room walls.
31. Aubergine, Vermillion, Turquoise
Hex Codes: #3D0734, #F4320C, #00FFFF
Match sensual aubergine purple with fiery vermillion orange and cool turquoise accents for a bold, daring palette. Perfect for contemporary spaces.
32. Boysenberry, Pumpkin, Jade Green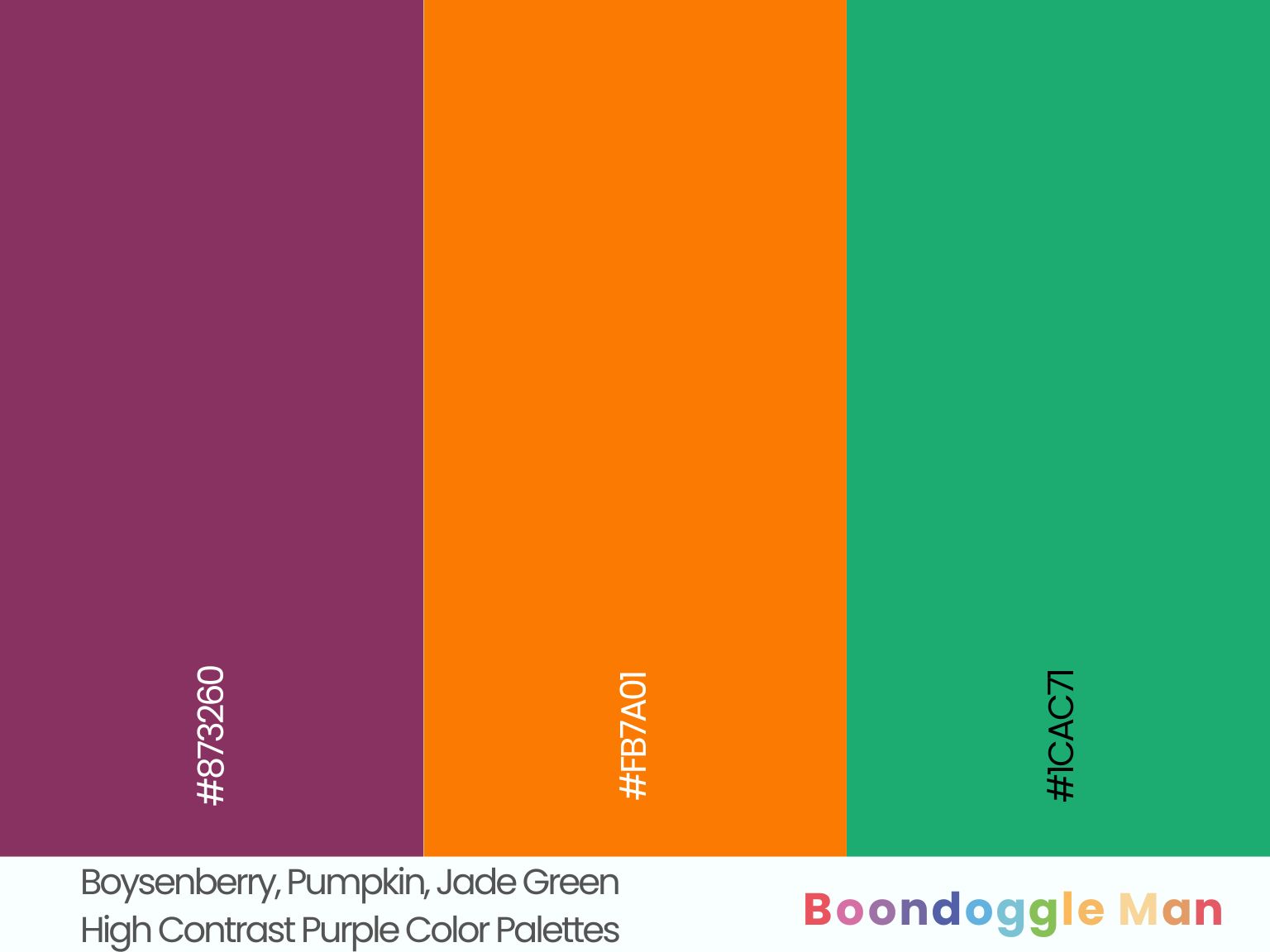 Hex Codes: #873260, #FB7A01, #1CAC71
Deep boysenberry purple pairs perfectly with warm pumpkin orange and jewel-toned jade green accents. A rich combination for elegant libraries and lounges.
Purple with Metallic Accents
Jewel-toned purples look ultra glamorous when mixed with shiny metallics like gold, silver, bronze and copper. These palettes add regal richness to any space.
33. Amethyst, Gold, Pewter Gray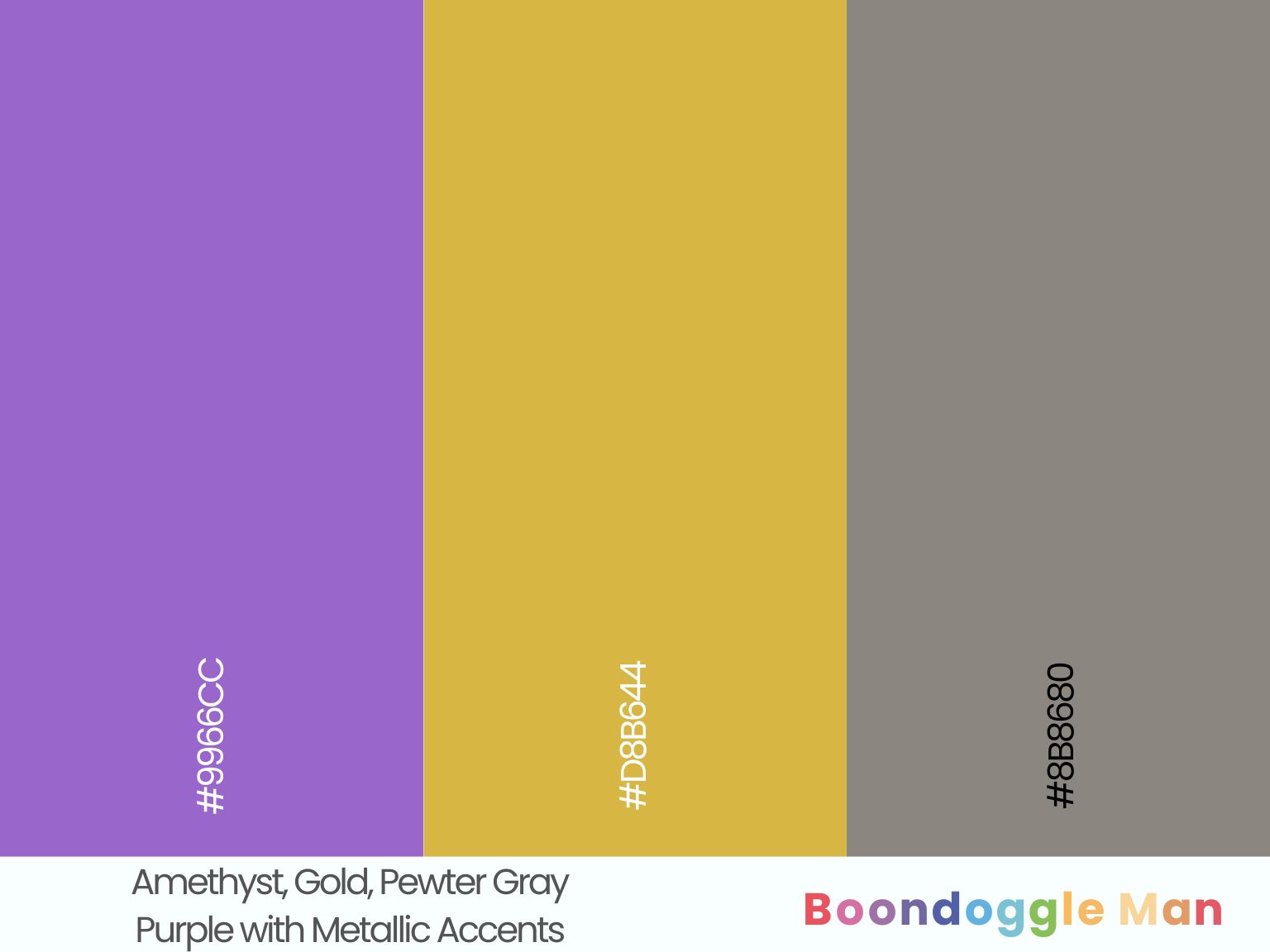 Hex Codes: #9966CC, #D8B644, #8B8680
Jewel-toned amethyst walls look striking with glimmering gold accents and silvery pewter gray furniture. Elegant and opulent.
34. Byzantium, Rose Gold, Charcoal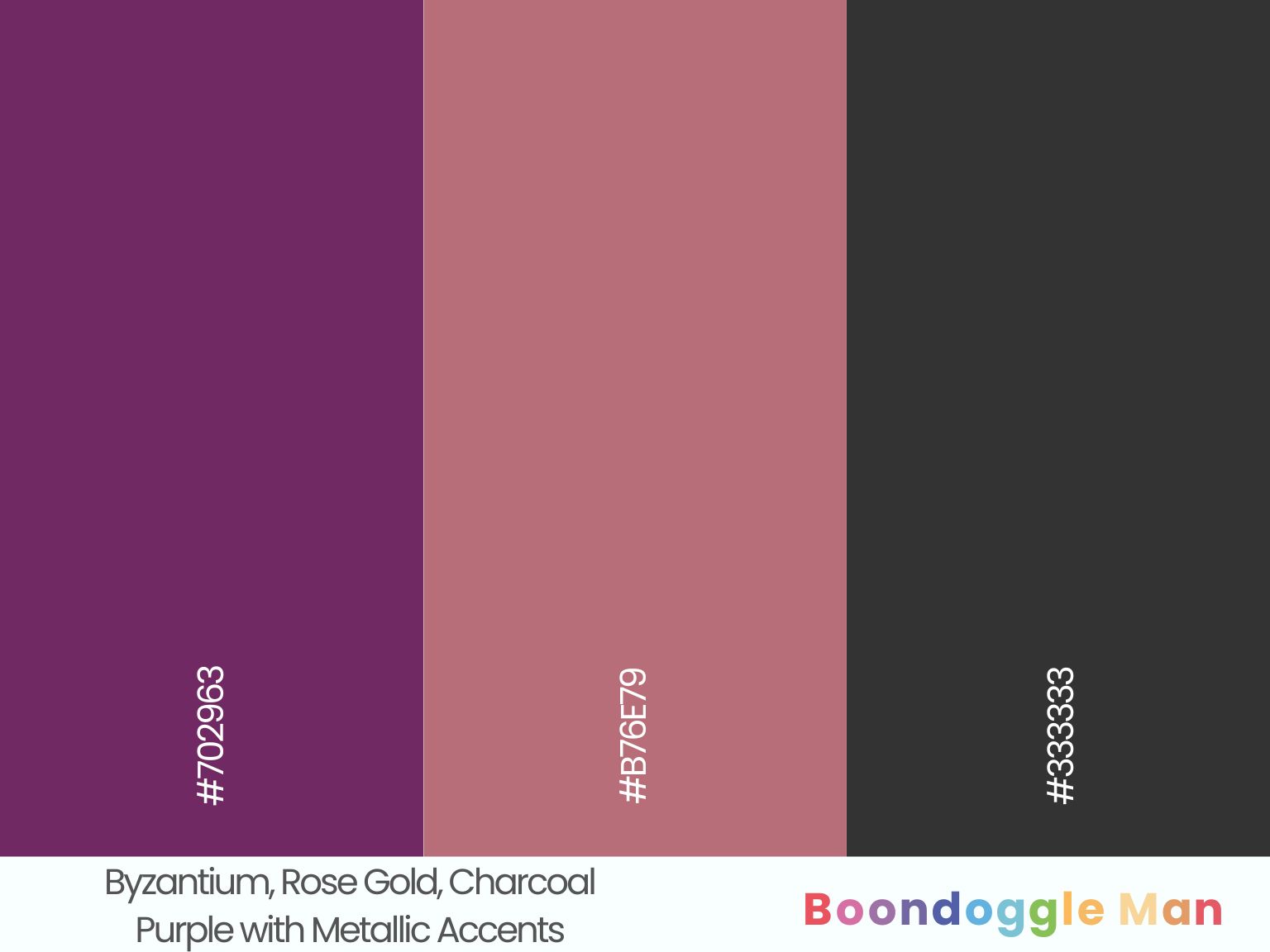 Hex Codes: #702963, #B76E79, #333333
Mysterious byzantium purple complements soft rose gold accents and smokey charcoal grays for a lush dramatic palette. Perfect for bedrooms and theaters.
35. Purple, Copper, Bronze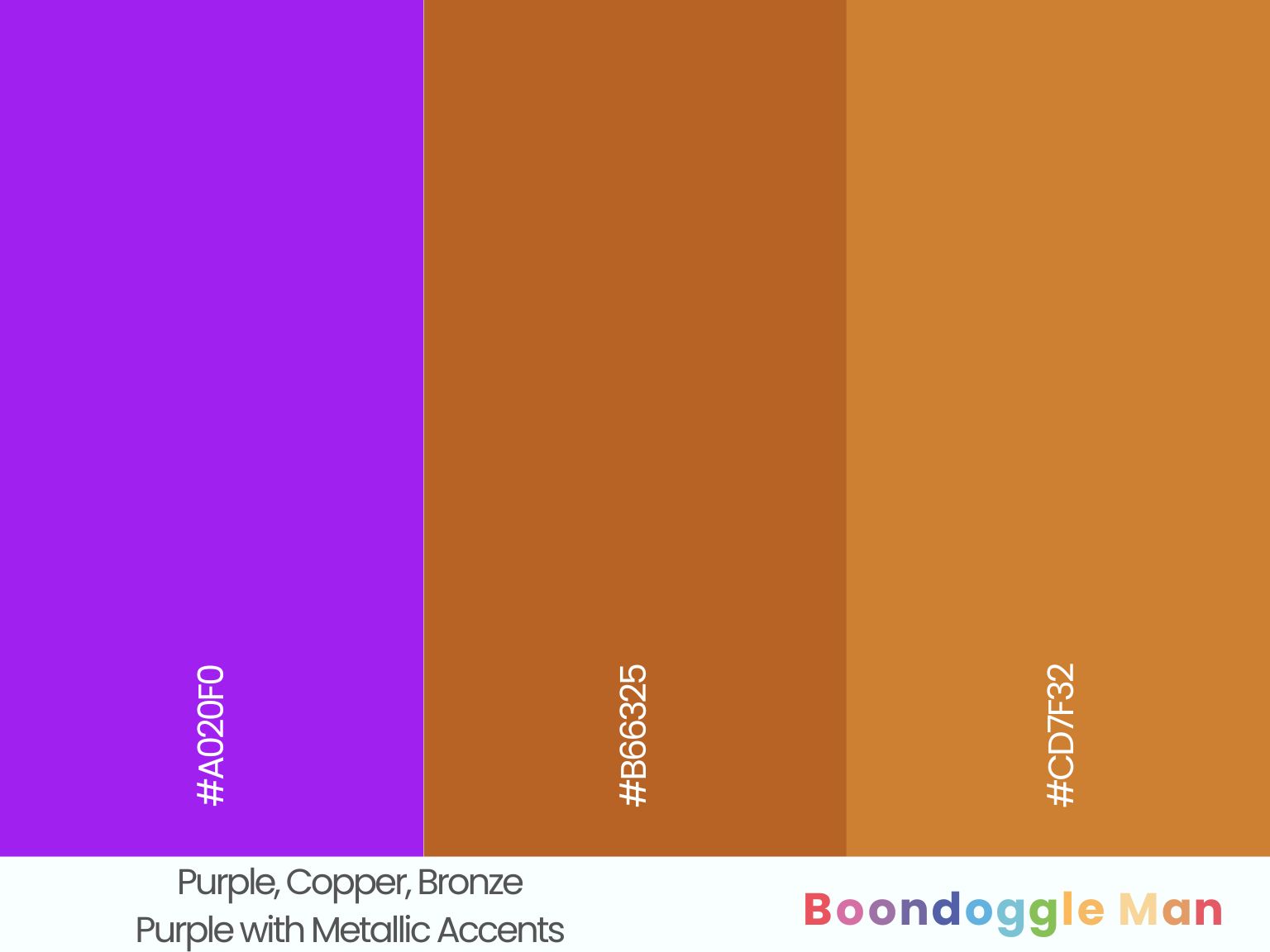 Hex Codes: #A020F0, #B66325, #CD7F32
Regal purple walls contrast beautifully with warm copper and metallic bronze accents for an exotic, sumptuous palette.
36. Lavender, Champagne, Silver
Hex Codes: #E6E6FA, #F1DDCC, #C0C0C0
Pair soft lavender walls with bubbly champagne gold and sleek silver finishes for an ultra feminine glamorous palette. Ideal for dressing rooms and master suites.
Purple and Warm Neutral Palettes
Rich purple tones work beautifully with earthy neutrals like cream, beige, brown and tan. These harmonious palettes have an organic, welcoming feel.
37. Eggplant, Cream, Walnut Brown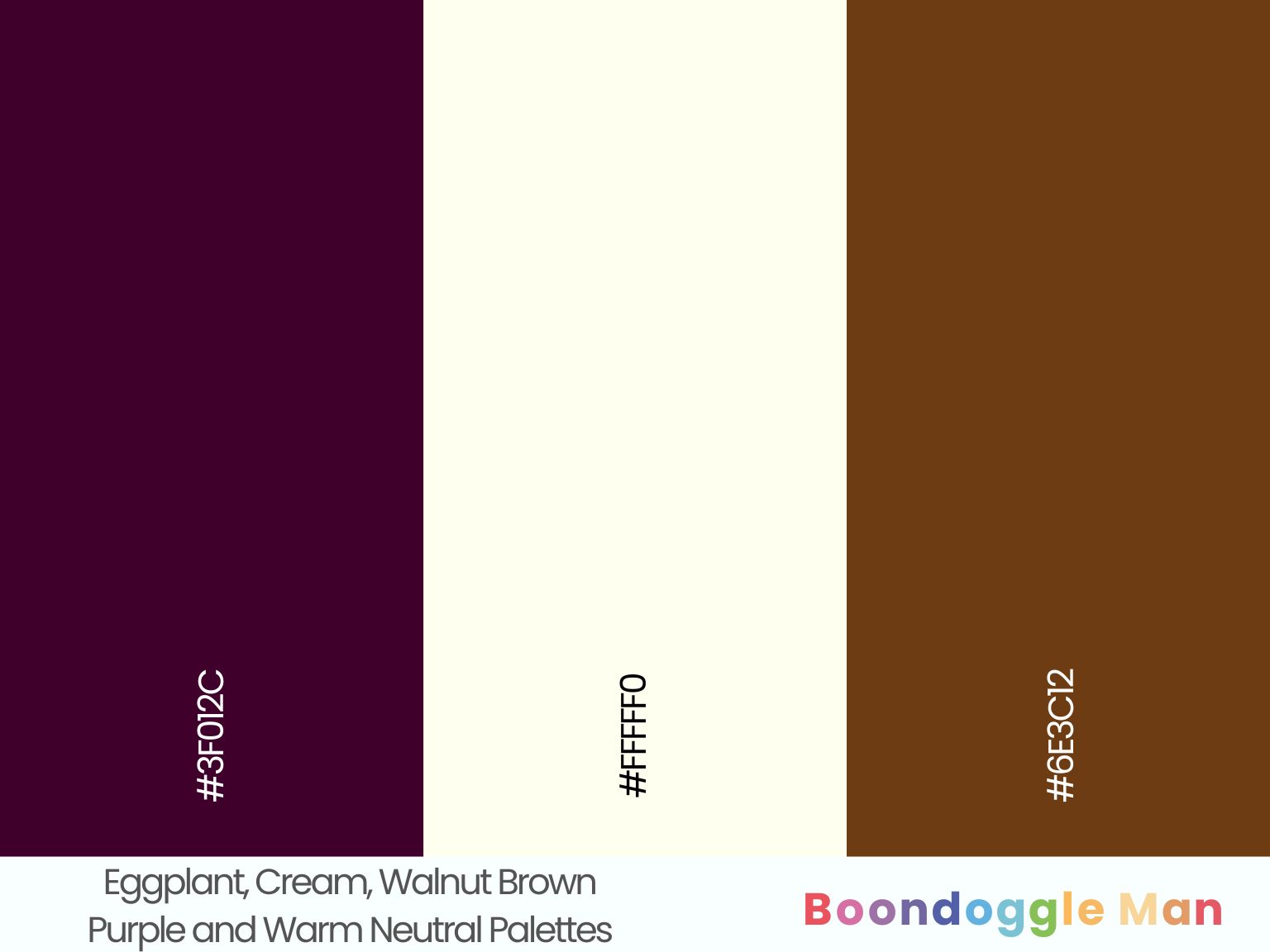 Hex Codes: #3F012C, #FFFFF0, #6E3C12
Deep eggplant purple looks refined with warm cream whites and rich walnut brown wood accents. Perfect for cozy living rooms and studies.
38. Lilac, Beige, Saddle Brown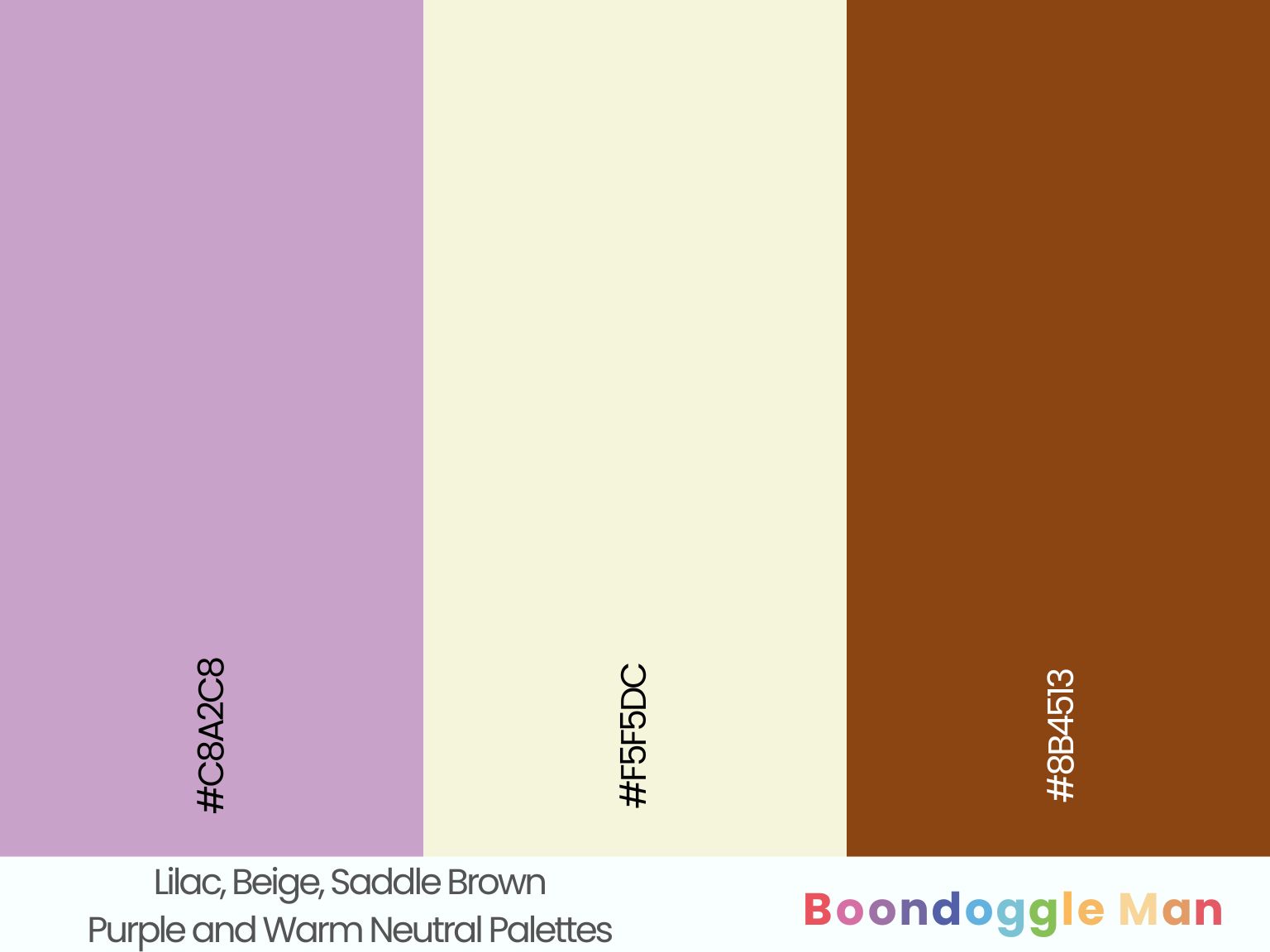 Hex Codes: #C8A2C8, #F5F5DC, #8B4513
Sweet lilac walls complemented by versatile beige and saddle brown leather furniture makes for a relaxing natural palette.
39. Mauve, Khaki, Chestnut Brown
Hex Codes: #DDA0DD, #C3B091, #954535
Match airy mauve walls with earthy khaki and deep chestnut brown wood finishes for an organic, welcoming palette.
40. Plum, Cream, Dark Walnut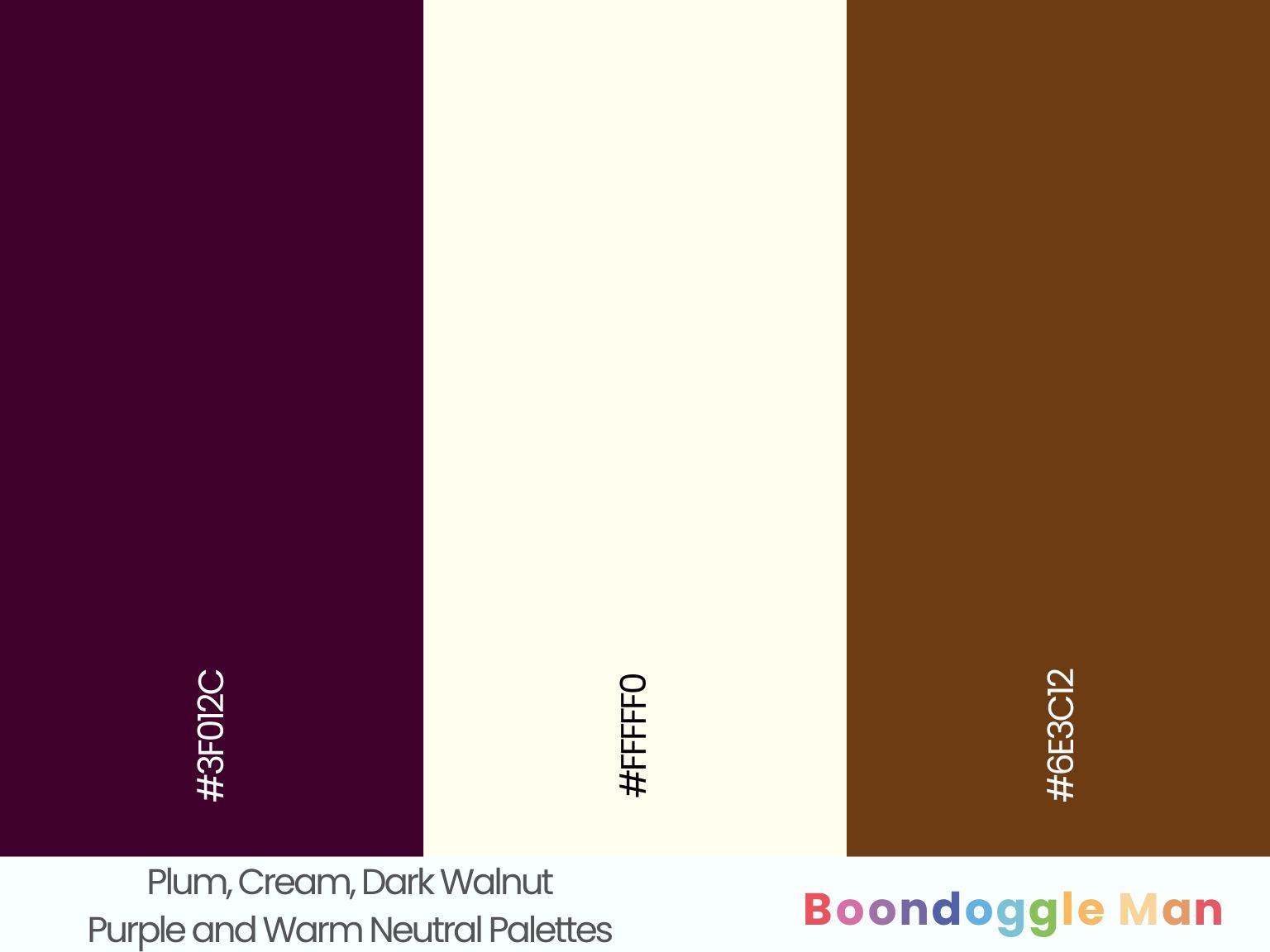 Hex Codes: #3F012C, #FFFFF0, #6E3C12
Jewel-toned plum walls contrast beautifully with creamy off-white trim and rich dark walnut wood accents for an elegant earthy feel.
Purple and Cool Neutral Palettes
Vivid purples paired with breezy blues and soothing grays create laidback, ethereal combinations perfect for relaxed spaces.
41. Lilac, Ice Blue, Ash Gray
Hex Codes: #C8A2C8, #DAF1FF, #C2BEC0
Sweet lilac complements icy blue and weathered ash gray beautifully in airy, tranquil spaces like bedrooms and sitting rooms.
42. Grape, Pale Blue, Dove Gray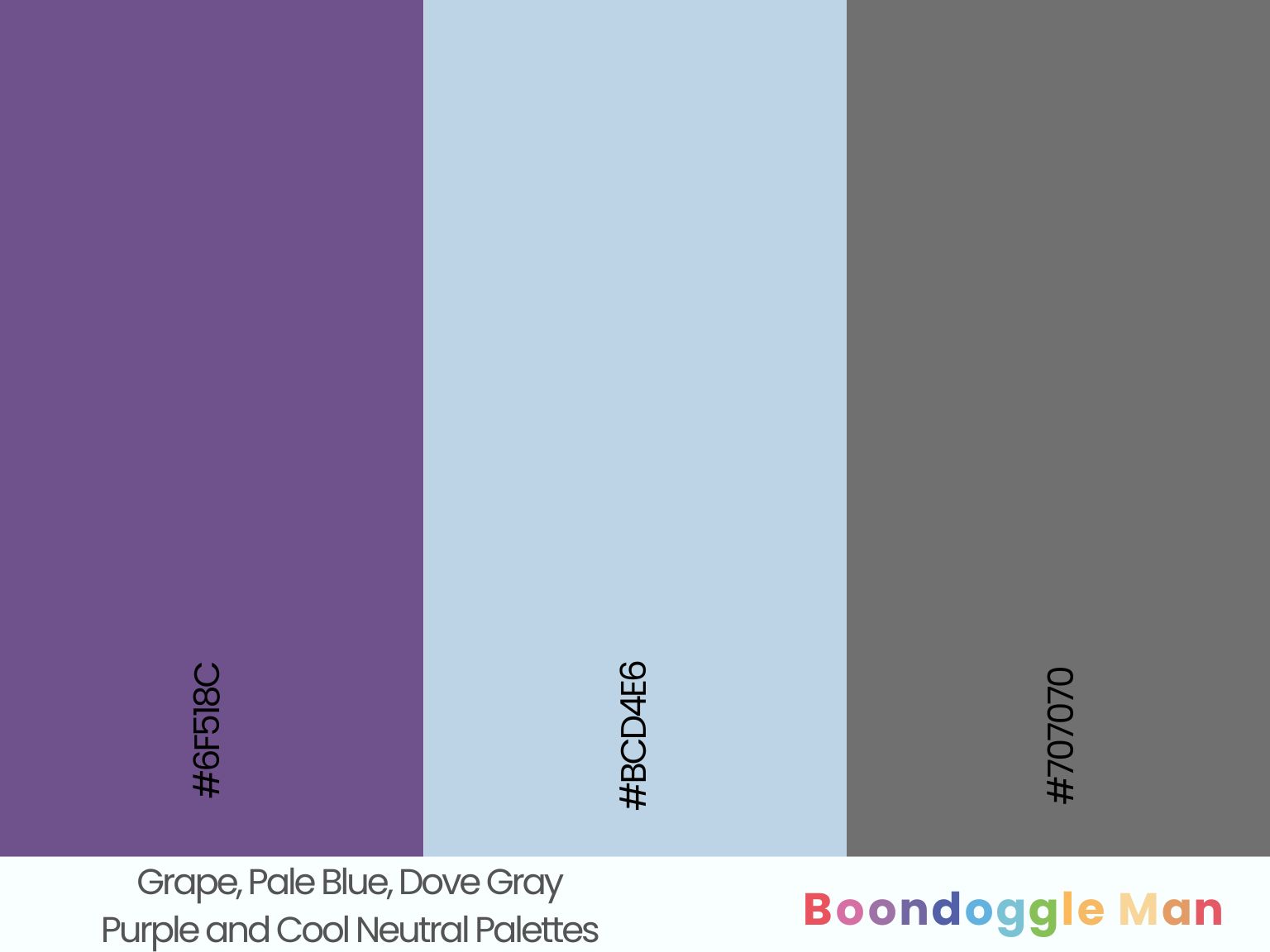 Hex Codes: #6F518C, #BCD4E6, #707070
Match youthful grape purple with light pale blue and heathered dove gray for a playful yet peaceful palette. Great for children's rooms.
43. Orchid, Periwinkle, Silver
Hex Codes: #DA70D6, #C3CDE6, #C0C0C0
Vibrant orchid purple energizes cool periwinkle blue and sleek silver accents. Perfect for modern living rooms and kitchens.
44. Eggplant, Denim Blue, Light Gray
Hex Codes: #3F012C, #1560BD, #D3D3D3
Deep eggplant purple walls complemented by faded denim blue and soft light gray makes for a relaxing, casual palette.
FAQs About Purple Color Palettes
What colors go well with purple walls?
Some colors that complement purple walls nicely are white, gray, charcoal, green, blue and metallics like gold and silver. Light wood tones also work well with purple walls.
What color furniture looks best with purple?
Metallic golds, silvers and coppers make bold furniture colors for purple rooms. Light natural wood pieces also pair nicely with purple walls.
What color carpeting is good with purple?
Try pale grays, creams, blues, and subtle purple patterns or textures for carpets in purple rooms. Avoid bold reds and oranges.
What color wood floor with purple walls?
Weathered grays, white-washed blondes, and ebony stained floors complement purple walls beautifully. Blue-gray Mediterranean tile can also work.
What purple goes with grey?
Muted lilac, lavender, and mauve purples pair seamlessly with most shades of grey for relaxing, elegant combinations. Avoid bright jewel tone purples with grey.
So whether you love bold orchid or soft wisteria shades, you can easily create beautiful, complementary palettes with purple decor. Use these color combos to design a regal, tranquil interior featuring your perfect purple.