lavender is a light purple shade with a delicate, floral personality. This elegant color combines beautifully with a wide range of hues for gorgeous home decor.
In this article, we'll explore lavender color theory, symbolism, shades, and harmonious color combinations. Discover inspiring lavender color palettes to liven up your interior designs.
What is lavender?
Lavender is a light purple with a pinkish undertone. It is named after the flowering herb used in fragrances.
On the color wheel, lavender falls between purple and pink. It contains a mix of blue and red pigment.
The signature lavender shade is a soft dusty purple with a hint of pink. However, the term also applies to pale, pinkish variations of lilac and mauve.
Lavender has a lightweight, airy quality. Its feminine energy provides a sense of grace and elegance.
The Meaning and Symbolism of lavender
Here are the common symbolic meanings and associations of the color lavender:
Feminine – Lavender's soft, delicate nature is strongly associated with femininity.
Elegant – With its graceful air, lavender conveys sophistication and elegance.
Romantic – Lavender's pinkish undertones give it a dreamy, romantic vibe.
Nostalgic – Lavender evokes feelings of nostalgia and memories of the past.
Royal – In history, the rarity of lavender dye made it associated with royalty.
Spiritual – Lavender's sense of purity connects it to spirituality and inner peace.
So in summary, lavender combines femininity, nostalgia, and elegance for a graceful, ethereal color.
Shades of lavender
There are many light and dark shades of lavender purple. Here are some popular lavender color names and codes:
| Lavender Shade | Hex Code | Sample |
| --- | --- | --- |
| Lavender Web | #E6E6FA | |
| Lavender Mist | #E6E6FA | |
| Lavender Blush | #FFF0F5 | |
| French Lavender | #F1E9FF | |
| Lavender Frost | #EFF5F9 | |
| Violet Lavender | #9B5FC0 | |
| Spanish Lavender | #746CC0 | |
| Lavender Indigo | #9457EB | |
Paler shades like lavender blush and lavender mist have a soft, ethereal effect. Darker lavenders like indigo and violet feel richer and more decadent.
Complementary Colors of Lavender
Complementary colors sit opposite each other on the color wheel, creating striking contrast. The complementary color for lavender is yellow-orange (#FFAE42).
Yellow-Orange (#FFAE42)
Yellow-orange provides a warm, invigorating contrast to lavender's cool, delicate nature. Citrus, peach and saffron yellows work best. Avoid fire-engine oranges.
Use yellow-oranges conservatively to energize lavender palettes. Add saffron pillows to a lilac sofa. Paint a peach-colored accent wall behind a wisteria cabinet. Accessorize lavender outfits with citrus orange shoes and bags.
Analogous Colors of Lavender
Analogous colors sit next to each other on the color wheel, creating harmonious combinations. Analogous colors for lavender include:
Violet (#EE82EE)
Rich violets like plum, iris and orchid share lavender's light purple essence. Their deeper tones bring out lavender's soft vibrancy. Avoid magentas.
Incorporate violets to accentuate lavender environments. Arrange orchid flowers in lilac vases. Style a lavender blouse with plum earrings and heels.
Blue (#0000FF)
Cool blues like periwinkle, powder and robin's egg blend seamlessly with lavender's tranquil quality. Robin's egg works especially well. Avoid neon blues.
Use muted blues as accents within lavender palettes. Add robin's egg throw pillows to a lilac sofa. Pair a lavender skirt with periwinkle heels and handbag.
Triadic Colors of Lavender
The triadic colors for lavender, equally spaced on the wheel, are sea green (#2E8B57) and red (#FF0000).
Sea Green (#2E8B57)
Sea green provides an earthy, stabilizing contrast to delicate lavender. Moss, jade and forest greens also work well. Avoid bolder greens like emerald.
Incorporate natural greens sparingly with lavender. Add forest green blankets to a lilac sofa. Accessorize a lavender outfit with soft jade shoes and bag.
Red (#FF0000)
Rich reds like crimson, cherry and garnet inject boldness into lavender's soft palette. Using reds conservatively prevents overpowering it. Avoid fire engine reds.
Use red selectively as an accent color with lavender. Add a cherry throw rug to a wisteria living room. Accessorize a lilac outfit with muted garnet shoes and bag.
What Colors Go With Lavender?
With both cool and warm undertones, lavender pairs nicely with many colors. Here are top hues that complement lavender beautifully.
Vibrant Lavender Color Palettes
Vivid lavenders packed with energy look best paired with equally bold, saturated accent colors. These fun combos add life to modern spaces.
1. Orchid Purple, Sunshine Yellow, Cyan Blue
Hex Codes: #DA70D6, #FFFF00, #00FFFF
Vibrant orchid purple dining chairs pop dramatically against cheerful sunshine yellow walls and electric cyan blue trim. Striking and bold.
2. Magenta Purple, Chartreuse, Persimmon Orange
Hex Codes: #CA1F7B, #DFFF00, #EC4E20
Sensational magenta purple sofa complements vivid chartreuse pillows and bold persimmon orange throw blanket wonderfully. Energetic and contemporary.
3. Violet Purple, Lime Green, Seafoam Teal
Hex Codes: #92278F, #AAD417, #B5EAD7
Vibrant violet purple accent wall makes fresh lime green shelving and soothing seafoam teal cafe chairs shine. Great for modern living rooms.
4. Grape Purple, Robin's Egg Blue, Dandelion Yellow
Hex Codes: #5F3D7E, #1CAC78, #FEDF00
Youthful grape purple complements soft robin's egg blue and warm dandelion yellow beautifully. Cheerful and bright.
5. Orchid Purple, Yellow, Aqua Blue
Hex Codes: #DA70D6, #FBC15E, #95E0E8
Vibrant orchid purple combined with sunny golden yellow and refreshing aqua blue makes for an energizing, eclectic palette.
6. Lilac Purple, Hot Pink, Turquoise
Hex Codes: #C8A2C8, #FF69B4, #06BCC1
Sweet lilac purple punctuated by shocking hot pink prints and electric turquoise rug looks lively and fun. Perfect for a little girl's room.
Earthy Lavender Color Combinations
Muted lavenders complement natural materials like wood, linen, leather and stone beautifully. These organic palettes have a relaxing boho vibe.
7. Wisteria Purple, Jute, Walnut Wood
Hex Codes: #AEA1D3, #CCC19F, #6E3C12
Airyan wisteria purple walls enhanced by textural natural jute rug and rich black walnut beams create cozy boho-style elegance.
8. Plum Purple, Sandstone, Saddle Leather
Hex Codes: #7851A9, #C38855, #8B4513
Sultry plum purple accent wall complements organic sandstone finishes and supple saddle brown leather sofa wonderfully. Timeless and natural.
9. Lavender Purple, Oak Wood, Linen
Hex Codes: #B57EDC, #A88F5D, #FAF0E6
Ethereal lavender purple furniture and decor lets warm oak wood beams and breezy linen upholstery shine as cozy organic accents.
10. Lilac Purple, Terracotta, Dark Wood Stain
Hex Codes: #C8A2C8, #E2725B, #4C3328
Sweet lilac purple accent wall pairs beautifully with organic terracotta vases and rich dark wood dining set. Rustic elegance.
11. Orchid Purple, Wool, Maple Stain
Hex Codes: #DA70D6, #D1D0CE, #C4B594
Vibrant orchid purple sofa provides bold contrast beside natural wool armchair and warm maple wood floors.
12. Wisteria Purple, Denim, Pecan Stain
Hex Codes: #AEA1D3, #1560BD, #AC905B
Dreamy wisteria purple bedding enhanced by classic denim upholstery and rich pecan nightstand stain makes a stylish boho bedroom.
Retro Lavender Color Schemes
Nostalgic lavenders look fabulous alongside punchy brights and poppy accent colors. These playful combos create spirited retro charm.
13. Lilac Purple, Buttercup Yellow, Turquoise
Hex Codes: #C8A2C8, #FCE22A, #06BCC1
Sweet lilac purple walls complemented by cheery buttercup yellow cafe area and refreshing turquoise bar stools make for playful retro style.
14. Wisteria Purple, Avocado Green, Persimmon Orange
Hex Codes: #AEA1D3, #87A96B, #EC4E20
Airyan wisteria purple furnishings pop beautifully against groovy avocado green shag rug and bold persimmon orange barrel chairs. Funky 70s style.
15. Plum Purple, Seafoam Green, Raspberry Red
Hex Codes: #7851A9, #B4FFE6, #E30B5C
Sultry plum purple wainscoting looks bold and artistic against refreshing seafoam green walls and tangy raspberry red cafe chairs.
16. Orchid Purple, Olive Green, Sunshine Yellow
Hex Codes: #DA70D6, #6B8E23, #FFFF00
Vibrant orchid purple sofa energizes earthy olive green walls and bright sunshine yellow side chairs. Retro eclectic charm.
Soft Lavender Color Palettes
Pale lavenders create an angelic, dreamy feeling when combined with other soft hues like blush pink, ice blue and vanilla.
17. Lilac Purple, Blush, Cream White
Hex Codes: #C8A2C8, #F8C3CD, #FFFFF0
Sweet lilac purple walls complemented by romantic blush daybed and bright cream white bookshelves create ethereal charm. Perfect for bedrooms and reading nooks.
18. Wisteria Purple, Lavender Blue, Pearl White
Hex Codes: #AEA1D3, #B4A7D6, #FDEEF4
Airyan wisteria purple walls enhanced by soft lavender blue furnishings and pearly pearl white trim make for a peaceful, refined palette.
19. Lavender Purple, Aqua, Almond White
Hex Codes: #B57EDC, #D4F7FA, #EFDBC5
Ethereal lavender purple drapes pop against refreshing aqua walls and creamy almond white trim. Bright and relaxing.
20. Orchid Purple, Buttercream, Driftwood
Hex Codes: #DA70D6, #F3EBC2, #C7BFA8
Vibrant orchid purple art print complements warm buttercream walls and weathered driftwood accents beautifully. Sweet cottage charm.
21. Purple Lilac, Ice Blue, Linen White
Hex Codes: #D6D6FA, #DAF1FF, #FAF0E6
Delicate purple lilac furnishings enhanced by icy blue walls and natural linen white trim evoke weightless tranquility.
22. Plum Purple, Powder Blue, Cream White
Hex Codes: #7851A9, #B0E0E6, #FFFFF0
Sultry plum purple sofa pops against dreamy powder blue walls and warm cream white trim. A serene, romantic palette.
Gray Lavender Color Combinations
Muted lavenders gain refined sophistication when mixed with soft grays and off-whites. These versatile combos work well in minimalist homes.
23. Lilac Purple, Heather Gray, White
Hex Codes: #C8A2C8, #B6B095, #FFFFFF
Sweet lilac purple accent chair provides refined contrast beside warming heather gray sofa and bright white shelves. Elegant in its simplicity.
24. Wisteria Purple, Pale Gray, Parchment White
Hex Codes: #AEA1D3, #F2F3F5, #F1F0E6
Airyan wisteria purple walls look bright and peaceful against heathered pale gray sofa and natural parchment white ceramic table. A versatile neutral palette.
25. Lavender Purple, Silver Gray, Cream White
Hex Codes: #B57EDC, #C0C0C0, #FFFFF0
Ethereal lavender purple drapes pop beautifully against sleek silver gray walls and warm cream white wainscoting. Stylish and serene.
26. Lilac Purple, Blue Gray, Linen White
Hex Codes: #C8A2C8, #BEC9CE, #FAF0E6
Sweet lilac purple pillows provide the perfect pop of color against hazy blue gray sofa and airy linen white shag rug. Soft and relaxing.
27. Plum Purple, Dove Gray, Bone White
Hex Codes: #7851A9, #707070, #F8F4E8
Sultry plum purple dining chairs stand out elegantly against peaceful dove gray walls and organic bone white trim.
Rich Lavender Color Palettes
Vivid lavenders take on lush depth when accented with dramatic blues, jewel tones and metallics. These bold combos create glamorous elegance.
28. Orchid Purple, Deep Teal, Rose Gold
Hex Codes: #DA70D6, #014D4E, #B76E79
Vibrant orchid purple sofa pops dramatically beside rich deep teal accent wall and romantic rose gold coffee table. Make a lush, glam statement.
29. Magenta Purple, Sapphire Blue, Copper
Hex Codes: #CA1F7B, #0F52BA, #B66325
Sensational magenta purple armchairs provide bold contrast beside bold sapphire blue wainscoting and glimmering copper pendant lights. Striking and elegant.
30. Violet Purple, Eggplant, Gold Accents
Hex Codes: #92278F, #3F012C, #D4AF37
Vibrant violet purple walls make decadent eggplant purple velvet sofa and radiant gold decor shine. Royal purple sophistication.
31. Grape Purple, Navy Blue, Champagne Gold
Hex Codes: #5F3D7E, #000080, #F1DDCC
Youthful grape purple furniture pops dramatically against classic navy blue walls and bubbly champagne gold accents. Playful yet refined.
Vintage Lavender Color Combinations
Heritage lavenders complement retro reds, blues and antique white beautifully. Use these nostalgic palettes to give spaces old-world character.
32. Lilac Purple, Terracotta, Oak Wood
Hex Codes: #C8A2C8, #E2725B, #A88F5D
Sweet lilac purple cafe chairs provide the perfect pop beside organic terracotta tabletop and rugged oak wood plank floors. Farmhouse kitchen perfection.
33. Wisteria Purple, Denim Blue, Pine Wood
Hex Codes: #AEA1D3, #1560BD, #7D5A50
Airyan wisteria purple bedding looks dreamy against worn-in denim blue upholstery and reclaimed pine wood headboard. Relaxed vintage style.
34. Lavender Purple, Avocado Green, Cherry Wood
Hex Codes: #B57EDC, #87A96B, #B45F1B
Ethereal lavender purple walls complement retro avocado green lounge chair and reclaimed cherry wood console table in this laidback boho interior.
35. Lilac Purple, Brick Red, Black Walnut
Hex Codes: #C8A2C8, #B22222, #6E3C12
Sweet lilac purple cabinetry pairs perfectly with traditional brick red backsplash tile and dramatic black walnut countertops.
High Contrast Lavender Color Schemes
Vivid lavenders make bold statements against crisp white and black backdrops. Punchy bright accents grab attention for maximum impact.
36. Orchid Purple, Aqua Blue, White
Hex Codes: #DA70D6, #95E0E8, #FFFFFF
Vibrant orchid purple accent wall pops dramatically beside electric aqua blue shelving and bright white trim. Makes a lively statement.
37. Magenta Purple, Lime Green, Charcoal Gray
Hex Codes: #CA1F7B, #C7E878, #333333
Bold magenta purple armchairs contrast excitingly with fresh lime green walls and smokey charcoal gray wainscoting. Contemporary and edgy.
38. Grape Purple, Cyan, Black
Hex Codes: #5F3D7E, #00FFFF, #000000
Youthful grape purple wallpaper pops powerfully against electric cyan desk chair and classic black shelves. Fun, eclectic contrast.
39. Lilac Purple, Chartreuse, White
Hex Codes: #C8A2C8, #DFFF00, #FFFFFF
Sweet lilac purple dining chairs stand out dramatically against vibrant chartreuse walls and bright white wainscoting. Airy yet bold.
40. Plum Purple, Cardinal Red, Silver Gray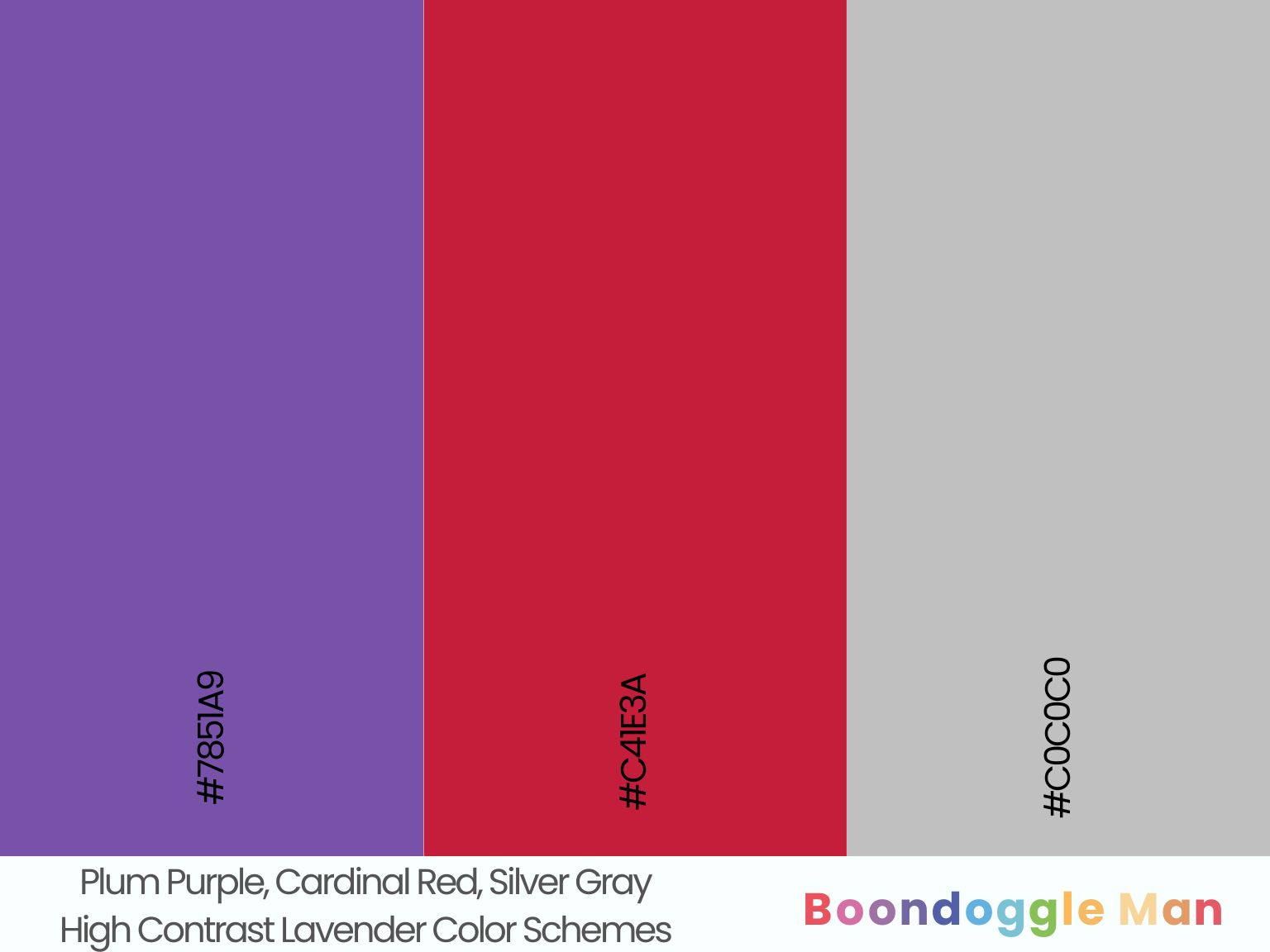 Hex Codes: #7851A9, #C41E3A, #C0C0C0
Sultry plum purple accent wall provides sophisticated contrast beside sensational cardinal red sofa and sleek silver gray shelves.
Lavender and Pastel Color Schemes
Lavenders feel dreamy and ethereal against other soft pastels like seafoam, peach and powder blue. These sweet palettes evoke springtime charm.
41. Lilac Purple, Aqua, Buttercream White
Hex Codes: #C8A2C8, #D4F7FA, #F3EBC2
Sweet lilac purple furnishings look lively against cool aqua walls and creamy buttercream white trim. Refreshing and bright.
42. Wisteria Purple, Seafoam Green, Peach Orange
Hex Codes: #AEA1D3, #B5EAD7, #FFCBA4
Airyan wisteria purple complements refreshing seafoam green and juicy peach orange beautifully in this soothing, laidback bedroom.
43. Lavender Purple, Periwinkle Blue, Pear White
Hex Codes: #B57EDC, #C5C9EA, #FDEEF4
Ethereal lavender purple accent wall adds chic contrast beside pretty periwinkle blue furnishings and pearly pear white trim. Dreamy and romantic.
44. Orchid Purple, Butter Yellow, Lilac
Hex Codes: #DA70D6, #F1E9C5, #C8A2C8
Vibrant orchid purple art print pops against warm butter yellow walls and sweet lilac tulip bouquet. A bright, springtime palette.
45. Plum Purple, Lavender Gray, Sky Blue
Hex Codes: #7851A9, #C7B8DA, #89D4CF
Sultry plum purple dining chairs stand out beside elegant lavender gray walls and breezy sky blue accent pillows. Chic and relaxing.
Design Tips for Decorating With Lavender
Here are tips for stylishly decorating with the color lavender:
Use light lavenders for calm, airy bedrooms and baths
Incorporate rich lavenders in bold accent walls and art
Combine metallic sheens like silver with lavender for glamour
Ground lavender with natural wood tones and earthy hues
Make lavender pop with contrasting blacks, whites, and reds
Add lavender through floral accents and fabric textures
Pair fresh sage greens with lavenders inspired by nature
Introduce lavender in cool tones like periwinkle and ice blue
Distress and antique vintage woods with lavender for a shabby chic look
Keep lavender elegant by avoiding loud neons as accents
Frequently Asked Questions
Here are answers to common lavender color questions:
What colors go well with lavender?
Gray, blue, peach, pink, yellow, gold, cream, black, white, green, and other earth tones beautifully complement lavender.
What undertones does lavender have?
True lavender has a mix of cool blue undertones and warm pink or red undertones. Different lavender shades lean more warm or more cool.
What colors should be avoided with lavender?
Don't pair lavender with loud, clashing colors like hot pink, lime green, or electric orange. Muddy combinations like brown and purple can also make lavender look drab.
What color furniture looks good with lavender?
Whites, creams, light wood, silver, metallics, black, and gray look beautiful with lavender walls and accents.
What color carpeting works with lavender?
Try off-white, beige, light gray, and lilac-toned carpets with lavender paint colors. Avoid bright jewel tones.
Final Takeaway
With its elegant, ethereal nature, lavender creates peaceful, soothing spaces. Use soft lavenders for whole room colors. Accent with rich lavenders and contrasting bold hues. Keep lavender looking refined by selecting colors with care.