Teal is a cool, refreshing color that allows for many gorgeous color combinations. From greenish teals to blueish teals, many hues pair beautifully with different shades of teal.
In this article, we'll explore over 45 colors that complement teal wonderfully. Discover vivid teal color palettes and schemes to use in your home decor, outfits, and designs.
What is Teal?
Teal is a tertiary color made by combining blue and green. It sits between blue and green on the color wheel. In painting, teal pigment is a mixture of blue and green hues. In light, teal can be created by mixing blue and green sources.
The hex code for pure teal is #008080. Teal is associated with renewal, relaxation, sophistication, balance, and nature. It has both energizing and calming qualities.
The Meaning and Symbolism of Teal
Here are some of the common symbolic meanings associated with teal:
Balance – Teal represents equilibrium with its blend of warm and cool colors.
Sophistication – Teal conveys elegance and refinement, especially in deep shades.
Zen – As a calming hue, teal promotes inner peace and spiritual harmony.
Growth – Teal's green tones evoke renewal, rejuvenation, and lushness.
Loyalty – In many cultures, teal symbolizes fidelity, trust, and devotion.
Healing – Teal is thought to have therapeutic, restorative properties.
Focus – Teal's balance inspires clear thinking, mental acuity, and wisdom.
Shades of Teal
Teal has many shades ranging from green-blues to blue-greens. Here are some major types of teal:
| Color Name | Hex Code | Sample |
| --- | --- | --- |
| Turquoise Teal | #40E0D0 | |
| Persian Teal | #00CED1 | |
| Jade Teal | #00A693 | |
| Emerald Teal | #2E8B57 | |
| Seafoam Teal | #7FFFD4 | |
| Aqua Teal | #7FFF00 | |
| Cyan Teal | #00FFFF | |
| Peacock Teal | #009698 | |
| Teal Blue | #367588 | |
| Dark Teal | #014D4E | |
Complementary Colors of Teal
Complementary colors sit opposite each other on the color wheel, creating striking contrast. The complementary color for teal is maroon (#800000).
Maroon (#800000)
Maroon's bold, warm energy provides balance to teal's cool tranquility. Incorporate rich maroons like burgundy (#900020) and cordovan (#893F45) throughout teal palettes. Avoid pale dusty maroons, which may look dull.
Use vibrant maroons with teal for an elegant, sophisticated look. Add burgundy pillows to a seafoam sofa. Accessorize a teal dress with cordovan heels and bag. Mix different shades of maroon and teal.
Analogous Colors of Teal
Analogous colors sit next to each other on the color wheel, creating harmonious combinations. Analogous colors for teal include:
Blue (#0000FF)
Blues like royal (#4169E1), navy (#000080), and cobalt (#0047AB) share teal's cool essence. Their deeper hues enhance teal's vibrancy. Avoid neon blues, which can be overwhelming.
Incorporate rich blues to accentuate teal tones. Paint a navy feature wall in a seafoam room. Style a teal blouse with cobalt jewelry and heels.
Green (#00FF00)
Naturally harmonious with teal, greens add vibrancy and freshness. Seafoam (#2ECC71), jade (#00A86B), and mint (#7FE817) work best.
Use muted greens as accents within teal palettes. Add mint throw pillows to a teal sofa. Pair a teal skirt with olive heels and handbag.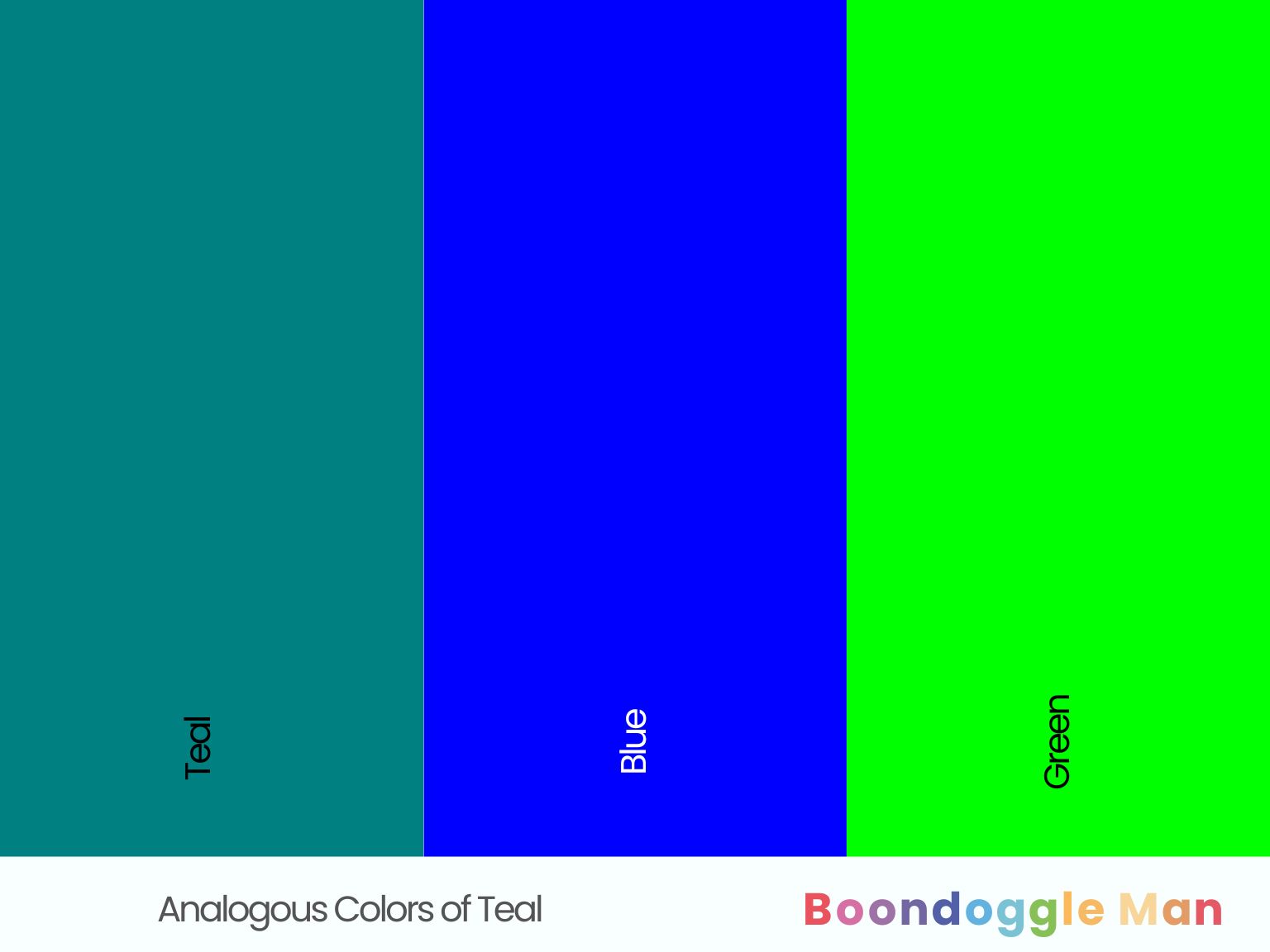 Triadic Colors of Teal
The triadic colors for teal, equally spaced on the wheel, are orange (#FFA500) and red-violet (#C71585).
Orange (#FFA500)
Orange infuses energy and warmth into teal's cool mood. Peach (#FFE5B4), salmon (#FA8072), and melon (#FDBE02) oranges work best. Avoid neon orange.
Use muted oranges as accents with teal. Add a peach rug to a teal and grey room. Style a teal dress with salmon heels and handbag for contrast.
Red-Violet (#C71585)
Red-violet provides a bold, stimulating contrast to teal. Incorporate softer shades like mulberry (#C54B8C) and orchid (#DA70D6). Avoid magenta.
Use red-vIolet sparingly to accent teal. Try mulberry pillows on a seafoam couch. Accessorize a teal outfit with orchid heels and bag.
What Colors Go With Teal?
Here are over 45 colors that pair beautifully with different shades of teal for gorgeous palettes:
Vibrant Teal Color Palettes
Vivid teals packed with energy look best paired with equally bold, saturated accent colors. These fun combos add life to modern spaces.
1. Teal, Sunshine Yellow, Hot Pink
Hex Codes: #008080, #FFFF00, #FF69B4
Electric teal complements cheerful sunshine yellow and sassy hot pink beautifully in this playful, psychedelic palette. Great for a little girl's bedroom.
2. Turquoise, Tangerine Orange, Lime Green
Hex Codes: #04CFAD, #FF9E6B, #AAD417
Refreshing turquoise makes tangy tangerine orange and fresh lime green shine in this tropical combo. Perfect for summery kitchens and bathrooms.
3. Aqua, Magenta, Lemon Yellow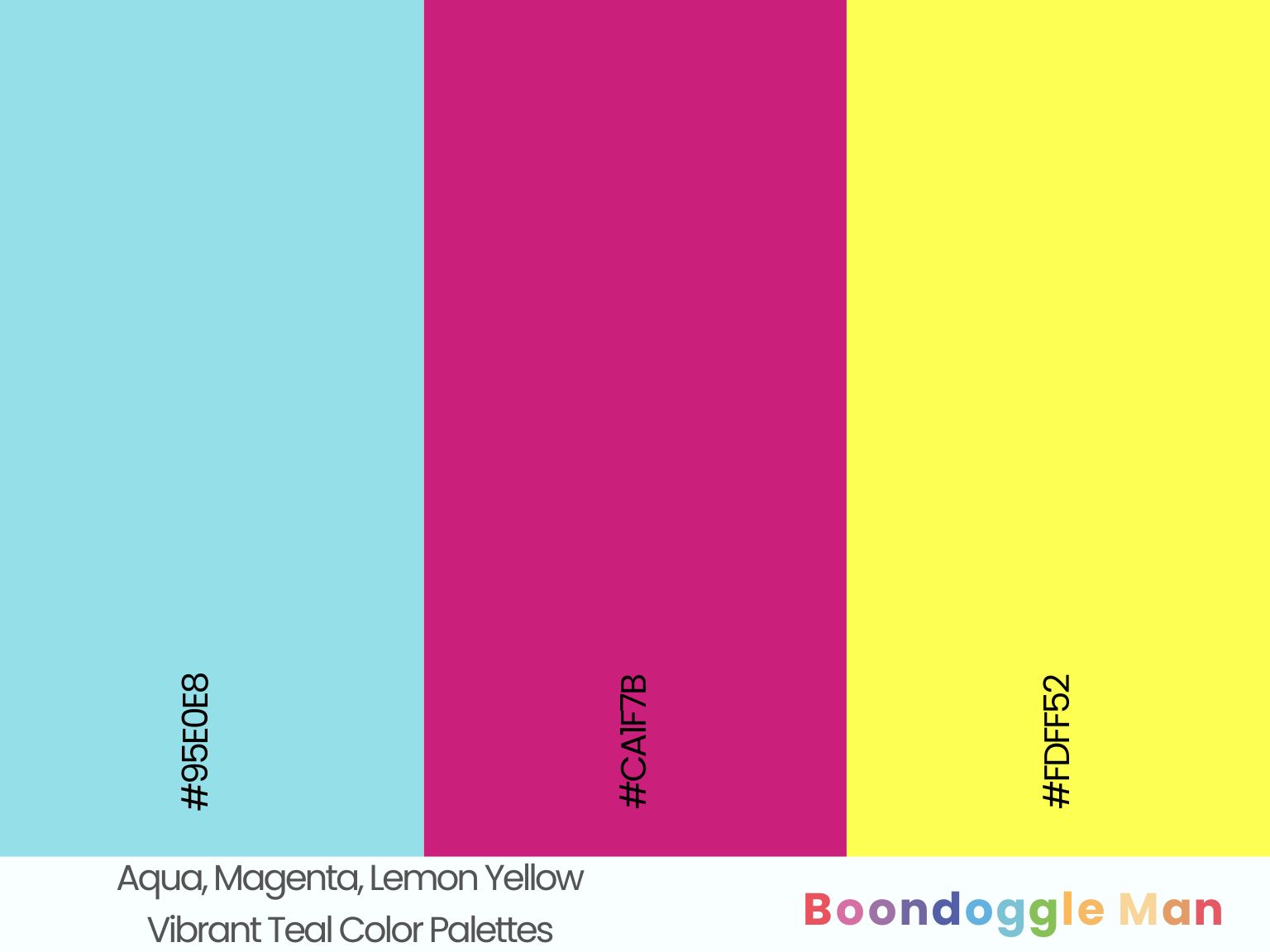 Hex Codes: #95E0E8, #CA1F7B, #FDFF52
Soothing aqua walls punctuated by sensational magenta and sparkling lemon yellow accents makes for an eclectic, artsy palette.
4. Cyan, Purple, Apple Green
Hex Codes: #00FFFF, #9900FF, #63FF3C
Electric cyan complements regal purple and crisp apple green beautifully. Youthful and energetic.
5. Jade Green, Red, Sunshine Yellow
Hex Codes: #2ABB9B, #FF0000, #FFFF00
Jewel-toned jade green enhanced by true red and bright sunshine yellow makes for ultra vibrant, contrasting harmony. Great for home offices needing energy.
6. Peacock Teal, Hot Pink, Robin's Egg Blue
Hex Codes: #01889F, #FF69B4, #1CAC78
Dramatic peacock teal walls punctuated by shocking hot pink and playful robin's egg blue accents makes for a lively, eclectic interior.
Earthy Teal Color Combinations
Muted teal tones complement natural materials like wood, leather, linen and stone beautifully. These organic palettes have a relaxing boho vibe.
7. Sea Green, Walnut Wood, Sandstone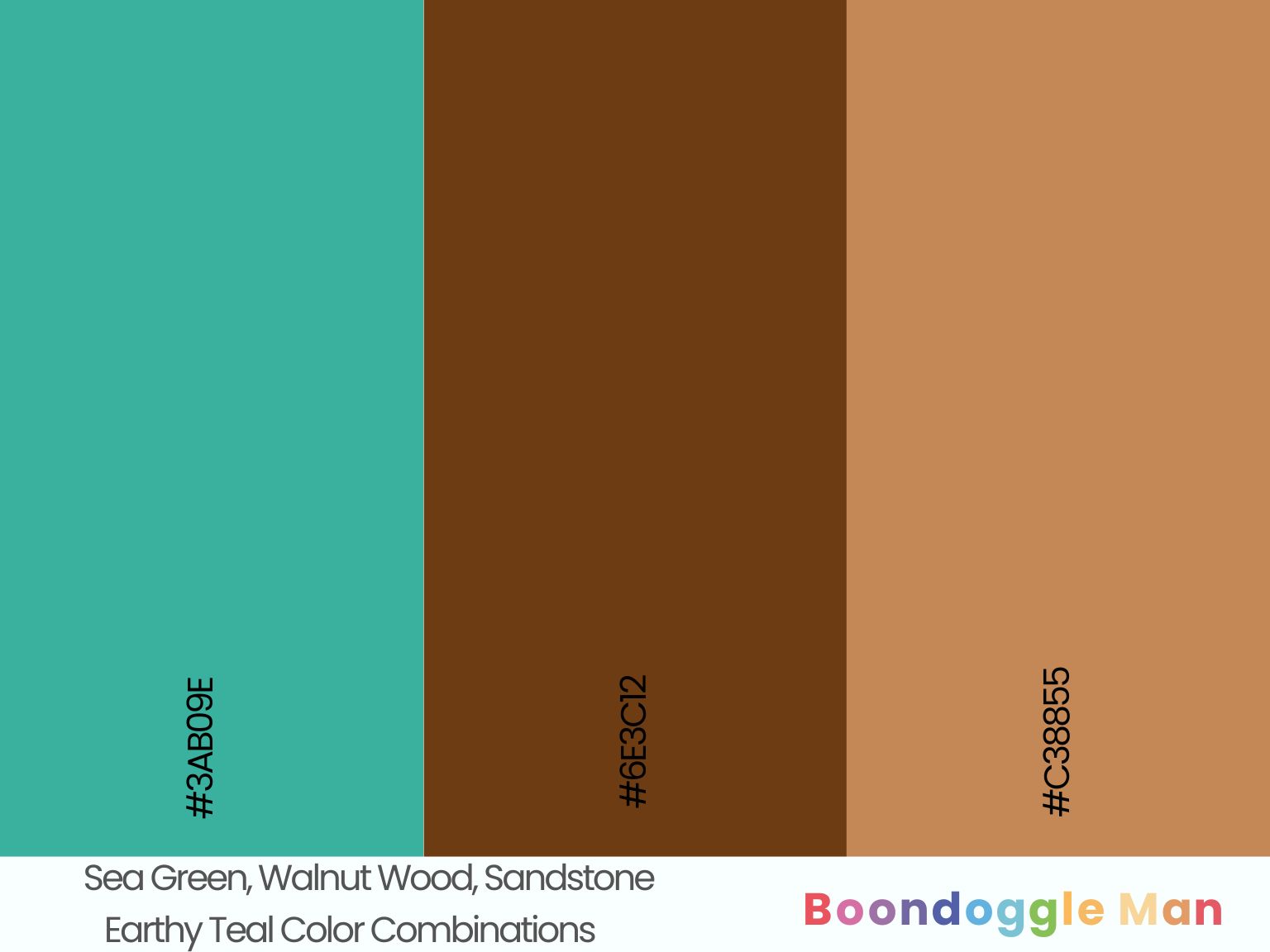 Hex Codes: #3AB09E, #6E3C12, #C38855
Soothing sea green walls enhanced by rich walnut wood beams and organic sandstone finishes create natural boho harmony.
8. Aqua, Leather, Terracotta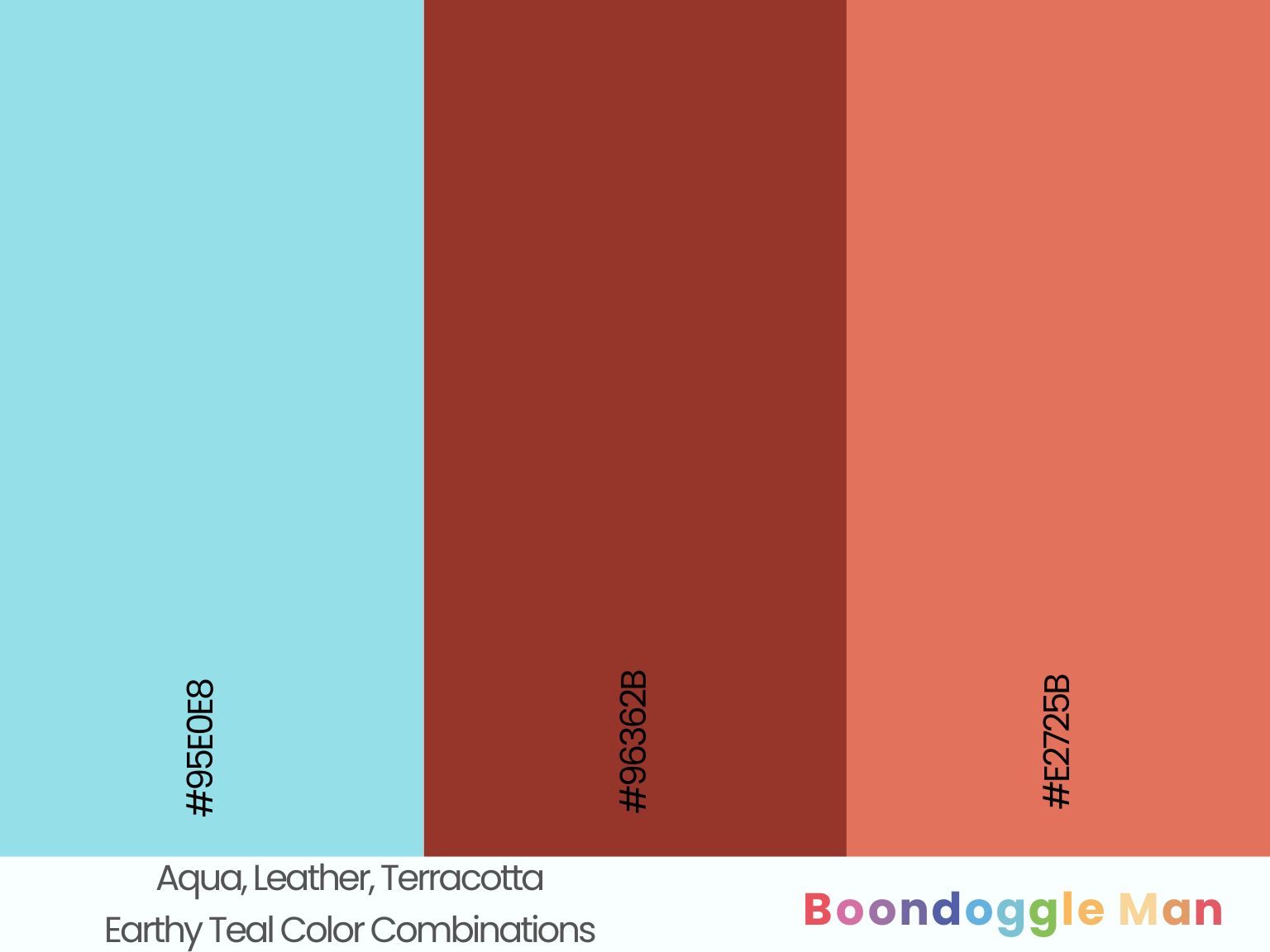 Hex Codes: #95E0E8, #96362B, #E2725B
Cool aqua walls look stylish alongside supple chestnut brown leather sofas and handmade terracotta pottery. An earthy Mediterranean palette.
9. Teal, Oak Wood, Khaki Cotton
Hex Codes: #008080, #A88F5D, #C3B091
Vibrant teal complements textural oak wood furniture and casual khaki cotton upholstery perfectly in this laidback boho interior.
10. Celadon Green, Jute, Walnut Brown
Hex Codes: #ACE1AF, #CCC19F, #6E3C12
Soothing celadon green walls enhanced by natural jute rugs and dramatic black walnut beams create an earthy boho vibe.
11. Turquoise, Denim, Chestnut Brown
Hex Codes: #04CFAD, #1560BD, #7B3F00
Vibrant turquoise walls look playful against faded denim upholstery and rich chestnut brown leather armchairs. Perfect for a hip but cozy living room.
12. Jade Green, Chambray, Umber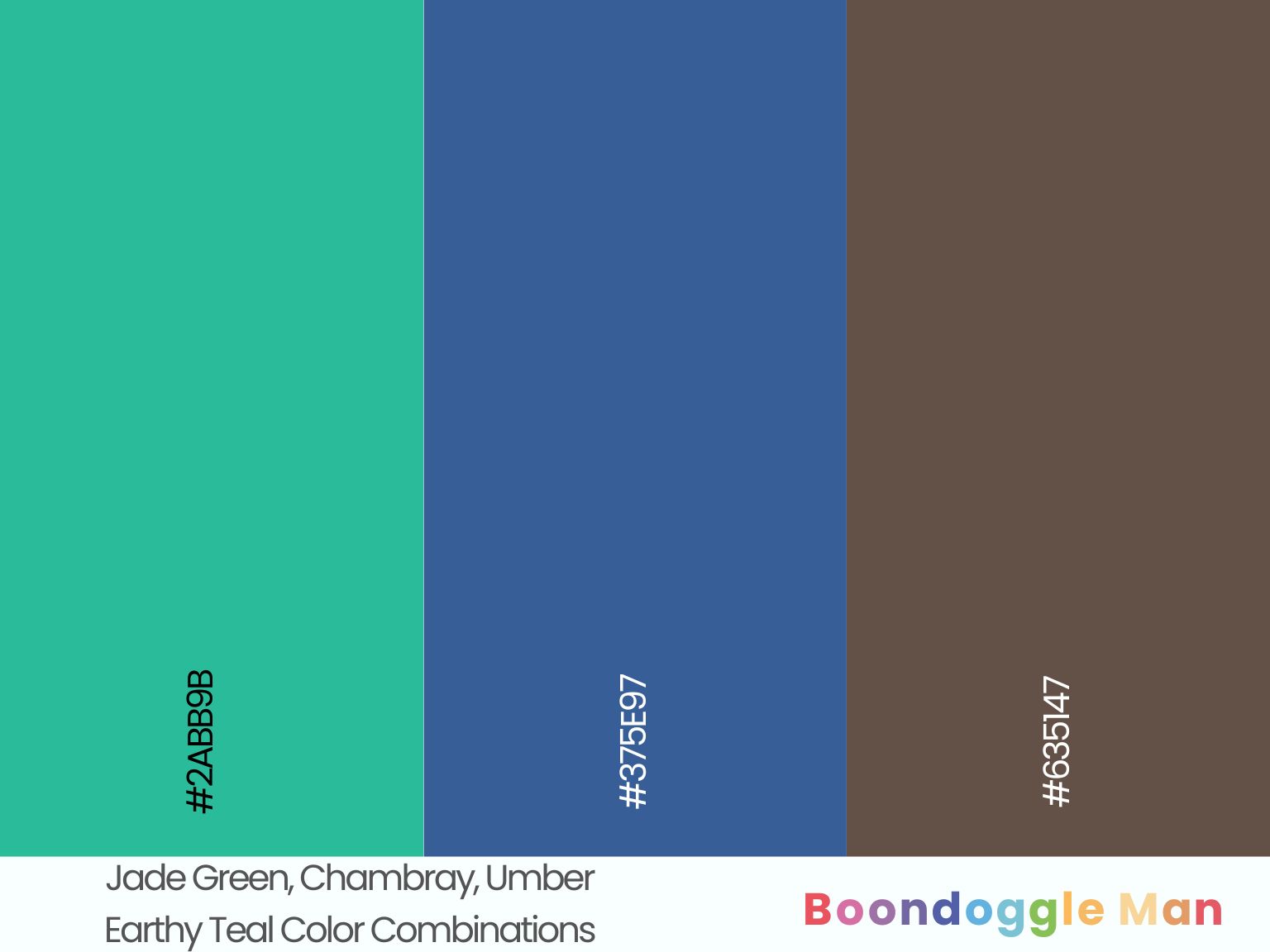 Hex Codes: #2ABB9B, #375E97, #635147
Jewel-toned jade green dining room walls complement relaxed chambray chairs and organic umber wood table beautifully.
Retro Teal Color Schemes
Nostalgic teal tones look fabulous paired with groovy chartreuse, sunny yellow and cherry red. Use these fun combos to create playful vintage flair.
13. Seafoam Green, Buttercup Yellow, Raspberry
Hex Codes: #B5EAD7, #FCE22A, #E30B5C
Soothing seafoam green walls enhanced by cheery buttercup yellow accents and tangy raspberry decorative tiles create delightful retro charm.
14. Aqua, Avocado Green, Scarlet Red
Hex Codes: #95E0E8, #568203, #FF2400
Cool aqua matched with groovy avocado green furniture and bold scarlet red stool cushions makes a fab 70s-inspired palette. Great for recreation rooms.
15. Robin's Egg Blue, Burnt Orange, Cherry Red
Hex Codes: #1CAC78, #CC5500, #DB243B
Playful robin's egg blue looks hip and lively against spicy burnt orange accents and nostalgic cherry red lockers. Perfect for a mudroom.
16. Teal, Olive Green, Sunshine Yellow
Hex Codes: #008080, #708238, #FFFF00
Vibrant teal enhanced by earthy olive green walls and bright sunshine yellow front door creates cheerful retro charm.
Soothing Teal Color Palettes
Pale aqua tones create an ethereal, dreamy feeling when combined with other light neutrals like sand, blush pink and lavender gray.
17. Seafoam, Blush Pink, Pale Blue
Hex Codes: #94FFDD, #F8C3CD, #DBF0F7
Soothing seafoam walls complemented by romantic blush pink furniture and breezy pale blue accents makes for a peaceful, feminine interior.
18. Aqua, Lavender Gray, Cream White
Hex Codes: #95E0E8, #C7B8DA, #FFFFF0
Cool aqua enhanced by elegant lavender gray and warm cream white makes for a perfectly relaxing color combination. Ideal for bedrooms and living rooms.
19. Mint Green, Shell Pink, Sand
Hex Codes: #B6FFC5, #FEDCD2, #F2E9E1
Refreshing mint green complements delicate shell pink and earthy natural sand beautifully. Great for bedrooms, bathrooms and reading nooks.
20. Duck Egg Blue, Buttercream, Driftwood
Hex Codes: #C3FBF4, #F3EBC2, #C7BFA8
Serene duck egg blue walls enhanced by creamy buttercream whites and weathered driftwood browns create laidback cottage charm.
21. Aquamarine, Blush, Greige
Hex Codes: #04D8C2, #F8C3CD, #C7C7C7
Bright aquamarine accent wall adds lively contrast to romantic blush furnishings and versatile greige walls.
22. Celadon, Lavender, Pearl White
Hex Codes: #ACE1AF, #B57EDC, #FDEEF4
Soothing celadon green complements airy lavender and pearly pearl white beautifully in this dreamy, romantic master suite.
Gray Teal Color Combinations
Muted blue-green tones look effortlessly chic paired with light grays and bone white. These versatile combos work well in minimalist spaces.
23. Sea Green, Ash Gray, White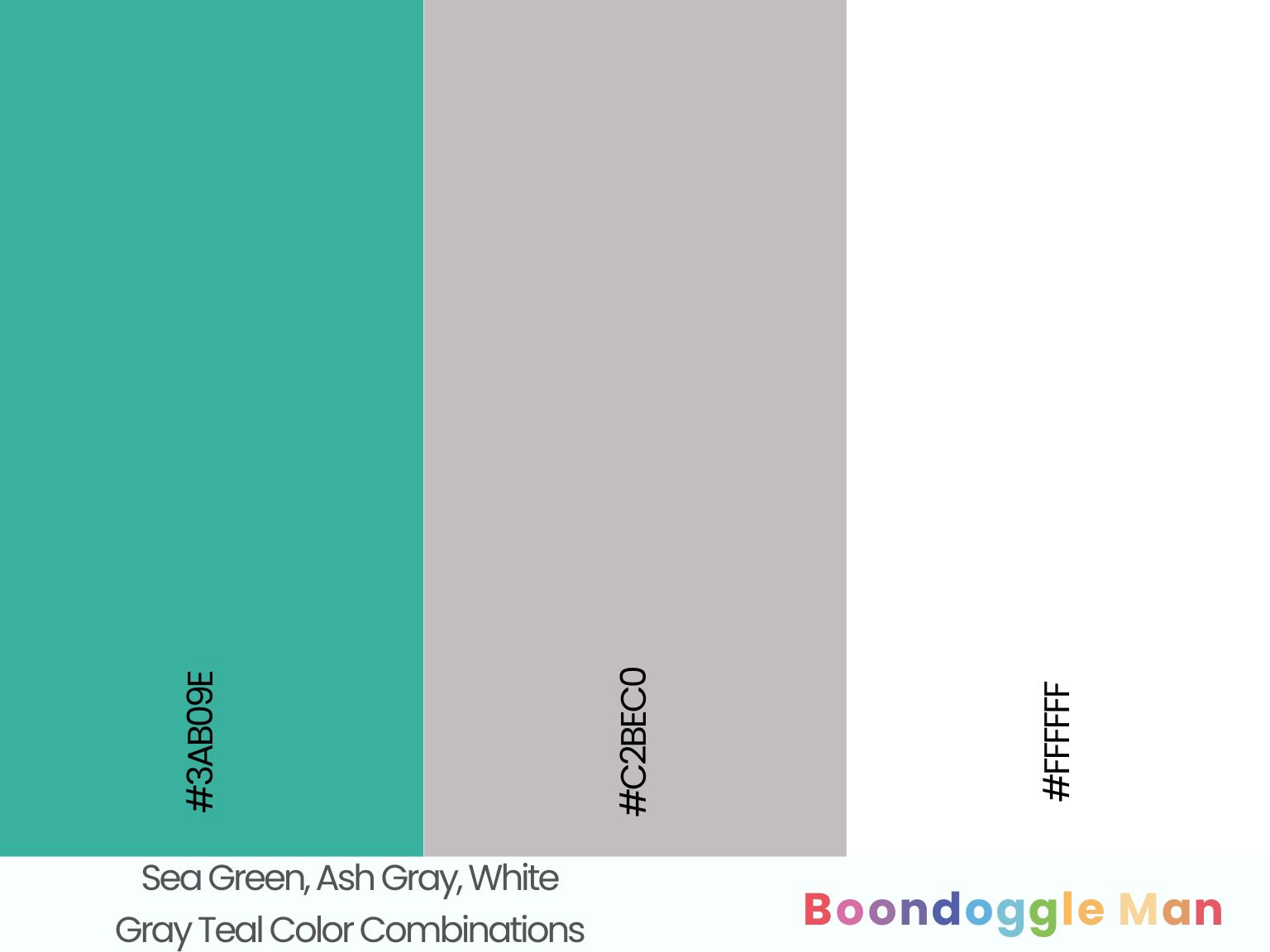 Hex Codes: #3AB09E, #C2BEC0, #FFFFFF
Tranquil sea green walls complemented by weathered ash gray cabinets and bright white open shelves creates relaxed harmony in this kitchen.
24. Blue Teal, Light Gray, Bone White
Hex Codes: #01889F, #D3D3D3, #F8F4E8
Vibrant blue teal dining room wall contrasts beautifully with soft light gray chairs and organic bone white tabletop.
25. Teal, Silver Gray, Cream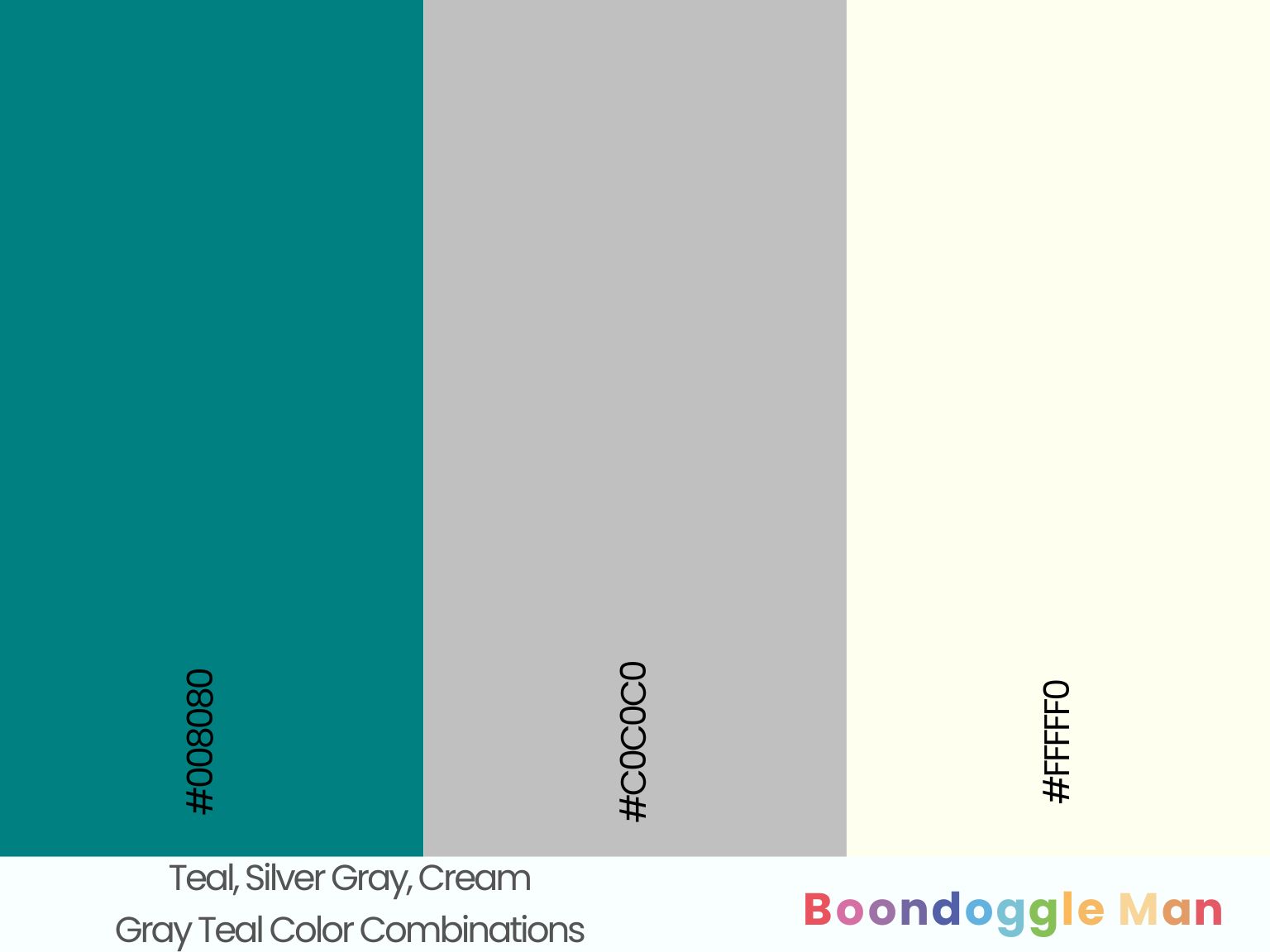 Hex Codes: #008080, #C0C0C0, #FFFFF0
Electric teal entryway makes a bold statement against sleek silver gray wainscoting and warm cream ceiling.
26. Aquamarine, Dove Gray, Linen White
Hex Codes: #04D8C2, #707070, #FAF0E6
Bright aquamarine home office pops against soothing dove gray walls and natural linen white shelving.
27. Seafoam Green, Heather Gray, Alabaster White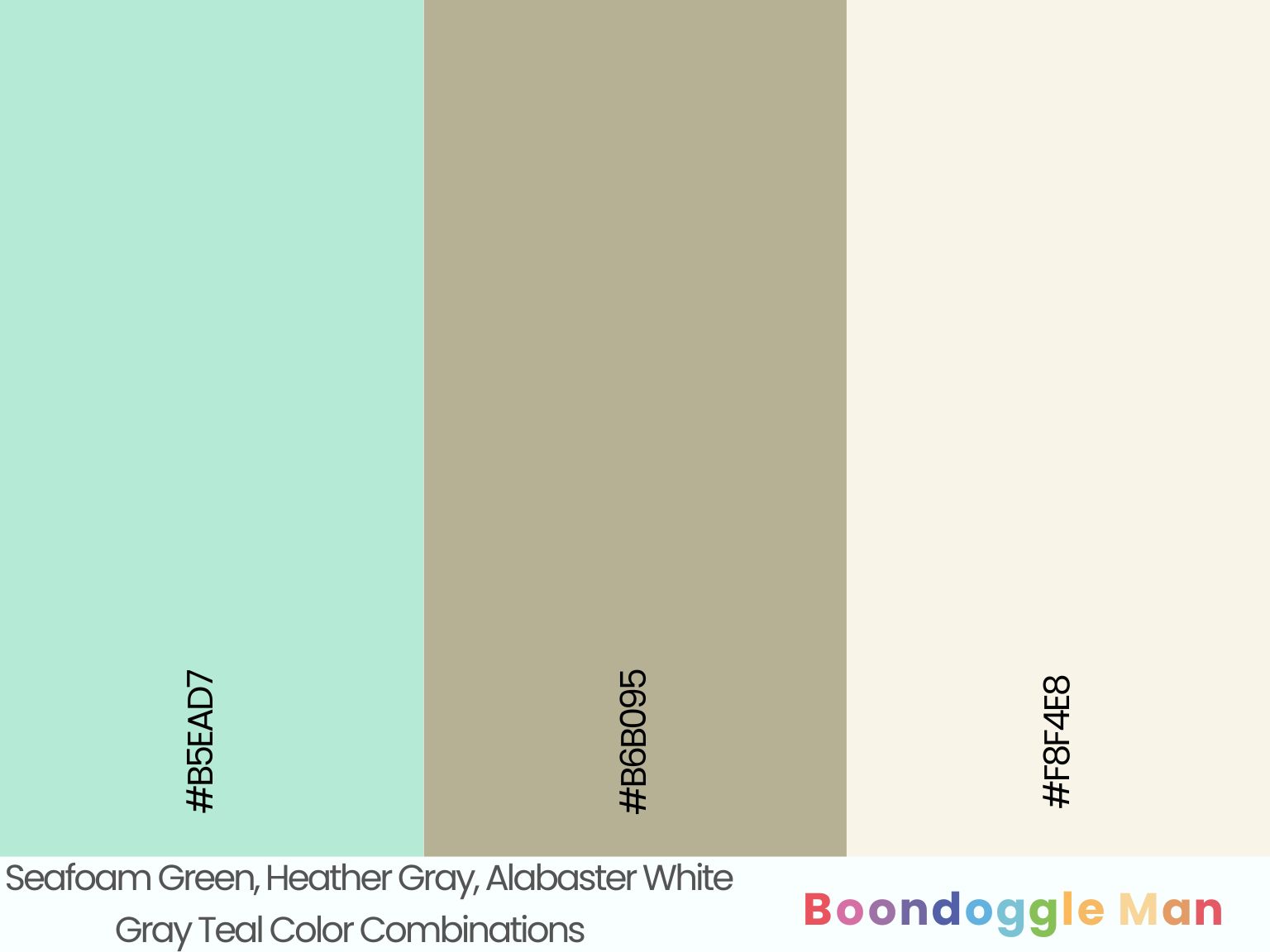 Hex Codes: #B5EAD7, #B6B095, #F8F4E8
Soothing seafoam green enhanced by soft heather gray wainscoting and organic alabaster white trim makes for a versatile, welcoming palette.
Rich Teal Color Palettes
Vibrant teals take on a glamorous bold flair when accented with jewel tones, black and metallics. These dramatic combos create lush elegance.
28. Jade Green, Amethyst Purple, Rose Gold
Hex Codes: #2ABB9B, #9966CC, #B76E79
Vibrant jade green dining room punctuated by regal amethyst purple chairs and romantic rose gold lighting fixtures makes a lush, elegant statement.
29. Peacock Teal, Ruby Red, Brass
Hex Codes: #01889F, #9B111E, #BCA642
Dramatic peacock teal walls contrast powerfully against sensational ruby red accent chairs and glimmering brass chandelier. Stunning and luxurious.
30. Robin's Egg Blue, Plum Purple, Gold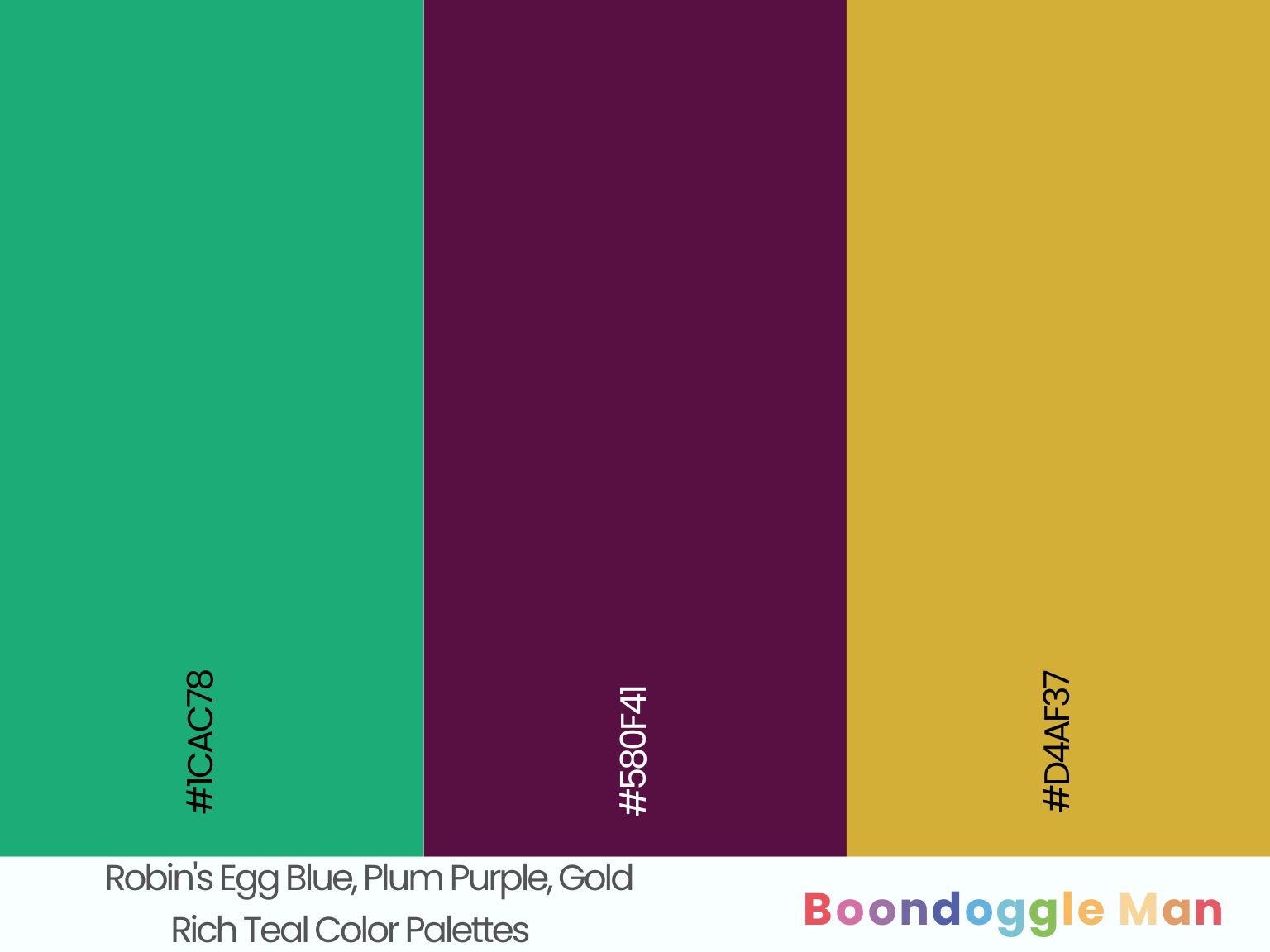 Hex Codes: #1CAC78, #580F41, #D4AF37
Playful robin's egg blue enhanced by sensual plum purple pillows and radiant gold finishes creates a joyful, indulgent ambiance.
31. Turquoise, Navy Blue, Rose Gold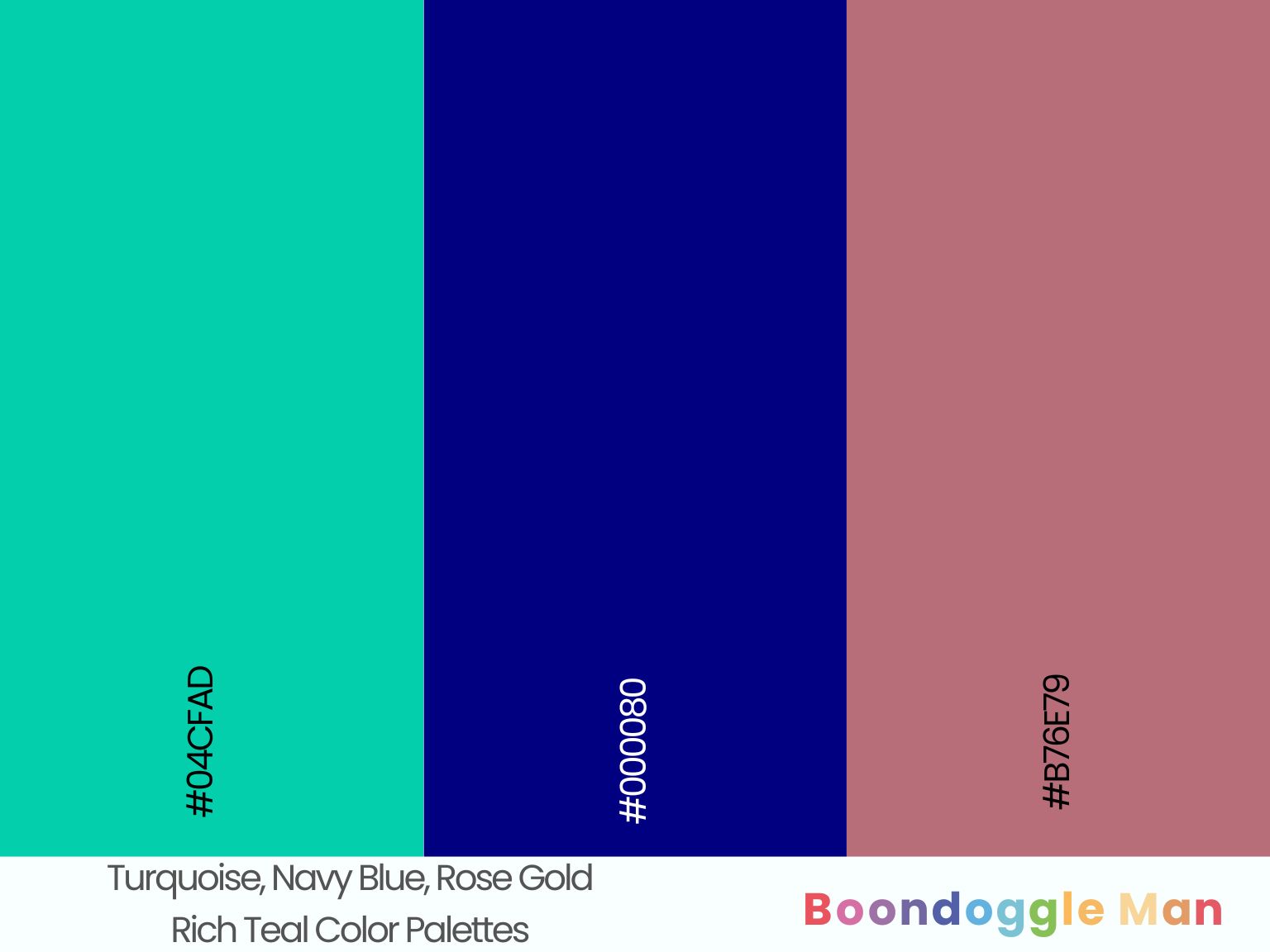 Hex Codes: #04CFAD, #000080, #B76E79
Refreshing turquoise walls complemented by classic navy blue wainscoting and romantic rose gold sconces makes for a luxe nautical interior.
Vintage Teal Color Combinations
Heritage teal hues complement retro reds, sunny yellows and denim blues beautifully. Use these nostalgic palettes to give spaces old-fashioned flair.
32. Seafoam Green, Brick Red, Buttery Yellow
Hex Codes: #B5EAD7, #B22222, #F1E9C5
Soothing seafoam green walls enhanced by traditional brick red cafe chairs and warm buttery yellow accents makes for playful old-world charm.
33. Aqua, Olive Green, Rustic Wood
Hex Codes: #95E0E8, #6B8E23, #7B3F00
Cool aqua walls complemented by organic olive green wainscoting and reclaimed rustic wood beams creates earthy Tuscan style.
34. Mint Green, Denim Blue, Sunshine Yellow
Hex Codes: #B6FFC5, #1560BD, #FFFF00
Refreshing mint green kitchen cabinetry pops against worn-in denim blue walls and cheerful sunshine yellow tile backsplash.
35. Duck Egg Blue, Terracotta, Cherry Red
Hex Codes: #C3FBF4, #E2725B, #DB243B
Serene duck egg blue walls enhanced with organic terracotta vases and nostalgic cherry red stools creates vintage Mediterranean flair.
High Contrast Teal Color Schemes
Vibrant teals make a bold impact against crisp white and black accents. Punchy brights amp up the energy. These dramatic palettes create excitement.
36. Jade Green, True Red, White
Hex Codes: #2ABB9B, #FF0000, #FFFFFF
Jewel-toned jade green dining room makes a dramatic statement against bold true red chairs and bright white wainscoting.
37. Robin's Egg Blue, Black, Chartreuse
Hex Codes: #1CAC78, #000000, #C5E384
Playful robin's egg blue home office pops against sophisticated black built-ins and energizing chartreuse desk chair.
38. Turquoise, Pewter Gray, Sunshine Yellow
Hex Codes: #04CFAD, #798A97, #FFFF00
Vibrant turquoise entryway makes a bold impression against sophisticated pewter gray wainscoting and lively sunshine yellow front door.
39. Teal, White, Hot Pink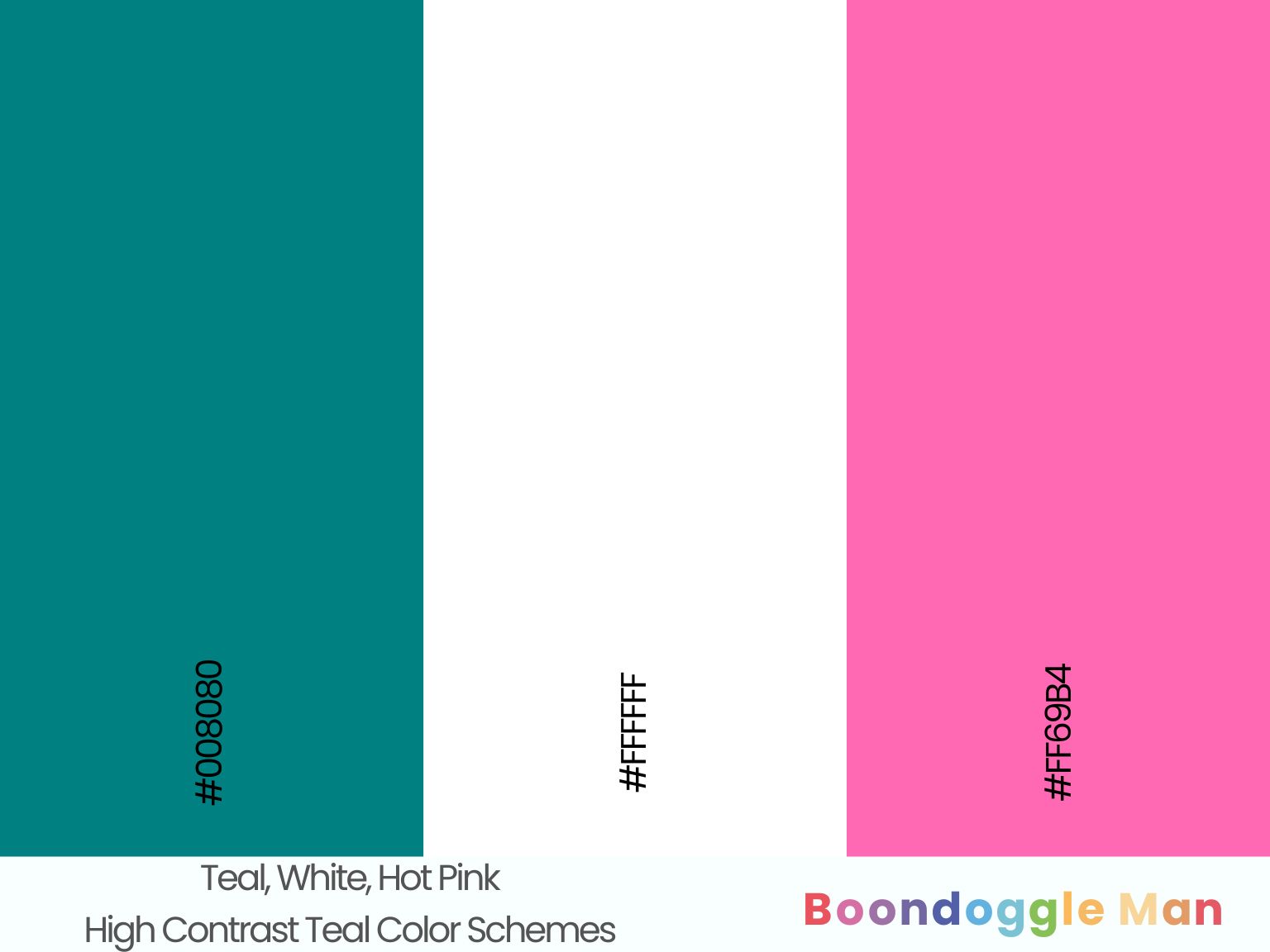 Hex Codes: #008080, #FFFFFF, #FF69B4
Electric teal accent wall adds energy to all white architecture punctuated by shocking hot pink throw pillows. Fun and lively.
40. Aquamarine, Black, Orange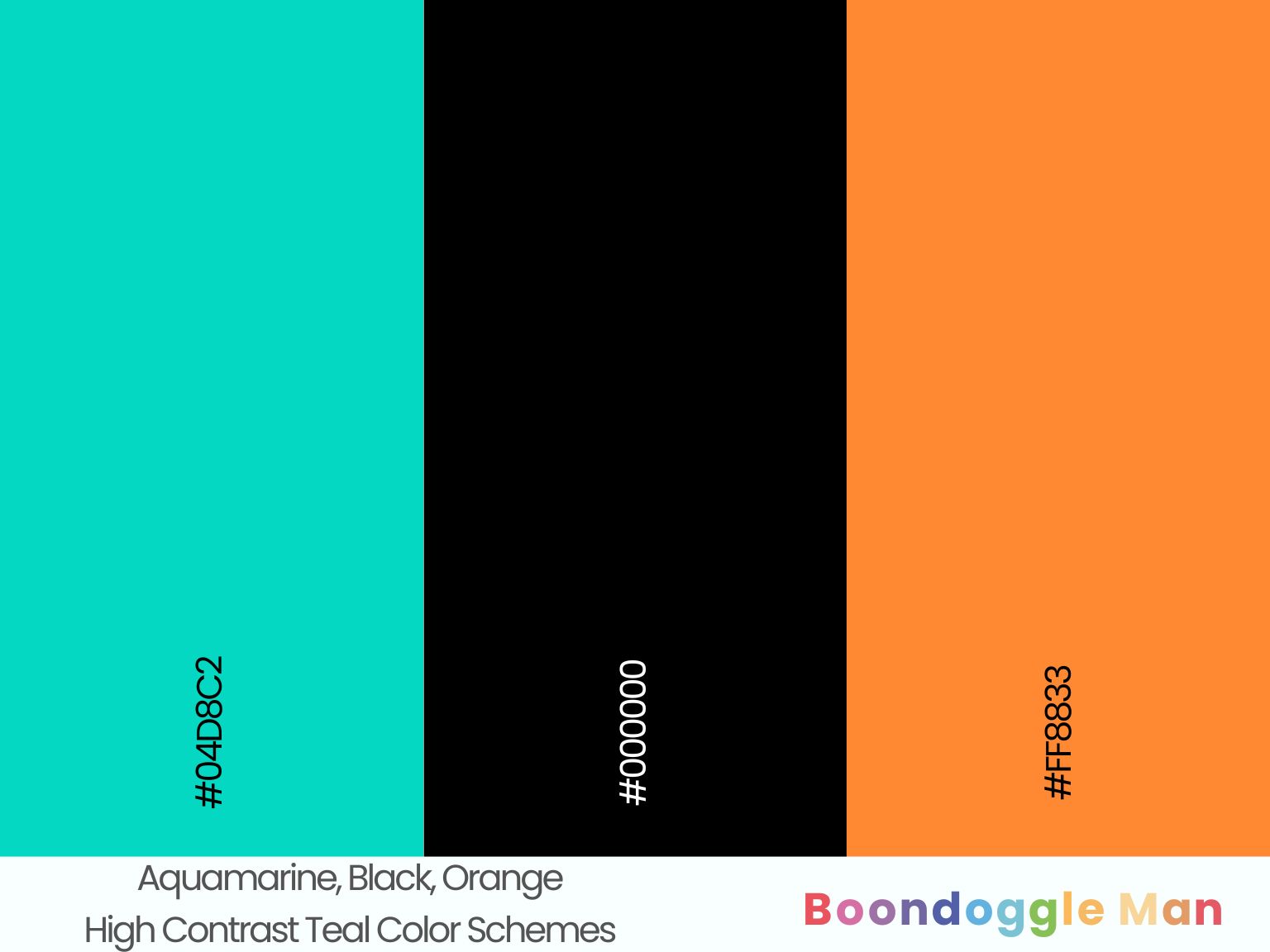 Hex Codes: #04D8C2, #000000, #FF8833
Vibrant aquamarine home office pops dramatically against sleek black built-ins and tangy orange desk accessories.
Teal and Pastel Color Schemes
Teal hues sing when paired with other soft pastels like peach, seafoam green and lilac. These relaxing combos feel bright and refreshing.
41. Jade Green, Lavender, Mint
Hex Codes: #2ABB9B, #C8A2C8, #C2FFC5
Jewel-toned jade green dining room enhanced by airy lavender and refreshing mint green accents makes for peaceful springtime elegance.
42. Aquamarine, Lilac, Buttercream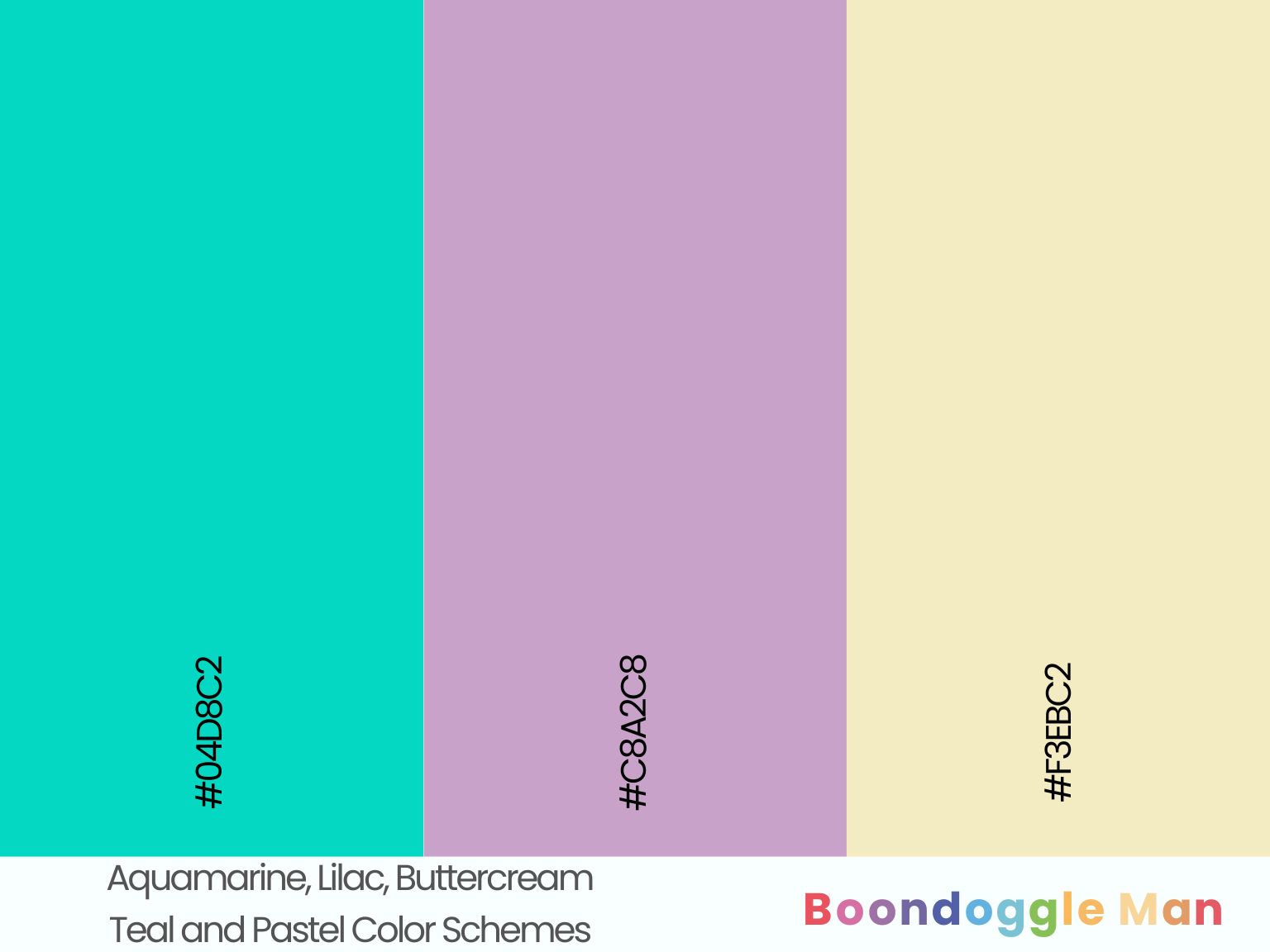 Hex Codes: #04D8C2, #C8A2C8, #F3EBC2
Vibrant aquamarine kitchen island punctuated by sweet lilac stools and creamy buttercream cabinets creates harmonious contrast.
43. Seafoam, Peach, Periwinkle Blue
Hex Codes: #B4FFE6, #FFCBA4, #C5C9EA
Soothing seafoam walls complemented by juicy peach orange pillows and pretty periwinkle blue rug creates bright tranquility.
44. Celadon Green, Lavender, Robin's Egg Blue
Hex Codes: #ACE1AF, #C8A2C8, #1CAC78
Refreshing celadon green headboard pops against airy lavender walls and playful robin's egg blue bedding in this relaxing springtime bedroom.
45. Duck Egg Blue, Butter Yellow, Aqua
Hex Codes: #C3FBF4, #F1E9C5, #D4F7FA
Serene duck egg blue walls enhanced by warm butter yellow accents and cool aqua ceramics makes a cheerful, laidback palette.
Design Tips for Decorating With Teal
Teal is versatile, soothing, and elegant. Follow these tips when incorporating teal into your home:
Use teal blue hues in bedrooms for relaxation
Add touches of jade teal to promote renewal
Mix teal with neutrals like cream for a soothing look
Incorporate emerald teal for a luxurious, jewel-toned pop
Pair teal with wood tones and terra cotta for natural contrast
Add aqua teal to kitchens for an inviting, appetizing feel
Use teal alongside purples and pinks for a romantic vibe
Add teal throw pillows, blankets and accents throughout rooms
Frequently Asked Questions
What colors complement teal?
Oranges, reds, greens, blues, purples, yellows, browns, creams, grays, blacks and metallics beautifully complement teal's range of shades.
What colors should be avoided with teal?
Avoid extremely bright, loud colors like neon yellow or magenta with teal. Don't pair teal with dull earth tones like brown or military green.
What colors make teal pop?
Warm tones like orange, yellow, pink and red make teal stand out and appear more vibrant. Contrasting dark colors also accent teal nicely.
What color furniture works with teal walls?
White, wood tone, black, gray, or navy blue furniture look great against teal walls. Brass and gold accents also complement teal beautifully.
What color bedding goes with teal paint?
White, cream, light gray, and subtle patterned bedding coordinate well with teal walls. Different shades of teal bedding can look nice too.
Final Takeaway
With its range of green-blues and blue-greens, teal offers many gorgeous color combinations. Use these vibrant teal palettes in your home, outfits and designs to create a refreshing, elegant look.