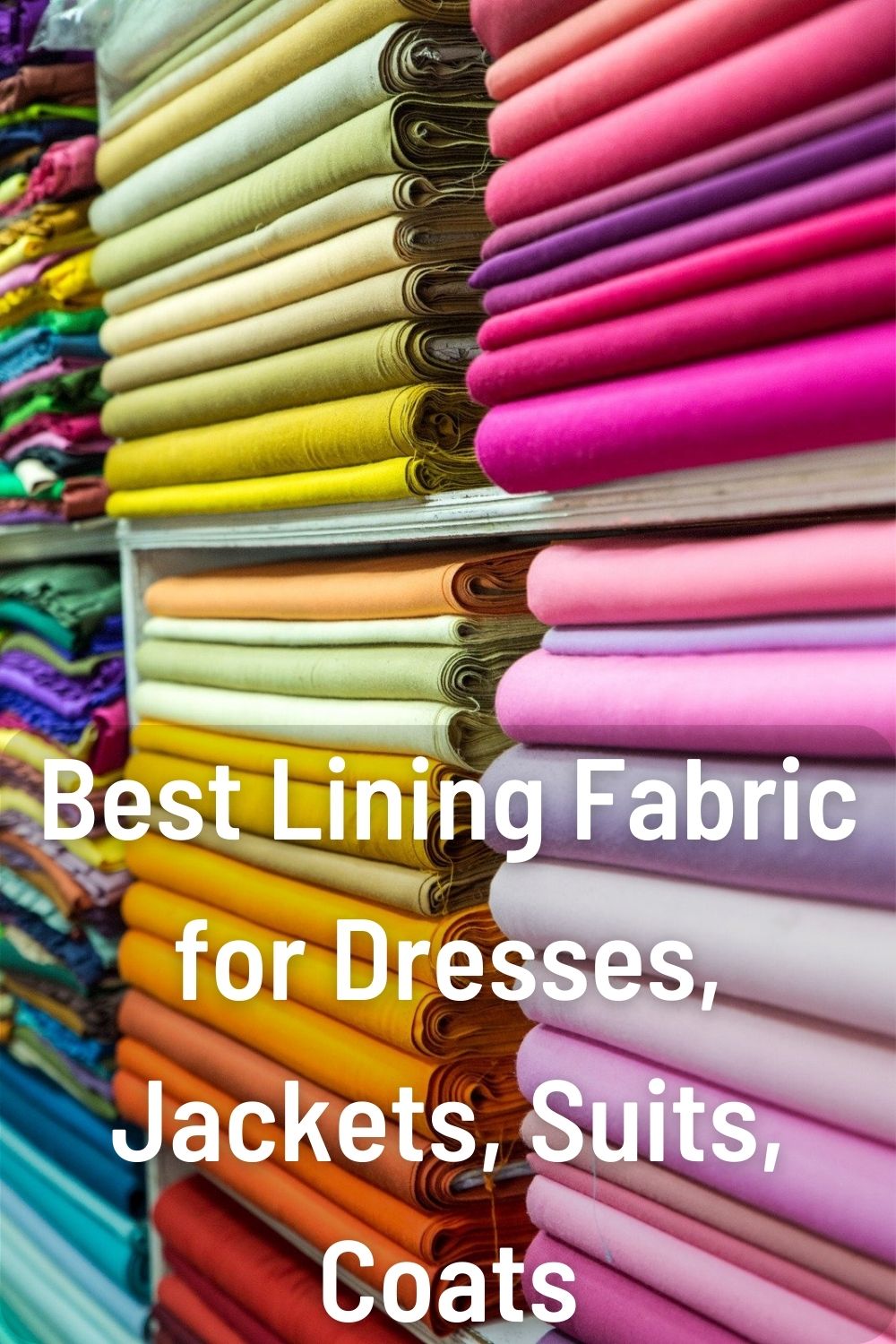 The lining fabric inside a garment plays a crucial yet often overlooked role in the item's overall performance and feel. More than just an inner layer of coverage, the right lining helps shape garments properly, conceal seams or see-through outer fabric, and either insulate for warmth or breathe for comfort depending on the climate. Lining materials also need to stand up to friction and wear over time.
With so many fabric options like silk, polyester, wool, rayon, acetate and more, it's important to select linings suited for specific garment types and uses. Delicate dresses often require soft, lightweight linings while tailored jackets and suits demand crisper fabrics to maintain structure. Outdoorsy coats need durable, insulating linings that breathe and resist moisture.
This comprehensive guide will dive deep into the best lining fabric options for dresses, jackets, suits and coats. We'll consider crucial criteria like opacity, breathability, ease of care, durability and seasonality. Let's explore how to choose the perfect linings to complement your garment's style and materials.
Key Criteria for Evaluating Lining Fabrics
When selecting a lining material, there are several important factors to consider:
Climate Suitability and Breathability
One of the main purposes of a lining is keeping the wearer comfortable in the garment. So first assess if the lining offers proper insulation or cooling breathability for the climate where it will be worn most.
Lightweight, breathable fabrics like silk, cotton, linen and rayon are suitable for warm weather and climates. They allow heat and moisture to evaporate away from the body.
Meanwhile, thicker and more insulating fabrics like wool, cashmere, fleece and quilted polyester are ideal for cold climates and winter wear. They trap body heat effectively to maintain warmth in frigid weather.
Also ensure the lining is not prone to trapping odor-causing bacteria which leads to bad smells in sweaty conditions. Natural fibers tend to have better odor control than synthetics.
Garment Material Compatibility
Choose a lining material that complements the look, feel and structure of the garment's outer fabric. Delicate fabrics like chiffon, charmeuse or crepe warrant soft, supple linings so as not to create bulk. Heavier coat wools or canvas pairs best with equally sturdy linings.
Watch lining fabric weight as well. A too-heavy lining overwhelms light fabrics while under-supporting heavier materials. See the fabric weight charts later in this article for lining recommendations by garment type.
Ease of Care and Durability
Lining fabrics endure plenty of friction and movement inside a garment. Look for durable, wrinkle-resistant materials that hold up to regular cleaning and wearing. Natural silk and rayon linings may pill or tear more rapidly than hardy synthetics like polyester.
Also ensure the lining's ideal care method – either machine washing or dry cleaning – aligns with the garment's overall care requirements for convenience.
Opacity and Modesty
Lining must properly conceal what lies underneath for modesty and a polished look. Thin, gauzy or too-lightweight lining will showcase undergarment lines and silhouettes. Instead select more opaque linings in solid colors rather than prints.
Budget-Friendliness
Lining fabrics span a broad spectrum of price points. Synthetic polyesters offer affordability while premium silks run upwards of $50+ per yard. Determine what fits comfortably in your budget.
Now that we've covered the key criteria, let's explore the best lining options specifically for dresses, suits, jackets and coats.
Best Lining Fabrics for Dresses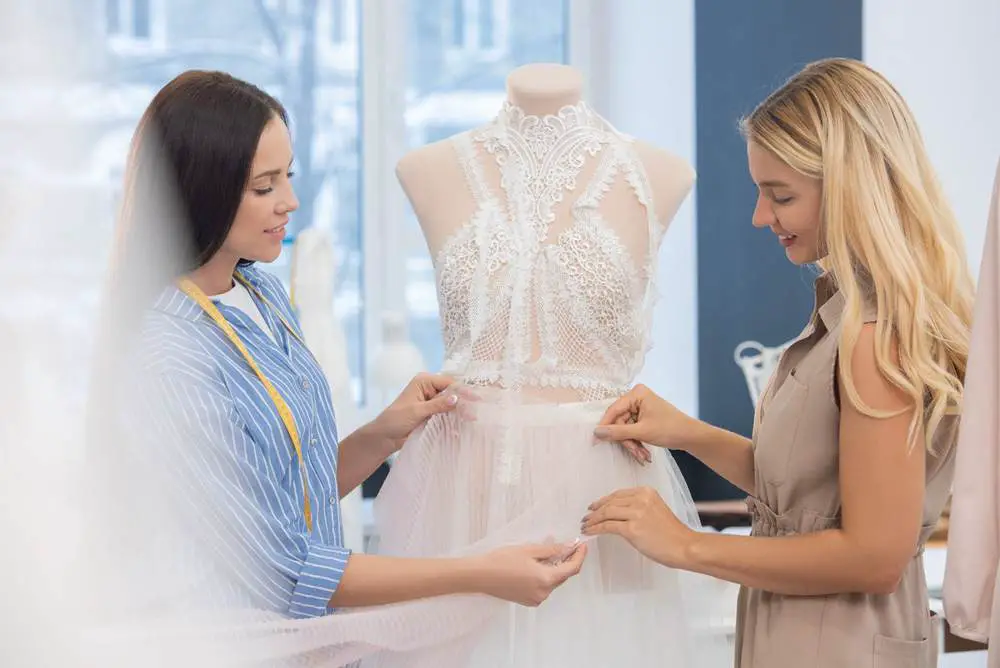 From maxi sundresses to cocktail sheaths, dress lining provides coverage as well as structure for a properly draped silhouette. Here are top lining recommendations for various dress styles and fabrics:
Silk Lining for Dresses
Luxurious silk makes a dreamy lining for dresses, especially more formal gowns and occasion wear. Its soft handfeel and beautiful drape gently hugged the body without restricting movement. Silk naturally absorbs and releases moisture to keep you cool and comfortable.
The many types of silk – charmeuse, habotai, georgette, chiffon and more – allow you to tailor opacity and weight. Lighter silks like chiffon pair well with delicate fabrics, while subtly showcasing intricate beaded designs. Look to thicker habits and charmeuse for opacity and insulation.
Silk does require dry cleaning to maintain its integrity and appearance. For something machine washable, silk-like polyesters mimic its look and feel at a more budget-friendly price point.
Polyester Dress Lining
For everyday wearability and easy care, polyester reigns supreme as an affordable, durable lining option. Wrinkle-resistant polyester maintains structure and resists pilling even after repeated machine washing and drying.
From opaque taffetas to light chiffon-mimics, polyester comes in a range of weights for year-round use. It wicks moisture to prevent clinginess and sweat stains on dresses. Cooler individuals may find polyester a bit stuffy for hot humid climates, however.
Rayon Lining for Dresses
Sometimes called viscose, rayon lining has nice drape and breathability making it popular for unlined summer sundresses. It feels softly sultry against bare skin. Plus rayon comes in varied transparent and opaque weaves to suit different modesty needs.
However, rayon pills more easily than synthetic lining materials. It also requires dry cleaning or very gentle laundering to prevent shrinkage issues. Proper pattern alignment helps maximize durability by reducing friction along garment seams.
Cotton Lining Fabric
Lightweight cottons – like batiste, voile and lawn – make excellent lining choices for airy cotton or linen dresses in warm weather. Cotton's high breathability whisks away perspiration to keep you cool and dry. As a natural fiber, it resists odor buildup too.
Look for cotton-polyester blends to reduce shrinkage and wrinkling. Pure cotton lining requires gentle washing and air drying. While very comfortable for summer, cotton lacks the insulating properties needed for cold weather dress lining.
Acetate Lining Fabric
With a gorgeously glossy drape and inviting feel, acetate makes a luxurious dress lining, especially on delicate silks and satins. It molds smoothly to body contours while maintaining a light, airy hand. Acetate also effectively wicks away moisture for comfort.
Just take care not to overheat when wearing acetate-lined dresses as the material is less breathable than natural fiber linings. Acetate also requires professional dry cleaning only.
Best Lining Fabrics for Suits and Jackets
A jacket, blazer or coat needs a lining sturdy enough to maintain structure. But suit linings also require comfort and flexibility to move naturally and prevent overheating. Here are optimal options:
Polyester Suit and Jacket Linings
Polyester, especially Bemberg, dominates the market as an affordable, ultra-durable lining for suits and tailored jackets. It resists wrinkling and bagging to maintain a smooth silhouette after hours of wear. Polyester suit linings nicely shape jacket shoulders and chests too.
Look for lightweight taffetas or crisp poplins to avoid bulk in warm weather suits. Or choose insulating quilted polyesters for cold climate suits. No matter what, polyester wash and wears extremely well – a big advantage over fussier natural suit linings.
Viscose Linings
Sometimes called rayon, viscose makes a nice natural fiber lining alternative to polyester. It feels smooth and cool against the skin. Viscose suit linings absorb moisture well and drape neatly.
For best performance, look for thicker, more opaque viscose suiting like cloque, jacquard or brocade weaves. Thin viscose can show through. Viscose does pill more easily than synthetic suit linings and requires professional dry cleaning.
Silk Suit Linings
Though expensive, quality silk suit linings are unrivaled in their opulent drape and moisture-wicking comfort. The lightweight fabric hugs the body without trapping heat and perspiration. Over time, silk suit linings impart fluid movement that forms perfectly to an individual's body.
To ensure durability, opt for thicker, high-end silk suitings like shantung, tussah and dupioni. Seek out quality vents and pockets too. Dry clean silk suit linings regularly to maintain their crisp appearance.
For a budget silk-look, try "silk-esque" polyesters like diolen that mimic silk's texture. They're more carefree and affordable.
Acetate Jacket Linings
With a beautifully glossy, elegant drape, acetate makes a nice upgrade lining for polished jackets and blazers. It feels substantial yet comfortably smooth against the skin. The fabric breathes reasonably well, though not as effectively as silk or cotton.
Acetate jacket linings require dry cleaning only. Look for acetate linings with a bit of spandex added to improve stretch and recovery. And take care not to overheat in acetate lined jackets.
Best Lining Fabrics for Heavy Coats and Jackets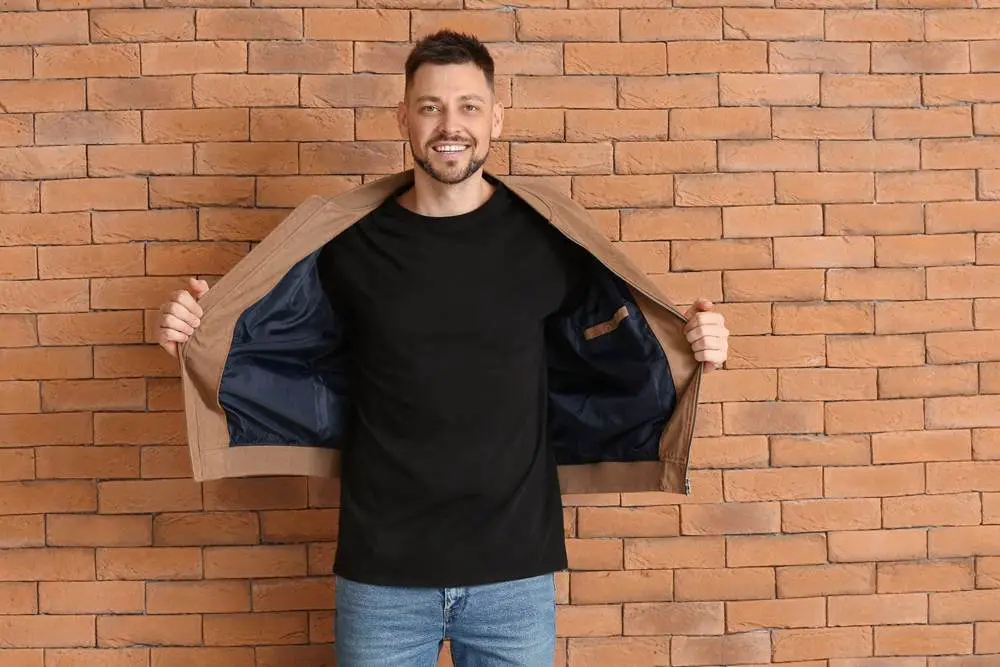 In cold weather outerwear like heavy winter coats, warm and durable lining is crucial. Here are top insulating options:
Quilted Polyester Lining
Quilted polyester reigns as the most common jacket and coat lining material. The quilt pattern traps air to drastically boost warmth. Polyester coat linings maintain their loft and insulation even when wet. Plus polyester linings are affordably priced and machine washable.
For active winter pursuits like skiing, select a quilted poly lining with wicking properties to prevent inner sweat buildup. Seek extra reinforcement too in high friction areas prone to wear like sleeves and shoulders.
Fleece Lining
For incredible softness and warmth minus bulk, fleece coats linings are a great choice. Fleece insulates as effectively as wool or down. Yet unlike down, fleece maintains nearly all its warming power when wet. It also dries much faster than cotton flannel lining.
Look for anti-pill fleeces and avoid extremely lightweight varietals if fleece is the sole lining layer. For frigid climates, combine fleece with an outer quilted poly layer for added insulation.
Wool and Cashmere Coat Linings
Though expensive, wool and cashmere deliver unrivaled warmth, breathability and luxury feel as coat linings. They insulate far better by weight than cotton or synthetics. The natural fibers manage moisture well.
Seeking thicker, more opaque wools like melton or coating weight wool. Blends with alpaca fleece provide warmth at more accessible price points. Just know wool and cashmere linings require professional dry cleaning.
Flannel Coat Linings
For a budget-friendly natural fiber lining, flannel makes a cozy, comfortable winter coat option. Cotton flannels insulate reasonably well, breathe decently, and absorb moisture to manage sweat. They're fairly preshrunk as well.
Look for flannels with some polyester blended in to reduce shrinkage and improve weather resistance. Warmth can be boosted by combining flannel with an outer quilted poly or fleece layer.
Matching Lining Fabric Weights to Garments
Here are some general guidelines on aligning lining weights with optimal garment types:
Delicate Dress Lining Fabrics
2-4 oz. silk habotai or charmeuse
2-3 oz. polyester chiffon
3-5 oz. rayon
1.5-3 oz. cotton voile or lawn
Everyday Dress and Skirt Lining Fabrics
4-6 oz. polyester taffeta or twill
4-6 oz. cotton poplin or broadcloth
3-7 oz. rayon jacquard
4-8 oz. acetate
Suit and Jacket Lining Fabrics
4-8 oz. polyester taffeta or Bemberg
3-6 oz. silk shantung
4-8 oz. viscose brocade
4-6 oz. cotton sateen
Heavy Outerwear Lining Fabrics
6-10 oz. quilted polyester
6-10 oz. wool coating or melton
4-8 oz. cashmere blend
5-7 oz. cotton flannel
Caring for Lining Fabrics
Be sure to follow each lining material's ideal care methods to maximize lifespan:
Dry Clean Only Linings
Silks, fine wools, rayons, and acetates maintain their beauty best with professional dry cleaning. Dry cleaning effectively removes stains and odors while sanitizing delicates. Avoid over-cleaning which can degrade fibers – two to three times per season is plenty.
Machine Washable Linings
Everyday polyesters and cottons hold up well to regular washing either by hand or machine. Use cool water and a gentle cycle. Reshape linings promptly after drying and touch up with an iron as needed.
Avoid Overheating
Excessive body heat and sweat can damage fine lining fabrics over time. Allow adequate airflow between your skin and lining whenever possible. Choosing breathable lining materials helps as well.
Make Quick Repairs
Don't neglect small lining holes or tears which can worsen into bigger problems. Sew up openings promptly for best results. Keep spare lining fabric as well to patch worn sections in a pinch.
Common Lining Fabric Questions
Which fabrics make the warmest winter coat linings?
Quilted polyester, high quality wool, thick cashmere blends, and fleece provide excellent insulation against the cold. Flannel also makes a budget-friendly, fairly warm natural fiber lining.
What's the best suit lining material for hot and humid climates?
Lightweight, breathable fabrics which absorb moisture work best. Good options include 4-6 oz. silk, lightweight polyester, and rayon suit linings. Cotton and linen suit linings also provide cooling comfort.
Is a polyester or silk lining better for a chiffon cocktail dress?
The delicacy of chiffon pairs best with a supple lining like charmeuse or habotai silk. Polyester risks overwhelming the floaty chiffon, while silk gently flatters its movement.
Which should I choose – viscose or acetate to line a wool peacoat?
Both fabrics complement wool nicely. But acetate withstands repeated dry cleaning better over time versus viscose. So opt for a durable acetate lining with your wool peacoat.
Can I safely machine wash a polyester-lined jacket?
Yes, you can launder polyester-lined jackets at home if following the care tag recommendations. Use a gentle, cool water cycle and air dry for longest life.
Conclusion
With countless lining options for garments like dresses, suits, jackets and coats, it's essential to choose fabrics suited for each application. Breathable, lightweight linings maximize comfort in hot weather clothing. While thick insulating fabrics maintain warmth inside cold weather outerwear. Easy care polyesters and acetates offer convenience; silk and fine wools provide luxury. Use the recommendations here to pick the perfect linings to complement your clothing from the inside out.