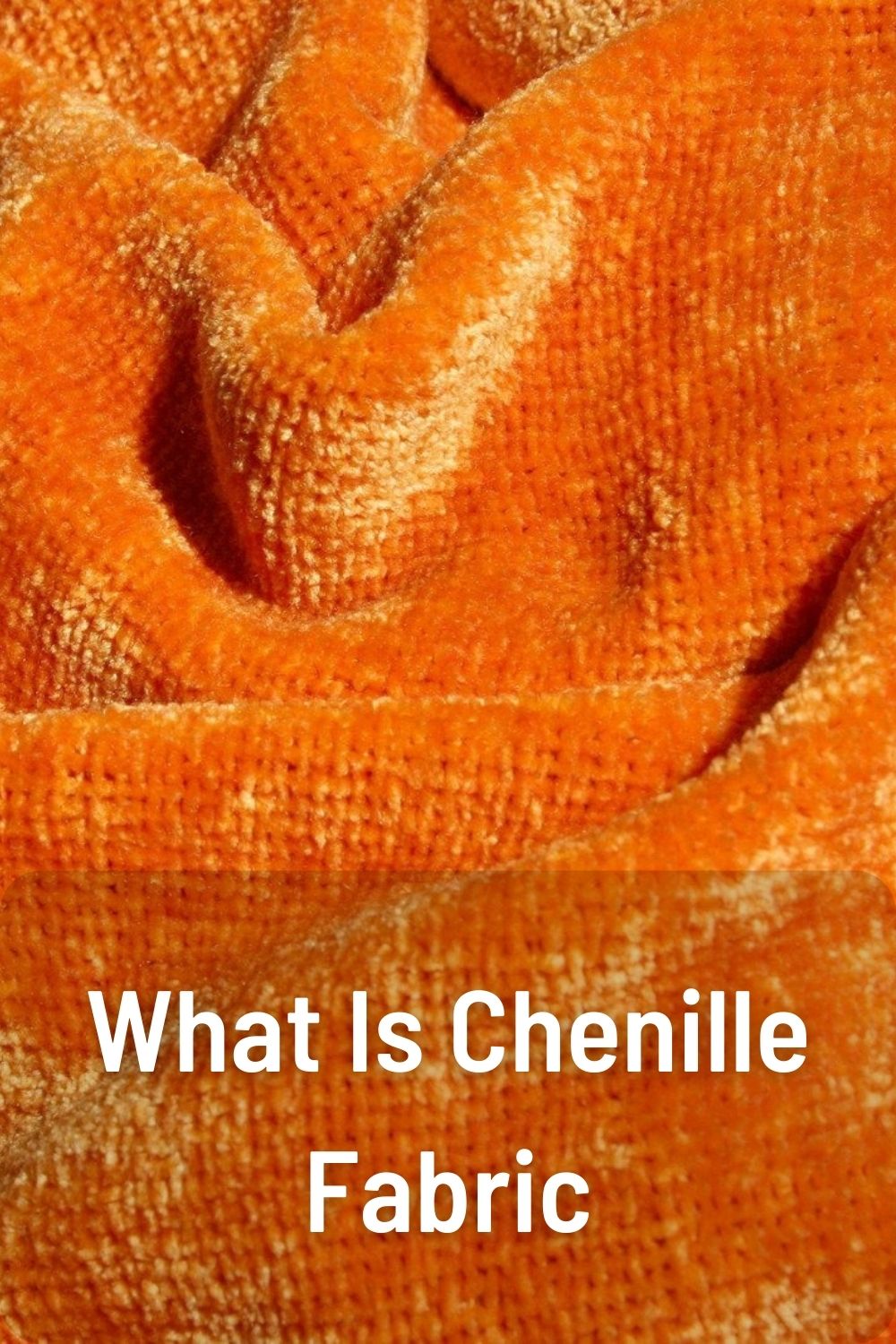 Chenille fabric refers to a tufted textile product characterized by its soft pile giving a velvety corduroy-like appearance. The French word "chenille" means caterpillar, referring to the fuzzy, worm-like fibers protruding from the woven base cloth. Chenille can be made from cotton, rayon, wool, silk, or a blend, but cotton is the most common. It has traditionally been used for bathrobes, bedspreads, throws, and upholstery.
Chenille became popular in the 1890s and saw a resurgence in the 1970s following the bohemian trend. Today it remains widely used in home furnishings and apparel. The cozy, fuzzy texture retains heat well, making it perfect for robes, jackets, and blankets. Chenille is comfortable and soft next to the skin without being heavy or bulky. The richness and versatility make chenille a timeless classic.
How Is Chenille Fabric Made?
Chenille fabric originated in 18th century France. The manufacturing process involves weaving together cotton yarns to create a base fabric. Additional yarns are then woven in lengthwise rows through the base. The weft yarns hang freely on top as soft pile while the warp yarns hold them in place underneath.
The long piles are cut in different lengths and styles to achieve various textures and visual effects. For example, moss chenille has a short, velvety nap while crushed chenille has piles cut in uneven lengths for a shaggy appearance. The pile undergoes a finishing process called "decating" to cut and even out the fibres.
Modern chenille is commonly manufactured using an extrusion method. Polyester, nylon, rayon or cotton yarns are fed into a spinneret which forces the fibers through tiny holes. As the yarns emerge, they take on a caterpillar-like shape with fuzzy pile protruding all around the core yarns. The fibers are then stitched onto a woven backing fabric.
Some key steps in chenille fabric production include:
Base cloth preparation – The foundation is woven from cotton, poly-cotton or other yarns. High quality chenille uses a tighter construction for durability.
Pile yarn selection – Longer fibers like rayon make a lush pile. Cotton, wool, silk, acrylic or polyester are also options.
Pile attachment – The pile yarns are stitched to the base cloth by a machine in closely-spaced rows.
Shearing – Once attached, the pile undergoes shearing or cutting by blades to achieve consistent length and texture.
Finishing – Additional steps like decating, washing, pressing and emerising give chenille its final hand and luster.
Chenille made by the historical weaving method continues in production but requires more specialized skills and is labor intensive. Most manufacturers today use efficient automated chenille machines.
Types of Chenille Fabrics
Chenille comes in several pile variations and weave patterns, giving it a wide range of textures suited for apparel and décor:
Solid Chenille
Single colored throughout the pile and base for a uniform look. Available in a spectrum of hues like ivory, pastels, jewel tones and more.
Variegated Chenille
Blends multiple colors throughout the pile yarns to achieve a mélange effect. Provides visual interest with color striations in the surface texture.
Printed Chenille
Features a printed design applied to the pile surface after construction. Used to add large scale floral, paisley, geometric and other motifs.
Faux Fur Chenille
Uses longer, shaggier pile for a plush faux fur texture. Resembles shearling. Adds cozy warmth to jackets, pillows and throws.
Crushed Chenille
The pile undergoes additional shearing to cut fibers into varied lengths. This gives a shaggy, distressed finish popular in boho styles.
Moss Chenille
Uses clipped, velvety pile that is relatively short. Resembles the soft surface of moss. Creates rich texture without bulk.
Honeycomb or Waffle Chenille
Woven in a dobby pattern to create a cellular, waffle-like texture. Provides added visual and textural interest.
Corduroy Chenille
Designed with piled wales and channels like traditional corduroy fabric. The pillars have a soft texture despite the ridged effect.
Properties and Benefits of Chenille Fabric
Softness
Chenille gains its hallmark plush softness from the fuzzy cut piles layered on top of the smooth base cloth. Longer piles feel lush and fluffy. Shorter moss chenille offers smooth, velvety softness. The texture provides both visual and tactile interest.
Warmth
The dense piles excellently trap air for insulation. Chenille makes warmer blankets, robes and winter wear compared to single layer fabrics. It is ideal for chilly weather and climates. The softness prevents bulkiness despite the warmth.
Durability
Quality chenille with a tight base weave and made of resilient yarns like rayon will retain its texture through repeated launderings. Avoid mistreatment that can permanently crush the pile. With proper care, chenille upholstery and apparel lasts for years.
Draping
Chenille has a nice drape with movement and fluidity thanks to the pile's loft and bounce. Robes and curtains gracefully cascade while still maintaining shape. This makes chenille well suited for flowing apparel like dresses, skirts and caftans.
Versatility
Chenille has a casual yet luxurious vibe fitting everything from rustic cabin decor to glamorous evening wear. The range of colors and patterns available increases its versatility. It is also comfortable enough for leisurewear or durable enough for heavy use upholstery.
How to Care for Chenille Fabrics
Chenille requires gentler laundering than sturdy plain weaves. Agitation can permanently damage the pile texture. Follow these care instructions to keep chenille soft and fluffy:
Read the label – Check if a garment or furnishing has special cleaning requirements. Natural fiber chenille may require hand washing.
Spot clean – Use a damp soft cloth to blot stains on upholstery. For apparel, apply stain remover and blot rather than rub the pile.
Wash gently – Turn items inside out and use a mild detergent in cool to lukewarm water. Avoid hot temperatures that could melt or distort synthetic chenille.
Minimize agitation – Use the delicate cycle in a front loading washing machine. Gently swish the item in water to clean. Do not wring, twist or scrub chenille.
Limit drying time – Squeeze water out gently. Tumble dry briefly on low and remove immediately. Allow to fully air dry to prevent crushing the pile.
Avoid ironing – Let chenille fabric dry fully, smooth and reshape while damp. Iron very gently on low if needed, using a press cloth.
Check for snags – Inspect chenille piles after laundering and clip any snagged fibers for a smooth finish.
With proper care, quality chenille will provide years of indulgent softness and everyday luxury.
Uses of Chenille Fabric
Chenille offers the right blend of comfort, sophistication, and visual interest for:
Robes and Dressing Gowns
A chenille robe is the ultimate lounge experience. The soft, fuzzy texture indulges the skin while trapping warmth. Longer piled chenille makes exceptionally plush robes.
Throws and Blankets
Chenille makes blankets irresistibly snuggly and warm. Variegated mixes provide interesting detail for draping over sofas or beds. Large scale patterns work for bold statements.
Curtains
Patterned chenille curtains in playful colors create a casual, relaxed mood. The draping fullness filters light beautifully. Chenille insulates against noise and cold drafts.
Rugs and Mats
Durable chenille makes cozy floor coverings that are stain resistant and easy to clean. Soft underfoot, it provides comfort in high traffic areas of the home.
Bedding
Luxurious chenille cushions the body indulgently. It is commonly used for tufted bedspreads and shams. Flange edges frame the bed in softness. Faux fur mimics the ultimate comfort.
Outerwear
Cozy cropped jackets and long dusters shine in chenille. The soft texture warms without bulky weight. Fringed and faux fur trims enhance the lavish factor.
Upholstery
Chenille durably withstands heavy use on dining room chairs, headboards, and ottomans. Pile textures like waffle and corduroy add dimensionality.
Apparel
From fuzzy hoodies to bohemian maxis, chenille apparel guarantees comfort. Children's items take advantage of bright solids. Loungewear benefits from the lightweight warmth.
History of Chenille Fabric
Chenille fabric has roots dating back centuries but saw new life as a popular furnishing textile in the late 19th century.
Early Origins
Plush fabrics like velvet inspired chenille. Traditional methods involved weaving pile yarns into a backing cloth.
Chenille techniques likely originated in East India in the 1600s, spreading through Europe's flourishing textile trade.
By the 18th century, early forms of chenille appeared in France, where it got its name, meaning "caterpillar."
Rise to Popularity
In the 1870s, a machine was patented to stitch soft yarn tufts to fabric, revolutionizing chenille production.
American company Morgan & Sanders helped make chenille ubiquitous as they furnished ornate Victorian homes in the 1890s.
Luxurious decorative chenille emphasized opulence with deep piles, sumptuous textures, and vivid colors.
From bedspreads to piano shawls, it was a hallmark of well-appointed turn of the century décor.
Mid-20th Century Decline
After the 1920s, chenille fell out of favor as sleek, modern looks emerged. It was now seen as old-fashioned.
Upholstery and apparel largely abandoned tufted fabrics. Chenille became rare outside of budget bedding.
Renewed Interest
The 1960s and 70s bohemian movement kindled renewed interest in decorative fringed and tufted textiles.
Designers adopted a fresh approach to chenille in apparel and décor for retro yet whimsical appeal.
Today chenille remains in vogue for its indulgent softness and versatility as both utility and accent textile.
Chenille has decorated interiors for over a century thanks to its lasting luxurious appeal and the evolving techniques that make production highly efficient.
Where to Buy Chenille Fabric
Chenille is widely available from:
Fabric Stores
Craft and quilting stores like Jo-Ann offer various chenille types by the yard. This allows you to purchase the precise amount needed for sewing projects. Solid colors and prints are available in cotton, rayon, polyester blends ideal for apparel or home décor.
Interior Design Retailers
Home goods stores like Pottery Barn and West Elm stock chenille pillows, throws, rugs, and curtains in their seasonal collections. Many can be custom ordered to match your color scheme or sizing needs.
Online
Online fabric retailers like Spoonflower, Shannon Fabrics and Fabric.com have a diverse chenille selection available to order in any quantity. Custom printed options let you design one of a kind yardage.
Thrift Stores
Look for secondhand chenille blankets, bedding sets, robes and bargains on upholstery yardage to refashion into new creations. These breathe new life into vintage chenille.
Manufacturer Direct
Some wholesale chenille suppliers like Kasco Mills in Georgia and Holland & Sherry in England offer direct online purchasing of their latest fabrics.
Chenille is accessible for both small homemade projects and large scale manufacturing in today's interconnected marketplace.
How to Sew with Chenille Fabric
The texture of chenille makes sewing slightly different than smooth wovens. Follow these tips for success:
Select the Right Needles
Choose sharp needles in the appropriate size for the weight of fabric. Ballpoint needles prevent snagging the pile. Replace needles often.
Use Polyester Thread
It has enough strength to stitch through dense chenille without shredding or breaking. Cotton thread may get lost in the pile texture.
Lengthen Stitches
Loose, long stitches prevent holes where chenille can peek through. Keep embroidery stitches open.
Use Even Feed Foot
This helps feeds the upper and lower layers through evenly to prevent bunching.
Baste First
Use long basting stitches to hold layers together in place before sewing seams.
Press Carefully
Only use a warm iron on the backside to avoid crushing delicate piles. Use a press cloth.
Wash and Dry Before Cutting
Pre-wash and dry to allow for any shrinking. Trim only completely dried chenille or the fibers can fray excessively.
With some adjustments, sewing chenille is very approachable. Take it slow and let the foot glide smoothly across the texture.
Trendy Chenille Styles and Ideas
Chenille continues to evolve with new interpretations:
Oversized Silhouettes
From puffy jackets to wide leg pants, exaggerated chenille apparel provides dramatic shapes.
Textural Contrast Trims
Pairing chenille with smooth silks, sleek satins, lightweight linens or sequins makes dynamic style statements.
Vintage Inspiration
Look back to the 1970s for retro chenille furniture ideas like shag pillows and psychedelic wall hangings.
Boho Chic Fashion
Dip-dyed ombré chenille, updated macramé fringe and mix and match patterns channel bohemian nonconformity.
Head-to-Toe Monochrome
Wear chenille loungewear in matching solid hues from fuzzy slippers to slouchy zip-up hoodies.
Eclectic Maximalism
Piled high with an array of patterns and textures, maximalist interiors incorporate chenille for depth.
Cottagecore Coziness
Romantic floral chenille softens cottagecore spaces. Ruffles and frills add playful charm.
Y2K Nostalgia
The late 90s and early 2000s included lots of fuzzy colorful chenille apparel perfect for a throwback outfit.
Genderless Styling
Unisex chenille hoodies and robes reject rigid boundaries. Loungewear comforts all.
DIY Chenille Projects
Robe Rehab
Transform a dated chenille robe by replacing its sash and collar with contrasting coordinating fabric. Add pockets or trim for a modern spa feel.
Abstract Wall Hanging
Cut chenille strips at varying angles. Sew them in an abstract arrangement to a canvas or cotton backing. Finish the edges with trim.
Statement Headband
Wrap a strip of wide chenille fabric around a plastic headband form. Hand stitch the short ends together. Style solo or layered over hair.
Cozy Slippers
Use a pattern to cut chenille fabric pieces. Sew them together following the instructions, leaving the top open. Insert a rubber sole for traction.
Fringed Throw Pillows
Cut varying lengths of chenille fringe. Hot glue or hand stitch them along the edges of a basic pillow form for boho texture.
With some creativity, chenille elevates all kinds of DIY and upcycling projects thanks to its indulgent quality.
FAQs About Chenille Fabric
What fabrics are similar to chenille?
Velvet, velour, corduroy, faux fur, mohair and bouclé have similar soft, dense pile textures. But chenille is unique for the caterpillar-like raised yarns.
Why is chenille so expensive?
The intricate manufacturing process requires special machinery. The textural yarns are often of finer quality like silk or rayon. Durability and longevity also add value.
Is chenille stretchy?
Most chenille has minimal stretch unless blended with spandex/elastane yarns. It does drape fluidly. Corduroy chenille will stretch along the seams but not across the wales.
How do you soften scratchy chenille?
Wash in a mild detergent then soak briefly in fabric softener diluted in water. Tumble dry with clean tennis balls to fluff the pile. Repeat as needed.
Is chenille breathable?
Chenille is moderately breathable. The piles allow more air circulation than other dense fabrics like velvet. Lightweight, gauzy chenille maximizes ventilation.
Conclusion
Chenille remains a favored fabric thanks to its opulent softness, inviting warmth, and texture with depth. From fuzzy blankets to glamorous evening attire, chenille suits relaxed luxury. When cared for properly, chenille maintains its indulgent appeal for years. Adventurous designers continue to find fresh applications for this classic textile. With a rich past and endless creative possibilities, the future of chenille fabric looks cozily fashionable.