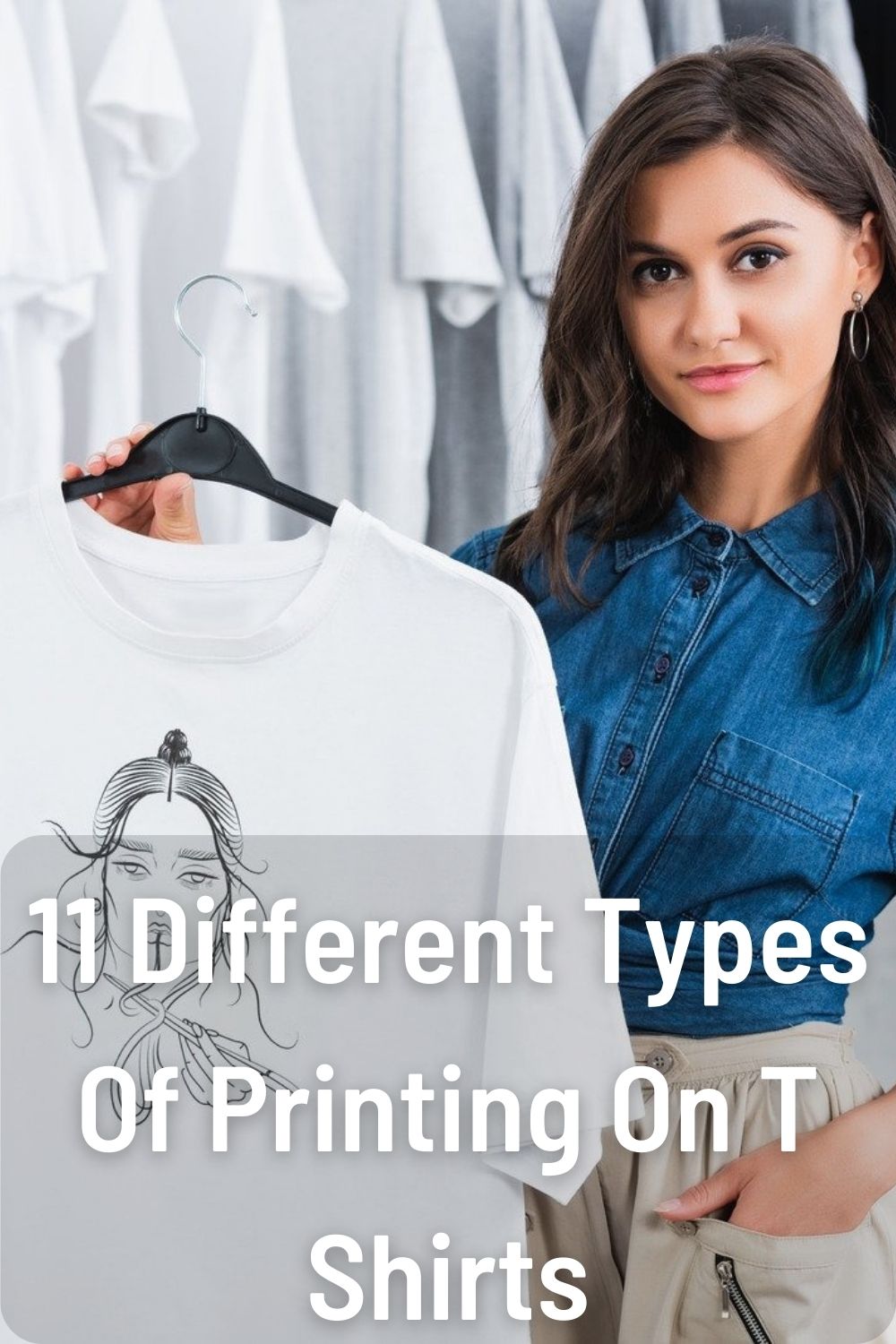 T-shirt printing allows you to customize t-shirts with your own unique designs, text, and graphics. There are many different types of printing methods, each with their own advantages and best uses. Here are 11 of the most popular t-shirt printing methods:
1. Screen Printing
Screen printing, also known as silkscreen printing, is the most common t-shirt printing method. This is an analog printing process that uses meshes and stencils to apply ink onto a t-shirt.
The process starts with creating a stencil of your design and adhering it to a fine mesh screen. Ink is then squeegeed across the screen, forcing it through the open areas of the mesh. The ink passes through onto the t-shirt to create your print.
Best for: Large, high-volume orders like team uniforms or branded apparel. Allows for bright, bold graphics and prints.
Cost: Screen printing has high setup costs but becomes more affordable per unit at higher quantities. Expect to pay around $5-10 per t-shirt.
2. Direct To Garment (DTG) Printing
DTG printing uses specialized inkjet printers to print full-color designs directly onto the fabric. The printer sprays fading-resistant dye onto the t-shirt to recreate your design.
DTG printing is great for photographic images, fine details, and complex designs using multiple colors. There are no color limits and prints feel soft without the thick tactile feel of screen printing.
Best for: Smaller orders, photographic/detailed prints, full-color designs.
Cost: Around $3-8 per t-shirt. Lower setup costs than screen printing.
3. Heat Transfer Vinyl
Heat transfer vinyl (HTV) uses specialty vinyl that is heat pressed onto t-shirts to create the print. You first cut your design from vinyl using a Cricut or Silhouette machine. Then heat press the vinyl onto the garment using a heat press machine.
HTV allows you to create single layer prints and metallic foil effects. The prints stretch well and hold up to washing. It's easy to press at home without heavy equipment.
Best for: Simple, standalone designs, especially metallic foils. Good for pressing at home.
Cost: Around $2-5 per t-shirt.
4. Sublimation Printing
Sublimation printing uses full-color dye ink that is gassed onto polyester fabrics. The ink bonds with the polymers in the fabric to become a part of the garment rather than sit on top.
This allows for permanent, stretchy, soft prints that hold up well to washing. It requires printing onto special sublimation paper first before heat pressing it onto the garment.
Best for: Full-color prints onto 100% polyester shirts. Works well for athletic apparel.
Cost: Around $5-10 per shirt. You need sublimation ink and paper.
5. Embroidery
Embroidery creates t-shirt designs by stitching threads directly into the fabric. An embroidery machine will precisely stitch your design following a digital file you upload.
Embroidery is great for 3D puffed designs, monograms, and logos. The threads hold well through washing without fading or cracking. It provides a distinct, premium feel.
Best for: Logos, monograms, 3D puff embroidery.
Cost: Around $3-10 per t-shirt depending on stitches required.
6. Iron Ons
Iron ons, also called heat transfers, are printed designs on special transfer paper. You press the paper print-side-down onto a t-shirt using an iron to transfer it.
It's an easy way to create t-shirt prints at home without equipment. However, the prints may crack over time and have a plastic-like feel.
Best for: Simple designs, especially for DIY prints at home.
Cost: Around $1-3 per t-shirt.
7. Inkjet Printing
You can print full-color designs directly onto t-shirts using some consumer inkjet printers. You need to use special printable iron-on transfer paper. Print your design in reverse before ironing onto the shirt.
This gives you digital, full-color prints. But the ink may fade faster than other methods and has a thicker hand.
Best for: Full-color prints at home.
Cost: Around $1-2 per t-shirt.
8. Discharge Printing
Discharge printing uses a chemical process to remove dye from a t-shirt to create a print. After masking off a design, applying discharge solution removes color where you want your print to appear.
It yields super soft vintage style prints. The prints look faded into the shirt and hold up well. The process works best on darker 100% cotton shirts.
Best for: Vintage, faded prints, especially on dark shirts.
Cost: Around $5-10 per t-shirt.
9. Foil Printing
Foil printing applies metallic foil onto apparel through heat and pressure to create shiny prints. A design printed in a special adhesive ink goes onto the shirt first before foil is applied on top.
The foil sticks to the adhesive parts when heat pressed to complete the shiny print. Foils come in many colors like silver, gold, rose gold, and holographic.
Best for: Metallic foil prints and logos.
Cost: Around $6-12 per t-shirt.
10. Digital Direct Printing
Digital direct printing refers to direct to garment printing using specialized aqueous inks. It prints and cures the ink in one pass for soft, bright prints without feeling plasticky.
The right printer can print detailed photographic quality images without the setup of screen printing. The embedded ink gives good wash durability.
Best for: Highly detailed, full color prints. Great wash durability.
Cost: Around $3-8 per t-shirt
11. Dye Sublimation
Dye sublimation printing uses a computer printer to print dyes onto transfer paper first before heat pressing it onto the t-shirt. The ink converts into a gas and infuses into the fabric for soft, realistic prints.
While similar to sublimation, dye sub uses cheaper inks ideal for t-shirt printing. However, the prints have poor wash durability.
Best for: Photographic prints for short-term use. Very soft hand.
Cost: Around $3-5 per t-shirt.
In summary, screen printing and direct to garment printing work best for bold, graphic prints while sublimation is better for photorealistic prints. Embroidery provides premium 3D logo effects. Simpler iron on and inkjet methods allow you to print at home. Consider wash durability and cost per unit as well when choosing your printing method.
Comparison of Printing Methods
| Method | Best For | Initial Setup Cost | Per Unit Cost | Wash Durability |
| --- | --- | --- | --- | --- |
| Screen Printing | Large volumes, bold graphics | High | $5-10 | Excellent |
| DTG Printing | Photographic prints, fine detail | Low | $3-8 | Good |
| Sublimation | Full-color polyester prints | Moderate | $5-10 | Excellent |
| Heat Transfer Vinyl | Simple graphics, metallic | Low | $2-5 | Good |
| Embroidery | 3D puffed logos, monograms | Moderate | $3-10 | Excellent |
| Iron Ons | DIY printing at home | Low | $1-3 | Poor |
| Inkjet Transfer | Full color prints at home | Low | $1-2 | Poor |
| Discharge Printing | Vintage faded prints | High | $5-10 | Excellent |
| Foil Print | Metallic foils | Moderate | $6-12 | Good |
| Digital Direct | Photorealistic, soft prints | Moderate | $3-8 | Excellent |
| Dye Sublimation | Short-term use, soft prints | Low | $3-5 | Poor |
Frequently Asked Questions
1. Which printing method is the most cost effective for small batches?
For small print runs of just a few shirts, inkjet transfer and iron ons will be the most budget-friendly. Both allow you to print designs at home without much equipment. For slightly larger orders between 10-50 shirts, direct to garment printing balances great print quality with lower setup costs.
2. How do I choose between screen printing vs direct to garment printing?
Screen printing is better for bulk orders of simple, bold prints like two-color team jerseys. The high initial setup cost pays off at larger quantities. DTG is preferable for smaller orders, photographic detail, and prints with multiple colors. DTG has lower setup costs for short print runs.
3. What do I need to get started with t-shirt printing at home?
To print your designs at home, you'll need an inkjet printer, printable iron-on transfer paper, a household iron, and a heat resistant surface like a craft mat. This allows you to print designs from your computer to iron onto shirts. You can also use pre-made iron on vinyl sheets and an electronic cutting machine.
4. Which t-shirt printing method produces the softest prints?
Dye sublimation and digital direct printing offer the softest handfeel out of common t-shirt printing techniques. Sublimation infuses ink into polyester while digital direct embeds ink in one pass. This avoids the plasticky feel of ink/transfer paper sitting on the shirt surface.
5. How durable are printed t-shirt designs?
Screen printing, sublimation, and discharge printing are the most durable and fade-resistant options. The prints become one with the shirt rather than sitting on the surface. Other methods like DTG and vinyl start to degrade after 20-30 washes. Iron ons and inkjet have the poorest durability and may crack after a few washes.
Conclusion
There are many t-shirt printing options to choose from, each with their own strengths. Focus on your design, order quantity, budget, and needs like wash durability. Simple spot color graphics suit screen printing while photographic prints benefit from DTG or dye sublimation. Ask your printer for recommendations based on your design and order size as well. With the right printing method, you can create custom tees perfect for any occasion or personal style.