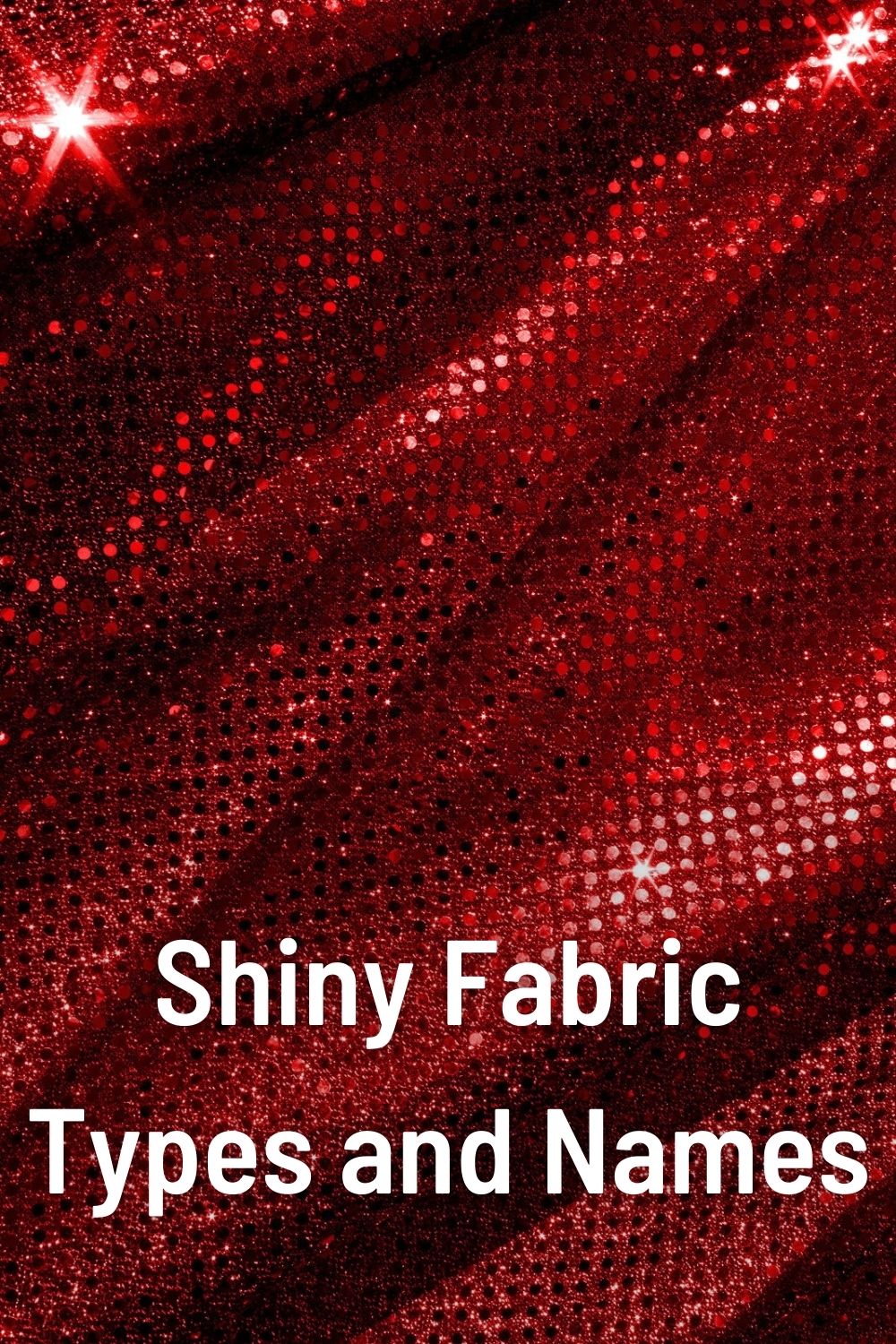 Shiny fabrics add a touch of glamour and elegance to any outfit. The sheen and luster of shiny fabrics makes them eye-catching and perfect for special occasions or adding flair to everyday wear. From satins to silks to sequins, shiny fabrics come in a variety of types and weaves.
In this complete guide, we will explore the different kinds of shiny fabrics, their characteristics, uses, care instructions and popular names. Whether you are looking to sew a glittering evening gown or add some shimmer to a basic dress, read on to learn about working with shiny fabric types to create stunning garments and accessories.
Common Shiny Fabric Types
Satin
Satin is a weave type that results in a shiny, smooth fabric surface. There are several different satin weave variations, but the most common are:
Satin – Has a glossy front and a dull back. Made in cotton, silk, polyester or blended fibers. Used for formalwear, lingerie and bedding.
Duchesse satin – A heavier, more lustrous satin in silk or rayon. Popular for formal dresses and bridal gowns.
Charmeuse – Lightweight, drapey satin in silk or synthetic fibers. Used for lingerie and evening wear.
Silk
Silk fabric has an inherent natural shine and luxurious drape. Common shiny silk fabric types include:
Charmeuse – Lightweight, flowing satin-weave silk.
Dupioni – Made from twisted silk fibers, resulting in a textured, shiny surface.
Taffeta – Crisp, smooth silk fabric with a stiff drape. Used for formalwear.
Satin – Has a satin weave and intense luster. Used for evening gowns and lingerie.
Sequins
Sequins are small reflective discs sewn onto fabric, creating an extremely shiny, glittering effect. Sequins come in different shapes and sizes and are commonly used for evening wear, costumes and accessories.
Metallic
Metallic fabrics have metal compounds or foil bonded to the surface to create a shiny, shimmery effect. Common examples include:
Lame – Made from metallic fibers woven into fabric. Creates a flowing, liquid look.
Lamé – Features metallic yarns combined with other fibers like wool or synthetic. Gives a subtle metallic sheen.
Faux Leather
Shiny faux leather, also known as pleather or vinyl, provides the look of patent leather without harming animals. It's used to make shiny pants, skirts, jackets and accessories.
Shiny Fabric Characteristics
Shiny fabrics have some unique properties to consider when sewing or choosing an outfit:
Reflective – The glossy finish reflects light, which draws attention. This can help highlight certain features.
Drape – Many shiny fabrics have a nice drape which flows gracefully over the body's contours. However, some may be stiffer.
Heat sensitive – prone to water spotting, heat damage and melting from high iron temperatures. Test first before ironing.
Slippery – Lack of friction can make some shiny fabrics prone to slipping around while cutting and sewing. Use extra pins.
Wrinkle resistant – The tight weave of many shiny fabrics makes them less prone to wrinkling. However, satins may show winkles more.
Show imperfections – Glossy surface highlights any small flaws. Avoid fabrics with uneven shine, snags or blemishes.
Working with Shiny Fabrics
Here are some tips for sewing or working with different shiny fabric types:
Pre-washing – Wash and dry shiny fabrics before cutting to allow for shrinkage and remove excess dye. Use gentle cycles and low heat.
Pattern selection – Look for designs that drape gracefully over the body to showcase the fabric's shine and movement. Avoid overly structured styles.
Interfacing – Use lightweight, sheer interfacing that won't show through shiny fabric. Do not fuse heavy interfacing.
Stabilizer – Stabilizers help prevent puckering. Try transparent film stabilizers for seamless support.
Laying and cutting – Use fine pins and weights to keep slippery fabric from shifting. Cut with sharp shears.
Stay stitching – Stay stitch curved edges and seams to prevent stretching and distortion. Use a short stitch length.
Seam finishes – Choose narrow seam allowances. Finish edges with pinking shears or serging to prevent fraying.
Hems – For clean hem edges, apply narrow tape or use a rolled hem foot attachment. Fuse hem allowances if fabric is too lightweight.
Pressing – Always use a press cloth. Press on the wrong side when possible to avoid shine marks. Take care not to crush pile or texture.
Topstitching – Lengthen the stitch length so holes don't damage the fabric. Use a whipstitch or topstitch needle for best results.
Popular Shiny Fabric Names
Here are some common commercial names for popular shiny dressmaking fabrics:
| Fabric Name | Fiber Content | Characteristics |
| --- | --- | --- |
| Duchess Satin | Silk, Rayon, Polyester | Medium-weight satin with a luxurious drape |
| Charmeuse | Silk | Lightweight, flowy satin fabric |
| Shantung | Silk | Similar to dupioni, but more refined. Textured and shiny. |
| Habotai | Silk | Lightweight, smooth and lustrous |
| Slinky | Polyester | Lightweight fabric with a crepe-like drape and satin sheen |
| Spandex Satin | Spandex, Nylon | Stretchy satin fabric with a glossy face |
| Scuba | Polyester, Spandex | Structured knit fabric with a subtle two-way stretch and sheen |
Caring for Shiny Fabrics
To keep shiny fabrics looking their best:
Dry clean or hand wash using a gentle detergent. Avoid vigorous agitation.
Select gentle, cool iron settings. Always use a press cloth.
Fold and store carefully to prevent creases and wrinkles from setting in.
Steaming or air drying is recommended to prevent heat damage.
To store, wrap in a breathable, unbleached muslin or acid-free tissue paper.
Spot clean stains immediately to prevent setting in. Consult a professional cleaner for stubborn stains.
Avoid direct heat and sunlight which can dull the shine over time.
Conclusion
From elegant satins and silky charmeuse to glittering sequins and faux leather, shiny fabrics make a bold, dramatic fashion statement. When working with these eye-catching materials, choose styles that showcase the beautiful drape and follow the special care instructions to keep the fabrics looking pristine. With some patience and the right techniques, you can use shiny fabrics to create show-stopping garments, accessories and home decor items.
Frequently Asked Questions
What are the most popular shiny fabrics used in evening wear?
For evening wear and formal occasions, the most popular shiny fabric choices are satin, silk and sequined fabrics. Satin is universally flattering and has a refined look perfect for gowns and cocktail dresses. Silks like charmeuse, dupioni and taffeta have an inherent rich shine and movement. Sequins or beading on tulle, chiffon or mesh add dramatic sparkle for weddings and red carpet events.
How can I make a cotton fabric shine?
There are a few ways to temporarily add some shine and luster to cotton fabrics:
Apply starch or sizing to add stiffness and sheen. This will wash out over time.
Brush on a little sugar water and press with a hot iron. The heat caramelizes the sugar and makes the cotton shiny.
Coat the fabric with a thin layer of beeswax and press with an iron. This creates a polished look.
Buy cotton blended with polyester threads which naturally have more sheen than pure cotton.
However, for permanent shine, choosing a fabric with inherently lustrous fibers like silk is best.
What's the best fabric for clothing that photographs well?
Fabrics with some drape and sheen rather than a matte finish will generally photograph the best. Satin, silk charmeuse, velvet and chiffon look luminous on camera. Brocade, lame and fabrics with a bit of shimmer also catch the light beautifully. Darker shades also show up well on film. Stay away from all-cotton fabrics and very textured or fuzzy fabrics that can look washed out.
Is satin suitable for summer clothing?
Satin can be suitable for some summer wear but take the weight into account. Lightweight satin charmeuse or chiffon gives a dressy look while still allowing airflow. Look for satin blends incorporating natural fibers like linen or cotton that feel cooler. Heavier duchesse satin may be too warm for a hot, humid summer day. The best choices are satin fabrics in breezy, loose silhouettes.
How do you sew sequins onto fabric?
Here are some tips for sewing sequins onto fabric:
Use a sharp, fine needle such as a sequins or beading needle. Metallic threads may also help.
Place sequins in your desired pattern and hand or machine stitch through each hole.
Tie knots on the underside or use fabric glue to secure the threads.
Use a press cloth and steam the sequins down on the fabric when finished to flatten them.
For large areas, stitch down sequins in small sections to prevent sagging and maintain design placement.
Use single sequins, clusters, or sequined trim. Combining sizes and shapes adds interest.