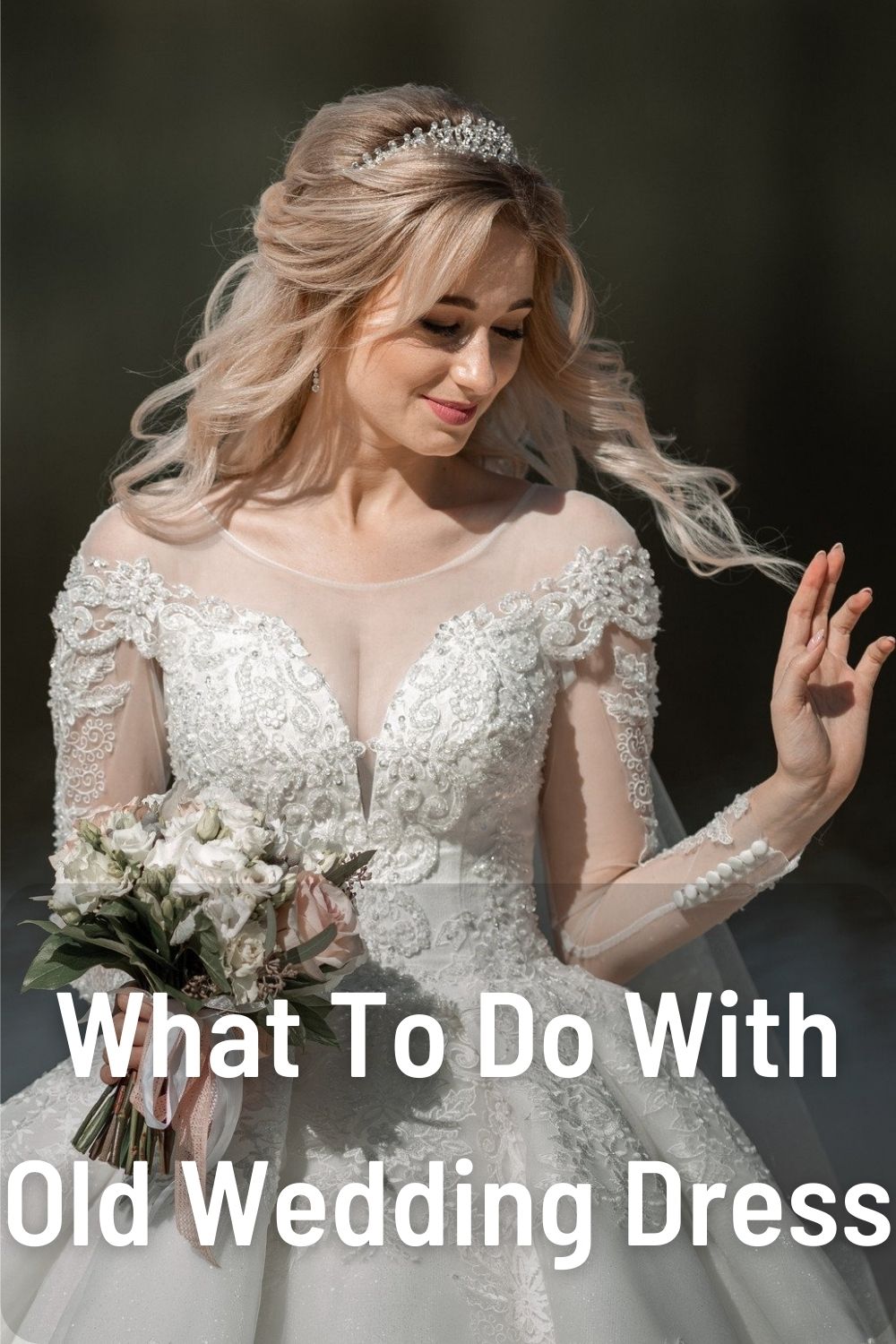 Your wedding day comes and goes in the blink of an eye, but your wedding dress can live on long after you say "I do." Rather than stashing your gown in the back of the closet never to be seen again, consider giving it new life with one of these creative ideas. From heartfelt donations to crafty transformations, you have lots of options to make the most of your meaningful memento.
Donate Your Dress
One of the most worthwhile ways to pass along your wedding dress is by donating it to help someone in need. Here are a few organizations that accept donated wedding gowns:
Brides Across America
This national non-profit organization provides free wedding dresses to military brides. You can donate your gown directly to Brides Across America if you qualify as a military bride. Or anyone can donate, and the dresses are distributed to military brides in need.
Angel Gowns
Angel Gowns repurposes donated wedding dresses into tiny burial gowns for infants. This provides a special gift for grieving families that have experienced miscarriage, stillbirth, or infant loss.
The Princess Project
The Princess Project collects new and gently used formal gowns and distributes them to high school students who otherwise could not afford to attend prom. Check if there is a Princess Project chapter near you to donate.
Brides for a Cause
Brides for a Cause sells donated wedding dresses and gives proceeds to charity. When you mail them your gown, you can choose which cause your dress will benefit.
Resell Your Dress
Rather than letting your dress collect dust, consider selling it so another bride can wear it down the aisle. Here are some options for reselling wedding dresses:
Bridal Consignment Shops
Many local bridal shops operate wedding dress consignment programs. They handle photographing, marketing and selling your gown for a cut of the final price. Call shops in your area to ask about consignment policies.
Online Resale Sites
Popular online marketplaces like StillWhite, Nearly Newlywed, PreOwnedWeddingDresses.com, and Once Wed make it easy to sell your dress worldwide. Create a listing with photos, details and price to market to brides everywhere.
Bridal Resale Events
Attending a bridal gown resale show is a great way to personally sell your dress. Events like The Sample Sale Bridal Show and Brides Against Breast Cancer Tour occur all around the United States. After the event, the coordinators can sell any remaining dresses for you, donating proceeds to charity.
Local Facebook Groups
Post your dress for sale on Facebook Marketplace or join local wedding buy/sell/trade groups. Brides in your area looking for deals on wedding dresses will appreciate the opportunity to save money and shop secondhand from a neighbor.
Create Keepsakes
Rather than parting ways completely, you can craft cherished keepsakes using pieces of your gown. Here are meaningful ideas for repurposing parts of your dress:
Wedding Memory Pillow
A wedding memory pillow made from your dress keeps a sweet memento without taking up much storage space. Send fabric from your gown to a company like Memory Layne Keepsakes and they'll create a cushy pillow featuring lace or beading from your dress.
Framed Veil Display
Preserve the beautiful lace, beading or other detailing from your veil in a framed display case. This creates unique wall art to proudly exhibit your wedding style. Use acid-free materials between the frame glass to prevent yellowing over time.
Christening Gown
If you are having children one day, consider having a portion of your gown crafted into a christening gown for your baby's baptism. Many seamstresses and companies like Bambi & Birdie can create an heirloom gown from your meaningful fabric.
Ring Bearer Outfit
For the small gents in your wedding party, have a mini ring bearer outfit made from swatches of your gown or veil. How precious for your little guy to match the bride!
Wedding Bouquet Preservation
Rather than your bouquet drying out and falling apart, have it professionally preserved in a glass dome or box frame. Many companies like PerfectMemories.com can expertly preserve your bouquet and incorporate special fabric from your wedding gown or veil.
Wedding Cake Topper Preservation
Alongside your dried bouquet, display your cake topper under glass to always remember your special day. Some brides also have fabric from their dress incorporated into the cake topper display for an extra special added touch.
Repurpose the Fabric
With some creativity, your wedding dress fabric can transform into all kinds of fun keepsakes or new items. Upcycle your gorgeous gown into:
A baptism outfit for your baby
A ring pillow or flower girl dress for your future children's weddings
Decorative throw pillows
A quilt, blanket or tablecloth
Handkerchiefs or jewelry pieces with lace or beading details
Hair accessories like headbands for you or your daughter
A decorative lampshade
An ornate photo album cover
Wall art like a cloth canvas stretched over a frame
New curtains, placemats or table runners
The possibilities are endless! Coordinate with your wedding colors for cohesive decor, or contrast with bold new hues. Incorporate other embellishments like bows or buttons to complete your projects.
Transform Into a New Garment
For the creative and skilled sewers out there, reconstructing your dress into an entirely new garment can be a fun challenge. Here are some inspiring new design ideas:
Cocktail Dress or Gown for Rehearsal Dinner
Reuse the best parts of your dress for a new special occasion dress. A shortened tea-length cocktail dress works beautifully for your rehearsal dinner or other celebrations.
High-Low Skirt
Transform your dress into a short skirt featuring the train in the back, finished with a sash accent. Wear for date nights to relive your wedding memories.
Little Girl's Christening or First Communion Dress
Pass down your gown by creating a new heirloom dress for your daughter or other little girl in your life. Add fresh trims and lace to give it an updated look.
Baby Christening Gown
As mentioned before, you can repurpose all or part of your gown into a gorgeous heirloom christening gown for your children.
Bolero Shrug
Turn your dress straps and back bodice into an elegant lace bolero or shrug to pair with dresses or tanks. Add ribbon or fabric ties to complete the look.
Hausfrau Lace Design
Cut swirls of lace appliques from your dress bodice and skirt to adorn a hausfrau clothing design. This Ukranian folk style features ornate lace layered on traditional linens and cottons.
Evening Bag
Fashion the bodice of your dress into a beaded evening bag, perfect for your next date night or formal occasion. Add a clutch handle and lining.
Get creative remixing your gown into fresh fashions or home decor accents. Change up the neckline, silhouette, length or embellishments through strategic deconstruction. Your old wedding dress can enjoy new life in many beautiful forms!
Host a Gown Gathering
For a fun group activity, gather your married friends and host a wedding dress reconceptualization party! This is a lively way to reimagine your gowns together.
Serve bubbly mimosas and desserts for a sweet treat.
Set out craft supplies like ribbons, buttons, fabric paints, lace and more for embellishing.
Have guests sketch or collage inspiration for alternative uses for their dresses.
Cut, stitch and revamp your gowns into something new! Pillows, flower girl dresses, clutches…anything goes.
Finish off with a photo shoot of your creations.
Turn an old dress gathering into a memorable day of creativity and connection with your best girlfriends.
Repurpose for Theatre Use
Offer your dress to be repurposed for costume use by a local theatre company. The full skirt and delicate details of a wedding gown are perfect for fairy-tale style plays or operas set in past eras. Contact your community playhouse or performing arts school to see if they can creatively reuse your gown.
Create Wedding Bunting
Adorn your home with festive bunting using fabric from your dress. Cut gown pieces into triangular flags and string them together with delicate ribbon. Hang the dancing flags for a shabby chic decorative touch.
Design a Wishing Tree Installation
Construct an artful "wishing tree" decorated with pieces of your gown. Attach fabric remnants using ribbon to a wire tree frame or tree branch. Adorn with beads, buttons and trim from your dress too. Display the ethereal creation in your home or yard as decorative art. Write wishes for the future on tags and tie onto the billowy pieces.
Craft Paper Flowers
Cut circles, spirals and strips from your dress lining or crinoline underskirt. Use the pieces to create a statement paper flower art installation. Adhere fabric bits to wired stems and shape into blooms. Group together in a vase or cluster on the wall for unique floral art.
Creative Ideas for Old Wedding Dresses
Donate Your Dress
Brides Across America

Angel Gowns

The Princess Project

Brides for a Cause

Resell Your Dress
Consignment Shops

Online Resale Marketplaces

Bridal Resale Events

Facebook Groups

Create Keepsakes
Memory Pillow

Framed Veil

Christening Gown

Bouquet Preservation

Cake Topper Display
With a little imagination, you can find the perfect new purpose for your meaningful wedding dress. From donations to decor, make the most of your gown long after your wedding day is over. Honor your own story while passing along joy to others.
Frequently Asked Questions
What is the best way to store a wedding dress long-term?
To properly preserve a wedding dress for many years, have it professionally cleaned first. Then store in an acid-free box to protect from dust, moths, humidity and yellowing over time. Avoid plastic bags or bins that hold in moisture. Lay the dress flat and avoid heavy folding. Store in a cool, dry place away from direct sunlight.
Can you dye or tailor a wedding dress?
Yes, it is possible to professionally dye a wedding dress a new color. However, intricate beading and embellishments make it tricky and may not take the color evenly. Simple gown silhouettes with minimal detail will dye best. It is also possible to tailor your gown into something new. Look for a skilled seamstress that specializes in formalwear and bridal alterations. Be open minded – some parts of the dress construction cannot be changed.
What charities accept used wedding dresses?
Many non-profit organizations accept donated wedding dresses, including Brides Across America for military brides, Angel Gowns to make infant burial gowns, Brides for a Cause to raise funds for charity, and local high school senior projects like The Princess Project. Contact charities directly to see if they currently accept dress donations and learn their guidelines.
How much money can you get for selling a used wedding dress?
This varies greatly depending on the designer, condition, and age of the dress. Currently, the average resale value is 30-40% of the original price. More in demand designers and lightly worn gowns recoup a higher percentage. Dresses purchased from sample sales also tend to retain more value on the secondary market. Real brides report reselling for $100 to over $1000.
What are some good ideas for repurposing my old wedding dress?
Get creative transforming your gown into new keepsakes like a ring pillow, flower girl dress, memory quilt, clutch purse, lampshade, photo album cover or display shadowbox. Or use pieces to craft decorations like bunting, a wishing tree, paper flowers, or hausfrau lace overlay accents. With some skillful sewing, you can even reconstruct the entire dress into something new to wear again.