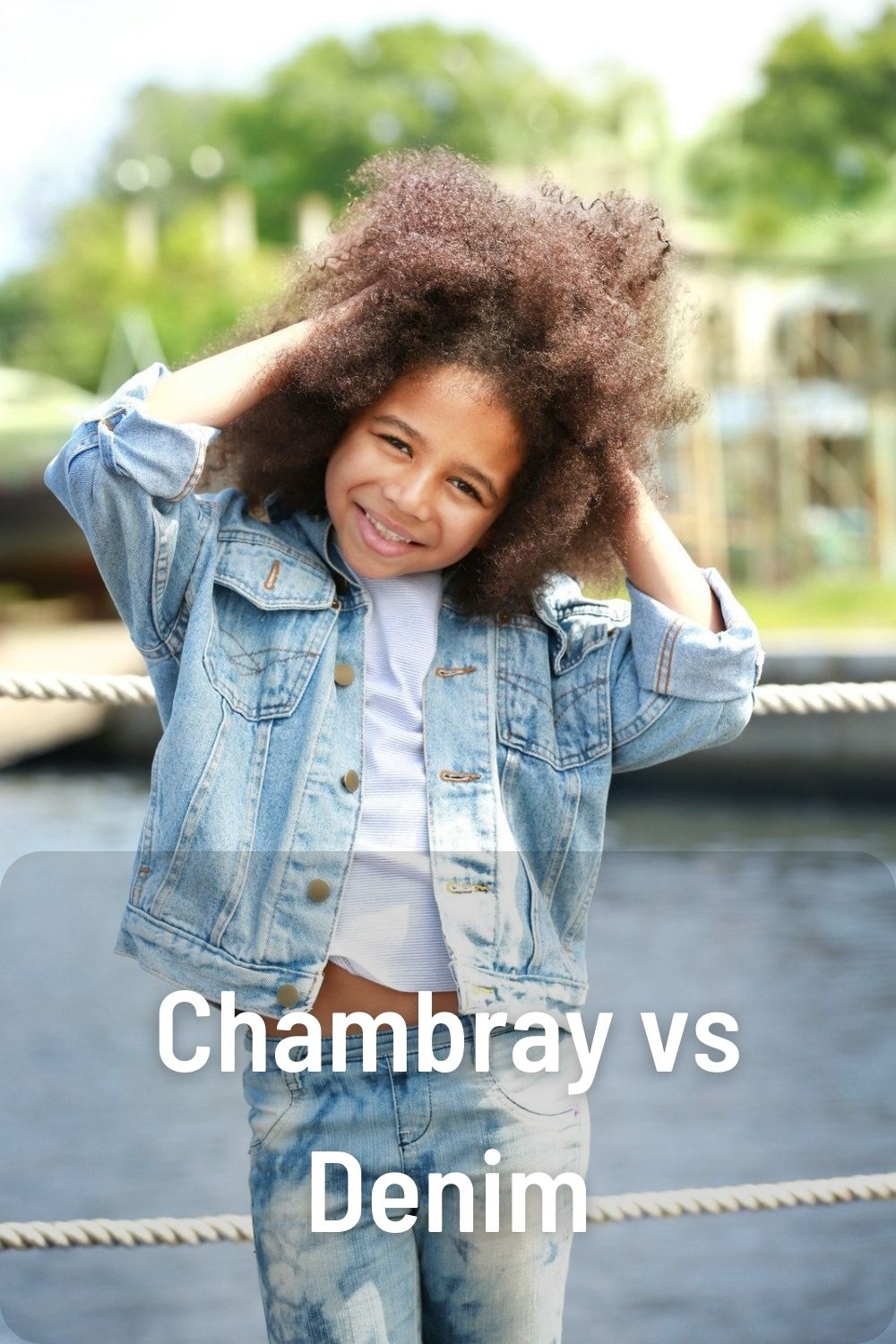 Denim and chambray are two of the most popular fabrics for clothing. At first glance, they may appear quite similar. But when examined more closely, there are several key differences between chambray and denim that are important to understand.
In this comprehensive guide, we will explore everything you need to know about chambray and denim fabrics. We'll cover:
The history and origins of each fabric
How chambray and denim are made
The major differences in terms of weight, feel, drape, and versatility
Pros and cons of each fabric
How to care for chambray and denim
Where to buy chambray and denim clothing
By the end of this guide, you'll be a chambray and denim expert. Let's get started!
History and Origins of Chambray and Denim
To understand the key differences between chambray and denim, it helps to first look at the history and origins of each fabric.
The History of Denim
Denim originated in the French city of Nîmes, where it was known as "serge de Nîmes" – hence the name "denim." Denim was commonly used for workwear and industrial garments due to its extreme durability.
The use of denim fabric became even more widespread when Jacob Davis and Levi Strauss began producing denim overalls in the 1870s. Their riveted "waist overalls" proved popular with miners, factory workers, and cowboys.
By the 1950s, denim had transitioned from being purely a utilitarian cloth to a fashion fabric. Denim jeans became a symbol of American pop culture and teenage rebellion. Iconic brands like Levi's and Wrangler cemented denim's status as the textile of youth culture.
Today, denim remains one of the most ubiquitous and beloved fabrics worldwide. From rugged workwear to high fashion, denim is a versatile textile used across many types of clothing.
Chambray's French Origins
Chambray fabric shares a common French background with denim. It originated in Cambrai, France, where it was originally known as "cambric."
Lightweight chambray was used for clothing and household goods. It had a soft feel that distinguished it from stiff industrial denim fabrics of the time.
By the 20th century, chambray began to be produced in the United States and United Kingdom. It became popular for women's and children's clothing. Chambray was appreciated for its lightweight structure that kept its shape but remained soft and comfortable against the skin.
Chambray continues to be valued today for its versatility that bridges casual and smart casual styles. Modern chambray comes in a wide array of colors and weights while retaining its signature lightweight feel.
Now that we've covered the origins of each fabric, let's look closely at how chambray and denim fabrics are constructed.
How Chambray and Denim Are Made
The specific manufacturing process is where we begin to see major differences emerge between denim and chambray fabrics.
Making Denim Fabric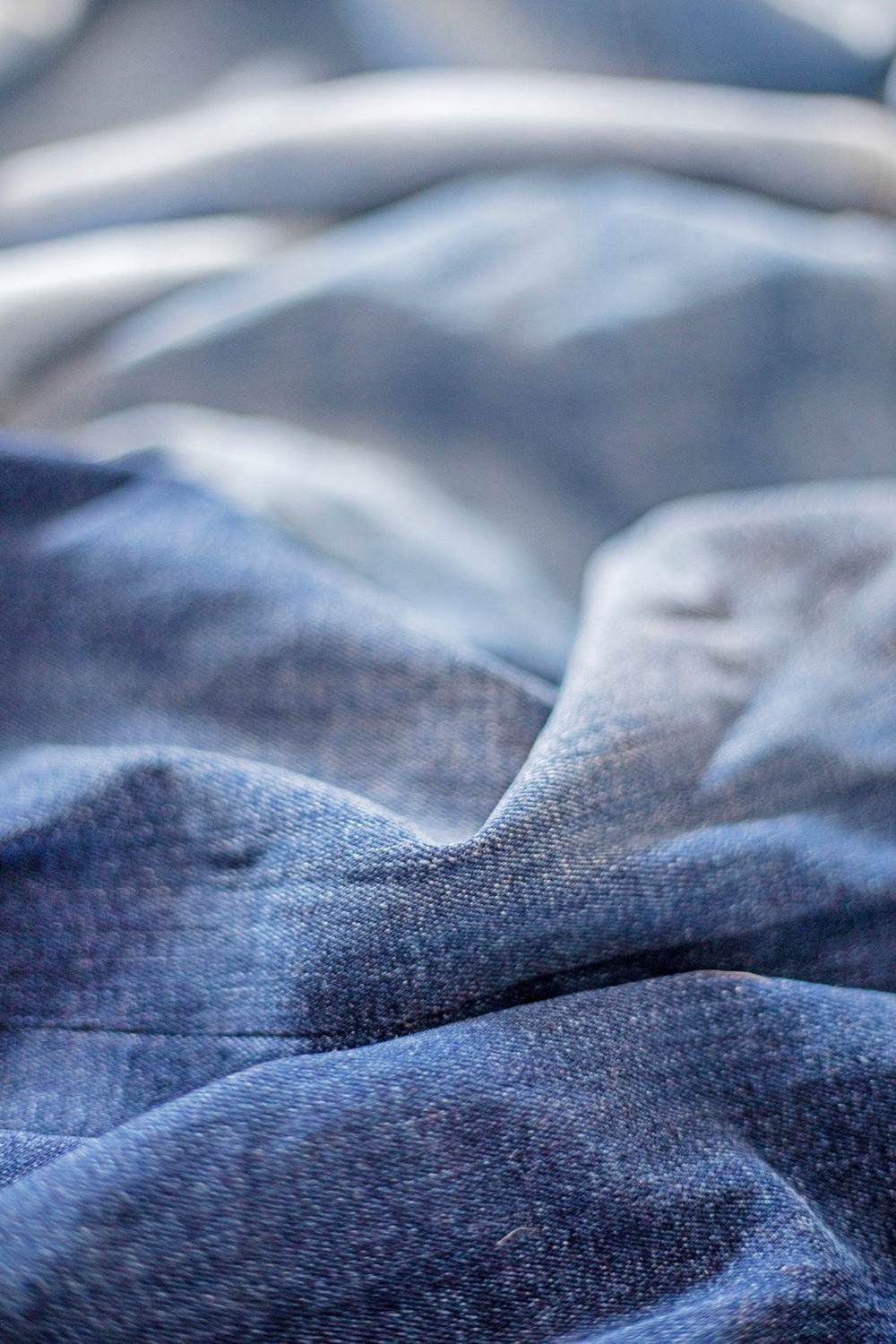 Denim is created by weaving dyed indigo yarn with white warp yarn in a right-hand twill weave pattern.
The indigo dye only penetrates the surface of the yarn, leaving the interior white. This exposes the white yarn on the inside when the fabric is abraded, creating denim's signature fading effects.
Most denim uses 100% cotton yarns. However, stretch denim incorporates elastic fibers like spandex to add flexibility. Denim can also be blended with polyester, hemp, or other fibers.
Traditional denim fabric is fairly thick and rigid. Wide shuttle looms weave the denim with a heavy 8-10 oz. weight. However, modern denim can range from lightweight 7 oz. fabrics to thick 16+ oz. selvedge denim.
Constructing Chambray Fabric
Chambray is woven from colored warp and white weft yarns, usually cotton. This gives chambray its signature muted tones and subtly textured surface.
Most chambray uses plain weave or dobby weave patterns. This creates a more flexible, lightweight fabric compared to denim's twill weave.
Standard chambray weight is around 3-4 oz. Much lighter than traditional denim! Modern chambray can range from gauzy 2 oz. to 7 oz. in heavier shirting weights.
While denim is defined by its indigo yarns, chambray can be woven from a variety of dyed yarns to create different color effects. Common chambray shades include light blue, gray, pink, purple, and more.
Now that we've looked at how each fabric is constructed, let's directly compare some of the major differences between chambray and denim.
Key Differences Between Chambray and Denim
From the fabric weight to texture and feel, there are several notable ways that chambray and denim differ:
| Factor | Chambray | Denim |
| --- | --- | --- |
| Weight | Lightweight (2-7 oz.) | Heavyweight (7-16+ oz.) |
| Weave | Plain or dobby weave | Right-hand twill weave |
| Threads | Colored warp, white weft | Indigo warp, white weft |
| Texture | Smooth, lightly textured | Thicker, more textured |
| Feel/Drape | Soft, fluid drape | Stiff, structured drape |
| Versatility | Wide range of styles | Mainly casual styles |
| Care | Machine wash, line dry | Wash delicately, line dry |
Let's examine these key differences in more detail:
Weight
The weight of the fabric is a major distinguishing factor.
Chambray is woven to be featherlight, typically ranging from 2 to 7 oz. per square yard. This makes it suitable for flowy dresses, blouses, lightweight shirts and more.
Denim is known for its heavy, durable weight of 8 oz. on up to 16 oz. or beyond. This thicker fabric is ideal for jeans, jackets, bags and other sturdy items.
So if you pick up a chambray shirt versus a denim shirt, right away you'll notice a substantial difference in hand feel and weight.
Weave Pattern
Chambray and denim use different weave patterns during construction:
Denim uses a right-hand twill weave – this gives denim its signature diagonal ribbing texture. The twill line runs from bottom left to top right along the fabric surface.
Chambray often uses a plain weave – resulting in a smoother, flatter texture than denim. But chambray can also utilize dobby weaves to create small-scale patterns and textures across the fabric.
Holding up a sample of each fabric shows how the weave pattern gives each a distinct look. Denim has prominent diagonal ribs, while chambray has a subdued textured surface.
Warp and Weft Threads
The types of threads used in the warp and weft directions differ between denim and chambray:
Denim uses indigo-dyed warp threads and undyed weft threads. This is what creates the signature fading effects as the indigo wash diminishes.
Chambray uses colored warp threads, usually in shades of blue, grey, or red, combined with undyed white weft threads. This gives chambray its muted tones and subtle color variations.
Texture and Feel
The texture and feel of each fabric is directly related to the weight and weave patterns:
Denim has a thick, rigid texture you can feel in the hand. Brushing your fingers across denim reveals the prominent diagonal twill weave ridges.
Chambray has a much smoother, lightweight texture. The plain or dobby weaves result in a supple, flowing fabric with a soft feel.
In terms of drape and structure, chambray will have a looser, relaxed drape due to the lightweight fabric. Denim's heavier weight creates a more structured drape that holds its shape.
Versatility
Chambray and denim have evolved to serve different fashion purposes:
Denim remains closely associated with casualwear and workwear. Jeans, jackets, overalls, and other traditional denim apparel maintain the fabric's rugged, durable qualities.
Chambray has wider versatility across the formality scale. Its lightweight structure can easily transition from casual button-downs to smart chambray shirts and dresses.
While denim retains a more narrow workwear look, chambray offers greater flexibility for both dressy and casual uses.
Care Instructions
Proper care is important to maintain the integrity of both fabrics:
Denim should always be washed in cold water and air dried to preserve the colors and structure. The heavyweight denim is prone to shrinking when machine dried.
Chambray can tolerate machine washing and drying since the lighter fabric is less prone to shrinking. But to play it safe, washing in cold and line drying is recommended.
Now that we've covered the major differences, let's look at the pros and cons of chambray versus denim fabrics.
Pros and Cons of Chambray vs. Denim
Each fabric has certain advantages and disadvantages when selecting the right textile for clothing or accessories.
Pros and Cons of Chambray
Chambray Pros:
Lightweight and breathable for comfort across seasons
Smooth, soft texture with fluid drape
Easy care – can be machine washed and dried
Vintage-inspired appearance
Versatile for both smart and casual looks
Chambray Cons:
Wrinkles more easily than denim
Colors may fade faster than denim with wear and washing
Less durability than heavyweight denim
Shrinkage may be a concern for some chambray fabrics
Pros and Cons of Denim
Denim Pros:
Extreme durability and ruggedness
Holds structure and shape retaining a crisp look
Raw denim can mold to the wearer's body over time
Fades naturally and beautifully over years of wear
Iconic look associated with workwear and casual style
Denim Cons:
Stiffness requires break-in period before optimal comfort
Heavyweight and hot for warm weather
Shrinks substantially if improperly dried
Difficult to dress up for smart casual or formal occasions
As you can see, each fabric has advantages based on different needs. Chambray offers lightweight comfort and versatility. Denim provides rugged durability and an iconic look.
Now let's go over proper care and washing for both fabrics.
Caring for Chambray and Denim
To keep your chambray and denim pieces looking and feeling great, proper garment care is essential. Here are some top tips:
Washing Chambray
Machine or hand wash cold – Avoid hot water to prevent fading/shrinkage
Gentle cycle – Prevents pilling and wear from agitation
Line dry – Lay flat or hang to maintain shape and color
Wash with similar colors – Prevent dye transfer discoloration
Caring for Denim
Wash infrequently – Preserves color and minimizes shrinkage
Use cold water – Hot water can damage and fade indigo dye
Wash inside-out – Protects the denim surface from abrasion
Line dry only – Machine heat causes excess shrinkage
Spot clean when possible – Adds life between washes
Proper washing and drying is key for both fabrics. Taking the right steps preserves the chambray or denim so you can enjoy them for many years.
If properly cared for, high-quality chambray and denim can last for years or even decades. Let's look at where you can find the best chambray and denim clothing today.
Where to Buy Chambray and Denim Clothing
Fortunately, it's easier than ever to find a wide range of chambray and denim apparel from leading brands. Here are some of the best places to shop:
Chambray Clothing Retailers
J.Crew – Offers a popular chambray shirt collection for men and women
Madewell – Carries chambray tops, dresses, jumpsuits and more for women
Banana Republic – Known for office-friendly chambray shirts and blouses
Everlane – Leading basics brand with chambray staples for men and women
GAP – Budget-friendly chambray pieces for the entire family
Denim Retailers
Levi's – The heritage denim brand offers jeans for men and women in a variety of fits
Madewell – Carries premium denim alongside chambray apparel
7 for All Mankind – Upscale denim label designing jeans with innovative fabrics
Wrangler – Known for rugged denim with specialty finishes and handy features
Lucky Brand – Bohemian-inspired denim jeans, jackets and shorts
There are also many online specialty boutiques offering curated collections of both chambray and denim apparel across a range of prices.
The key is looking for quality construction with natural fabrics – 100% cotton chambray and denim will give you the best performance and longevity.
Key Takeaways
Chambray and denim share French origins but diverge in terms of weight, feel, and versatility.
Chambray is lightweight and smoothly textured. Denim is heavy, thick, and ruggedly textured.
Chambray can work across dressy and casual looks. Denim remains primarily a casualwear fabric.
Both fabrics require gentle cold washing and air drying for optimal care.
Quality chambray and denim pieces are widely available from major retailers and specialty boutiques.
So there you have it – a detailed overview comparing chambray and denim fabrics. Hopefully this guide provided helpful context on the history, construction, differences, and ideal uses for each textile. With this knowledge, you can make informed decisions selecting the perfect chambray or denim items for your wardrobe.
FAQs About Chambray
What is chambray made of?
Chambray is almost always made from 100% cotton. On occasion it may contain small amounts of other fibers like linen or modal for an altered feel.
What is chambray best used for?
Chambray is versatile enough for use in shirts, dresses, jackets, skirts, underwear, bedding, and a wide range of apparel.
Is chambray good for hot weather?
Yes, lightweight chambray breathes well and is ideal for summer clothing. Avoid heavy chambray shirting which may be too warm.
Can chambray be dressed up?
Chambray looks great dressed up or down. For a polished look, opt for tailored chambray shirts, pants, and dresses in solid colors or subtle patterns.
Does chambray wrinkle easily?
Chambray is somewhat prone to wrinkling, especially lighter weight varieties. Proper garment care can help reduce wrinkling.
FAQs About Denim
Is denim breathable?
Denim is generally less breathable than lightweight fabrics like chambray due to the dense weave. Stretch denim or linen blends improve air flow.
How do you soften stiff denim?
Washing denim garments inside-out in cold water helps soften the fabric over time. Also wearing them regularly helps break-in stiff denim.
Can you tailor or hem denim?
Yes, denim can be tailored but work is best left to skilled alterations pros. Take care not to damage the denim by over-pressing.
How long should denim last?
Quality denim may last 5 years or much longer. Raw unsanforized denim and rigid fabrics require break-in but can last decades.
Why does denim shrink?
Shrinking is caused by excessive heat during drying or washing. Always wash cold and line dry denim to prevent shrinkage.
Conclusion
We hope this comprehensive guide clarified the key similarities and differences between chambray versus denim fabrics. While they share some qualities, each textile has unique characteristics ideally suited for different clothing purposes.
Chambray offers lightweight versatility across casual and smart looks. Denim remains the pinnacle of casual cool with its rugged durability.
Understanding the origins, construction methods, and proper care for chambray and denim allows you to make the most of these perennial wardrobe staples.