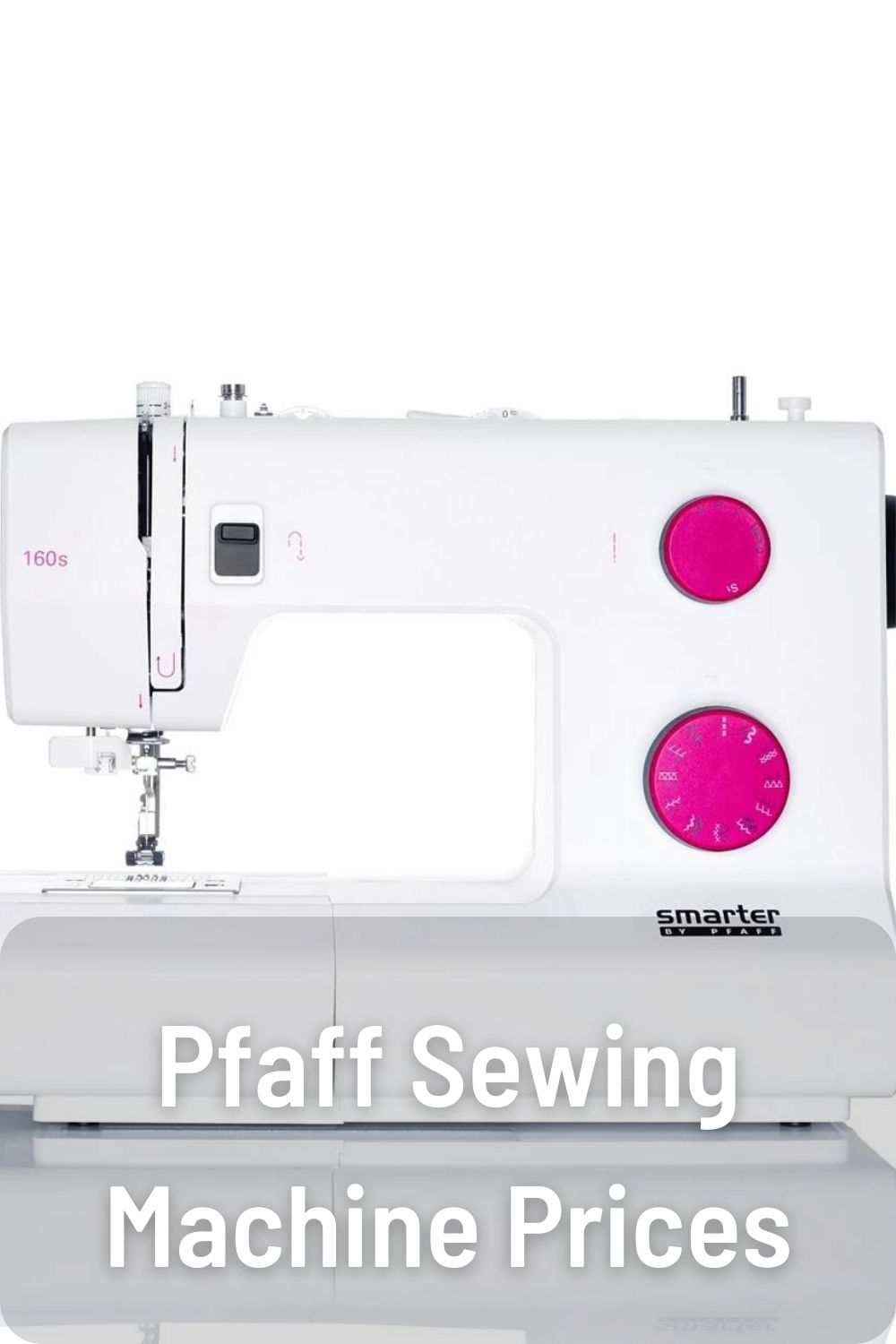 Pfaff sewing machines are known for their high-end features, quality construction and innovative technology. With over 150 years of experience in the industry, Pfaff has built a reputation for manufacturing top-performing sewing and embroidery machines for home sewers, quilters and crafters.
But with advanced functionality comes higher price tags. Pfaff sewing machines range from a few hundred dollars for entry-level mechanical models to several thousand for computerized machines with hundreds of built-in stitches.
So how much does a Pfaff sewing machine cost? In this complete guide, we'll break down Pfaff sewing machine prices by model, comparing features across their product lineup. We'll also overview factors that impact cost, plus tips for getting the best deal on your new Pfaff.
Pfaff Sewing Machine Prices by Model
Pfaff offers sewing machines for all budgets and skill levels. Below we've compiled Pfaff sewing machine prices across their current lineup of models.
Entry-Level Pfaff Sewing Machines
Pfaff's entry-level sewing machines range from $299-$699. They offer excellent stitch quality and useful features for new sewers on a budget.
| Model | Description | Price |
| --- | --- | --- |
| Pfaff Smarter 140s | Mechanical sewing machine with 23 stitches | $299 |
| Pfaff Smarter 150s | Mechanical sewing machine with 29 stitches | $349 |
| Pfaff Smarter 160s | Mechanical sewing machine with 32 stitches | $399 |
| Pfaff Smarter 170s | Mechanical sewing machine with 57 stitches | $449 |
| Pfaff Smarter 180s | Mechanical sewing machine with 80 stitches | $499 |
| Pfaff Select 3.2 | Computerized sewing machine with 67 stitches | $699 |
These basic Pfaff models have dial stitch selection and adjustable stitch length and width. The computerized Select 3.2 adds a backlit LCD screen, automatic thread cutter, and programmable needle up/down. While limited on stitches, entry-level Pfaffs offer excellent stitch quality. They're a great choice for beginners learning to sew.
Mid-Range Pfaff Sewing Machines
Moving up to mid-range models, expect to spend $799-$1,499. These computerized Pfaffs include more stitches, one-step buttonholes, and convenient features like needle threaders.
| Model | Description | Price |
| --- | --- | --- |
| Pfaff Select 4.2 | Computerized sewing machine with 97 stitches | $799 |
| Pfaff Passport 3.0 | Computerized sewing machine with 173 stitches | $999 |
| Pfaff Expression 726 | Computerized sewing machine with 276 stitches | $1,199 |
| Pfaff Creative Sensation Pro | Computerized sewing machine with 294 stitches | $1,499 |
Mid-range Pfaffs add more decorative, quilting, and stretch stitches. You'll also see features like basic embroidery, alphabet fonts, and stitch editing capabilities. Pfaff's mid-range models offer an excellent balance of features and price.
Advanced Pfaff Sewing Machines
Serious and professional sewers should look at Pfaff's advanced sewing and embroidery machines, priced $1,699-$7,999. High-end Pfaffs include automatic thread cutters, large stitch libraries, and enhanced editing.
| Model | Description | Price |
| --- | --- | --- |
| Pfaff Creative Icon | Computerized sewing & embroidery machine with 554 stitches | $1,699 |
| Pfaff Creative Sensation Pro II | Computerized sewing & embroidery machine with 560 stitches | $1,999 |
| Pfaff Creative 4.5 | Computerized sewing & embroidery machine with 659 stitches | $3,999 |
| Pfaff Grand Quilter 4.5 | Computerized quilting machine with 278 stitches | $4,499 |
| Pfaff Performance Icon | Computerized sewing & embroidery machine with 554 stitches | $5,999 |
| Pfaff Creative Icon 2 | Computerized sewing & embroidery machine with 666 stitches | $7,999 |
Advanced Pfaff's include large full-color touch screens, wireless connectivity, and automatic presser foot lift. High-end models like the Creative Icon 2 have industry-leading stitch technology and editing capabilities for sewers and quilters. Pfaff's top-of-the-line computerized machines rival professional industrial machines.
Factors That Impact Pfaff Sewing Machine Costs
Several factors account for the wide range of Pfaff sewing machine prices. Key considerations include:
Features
The main driver of cost is features. Entry-level Pfaff sewing machines focus on high stitch quality essentials. As you move up in price, Pfaffs add more automatic functions, larger stitch libraries, expanded editing capabilities and embellishment features. Advanced models offer enormous stitch variety and functionality for virtually any sewing task.
Computerization
Computerized Pfaff sewing machines cost more than mechanical models. But computerization enables helpful features like one-touch sewing, automatic thread cutting and on-screen editing. It's an excellent upgrade for sewers who want to expand their skills beyond basics.
Embroidery Capabilities
Pfaff sewing machines with built-in embroidery capabilities are pricier than sewing-only models. You'll pay for the expanded workspace and automatic embroidery features. Pfaff's top computerized machines offer hundreds of embroidery designs and editing functions.
Heavy Duty Construction
Higher priced Pfaffs are engineered for frequent, heavy duty use. They're made of metal rather than plastic, with reinforced internal mechanisms. This professional-grade construction results in a more durable, longer-lasting machine.
Automatic Functions
As you move up the Pfaff line, sewing machines include advanced features that automate tasks for you. This includes automatic thread cutters, presser foot lift, needle threaders and bobbin winders. While not essentials, these automations really speed up sewing and embroidery work.
Specialty Machines
Pfaff's specialty sewing machines, like the Grand Quilter 4.5, carry higher price tags. They're designed with enhanced capabilities for quilting, crafting, home decor, garment construction or embroidery. Expect to pay more for specialty Pfaffs optimized for your specific sewing interests.
Tips for Getting the Best Pfaff Sewing Machine Deal
While Pfaff sewing machines span a wide range of prices, there are ways to get the features you want at the best value. Here are our top tips for finding deals on Pfaff sewing machines:
Consider pre-owned Pfaff models – Gently used Pfaff sewing machines can offer big savings over new. Look for refurbished models from authorized dealers that come inspected and with a warranty.
Sign up for Pfaff newsletters – Pfaff regularly sends special offers to subscribers. This includes discounts on sewing machines and other promotions.
Ask about price matching – Many authorized Pfaff dealers will match the price if you find the sewing machine cheaper elsewhere. This guarantees you get the best price.
Look for sales around major holidays – Pfaff dealers often discount sewing machines for seasonal sales events. Time your purchase right and you could save big.
Bundle accessories for added value – Purchasing sewing machine bundles that include extra feet, needles, hoops and accessories can maximize your savings.
Consider 0% financing – Pfaff dealers sometimes offer 0% financing, allowing you to break up payments over 12-18 months. Just be sure to budget for the monthly costs.
With the right combination of model selection, promotions and financing, you can get an amazing deal on a new Pfaff sewing machine. Investing in this premium brand is worthwhile, as their sewing machines are built to last decades.
Frequently Asked Questions (FQA) About Pfaff Sewing Machines
1. Are Pfaff sewing machines worth the price?
Yes, Pfaff sewing machines are worth their higher price tags. Pfaff uses top-quality components and high-precision German engineering. The result is a durable, high-performing sewing machine that will last through years of frequent use. Advanced Pfaff models offer innovative features on par with commercial machines costing thousands more.
2. How long do Pfaff sewing machines last?
With proper care and maintenance, a Pfaff sewing machine can easily last 25+ years. Many sewers pass down Pfaff machines across generations in a family. Their all-metal internal construction and computerized models stand the test of time. Pfaff's legendary quality and durability justify the higher initial investment.
3. What is the best Pfaff sewing machine for beginners?
The Select 3.2 is an excellent Pfaff for beginners. It combines essential features like a built-in needle threader, top load bobbin, and automatic thread cutter. With 67 built-in stitches, the Select 3.2 offers enough variety for learning sewing fundamentals. Its computerized operation also makes sewing easy for beginners. All at a reasonable $699 price point.
4. What's better – Pfaff vs Bernina sewing machines?
Pfaff and Bernina both make excellent high-end sewing machines. Key differences:
Pfaff specializes in computerized innovation, while Bernina focuses more on all-metal mechanical construction.
Bernina includes stitch regulation technology on their sewing machines. Pfaff's specialty is StitchCreator software for programming custom stitches.
Bernina machines start cheaper but Pfaff's MSRPs go higher into the commercial range.
For embroidery, Pfaff has a slight edge in workspace size and editing capabilities.
Overall both brands are on par, so go with the model offering the features you prefer. Local dealer service should be a priority too.
5. What is Pfaff's best sewing and embroidery machine?
The Pfaff Creative Icon 2 is Pfaff's top sewing and embroidery machine. It has industry-leading features like:
666 Built-in stitches including 14 one-step buttonhole styles
561 Embroidery designs with new projections capabilities
Large 10.1″ full-color HD touchscreen display
Automatic presser foot lift and thread cutter
Full editing suite for combining and altering stitches/designs
Custom stitch programming with StitchCreator software
Advanced StitchDesigner feature using real fabric photos
The Icon 2 provides professional-caliber sewing, embroidery, and quilting capabilities all on one advanced machine. Pfaff's most innovative model yet!