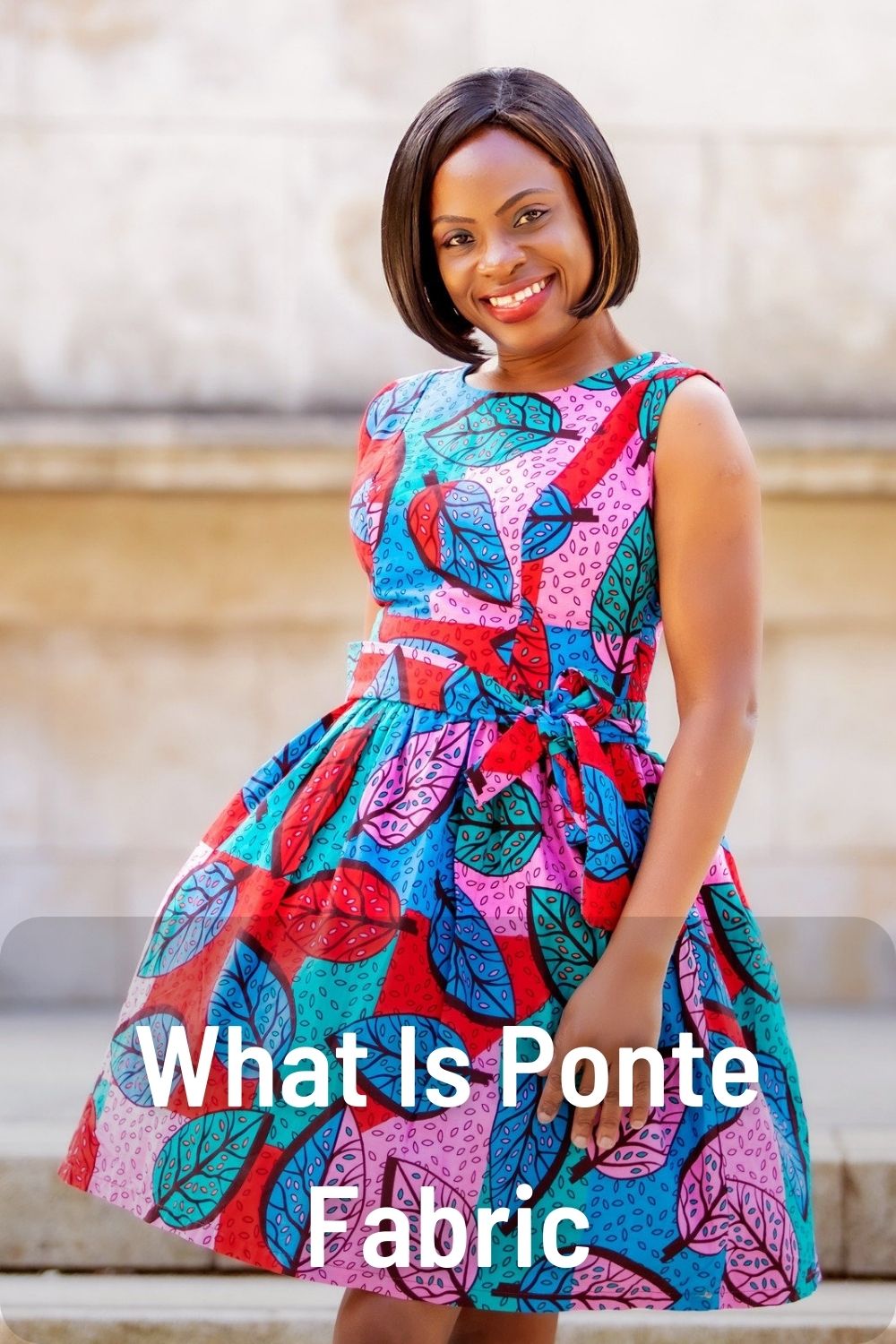 Ponte fabric, also known as ponté, is a double-knit fabric that has been growing in popularity in recent years. It offers a smooth finish on both sides while remaining thick and stable enough to hide imperfections.
Ponte has a slight four-way stretch and a medium to heavy weight, making it perfect for fitted garments like dresses, pants, and skirts. It drapes well without clinging to the body. The fabric is versatile and can be dressed up or down seamlessly.
In this complete guide to ponte fabric, we will cover:
The history and origins of ponte
How ponte fabric is made
The characteristics and properties of the fabric
The pros and cons of ponte knit
How to care for ponte fabric
Outfit ideas and ways to wear ponte fabric
Where to buy ponte fabric
Let's dive in and learn all about this modern knit fabric!
What Is Ponte Fabric Made Of?
Ponte fabric consists of different fibers blended together to create its unique properties. The most common fibers found in ponte fabric are:
Polyester: Gives ponte durability, stretch, wrinkle resistance, and shape retention.
Rayon: Made from wood pulp, rayon in ponte adds softness, a luxurious drape, and breathability.
Nylon: Provides strength and abrasion resistance.
Spandex/Lycra: Gives ponte four-way stretch and flexibility. Usually 2-5% of the blend.
The combination of these fibers makes ponte a substantial double-knit fabric that is perfect for fitted garments. The exact blend can vary by manufacturer, but polyester and rayon are always major components.
How Is Ponte Fabric Made?
Ponte has a unique double-knit construction that sets it apart from other knits. Here is an overview of the ponte fabric production process:
Fiber Blending: The raw fibers are blended together in specific proportions based on the desired characteristics. Common blends are 60% polyester, 33% rayon, 5% nylon, 2% spandex.
Yarn Spinning: The fiber blend is spun into yarn spools set up for the knitting machines.
Knitting: Ponte is knitted on circular double knitting machines. The double knit process knits the front and back of the fabric simultaneously.
Finishing: The ponte fabric is finished with heat setting, dyeing, printing, or other textures applied to the surface.
Inspection: The ponte fabric is thoroughly inspected for any defects before being rolled onto bolts ready for manufacturing.
The double knit construction gives ponte its signature refined, smooth surface on both sides. The combination of fibers makes it a versatile, stable knit perfect for a range of garments.
Properties and Characteristics of Ponte Fabric
Here are the main properties that set ponte fabric apart from other knits:
Stable and thick: Ponte has a medium to heavy weight and excellent stability due to the tightly knitted double layer. It does not stretch out of shape.
Smooth finish: The double knit creates a refined, smooth surface on both sides of the fabric. Ponte has a flattering, polished appearance.
4-way stretch: The spandex content gives ponte stretch in both lengthwise and crosswise directions for a body-skimming fit. Approximately 15-25% stretch.
Breathable and cool: The rayon and tight knit construction make ponte a surprisingly breathable fabric that resists overheating.
Shape retention: Ponte holds its shape well and doesn't stretch out with wear. It does not bag or sag.
Drapes well: Ponte has enough weight to drape smoothly over the body without clinging. It flows nicely in dresses and skirts.
Versatile: Ponte can be dressed up or down seamlessly. It works for both casual everyday wear and professional workwear. The thickness also allows it to transition between seasons.
Travel-friendly: Ponte resists wrinkles and holds up well to travel. It packs easily without losing its shape.
Fluid drape: The fabric drapes smoothly over the body for a flattering, feminine silhouette.
These characteristics make ponte a versatile fabric suitable for all body types. The smooth, thick double knit construction slimly skims over the body, hiding imperfections without clinging.
Ponte vs Other Knit Fabrics
How does ponte compare to other common knit fabrics? Here is a quick comparison:
| Fabric | Properties | Uses |
| --- | --- | --- |
| Ponte | Medium to heavy weight, stable, smooth finish, 4-way stretch | Dresses, pants, skirts |
| Jersey | Lightweight, drapey, prone to wrinkling | T-shirts, activewear |
| French terry | Soft, absorbent looped interior | Loungewear, sweaters |
| Double knit | Medium weight, textured look | Jackets, outerwear |
| Interlock | Lightweight, soft handfeel | Tops, dresses, baby clothes |
Ponte offers more structure than a drapey jersey while remaining softer than a double knit. It's the perfect in-between knit!
The Pros and Cons of Ponte Fabric
Like any fabric, ponte has both advantages and disadvantages. Here is an overview of the pros and cons of this popular double knit:
The Pros
Smooth, flattering drape
Comfortable stretch
Breathable and cool
Travel-friendly, resists wrinkles
Hides imperfections
Holds its shape all day
Suitable for any season
Machine washable and dryable
Stylish structure for dresses, pants, and skirts
The Cons
Shows lint easily
Can cause static cling
Heat-sensitive, can shrink at high temps
Not as soft as single knits like jersey
Shows off every lump and bump
The cons are easily overcome with proper garment care. Overall, the advantages of ponte's flattering drape and comfortable four-way stretch make it a versatile fabric.
How to Care for Ponte Fabric
Caring for ponte fabric properly will keep your garments looking their best. Here are some top care tips:
Read the garment tag: Follow the exact washing instructions, as blended knits can vary in care needs.
Wash gentle cycle: Use a gentle cycle in cool to warm water to prevent heat damage.
No bleach: Never use bleach as it weakens fibers over time.
Hang dry: Lay ponte garments flat or hang to dry. Avoid the dryer's harsh heat.
Cool iron: If needed, use a medium iron setting while the fabric is still damp.
Steam refresh: Freshen up ponte between washes by steaming wrinkles away.
Don't overdry clean: Limit dry cleaning ponte garments to preserve the fibers.
With the right care, your ponte fabric clothes will maintain their flattering drape and versatility season after season.
How to Wear and Style Ponte Fabric
Ponte fabric is versatile enough to wear year-round for both casual and professional looks. Here are some stylish ways to wear ponte knit clothing:
Dresses
Ponte dresses drape beautifully over the body. Go for fit and flare styles, wrap dresses, sheath dresses, and shirt dress silhouettes to flatter your shape. Ponte dresses work from the office to date night.
Pants
Ponte pants hold you in while remaining stretchy and comfortable. Pair ponte leggings, trousers, or skinny pants with tunics, sweaters, and blouses. The fabric is thick enough to hide any lumps and bumps.
Skirts
Ponte pencil skirts and A-line midi skirts have a flattering silhouette. Tuck in a blouse or sweater, or wear skater styles with graphic tees. Go for faux leather accents for an edgy twist.
Tops
Flowy ponte tops pair perfectly with jeans, skirts, and dress pants. Look for interesting details like cold shoulder cutouts or off-the-shoulder necklines to elevate basic ponte tops.
Outerwear
Ponte makes for fantastic lightweight jackets and blazers. The fabric provides enough warmth for spring and fall while remaining breathable. Ponte moto jackets and bomber jackets add instant polish.
Accessories
Statement ponte accessories like handbags, clutches, belts, and scarves can instantly elevate any outfit. Go for eye-catching hardware, texture, and bold colors.
Ponte is so versatile, it can be worn year-round for chic, comfortable ensembles. Having key pieces like dresses, pants, tops, and outwear in ponte will make getting dressed effortless!
Outfit Ideas
Here are a few chic outfit ideas to inspire you to wear ponte:
Ponte skater dress and ankle boots for weekend wear
Faux leather leggings, ponte blazer, and graphic tee for a night out
Ponte cigarette pants with a silk cami and heels for date night
Ponte midi skirt with a tucked in sweater and loafers for work
Ponte moto jacket, jeans, and a striped tee for casual cool
Ponte shift dress with a belt and wedges for summer
Ponte trench coat atop a sheath dress and booties for spring
Mix textures like ponte with lace, silk, leather, or knit
Where to Buy Ponte Fabric
Ponte knit fabric is carried by many fabric stores and online retailers. Here are some great places to buy ponte fabric:
Fabric.com: Wide range of ponte styles, weights, colors, and prints
Mood Fabrics: High-quality designer ponte available by the yard
Joann: Affordable ponte selections in variety of colors and finishes
Girl Charlee: Ponte fabric along with sewing patterns and accessories
Amazon: Budget-friendly basic ponte knits
Ready-to-wear ponte garments can also be found at stores like Nordstrom, Aritzia, Ann Taylor, NY&Co., and Banana Republic. Department stores generally carry ponte dresses, pants, tops, and outwear during the fall and winter months.
Ponte Fabric FAQ
Here are answers to some frequently asked questions about ponte fabric:
What is the difference between ponte and ponte roma?
Ponte and ponte roma refer to the same fabric. Ponte roma is the original term for the fabric that comes from Italy, but ponte has become the commonly used name.
What thickness is ponte fabric?
Ponte ranges from medium to heavy weight, typically between 8 oz to 16 oz per yard. Most often, ponte is around 12 oz with a substantial, stable drape.
Does ponte fabric stretch out?
Ponte fabric holds its shape exceptionally well due to the tight double knit construction. It retains the original stretch and does not bag out.
Is ponte fabric breathable?
Yes, the rayon content in ponte makes it more breathable than an all polyester double knit. It resists overheating in warm weather.
Can you wear ponte year-round?
Definitely! Ponte fabric is lightweight enough for spring and summer but also provides enough warmth for fall and winter wear. It transitions beautifully between seasons.
Conclusion
With its flattering drape, comfortable stretch, and versatile wearability, it's easy to see why ponte knit has become such a staple fabric. Ponte offers the perfect amount of structure with plenty of softness for day-to-night dressing. This complete ponte fabric guide covered its unique construction, ideal characteristics, care, styling, and where to buy. So try out this ever-popular double knit fabric for yourself!