Men's pants come in a variety of fits, with straight fit and slim fit being two of the most popular options. While both offer a clean, tailored look, there are some key differences between straight vs slim fit pants in terms of fit, comfort, versatility and recommended body types.
Understanding the distinctions between these pants styles can help men choose the best fit for their build and preferences. This comprehensive guide examines the characteristics of straight fit and slim fit pants, when to wear each, and how to get the right fit.
What is Straight Fit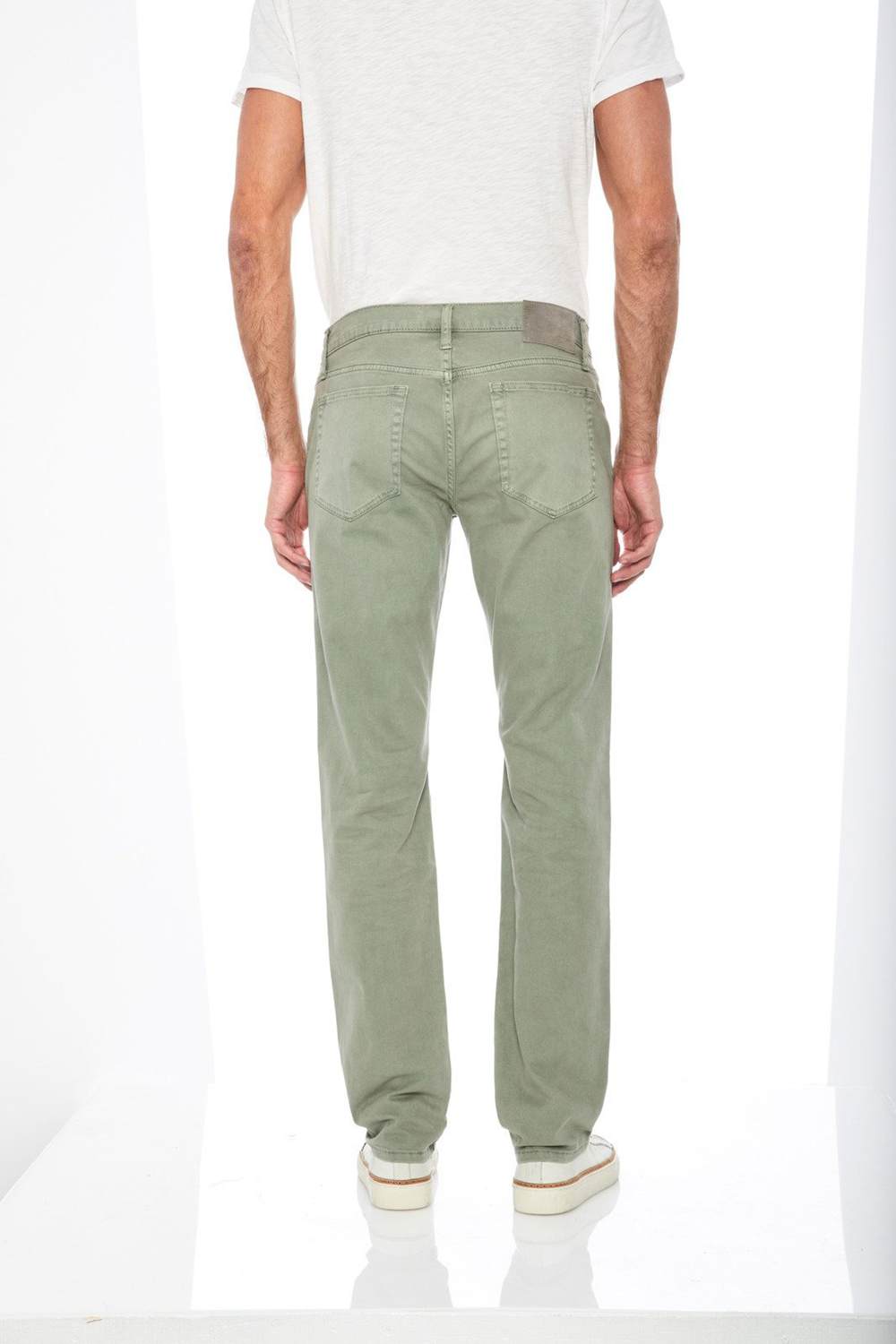 Straight fit pants have a classic, traditional straight leg silhouette from the hip through the leg opening. The fit is roomy through the seat and thighs, then hangs straight down from the knee to the hem opening.
Some key attributes of straight fit pants:
Relaxed through seat and thighs – Straight fit pants have extra room in the seat and thighs to accommodate muscular builds. The fit is not tight or constraining.
Little to no taper from knee to hem – The leg opening is similar in circumference to the knee for a straight, unfapered look.
Versatile enough for both casual and business wear – A straight fit works well for casual weekend looks but is polished enough for the office when needed.
Most relaxed fit for comfort – With ample room through the seat and thighs, straight fit pants offer the most comfort and ease of movement.
Straight fit pants complement men seeking a classic, timeless style that flatters most body types. The generous fit also allows room for fluctuating weight.
What is Slim Fit
Slim fit pants have a narrower silhouette that contours closer to the body without being skintight. The cut tapers from knee to hem for a sleek, polished appearance.
Here are some slim fit characteristics:
Trim through seat and thighs – Slim fit pants are tailored to hug the body with minimal excess fabric through the hips and thighs.
Tapered leg – The leg opening is narrower than the knee or thigh for a slim, streamlined silhouette.
Cropped hem lengths – Many slim fits come in cropped lengths hitting at the ankle or higher to show off shoes.
Sharper creases – Slim fits often have an ironed crease running vertically down each pant leg for a polished look.
Dressier aesthetic – Slim fit pants veer more formal and stylish rather than casual.
The slim silhouette complements men with athletic or slender builds best. The tapered cut also helps elongate shorter frames.
Key Differences Between Straight vs Slim Fit
While both straight and slim fits have their merits, understanding the core differences can make choosing between them easier:
| Straight Fit | Slim Fit |
| --- | --- |
| Relaxed through seat and thighs | Contours close to body |
| No taper from knee to hem | Leg tapers from knee to hem |
| Versatile dress to casual wear | Dressier, polished aesthetic |
| Roomier comfort with ease of movement | Tailored for athletic/slim builds |
| Flatters most body types | Elongates shorter frames |
In summary, straight fits prioritize comfort and versatility while slim fits optimize a sharp, elegant silhouette. Neither is inherently better, but certain builds and personal styles are better complemented by one versus the other.
How Should Straight Fit Pants Fit
Since straight fit pants are roomier overall, getting the right fit involves a balance of allowing enough space while maintaining a clean appearance.
Follow these tips for achieving an optimal straight fit:
Waist – The waistband should sit comfortably at the natural waist without gapping, sagging or squeezing. Leave room for breathing and movement.
Seat – Allow ample room to sit comfortably without pulling across the hips and rear. About an inch of ease is ideal.
Thighs – No pulling or restrictive feeling, even when seated. The pants should hang straight down from the thighs without a taper.
Length – A slight break at the shoes looks best for full length pants. Cropped pants can hit mid-calf to ankle.
Leg opening – The hem circumference should align with the knees for an unfapered straight silhouette.
Getting the waist size right is key – too big and the pants will sag. Too small and the fit will be snug. Start with your typical waist size and adjust up or down as needed.
How Should Slim Fit Pants Fit
Since slim fits contour closer to the body, getting the measurements right is crucial for both appearance and comfort. Use these guidelines for optimal slim fit:
Waist – Slim enough to avoid gapping but not so tight as to pinch. Allow stretch and wiggle room. Sit and bend to test range of motion.
Seat – Snug enough to skim the contours of the rear without pulling or limitation of movement.
Thighs – Closely fitted to the thigh shape without overly constricting. Taper downward from mid-thigh.
Length – Cropped slim fits should hit mid-calf to ankle bone to showcase shoes. Full lengths can have a slight break.
Leg opening – Tapered to be narrower than the knee circumference for a slim leg profile.
Getting an accurate waist measurement and trying on different sizes is key to prevent a too-loose or too-tight waist. Stretch fabrics also help provide flexibility.
Which Body Types are Best Suited for Each Fit
While all body types can potentially wear straight and slim fits well, some frames are better complemented by one over the other.
Straight Fit Works Best For:
Muscular builds needing room through the seat and thighs
Fuller figures that need ease through the stomach and hips
Athletic or stocky legs that would feel constricted in a tapered cut
Shorter men who want to elongate their frame with a straight silhouette
Men who prefer roomier comfort and range of motion
Slim Fit Flatters:
Slim, trim physiques lacking excess bulk or padding
Men with narrow hips and thighs who want a contoured look
Long and lean body types seeking definition through the legs
Shorter men wanting to appear taller with a cropped, tapered cut
Style-conscious men aiming for a sleek, sharp aesthetic
Try on various fits and walk around to see which offers the ideal balance of flattering your physique while allowing comfortable movement.
When to Wear Straight Fit vs Slim Fit
Beyond body type, consider the styling versatility and appropriateness of each fit for different situations:
Straight fit works well for:
Casual daytime activities – weekends, errands, travel, etc.
Informal social gatherings with friends
Relaxed office environments or business casual dress code
Jobs requiring mobility – trade work, physical labor, etc.
Men with fluctuating weight who need room to size up or down
Slim fit is preferable for:
Professional business or formal events – meetings, dinners, weddings
Going out – parties, clubs, dates, and nightlife
Fashion-conscious men interested in current trends
Showcasing dress shoes with a cropped hem
Adding sleek definition to an athletic physique
Consider your lifestyle, job, and typical dress codes when deciding which fit suits your needs. Both styles can work in multiple contexts with the right styling.
How to Style Straight vs Slim Fits
Properly styling straight and slim fits can maximize their aesthetic potential:
**For straight fits: **
Balance with slimmer tops – fitted shirts, sweaters, and jackets
Monochromatic color palettes lend a streamlined appearance
Clean, classic shoes like leather oxfords and loafers
Crisp ironing maintains a polished look
For slim fits:
Pair with slim tops without excess fabric
Monochromatic black, white, and gray for an elegant look
Sleek Chelsea boots, dress shoes, or white minimal sneakers
Add a blazer or sports coat for sharper definition
Tuck in fitted button-up shirts to showcase the tapered cut
Both fits can be dressed up or down seamlessly. Straight fits work especially well for day-to-night outfits.
Finding the Best Brands for Each Fit
Certain clothing brands cater to either the straight or slim aesthetic. Here are some top recommendations:
Notable Straight Fit Brands:
Levi's (particularly the 501 and 505 cuts)
Wrangler (Cowboy Cut)
Lee (Relaxed Fit)
Carhartt (Loose Fit Work Dungarees)
Dickies (Original 874 Work Pant)
Preferred Slim Fit Brands:
J.Crew (484 Slim Fit)
Banana Republic (Aiden Slim)
Bonobos (Slim Straight)
Uniqlo (Slim Fit Selvedge)
Topman (Slim Fit)
Try these brands for high quality, well-fitting versions of both straight leg and slim fits. Focus on brands specializing in your preferred silhouette.
Achieving the Perfect Straight or Slim Fit
Finding well-fitted pants that complement your body doesn't have to be a hassle. Follow these tips for straight and slim fit success:
Know your measurements – waist, inseam, thigh width to choose optimal sizes
Try on multiple sizes – sizes vary between brands and cuts
Prioritize comfort – pants should allow free movement without pinching
Consider height and build – straight or slim can elongate different frames
Assess activity needs – mobility may dictate looser or tighter fits
Get alterations if needed – hemming, waist adjustment, and tapering services
Style thoughtfully – pair with optimal tops, shoes, and accessories
Shop recommended brands – find experts in the fit you want
With a clear understanding of straight versus slim fits, you can now confidently choose and style pants that highlight your physique and personal style. Define your shape while maintaining comfort – the best of both worlds!
Frequently Asked Questions about Straight and Slim Fit Pants
Still deciding between straight and slim fits? Here are answers to some frequently asked questions:
Which is more comfortable, straight or slim fit?
Straight fit is considered more comfortable with its roomy cut, particularly through the seat and thighs. It offers the most ease of movement. Slim can feel restrictive if sized too small.
What is the most versatile fit?
Straight fit can go seamlessly from casual daytime wear to dressed up business looks. The relaxed cut accommodates fluctuating weights and allows greater mobility too.
Which is better for hot weather?
Loose straight fits allow more airflow and breathability, making them the better choice for hot climates and seasons.
Which fit will last longer with shifting weights?
With extra room through the hips and thighs, straight fit can better accommodate weight changes without fitting too loosely or tightly.
Which is better for commuting or traveling?
Straight fit allows freer movement, making it ideal for commuting, long flights, or road trips where comfort is key. The looser cut is also more forgiving after hours of wear.
Can shorter men wear slim fits?
Yes, a cropped slim fit tapered to the ankle can elongate shorter frames. But a longer straight fit may visually balance the proportions better. Try on both.
Do slim fits work for bigger guys?
Slim fits can be challenging for larger frames, but athletic or muscular builds without excess fat can potentially pull it off well. Focus on stretch fabrics and sizing up for room.
What shoes work best with each?
Straight fits pair well with classic leather shoes like oxfords and loafers. Slim fits showcase sleeker shoes like Chelseas, dress boots, monk straps, and white minimal sneakers.
Which is suited for business or formal wear?
A tailored slim fit is considered more refined and elegant for business meetings, events, and formal occasions. But a crisp straight fit can work too.
Conclusion
When deciding between straight vs slim fit pants, consider your body type, comfort needs, and style goals. Straight fits prioritize comfort across casual and business contexts for most body types. Slim fits provide a sharper, sleeker aesthetic best suited to trim builds and dressier occasions.
Hopefully this detailed overview has provided clarity on maximizing the advantages of both straight leg and slim fits. With an understanding of the key differences, you can now confidently choose and style the best pants silhouettes for your needs and look.