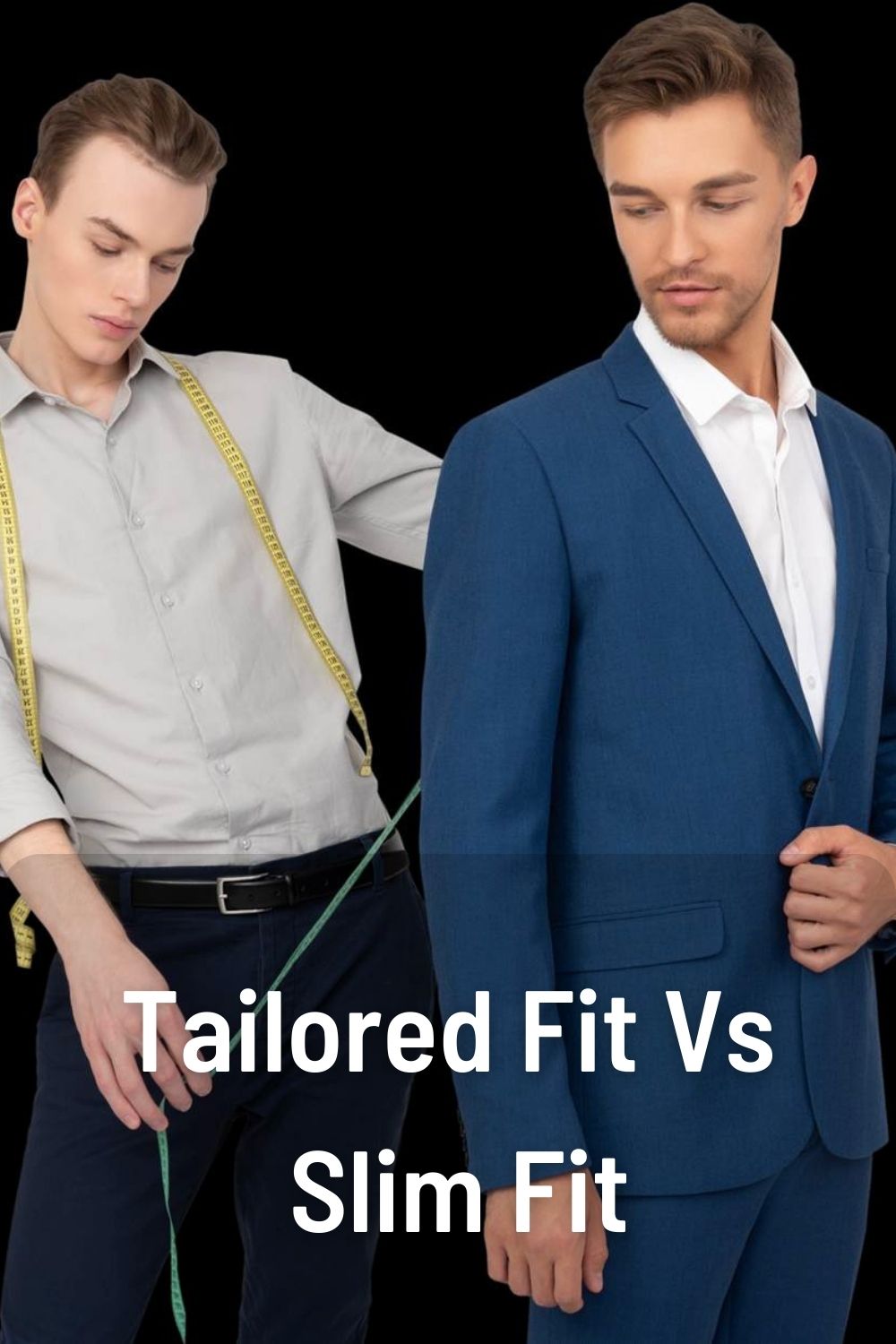 Men's suits come in a variety of fits, with the two most popular being tailored fit and slim fit. While both fits create a trim, sharp silhouette, there are some key differences between tailored and slim that men should understand when shopping for a suit.
In this comprehensive guide, we'll explain exactly what tailored and slim fits are, how they differ in terms of style and comfort, and which body types they are most flattering for. Read on for an in-depth look at tailored vs slim fit suits.
What is a Tailored Fit Suit
A tailored fit suit is designed to contour the natural shape of a man's body, creating a customized, sharp silhouette. Tailored fit suits have a trim cut through the chest, shoulders, and waist, but are not restrictive in movement.
The hallmarks of a tailored suit are:
Closely follows the contours of the body – The jacket tapers in at the waist to highlight the shoulders and chest. The pants are trim through the hips and thighs.
Minimal extra fabric – A tailored suit has just enough extra room to avoid tight pulling across the back and shoulders when moving. There are no billowy or boxy areas.
Clean, refined lines – The lapels, sleeves, and pant legs are cut straight and smooth to maintain clean lines. There is minimal bunching or wrinkling.
Comfort with mobility – Despite the trim fit, a tailored suit allows for good range of motion. The wearer should not feel restricted.
Precise sleeve length – Jacket sleeves hit right at the wrist bone for optimal fit and to showcase just a hint of shirt cuff.
Reflects the wearer's shape – A tailored suit is designed specifically for the individual's body measurements, not mass produced in generic sizes.
Overall, a tailored suit reflects and flatters the natural V-shape of a man's body, with broad shoulders tapering down to a narrow waist. This creates a polished, refined silhouette perfect for both business and formal occasions.
What is a Slim Fit Suit
A slim fit suit also has a narrow, body-skimming silhouette. However, slim fits tend to be more snug than tailored fits, particularly through the hips and thighs.
Characteristics of a slim fit suit:
Very narrow throughout – Slim fit jackets taper extremely close to the body from shoulders to waist. Slim fit pants are narrow through the hips and thighs.
Less room to move – Slim fit suits have less ease of movement than tailored fits. The snugger cut can feel restrictive at times.
Prone to wrinkling/bunching – The lack of extra fabric can cause pulling and wrinkling, especially when sitting or moving.
Small, shortened lapels – Slim fit jacket lapels are narrower and shorter to complement the narrow cut.
Tapered leg opening – Slim fit pants have a narrow leg opening, even when uncuffed.
Overall, slim fits create a very sleek, contemporary look popularized by rock stars and celebrities. However, they sacrifice some comfort for a ultra-slim silhouette.
Key Differences Between Tailored and Slim Fits
Now that we've defined both tailored and slim fit suits, let's directly compare the differences:
| Factor | Tailored Fit | Slim Fit |
| --- | --- | --- |
| Silhouette | Contoured but not overly tight | Very narrow and form-fitting |
| Chest/waist | Trim through chest and waist | Extremely tight in chest and waist |
| Shoulders | Follows natural shoulder line | Can pull at shoulders due to tight fit |
| Sleeves | Trim down to wrist bone | Tight, can pull at forearm |
| Thighs | Trim and tapered | Very tight through thighs |
| Leg opening | Tapered leg, not too narrow | Very narrow leg opening |
| Comfort | Allows easy movement | Can restrict movement |
| Wrinkling | Minimal wrinkling | Prone to pulling and wrinkling |
| Lapels | Proportionate to jacket | Smaller, shorter lapels |
| Customization | Made-to-measure | Off-the-rack sizing |
As you can see, while both tailored and slim deliver a sharp, streamlined look, tailored offers more comfort and range of motion due to its less restrictive cut. Slim fits prioritize an ultra-sleek silhouette over ease of wear.
Which Body Types Do Tailored and Slim Fits Flatter
The difference in silhouette between tailored and slim suits make them suited for different body types:
Tailored Fit Flatters:
Athletic builds
Broad shoulders
Muscular arms/chest
Defined waist
Large quads/thighs
The tailored fit complements men with V-shaped bodies by showcasing their strong shoulders, defined waist, and muscular legs. The jacket contours the chest and arm muscles while the pants accommodate thick thighs.
Slim Fit Flatters:
Lean/thin builds
Narrow shoulders
Thin arms and chest
Straight waist
Slim fits work best on men with long, lean frames. The narrow cut offsets narrow shoulders and thin limbs. Slim suits give thin men more shape and definition.
Men with fuller builds may look constrained in tight slim fits, while skinny men can appear drowned in the excess fabric of a tailored suit. Choose the suit that accents your natural physique.
How to Choose Between Tailored and Slim Fits
When deciding between a tailored vs slim fit suit, consider the following factors:
Body Type – Choose the fit that flatters your unique build
Purpose – Tailored suits work for both formal and casual occasions. Slim suits tend to have a trendy, fashion-forward vibe.
Comfort Level – Tailored offers the best freedom of movement. Slim can feel restrictive.
Style Goals – Slim has a contemporary, edgy aesthetic. Tailored is refined and timeless.
Customization – Tailored suits can be fully customized. Most slim suits come in standard sizes.
Budget – Tailored suits from a quality brand have a higher price tag. Slim suits are widely available at lower price points.
Try on both tailored and slim suits to see which style resonates with your preferences and style goals. Many men own suits in both fits for different occasions.
Finding the Best Tailored and Slim Fit Suits
Now that understand the key differences between tailored vs slim fits, here are some brand recommendations:
Best Tailored Fit Suit Brands
Brooks Brothers – Offer different levels of tailoring for an exact fit
Hugo Boss – Precision German tailoring and quality craftsmanship
Armani – Sophisticated Italian style with excellent tailoring
Ralph Lauren Purple Label – Impeccable made-to-measure suits
Tom Ford – Ultimate luxury tailoring and exclusivity
Best Slim Fit Suit Brands
J.Crew – A reasonably priced go-to for men's slim fit suits
Banana Republic – Modern, well-priced slim suits perfect for the office
Charles Tyrwhitt – Refined British tailoring in contemporary slim cuts
Ted Baker – Playful details and prints on slim, stretch-wool suits
Suitsupply – Trend-driven slim suits at accessible price points
Shop around to find a brand that suits both your style preferences and budget. A trusted tailor can also adjust any off-the-rack suit for an ideal tailored or slim fit. Invest wisely in a quality suit that flatters your physique.
Conclusion
Both tailored and slim fit suits have unique merits. Tailored fit provides an elegant, refined silhouette with ample mobility. Slim fit makes a contemporary fashion statement with its ultra-tight cut.
Consider your individual frame, style goals, and comfort needs when deciding between tailored vs. slim. Choose the most flattering option that allows you to feel both polished and confident. With proper care and tailoring, a well-made suit in either tailored or slim fit will serve you impressively for years to come.
Frequently Asked Questions (FAQ)
Q: What is the main difference between tailored and slim fit suits?
A: The main difference is that tailored fit hugs the body while allowing comfortable movement, while slim fit is extremely tight and restrictive. Tailored suits contour the natural shape, while slim suits mold a very narrow, sleek silhouette.
Q: Which fit is better for an athletic build?
A: Tailored fit is better for athletic men, as it flatters broad shoulders and muscular thighs without feeling too tight. Slim fit can overly constrain muscles and feel uncomfortable.
Q: Are tailored fit suits able to be adjusted?
A: Yes, a good tailor can make minor adjustments to a tailored suit for an even better customized fit. The tailor can tweak areas like the waist, sleeves, shoulders and length.
Q: Can overweight men wear slim fit suits?
A: Slim fit suits are not recommended for overweight or stocky men, as the tight cut can overly accentuate the stomach and love handles. A tailored fit is a far more flattering option.
Q: Which fit will last longer over time?
A: Tailored fit suits tend to last longer and hold up better, as the slight extra room allows the fabric to flex comfortably and not pull excessively. Slim fits tend to wear out faster due to restricted movement and straining fabric.