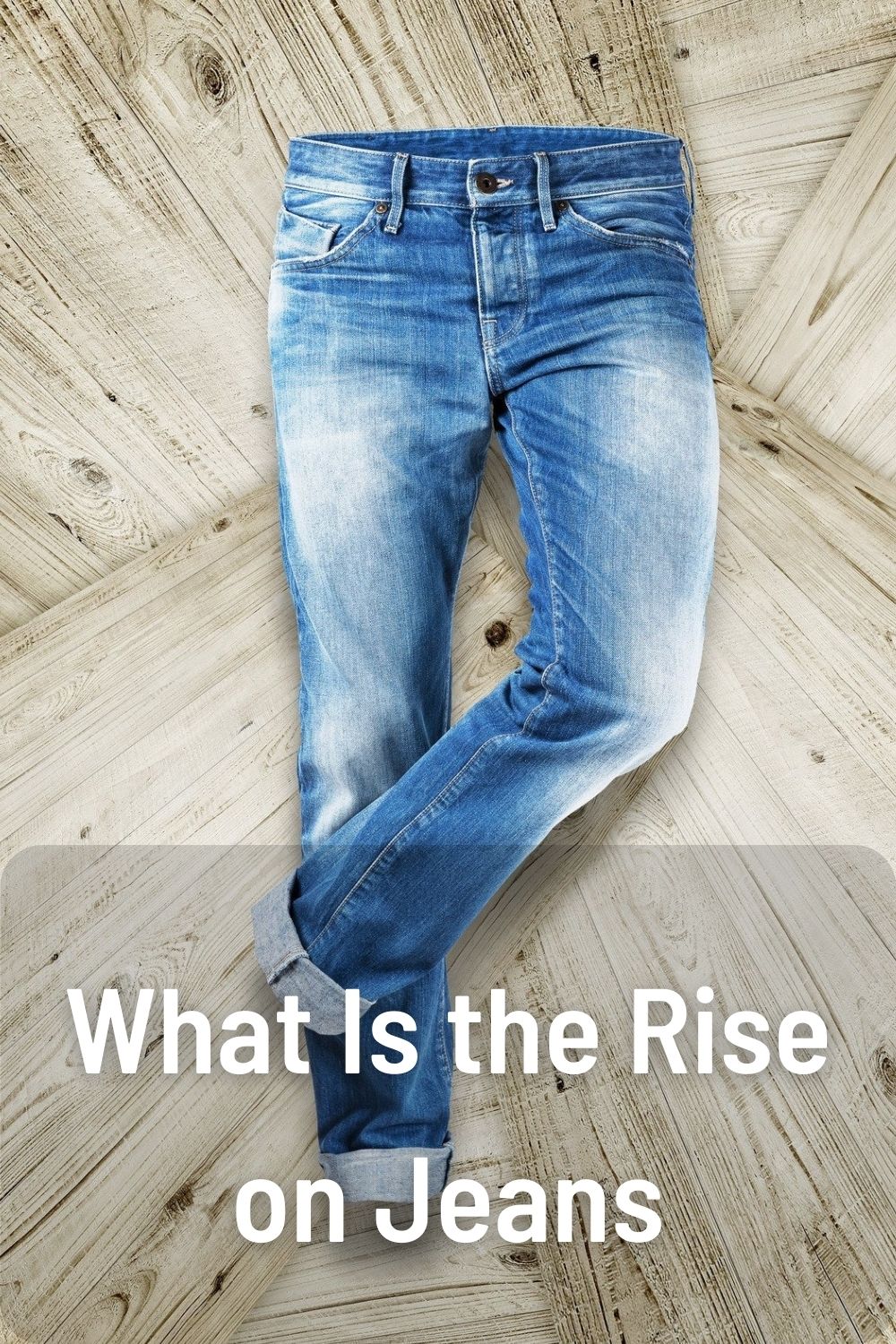 The rise on jeans refers to the vertical distance between the crotch seam and the top edge of the waistband. This measurement determines how high or low the jeans will sit on your waist. The rise is one of the two key elements, along with the leg opening, that define the overall fit and style of a pair of jeans.
Understanding the different types of rises and how they affect the fit is crucial to finding your ideal pair of jeans that flatters your body type. In this comprehensive guide, we'll cover everything you need to know about jeans rises including:
The 3 Main Types of Rises
There are three main types of rises in jeans today:
Low Rise Jeans
The waistband sits well below the navel, usually around 2-4 inches down from your natural waistline.
Low rise jeans have the shortest rise out of the three types.
This rise hits at the hip bones and exposes the midsection, lower abdomen and sometimes even the belly button.
Low rise jeans create the illusion of longer legs and accentuate curves due to the short rise height.
This style offers minimal coverage through the stomach and hip region. The jeans will hug the hips closely.
Best for those with shorter torsos, low rise jeans are popular among younger generations looking for a sexy, figure-flaunting style.
Mid Rise Jeans
The waistband of mid rise jeans sits around the navel area, usually between 4-6 inches below your natural waist.
This is the most popular and versatile rise that flatters most body types.
Mid rise jeans provide a balanced coverage through the hips, stomach and love handles compared to low or high rises.
The fit through the thighs and hips can vary from loose to skinny. Mid rise jeans work well with fitted, straight or boot cut legs.
This classic rise height pairs perfectly with cropped, tucked and untucked tops.
High Rise Jeans
The waistband on high rise jeans sits above the belly button, typically 7-10 inches below your natural waist.
High rise provides the most coverage out of all the rises. The extra fabric covers the navel, abdomen and goes up to the narrowest part of your waist.
This rise hits around the smallest part of your midsection, creating a smoothing effect and elongated silhouette through the hips and thighs.
The legs often have a looser, straighter fit to balance the fitted waist. Wearers achieve a retro-inspired, vintage style.
High rise works best for those with longer torsos. The high waistband defines your waistline beautifully.
Here is a summary comparison of the three main jeans rises:
| Rise Type | Waistband Height | Inseam Length | Coverage |
| --- | --- | --- | --- |
| Low Rise | 2-4 inches below waist | Shorter inseam | Exposes midriff and hips |
| Mid Rise | At navel, 4-6 inches below waist | Moderate inseam | Flatters most body types |
| High Rise | Above navel, 7-10 inches below waist | Longer inseam | Covers midsection |
How Rise Impacts the Fit & Look of Jeans
Choosing the right rise height can drastically affect how jeans fit your body as well as the overall look you achieve. Here is an in-depth overview:
Low Rise Jeans
Fit: Hip hugging and figure contouring through the hips and thigh area. The snugness provides minimal tummy coverage.
Look: Creates a leg lengthening effect and youthful, sexy silhouette. Potential for muffin top and plumber's crack if too tight through the waist and hips.
Best for: Shorter torsos, wearing low cut and cropped tops, showing off curves
Mid Rise Jeans
Fit: Offer versatility from loose to tight through the hips, thighs and bottom. Smooths over the lower stomach and love handles.
Look: The most universally flattering rise that complements all figures. Balances comfort and coverage.
Best for: All body types. Especially curvy and athletic figures looking for a classic silhouette.
High Rise Jeans
Fit: Cinches the waistline and hugs the narrowest part of your torso. Looser through the hips and legs to balance the fitted waist. Requires the right waistband size to avoid gapping.
Look: Elongates the legs and creates a smoother overall silhouette. Achieve a retro, vintage vibe.
Best for: Longer torsos, accentuating your waist, creating sleek curves
Consider the amount of coverage you want along with your body's unique proportions when choosing a rise. Lower rises show more skin and curves, while higher rises smooth and conceal.
Determining Your Ideal Rise Length
Finding your perfect rise means taking into account your body shape, torso length and personal style preferences. Follow these tips when shopping for jeans to determine your ideal rise:
Take measurements of your natural waistline to understand your torso length. Longer torsos typically suit high rises, while shorter torsos match better with low or mid rise jeans.
Consider your hip and stomach proportions. Curvier figures with defined waistlines often look great in mid to high rise jeans. Low rises can help elongate narrower, straighter torsos.
Decide if you want to show off or cover up. Lower rises pair perfectly with cropped tops to show some midriff. Higher rises create a polished look and cover the stomach.
Try on the same pair of jeans in different rises. Pay attention to the gapping, fit and overall comfort through your waist, stomach and hip regions.
The perfect high rise jean will sit just under your bra line without creating gaps at the waistband or back while standing and sitting.
Low rise jeans should never pinch at your waist or hips. Make sure there's no spilling out or muffin topping.
For mid rise lovers, the waistband should gently hit around belly button level before feeling restrictive.
Experiment with different rises and brands until you find the measurements that fit your proportions and style needs.
Comparing Women's vs Men's Jeans Rises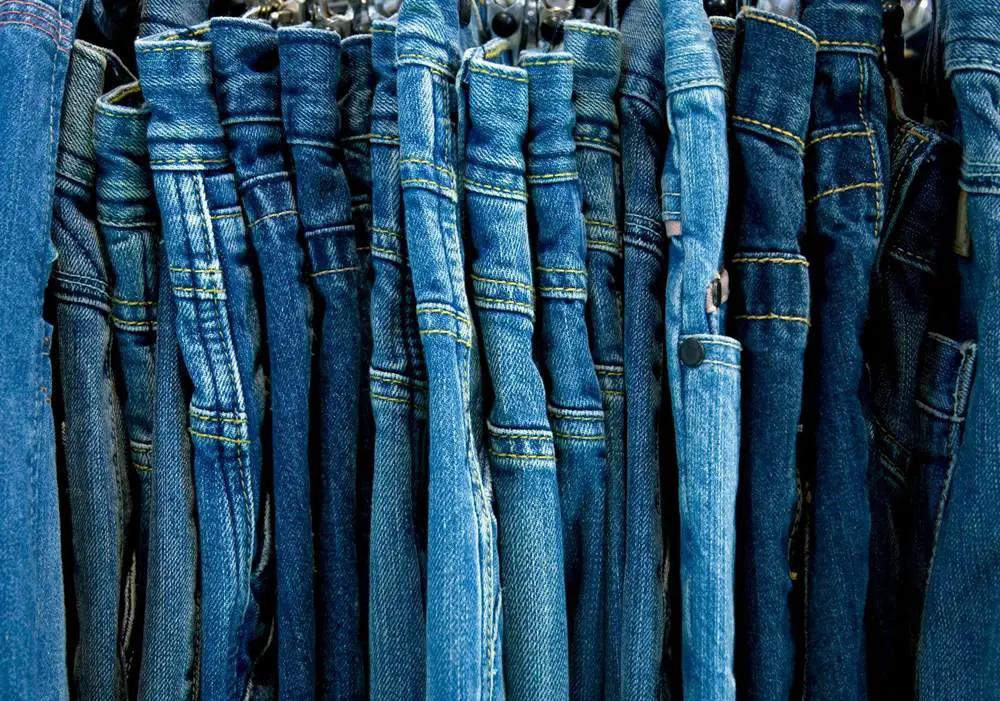 While the concept of rise is the same for women's and men's jeans, there are some slight differences:
Women's jeans offer a wider range of rise options, from 1-2 inch ultra low to 12+ inch high rises. Men's jeans typically only go from 3-5 inch low to 8-12 inch high rises.
Men's sizing tends to be more consistent between brands. A low rise is usually 3-5 inches across the board. Women's low rises could be anywhere from 1-4 inches depending on the trend.
Women can pull off higher rises more easily such as 10+ inches. On men's bodies, these extra high rises risk looking like "grandpa jeans."
Men's bodies accommodate lower rises due to straighter hips and torsos. Ultra low rises under 3 inches may cause pocket gapping on curvier women's figures.
Unisex high rise jeans will sit at the natural waist on men and well above the navel on women. Measure your body to find the proper inch measurements.
While men and women's rise dimensions differ, the goal remains finding the most flattering rise for your unique body shape and size.
The Evolution of Jeans Rises Through History
Jeans rises have fluctuated with fashion trends and silhouettes throughout history. Here is an overview of how rises have evolved over time:
Late 1800s: High waisted jeans emerge as functional workwear for miners, railway men and cowboys. Rises range from 8-12 inches to allow mobility. Levi's introduces early jeans for both men and women.
1920s: Jeans lower to 4-6 inches in line with the flapper era drop-waist dresses and skirts. More casual denim is acceptable for women.
1930s-1940s: The high rise returns as jeans become mainstream apparel. Rises hit 10 inches or above the navel, emphasizing the hourglass figure.
1950s: High waists remain popular around 10-12 inches. Denim becomes casual wear for housewives and teens. James Dean makes jeans a symbol of youth rebellion.
1960s: Lower rises re-emerge with hip huggers down to 3 inches. Bell bottoms gain popularity. Jeans represent counterculture.
1970s: Extremes emerge with 1-inch super low rises and 12+ inch high rises. Jeans fit closely on the body and show off curves.
1980s: Loose, relaxed men's and women's jeans have mid to high 10+ inch rises. Jeans are worn for comfort and utility.
1990s: Super low rises return to highlight feminine sensuality. Stretch denim sculpts the body. Men's jeans lower to 3-5 inches.
2000s: Low rises reign from hip huggers to just below the navel. Waistbands sit below hips rather than at the waist. Jeggings appear.
2010s: High waist and "mom jeans" come back into vogue inspired by retro style. Rises across the board gain acceptance.
2020s: The full range exists today from ultra low to sky-high rises. Classic mid rise works for most.
Rise preferences will continue to change along with body ideals and trends. Focus on choosing rises that properly fit your proportions.
Frequently Asked Questions About Jeans Rises
Here are answers to some common FAQs about rises in jeans:
What is the most versatile jeans rise?
The mid rise hits the sweet spot that flatters most body types. At 4-6 inches, it provides great coverage and comfort without being too revealing or constricting. Mid rise works well with a variety of tops from cropped to tucked-in.
How do I know if my jeans have the wrong rise height?
Look for these signs of improper rise fit:
Low rise jeans cause muffin topping, gapping at the back waistband, or exposed undergarments
High rise jeans slide down, slip into your crotch, or gap away from your lower back
Well-fitted jeans of any rise should never pinch, gap or cut into your body
Can I tailor jeans to adjust the rise?
It is possible to tailor jeans rises up or down by 1-2 inches higher or lower through strategic seam alterations. But take care not to distort the original hip and leg proportions. Significant rise changes will throw off the overall construction and intended fit.
What other jean details affect the fit?
Along with the rise, these factors also impact jeans fit and proportions:
Waistband type – straight, contoured, wide, narrow
Hip and thigh roominess – loose to tight through seat
Leg tapering – skinny, straight, bootcut, flare
Stretch level of denim – rigid to stretchy fabric
Zipper, buttons and closures – length and placement
How can I find the perfect high rise jeans?
Look for these ideal features in high rise jeans:
9 to 12 inch rise or higher to hit your natural waistline
Stretch denim constructs the right amount of hug while allowing mobility
Waistband stays parallel to the floor without slipping or rolling
Smooth, gapless waistband lies flat against lower back
Relaxed fit through hips and thighs balances fitted waist