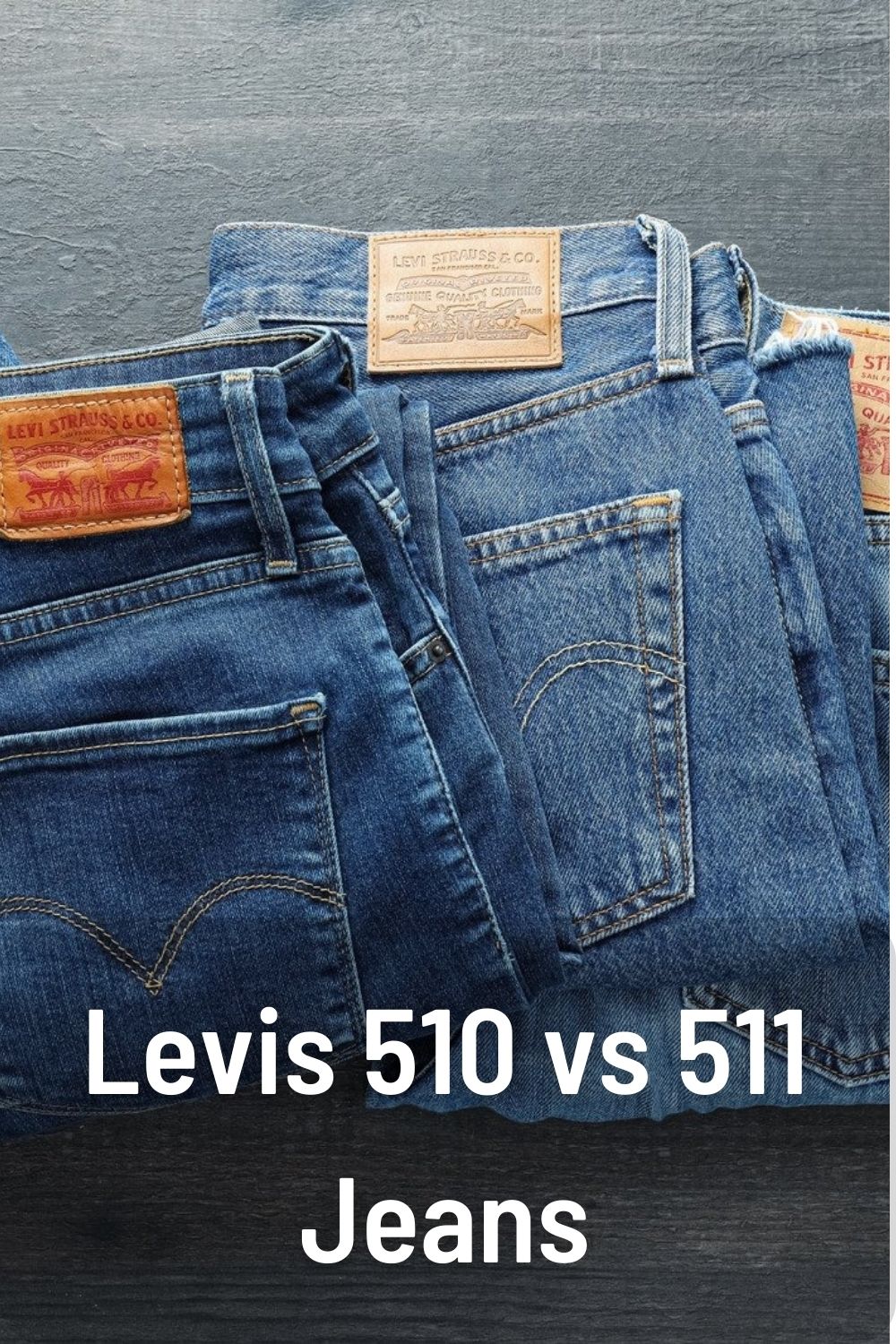 Levis 510 and 511 jeans are two of the most popular skinny jeans for men. While they look similar, there are some key differences between the 510 and 511 fits that are worth understanding before making a purchase. This article will compare and contrast the Levis 510 and 511 cuts, highlighting the unique features of each jean style.
Background on Levis 510 and 511 Jeans
Levis is an iconic American denim brand that has been around since the 1850s. They produce a wide range of jean fits and washes, with the 510 and 511 models being two of their slimmest fits geared towards guys who prefer skinny jeans.
The 510 is Levi's slimmest fit, while the 511 is their slim fit. Both the 510 and 511 are low-rise jeans that sit below the waist and are tailored to be form-fitting through the seat and thighs. Here's an overview of each fit:
Levis 510 Jeans
Extremely slim-fitting jeans from hip to ankle
Snug through the seat and thigh
Tapered leg opening
Levis 511 Jeans
Slim-fitting and skinny without being too tight
Slim through the thigh and seat
Skinny leg opening that's slightly wider than the 510
Now let's get into the nitty gritty differences between these two popular Levis skinny cuts.
Fit and Sizing Comparison
The main distinction between the Levis 510 vs 511 is the fit and sizing. The 510 fit is more skinny and slim-fitting than the 511.
Here's a detailed comparison of the fit of 510 vs 511 Levis jeans:
| Fit Detail | Levis 510 | Levis 511 |
| --- | --- | --- |
| Overall fit | Extremely slim | Slim |
| Seat | Very snug | Snug slim |
| Thigh | Very slim | Slim |
| Leg opening | Skinny tapered | Skinny |
As you can see, the 510 has a tighter fit while the 511 is slim without being painted on. The 510 is tailored to be almost skinny jean tight, especially through the leg and thigh. The 511 fit is still slim but leaves a bit more room in the seat and thigh.
In terms of sizing, the 510 tends to run smaller than the 511 due to the ultra slim fit. For the 510, it's best to size up 1-2 inches in the waist compared to your normal jean size. The 511 is more true to size, but sizing up 1 inch may allow for more comfort and flexibility.
The 510 is ideal for guys who want a "super-skinny" fit, while the 511 is a better choice for those looking for a slim tapered look with a bit more room through the seat and thigh.
Rise Comparison
In addition to the fit, another difference between the 510 and 511 is the rise.
The 510 has a low rise around 10 inches
The 511 has a slightly lower rise around 9.5 inches
The lower rise of the 511 jeans sits below the natural waistline for a modern look. The 510 isn't much higher with its low rise design hitting right around the hips.
Both the 510 and 511 are low-rise jeans compared to regular rise jeans. However, the 511 jeans have an even lower rise by about half an inch which enhances the skinny silhouette.
Length Comparison
For inseam length, 510 and 511 Levis jeans come in a standard 32 inch inseam. Shorter or longer inseam lengths can be found at some retailers.
510 inseams: 28″, 30″, 32″, 34″
511 inseams: 28″, 30″, 32″, 34″
So when it comes to inseam options, the 510 and 511 Levis are virtually identical. They share the same standard and alternative inseam measurements.
Leg Opening Comparison
A tapered leg opening is a signature of skinny jeans, and both the 510 and 511 Levis have tapered legs. However, there are subtle differences:
510 leg opening: Approximately 14.5 inches
511 leg opening: Approximately 15 inches
The 510 jeans have a skinnier leg opening of 14.5 inches which creates a slimmer taper. The 511 leg opening is slightly wider at 15 inches but still provides a skinny tapered look.
For reference, regular straight leg jeans have an opening around 16-18 inches. So both the 510 and 511 have much narrower leg openings than traditional jeans.
Fabric Comparison
Levis 510 and 511 jeans come in a variety of denim washes from dark indigo to light. Some popular fabric choices include:
Rigid Dragon (raw rigid denim)
Clean Dark (clean dark wash)
Nightshine (black denim) -sportswear, sweatshirts, lounge pants, athletic shorts
Here's a quick overview of some key fabric differences:
Weight – The 510 is commonly found in lighter 9 oz – 11 oz fabrics. The 511 uses slightly heavier fabrics ranging from 11 oz to 15 oz.
Stretch – 510 fabrics have less stretch with around 1-3% elastane. 511 denim incorporates more stretch with 3-5% elastane.
Feel – Due to the lighter weight and less stretch, 510 denim has more of an old-school rigid jean feel. The 511 fabrics feel a bit sturdier and flexible.
So in summary, the 510 uses lighter-weight denim with minimal stretch for stiffness. The 511 has thicker fabrics with increased stretch for mobility. The 511 denim results in a more modern feel compared to the old-fashioned rigidness of 510.
Style and Wardrobe Uses
The 510 and 511 fits lend themselves to different wardrobe uses:
Levis 510 Styling
Creates a "skinny" look sought after by many guys
Works well with slimmer footwear like converse or Chelsea boots
Pair with shirts and sweaters in slim tailored cuts
Great for going out looks with boots or sneakers
Levis 511 Styling
Provides a slim tapered look with more comfort
Pairs well with bulkier sneakers or work boots
More versatility for layering with looser tops or jackets
Good for casual daytime looks
In summary, the 510 produces an ultra-skinny silhouette designed to be shown off. The roomier 511 can be dressed up or down with greater pairing options from footwear to tops.
Price Comparison
When it comes to cost, Levis 510 and 511 jeans are similarly priced within the $60-$130 range depending on the specific style.
Some pricing examples:
Levis 510 in Rigid Dragon: $98
Levis 511 Slim in Clean Dark: $68
Levis 510 Skinny in Black: $108
Levis 511 Slim Taper in Harbor Blue: $64
On average, the 510 may cost $5-$10 more than the 511. But overall the pricing is comparable between the two fits.
Levis 510 vs 511 Jeans: Summary of Key Differences
| Factor | Levis 510 | Levis 511 |
| --- | --- | --- |
| Fit | Extremely slim | Slim tapered |
| Sizing | Runs small, size up 1-2 inches | True to size |
| Rise | Low rise | Extra low rise |
| Leg Opening | 14.5 inches | 15 inches |
| Fabric Weight | 9-11 oz (lighter) | 11-15 oz (heavier) |
| Fabric Stretch | 1-3% elastane | 3-5% elastane |
| Styling | Skinny look | Slim taper look |
| Price | $60-$130 | $60-$128 |
Frequently Asked Questions
Which Levi's are skinnier: 510 or 511?
The 510 is skinnier than the 511. The 510 has an extremely slim fit through the hips, thighs and down to a skinny tapered leg opening. The 511 is still slim but has a little more room in the seat and thigh for comfort.
Should I size up in 510 or 511?
It's generally advised to size up 1-2 inches in the 510 to achieve the tight skinny look. The 511 fits more true to size, but sizing up one inch can allow for more mobility if desired.
What's the difference between 510 and 511 leg opening?
The 510 leg opening tapers down to around 14.5 inches for a skinny look. The 511 leg opening is slightly wider at 15 inches, but still much narrower than original straight leg jeans.
Are 510 or 511 jeans higher waisted?
Neither the 510 or 511 are high waisted jeans. They both sit low on the hips in a modern look. The 511 does have a rise that's about 1/2 inch lower than the 510, enhancing it's skinny silhouette.
Which is stretcher: 510 or 511 denim?
The 511 denim incorporates 3-5% elastane stretch while the 510 only has 1-3% elastane. So the 511 denim has a bit more flex and mobility. The 510 is cut skinnier and has less stretch for more rigidness.