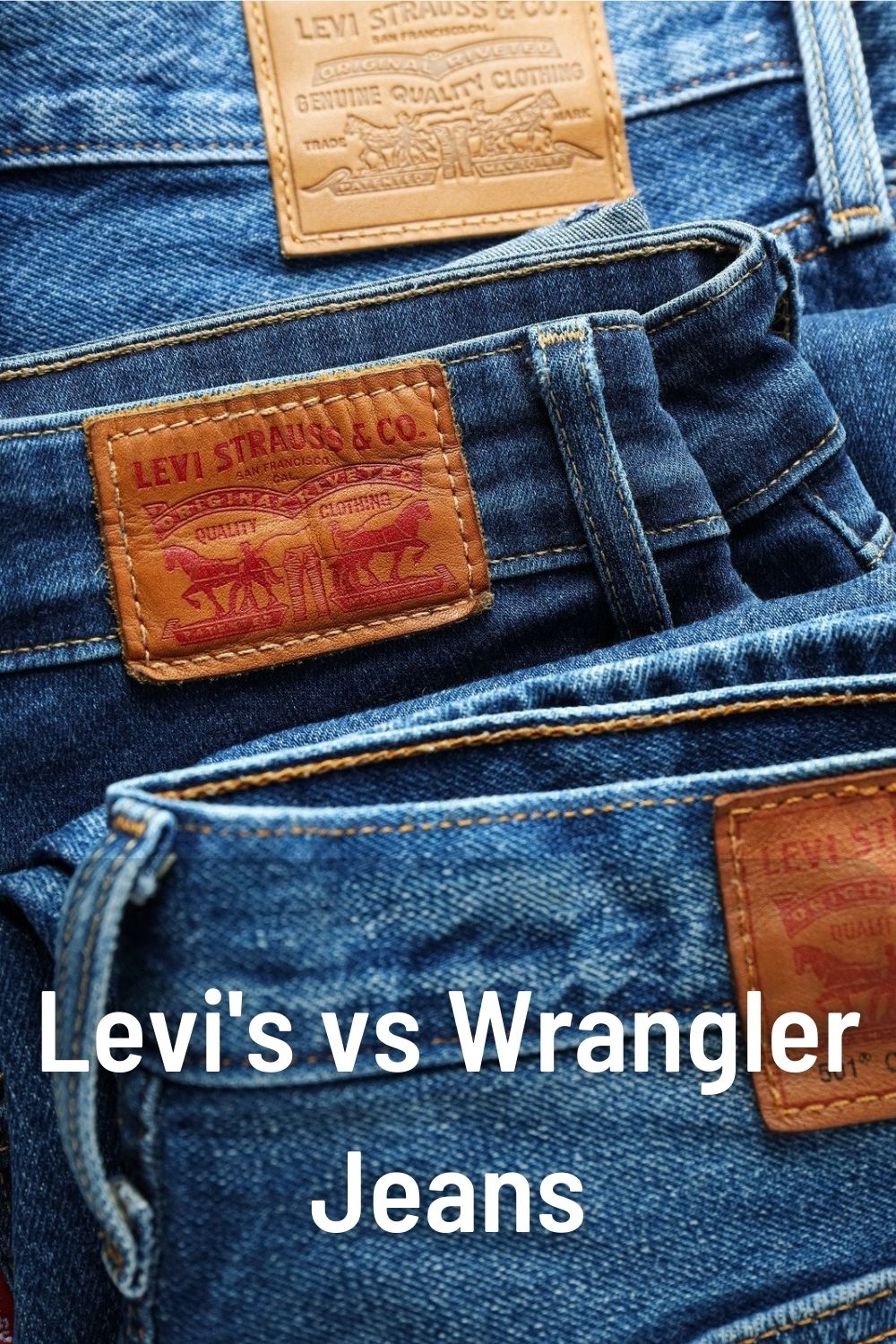 Levi's and Wrangler are two of the most iconic and popular jeans brands in the world. Both companies have been around for over 100 years and have become synonymous with American denim.
But when it comes to choosing between Levi's and Wrangler jeans, which brand is better? In this comprehensive guide, we'll compare Levi's and Wrangler on factors like fit, style, durability, price, sustainability, and more. Read on to find out which denim brand is right for you.
Levi's vs Wrangler: Key Differences
Before diving into the details, here is a quick overview of how Levi's and Wrangler jeans compare:
Fit: Levi's offers a wider range of fits from slim to relaxed. Wrangler focuses more on classic and loose fits.
Style: Levi's has more on-trend modern styles. Wrangler sticks to traditional western and workwear looks.
Durability: Wrangler jeans are known to be slightly more durable. Levi's has improved durability in recent years.
Price: Wrangler jeans are generally cheaper across comparable styles.
Sustainability: Levi's has made greater sustainability commitments like water reduction and cotton recycling.
Heritage: Both brands have long histories, but Levi's is seen as a fashion icon while Wrangler is more associated with cowboys.
Now let's explore each of these factors in-depth.
Levi's vs Wrangler: Fit Comparison
One of the most important considerations when choosing jeans is finding the right fit for your body type. Here's how Levi's and Wrangler compare when it comes to fit:
Levi's Fits
Slim: Levi's 510, 511 skinny jeans
Slim straight: Levi's 514, 513 slim straight jeans
Straight: Levi's 501, 502, 505 regular straight leg jeans
Relaxed straight: Levi's 550, 541 athletic taper jeans
Loose/relaxed: Levi's 560, 570, 569 loose jeans
Levi's offers jeans in a full range of fits from skinny to baggy. This makes it easy to find the perfect pair that flatters your body type. Some of their most popular fits include the 501 original straight jeans, 511 slim fit, and 550 loose fit.
Over the past decade, Levi's has expanded its fits to keep up with demand for slimmer and tapered styles. But they also still offer classic loose fitting jeans.
Wrangler Fits:
Slim: Wrangler Retro Slim fit
Straight: Wrangler Cowboy Cut, Regular Stretch jeans
Relaxed straight: Wrangler Flex Boot Cut
Loose/relaxed: Wrangler Loose Fit, Original Fit
Wrangler's selection caters more towards classic and loose fitting jeans rather than trendy skinny styles. Their most popular fits are the Cowboy Cut, Regular Stretch, and Loose Fit jeans.
Cowboy Cut jeans sit low on the waist with a loose straight leg, while Loose Fit jeans have a roomy seat and thigh with a wide leg opening. Wrangler does offer some slim fits like the Retro Slim, but their focus remains on relaxed styles.
For women, Wrangler primarily carries bootcut, straight, and relaxed jeans focused on comfort and freedom of movement.
Fit Comparison
When it comes to fit, Levi's offers more trend-focused slim and tapered fits. Wrangler has limited skinny options but shines for classic loose fitting jeans.
Levi's has a fit for every body type whether you want tight, loose, high-rise, or mid-rise. Wrangler focuses on their heritage of relaxed American denim.
So Levi's has an edge for fit variety, but Wrangler wins for loose cuts and cowboy styles. Choose Levi's for skinny and slim fits or Wrangler for roomy classic jeans.
Levi's vs Wrangler: Style Comparison
In addition to fit, Levi's and Wrangler have distinct styling differences:
Levi's Style
Known for starting the first blue jeans, Levi's has evolved into a modern fashion-forward brand while still nodding to their workwear roots. Some Levi's style highlights include:
Trendy finishes like holes, fraying, distressing, and embellishments
Diverse washes from light to dark denim
Sleek silhouettes and tapered legs
Options like high-waisted, colored, cropped, and patterned jeans
Collaborations with major designers and retailers
Levi's keeps their styles fresh and exciting for customers of all ages. They aren't afraid to experiment with new cuts, fabrics treatments, and details.
The 501 and 505 remain their most iconic classics. But Levi's is also releasing innovative jeans like shaping and hyperstretch options.
Wrangler Style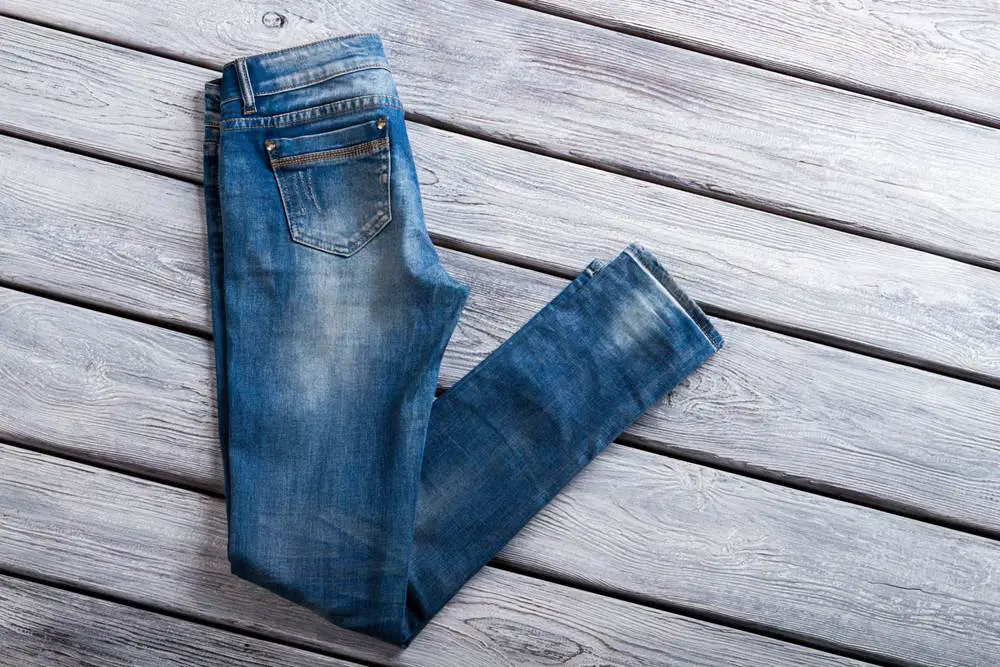 Wrangler sticks to traditional western and workwear inspired styles. Their jeans highlight features like:
Rugged details such as abrasions and reinforced seams
Classic washes from medium blue to black denim
Relaxed legs and loose cuts
Western accents like flap back pockets
Distressed detailing with cowboy cool vibe
Rather than follow short-lived trends, Wrangler focuses on perfecting timeless vintage looks. Even their modern fits have an old-school appeal.
Cowboy Cut, Retro Slim, and Loose Fit jeans are designed just like the Wranglers from decades past. This retro styling attracts customers wanting authentic Americana jeans.
Style Comparison
For style variety, Levi's is the clear winner. They offer diverse finishes, washes, silhouettes, and details to fit any fashion preference.
Wrangler sticks to heritage western details and vintage workwear style. This is great if you want classic cowboy cool jeans. But Levi's has a modern styling edge.
Levi's vs Wrangler: Durability Comparison
Great jeans should be able to hold up to years of wear. Here's how the durability of Levi's vs Wrangler stacks up:
Levi's Durability
In the past, Levi's had a reputation for being less durable than competitors. But they have stepped up their construction and fabrics over the past decade.
Most Levi's jeans are now made with sturdy denim blends featuring:
Tough cotton fabrics with elastane for stretch and recovery
Reinforced stitching at stress points
Quality metal rivets and buttons
Bar tacking at pocket corners for reinforcement
While Levi's improved their durability, many jeans are still focused more on stretch and softness than ruggedness. But options like their Made & Crafted and Vintage Clothing lines use old-school rigid denim for longer wear.
Wrangler Durability
Wrangler jeans have long been known for their ruggedness and longevity. They use construction features like:
Heavyweight all-cotton non-stretch denim
Triple-stitched seams
Heavy duty rivets and buttons
Bar tacks and reinforcements at high abrasion areas
Especially in their Cowboy Cut and Regular Stretch lines, Wrangler jeans are built to handle rough daily wear. Even their modern stretch denim blends maintain a sturdy feel and long lifespan.
For the most durable Wrangler jeans, look for their high-quality, non-stretch Rigid options.
Durability Comparison
When it comes to pure durability, Wrangler inches out Levi's with their workwear-inspired construction. Wrangler jeans especially excel at withstanding outdoor activities and manual labor.
But Levi's improved their denim and design quality to almost rival Wrangler's endurance. Unless you're very rough on your jeans, both Levi's and Wrangler should withstand years of regular wear.
Levi's stretch and softness give them a comfort advantage for all-day wear. But for toughness, Wrangler is still king.
Levi's vs Wrangler: Price Comparison
Pricing is another key factor when buying jeans. Let's see how the cost of Levi's and Wrangler matches up:
Levi's Pricing
For a premium denim brand, Levi's offers affordable prices across most of their jeans. Here are some average prices for new Levi's jeans:
Basic fits like 501 and 505: $40 – $70
Fashion fits like 510 and 511: $50 – $80
Premium lines like Made & Crafted: $130 – $250
On sale, you can often find regular Levi's jeans for under $50 new. Even their higher end designer collaborations are priced below many competitor brands.
Levi's outlets and discount stores also keep prices low on past season styles. Online shops like Amazon offer discounted pricing as well.
Wrangler Pricing
Part of Wrangler's working class appeal comes from their budget-friendly jeans pricing:
Cowboy Cut and Regular Stretch: $25 – $45
Modern slim fits: $35 – $60
Premium lines like Wrangler Riata: $80 – $100
Wrangler's flagship relaxed fits almost all cost under $50 new. Even slim fits with stretch fabric ring up under $60 in most cases.
Department store sales bring Wrangler's already low prices down even further. It's easy to find previous year Wranglers for under $30.
Price Comparison
Across the board, Wrangler jeans sell for notably less than Levi's. You can pay nearly twice as much for comparable Levi's versus Wrangler fits and fabrics.
Levi's targets a more fashion-conscious audience willing to pay for premium finishes and trendy details. Wrangler appeals to value-focused shoppers wanting everyday denim at the lowest cost.
For budget shoppers, Wrangler is the clear price leader. But Levi's competitive pricing makes them accessible for most jeans buyers as well.
Levi's vs Wrangler: Sustainability Comparison
Today's consumers also care about sustainability. So how do Levi's and Wrangler compare when it comes to eco-friendly practices?
Levi's Sustainability
Levi's has made major public commitments to sustainability in recent years:
Water Less TM finishing reduces water usage by up to 96%
Cottonized hemp and other eco fabrics used in some products
Launched tailor shops for repairing, remaking, and recycling jeans
Partners with suppliers using renewable energy and ethical practices
Clear annual sustainability reporting and goals
They are also long-time members of the Sustainable Apparel Coalition. While Levi's has more work to do, they are industry leaders in sustainability.
Wrangler Sustainability
As a subsidiary of Kontoor Brands, Wrangler has adopted some of their parent company's environmental initiatives:
IndigoodTM foam dyeing technology reduces water usage
Small selection of organic cotton jeans introduced
Kontoor joined Sustainable Apparel Coalition in 2019
Minimal sustainability communication or supply chain transparency
However, Wrangler lags behind Levi's when it comes to making sustainability a priority. They will need to strengthen their commitment to eco-friendly production methods and transparency.
Sustainability Comparison
For environmental consciousness, Levi's is far ahead of Wrangler. Levi's shares detailed sustainability reports and measurable goals. Wrangler has fewer visible initiatives or public commitments.
Levi's also offers consumers more eco-friendly jeans options today. Expect Wrangler to boost investments in sustainability to catch up in the future.
Levi's vs Wrangler: Heritage Comparison
Finally, heritage plays a role in both brand's legacies:
Levi's History
Founded in 1853, Levi Strauss & Co pioneered blue jeans and has numerous historical milestones:
Invented first blue jeans in 1873 using durable canvas fabric
Created modern 501 jeans in 1890 with copper rivets for strength
Became popular among cowboys, railroad workers, and miners in the late 1800s
Launched the first jeans for women in 1934
Cultural icon worn by celebrities like Marlon Brando and Steve McQueen
Became a leading global apparel company over the last 50 years
Levi's leaning into fashion partnerships and trends has kept them relevant across generations. Their heritage still shapes the brand, but doesn't define them.
Wrangler History
Founded in 1904 as the Hudson Overall Company, Wrangler also has a storied past:
Made first jeans in 1919 and acquired the Wrangler name in 1943
Outfitted cowboys and rodeo riders throughout the mid 20th century
Pioneered pre-washed jeans in the 1960s
Sponsored pro rodeo athletes and country music stars
Known for classic western and workwear style since the 1970s
Wrangler chooses to celebrate their heritage as true western wear. Their history is front and center rather than an afterthought.
Heritage Comparison
Both Levi's and Wrangler have impressive histories that shaped the denim industry. But Levi's broader pop culture influence gives them an edge.
Levi's blend of legacy and modern style helps them remain a global leader. Wrangler's consistent western focus appeals strongly to some, but also limits their reach.
For pure American denim heritage, you can't beat Levi's and Wrangler. But Levi's richness and reach is unmatched.
FAQ About Levi's vs Wrangler Jeans
Still trying to choose between Levi's and Wrangler jeans? Here are answers to some frequently asked questions:
Which brand is more popular?
Levi's is more popular globally based on total sales and brand awareness. Their multi-billion dollar revenues are nearly double Wrangler's.
However, Wrangler has a very dedicated following of customers drawn to their all-American cowboy cool style. Their brand has broader appeal in western states and the southern U.S.
Which jeans last longer?
On average Wrangler jeans are slightly more durable than Levi's. Their workwear-inspired construction and heavyweight rigid denim withstands the test of time.
But modern Levi's jeans have improved sturdiness nearly rivaling Wrangler. Unless you are very hard on your jeans, both brands should last for years of regular wear if cared for properly.
What jeans do cowboys wear?
Cowboys and rodeo riders overwhelmingly prefer Wrangler jeans above all other brands. Wrangler's comfortable loose cuts, western details, and ruggedness are ideal for ranch work.
Levi's has cowboy heritage, but their fashion focus has shifted towards a more mainstream audience. For authentic western cowboy jeans, you can't beat Wrangler.
Which brand is more comfortable?
For all-day comfort, Levi's has an advantage. Many of their jeans use stretch denim blends with elastane and a softer hand feel. The athletic taper and loose fits are designed for mobility.
Wrangler's 100% cotton rigid jeans have a tougher break-in period and less give. But once broken in, their classic loose cuts like Cowboy Cut are beloved for their comfort too.
Is one brand better for work jeans?
Wrangler is the ideal choice if you want durable and protective jeans for manual labor, farming, or ranch work. The triple-stitched seams, reinforced knee patches, and thick fabrics withstand the roughest conditions.
Levi's has workwear origins, but now focuses more on fashion and activewear. Wrangler remains committed to performance and longevity for industrial use.
Conclusion
When choosing between Levi's vs Wrangler, there's no universal "better" option. The right brand depends on your personal style, fit, budget, and needs.
Levi's is unmatched for trend-right fashion jeans in skinny, tapered, and slim fits. Their lower prices and sustainability also attract many consumers.
Wrangler shines for relaxed classic cuts, cowboy cool style, and rugged durability at bargain prices. Their retro-inspired jeans work for ranch and labor jobs.
Hopefully this detailed comparison helps you decide whether Levi's or Wrangler is a better match for your wardrobe. Both brands make great jeans, so you can't go wrong either way. Let your personal preferences guide you to the perfect pair.