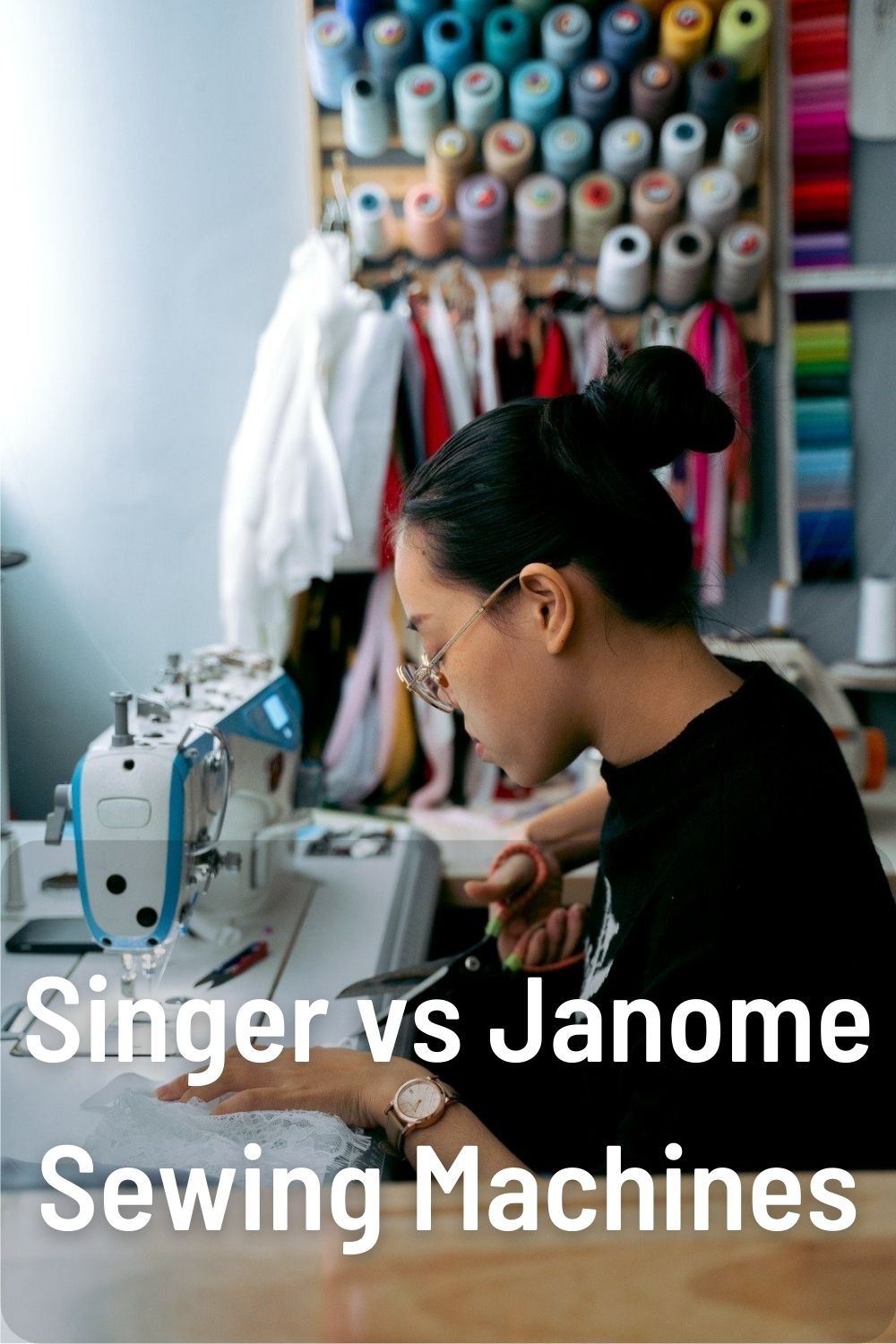 Sewing machines are an essential tool for anyone interested in sewing, quilting, crafting, home decorating, fashion design, and more. Singer and Janome are two of the most popular and well-known brands of sewing machines. Both companies have been around for over 100 years and offer a wide range of sewing machines for beginners to experts.
But which brand offers the best sewing machines? Should you choose a Singer or a Janome for your needs? In this complete guide, we'll compare Singer and Janome sewing machines across different categories including features, capabilities, price, quality, and more. We'll also provide an overview of each brand and recommend our top picks for both brands.
Whether you're buying your first sewing machine or upgrading your current model, read on to learn which brand is better for your sewing projects.
Overview of Singer Sewing Machines
Singer has been manufacturing sewing machines since 1851. The company produced the world's first electronic sewing machine in 1910 and was the leading manufacturer of sewing machines in the 1900s.
Some key facts about Singer sewing machines:
Based in the United States and sells machines worldwide
Offers low-cost entry level to high-end advanced sewing machines
Well-known for mechanical sewing machines
More recently started offering computerized sewing machines
Caters to beginners and intermediate sewers
Offers both mechanical and electronic sewing machines
Hundreds of sewing machine models available
Prices range from $80 to $1000+
Singer sewing machines are generally affordable and offer user-friendly features, even for beginners. They are a good choice for basic sewing, alterations, crafts, home decor projects, and more.
Overview of Janome Sewing Machines
Janome is a leading sewing machine brand founded in Japan in 1921. Originally called The Pine Sewing Machine Factory, the company started exporting machines to the United States in the 1960s under the name Janome.
Here are some key facts about Janome:
Based in Japan and has factories worldwide
Offers basic to advanced computerized sewing machines
Known for high-quality construction and features
Specializes in electronic sewing machines
Caters to intermediate and advanced sewers
Offer both mechanical and computerized models
Around 100 sewing machine models available
Prices range from $200 to $5000+
Janome sewing machines tend to have more features, higher stitch quality, and more advanced technology compared to similarly priced Singer models. They are a great choice for experienced sewers, fashion designers, quilters and sewists interested in decorative stitching.
Now that we've provided an overview of each brand, let's compare them across different categories.
Singer vs Janome Comparison
Here is an in-depth feature-by-feature comparison of Singer and Janome sewing machines:
Stitch Selection
Singer: Offers 6 to 32 built-in stitches on mechanical machines. Computerized models offer around 70-600 stitches. Stitches cover basics for sewing, quilting, crafts, home decor and garment construction.
Janome: Provides around 10-50 stitches on mechanical machines and 100-1000+ on computerized models. Includes utility stitches, stretch stitches, heirloom stitches, quilting stitches and decorative stitches. More stitch options than Singer.
Winner: Janome offers a wider range and variety of built-in stitches, especially decorative stitches. Great for embellishing projects.
Built-in Stitch Functions
Singer: Basic machines only offer forward/reverse stitching. Computerized models add stitch length/width adjustment, mirror imaging capability, and 1-step buttonholes.
Janome: Entry level models offer stitch width/length adjustment and reverse stitching. Computerized machines add automatic buttonholes, stitch memory, twin needle capability, and stitch editing functions.
Winner: Janome has more advanced stitch customization functions especially on computerized sewing machines.
Machine Type
Singer: Offers electronic and computerized sewing machines but has more mechanical options. Suited for beginners learning to sew.
Janome: Focused on electronic and computerized sewing machines with digital displays and keypads. Better for intermediate/advanced sewers. But also offers some mechanical models.
Winner: Tie. Both brands offer a good mix of electronic and mechanical machines depending on user sewing level. Janome has more high-end computerized options.
Sewing Speed
Singer: Entry level machines sew at 250-800 SPM. Advanced models can go up to 1000 SPM or higher. Provides good sewing speeds for most purposes.
Janome: Low-end models start at 300 SPM. High speed options go up to 1000-1500 SPM for quicker sewing, quilting and fashion work. Wider speed range.
Winner: Janome offers faster sewing speeds overall, especially for computerized machines. Good for experienced sewers.
Machine Weight
Singer: Weighs 15 to 30 pounds on average. Mechanical machines are lighter while electronic models weigh more. Easy to move and carry.
Janome: Starts at 10 pounds for basic mechanical models. Computerized machines weigh 20 to 30+ pounds. Heavier than most Singer machines.
Winner: Singer sewing machines tend to be lighter and more portable, making them beginner-friendly. Janome has some heavier full-featured computerized options.
Motor Type
Singer: Uses 120V AC motors. Powerful enough for most sewing tasks but can get strained on heavy projects like denim. Some vibrations.
Janome: Equipped with DC motors even in entry levels. Maintain speed and power on multiple fabric types. Run smoother and quieter.
Winner: Janome offers superior DC motors for consistent power and speed control across fabric thicknesses.
Noise Level
Singer: Mechanical machines are noisier (70-80 dB) due to metal internals. Electronic models operate quieter around 60-70 dB noise level.
Janome: Entry levels are quiet at 60 dB. Computerized models have 50-70 dB noise rating for quiet performance. Less mechanical noise than Singer.
Winner: Janome sewing machines tend to run quieter due to the use of electronics instead of metal components. Great for noise-sensitive users.
Needle Positions
Singer: Typically offer a limited number of needle positions like center only or center, left and right. Less positioning flexibility.
Janome: Offer center, left and right needle positions even on basic models. Some computerized machines have 9 or more position options.
Winner: Janome provides more needle positions for added sewing flexibility and precision. Useful for topstitching or inserting zippers.
Maximum Fabric Thickness
Singer: Can handle lightweight to midweight fabrics around 2-5 mm thickness. Struggles with heavy fabrics like denim.
Janome: Sew through lightweight to medium 6-8 mm thick fabrics easily. Some heavy-duty models can sew up to 10+ mm thickness.
Winner: Janome machines can sew thicker fabrics and handle layered projects better. Good for quilters.
Presser Foot Pressure
Singer: Have presser foot pressure up to 70g. Allows good fabric control for most sewing projects. May require adjustment for thick fabrics.
Janome: Presser foot pressure averages 50-80g depending on model. Computerized machines automatically optimize pressure for fabric. Better performance.
Winner: Janome has sufficient presser foot pressure for handling light to heavy fabrics. Auto pressure adjust is very useful.
Needle Threader
Singer: Most models have manual needle threaders for threading the eye of the needle. Takes some finesse to use.
Janome: Many Janome machines offer an automatic needle threading function for quick and easy threading. Very convenient.
Winner: Janome automatic needle threaders make threading the needle frustration-free. Time savers for sewing setup.
Bobbin Winding
Singer: Feature manual bobbin winding with built-in spindles on the machine. Stop/start bobbin winding manually.
Janome: Offer easy bobbin winding with automatic stop once the bobbin is full. Very convenient. Some have top-loading bobbin cases.
Winner: Janome machines make bobbin winding fast and frustration-free with auto stop and in some cases, top-loading bobbins.
Feed Dog Mechanism
Singer: Use metal or nylon feed dogs matched with metal throat plates. Provides good grip and feeding.
Janome: Equipped with box feed dogs made of cast alloy matched with stainless steel throat plates. Prevent fabric flagging.
Winner: Janome machines have superior box feed dogs and throat plates for smooth, consistent fabric feeding.
Warranty
Singer: Offers a limited 1-5 years warranty on parts, electrical, and labor. Warranty period depends on machine model.
Janome: Comes with a basic 2-5 years limited warranty. Some machines offer 10-25 years limited warranty on parts and labor.
Winner: Janome provides longer and more comprehensive warranties, especially on higher end models.
Prices
Singer: Offers very affordable sewing machines under $150 for beginners. More advanced computerized machines range $200-$1000.
Janome: Prices start at around $200 for basic mechanical models and go up to $5000+ for expert machines. More expensive overall.
Winner: Singer is better for buyers on a tight budget. Janome offers more premium features at higher price points.
Availability of Accessories
Singer: Has a wide range of presser feet and accessories available for most of its sewing machine models. Easy to find.
Janome: Provides a good selection of optional presser feet and accessories designed for Janome machines. May need to special order.
Winner: Singer machines have accessories more readily available online and in stores due to their popularity.
Singer and Janome Recommendations
Now that we've compared the features and capabilities of Singer and Janome sewing machines, here are our recommendations for the best machines in different categories and price ranges:
Best Entry Level/Beginner Sewing Machine
Singer Start 1304: Under $150, 6 built-in stitches, good for basic sewing.
Janome Graceful Gray Basic: Around $299, 18 stitches, easy threading system.
Best Sewing Machine for Quilting
Singer Tradition 2277: $149-$299 range, up to 23 stitches, automatic needle threader.
Janome MC6300P: $499, 67 stitches, superior feed system.
Best Heavy Duty Sewing Machine
Singer Heavy Duty 4423: $200-$250 range, 23 stitches, can sew canvas & denim.
Janome HD3000: $349+, 18 stitches, sews up to 12+ mm fabric thickness.
Best Computerized Sewing Machine
Singer Quantum Stylist 9960: $225-$550, 600 stitches, fast sewing speed.
Janome Horizon Memory Craft 14000: $799-$899, 1000 stitches, advanced stitch functions.
Best High End Sewing & Embroidery Machine
Singer Quantum Stylist 9980: $800-$1000 range, 800 stitches/lettering fonts, large embroidery area.
Janome Memory Craft 550E: $1999-$2199, 1000 stitches, 3.7×4.1″ embroidery area.
Conclusion
Singer and Janome both offer quality sewing machines to suit a variety of sewing needs. Singer sewing machines win when it comes to affordability and availability of accessories. They offer user-friendly machines with ample features for beginners on a budget.
Janome sewing machines come out on top when you consider advanced features, quiet and smooth performance, speed control, and overall durability. They are designed with more premium components, superior stitch quality, and extra conveniences for devoted sewists.
Think about your skill level, budget, and sewing needs when deciding between Singer and Janome. For most sewing projects, both brands can deliver satisfactory results and get the job done. We hope our detailed comparison helps you pick the best sewing machine for you!