Ribbed t-shirts are a popular casual clothing item for both men and women. They are characterized by their distinctive vertical ribbed texture, which sets them apart from regular or smooth cotton t-shirts.
What Are Ribbed T-Shirts?
A ribbed t-shirt is a casual t-shirt made from jersey cotton that has a textured, ridged pattern running vertically up and down the fabric. This ribbed texture adds visual interest and gives the t-shirt a body-hugging fit.
The ribs are created during the knitting process as the t-shirt fabric is made on a special loopwheel machine. The ribs come from the stitching construction – with ribs emerging from staggered rows of knitting. This gives the fabric its trademark ridged stripe design.
Ribbed t-shirts are often made from cotton with a bit of spandex or elastane added. This stretchy fabric blend enhances the close fit of the shirts and allows them to better cling to the body's contours.
They have a soft, flexible feel and nicely follow the body's shape without feeling restrictive. The ribbed texture also makes the fabric thicker and more opaque than traditional t-shirt material.
History of Ribbed T-Shirts
Ribbed t-shirts emerged in the late 19th century as athletic undershirts worn by football players, rowers, and boxers. The thick, stretchy ribbed material allowed freedom of movement and wicked away sweat during sports.
As activewear became fashionable in the early 20th century, ribbed undershirts made the transition to outerwear. By the 1950s and 60s, they had become a casual t-shirt silhouette worn by Marlon Brando, James Dean and other cultural icons who popularized the rebellious, effortlessly cool vibe of the ribbed tee.
The 1970s fitness craze saw ribbed t-shirts return to their athletic roots. Stretchy cotton/spandex blends were ideal for dynamic yoga and aerobics classes. Brands like Danskin flourished catering to active women with body-conscious ribbed leotards and shirts.
The 90s grunge era brought back the laid-back appeal of ribbed shirts, often with longer lengths and oversized fits. Contemporary streetwear continues to showcase endless variations of the ribbed tee.
From athletic wear to street style staple, the versatile ribbed t-shirt has secured its place as a perennial wardrobe essential.
Benefits of Wearing Ribbed T-Shirts
There are many benefits that make ribbed t-shirts a popular choice:
Flexible Fit – The spandex blended into ribbed shirt fabric creates stretch for contoured shaping and a flexible fit as you move. This makes them ideal for layering or wearing on their own.
Flatters the Body – The clingy ribbed fabric nicely traces your body's contours. The vertical ribbing effect can be slimming and flattering for many body types.
Comfort – Ribbed t-shirts are comfy and breathable. The cotton material and touch of stretch fabric feel great for casual wear and active pursuits.
Style – Ribbed t-shirts offer casual versatility. They can be dressed up or down and paired with anything from jeans to skirts. The texture adds visual interest to any outfit.
Durability – The thick interlock knit construction makes ribbed t-shirts durable and resistant to shrinking. Many hold their shape wash after wash.
Value – Ribbed t-shirts are very affordable basics. The simple silhouette and casual cotton fabric keep costs down while offering flexibility.
Differences Between Ribbed and Regular T-Shirts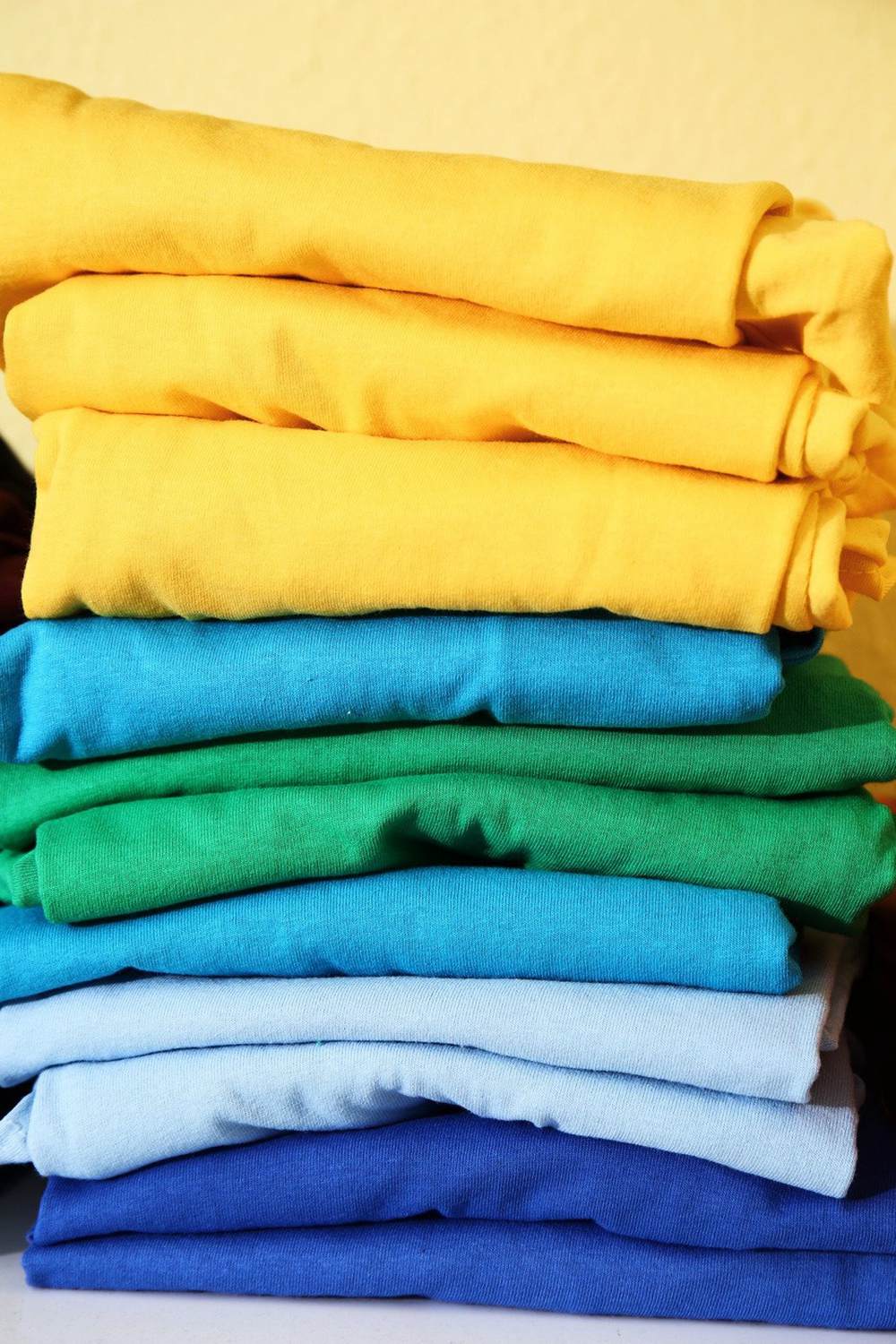 While they may look similar at first glance, there are some key differences between traditional t-shirts and ribbed t-shirts:
Fabric – Ribbed shirts have a thicker interlock knit construction compared to the lighter jersey knit of regular t-shirts. Ribbed fabric also incorporates spandex for stretch.
Texture – Ribbed t-shirts have a prominent vertical ribbed stripe pattern while regular tees have a smooth, flat face.
Fit – The ribs allow ribbed shirts to cling closer to the body for a more fitted look compared to regular tee's looser drape.
Versatility – Ribbed shirts transition more seamlessly between casual and dressy looks. Regular tees are best suited for pure casualwear.
Performance – Ribbed shirts wick moisture better and allow greater stretch for movement making them preferable for athletic activities.
Opacity – The thicker ribbed fabric doesn't go sheer as easily as thinner regular t-shirt material.
| Ribbed T-Shirt | Regular T-Shirt |
| --- | --- |
| Interlock knit + spandex | Jersey knit |
| Ribbed vertical texture | Smooth, flat face |
| Body-hugging fit | Looser drape |
| Transitions from casual to dressy | Best for casual looks |
| Moisture-wicking stretch | Less give and breathability |
| Opaque | Can show through |
While cut from different cloths, both ribbed and regular t-shirts have a place in any well-rounded wardrobe.
Popular Styles and Cuts
Ribbed t-shirts come in a variety of silhouettes from slim to oversized. Here are some of the most popular ribbed tee styles:
Crew Neck – The classic crew neck is a timeless, versatile option. It has a round close-fitting neckline and short fitted sleeves.
V-Neck – A flattering V-neckline works well layered or on its own. A deep V is great for elongated necklines while a subtle V is office-friendly.
Scoop Neck – A wide curved scoop neck has a flirty, feminine look. Wider arm openings allow for a looser sleeve.
Muscle Tee – This sleeveless style has wide arm openings and a crew or V-neck. It's perfect for showing off your shoulders and arms.
Crop Top – Cropped ribbed t-shirts ending above the waist are trendy for pairing with high waisted pants or skirts.
Oversized – An oversized ribbed tee provides a roomy, casual fit often with dropped shoulders and wide sleeves.
Longline – Extending below the hip, the elongated length of a longline ribbed tee flatters leggy looks.
Mock Neck – A mock neck provides added coverage with its higher neckline similar to a turtleneck minus the foldover.
How to Care For Ribbed T-Shirts
With some simple care, ribbed t-shirts can maintain their shape and texture season after season:
Machine wash cold – Hot water can damage the spandex in ribbed fabric. Wash in cold water on a gentle cycle.
Air dry – Avoid the dryer. Air drying helps the ribs keep their texture. Laying flat to dry further prevents shrinking.
Wash colors separately – The first few washes, vibrant colors may bleed. Wash lights and darks in separate loads.
Avoid bleach – Never use bleach as it can break down fibers over time. Opt for an oxygen-based whitening agent if needed.
Use mild detergent – Harsh soaps can be too abrasive for the delicate ribbed fabric. Choose a gentle liquid detergent.
Spot clean stains – Pretreat any stains to avoid setting them with heat from the dryer. Liquid dish soap or stain sticks work well.
Avoid fabric softener – Fabric softeners and dryer sheets can coat the ribs reducing their texture over time.
With the right wash methods, ribbed t-shirts can keep their vibrant color and unique texture for many seasons of wear.
Where to Buy Ribbed T-Shirts
Ribbed t-shirts have become a wardrobe staple offered at most major retailers. Here are some great places to buy ribbed tees:
Department stores – Macy's, Nordstrom, and JCPenney carry a variety of styles. Great for trying on fits in person.
Discount retailers – Stores like Target and TJ Maxx offer affordable options.
Athletic brands – Nike, Adidas, Reebok, and Champion have performance-focused ribbed shirts.
Online – A wide selection is available at online retailers like ASOS, Amazon, Everlane, Madewell, and Etsy.
Specialty boutiques – For unique designs look to brands like Free People, Anthropologie, and Urban Outfitters.
Consider what fit and style you are looking for and check reviews to ensure consistent sizing when ordering online.
How to Style Ribbed T-Shirts
The wardrobe versatility of the ribbed tee makes it endlessly easy to style. Here are some chic ways to wear ribbed t-shirts:
Layer under blazers, shirts or sweaters for the office or dressier occasions
Tuck into high-waisted jeans or skirts – cropped lengths work great for this
Knot at the waist for a casual cropped effect
Pair with leggings or skinny jeans for a body-hugging head-to-toe look
Create contrast by wearing with a loose flowing skirt or wide leg pants
Add some edgy moto chic with a leather jacket
Use as a neutral base for statement necklaces and prints
Keep it simple with blue jeans and white sneakers for classic casual style
Ribbed t-shirts pair effortlessly with all sorts of bottoms, layers, and accessories. Experiment with proportions and textures to develop your own signature ribbed tee looks.
Ribbed T-Shirt FAQ
Still have some questions about ribbed t-shirts? Here are answers to some frequently asked questions:
Are ribbed t-shirts meant to be tight fitting?
The ribbed fabric is designed to cling to your body, however many styles come in looser oversized fits as well. Look for terms like slim fit, body conscious or athletic fit for a more tailored look.
Can guys wear ribbed t-shirts?
Absolutely! Ribbed t-shirts are very popular among men for both casual looks and athletic wear. Many brands offer shirts in masculine cuts.
How do you wash ribbed shirts to avoid shrinking?
Wash in cold water on a delicate cycle and air dry. Avoid hot water and the dryer which can damage fibers and cause shrinking.
Why do the ribs tend to curl on older ribbed t-shirts?
Over time with washing and drying the ribs can lose their texture. Air drying helps minimize rib curling by preserving the knit structure.
What is ribbed shirt fabric made from?
Most are a cotton/spandex or cotton/elastane blend. The spandex provides stretch while the cotton offers breathability and comfort. Polyester is sometimes blended in as well.
Conclusion
With their figure-hugging ribbed knit and casual versatility, ribbed t-shirts have become a comfortable go-to basic for any wardrobe. Following the care instructions, these affordable shirts can maintain their shape and texture season after season. Experiment with new cuts and styling techniques to keep your look fresh. The ribbed tee offers endless options to show off your personal fashion sense.