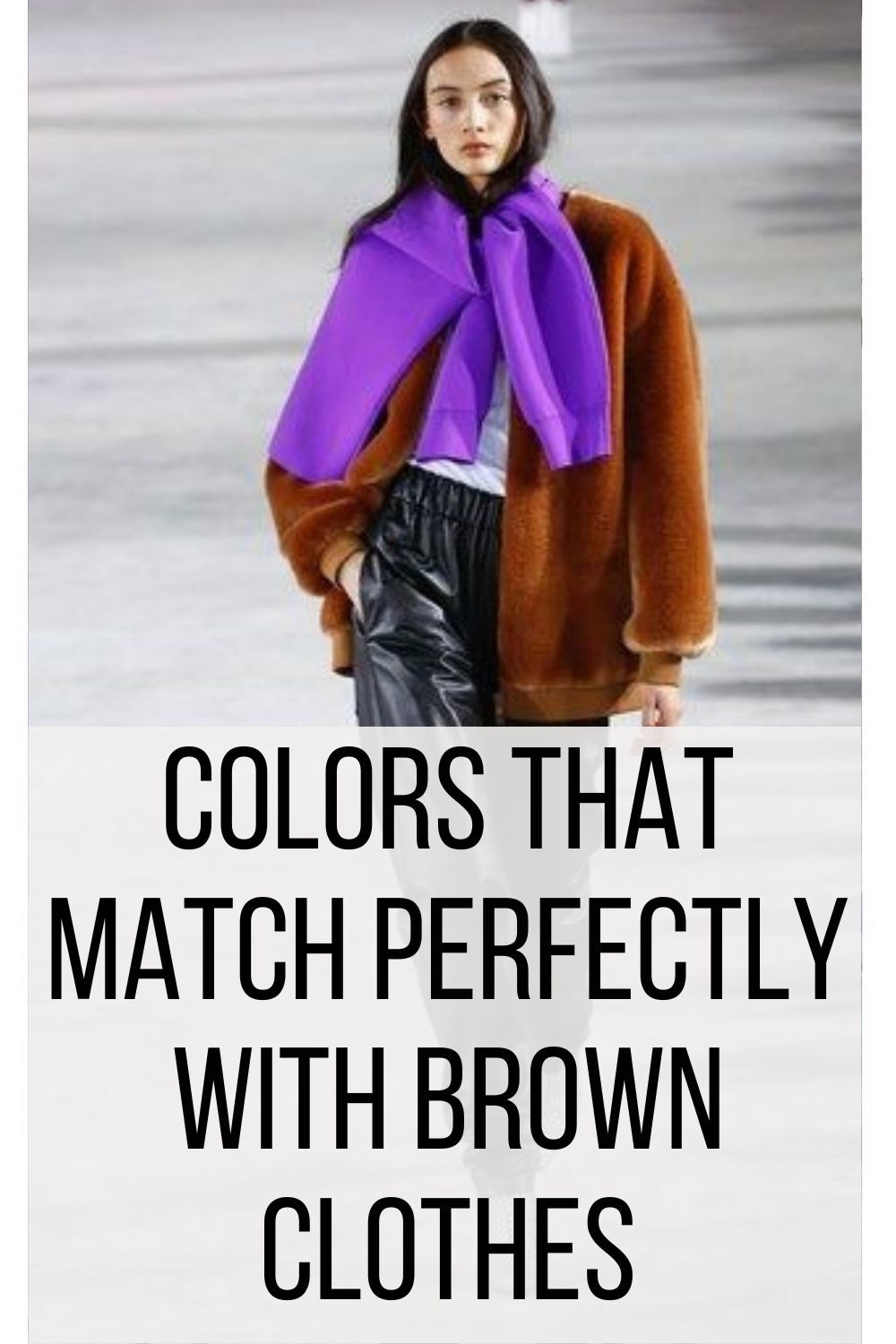 2022 is the year to express yourself through fashion. With the right colors, you can make any outfit pop and look brand new. Brown is a classic color that never goes out of style and is versatile to use with many other colors. If you have clothes in the brown family, you're in luck! There are a lot of colors that are perfect to pair with brown clothes to create the latest fashion trends in 2022 and this article covers some of them and how you can style them. From warm oranges and yellows to cool blues and greens, you'll be able to create a unique and stylish look that expresses your personality. If you're looking for some inspiration, read on to find out which colors to pair with brown to create the latest fashion trends.
What Makes Brown A Special Color in Fashion?
Every fashion expert will always acknowledge that, when it comes to fashion, brown is one of the few special colors you can work with. This is largely because of three reasons:
First, it is a neutral color that can be easily paired with a wide range of other colors. This makes it versatile and easy to incorporate into different outfits and styles.
Second, brown is a color that is found in nature, so it can help to create a natural, organic look when paired with otherearth tones. This can make it a popular choice for fashion that is inspired by nature or the outdoors.
Lastly, brown is a color that can be associated with warmth and comfort. It is often used in fall and winter fashion, as it can help to create a cozy, inviting look
Choosing The Best Colors For Your Brown Clothes
When it comes to choosing the right colors to pair with your brown clothes, there are a few factors you need to take into account. First, consider the shade of brown you're working with. Darker shades of brown are more versatile and easier to match with other colors, while lighter shades of brown can be a bit trickier.
Once you've determined the shade of brown you're working with, you can start exploring which colors work well with it. Black is always a safe bet, and it creates a sharp contrast that can be stylish. You can also pair brown with other earth tones like green or camel for a natural look. Or, for something a little unexpected, try pairing brown with a bright color like pink or yellow.
Whatever colors you decide to pair with your Brown clothes, make sure they complement each other and create an overall look that you love.
Best Colors To Pair With Brown Clothes
There are a lot of colors that you can pair with your brown clothes — and if you are looking to take your fashion game to the next level, these are the ones to try and how you can style them nicely:
Beige With Brown
Beige and brown are similar colors that can be easily paired together to create a cohesive and stylish look. If you're looking for a versatile color to pair with brown clothes, beige is a great option. Beige can be used as a neutral base for your outfit, or it can be used to add a pop of color. Here are some tips on how to wear beige with brown:
Pairing beige and brown gives off a natural and earthy vibe. This combo is perfect for casual days out or running errands.
Choose complementary shades of beige and brown. To create a cohesive look, it's important to choose shades of beige and brown that complement each other. For example, a light, sandy beige would pair well with a taupe brown, while a dark, mushroom beige would look nice with a chocolate brown.
If you want to dress up your look, try pairing beige with chocolate brown. This rich combination is perfect for dinner dates or evening events.
Pair pale beige with a dark brown top for a fun and flirty look. This contrast will help you stand out from the crowd.
Use accessories to add a finishing touch to your look. Accessories are a great way to incorporate beige and brown into your outfit and tie the look together. For example, you could wear a beige dress with brown boots and a brown belt, and add a beige purse or headband to complete the look.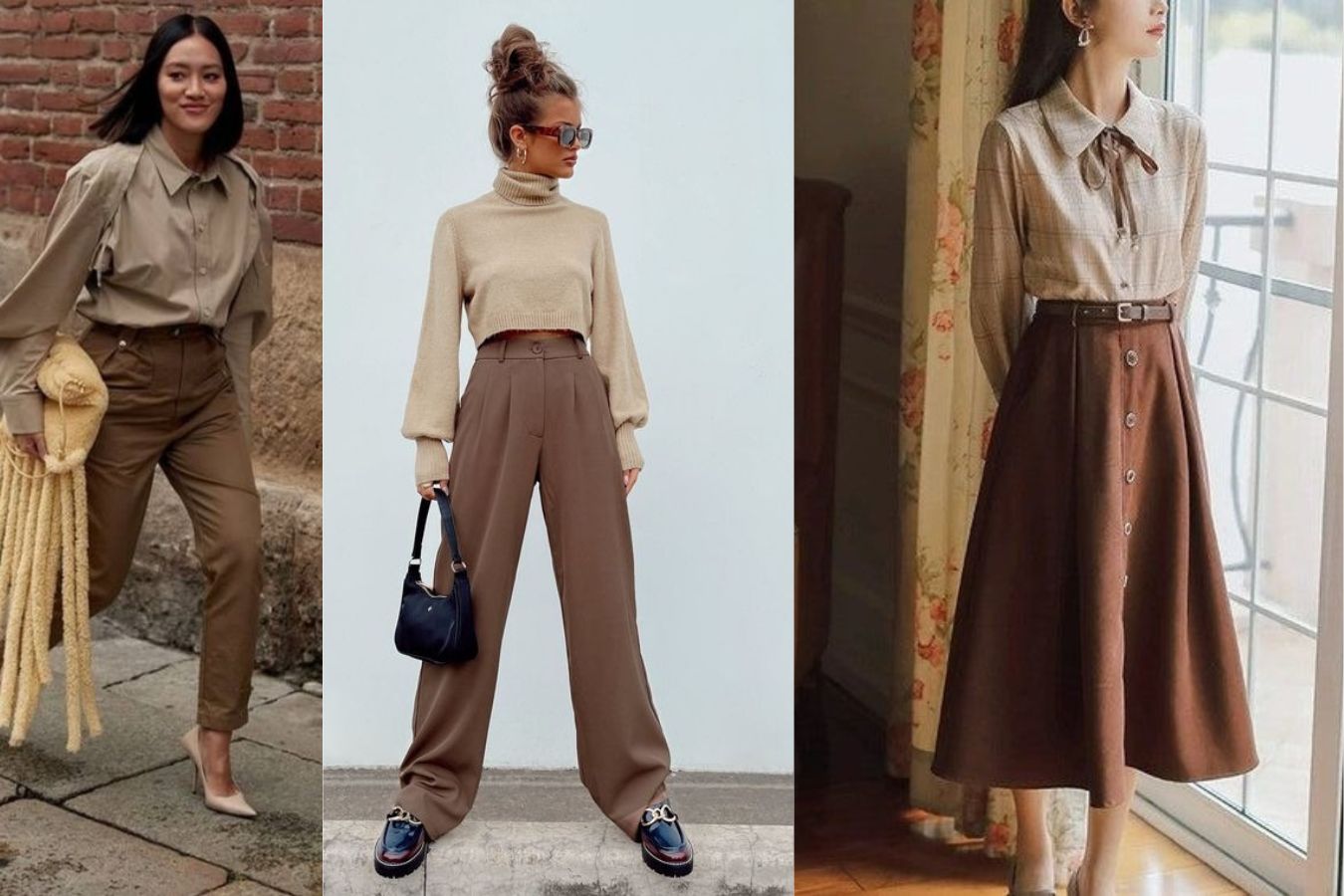 Red With Brown
If you're looking for a bold, warm color that will go well with brown clothes and make you look more confident and vibrant, red is your best bet. It's a great match because it's a warm color that will stand out against dark tones like black or grey. This makes it an ideal choice for those times when you want to stand out from the crowd but still keep it sophisticated enough not to be too flashy or loud in any way.
Red has always been associated with power, so wearing something bright red may give off the impression of being powerful yourself—and this can be just what someone needs when they're feeling insecure about themselves! Red also works well for individuals who have darker skin tones because its natural hue matches perfectly with their complexion.
No matter how you choose to wear it, this timeless color combination is sure to make a statement. If you're going for a more formal look, try pairing a chocolate brown suit with a crimson tie or adding a ruby brooch to a camel-colored coat. To keep things casual, try pairing brown jeans or chinos with a red tee or sweater. You can also add small touches of red to your brown outfit with accessories like scarves, belts, and shoes.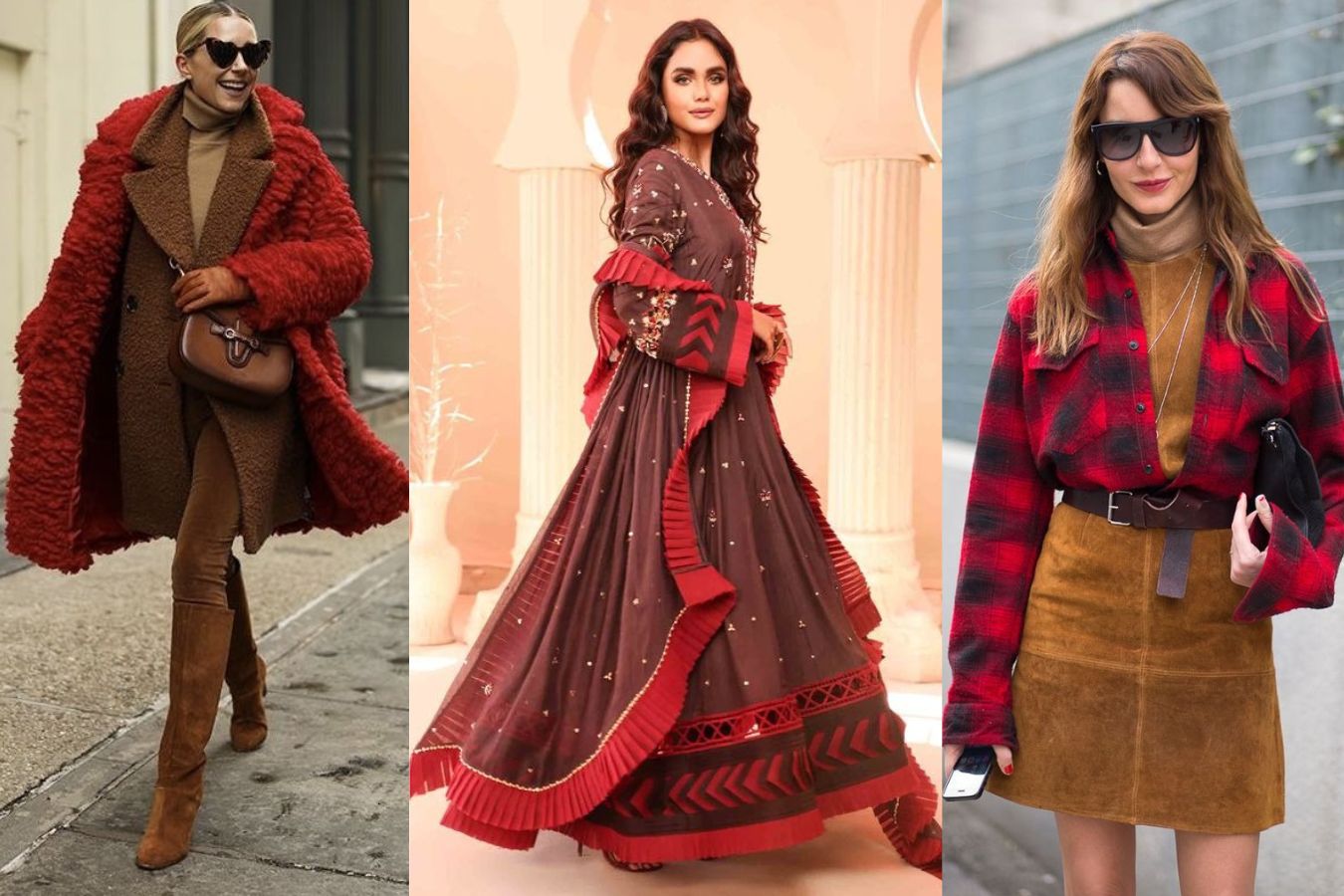 Pink With Brown
When it comes to choosing colors that complement brown clothing, pink is always a good choice. Pink is a warm color that goes well with browns of all shades. Whether you're pairing light brown with a pastel pink or dark brown with vibrant pink, the result is sure to be chic and stylish.
In addition to being aesthetically pleasing, pink is also known to be calming and soothing. If you're looking to create an outfit that exudes relaxation and serenity, consider pairing brown with various shades of pink. From soft and muted tones to bright and bold hues, there's a perfect shade of pink for every outfit.
Green With Brown
Green is another color that looks great with brown. Like pink, green is a warm color that can be paired with any shade of brown. From light tan to deep chocolate, all browns look fabulous when paired with green.
Not only does green complement brown, but it also provides a touch of contrast. If you're looking to add a pop of color to your outfit without being too over-the-top, consider pairing brown with green. The combination of colors is both eye-catching and sophisticated.
Green has also been widely used as an accent color of brown outfits in fashion trends over the past few years—and it looks like this trend will continue into 2022 as well. The best part? You don't need any special tools or skills (or even clothes) to pull off this look; just grab some green pieces from your wardrobe and start styling your outfit!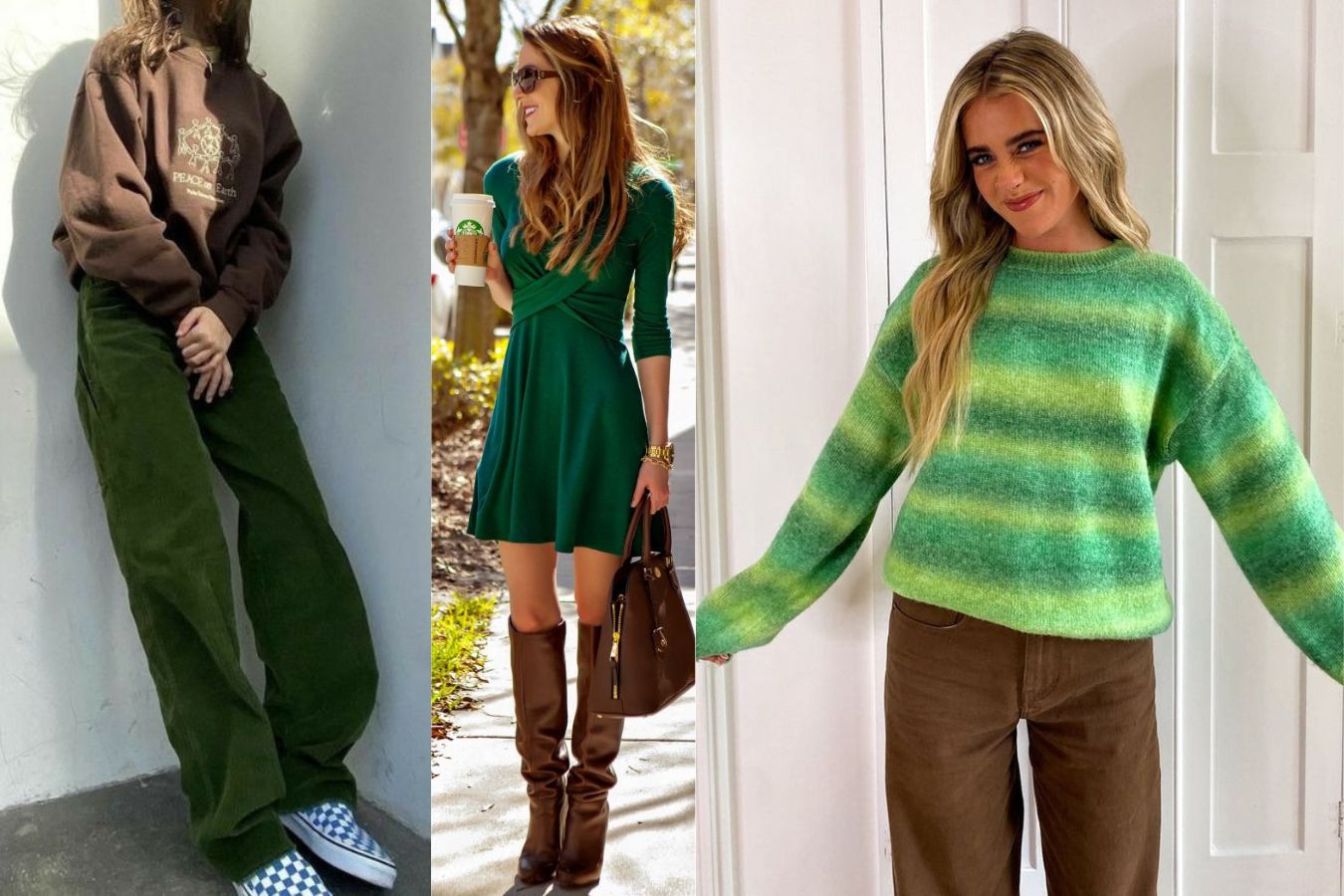 Blue With Brown
Looking to pair brown with another color in your wardrobe? Blue is a great complementary color for brown. Clothing items in shades of blue can range from light sky blue to deep navy blue, giving you plenty of options to choose from. This combo works well for spring and summer.
Whether you want to go for a bold look by pairing a chocolate brown top with a bright cobalt blue skirt or keep things more subdued with a brown sweater and navy blue pants, there are endless possibilities when it comes to styling brown and blue together.
It's critical to take both the blue and the brown shades into account when combining blue and brown. Generally speaking, lighter blues pair best with darker browns, whereas darker blues pair best with lighter browns.
Gold With Brown
Brown and gold are complementary colors, so they look great together. The combination of brown and gold can also be used on accessories such as jewelry or shoes. For example, you could wear a pair of brown leather boots with a golden necklace and earrings that match the color scheme of your outfit.
If you're going for a casual, laid-back look, try pairing brown and gold. You can wear a pair of jeans and a brown t-shirt with gilded flip-flops or sneakers for an easy outfit that still looks fashionable.
White With Brown
White and brown are a classic combination. The reason is that white complements any tone of brown in any season. Also, a combination of neutral colors like white and brown can be accentuated with almost any other color. This means that you can accessorize the combination by combining brighter hues with white and brown.
White is often worn in formal settings, such as weddings and funerals. Brown, on other hand, is somehow casual. But when you pair the two colors, you are all set for formal events like proms and graduations. Both colors work well in the summertime when you want to wear light-colored clothes; however if you're going somewhere that requires dark clothing (like church), white may not be your best option because it will get dirty easily!
Gray With Brown
Gray is a neutral color, which means it can go with just about anything. It's also one of the most versatile hues when it comes to pairing with brown clothing, especially when combining lighter gray tones with brown. Gray looks best with medium and darker colors of brown, though it can work with any shade of brown.
Wear light brown with dark gray if you want to seem sharp. The greatest contrast and visual attractiveness for clothing are produced by these two color schemes. If you're looking for something more dressy, try a light gray or even a dark gray shirt and pants. If you prefer something more casual but still want to wear your gray shirt, try wearing it with khaki pants or shorts instead of jeans (and no hat).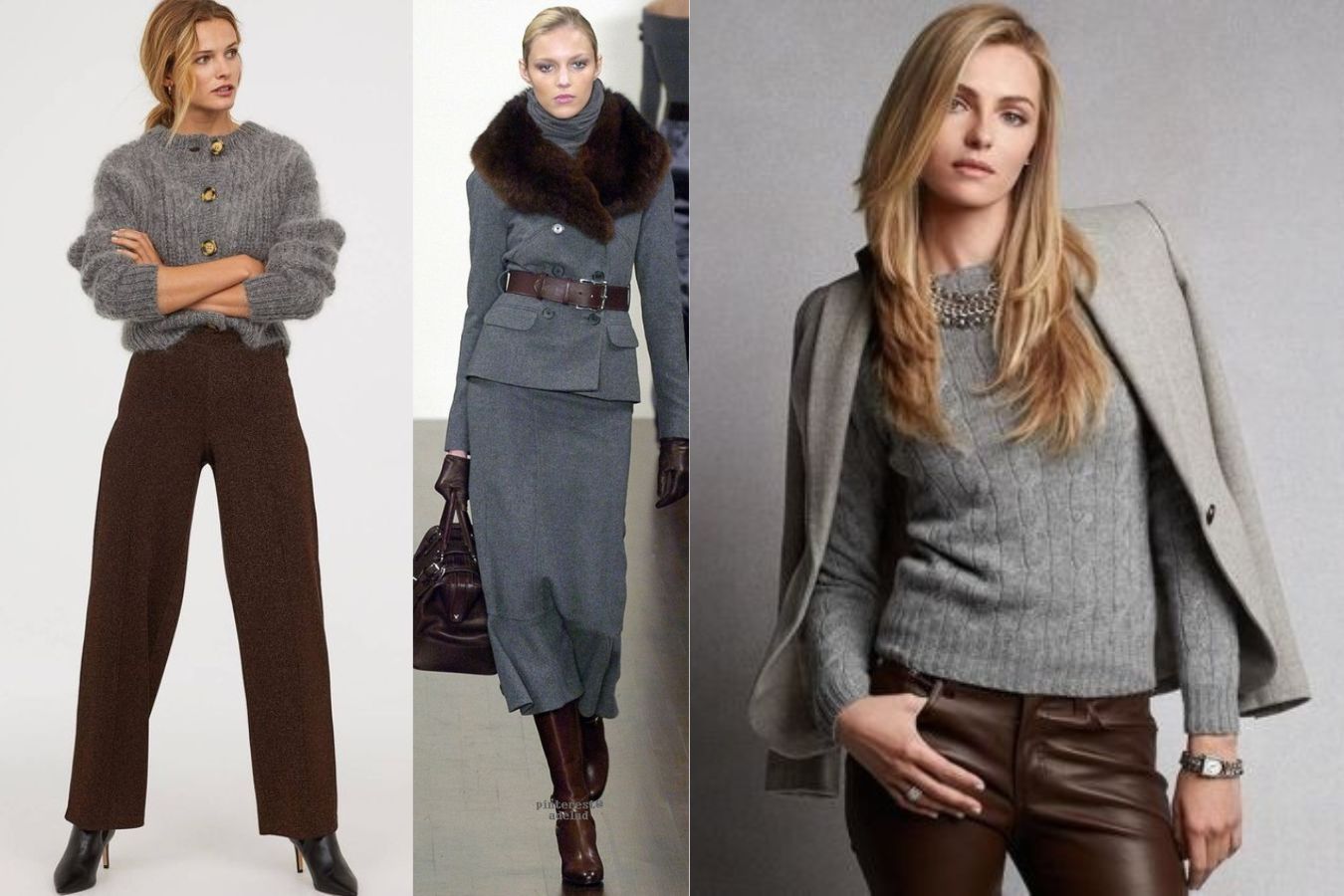 Purple With Brown
Purple is probably the least expected color to be on this list but it is actually a great color option you can try with your brown clothes. It is usually perceived as a color that tends to be worn by women, but men can also pull it off! The combination of purple and brown looks fresh and cool without being too cold or warm. Deep purple pairs perfectly with lighter shades of brown and light shades of purple are best paired with darker hues of brown.
This is yet another color combination that looks wonderful in autumn because purple and brown are traditionally autumnal hues. These colors can also be accentuated with white or cream to create lovely fall outfits.
Cream With Brown
Cream is a great color to pair with brown clothing. Cream is a neutral color that can add a touch of warmth and elegance to an outfit, while brown provides a rich, earthy contrast. The two colors have a natural harmony and can create a warm, inviting look. Also, the two colors can create a sophisticated and cohesive look.
For a classic and elegant outfit, try pairing a brown blazer or jacket with a cream-colored blouse or sweater. You can also experiment with different shades of brown and cream to create contrast and interest. For example, pairing a light brown top with a cream-colored skirt can add dimension to your outfit. Alternatively, mixing a dark brown bottom with a cream-colored top can create a sophisticated and chic look.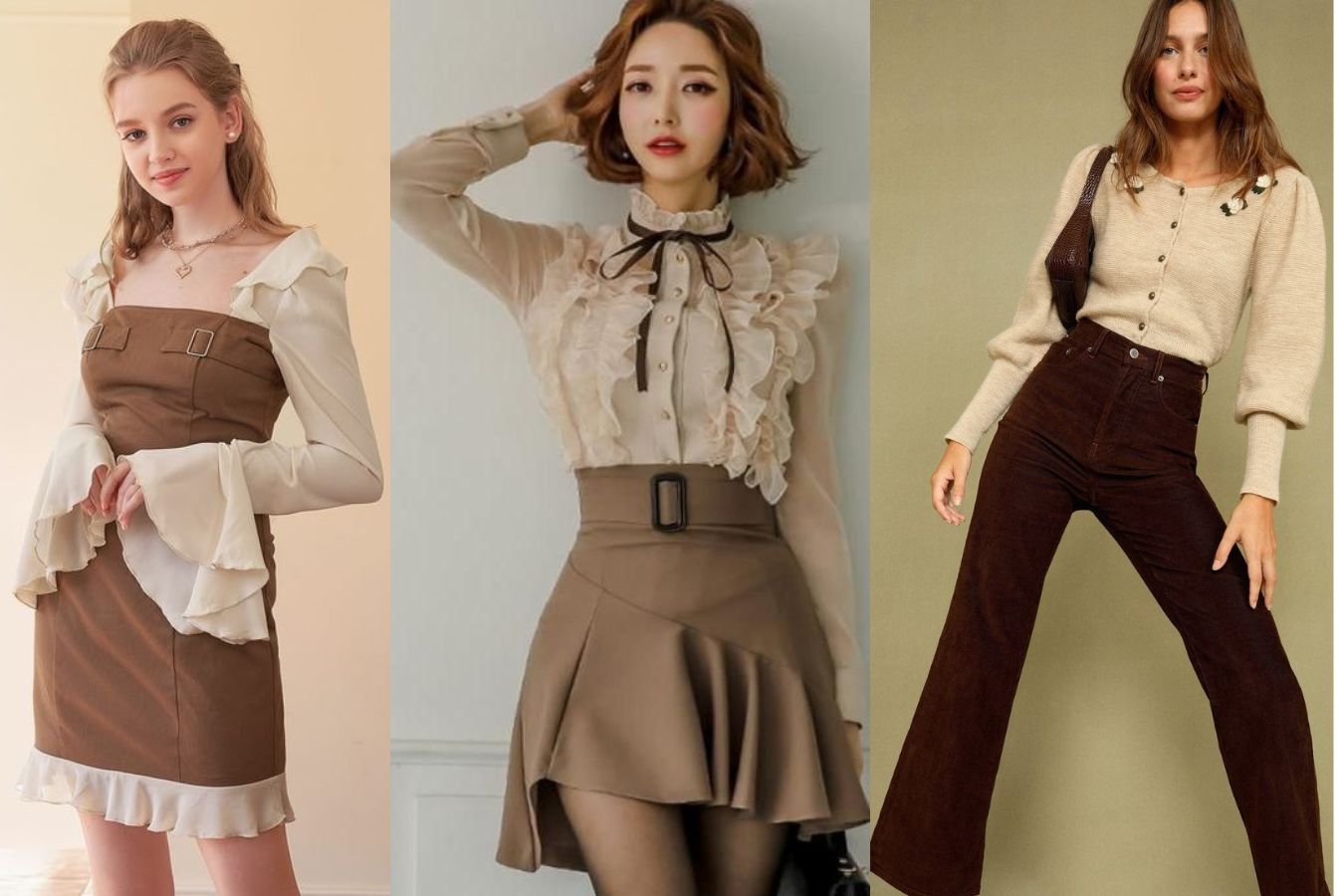 Conclusion
Brown is a versatile color that can be paired with a variety of other colors to create stylish and cohesive outfits. Some of the best colors to match with brown include green, blue, and red, black, beige, as well as metallics like gold, just as mentioned in this article. By experimenting with different color combinations, you can easily find a look that suits your personality and style. Whether you're dressing for a casual outing or a formal event, don't be afraid to play with color and try new combinations to make your brown clothing stand out.