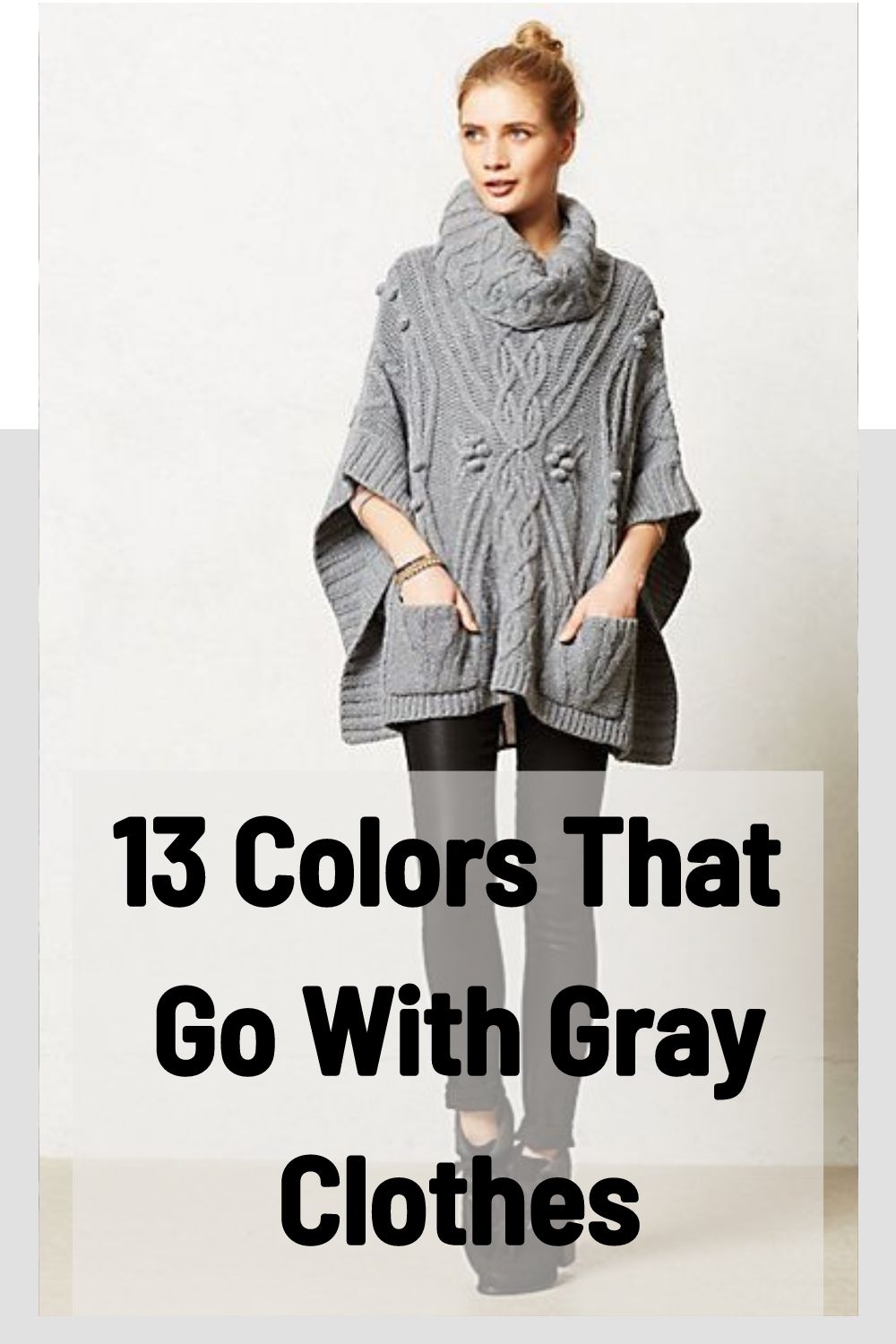 Gray is an excellent choice if you try to stick to a monochromatic color scheme. Compared to black and white, it represents the utmost neutrality or achromatism.
Over time, several meanings have been ascribed to the color gray. It's a fantastic shade that works well with a wide range of hues. It's hardly surprising that many companies use gray as their primary brand color.
Regarding aesthetics, it's right up there with the best of them, being all sleek, streamlined, and brand new. It has an expert appearance while still being friendly to the intended audience.
The understated elegance that gray lends us complements other hues nicely. A certain aura of mystery and serenity about it may appeal to you.
When your wardrobe consists primarily of shades of gray, the only way to make a statement is to insert some color.
Having a wide variety of outfits available may be problematic for certain people. It's not going to be easy, but it's not going to be impossible, either.
Keep reading to learn how to make the most of your gray wardrobe, what colors go well with gray clothes, including what to pair with gray pants.
Gray And Navy
Navy is a neutral color that pairs well with many hues, and gray is one of them. They're both timeless and classy, and they complement each other well.
By contrasting dark navy with medium to light gray, you can create a polished business style or a relaxed weekend vibe appropriate for various situations.
Gray And Beige
Gray complements neutral colors such as beige and khaki. In the summer, many wear beige trousers or shorts with a gray t-shirt, while in the fall and winter, beige coats are frequently worn with gray trousers.
Some innovative ways to add color to your wardrobe include using beige tones with a stronger yellow tinge.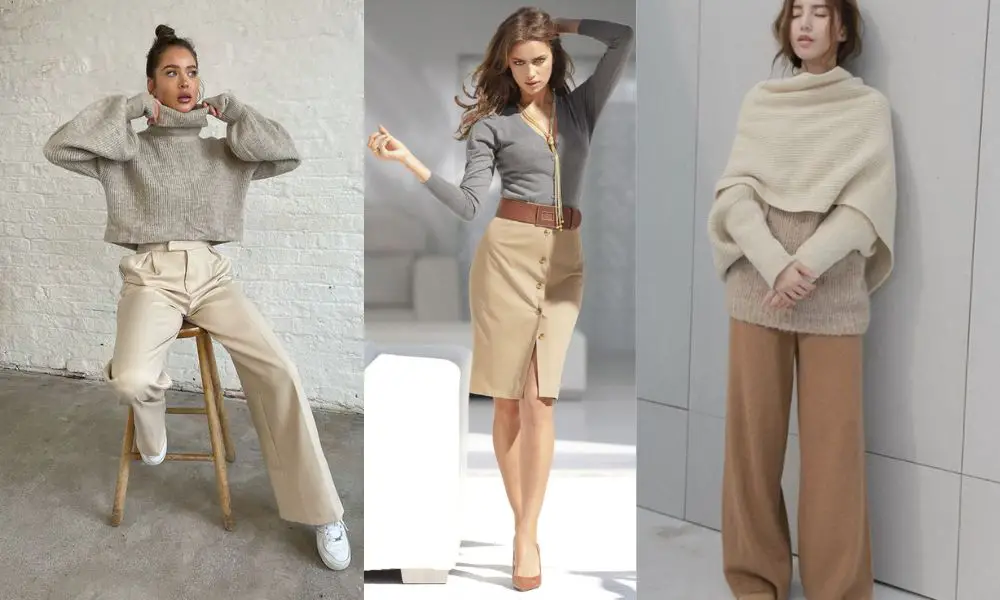 Gray And White
In addition to black, white is another timeless tone that pairs well with gray. To illustrate, consider the millions of office employees who wear gray pants and a white shirt to work every day and the folks who wear gray sweatpants and a white t-shirt to the gym.
Grays that are lighter in tone go beautifully with white. Add some black to your gray-and-white ensemble to make it pop. These three hues work well together and can use these colors to create a monochromatic look.
Gray And Gold
Gold is another color that compliments gray well and produces an exquisite appearance when used together.
Utilizing a color palette that is predominately dark gray will help you achieve a more up-to-date and modern look. Gray is an ominous color that, like black, goes well with various other hues.
Throw in an unexpected accent hue that will capture people's attention, like gold, if you want to make a statement.
Gray And Green
Do you think twice about pairing gray and green because you feel it's too risky? If you're wondering whether or not green complements gray, the answer is "yes."
You may be thinking these hues go separately. Yet in actuality, they are. This challenge requires some detective effort to determine which specific combinations of gray and green would work best.
To liven up your dreary wardrobe, try incorporating some green. If you're looking for a laid-back but eye-catching outfit, try matching a gray shirt or jacket with green slacks. You don't have to put in much work to look fabulous.
Gray and sage green make a great fall color combo, so keep that in mind if you're dressing for the season. These colors complement one another well due to their complementary coolness.
Gray And Pink
Gray and pink are also a fantastic color combo. It has an air of timeless romance that will win you over.
Dressing in a gray suit with a pink button-down shirt is a great way to make a statement. The combination of these two hues creates a soothing and gentle impact.
Gray's dual ability to convey warmth and coolness would complement pink's soft and sweet undertones.
Wear a pale pink sweater with gray jeans or a skirt to achieve a dreamy and put-together look. But if you want to achieve an even bigger statement, try a combo of hot pink and dark gray. If you carry it well, this will help you stand out from the crowd.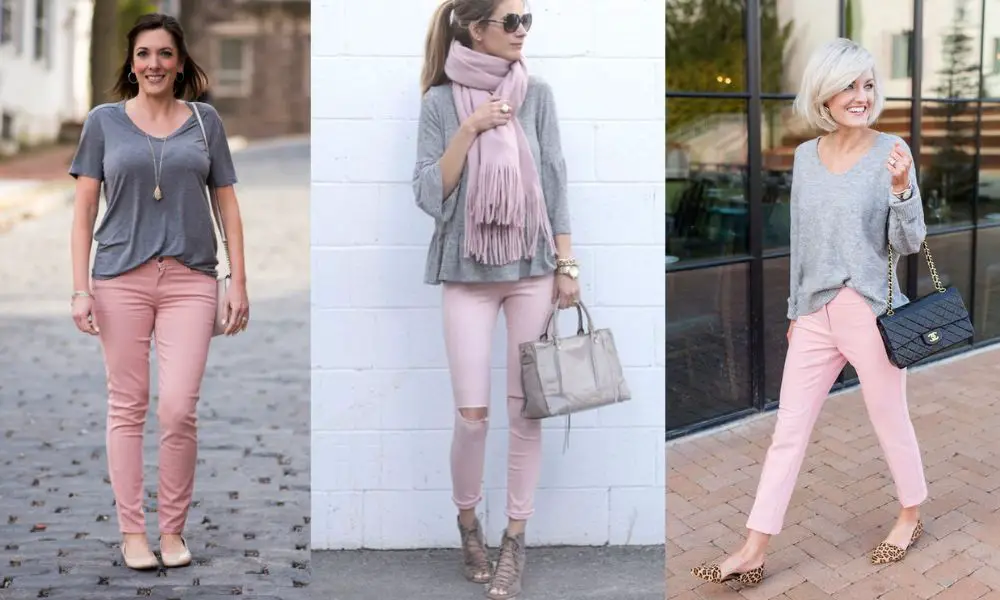 Gray And Purple
It's remarkable how well the purple tones complement the gray tones! Keep this in mind each time you're considering using these hues together.
Gray is often associated with solemnity and dispassion. Adding a touch of purple, though, changes the story. The combination of dark grey and darker purple tones is an excellent option for the cooler months. Get a coat in a neutral gray tone and accessorize it with a scarf in aubergine.
You can still rock these hues in the summer. Grays on the paler side pair well with lavender and other vivid purples. The grey's innate neutrality complements the purple's regal attitude. It's daring without being overbearing in its subtlety.
Gray And Red
You can't go wrong with the timeless mix of gray and red if you're going for a bold yet traditional style. These hues, when used together, exude a sense of elegance and sophistication.
The gray's underlying neutrality complements the red's striking intensity. The combination of gray and red is fantastic for an autumn color scheme.
The combination of gray and red is versatile enough to work in professional and informal settings. You can get away with wearing a red top under a gray blazer or jacket. A red tie is a terrific way to spice up a gray suit.
Even if you're planning to wear all shades of gray but don't own anything red to complement it, your red lipstick will do the trick! That lip shade would enhance your gray wardrobe.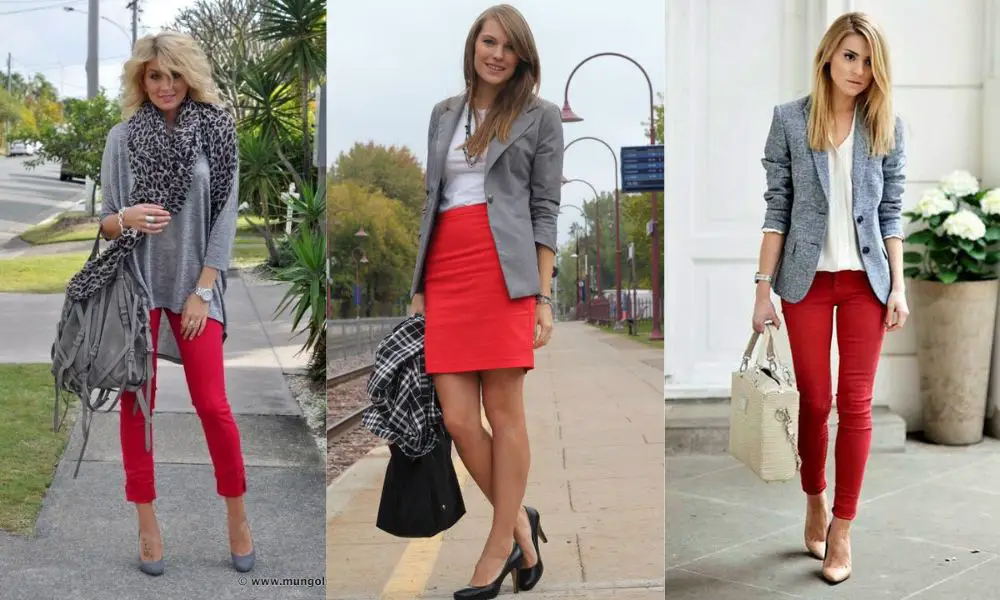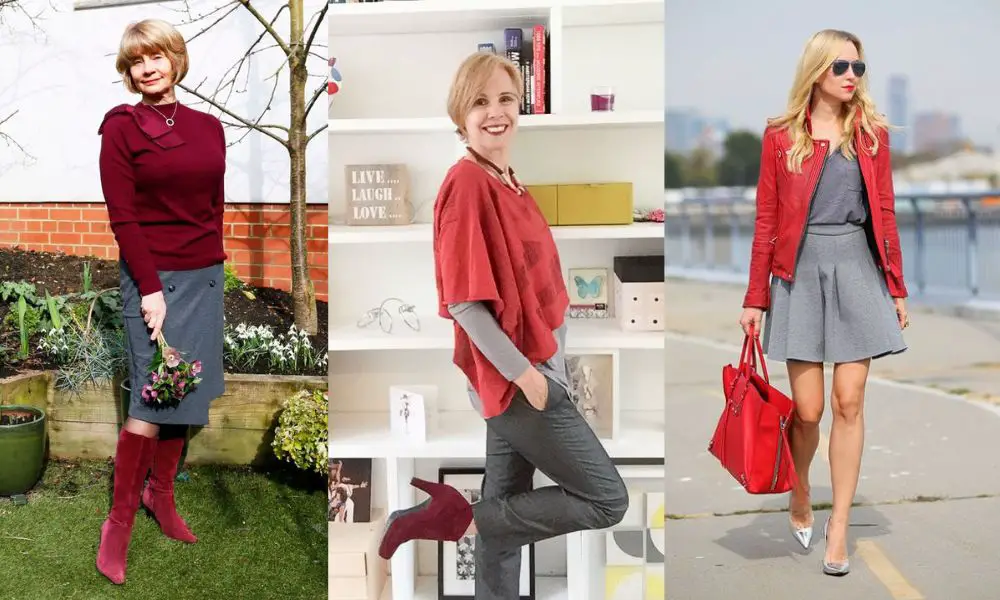 Gray And Varying Shades of Grey
Grays of varied tones are your best bet for finding complementary colors to your gray wardrobe.
Mixing and matching the various tones of gray can achieve any number of modern looks. There is no need to worry about coming out as unimpressive. Even in an all-gray ensemble, you may look stunning.
Do not intimidate by the many hues of grayscale that exist. Moreover, you can investigate the varying fabrics that make up your wardrobe. The winning combination would be this set of factors.
With the current trend for monochrome and simple ensembles, pairing two shades of gray makes perfect sense. Stylish and hip vibes would surround you. You can rock the latest styles without going overboard.
Gray And Yellow
Another bright color that works nicely with gray is yellow. The color yellow represents joy and strength. Since it's still a bit after the end of the year, you can still rock this two-toned look.
You can't wear gray without wanting to add brightness, and yellow is a great way to do that. Besides, if you wear a lot of gray, adding a splash of yellow will make your wardrobe pop. Together, these hues exude a calming, peaceful spirit.
What could be easier than grabbing a yellow scarf to liven up a boring gray dress? You may also wear a gray skirt with a yellow top.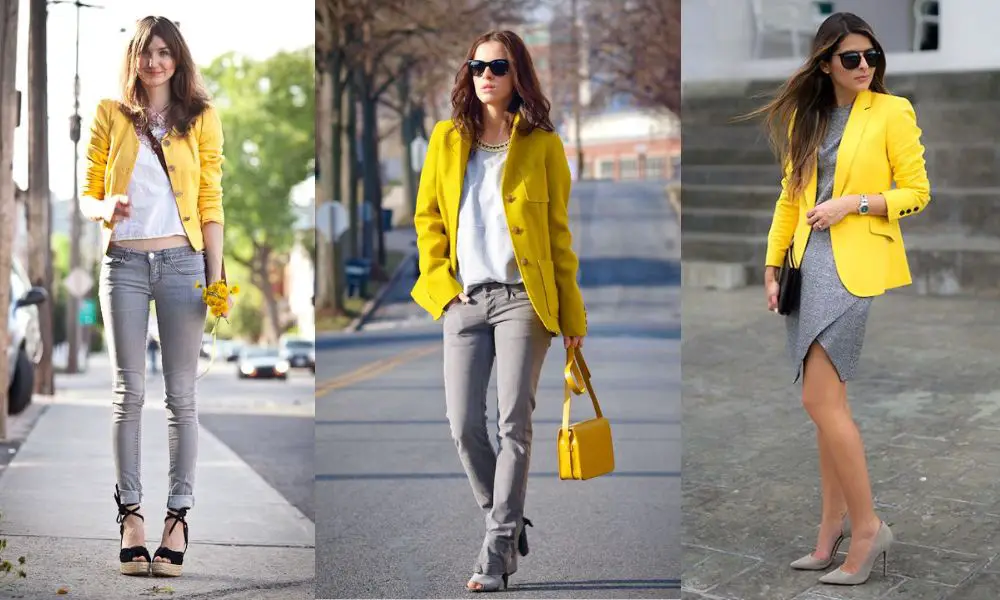 Gray And Black
Gray and black are the go-to colors to style a sophisticated look. This simple-sounding combo works when put into practice.
They're also gender-neutral, so they're a good choice for anyone who wishes to project an image of professionalism. Wearing all black and gray to work sends a strong message that you take your career seriously.
You're mistaken if you believe that the office dress code restricts you to neutral colors like black and gray. This color scheme is also appropriate for off-duty clothing—lighter shades of gray complement black well.
You can choose between looking stylish and projecting an appearance of authority. All that's required is some sort of compromise.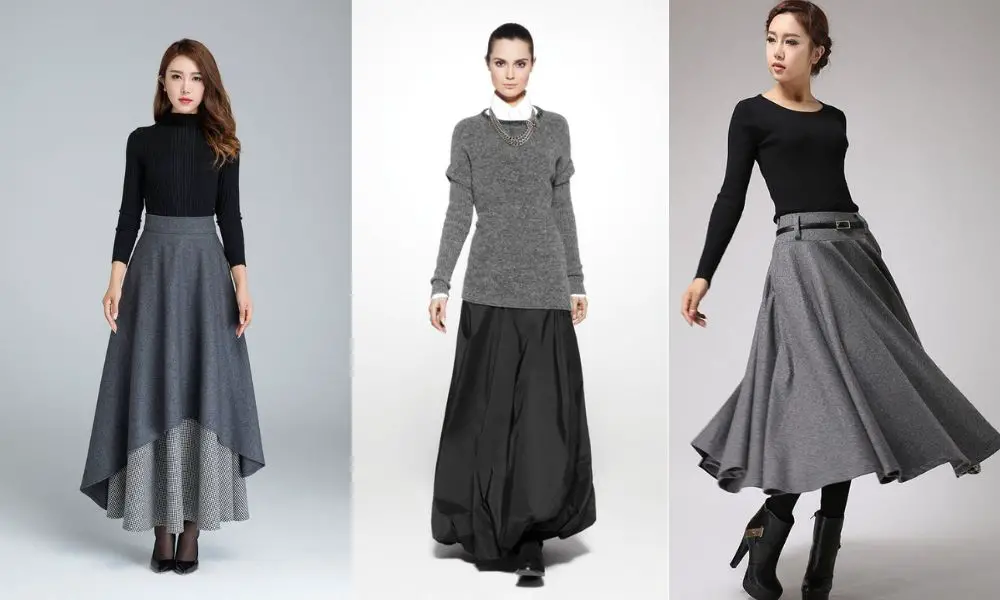 Gray And Brown
The contrast of gray and brown is stunning. Moreover, it's a relatively common pairing. Brown shoes are also a common choice to wear with gray jeans.
But you can use this combo in a wide variety of other contexts, and the wide range of tones available for each hue provides many opportunities for exploration.
You can dress up your brown boots by wearing a cozy gray wool coat or a sweatshirt with brown wool pants.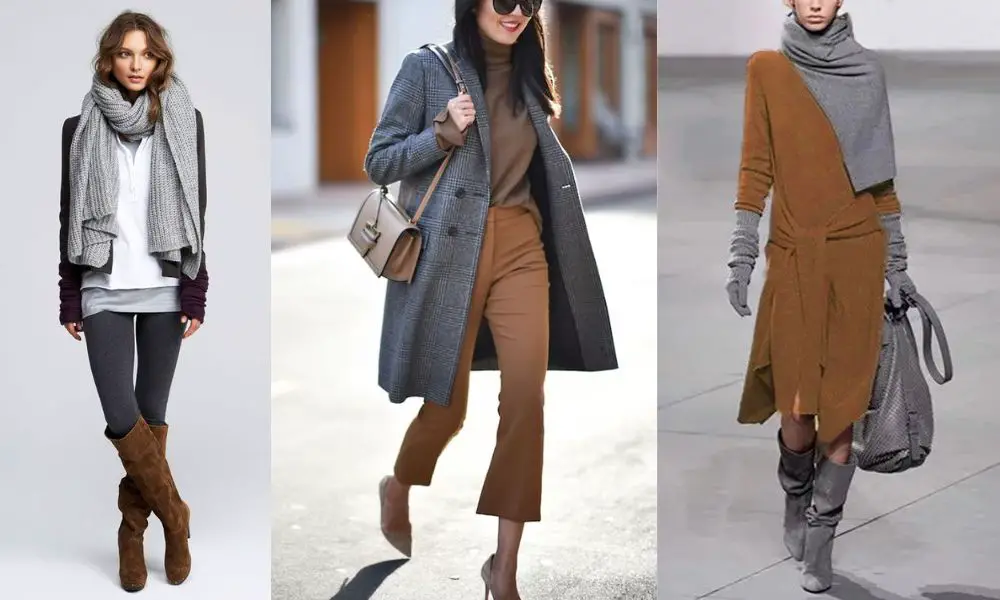 What Colors Go With Gray Pants
Having a pair of gray jeans in your closet is a smart move. They are neutral enough to be worn with a wide variety of other colors and patterns, but they also have their distinct style.
You can style your gray pants with a darker-shade shirt or a lighter-colored top. However, due to its adaptability, you can wear gray pants with a wide range of hues.
As long as you use the proper shade of gray, almost any color will complement it. Pants in a lighter shade of gray, such as dove or ash, will look great with spring's bold patterns and colors. The deeper the gray, the better it goes with black and dark blue.
Consider the color of your pants as well. Try a warm color like brown or tan to complement their warm tone. All of these guidelines are only suggestions. Try out new color schemes and design layouts to make striking contrasts.
What Color Shirts Go With Gray Pants
Picking up a shirt that complements and goes with your gray pants is crucial if you want to seem put together. The color of your shirt is more important than its style when completing your look.
Although gray is adaptable, and you can pair it with a wide range of colors, it works exceptionally well with black, blue, and white. When and where to wear these hues will dramatically affect your overall appearance.
Wear a Blue Shirt With Grey Pants
Wearing a blue shirt with gray pants is a no-fail way to seem put-together and chic. This style is modern and sophisticated, making it appropriate for formal and informal settings.
Choose a pair of dark grey pants for a more serious look or light gray pants for a more laid-back vibe. Brown shoes look casual and relaxed, while black shoes and a navy tie are perfect for a formal occasion.
Wear a Black Shirt with Grey Pants
Combining gray pants with a black shirt is a timeless fashion choice. The all-black aesthetic is sleek and elegant, making it perfect for black-tie affairs.
So, pair it up for your next cocktail party or informal gathering. Add black shoes and a black leather belt for a classy final touch. Add a grey suit coat or blazer for a more classic look, especially for males.
Style White Shirt With Grey Pants
A white shirt with a pair of gray pants is one of the considerably manageable attires you can carry. This combination will always look great, no matter what shade your pants are.
It will also go well for many events and occasions. All you will need to do is change your shoes and jacket, depending on the setting.
Final Takeaway
Finally, you have it! A comprehensive guide on how to dress up your gray clothes, shirts, and pants.
The neutrality of gray makes it an indispensable part of any wardrobe since it goes with almost any other color combination. With gray, even the wildest designs and boldest solids may be pulled off in a polished way. Look chic and put together with ensembles of varied gray tones.
You can't go wrong with gray, black, or blue if you're searching for a versatile color scheme that works for every event. This color combination works equally well for more formal and less formal settings and is likely to attract positive attention.
So, what is your favorite color combination for gray clothes? Let us know in the comment section!